Cruise With Baby On Cunard's Queen Mary 2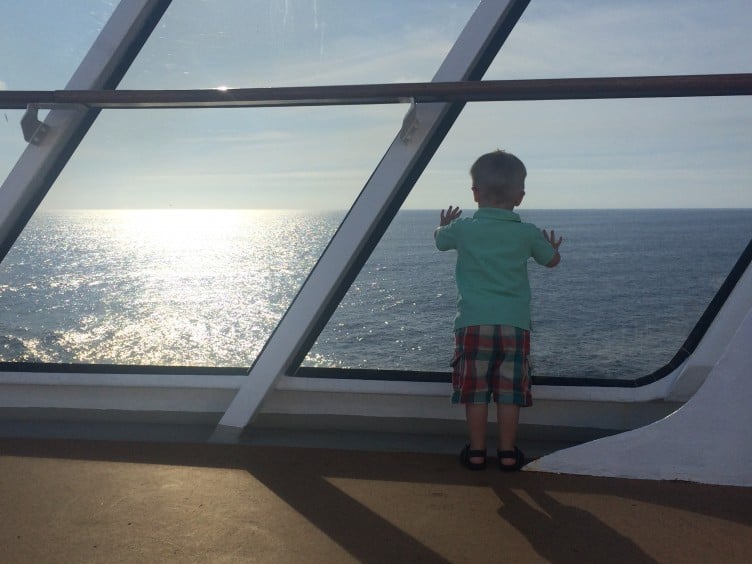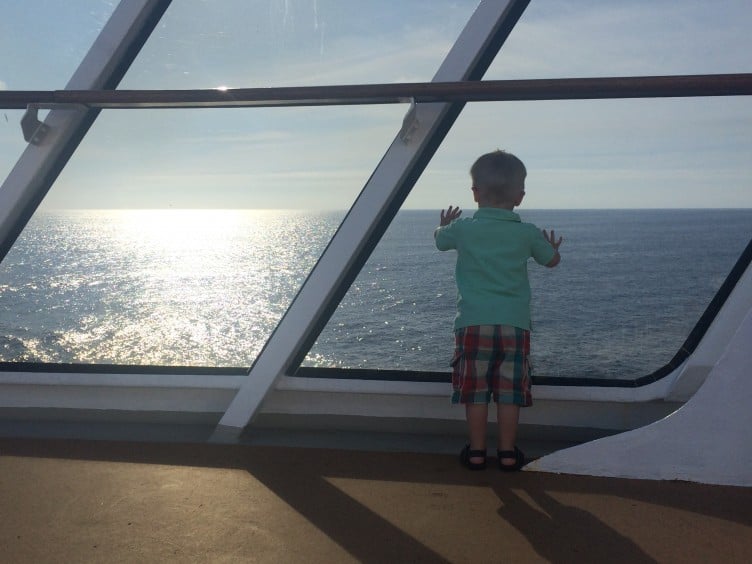 To cruise or not to cruise?
We took a cruise, an epic transatlantic cruise to Europe on our way to a new work driven adventure abroad. During our days at sea, I spent some time documenting our experiences so we can share them with you. I hope these points help you navigate a truly spectacular transatlantic cruise in the future. This is how to successfully cruise with a baby / toddler.
Also see; Why Fly when you can cruise to work
Tips to Cruise With Baby
If baby needs a nap,consider if daycare is right for you. Your day will revolve around baby, as daycare does not feed to nap kids.
If baby isn't potty trained, for the daytime at least, Diapers take a lot of room in luggage, the ship only sells wipes, not diapers, and pools don't allow for non-potty trained children. We used a swim diaper for our 2.5 year old as he was almost trained, save for a few accidents when he was tired.
Also see; What to pack in your traveling diaper bag
If a car seat is not available for rent with the car-rental company, try to sell it used and purchase a new one on day one of destination. There goes the first piece first of unnecessary luggage.
Be realistic when it comes to packing. Does a women really need 8 pairs of shoes? I only wore my flip flops, hiking sandals, and heals. I wore my flats once because I didn't want to wear heals on 'informal' day. Don't get me started about the other shoes I brought and have yet to wear.
Also see; Cruise packing list
While a rolling carry on is cute to watch the kids use, it's exhausting if they are exhausted. Pack it light. Better yet, go for the kiddy back pack; if they won't wear it, parents can. That way, you are not balancing a rolling carry-on on top of your own carry on.
Walkie talkies will be a definite discussion for communication. Maybe bring a few, not too expensive. Give them to one member of each family you care to reconnect with on the cruise … But don't be creepy.
Organization
Look at pictures before deciding on how many rooms you want to book; Brookfield won't allow for upgrades but they will give extra rooms for children, two extra if they are opposite gender. Not sure if I want my 6 year old to have a room on his own, but it's available… Turns sleeping alone ?!
Bring more than one swim suit; if financially possible, have more then one gentleman's suit; have enough dresses and men's shirts for a different one each evening – there are enough pictures being taken that you want to wear something different night. I know, this goes against what I just said about packing light – but this is more "pack smart" and personal choice.
Also see; Cruise packing list
Have a variety of TV shows and games on your tablet that can be viewed offline; there is nothing worst then listening the same movie every night. See my list of distracting activities here. 
Once we had all of our luggage in our room, I took out 8 outfits for myself and 10 outfits for the munchkin – messy days, just in case. This way, it eliminates the need to get into my luggage from under the bed. Once laundry was finished, I placed the clean clothes in a pile on the shelf in the closest and I will return them to my luggage the night before we arrive.
Divide medicine bags into cruise required and apartment required. I need sunscreen, aloe Vera for when I forget the sunscreen, tooth brush and tooth paste, day to day medications, jewelry and make up. Shampoo, soap, Benadryl etc can be left in the luggage. Like a hotel, they have extras of that and it is refilled each night.
Plan Your Trip – Stay and see everything
Accommodations
Flights
Car Hire
Travel Gadgets
Tappedouttravelgadgets.com Looking for seriously cool travel gadgets? This fun, futuristic, and practical gear collection from around the web is what you're looking for!
Pin this to Pinterest:
Do you have any Tapped Out Tips?
Questions or Comments? Join the conversation below.