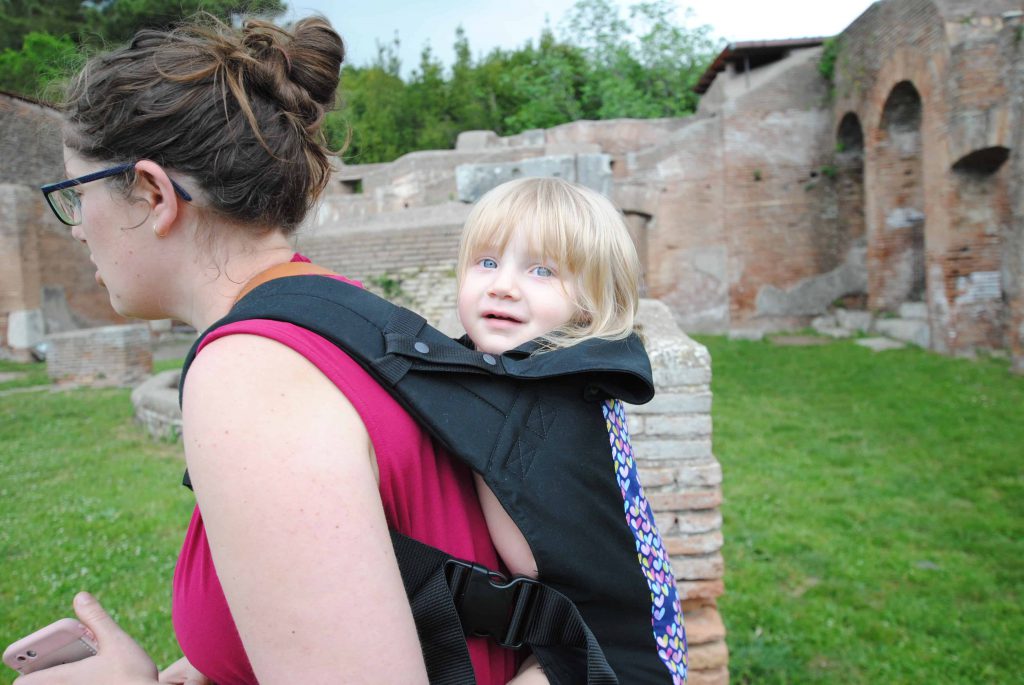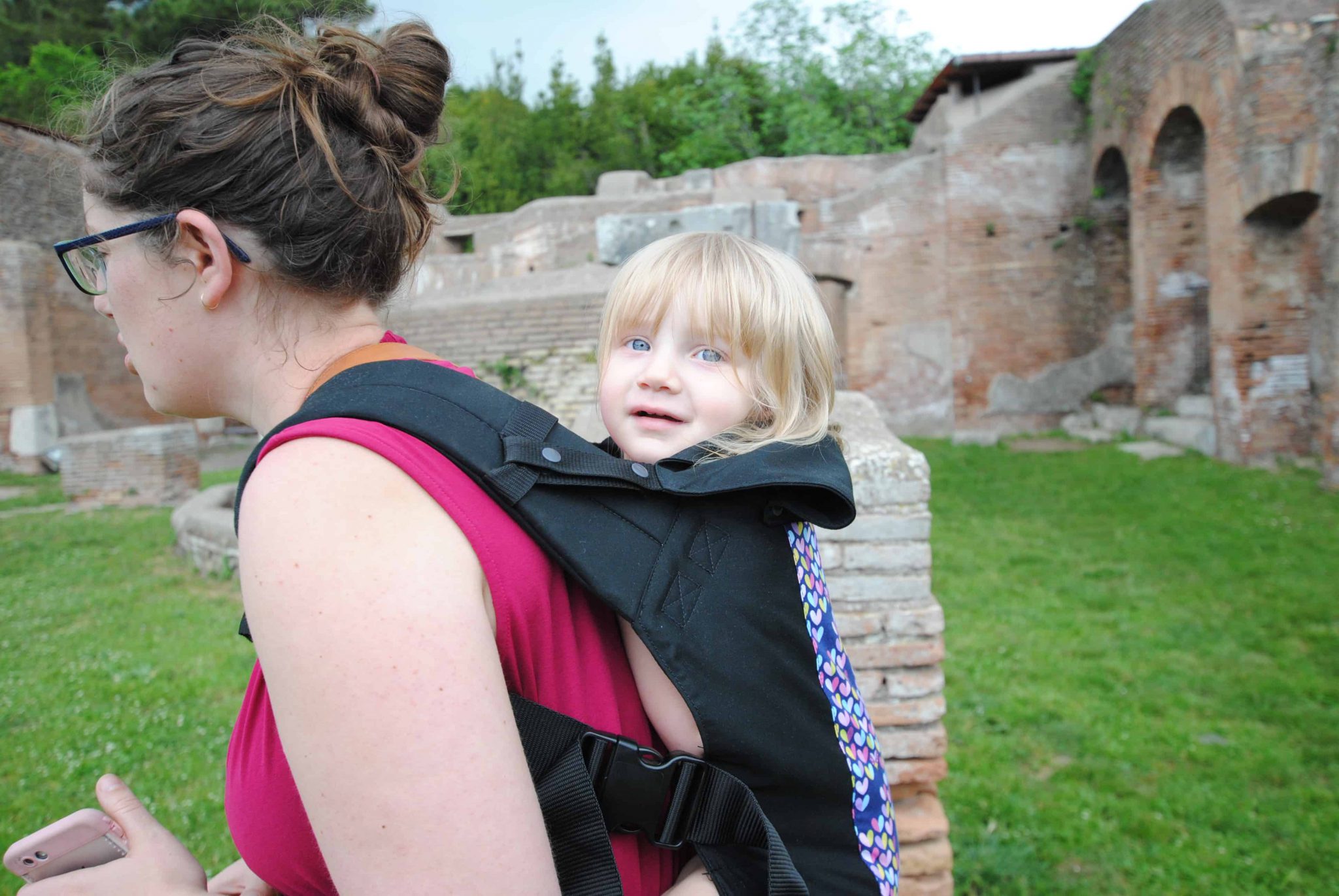 Having a baby carrier in your hand luggage is essential. They are invaluable for boarding and disembarking the plane and keeping you hands-free at your destination. Not to mention those days when the baby doesn't want to settle and you need to pack and get things done.
Having the right baby carrier can make all the difference on your vacation but there is a lot to think about before heading to the store. Like strollers, baby carriers are not a "one size fits all" type of purchase; there are different types based on personal preference, how you intend to use it, how often you plan on wearing and for how long, and the size of the child.
This post may contain affiliate links.
To which I earn a small commission, at zero cost to you!
Find more info in our
Privacy Policy
.
Carriers vs
Strollers

There is a time and a place for everything. Sometimes your stroller is the best option for your travelling needs, and sometimes, a soft carrier is best.

Our family can easily go places that a stroller cannot: upstairs, along trails, through tight crowds. This also leads to handsfree exploring; I can hold my son's hand, carry a map, take photos, and many more things that I can't while hanging onto a stroller. I have the added benefit of being able to navigate trains more easily and not have to wait in line for the elevator in the stations.

Because the baby was right next to me, I was able to easily point out things I saw and talk with her about them while we were exploring. I am not constantly stopping and checking her to see what she is saying; in a crowded area, it can really be hard to hear what they are saying from all the way up there.

In terms of nursing, if we were out with the stroller and baby was hungry, it meant an anxious search to find a comfortable, semi-private place for nursing. With the carrier, I could just scoot baby down a bit, lift the shirt layered over my nursing tank, make sure I was covered from the side, and carry on.

I love the carrier for hikes and situations with crowds or obstacles, and also just to use around the house when the baby was youngest and would get fussy but I needed to do stuff.

This isn't to say that I dislike strollers. I love the little break a stroller offers. Our Bob Revolution jogging stroller has a special place in our hearts. It means the oldest ran rest his legs while the youngest stretches hers during our outings. I prefer it for trips to the mall, exercise walking, or any time when the extra storage space would come in handy. The stroller can haul so many groceries, and I can hang my shopping on the Mommy Hook. Not owning a car, we use the jogging stroller nearly every day for one of those two situations. It's been an excellent purchase.

But for being with baby, interaction, and bonding; the carrier wins hands down.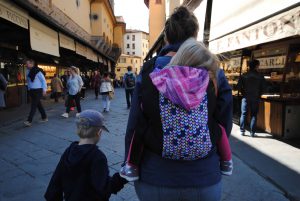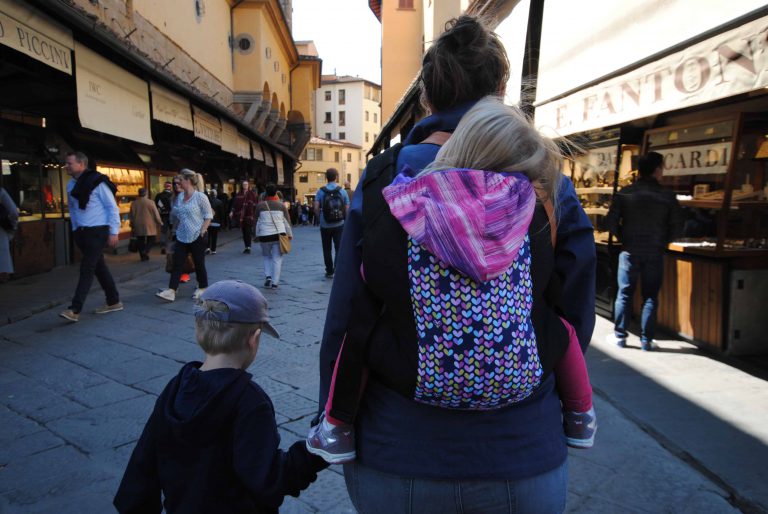 Frame backpack or soft carrier for toddlers?
A soft carrier is small, packs well and is fairly inexpensive when compared to a frame backpack. They are also easier to adjust and get used to. For budget reasons, it is completely possible to walk long distances with a soft carrier.
Unlike a soft carrier, a frame backpack does take up more room in the car and isn't exactly suited for day to day use. They are durable, weather-resistant and include a rain cover.
We purchased an extra-large umbrella on our latest vacation; it was the first time in 4 years that it rained while I was exclusively using the carrier. It was the perfect size to keep both of us dry and there was very little complaining on her part. So walking around town in a soft carrier can be possible in poor weather conditions, it just takes a little pre-planning (or last-minute purchases at the Museum gift shop).
There is a purpose for each style of carrier. A soft carrier has more functions for the city traveller and everyday mum. For more information, check out our review of Hiking carriers and frame backpacks for toddlers and infants.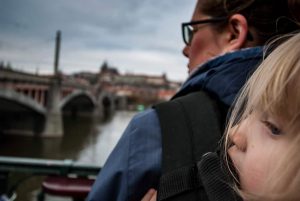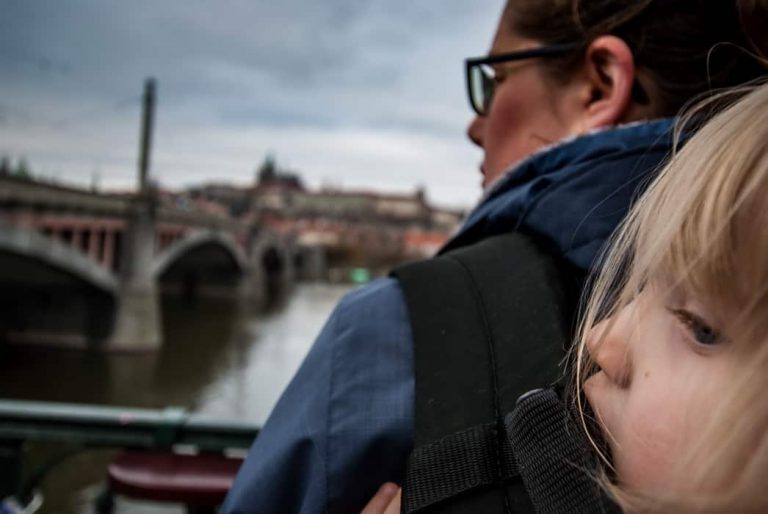 Types of carriers
Wraps: A super-long piece of stretchy fabric you configure and tie around your body, usually over your shoulders and around your midsection, to create a carrier.
Slings: A wide piece of fabric that goes over one shoulder and across your torso.
Structured Carriers: More like a backpack with straps over the shoulder and a padded carrying "pack" that can be placed on your chest or back.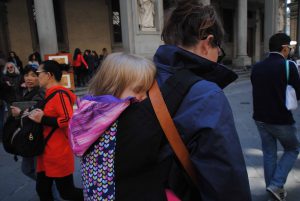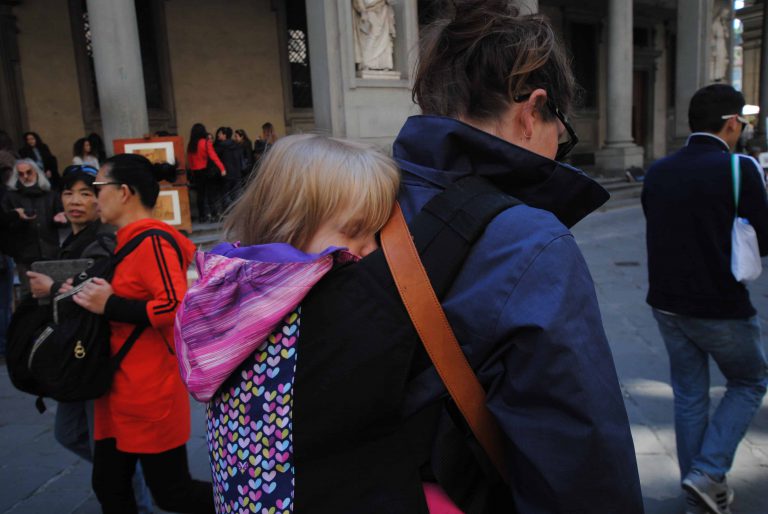 Best Travel Carriers for Newborns
Best baby wrap for newborns
The Boba Wrap is one size! It is 5.5 yards long which enables moms of all sizes to wear it – the only difference being how many times you need to wrap it around your waist. The boba wrap was exactly as described. The material is nice and soft/stretchy so it forms around you and baby nicely. Instruction videos (on their website) make it super quick to learn how to use it.
---
Best baby carrier for newborns
The Baby K'tan has the benefits of a wrap, without you having to actually do any wrapping. Ready-to-wear out of the box, easily switch between five different carry positions without the confusion or frustration of a traditional wrap.
There are many different "holds" you can place your child in. There is one way specifically for a newborn. That hold is the only acceptable way to place your newborn. As you will read in the instructional booklet, other holds should be used only after they are 2 months of age because of the positioning of their hips. It is important not to place a newborn's hips apart without support under the thigh as this can lead to hip dysplasia.

Best carrier for hot places
Best baby carrier
This carrier is made with 100% cotton, which makes it nice and breathable. The fabric is relatively thin, which lets through a nice breeze while you are going about your business, keeping you and baby nice and cool.
I also love that this carrier can be used from infancy all the way up to a toddler. Not only will it help to keep you cool, but it will help to keep you on a budget since this will be the only carrier that you'll need.
---
Best Child carrier
It is also made from fully breathable materials. This makes it an ideal choice for hot and humid weather. Even on the hottest of days, you should be able to get a bit of air between you and your baby, which will help to keep you as cool and comfortable as can be.
---
Not only does it offer the versatility to carry in multiple different positions quickly and easily, but this is also a great carrier for hot days.
This is because of the large mesh panels surrounding the front and sides. These panels allow tons of air to flow through, which will help to keep your baby and you cool and comfy.
The only drawback to this otherwise excellent carrier is that it is somewhat difficult to put on and off solo. The strap behind the head is especially difficult to fasten and unfasten unless you are extremely flexible.
---
The majority of the materials used for this carrier is mesh, making it nice and breathable, which is ideal for those super-hot days.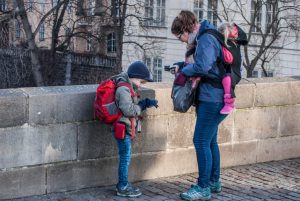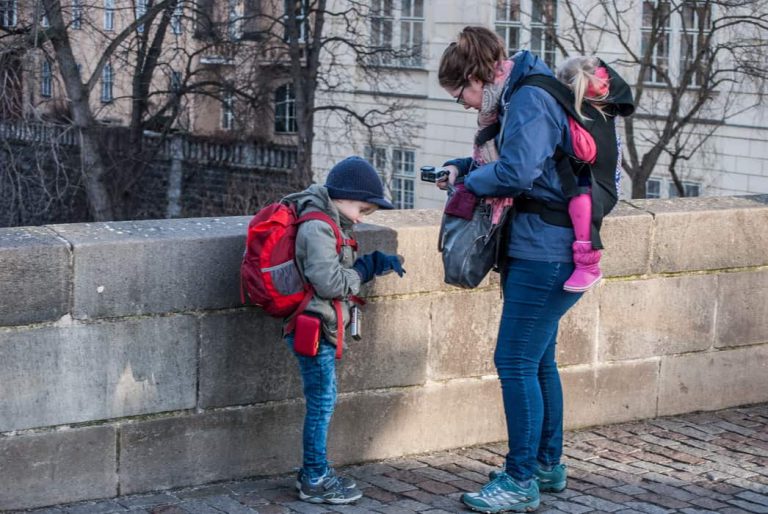 Best Carriers for Toddlers
Best toddler carrier
There is a padded barrier between all the buckles and the wearer's skin, so nothing digs into you. While babywearing, in general, is hot, the Tula is probably the coolest. The detachable hood is really easy to get up or down while carrying your baby. And the elastic bands at the end of each strap are a surprisingly exciting feature. Since the straps are so long to allow it to fit so many different body types, the excess length can easily be coiled up to be kept out of the way.
best for babies age 6 months to 2.5 years
comfortably fit wearers of different sizes, from petite to plus-sized
bigger and taller and base than some other carriers means they won't grow out of the carrier too fast.
---
Toddler carrier
Hands down the Beco is easier to use and is much softer than other toddler carriers. The padding in the straps is very generous and it has a nice deep seat for the kiddo. For larger parents, even without any type of extender, users reported being able to snap the buckle with ease and still had a few inches of adjustment available.
Can you be used with toddlers starting at 20 pounds, up to 60!
Crossable shoulder straps
Comes with a carry-all pouch
Has a pocket on the waist belt
---
Best toddler back carrier
The LÍLLÉbaby 3 in 1 CarryOn carrier is much more adjustable than other brands. So if you and/or your child are not quite the average size, you can use this carrier. There is more to fuss with to get it right, but it results in a much more comfortable carry for both parent and child.
currently available in Airflow (with mesh panel) models
It accommodates children up to 60lbs
can cross straps in the back if wearing on the front
the lumbar support on the waistband adds support to front carries
waistband pocket plus additional pocket behind the back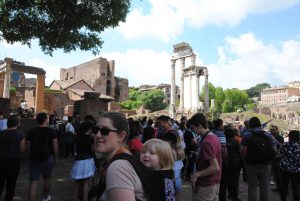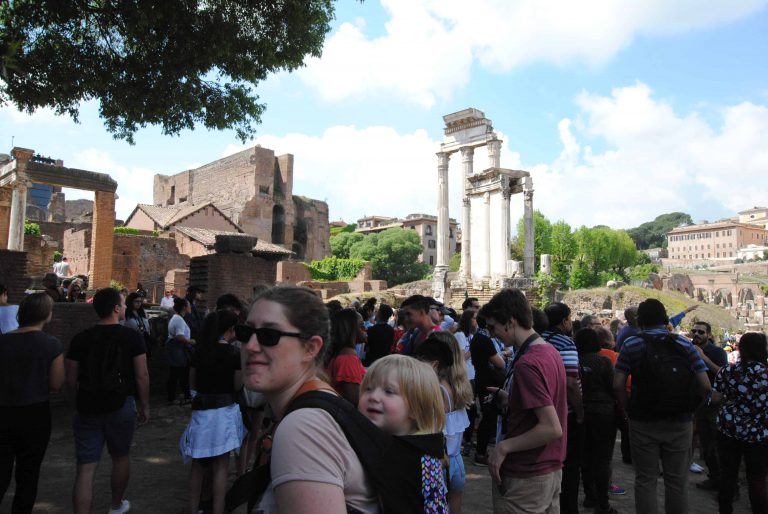 Busy morning at the Parthenon. A stroller would have been possible but not suggested
Best Carrier for Dads
The BabyBjorn has height adjust for infants of differing ages. When open you unzip the front flap from one position and re-zip it into another, longer/taller position. By default, it is set to the smaller child position. It is comfortable, easy to clean, not hot, and can be worn without destroying one's back after 30 minutes
---
Best Award-Winning Baby Carrier
It can easily take turns with the baby carrier without it being a daunting task of adjusting straps.
It was also highly rated for the ability to transition your sleeping baby from your chest to the crib with its magnetic sternum strap.
---
Best Baby Carrier For Lightweight Adventurers
The Onya Outback is great for getting outdoors with a fabric that repels moisture and mud.
It's also more versatile than your average baby carrier: Strap it to any chair with a back and it converts instantly to a high chair.
---
Best Alternative All-Arounder Baby Carrier
The Ergobaby 4 is amazingly comfortable for both wearer and baby. The waistband is wide and a far improvement to the Original and to other carriers. This carrier offers good side ventilation, especially when the infant insert is no longer needed.
---
Most "manly" baby carrier
This carrier is super adjustable; from jacked-up dad to tiny mom with just a few adjustments.
Compact design | 600D Outer material
Baby can face in or out depending on the developmental stage
Removable cotton washable liner
Designed for babies 8lb / 3.5kg and 33lb / 15kg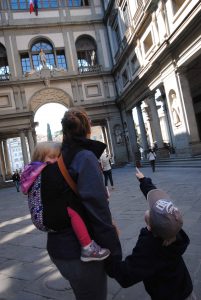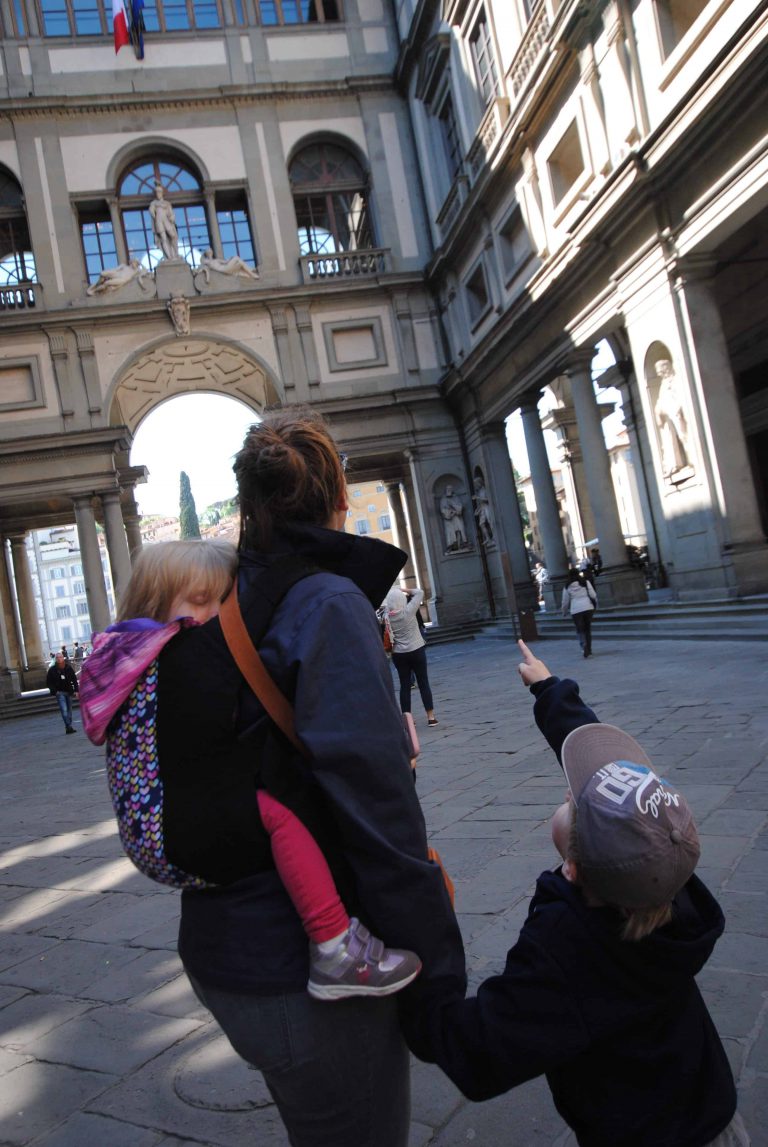 Best Multi-Purpose Carriers
The LILLEbaby Complete is breathable- and the option to make it more breathable with the front panel unzipped is great. The lumbar pad is such a great added piece, it really absorbs the weight. It is truly comfortable to wear. The re-positional seat is great to adjust for the baby.
It is incredibly easy to put on. In just a few clicks one can have the baby in and be ready to go- facing in or out are both comfortable.

---
Best baby sling
The fabric is so soft and smooth without even wearing to break it in. The fabric is breathable and is perfect for hot days. Threading the sling was simple and made all the easier with the
amzn_assoc_tracking_id = "tappedouttrav-20";
amzn_assoc_ad_mode = "manual";
amzn_assoc_ad_type = "smart";
amzn_assoc_marketplace = "amazon";
amzn_assoc_region = "US";
amzn_assoc_design = "enhanced_links";
amzn_assoc_asins = "B07D7FJNWC";
amzn_assoc_placement = "adunit";
amzn_assoc_linkid = "28115f29cb1b446ef4ef5d6363561c1c";


---
You are hereby warned. These carriers are super comfortable; your child will love being in it and you will love being able to hold them tightly no matter where you are. They will become snuggle monkeys and constantly hug you from the back.
Use it at your own risk.
Your Thoughts...
Please share your thoughts in the comments or reach out on social media...We would love to hear from you.