Cruising is a wonderful way to travel with the kids what packing essentials should you consider. Everyone can visit various destinations and unpack all that gear and luggage only once.
Packing all the baby and toddler gear is a chore even for short trip to grandmas. This makes packing for a cruise child's play. Not all vacations are created equally. Some require more items than others. A cruise is no different.
Having cruised in the past (one with and one without kids), here is our helpful cruise packing list with some tips and tricks to making the journey a more pleasant one.
Other than your standard clothes, toiletries, and medicine bag, what unique items do you bring on a cruise?
This post may contain affiliate links.
To which I earn a small commission, at zero cost to you!
Find more info in our
Privacy Policy
.
Cruise Packing Essentials List
Power adapter – you never know which voltage or ends will be on the cruise. Most of my gadgets run on USB so a single, multi-port USB adapter with interchangeable tips usually does the trick.
Power Strip. If and when I require more electricity, for my laptop or his trimmer, a power bar can (not really) save lives. No more fighting over the single outlet; power bar that baby and turn 1 into 4. This would require a little research into the outlets available on the ship; a power bar into a power adapter, into the ship, does not sound all that safe.
Magnet – tell your door apart from the others. All hallways look the same, all doors look the same. After getting turned around at the elevator and finally finding your correct corridor, the last thing you need is to try every door until one opens. I exaggerate, but the kids will do it, trust me.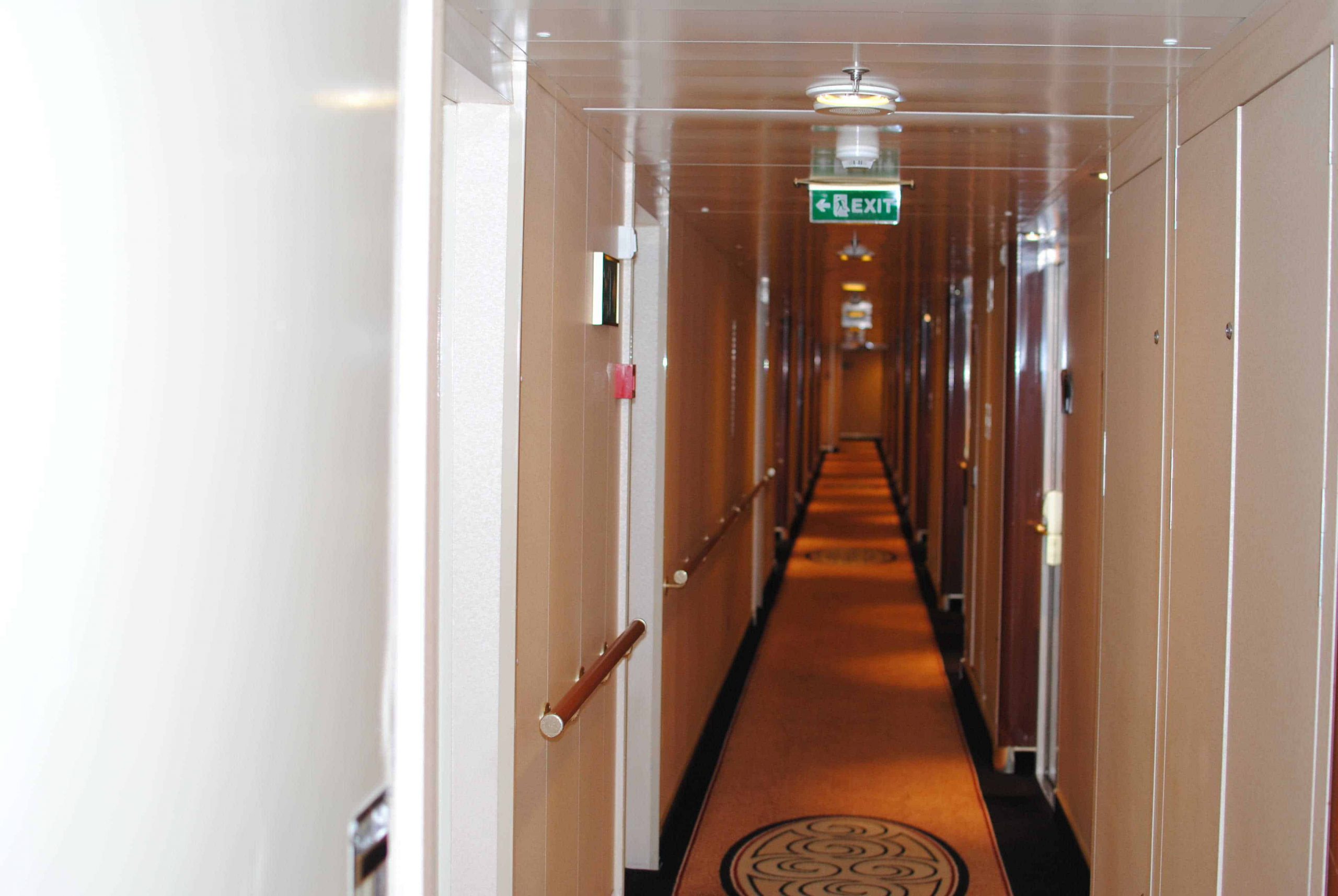 Lanyard with plastic holder – if you like running around (during the day) in your short shorts and bikini, a room key doesn't have many places to hide. A lanyard will keep it close and accessible while leaving you hands-free to enjoy the finer parts of cruising.
Insulated cup with straw – while there are many uses for this, keeping cold drinks cold in the sun is the main reason, this also keeps your drink (the kids drink, or both) from spilling when knocked over – and I emphasize WHEN not IF. You will also be better prepared to walk around the ship if your drink is covered; you are one rocky wave away from ruining someone's outfit.
Collapsible luggage – the two cruises that we were on had storage under the bed and it was high enough to allow the average suitcase to lay flat. The ship also has bulk storage for items needed on either end of the journey, but not during the cruise itself (my Bob Revolution stroller, for example, stayed in storage during our Transatlantic cruise because it wasn't needed at sea).
What to pack for kids on a cruise
Two-way radio. If and when you need to be separated, a two-way radio will keep you all in touch. We were lost for an hour, and it was horrible. I ended up back in our room and just waiting for him to join us. This was before kids; I would have been a wreck if I got separated from the kids without being able to communicate with them.
Kids Watch. Help older kids stay on time when allowed out on their own. This watch has a camera and Bluetooth capabilities to answer phone calls for those days off the boat.
Kids Camera Teach them to take their own photos, be responsible for their own gear and inspire a sense of creativity. And you never know, some of them may turn out pretty amazing.
Kids Tablet A kids tablet means you can still save their entertainment, without overloading your own tablet or risking it get damaged while little hands play.
Tips
Laundry. Some ships offer both professional service (for a very high price) or self-serve facilities on board. They are limited to a handful of machines per floor so getting there early and staying until the job is done is recommended. Not everyone stays, mind you, but the cruise is not responsible for lost or stolen property and too many times I have witnessed guests removing clothes from the machine before it was finished.
It will be the longest 2 hours of your life; bring a book and have the hubby bring you a drink, you deserve it – you are literally watching clothes dry. Between the open waters and A/C units in the cabins, it can get surprisingly chilly; a light shawl/scarf/cardigan for everyone is a good idea, one each is good.
Know the dress code; Cunard expects formal or semi-formal dress after 6 pm. For a 7 night cruise, this can mean a handful of outfits. Mix and match accessories and hairstyles to make a slightly different outfit each night. But don't be afraid to recycle, no one is keeping score. If you are unable to abide by these rules, not only will you get the stare of death everywhere you turn, you will be denied access to most of the ship.
Daycare. Reserve a spot at the daycare even if you don't intend to use it all the time. Munchkin didn't really want to be at the daycare because we had to take him back and forth so frequently during the day. 9-12, 1-5, 6-10 were their opening hours and they don't nap or feed the kids. This made for a very confused 2-year-old. But it also meant he wasn't bored during the day while at sea and we got a little mommy/daddy alone time.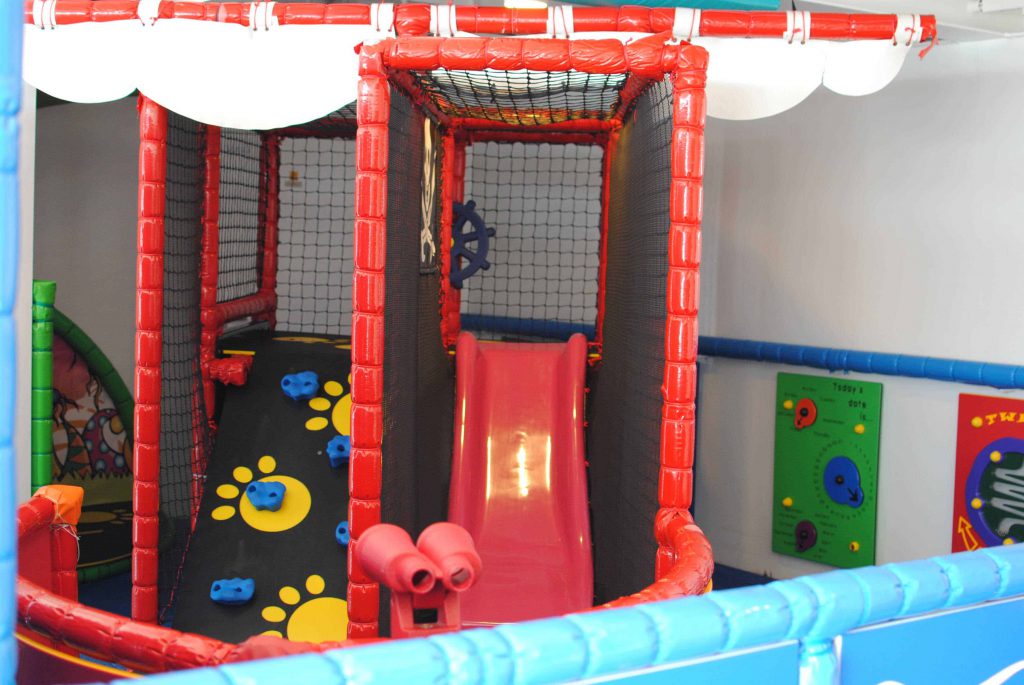 Dinner time. With young kids, take the 1st sitting for dinner. Older families or childless couples tend to take the 2nd This is both courteous and practical – no child will stay calm at 9 pm waiting for a fancy dinner they probably won't eat. Munchkin went to the buffet upstairs for his dinner at 5, we snacked. Brought him back to daycare for 6 pm every other night, then mommy and daddy had a nice quiet date night. But boy do the little ones look adorable in 3 piece suits. After 2 or 3 nights we figured out what he liked on the menu so he ordered the same thing each time he had dinner in the Hall.
Pack wisely. If your checked luggage gets lost, who knows when it will meet you. A friend lost hers on the way to a Mediterranean cruise; the luggage followed her from port to port, just missing her, until it was "misplaced" along the way. It showed up at her door 2 weeks after they landed. Also, some companies take your luggage to your room for you, but this takes time. While you clearly can't pack all your luggage into your carry-on (or can you?), you will need toiletries, a change of clothes and dinner wear before you are reunited with your checked bag.
Bonus; don't pack all your clothes in a single bag. Try to spread everyone's items over all the bags, that way not everything is misplaced if a bag does go missing. This means essential items will need to be on your person; documents, medication, money, jewelry, good shoes, and toiletries.
Lots of sunscreens. Having a good time on deck and forgot to reapply. Let this photo be a lesson to you all… kid kept poking me, called me a lobster.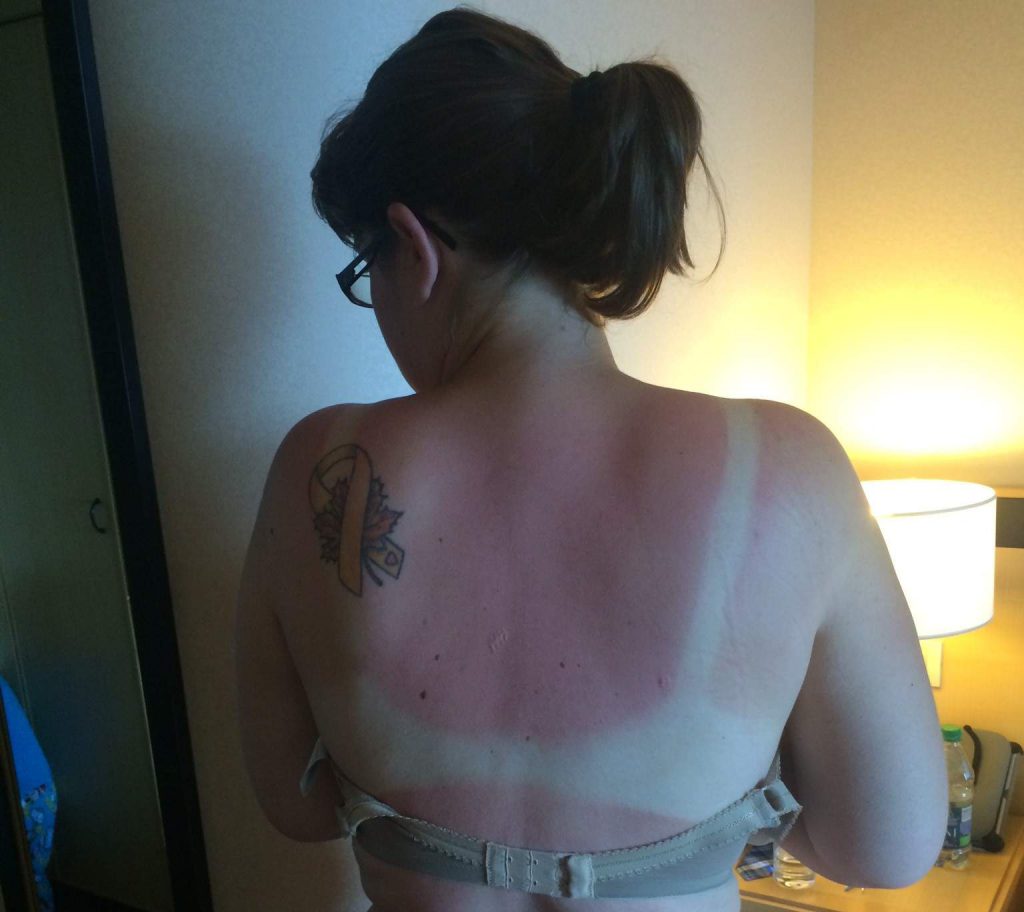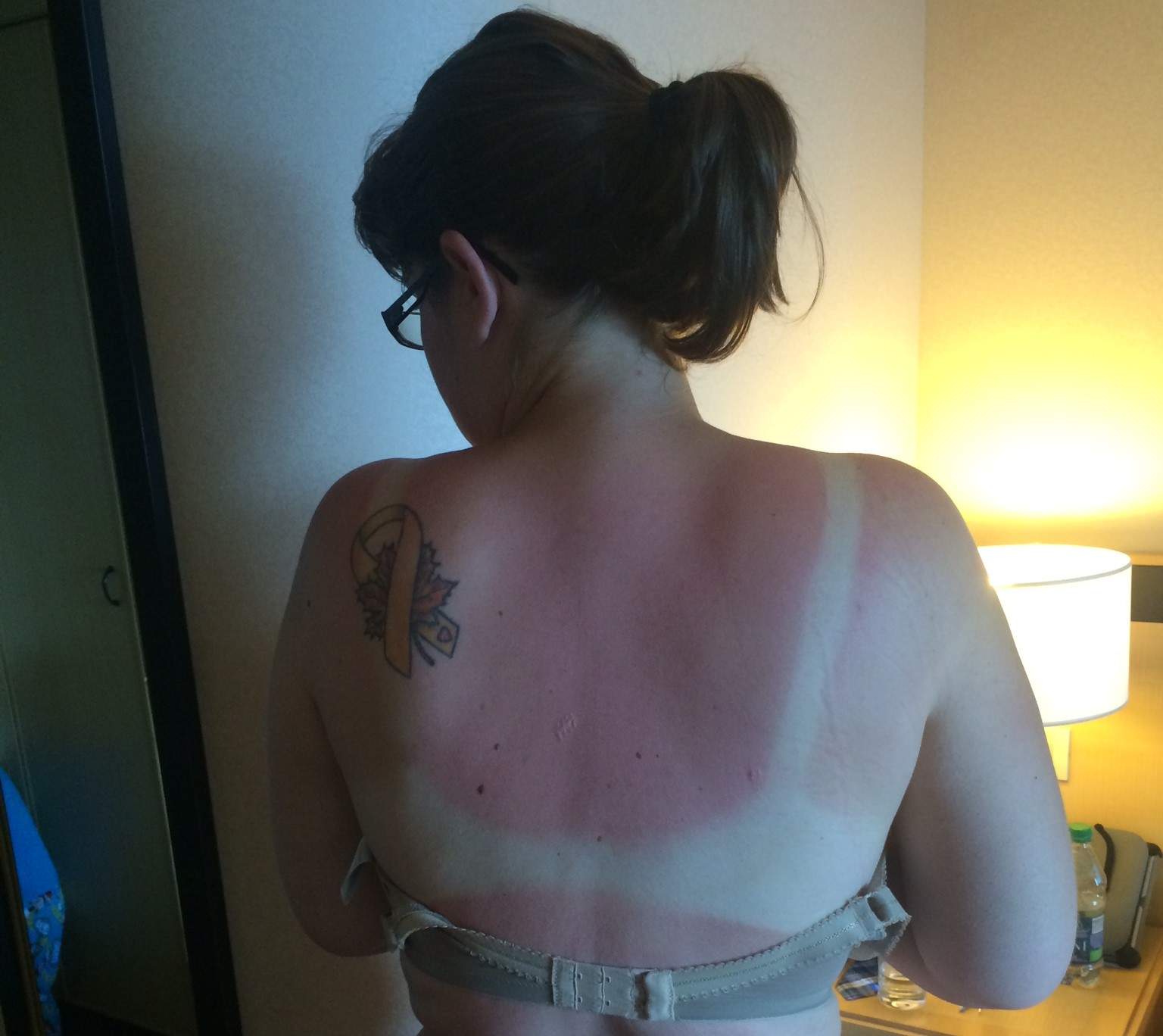 Baby dishes. Don't assume someone else is going to clean the baby items for you. Bring appropriate cleaning supplies and extras in case some are lost. Most cruises have a "corner store" section with baby items but they have a limited supply and are not cheap.
Your Thoughts...
Please share your thoughts in the comments or reach out on social media...We would love to hear from you.
You May Also Like…
Best Packing Tips to Feel More Organized + Less Stressed
Family Travel Gear Product Review