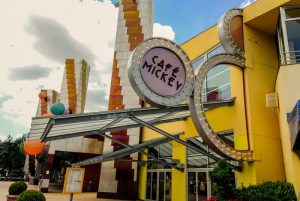 Things They Won't Tell You About Free Disney Dining Plan… But We Will!
by Jason Stucky from All Things WDW – Facebook group
---
The Free Disney Dining Plan promotion is one of the most sought-after and popular deals at any Disney location. Basically, the promotion offers guests one of two Dining Plans for no cost as part of a room and ticket package. The Disney Dining Plans are available to guests all year round as an add-on to their vacation package. A dining plan is not required to eat at any of the restaurants. Many guests choose the Dining Plan to facilitate budgeting and planning, but if it's free, even better! If you're planning (or even pre-planning) a Disney vacation taking advantage of the Free Dining deal, here are six things to think about.
6. It's not totally free. You may need to choose between a free dining plan or a discount on your hotel stay. To determine which is best for your family. Don't let free distract you from a hotel discount. Each year it varies the discount and which resort is offering the best deal. So do your math and figure out which comes out ahead.
5. Upgrade Your Plan. The Dining Plan you get for free depends on the level of your hotel. Guests staying in a Value hotel receive the Quick Service Dining Plan, which is two counter service credits. Guests staying at a Moderate or Deluxe hotel get the regular Disney Dining Plan, which is one counter service credit, and one table service credit. Both plans also include one snack credit and the Rapid Fill mug. All credits are based on the number of nights in your stay. But, you can upgrade from the Quick Service plan to the regular Dining Plan for just the cost difference between the plans.
4. It's a Lot of Food: No matter what plan you have, you get two full meals (including dessert!), a snack, and the refillable mug. Portions at Walt Disney World are huge. That means guests on the Dining Plan get a lot of food. For guests with small appetites, it may be too much food. Just because something is free, doesn't mean it's always a good idea. Look at what the various plans offer and at some menus online before deciding if a Dining Plan is right for your family.
3. Does Not Cover Tips. Getting the Dining Plan for free is great, but don't forget about tips for your servers. The Dining Plan does not include gratuity. Don't worry too much though, Disney does the math for you, and when you get your bill, there will be a suggested tip amount, at both 18% and 20%. You're free to tip that amount, or one of your choosing.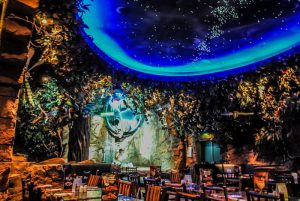 2. Or Appetizers and Alcohol. Another thing the Dining Plan does not cover is appetizers or alcoholic drinks. You will need to pay for those separately from the Dining Plan if you order any. The extra cost is definitely worth the price at many restaurants. For example, the Na'an Bread, an appetizer from Sanaa, is one of my absolute favorite dishes at Walt Disney World.
1. Better Deal For Adults and Older Children: Children aged 3-9 qualify for the child's price for tickets and dining plans. Toddler's two and younger don't need a ticket or a dining plan. In 2016 at Walt Disney World, the price for an adult on the standard Disney Dining Plan is $63.70 per night, and a child costs $22.85 per night. That's quite a difference between child and adult prices. The Free Dining promotion gives a better value for a family with older people. A family with only toddlers may actually save more money by choosing a room discount instead of free dining.
You may also like:
Plan Your Trip – Stay and see everything
Accommodations
Flights
Car Hire
Pin this to Pinterest: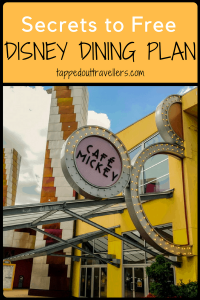 Do you have any Tapped Out Tips?
Questions or Comments? Join the conversation below.
---