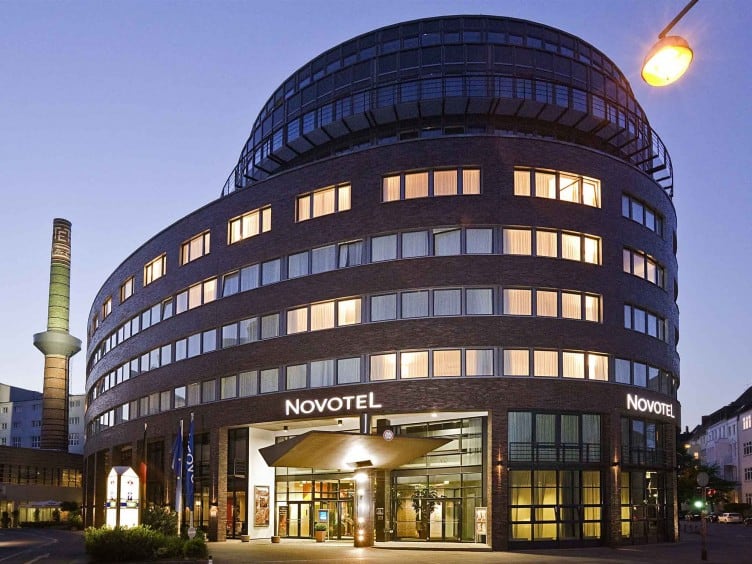 Novotel Hannover
On our recent trip to Hannover, we had the opportunity to spending the night at the Novotel Hotel. As a chain, I am rather fond of this brand; I have a general idea of what I can expect in terms of customer service and quality control but every location is different so you are never 100% sure.
The location was easy enough to find, driving in from out of town. I don't enjoy town driving as I find that drivers in Germany can we very aggressive, and take tight corners a little too quickly for my liking. I like calm and relaxed rural Canada driving; hence my love of European trains.
A block away from the hotel was a train station; two stops later and you are at the Central Station. This is the central-not central type of hotels I like. Close enough to the action to get there quickly, yet far enough away to be reflected in the prices.
This post may contain affiliate links.
To which I earn a small commission, at zero cost to you!
Find more info in our
Privacy Policy
.
Fun Fact
Germany's most famous biscuit the Leibniz biscuit was created at this location.
Parking Garage
The parking garage was easily accessible from the outside, right underneath the hotel. The whole complex is rather large, and shared amongst several of the businesses in the immediate area. Keep following the signs until you reach near the end where Novotel signs are placed in each parking spot.
There is a secure door that requires the front desk to actually see you before they buzz you in, which is perfect for hotel security.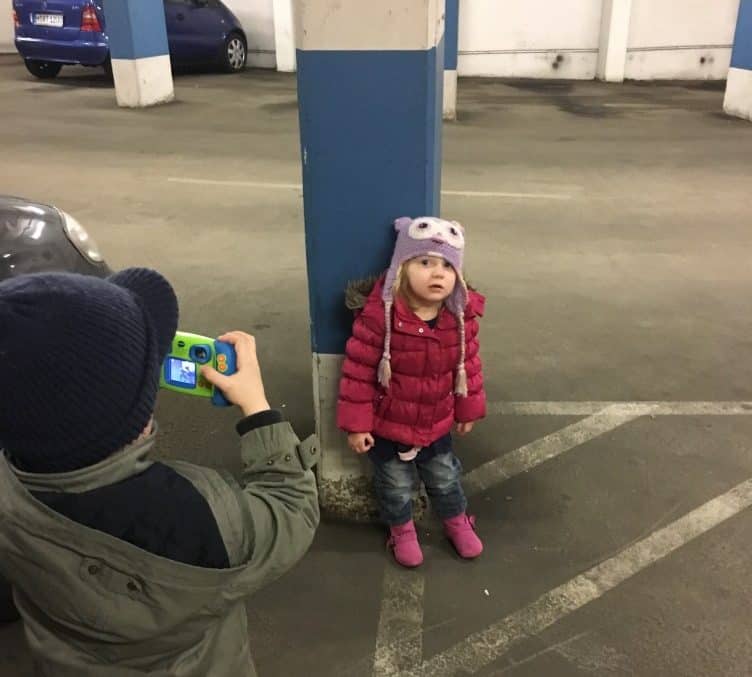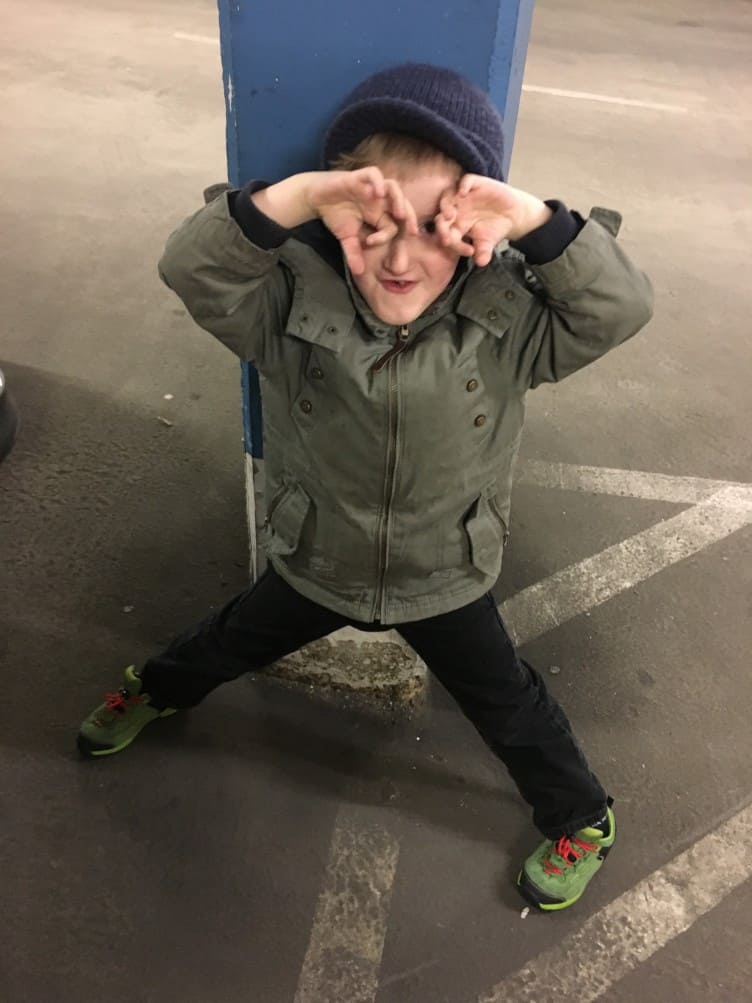 Kids Zone
While I was checking in, the kids and hubby found the kids zone just across the lobby. It meant the world to me that I could just throw them in the toys and talk to an adult without being interrupted 100 times for random questions.
So while Baby Girl played Kapla and Lego (between throwing books off the shelves), Hubby played Fifa on Xbox, Munchkin played Angry Birds on an interactive-surface coffee table. Everyone was so quiet, it was great.
Only downside though, was when hubby left for a few minutes and I was playing Angry Birds with Munchkin, Baby Girl ran up to the Xbox. I didn't think much of it, until I couldn't see her anymore. The walls don't meet the glass window, so she managed to walk around the wall and started wandering around in the next room. She's a slippery little one, that's for sure. And of course; since she did it once, she kept running for that hole every time her little feet touched the ground.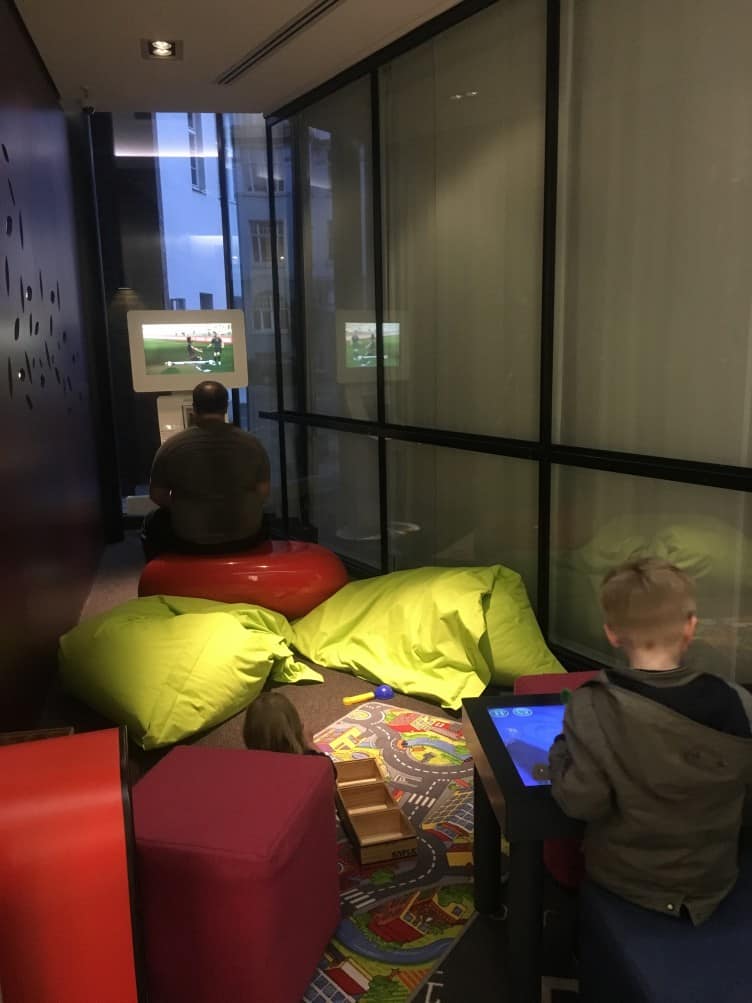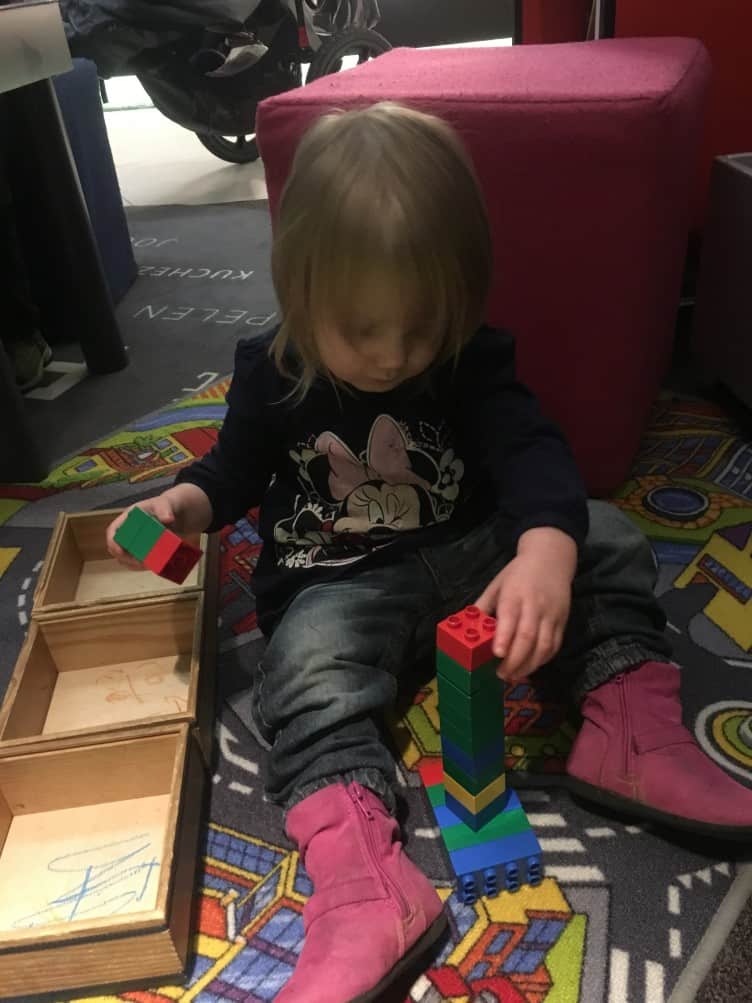 Executive Room
We were booked in the Executive rooms; don't let the fancy name deter you, it's a family room. As in, the only rooms that fit 4 people. Free WiFi and a large screen TV are also available, though we were all too tired to make any use of it.
Traditionally, one would have the Munchkin on the couch and baby in a cot but our Munchkin stills rolls too much to be placed that high without guard rails. Luckily for us, there was lots of space for the travel cot and baby crib.
Like I always mention, we try to have the hotel provide a baby bed as often as we can, even if I have to pay a small rental fee (twice in 3 years, not bad), only because we don't have the space in the car. But the travel cot, that's a whole different story. It is compact enough that even Baby Girl likes to take a turn carrying it to our room, and Munchkin demands that he is the only one allowed to set it up and take it down. Yes, it's a little more kit but if we really wanted to, it could easily be attached to our ruck sacks. Once Baby Girl starts climbing over the crib and he stops falling off the bed, it will be her turn to use it.
The bathroom was incredible; walk-in rain shower. It was nice being able to get ready for bed without having to take turns with the kids; all in at once. For the most part, I can deal with a cramped hotel floor space, I can't stand a tiny bathroom. Plus that's where I go for the few minutes of privacy/mommy quiet time during vacations and I don't need my knees touching the door when they whip it open.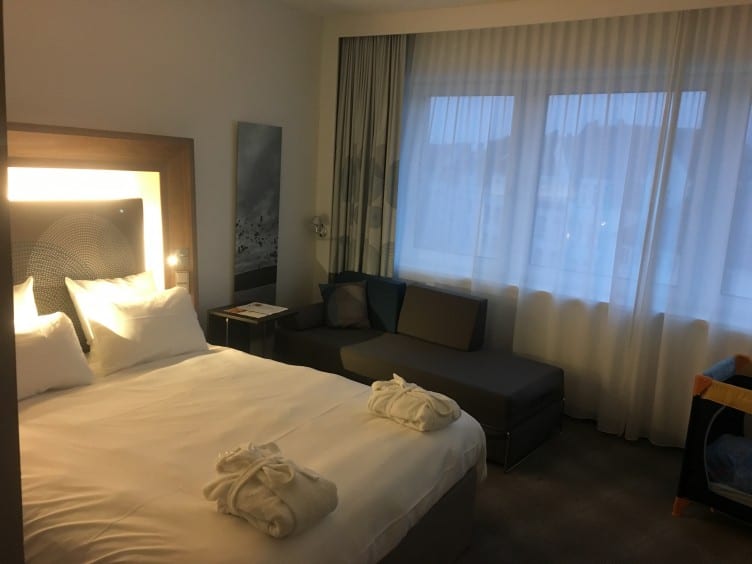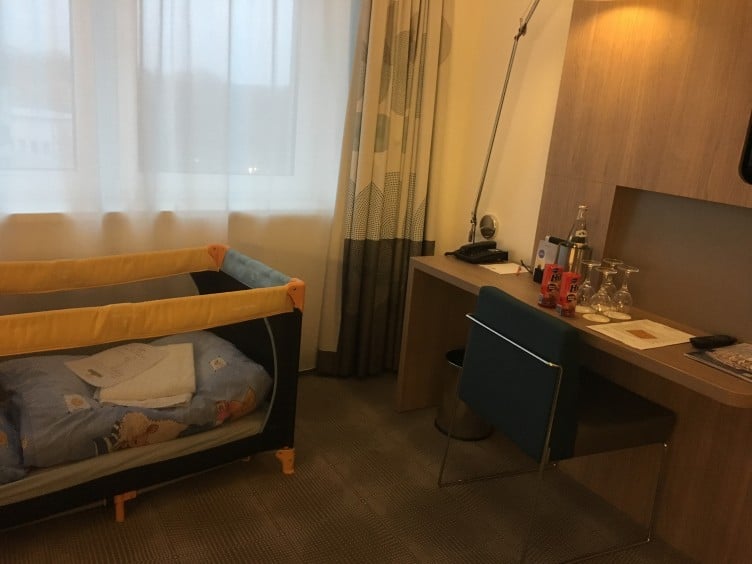 Bar
Having dinner; they offer pasta, pizza, burgers and a kids menu. The kids were not having the greatest of attitudes for some unknown reason, maybe the space was too wide open, I don't know. We were the first to be served, which was great, because that meant their behaviour didn't disrupt anyone else's meal. This is another reason why I love that Europeans eat so late; they don't have to listen to the screams or give me the awkward smile when the kids "go bananas".
The service staff was very attentive for the duration of our meal. The moment we finished our mommy and daddy drinks, we where offered a double (or kids were having that kind of night). No, I'm kidding, they weren't that horrible. We were all tired from the long drive, and the walk, and the rain was relentless, and I'm pretty sure it was passed their bedtimes. Either way, the waitress was great. She offered to customize the pizza so that I could share it with Baby Girl, since I know she wouldn't eat a cheese pizza (margarita) but I didn't want the works.
The Restaurant is open until 21:30 and the Bar is open until 1 am. In case you were wondering.

Breakfast Included
This was a fairly large buffet breakfast. Cheese, meats, breads, fruit, cereal, yogurts and jellies. This is usually the standard German breakfast spread but they added eggs, sausages and bacon. Mmm Bacon!
Again, we were some of the first guests. Thank you kids for waking us up at the crack of dawn, I don't need sleep. Sleep is for losers.
We knew it would be a big day, with the Gardens, Castle and the drive home, so we made sure to eat, eat, eat.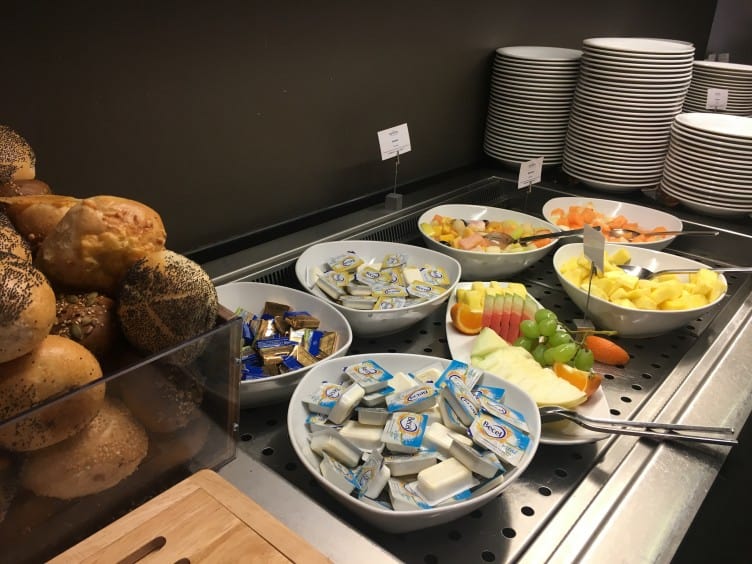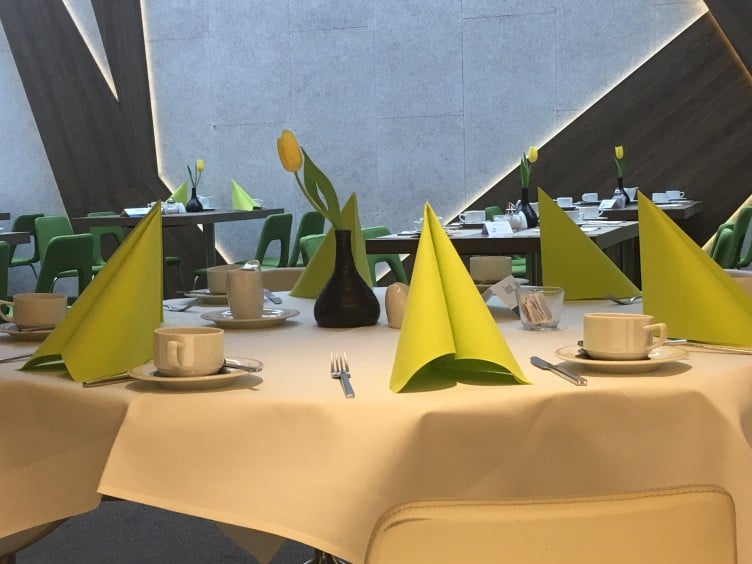 Downside
I was very happy with hotel. The rooms were large, the customer service was great, and they had a kids zone. The beloved kids zone.
If I had to pick a negative, it would be that there isn't a pool. There is a spa, gym and other recreational areas, but no pool.
You May Also Like
Why I would visit Hannover again and again
Things to do in Hannover with kid
Top 10 Things to do in Hannover
An excellent resource for planning all of Germany can we found with the Lonely Planet Germany Guide