Things to do in Marseille with kids
[fusion_builder_container hundred_percent="no" equal_height_columns="no" menu_anchor="" hide_on_mobile="small-visibility,medium-visibility,large-visibility" class="" id="" background_color="" background_image="" background_position="center center" background_repeat="no-repeat" fade="no" background_parallax="none" parallax_speed="0.3″ video_mp4="" video_webm="" video_ogv="" video_url="" video_aspect_ratio="16:9″ video_loop="yes" video_mute="yes" overlay_color="" video_preview_image="" border_size="" border_color="" border_style="solid" padding_top="" padding_bottom="" padding_left="" padding_right=""][fusion_builder_row][fusion_builder_column type="1_1″ layout="1_1″ background_position="left top" background_color="" border_size="" border_color="" border_style="solid" border_position="all" spacing="yes" background_image="" background_repeat="no-repeat" padding_top="" padding_right="" padding_bottom="" padding_left="" margin_top="0px" margin_bottom="0px" class="" id="" animation_type="" animation_speed="0.3″ animation_direction="left" hide_on_mobile="small-visibility,medium-visibility,large-visibility" center_content="no" last="no" min_height="" hover_type="none" link=""][fusion_text]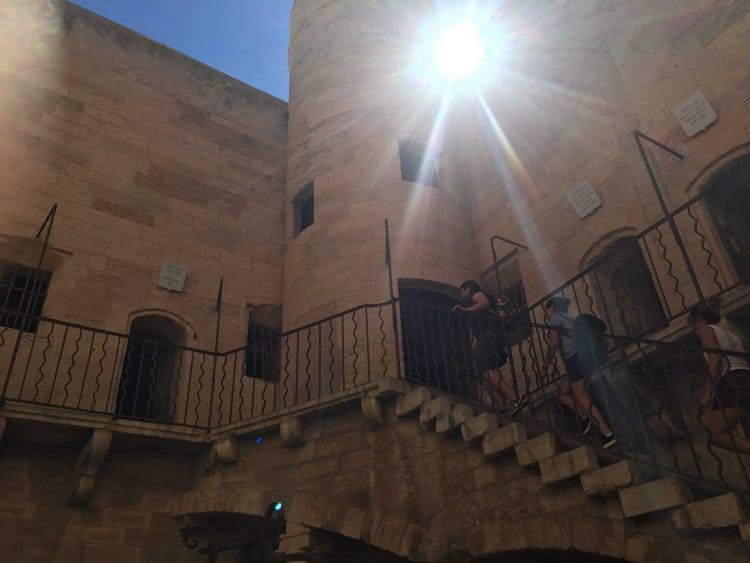 Marseille with kids
It's been 2 years now that we have been visiting the French Riviera for the summer and it's been 2 years that we skip Marseille. There have been rumors around the internet that Marseille is not a safe place. From muggings, murder and everything in between, due to a misguided sense that the ancient port city has been "overrun by migrants". Of course, like any other search engine – once you have a conclusion, everything online will support your theory. I, on the other hand, had only heard positive things and therefore only ran into positive reviews. Behold the Power of Google Search. Finally, one day we decided to come to a compromise; head for the day and stay along the port, and make up our own minds about Marseilles.
We drove the 2 hours from Port Grimaud to Marseille in hopes of a pleasant day trip to break up our week at the beach. We walked along the old port and investigated the shuttles to Chateau d'if.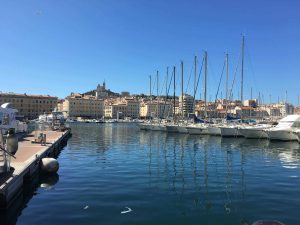 Hard Rock Cafe was down the street so we decided to have an early lunch. We arrived and the place was empty. The host showed us around after my son mentioned he didn't see any guitars in the entrance. It was funny to watch the guy show him all the guitars, each one bigger and flashier than the last. Not sure how big this location was but I feel it was the largest I have been to in Europe, and it was only 2 years old. Once we finally sat down and had our orders taken, it was starting to fill up so we had made it just in time.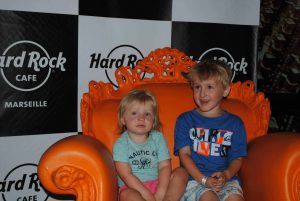 After lunch, we walked back towards the port and waited in line at the Frioul D'if express to purchase tickets, then another 30 min line to wait for the shuttle boat not leaving the harbor until 2:15 pm. By then we all needed to pee and no one knew where the nearest public restroom was but the shuttle had a toilet and all was good again.
Visit Chateau d'if
At the dock, there is 1 set of steps that required lifting the stroller as a two-person job, then long stairs that I could take easily myself. This all led us to the main entrance to buy tickets. This is when the gentleman told me that strollers are not allowed. It would have been nice if they had mentioned it when I bought the shuttle tickets; I had the stroller in hand and she asked for my destination. The baby girl ended up walking most of the site, save the stairs and catwalk. I left my carrier in the car, and would have retrieved, had I known.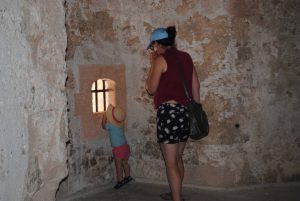 The area is a barren wasteland but the view and history are amazing. We had a great, hot time. The main area has a toilet and vending machine, I didn't buy from it because it looked a little dusty. Next door was a restaurant overlooking the harbor and nearby islands. It was a nice 30 min break; wine and apple pie, yummy!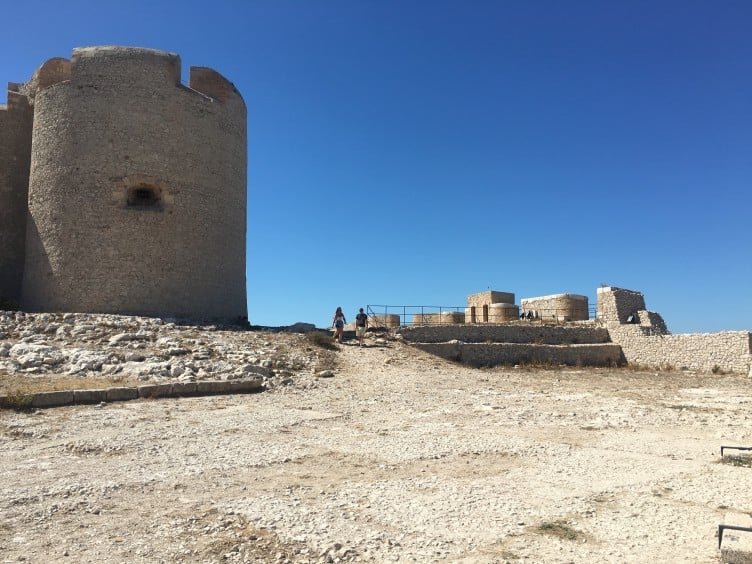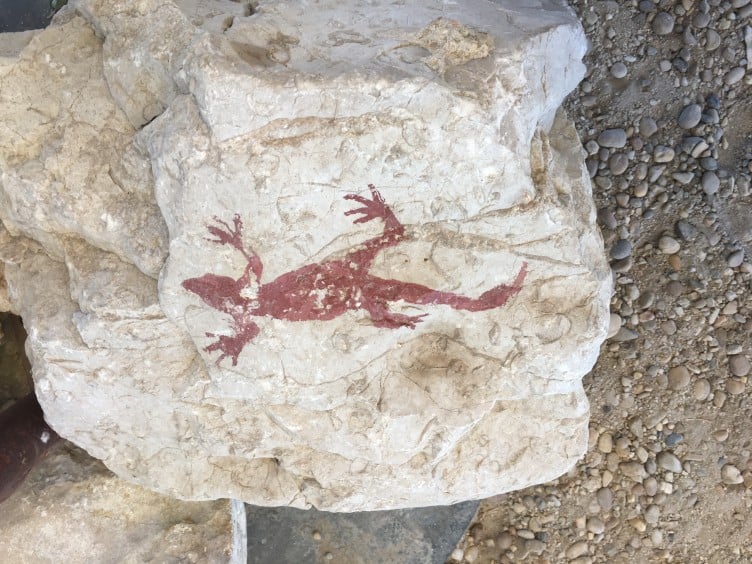 They say to take 1.5 hours on the island. We didn't think we had spent that much time but we ended up taking the 415 shuttle back to the mainland. It is a 45 min shuttle to land, but only 20 to the island, because there is a stop at Frioul island in between.
Further Reading:
Tips for traveling with kids and babies
Mainland
We got back fairly late and we were all exhausted. The baby fell asleep on the boat, of course, now that she had her stroller back. We grabbed snacks and drinks at a nearby cafe and headed home.
For some reason, the GPS refused to take us back the way we came in. The parking garage was 21€ for the half day we spent, and it was right at the port. We took the long tunnel that empties right in front of the garage to get there. Not sure what was going on in the afternoon but it took us 1 hour to leave the city. By then, the traffic was gone but we were also done. There are days when you just need to override the GPS and take out your paper map (or manually check your Google Maps); today was that day.
Top 10 things to do in Marseille
While our day didn't go as planned, that is no reason I can't provide you with a great list of top 10 things to do in Marseille with the help of my friends on Instagram. Click their images to be brought to their accounts for more information, or click here to follow me on Instagram and keep up with a few exclusive shots from our various travels.
Don't forget to pick up the Marseille Card before heading out. This will come in handy to get into dozens of attractions for free and receive free public transportation during your stay. Check it out by clicking here.
Old Port
Marseille's massive rectangular port has been trading for 2,600 years and is more of a whole district than a single sight.
On three sides are quays with broad promenades enclosed mostly 18th-century former warehouses.
Chateau D'If
The Château d'If is a fortress (later a prison) located on the island of If, about 1.5 kilometers offshore in the Bay of Marseille. It is famous for being one of the settings of Alexandre Dumas' adventure novel The Count of Monte Cristo. The entire island is heavily fortified; high ramparts with gun platforms surmount the cliffs that rise steeply from the surrounding ocean. Apart from the fortress, the island is uninhabited.
Available tour; Skip the line Chateau D'if
Basilique Notre Dame de la Garde
It's a 19th-century neo-Byzantine church 150 metres above the water, with a large golden statue of the Virgin and Child at the top of its tower to watch over Marseille's maritime communities.
There had been religious sanctuaries and watch towers on La Garde for many centuries, and the basilica incorporates the lower levels of a renaissance fort that also included a chapel.
Musee d'Histoire de Marseille
It can be difficult to get your head around Marseille's 26 centuries of history, but this first-rate museum near the Old Port will help.
Because of the huge time-span that the attraction deals with it's the largest urban history museum in France.
Calanques National Park
There are a handful of ways to reach these amazing cliffs; take one of many mini-cruises departing from the Old Port, as well as guided kayaking adventures. The hike, I have heard, takes a whopping 11 hours across some pretty interesting terrain. I am sure the view is worth it, just not for this mama, not today.
Cathedrale de la Major
The Cathedral of Marseille is the Episcopal church of the Roman Catholic Archdiocese of Marseille in the French city of Marseille. Built in 1852, the monumental Neo-Romanesque – Byzantine church stands on the western edge of the old town above the Quai de la Joliette.
Museum of European and Mediterranean Civilizations
Inaugurated in 2013, MuCEM is a cutting edge museum that regenerated a portion of Marseille's waterfront next to the 17th-century Fort de Saint-Jean.
Fort Saint-Nicolas
The construction of the Fort Saint-Nicolas was decided by Louis XIV in the 17th century to protect the harbour of Marseille against a possible attack. But the aim was also to keep an eye on the city and its population in case of rebellion.
Boulevard Longchamp
The Palais Longchamp is a monument in the 4th arrondissement of Marseille. It houses the city's musée des beaux-arts and natural history museum. The surrounding park (the Parc Longchamp) is listed by the French Ministry of Culture as one of the Notable Gardens of France.
[/fusion_text][fusion_text]
Plan Your Trip – Stay and see everything
[wp_ad_camp_1]
Accommodations
Booking.com 1,136,997 properties worldwide. Including 581,306 holiday rentals in 105,263 destinations in 225 countries and territories
Flights
Skyscanner.com compares millions of flights to find you the cheapest deal, fast. Fly for less with Skyscanner!
Car Hire
Blacklane.com Take your time and relax. Airport pickups include 60 minutes of free wait time, and all other pickups include a free 15 minutes. Limousine Service!
Pin this to Pinterest: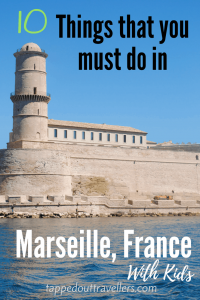 Do you have any Tapped Out Tips?
Questions or Comments? Join the conversation below.
[/fusion_text][/fusion_builder_column][/fusion_builder_row][/fusion_builder_container]