Oktoberfest with Kids!
I know what you're thinking; why on earth would you bring children to a beer party?! At first, I had no idea what Oktoberfest was. For all I knew, it was a beer-drinking good time and celebrated in Munich. Since I don't like beer and you can, realistically, only drink so much in one sitting, bringing the kids was never a problem.
The park opens at 10 am and children/strollers are welcome until 6 pm. Most websites that I researched would suggest we leave around 2/3 pm when tables start seating their guests with reservations – tickets purchased months in advance. So the picture was getting bigger; tents, kids, beer, reservations, and day drinking. Still not horrible with kids if all is planned properly.
This post may contain affiliate links.
To which I earn a small commission, at zero cost to you!
Find more info in our
Privacy Policy
.
History
According to our tour guide at Neuschwanstein castle, Oktoberfest started as the wedding celebration for Prince Ludwig (later King Ludwig I) and his bride Princess Therese of Saxe-Hildburghausen. The people loved the celebrations, and their king, so much that they decided to host the festivities every year. It started on October 12, then slowly moved to 16 days prior to the first Sunday of October. In 1994, the schedule was modified to accommodate German Reunification Day. Over the course of 200 years, Oktoberfest has been canceled a total of 24 times due to war or cholera.
Kids? Really?
Finally, I had the bright idea of googling "Oktoberfest with kids". Click here to view my pinterest research. So many bloggers commenting about their experience with their (slightly older) kids. Oktoberfest is a fair with rides, souvenirs, food, and beer chalets. Perfect!
Due to the recent string of violence and terrorist activity in the general European area over the last year, Munich has decided to fence the whole area and install security guards at all entrances. No rucksacks or large bags allowed. We threw all of our personal stuff, kids distractivities and rainy-weather precautions (40% chance of rain all week) into the open stroller and off we went. Police took a quick look and off we went. We did see a few people with large purses and kids with their personal bags but we didn't want to take the risk of being turned away; better safe than sorry.


Arrival
So we arrived shortly before 10 am. Plenty of people we ahead of us, drinking coffee, keeping warm, gathering with their friends and making a battle plan for the day. We walked the main road first to get a sense of direction and a better idea of what to expect in the rest of the park. We found several ornately decorated Beer Chalets on the main road, and the kids had a great time thinking of all the rides they would go on. Munchkin decided the Ferris Wheel was too high for him this time, which is weird since he loves Ferris Wheels and has demanded we go on each one he has seen.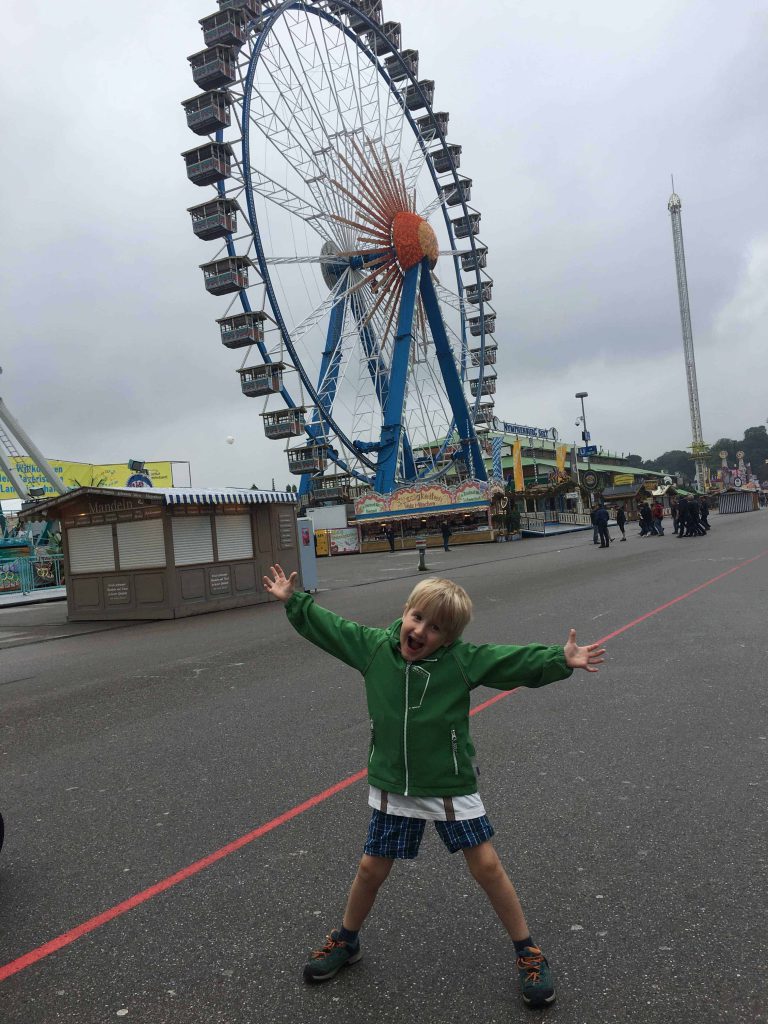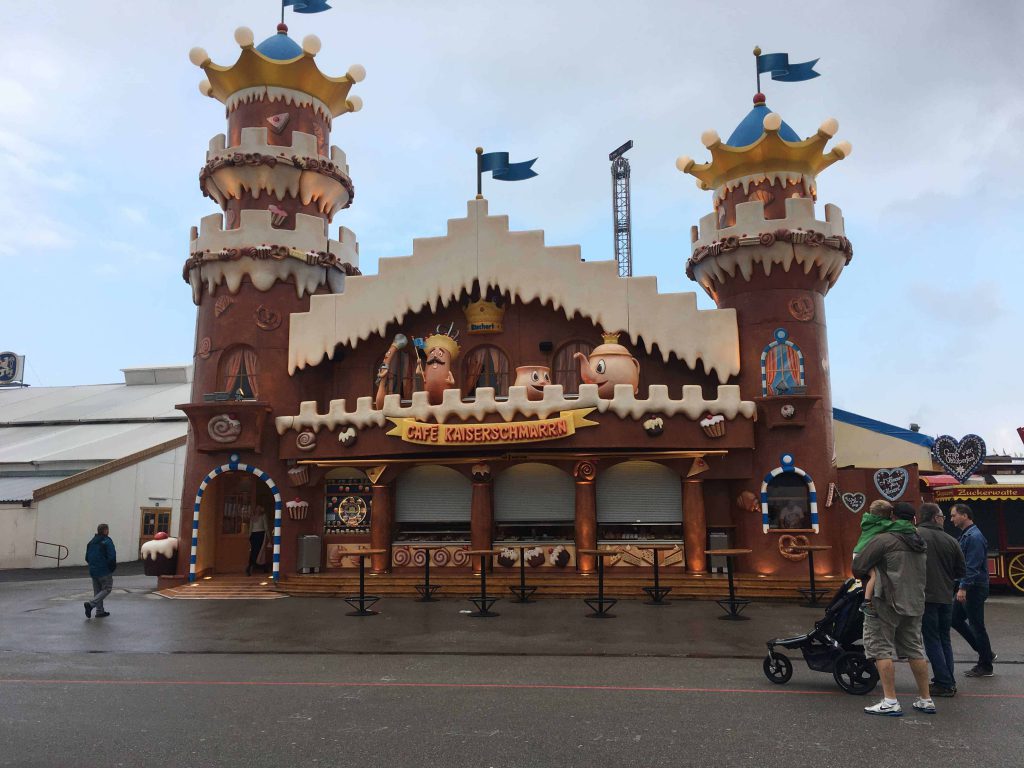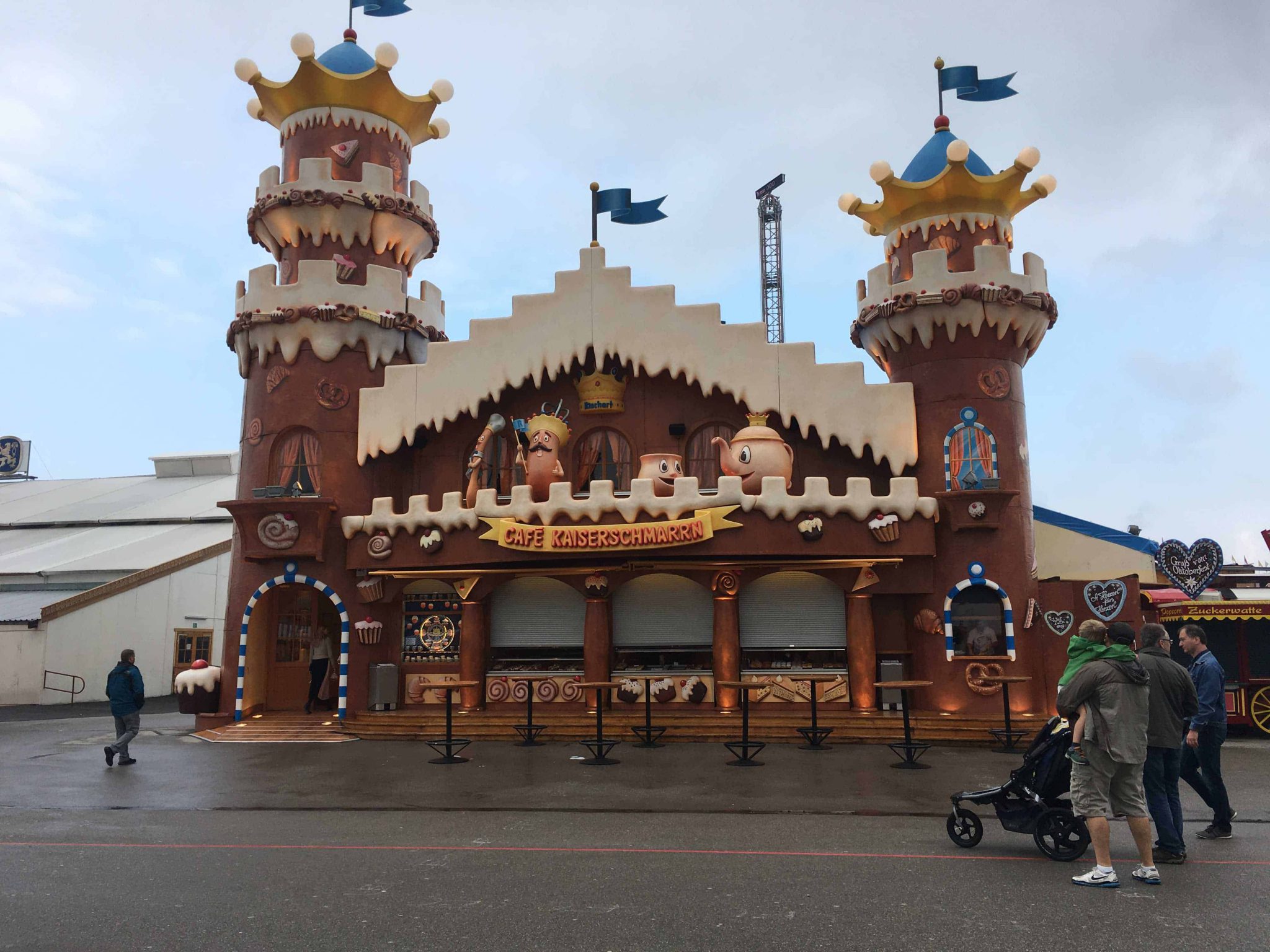 Bavaria
The Bavaria Statue is at the end of the main road. It symbolizes the female personification of the state of Bavaria. We were able to climb up the statue and see the whole park from her crown; of course we forgot to take photos. We did find a school field trip also climbing the statue; a middle school class was on a field trip to Oktoberfest! How crazy is that?
After some more walking about, souvenir shopping and warm cup of Coffee/tea, we made our way to the side streets of the park to check out the rest of the festival.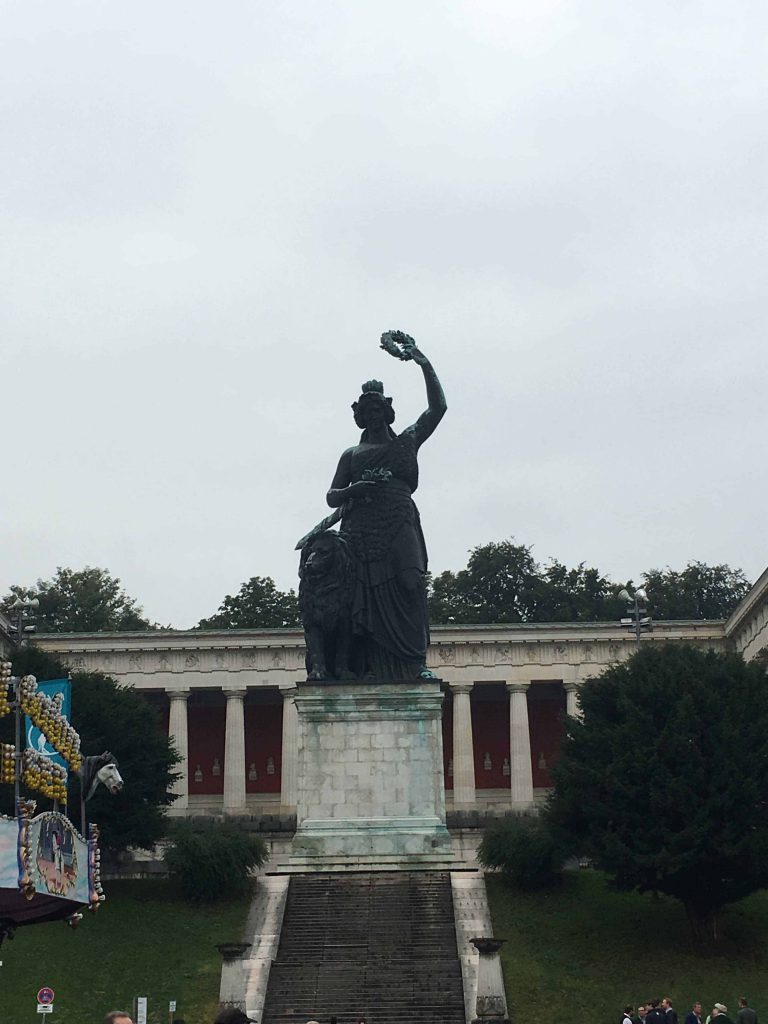 Carnival rides
One after the other, munchkin found rides he "needed" to do. We tried the carousel, and bumper cars with some degree of success. I was in charge of the pedals on the car and he took over the steering. I found myself stuck in reverse, and he didn't want to turn the wheel until the last second before we crashed into the side-rail. Didn't take long for me to realize he wanted me to scream, so I yelled "turn" when I wanted him to turn and he gave it a hard left turn.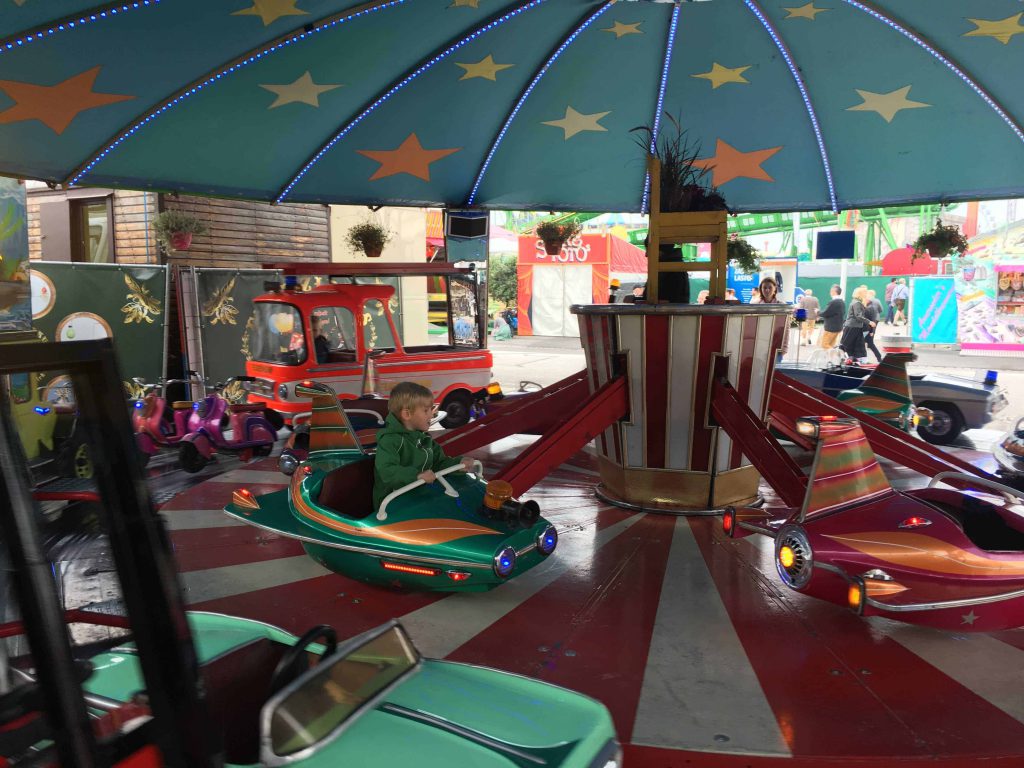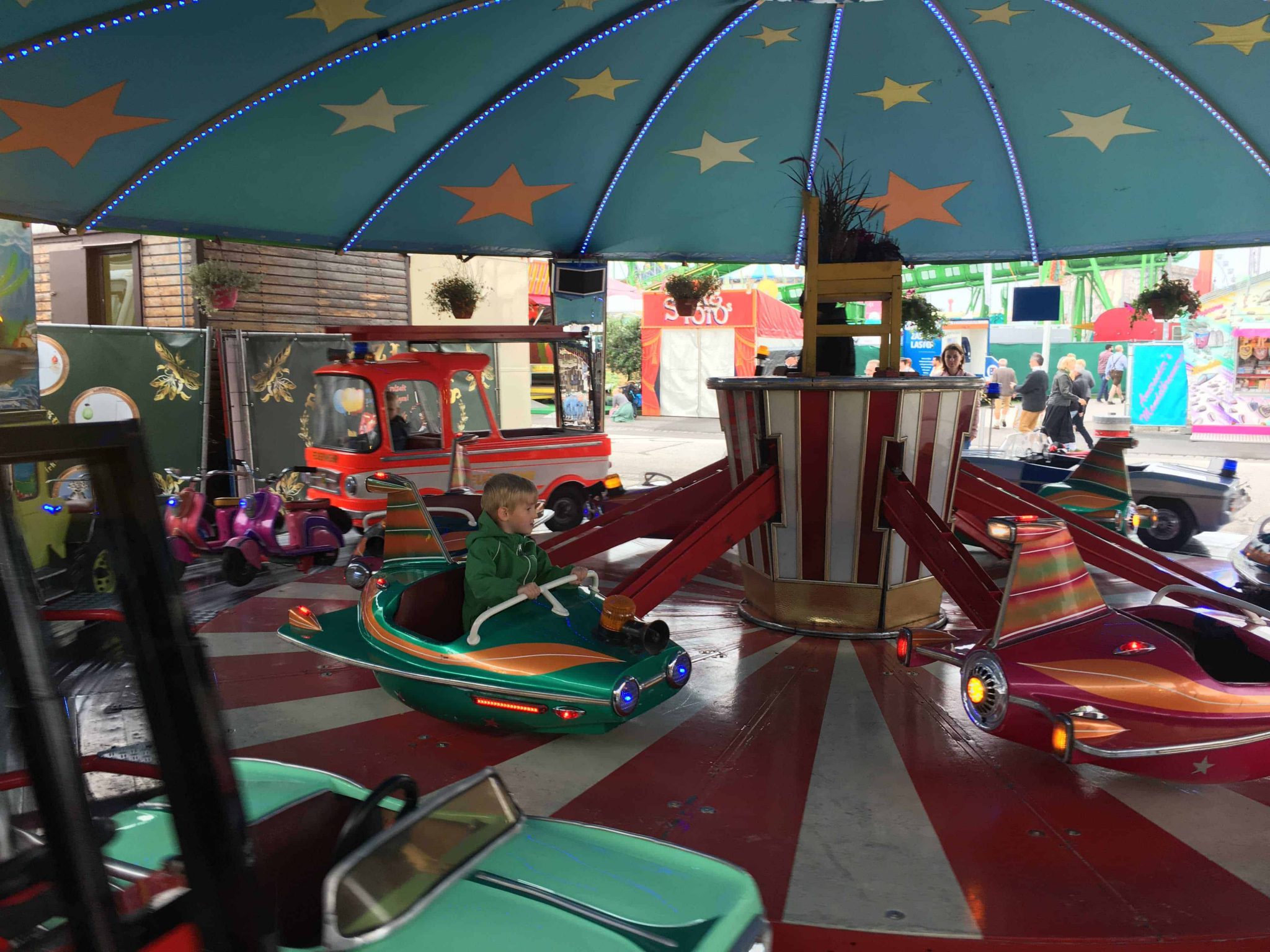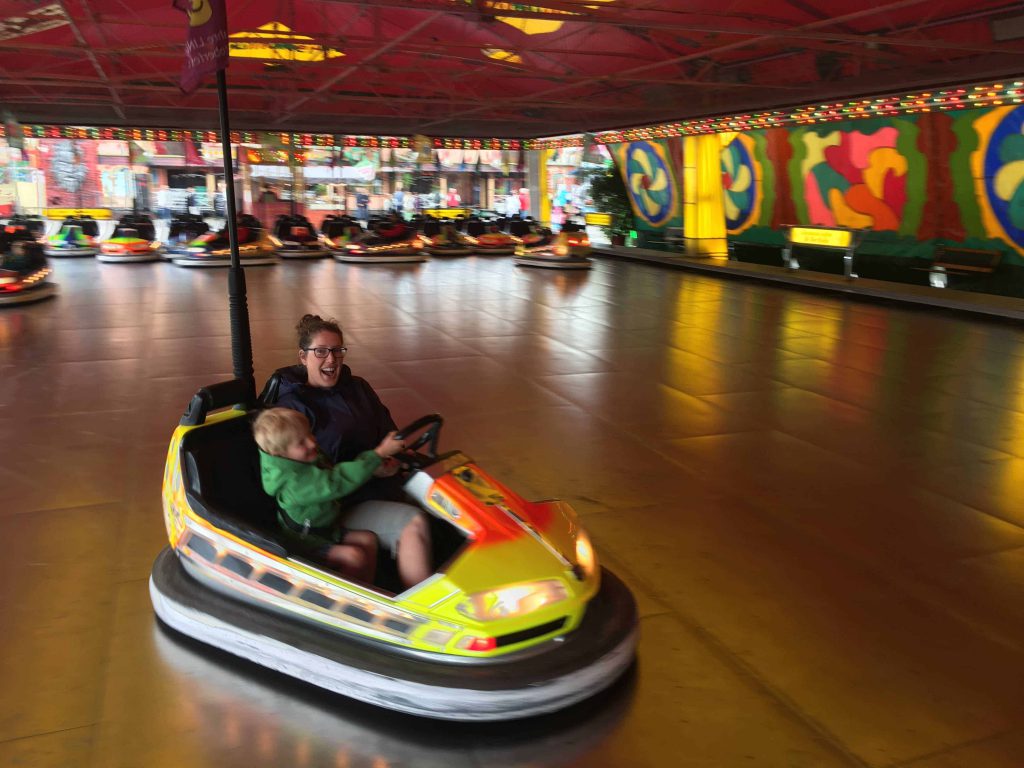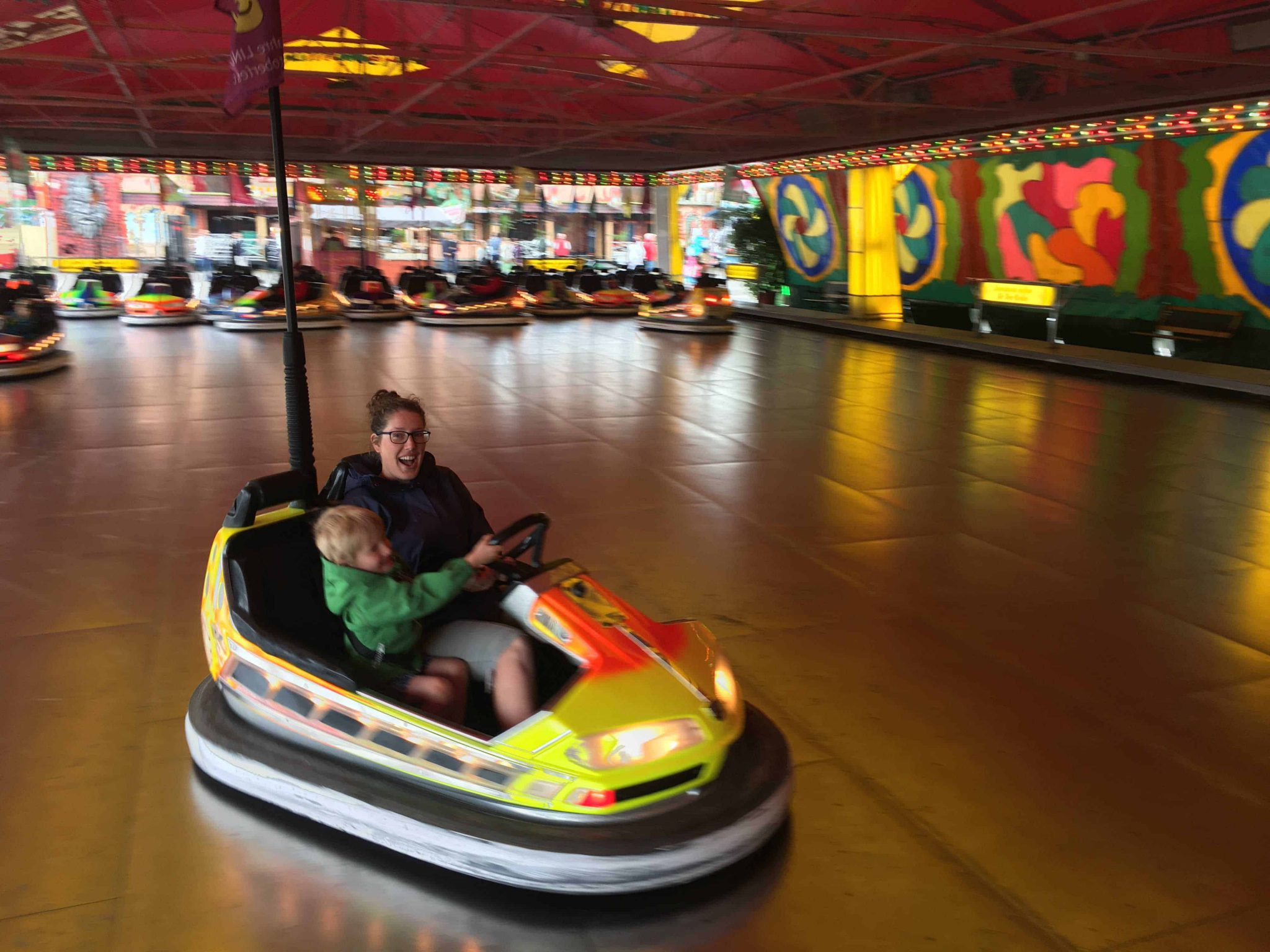 Sadly, we listened to him one too many times and allowed him to take us onto a roller coaster. There was a reduced price for under 1.4 meters tall and the ticket guy said it was fine for a 4-year-old. It was not fine. My glasses fell off at the beginning, luckily I caught them right away; it was high and fast and hurt my neck on the turns. Poor little guy was crying when we stopped and we had to hold him for a few minutes. He got over it when we offered another round of bumper cars but I felt horrible for letting him go on it.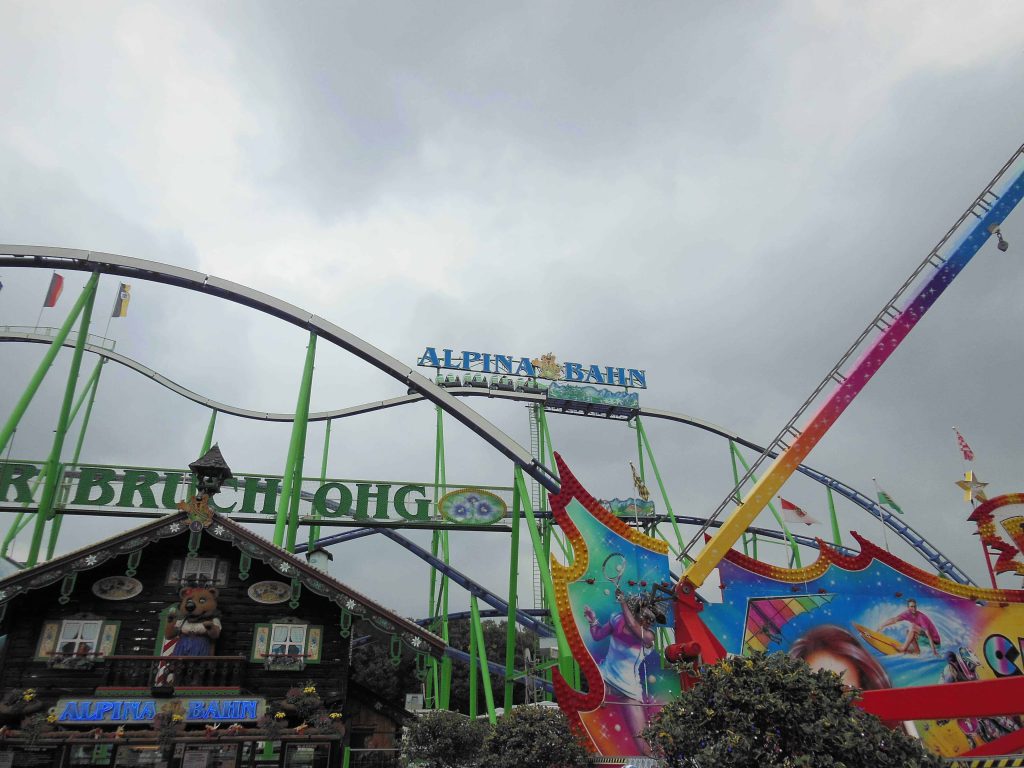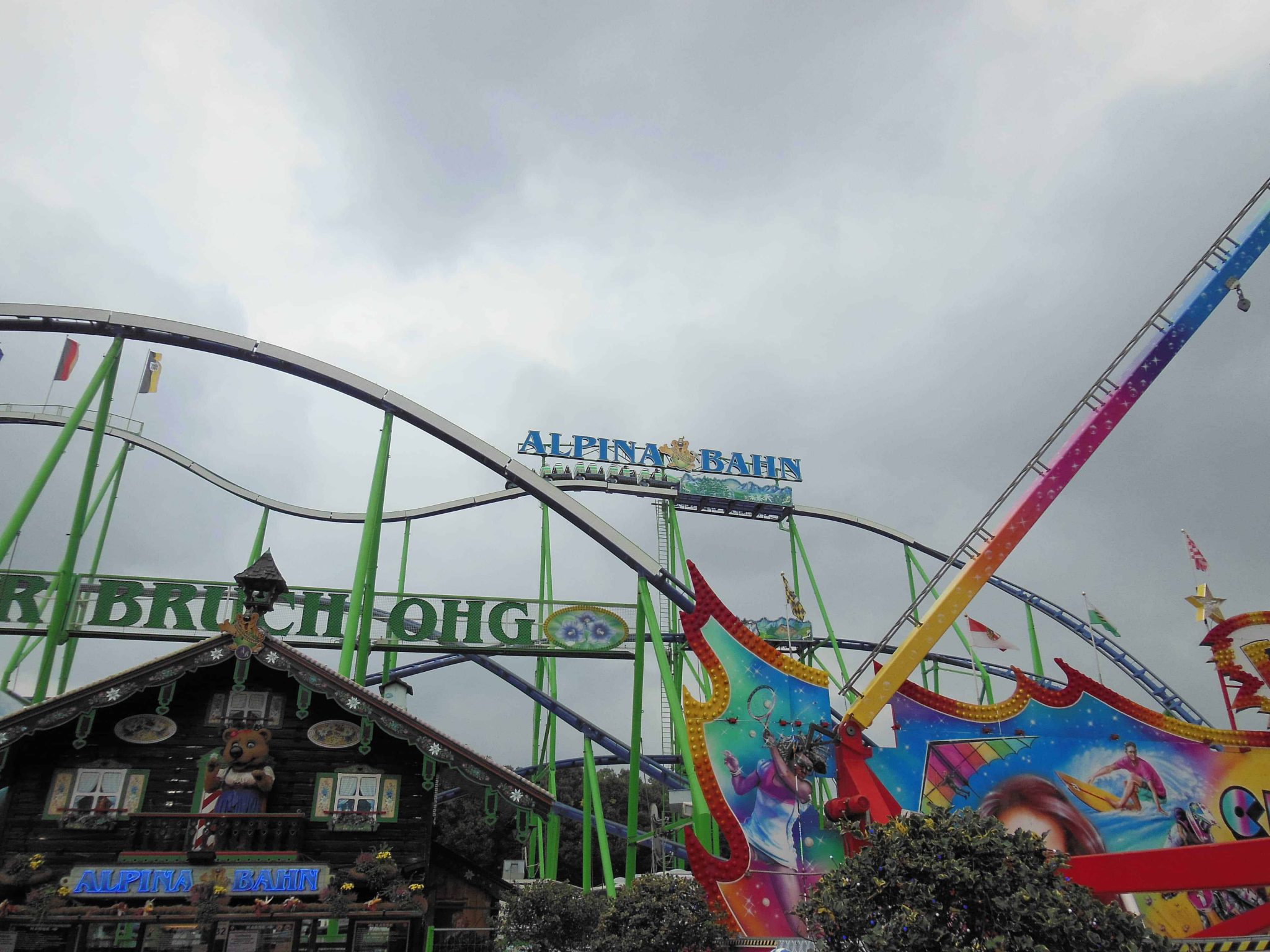 Beer Chalet
We wanted some good food, not too busy, access for the double stroller and my sleeping baby. This chalet was one of the first we saw on the way in, and the menu looked pretty good considering our lack of German skills. After one liter of beer and an amazing pork meal, we made our way for more great touring.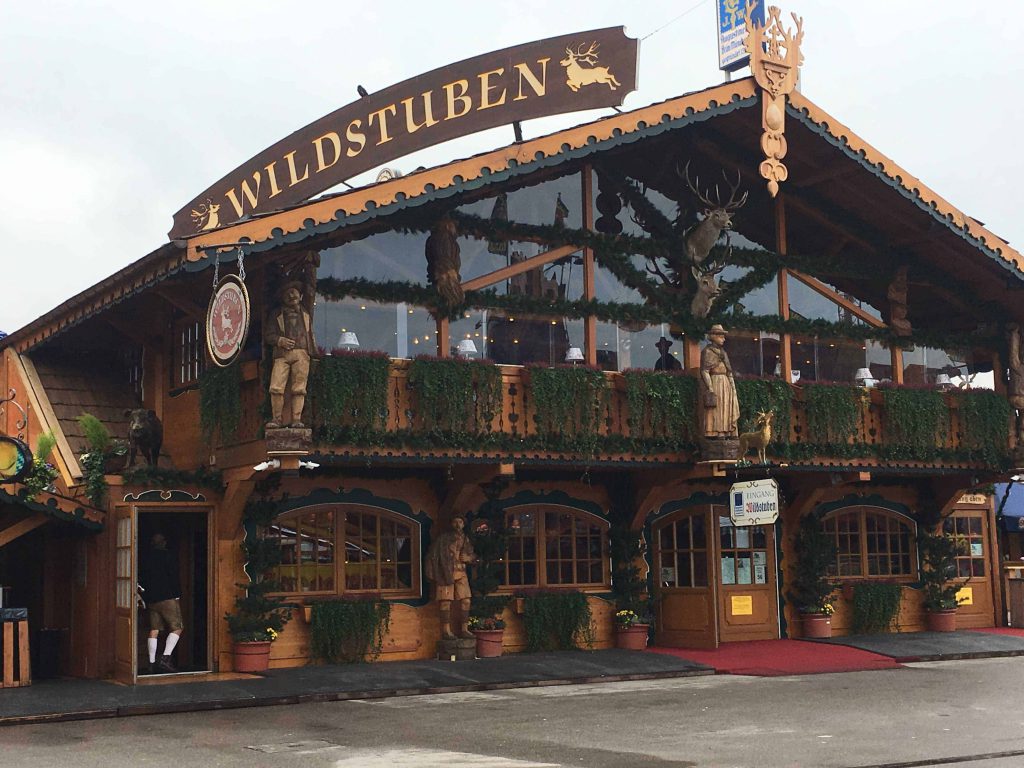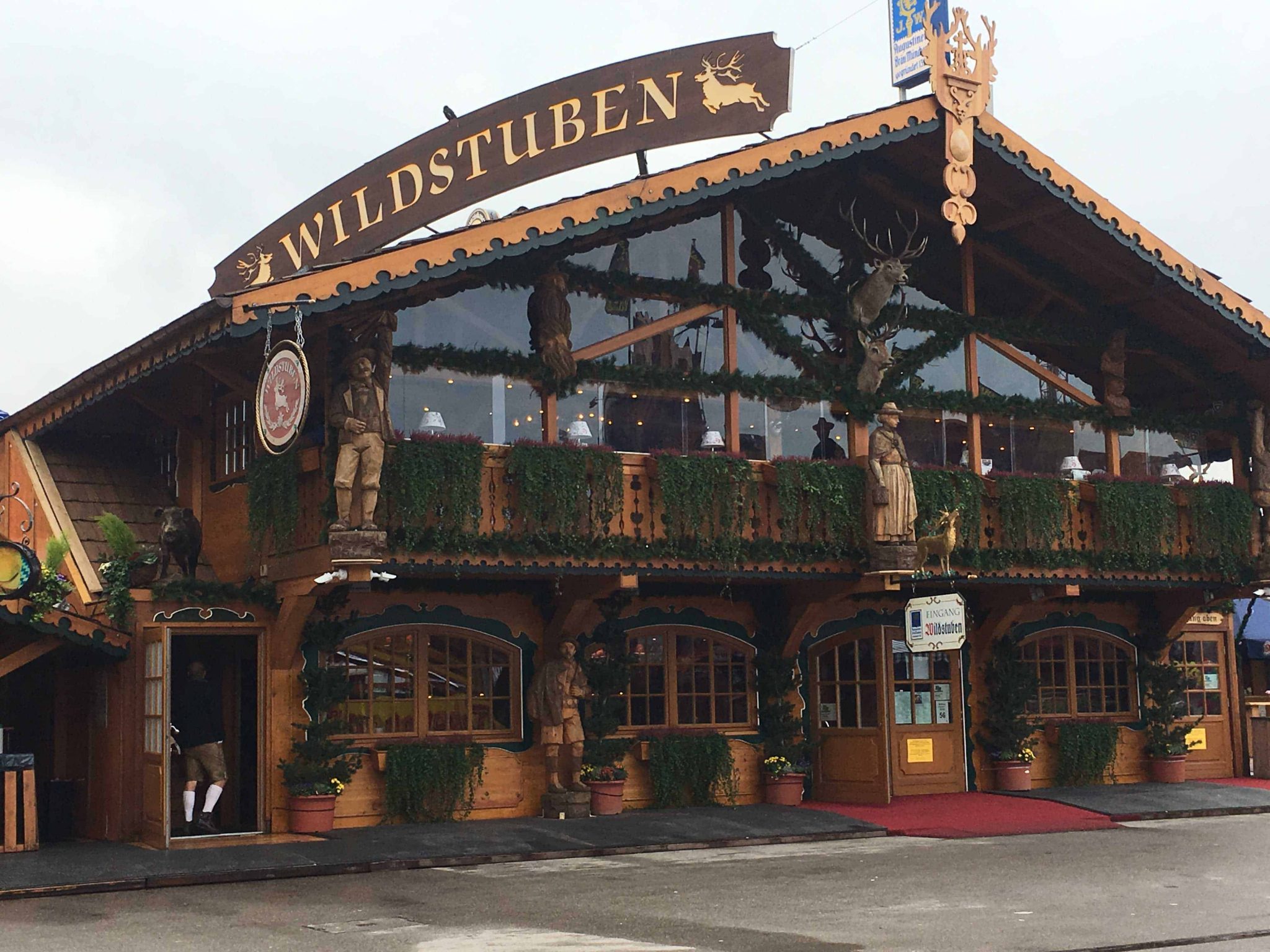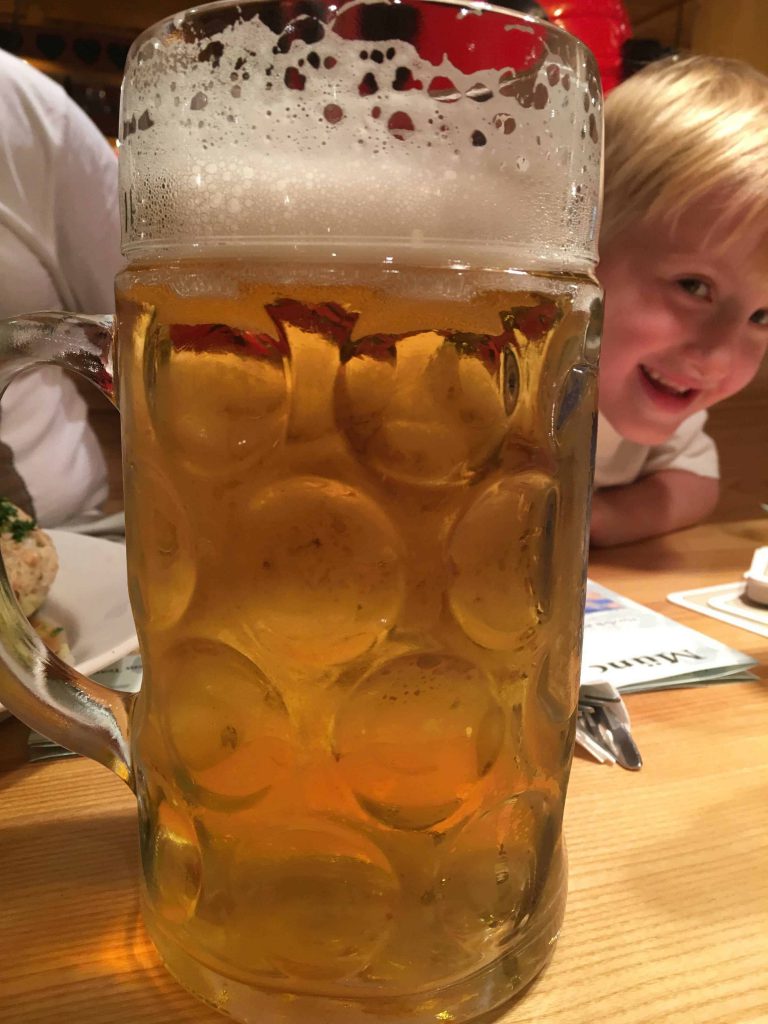 Chalet touring
After our lunch, we decided to look around some of the other beer chalets in the park. Each one represented a different brand of beer, their outside was just as decorated as the inside and a line of hosts were waiting at the door for you to make eye contact before persuading you to sit in their chalet instead of the neighbors'. These chalets were much more densely packed; tables closer together, more than one family per table and it was much louder than the one we had chosen. While ours was nothing special, I think we would not have fit in these elaborate chalets with the baby and the double stroller.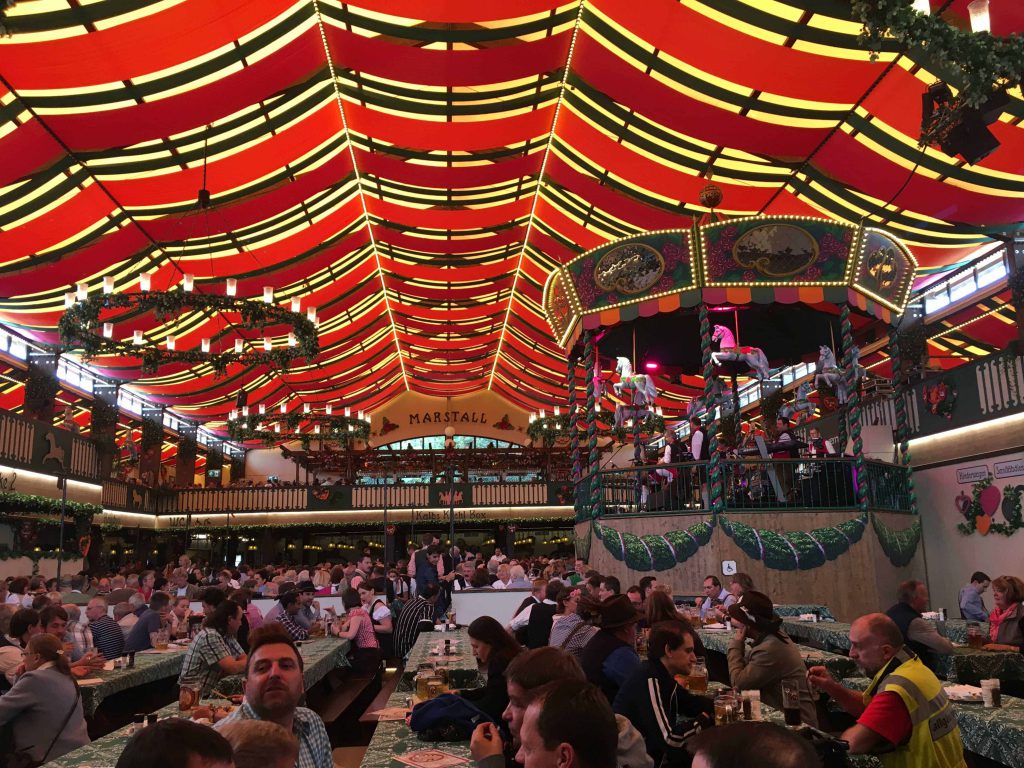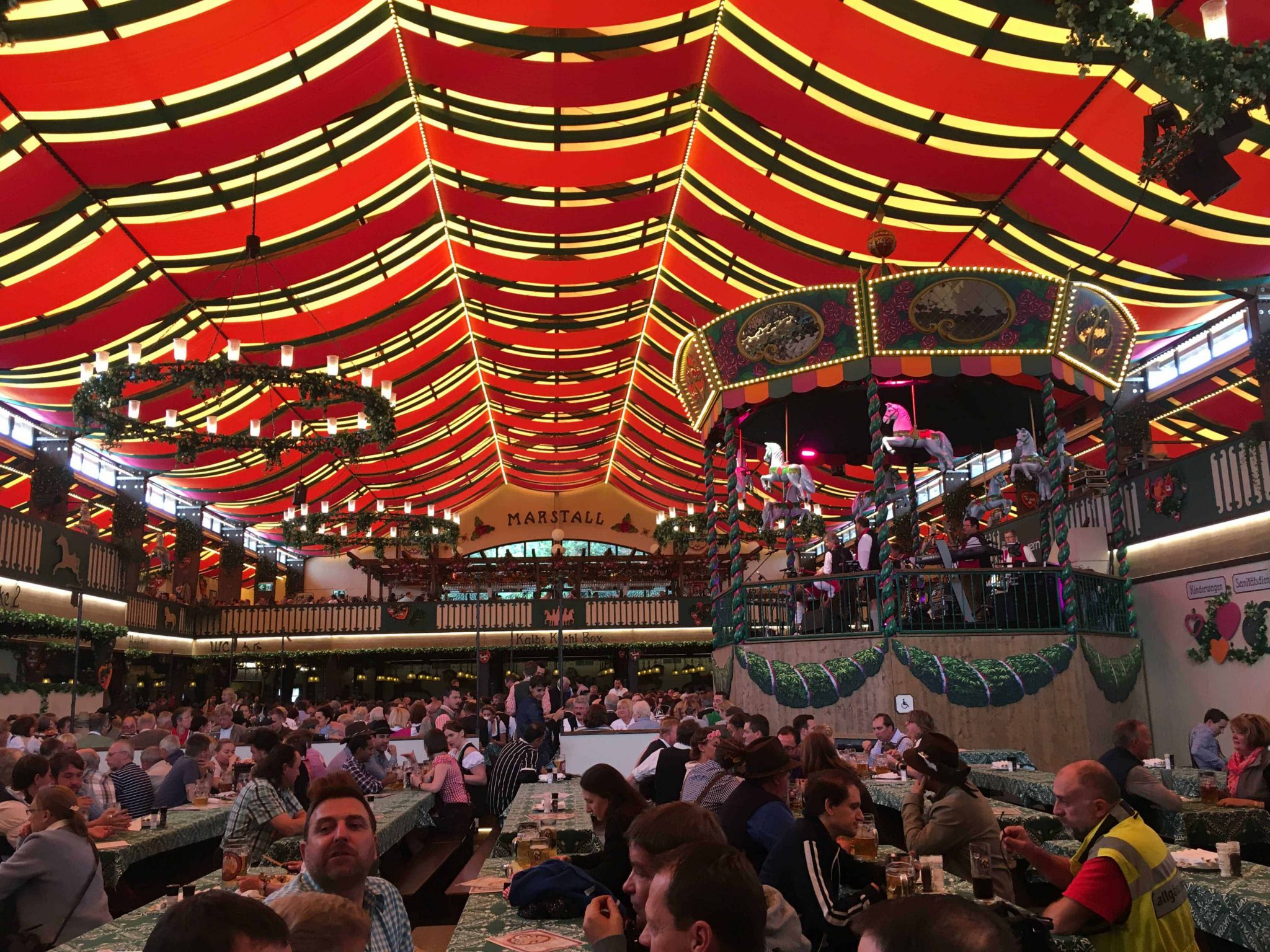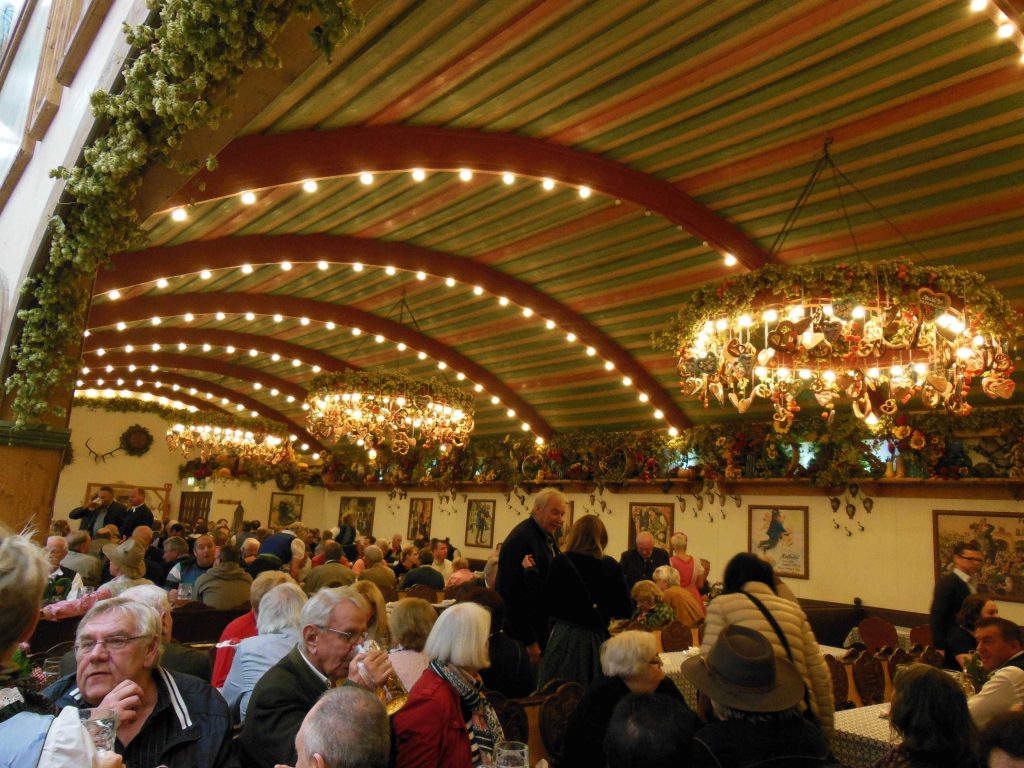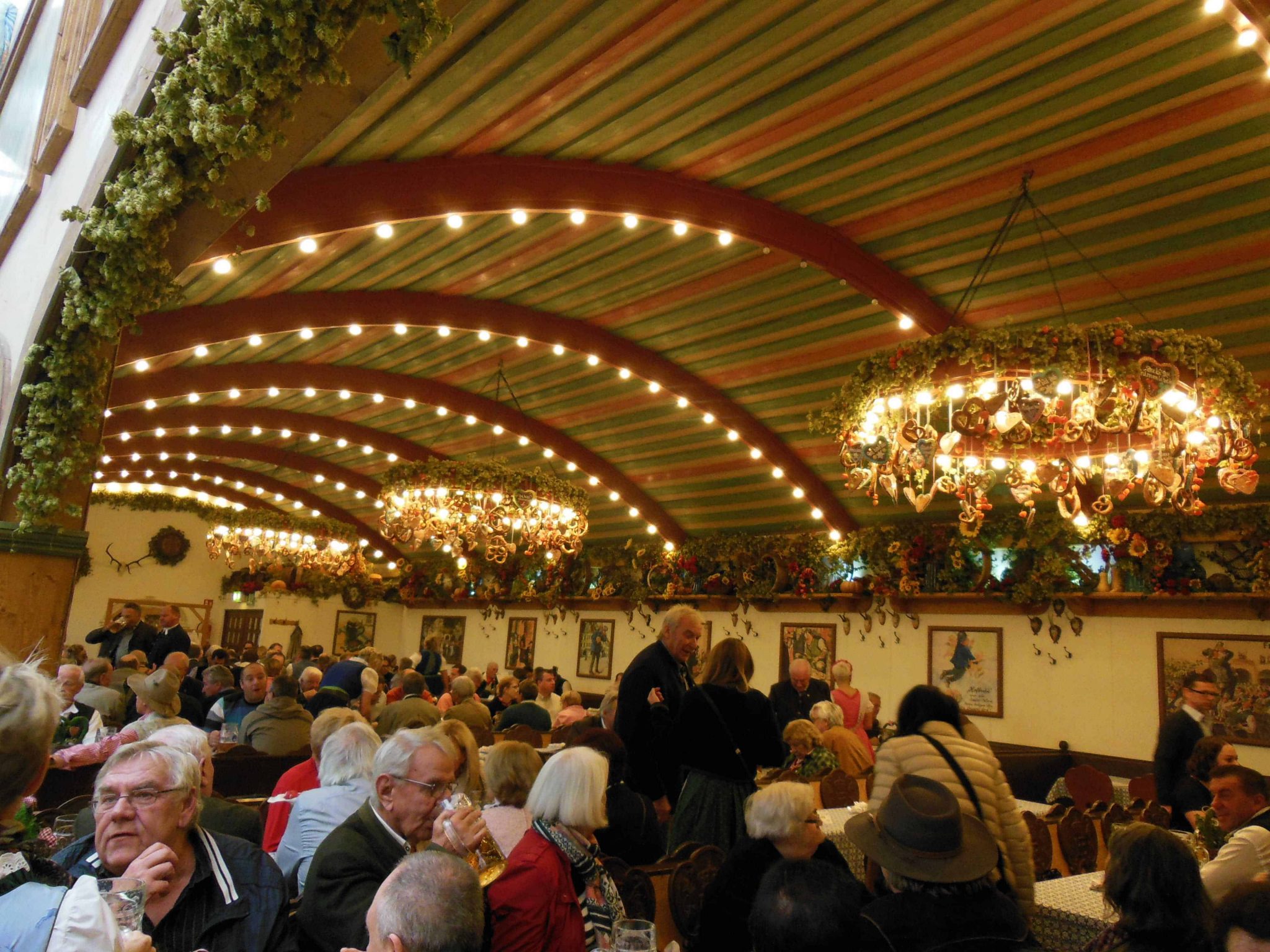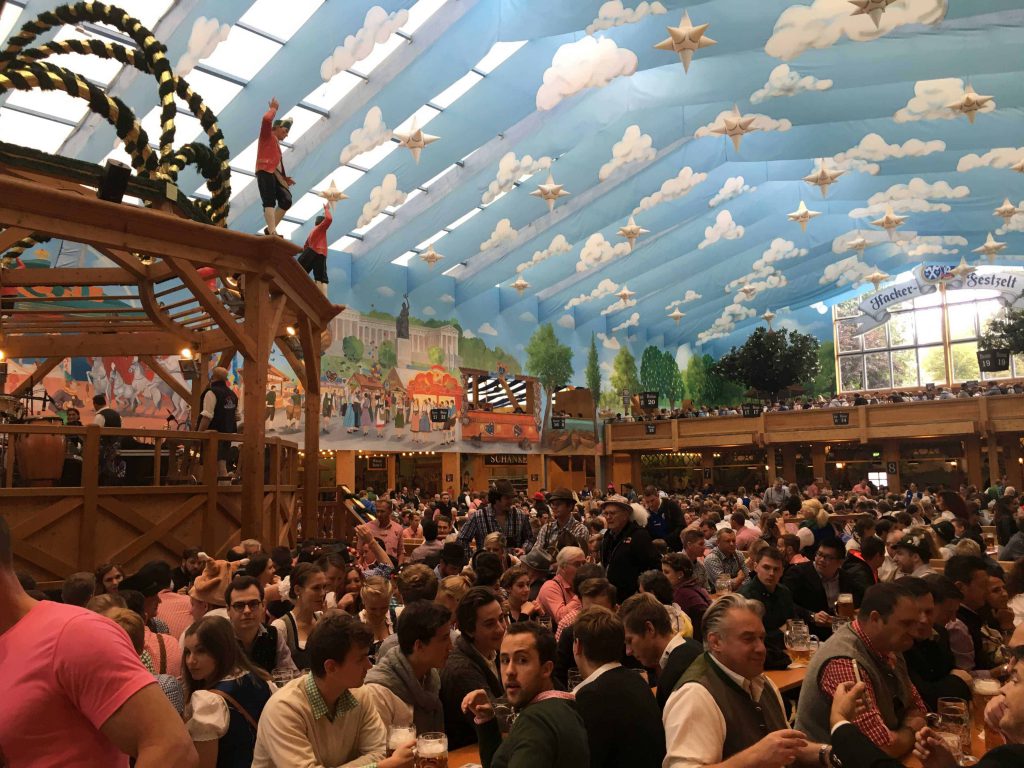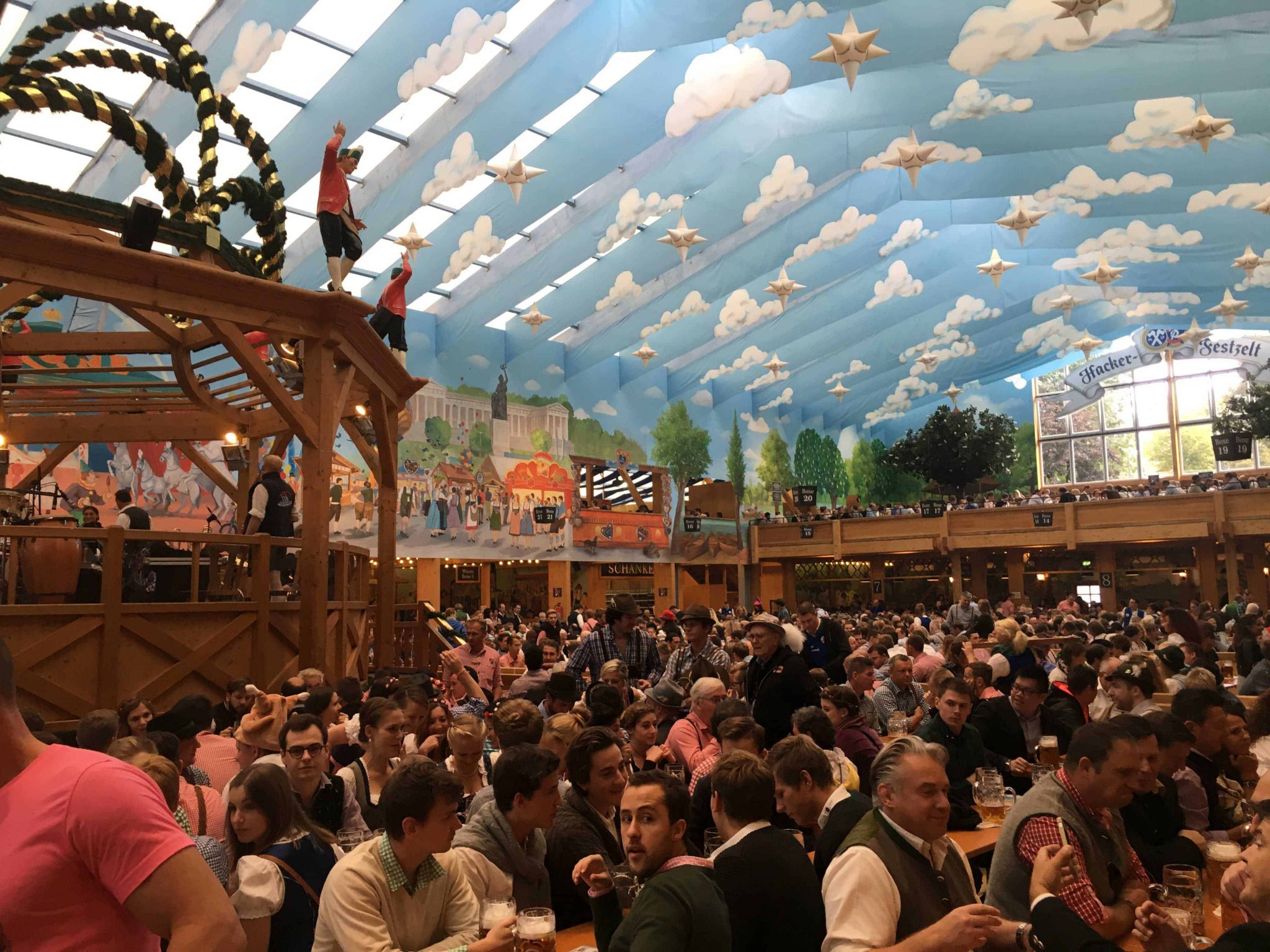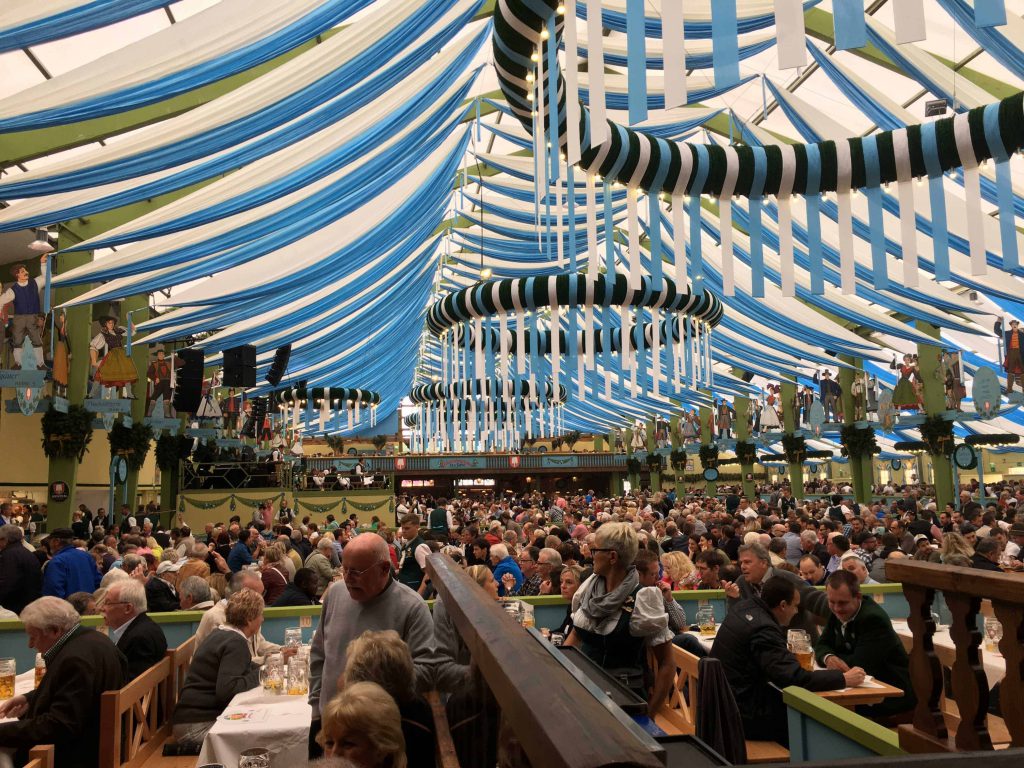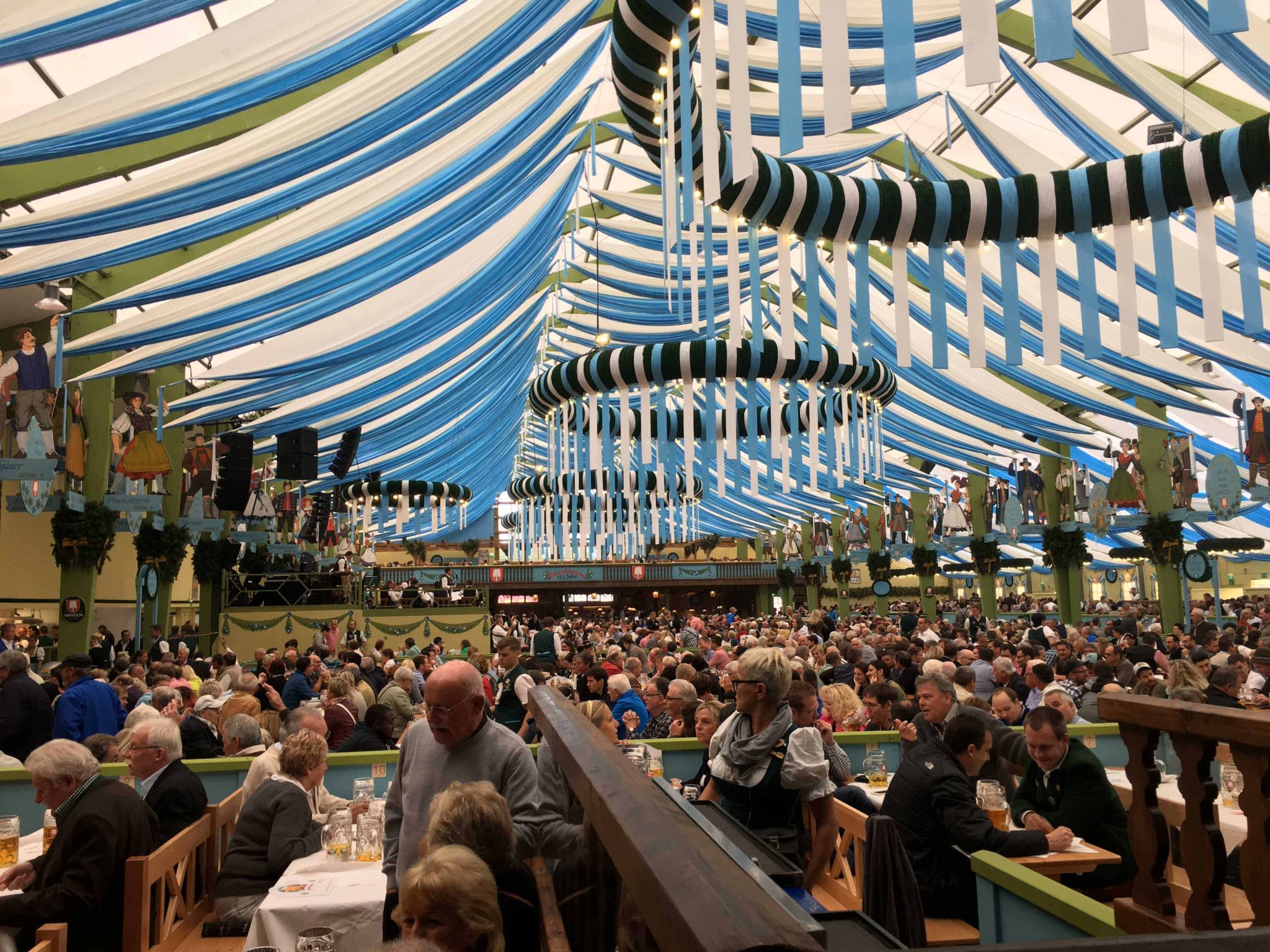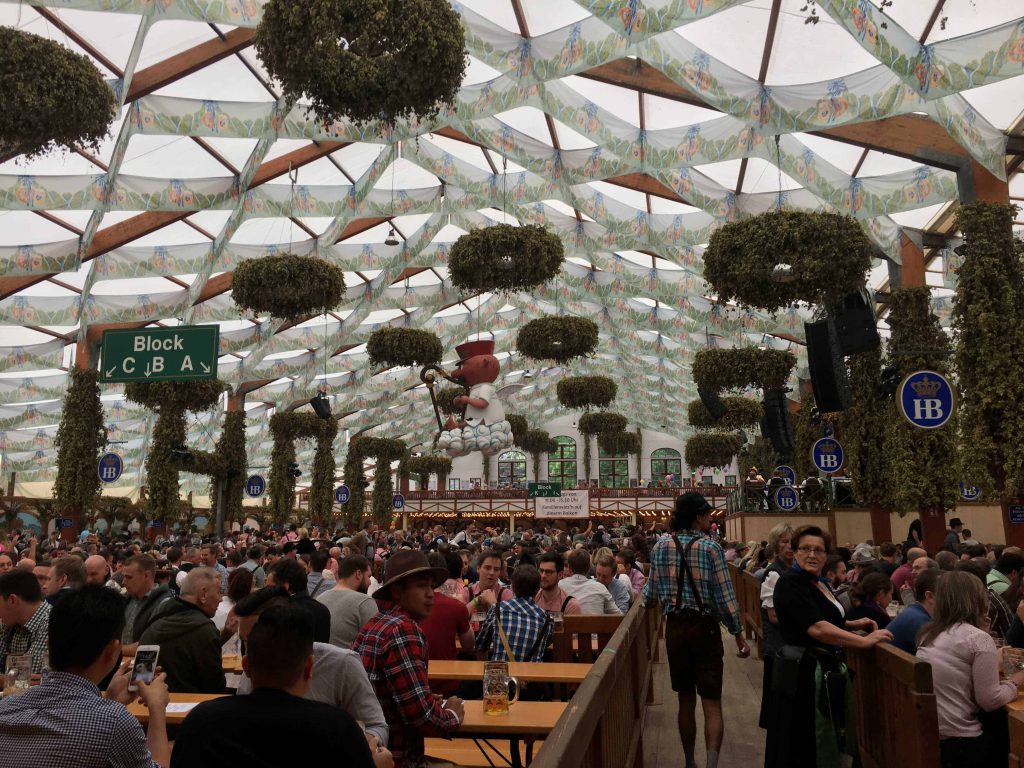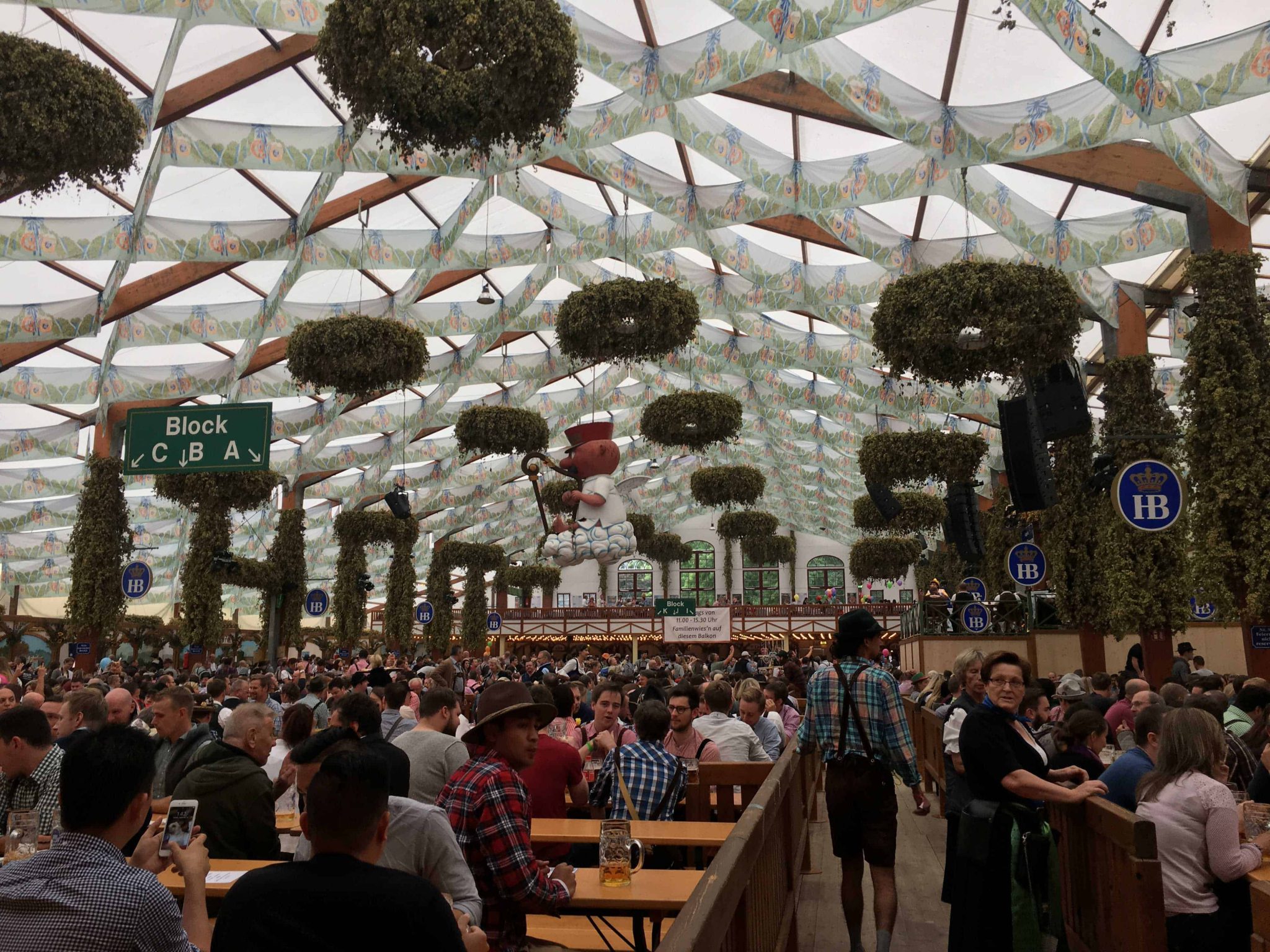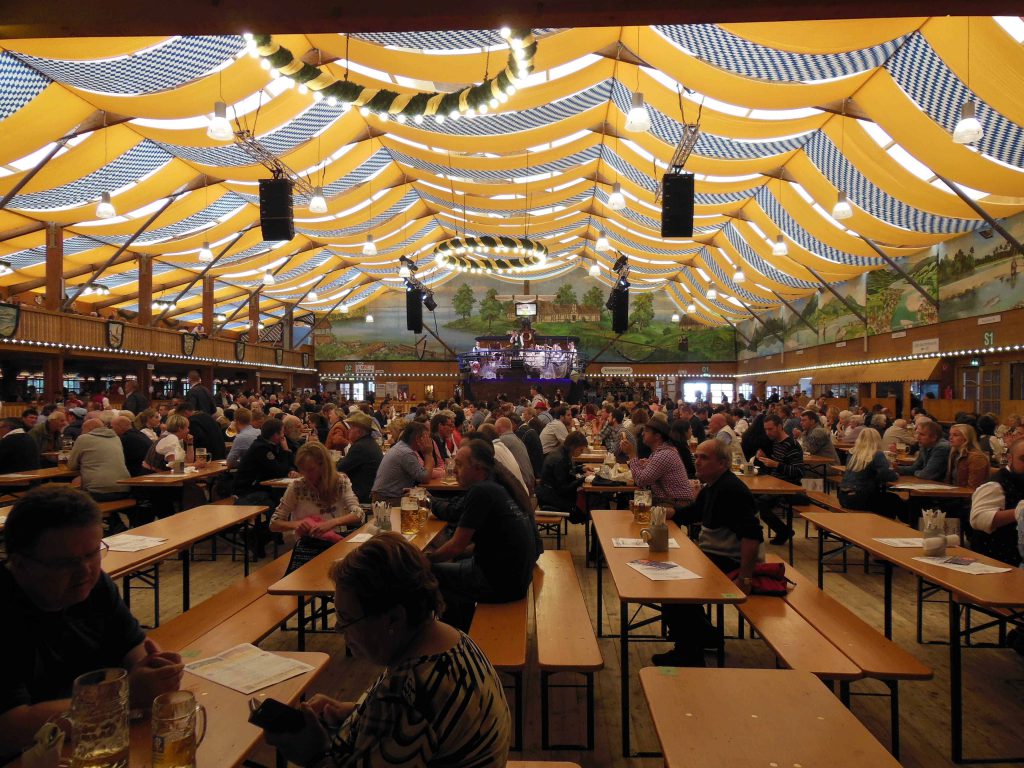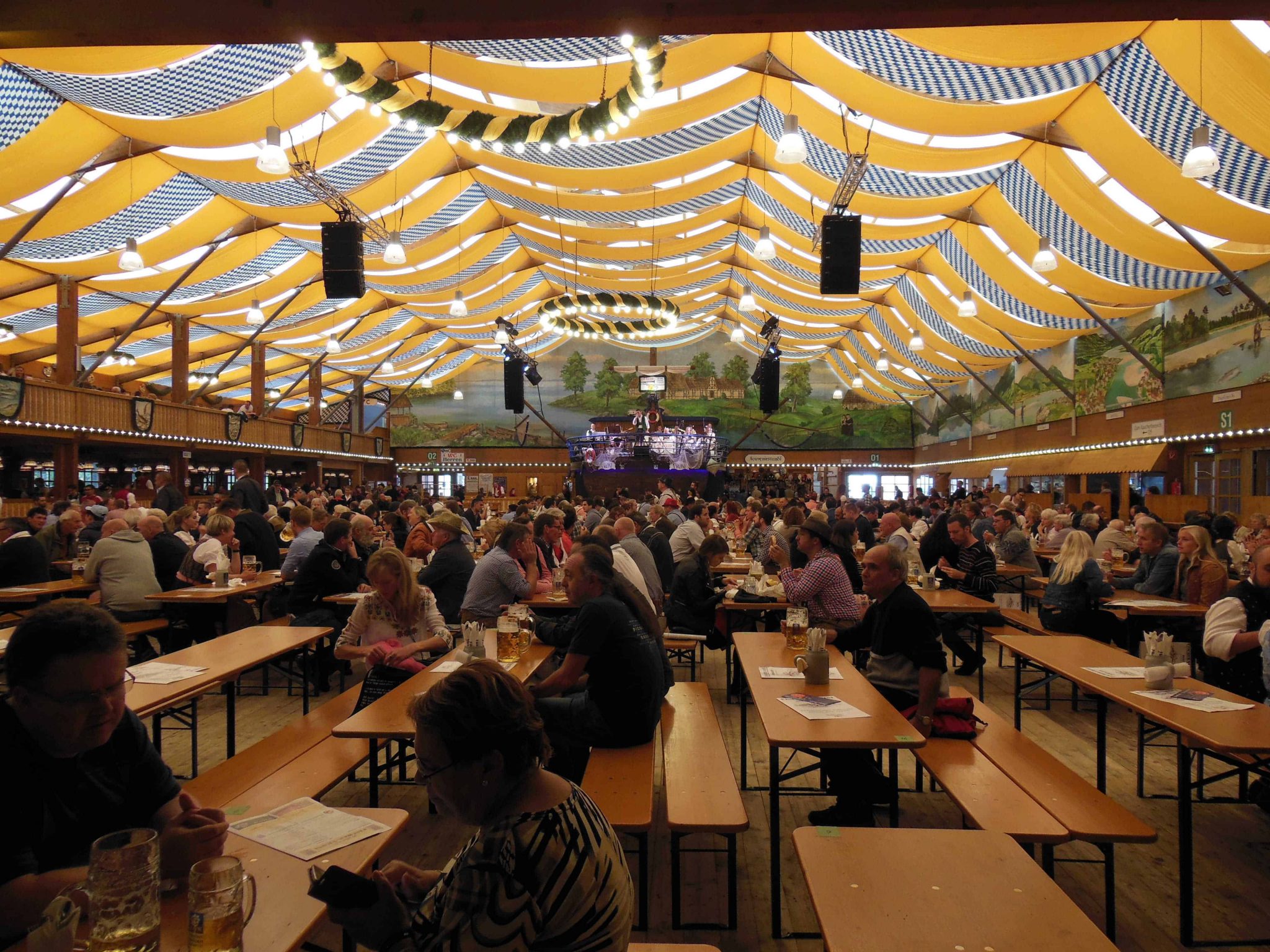 Calling it a day!
I kept an eye on the time and roughly 2/230 pm we started to see a few drunk young men walking out of the chalets for some fresh air and a cigarette. The more we walked, the more we witnessed and some were not all well behaved. We decided then that we had seen enough of Oktoberfest and we were ready to call it a day. More and more police lined the entrance, checking everyone's personal belongings and sending a few away for breaking the security protocols.
We did notice, though, that there was a storage area open for business across the street. Lockers like in a train station, available for anyone coming straight from the airport or turned away for having too large of a bag.

What is the legal age to drink in Germany?
While asking when can your teenager drink alcohol may seem like a simple question… 19 years old, done, Germany is not that cut and dry. Nothing ever is. There are several layers to the drinking age and Oktoberfest is very strict about those rules. Some have suggested that Munich refuses under the age of 16 since Parents can become intoxicated throughout the event and not be able to monitor the minor properly.
At 14 – minors are allowed to consume and possess undistilled (fermented) alcoholic beverages, such as beer and wine, as long as they are in the company by a Custodial Person. (§ 9 JuSchG (2) Sub-Clause 1, No. 2)
At 16 – minors are allowed to consume and possess undistilled (fermented) alcoholic beverages, such as beer and wine without their parents or a Custodian. (§ 9 JuSchG (1) 2.)
At 18 – having become adults, people are allowed access to distilled spirits, beverages containing distilled spirits, and food products containing non-negligible amounts of distilled spirits. (§ 9 JuSchG (1) 1.)
Those limits do not apply to married adolescents. (§ 1 JuSchG (5))

Overall impression
At the end of the day, I'm glad we went. We had a great time with the family and left before any (more) negative memories could be formed on all our parts. I don't think I would fly all the way to Munich to experience it again; there are several smaller locations closer to home, but I don't believe they would have as much to offer for the kids as Munich was able to.
In the end, I get to say I experienced Oktoberfest, in Munich, and with my kids. And that is something we will never forget.

Where to stay in Munich
Best Budget Hotel: Hotel Vitalis
Best Mid-Range Hotel: Holiday Inn München Süd
Best Luxury Hotel: Hotel Exquisit
Best Airport Hotel: Holiday Inn Express Munich Airport
---
Do you have any Tapped Out Tips?
Questions or Comments? Join the conversation below.
You May Also Like:
Proper Gear to wear in a European Winter
Visiting the Bavarian Castles – Neuschwanstein & Hohenschwangau
Kürbisfest | Fall festivals of Dusseldorf