Schloss Drachenberg

Dragon Castle
With the hubby often away, it is nice to have a short list of day trips that are both child friendly and single parents friendly. According to many google searches and friends' experience, I decided to visit Schloss Drachenberg on a Saturday morning, via the train. 1.5 hrs after leaving the house, we found ourselves at the base of the giant hill and getting ready to embark on the cog train.
Using a stroller on the DB Bahn is not a solo feet by the way, even the handicap and stroller entrances have large gaps and stairs that require two people, plus someone to help the toddler.From the main Konigswinter train, it is a short 5 min walk straight up the street to the drachensfelsbahn, signs are posted everywhere just in case. I am a paranoid traveller and the station doesn't appear on any map so I appreciated having the signs to reassure me that I was not lost. I managed to convince another family to join me on this adventure, despite the call for rain. They have three kids under 4 years old, so for a grand total of five kids, three parents and two strollers, I felt we had this under control.
As seen on; Best Castles in Europe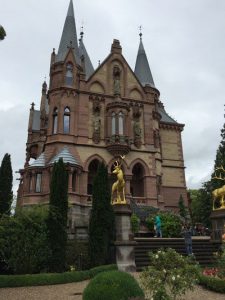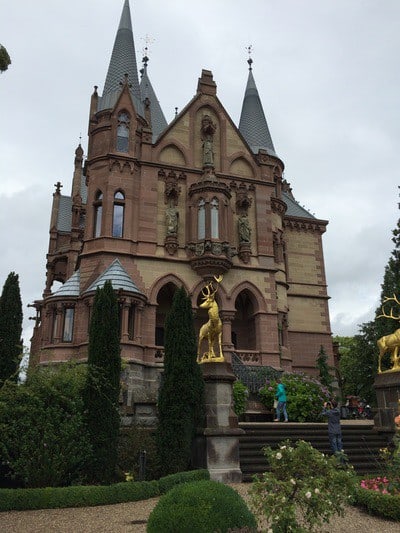 First on the list was the reptile exhibit. The website looked amazing, a friend called it a scam… I would agree with the latter. The enclosures looked old and simple, not very well decorated and it was mainly snakes. Fortunately, I purchased the 3-in-1 ticket (16 euro/each) so I basically got this one for free. The caves section was neat, the kids enjoyed it.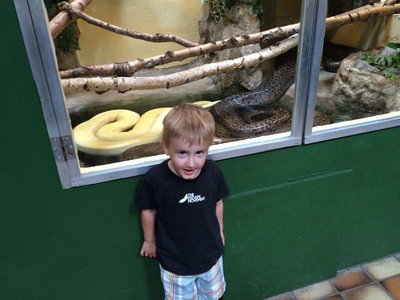 Next we went to the castle itself. By this time it the pouring rain so we ran up the hill between the reptiles and the castle and still managed to get soaked. Again, the kids seemed to enjoy it. One thing I have to say about Germany; the rain is warm and refreshing and the lack of A/C means you won't catch a cold while drying off inside. There is an exterior elevator to get to the main floor, bathrooms are back on the basement level and strollers are not allowed to roam the halls while wet. Good thing I brought the infant carrier or this could have been a disaster. There are only two floors to explore and most was better seen if visiting with a private tour (noted for next time). The rain finally stopped so we went outside to explore. The statues and flower beds looked amazing. There was a small part that was almost completely enclosed – only one way in and out – so we let the kids run around and let out some energy. They always seem to have more when meeting new people – and when a parent is outnumbered, funny how that works.
Also see; Travel Toddler bag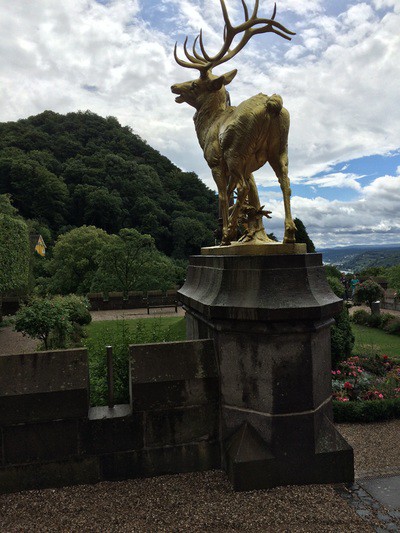 After lunch we went the rest of the way up the hill to the lookout and large tower ruins. This part of not for the faint of heart, or weak of heart apparently. The look out, for those like me, that are terrified of heights, only has a ledge about waist high. This means daredevil adults would sit on said ledge to have their photo taken. Behind the gift shop/restaurant was a path that led up to the tower. This path, I swear, was at a 90 degree angle. It was rough pushing the baby and my ATV-like stroller up the hill.  There was a perch halfway up where we collected all of the children and continued the journey. They can't walk 5 min to the grocery store but they can race up a hill. Baby was hungry when we reached the top so I didn't get a chance to go up, the family was kind enough to take my son with them. I thought the way up was rough, the way down was even worst. While the dad ran after the 4 boys, I asked the mom to hold baby girl while I took the stroller down the hill. Heaven forbid I lost control or slipped, I didn't want her getting hurt. This is probably where I should have been wearing her as well, but the hill goes around the base of the tower so it is hard to tell how steep it truly is until you are in it.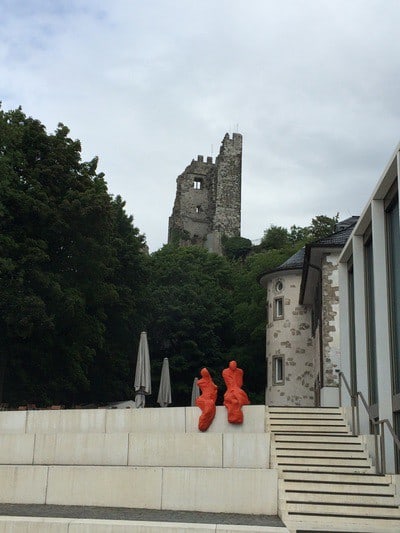 A much-needed break for the parents and the kids continued to play and chase each other. This was only the second time I have gone on an adventure with the two kids, without my hubby, and the first that lasted so long (total of 12 hours out of the house). I went through 3 bottles – stopping to breastfeed during the trip seemed like a bad idea, I choose to feed on the train instead, 3 juice, a bottle of water, muffins, goldfish, and a lot of donated pretzels.
Also see: Best Baby Travel Gear
Funny story; while on the cog train, munchkin sat two seats ahead of where I was standing with the stroller. He instantly made friends with the women he was sitting with. For no reason, since we had just had lunch, he decided to shout out "Mommy, I super hungry". In true European fashion, one woman whipped out a handful of pretzel sticks and gave them to him. And in true toddler fashion, he took them. The ladies thought he was adorable, he thought he was a genius for getting free food, and I just watched as strangers feed my child. He has no known food allergies and feeding strange children is a thing, I have come to learn, so while the family I was travelling with had just moved here and appeared to be mortified by the situation, I just let it happen.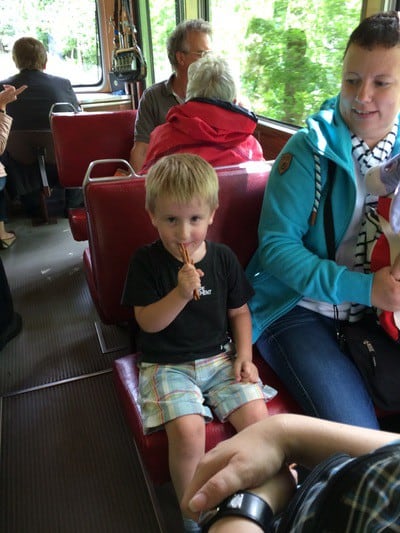 On a side note, I was going to take them to Sea Life afterwards, since it is across the street from the train station, but it was already 4 pm and we had already been there since 10 am. Another time. This attraction is also discounted if purchased with a Schloss Drachenberg ticket.In terms of stroller friendly, I'm going to have to give this site a fail. The cog train is very high off of the ground, the hills are ridiculously steep, the reptile place does not allow strollers and the castle itself has two floors of 19th-century hardwood floors. The train platform is only accessible on one side from the street. The other side, going back towards Koln, required me to go down a set of stairs, under the tracks, and up another flight of stairs. Thankfully, a young man already across the street came back and helped me with the stroller and sluggish toddler. Everywhere I went, there was someone willing to help me load and unload the stroller from the train. If they were not getting on and off already, people went out of their way to cross the train and help me before returning to their seats.
Plan Your Trip – Stay and see everything
[wp_ad_camp_1]
Accommodations
Booking.com 1,136,997 properties worldwide. Including 581,306 holiday rentals in 105,263 destinations in 225 countries and territories
Flights
Skyscanner.com compares millions of flights to find you the cheapest deal, fast. Fly for less with Skyscanner!
Car Hire
Blacklane.com Take your time and relax. Airport pickups include 60 minutes of free wait time, and all other pickups include a free 15 minutes. Limousine Service!
Pin this to Pinterest: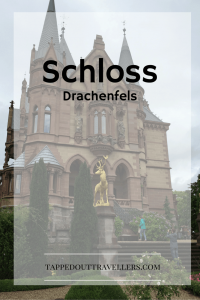 Do you have any Tapped Out Tips?
Questions or Comments? Join the conversation below.