JUFA Hotel Salzburg, Austria
[fusion_builder_container hundred_percent="no" equal_height_columns="no" menu_anchor="" hide_on_mobile="small-visibility,medium-visibility,large-visibility" class="" id="" background_color="" background_image="" background_position="center center" background_repeat="no-repeat" fade="no" background_parallax="none" parallax_speed="0.3″ video_mp4="" video_webm="" video_ogv="" video_url="" video_aspect_ratio="16:9″ video_loop="yes" video_mute="yes" overlay_color="" video_preview_image="" border_size="" border_color="" border_style="solid" padding_top="" padding_bottom="" padding_left="" padding_right=""][fusion_builder_row][fusion_builder_column type="1_1″ layout="1_1″ background_position="left top" background_color="" border_size="" border_color="" border_style="solid" border_position="all" spacing="yes" background_image="" background_repeat="no-repeat" padding_top="" padding_right="" padding_bottom="" padding_left="" margin_top="0px" margin_bottom="0px" class="" id="" animation_type="" animation_speed="0.3″ animation_direction="left" hide_on_mobile="small-visibility,medium-visibility,large-visibility" center_content="no" last="no" min_height="" hover_type="none" link=""][fusion_text]

How I accidentally booked my family into a hostel.
When I was trolling through booking.com , looking for inexpensive places to stay within the city, close to the alstadt and with parking, we found a great little hotel, JUFA Hotel Salzburg, for the perfect price. I made sure to ask for a room that sleeps 4, and a private bathroom (I don't want to have to fight with the neighbor at 4 am because he forgot to unlock his side of the bathroom door). The pictures looked amazing and they even advertised family rooms, so who was I to think that I was signing us up for 3 nights in a youth hostel.
This post may contain affiliate links.
To which I earn a small commission, at zero cost to you!
Find more info in our Privacy Policy.
Location
Attempting to find this hotel in the dark, on a rainy work day, during rush hour, was not what I had in mind when I picked this hotel for our family. We made it here alive (clearly) but the rules of the road in Austria are very different than the rules in Germany and it was apparent the moment we reached the city limits.
That being said, once we were on hotel property, everything was great. There appears to be ample parking in the front or back of the property.
Only 600 m from the alstadt, it is within walking distance to the castle and city centre. Everything is fairly close together and this hotel is smack in the middle of it.
However, the immediate area is rather bare. There aren't too many restaurants or much of anything before hitting the alstadt. There is a Burger 81 restaurant that we stopped at and grabbed "take away" (the British version of "to go"). There was another option, right next door, but it looked rather fancy and the stares we received when we were contemplating sitting down let us know that this was not a restaurant that would appreciate having children.
[/fusion_text][fusion_button link="https://www.booking.com/hotel/at/jufa-salzburg-city.html?aid=1165205;label=gen173nr-1FCAEoggJCAlhYSDNYBGg7iAEBmAExuAEIyAEM2AEB6AEB-AECkgIBeagCAw;sid=743ab4227577159980bb831bc4565676″ title="" target="_blank" link_attributes="" alignment="center" modal="" hide_on_mobile="small-visibility,medium-visibility,large-visibility" class="" id="" color="default" button_gradient_top_color="" button_gradient_bottom_color="" button_gradient_top_color_hover="" button_gradient_bottom_color_hover="" accent_color="" accent_hover_color="" type="" bevel_color="" border_width="" size="" stretch="default" shape="" icon="" icon_position="left" icon_divider="no" animation_type="" animation_direction="left" animation_speed="0.3″ animation_offset=""]Click here for latest prices and availability[/fusion_button][fusion_text]
Transit
Not far down the road, is a bus stop that services the Mirabellgarden area, as well as the Dom. Both are high traffic areas, within walking distance, yes but when the kids are tired and the rain starts to come down, you look for transit to take you there that much sooner and a little bit dryer.
There are a number of transit styles in Salzburg and it caught me a little off guard. There are buses, buses on tram tracks (electric buses?) and coaches that now serve as public transit. We took a coach and the kids had no idea what was going on. This coach, No. 170, is actually the bus you would take to get to  Hellbrunn Palace.
Facilities
As mentioned before, there is parking available at Jufa hotel Salzburg. There is a large cafeteria for breakfast (since it is a hostel, and there is a large number of people getting up at the same time), a bar, and mini souvenir/snack shop on the main level. Nothing fancy but she'll do.
In the basement level, there is a laundry room. A single washer and dryer, they don't lock so i got to stay behind and guard my families clothes while the kids had a dance party upstairs (i fed them a large gingerbread man before leaving them with dad). The soap must be purchased at the front desk, it costs 1.50 euro and each load costs another 1.5 euro to wash or dry. They only accept 50cent coins so pack many or wait in line at the front desk for change.
On a slightly sour note, the front desk was not willing to give me change to use the machine. Instead, they suggested I go to the restaurant next door and ask them to break my 2euro coin. They hadn't even checked to see if they had change, just a flat no. There is no coin machine available at the hotel either so unless you are packing a fist full of 50cent coins on you, good luck using the laundry. Once the machines are opened (to check the status of the drying cycle), money is forfeit and another 1.50 euro is needed to finish the cycle. This is probably why there wasn't a line waiting behind me.
Rooms
This hotel reminded me of our Frankfurt hotel in the pictures (lots of room, a bunk bed, a great view) but more like college dorms in reality. The hallways are empty of all character, the room is bare furniture only; two twin beds that move together, a set of bunk beds, a desk, and a sofa. I requested a private bathroom and we did receive – it was fairly large too. The room had a lot of open space so the munchkin didn't have an issue setting up his Portable Travel Cot, though I think this will be his last vacation with it – he is starting to get a little too tall.
There is housekeeping each morning and the provide more than enough towels, linens, and shampoo for the family.
WiFi is apparently available, for free. We have tried several devices, throughout the day, and not once were we able to connect, let alone browse the internet via wifi. The front desk didn't seem too interested when I told them I couldn't connect. I guess that's what happens when too many try to access the same wifi at the same time. Cell reception is also lacking, maybe because the actual hotel is in the middle of nowhere. So there was very little internet action going on over the last 3 days, which is unfortunate considering my current career choice.
On the plus side, the city has wifi hotspots everywhere. While my phone wasn't great at picking up 4G (hubby was able to so it's clearly a 'me' problem, not an availability problem), I was able to log in to the hotspots fairly easily. A tourist map from the tourism office or the hotel has a list of all the Wifi spots. They are also advertised well when actually in the area, just in case you didn't know already.
Breakfast
Breakfast was a little crazy. We are used to quiet breakfast lounges, a buffet, and a hostess to make cappuccino (spoiled, I know). This was far from it. As you can imagine, this was your standard college cafeteria. People were bumping into each other, the selection wasn't the greatest and it was loud.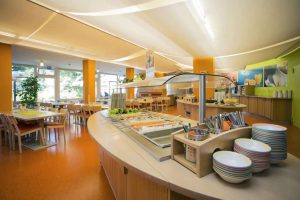 We found a few tables outside the cafeteria, in the main lobby, and we camped out there to eat. The kids sat with hubby while I grabbed everyone's food. It was too busy to even allow my 5-year-old munchkin to go in alone – he was not pleased. Many of the guests that followed suit and sat near us were not pleased to be near children (though there were more children in the main eating hall) and did not make an effort to hide their feelings.
Bottom line
As a budget option, this is a great hotel. It is also centrally located and technically checks all of my requirements for family-friendly accommodation. I think I am a little put off because the description of the hotel and the reviews on various hotel booking sites did not mention it was a hostel. I am sure the staff would never call it that either, but a horse is a horse after all.
Once I wrapped my head around where we were staying, and what I was paying for it, the noise at 6 am seemed a little more bearable. Only a little.
[/fusion_text][fusion_text]
Plan Your Trip – Stay and see everything
[wp_ad_camp_1]
Accommodations
Booking.com 1,136,997 properties worldwide. Including 581,306 holiday rentals in 105,263 destinations in 225 countries and territories
Flights
Skyscanner.com compares millions of flights to find you the cheapest deal, fast. Fly for less with Skyscanner!
Car Hire
Blacklane.com Take your time and relax. Airport pickups include 60 minutes of free wait time, and all other pickups include a free 15 minutes. Limousine Service!
Pin this to Pinterest: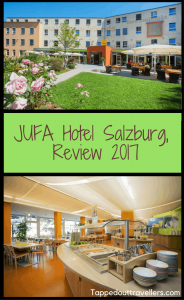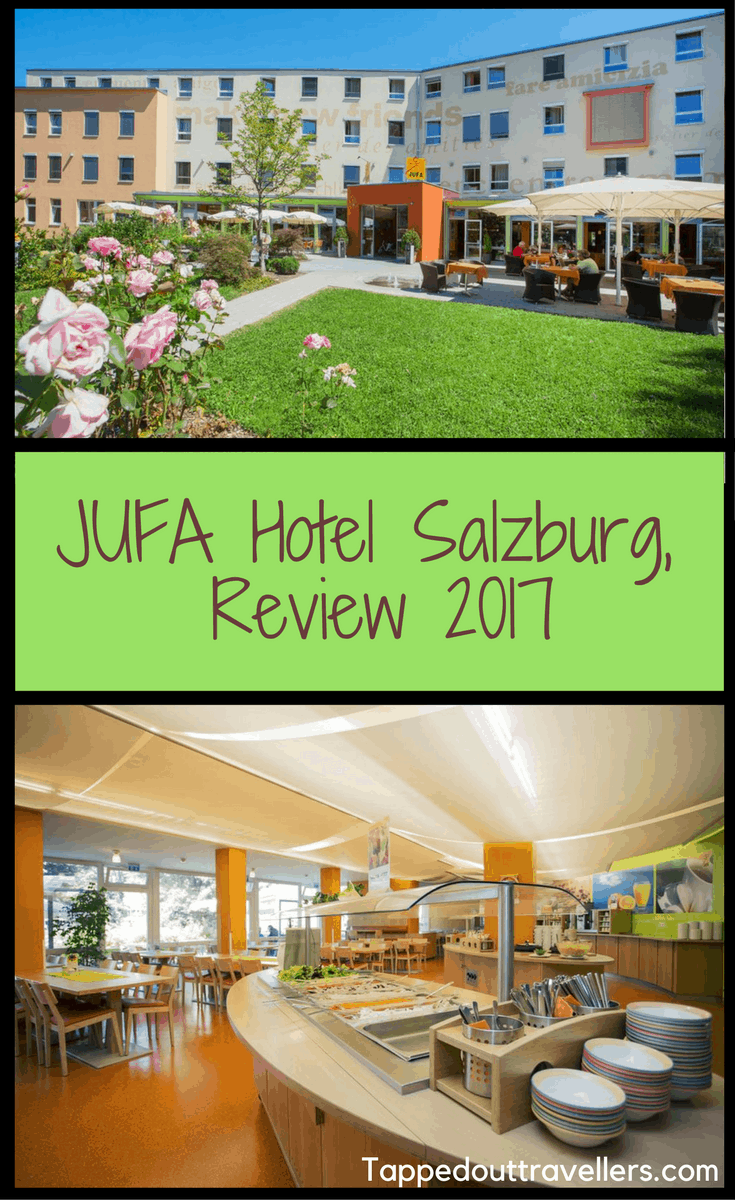 Do you have any Tapped Out Tips?
Questions or Comments? Join the conversation below.
[/fusion_text][/fusion_builder_column][/fusion_builder_row][/fusion_builder_container]