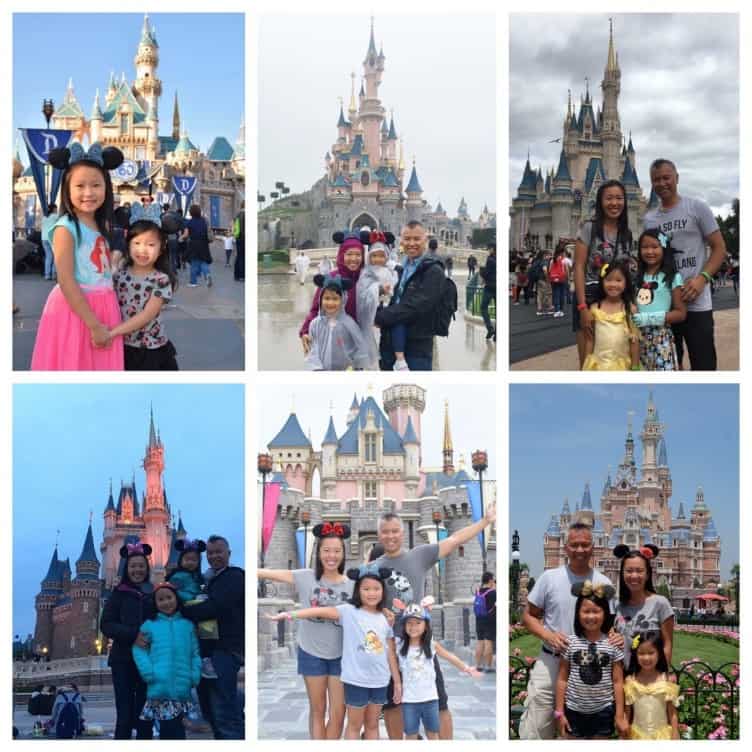 Visiting every Disney property is the life goal of many. Natalie and her family have made that dream come true and are here to help us achieve it
A few months ago, I ran into Natalie and her family on Facebook. She had recently completed her goal of visiting every Disney property in just over 1 year. I knew that she was the person to talk to if I wanted to accomplish my own personal goal, of visiting every Disney Property within my kids' childhood. Natalie was gracious enough to take a few minutes away from her travels to answer a few questions for me, and to help us all start our own goal of visiting each Disney location.
We visit every Disney property in 1 year!
When did you decide that you wanted to do all 6 Disney locations in 1 year?
We are huge Disney fans and already had Walt Disney World booked for Christmas and Aulani in January. We decided to keep those reservations and add on the rest of the parks since we wanted to visit those countries as well. It wasn't really to accomplish it all in a certain time-frame, but we were in a position to visit all these countries during our travels so we made it a point to go to each park.
When did you start planning for this? Was this the end goal or was it a happy accident
It was a happy accident and it all happened very fast! We were originally planning to move closer to the girls' school. When we couldn't find anything we wanted we decided to change our plan and travel instead. We put our house on the market, it sold in one day with multiple offers, and then we were on the road in two months!
What makes each park different?
While the overall magic of the parks are there, each park definitely has its differences. Size is the main one. With Walt Disney World being the size of a small city to the quaint single parks like Hong Kong… They each have their charms and will appeal to different guests.
Food in the Asian parks are overall healthier and better balanced than in the US parks. We had so much good food, comparable to restaurants within those cities! Theming is also better and more fun!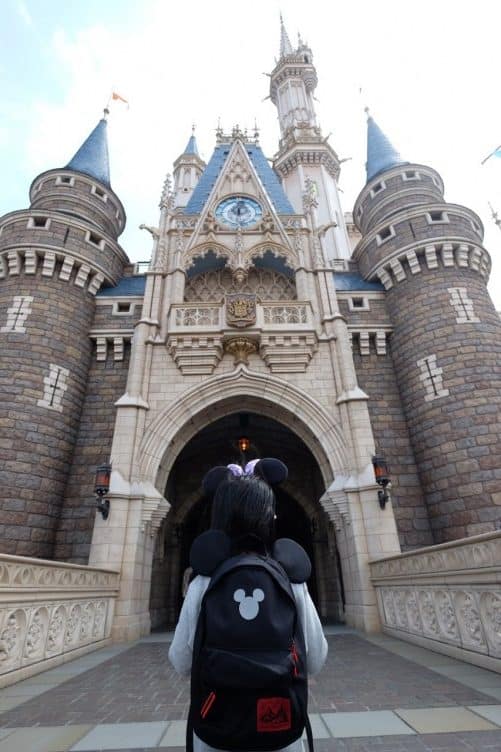 What stood out to you most about each park?
Disneyland
It was great to be there for the 60th anniversary celebrations. It is the closest park to us and I grew up going to that park. It will always hold special memories.
Disneyland Paris
Paris was our first stop for our full-time travels. Both girls wanted to spend their birthdays in Paris so it was perfect timing. My oldest turned 7 in the park and the Cast Members were so good to her. She had such a great day. The Ratatouille ride was so much fun! We went on it a lot during our trip.
Walt Disney World
My hubby proposed to me during Wishes in Cinderella's Royal Table many moons ago so it will always be special. This trip was the first time both girls went to Cinderella's Royal Table and we got a picture of all of us standing in the spot where he proposed. We celebrated Christmas there and it was so magical.
Tokyo Disney Resort
Japanese culture is so polite, that even though the park was crowded it was so enjoyable. The food and merchandise here is so unique and amazing! I could shop and eat here all day. Disney Sea is one of a kind, you truly need a few days to really appreciate the details that went into the design. Also, the characters for meet and greets are rare compared to the ones we see in North America.
Hong Kong Disneyland Resort
The park is small but has two of the best rides out of all the parks – Mystic Manor and Grizzly Gulch. We were so lucky during our visit that we had virtually no lines and were able to walk onto everything. This was such a nice change! Disney dim sum at The Crystal Lotus in The Hong Kong Disneyland hotel is so good!
Shanghai Disney Resort
Pirates and Tron are AMAZING!! I could go on an on about how well done these rides are. They are so technologically advanced compared to any other Disney ride. Those two rides alone make the trip worth it.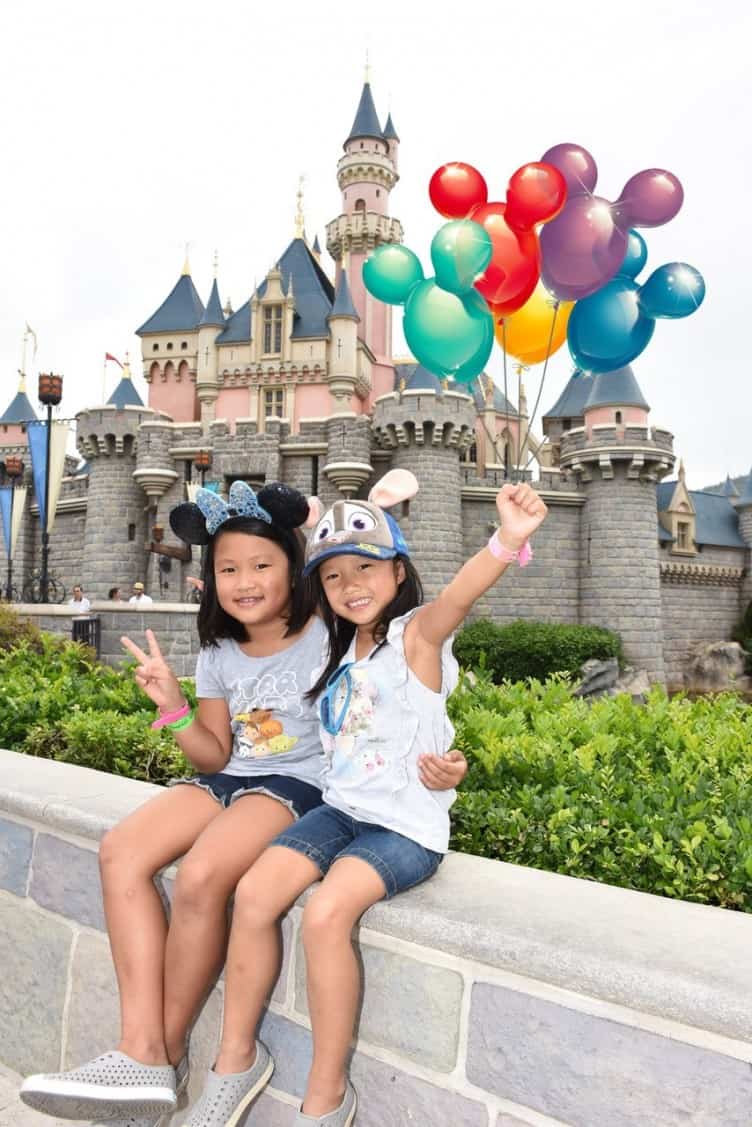 What advice would you have for someone trying to follow in your foot steps?
There's no guarantees in life. We are all taught to wait until we retire to travel… wait until the kids are grown up. Well, we decided we wanted to do it now. We don't have a crystal ball to see when we can actually retire or what our health would be like. We live in the most expensive city in Canada. We had the opportunity to sell at a good time and we decided to go for it. We were tired of being house poor when there is a whole world out there that we could enjoy with our children!
Would you do it again; were some cultures a little harder to adjust to than others;
Haha, we already have tickets purchased for Disneyland and Disneyworld. Our DVC reservation has already been made for our Disneyworld trip in April! We are obsessed!
We would definitely visit all the parks again. The parks are always expanding and changing, there will always be something new to experience. As my youngest gets older, she'll finally be able to join us on more thrill rides. I can't wait until we can all ride together and we get those awesome ride pics with our Photopass!


I, fortunately, can speak some French and Cantonese so that was handy in the parks, but it is not necessary at all… All signage will have English on it and hand gestures can go a long way. Overall I found Cast Members to be very helpful and attentive. We had great experiences with everyone from the hotels to the parks. They made many magical moments for my girls and it made their trip truly special.
How was the food/souvenirs/local people ?
The merchandise in Tokyo is the most unique. The other parks have some merchandise that is park specific but the rest is still part of the Disney Parks umbrella. Tokyo has so much of their own merchandise that no one else has!! It was hard not to buy everything.
I would say the hardest culture to adjust to was Shanghai. Unfortunately the rumours are true – line cutting is a big thing, there are scalpers selling fastpasses and knockoff souvenirs in the parks! Later in the week we noticed an increase in security but it did not curb the number of people approaching me in line or getting off the resort bus. My patience and manners were definitely tested here.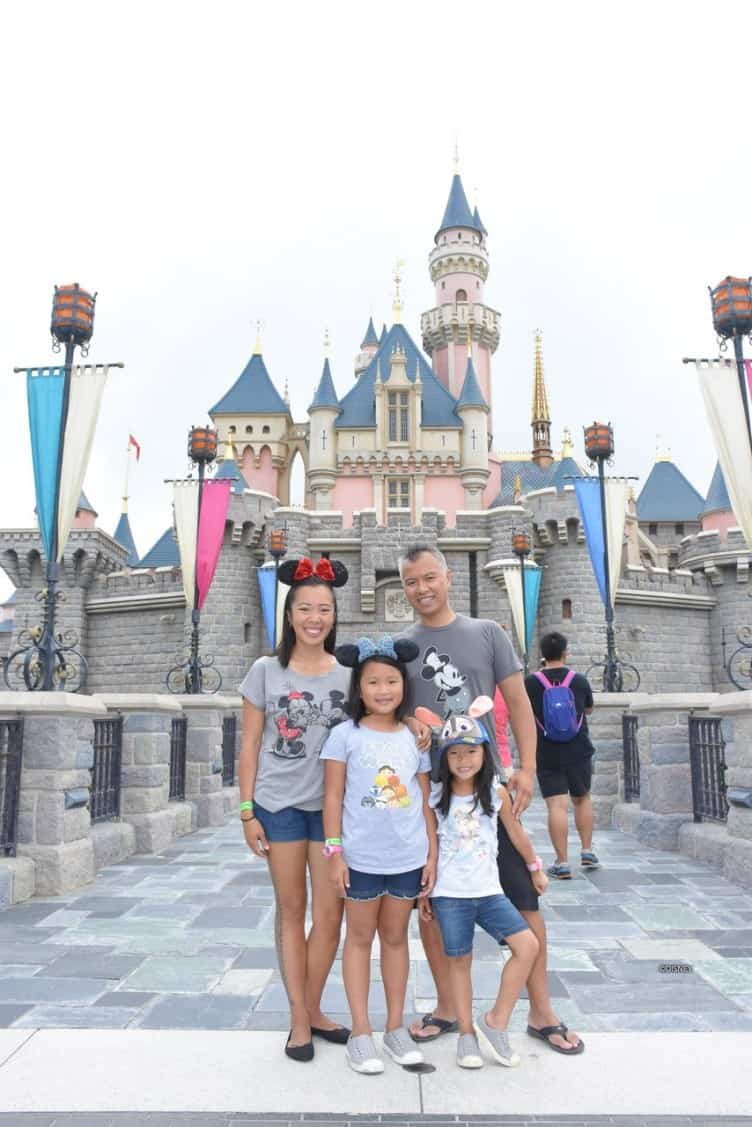 In terms of being a digital nomad, how has that affected your plans? How did you divide your time between the city and parks
We have been on the road full time for almost 9 months. We spend a lot of time exploring each country we visit, not just to visit the parks. When we visit the city itself we stay elsewhere like an airbnb or serviced apartment. When we get to the parks we stay onsite.
We stayed in Paris for 2 weeks before visiting the park for a week. We were in Japan for 5 weeks before visiting the parks for 8 days. We are in Shanghai for an additional 3 days after 4 days in the park before exploring more of China… Depending on your goals, you could do just the parks in each country, but you would be missing out on such a wonderful cultural experience!
Please describe how the conversation first got started – to sell everything and travel the world.
My husband is an industrial electrician. His job was in another province on shifts (2 weeks on, 1 week off). We decided since he was away for two thirds of the year that I would stay home with the girls. I ran a successful cake decorating business from home, before that I worked in IT for a telecommunications company.
We lived in an area with a very hot real estate market. Our original plan was to sell our home, pay off our debts and downsize to a smaller house closer to our daughters' school. This would eliminate the 3 hours of commuting I usually do to take the girls to and from school, and also reduce some of the financial pressures of being a single income family.
When it came time to purchase another home we couldn't find anything suitable and felt pressured to make a decision and pay over our desired budget. So, in a moment of frustration I said, "Let's just take a break. Let's just take the kids out of school for a year, travel, and see what happens with the market when we come back." My husband's contract with work was just about to finish so the timing was right and said the magic words, "OK"!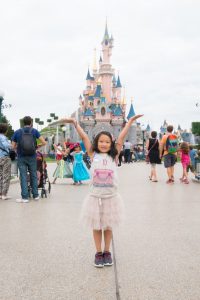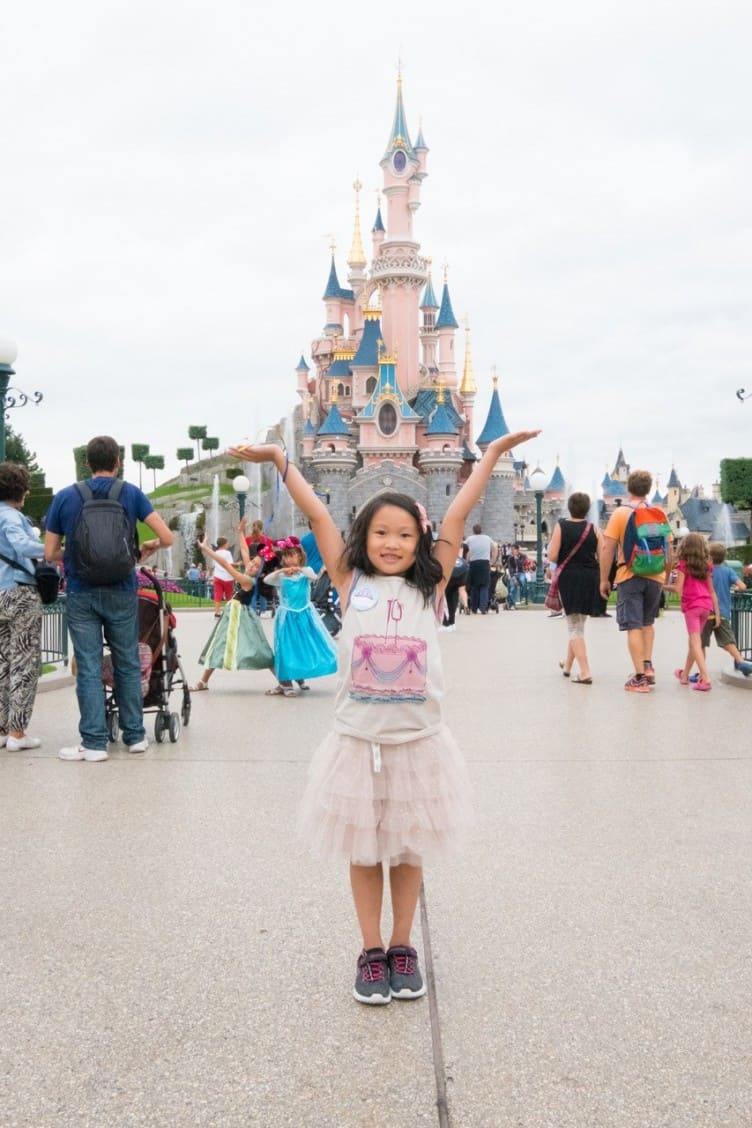 How do the kids feel about traveling, what do you do for home-schooling?
My girls love exploring new places! It has been awesome to actually step foot in all the countries they've only heard about a year ago. Nothing in a book or classroom could replace that. They are both very social girls so this has been a great experience for them, meeting local families and seeing how other children live.
We are currently enrolled as home-schooled, but not following any curriculum.  There is so much they learn through their day-to-day activities that I do not need to force any lessons with them.  We also engage the kids in activities like cooking in each country we visit, they visit museums, animal rescue centers, places of historic importance etc… they are outdoors most of the time and learning so much being exposed to different cultures. It's been a wonderful experience for all of us!
Would you suggest DVC points as the best way to accomplish this goal or would park packages be the best way to start off?
No, we only used DVC points for our Aulani and Disneyworld stay. While points can be used for the international parks, the conversion is not worth it. Most of the parks had packages available and we took advantage of any that would work for the time frame we visited. In Paris and Hong Kong we had meal plans, extra fast passes, priority seating for parades and fireworks… we wouldn't be able to get that through DVC points.
Also, check with travel agents and airlines for packages!  We fly WestJet all the time and there are such good deals at Disneyland and the Good Neighbour Hotels I hardly use my points there.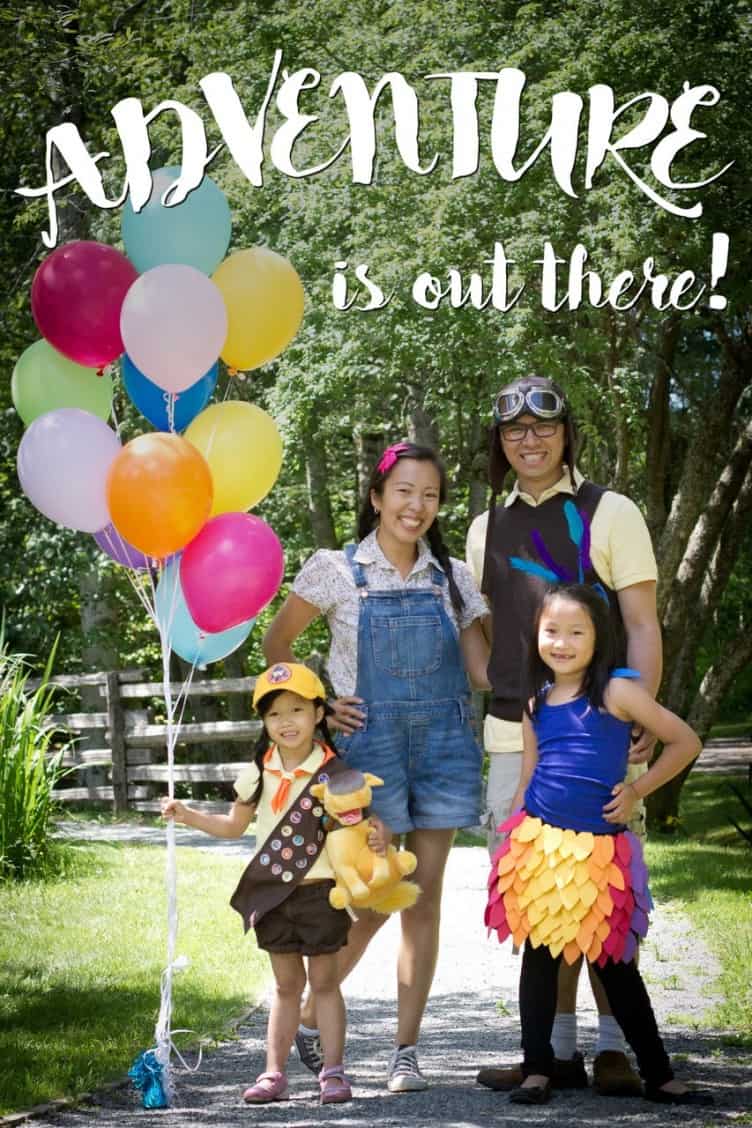 Sincerely,
Natalie Chen
My Wandering Family
We would love for you follow along on our journey:
Facebook: www.facebook.com/mywanderingfamily
Instagram: https://instagram.com/mywanderingfamily/
Your Thoughts...
Please share your thoughts in the comments or reach out on social media...We would love to hear from you.
You May Also Like…
Disneyland Paris Planning Guide
Disney's Earmarked Program How it Works