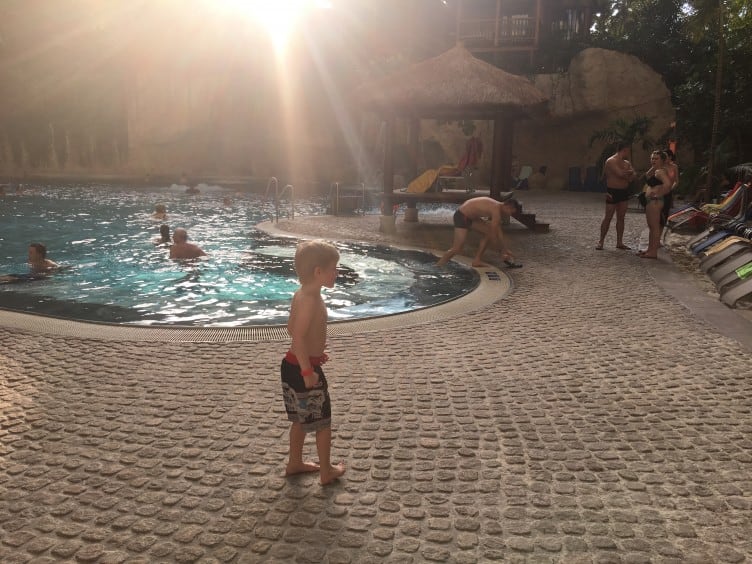 Tropical Islands Resort is a tropical theme park located in the former Brand-Briesen Airfield in Brandenburg, Germany.
60 kilometres from the southern boundary of Berlin, built inside a former airship hangar (A large Dome) is a beach lover's year-round dream of white sandy beaches, hot air balloon rides, a Tropical Rainforest, spa and sauna and much much more.
The Hook
Tropical Islands Resort is home to the biggest indoor rainforest in the world, a white-sand beach, many tropical plants and a number of swimming pools, bars and restaurants. Here is our complete review of the Tropical Islands in Kausnick.
This post may contain affiliate links.
To which I earn a small commission, at zero cost to you!
Find more info in our
Privacy Policy
.
As the top of the large dome appeared through the trees ahead of us, we got a buzz of excitement, knowing we were soon going to be surrounded by tropical warmth, palm trees, and white sandy beaches. The kids were excited about the warm waters.
We discovered Tropical Islands during a web search of unique things to do in Germany. We have a car so we crossed the country from west to east for the opportunity to explore this indoor Oasis from winters cold (A shuttle service is available from the nearest train station for those without a car.)
Tropical Details
Tropical Islands Resort is situated in one of the largest self-supporting halls in the world. Inside the dome, the air temperature is 26 °C (78°F) and the air humidity is around 63%. Tropical Islands Resort is home to the biggest indoor rainforest in the world, a beach with sand, many tropical plants and a number of swimming pools, bars and restaurants. Dubbed "the inside beach" by our 5-year-old, Tropical Islands Resort was just what we needed after a long cold wet winter.
After our Christmas road-trip adventure through Switzerland, we were ready for some beach fun and warmth. Tropical Islands Resort exceeded our expectations and is a great waterpark for young children however there is the problem of them not wanting to leave 🙂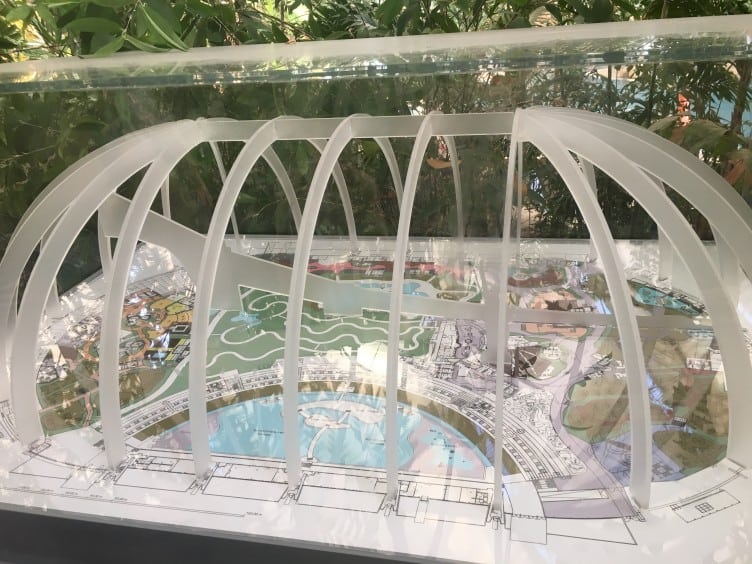 No Shortage of Parking
There is no shortage of parking! Around the Tropical Islands dome, there is a great deal of parking for its busiest days. Some of this parking can be quite far from the entrances for little legs. Initially, we parked at the back of the dome (the service area) by mistake. Your best parking option is right in front of the dome, this is where you will see flags flying. As we arrived on a weekend, during the day, it was pretty busy and we initially had a hard time finding a spot out front.
Arrive early as Tropical Islands Resort receives day-trippers as well as overnight stay guests. This results in the main parking filling up rather quickly. If you have to park far from the entrance be aware it gets quite windy.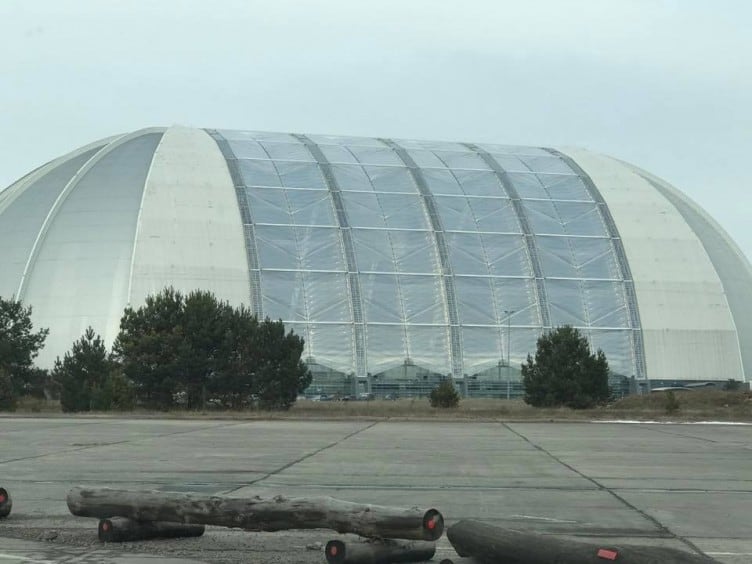 Check-in Time
We made our way in to the dome, excitement building, the heat inside the dome hit us like a wall, from 3°C (37.4°F) to 26°C (78°F) in seconds you are now in a Tropical environment, so be prepared to strip down the moment you enter. I would suggest having somewhere to put jackets and coats during check-in. Check-in was straightforward like any hotel.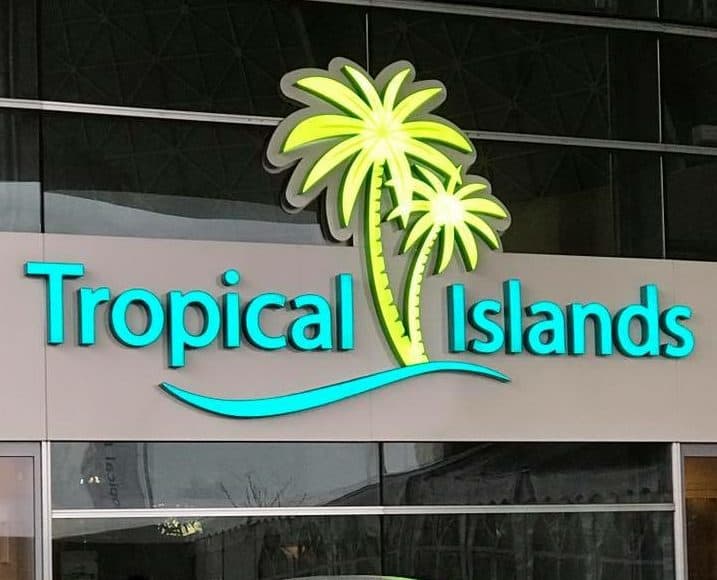 During check-in the woman at the counter handed us each something similar to the MagicBand at Walt Disney World, this was a chipped wristband. With a simple touch, you can enter the Tropical Islands Resort, unlock your Locker and Hotel room door, as well charge food, drink, and merchandise purchases to your room, so there is no need to have cash or cards at the beach or anywhere else well exploring this Tropical World.
Something that wasn't explained to us, but worth noting, was that the adult chip wristbands each had a number of them that is, in fact, your locker number.
I love this payment option, as I wasn't sure how I was going to carry a wallet around in my swimsuit. The use of a payment wristband makes it easy to spend, much faster. Let's be honest, I would have found a way regardless 🙂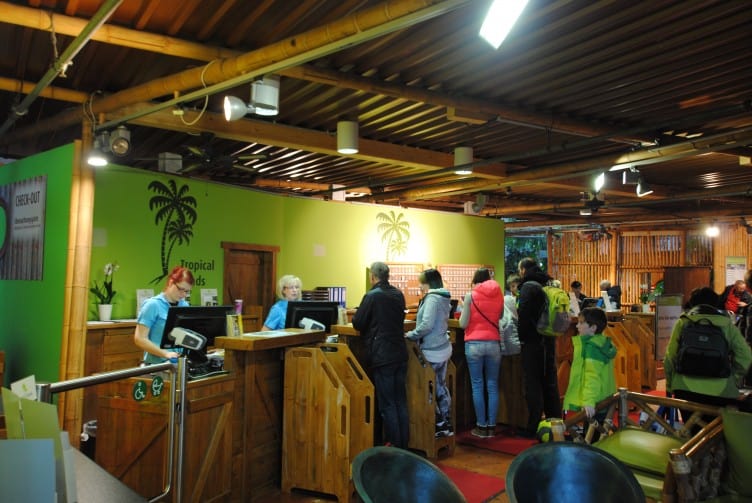 After getting ourselves a map, we proceeded to put our bags in the lockers and change into something a little more tropical. Luggage storage is available at the front desk for guests arriving before room check-in at 4 pm, also you can simply place everything in your locker if you have packed light. The locker room has a dozen changing rooms, including a couple of family-sized rooms. Our Full-size American Tourister Luggage would have fit, were it not for the wheels, you can use that as a gauge.
The website states you should wear sandals whilst exploring the resort. And swimwear is supposed to be worn at the beaches and swimming pools only. These rules were not universally followed, however.
After some 'reorganization' and 'handling of children' we were dressed and ready to go, explore Tropical Island Resort. The first thing you may feel wandering around is the massive scale of the structure, it quite literally feels like the outdoors until you look up. The tropical heat was great but a little uneven in some areas around the perimeter. This was not an issue on the beach. We headed to the beach and my oldest (5) was excited to run on to the sand.
A stroller is useful for the little ones but even Baby Girl insisted on walking most of the time, there was just too much to see to be contained in the stroller. A few hours were planned in the room for baby nap time, but I did see lots of babies sleeping on the beach, or in their strollers so don't be afraid to bring it if you feel it's required.
Themed Areas
There are a number of unique theme areas at Tropical Islands Resort. The Tropical Sea, The Bali Lagoon and Amazonia were still water, family-friendly pools, and the water slides were more for the adventurous guests at the resort.
The Tropical Sea
Just as the name suggests, this pool was made to look just like your typical tropical island beach resort. A bar and snack cabanas at the top of the stairs, sandy beach and lounge chairs at the bottom, and kiddie pool in the corner for the little ones; a little something for everyone. The middle of the Sea also had Moana, a tropical boat with slides into the pool. Baby Girl loved going down the slide and having Hubby catch her in the water.
Nothing was above 1.35 meters high so even the worst swimmers (aka Me) shouldn't have an issue with the pools.
There was a nice section between the sandy beach and the pool itself where you can clean your feet and shower before entering the water, assuring the pool would remain clear of debris.
There were 3 lifeguards that I could see; the only 3 people in the whole resort fully clothed, I would imagine. They were strategically placed around the Sea to keep everyone safe and happy. Don't be fooled, these guys are not here to replace proper supervision, parents are still required to watch over the children at all times.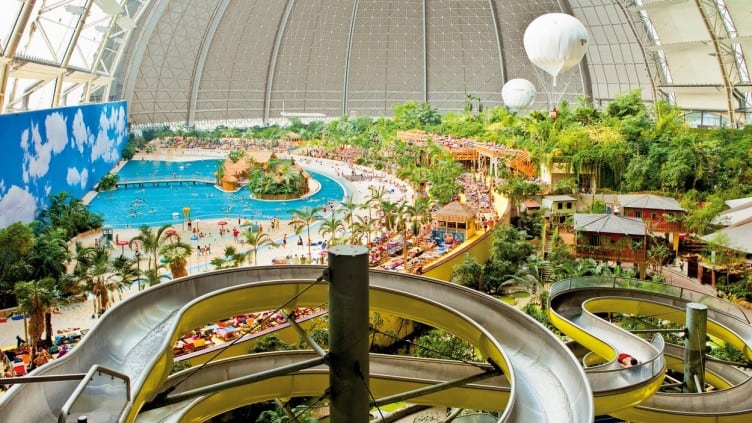 The Lagoon
The Lagoon ended up being my favourite pool in the resort. There were fewer people, and it was closer to the locker rooms, hotel rooms and restaurants. This is also the pool with the waterfall, so the view in itself was amazing.
I think I scared a few guests when I brought my phone into the pool with us. Everyone else had the waterproof phone pouch, but I had the Lifeproof Case (which honestly looks like a regular phone case) and the looks of shock and horror that I saw when Hubby put the phone in his trunks pocket was incredible.
I had to take photos of the lagoon and waterfall and I wasn't about to bring the camera this close to water, not with these butter-fingers anyways.
The Rainforest
We were trying to find the lagoon and ended up taking a right turn a little too soon. We had a great time, though, walking around the Rainforest, seeing the neat Expeditions that they had laid out for guests.
The Tropical Village
The Tropical Village features copies of traditional buildings from Bali, Thailand, Borneo, and Samoa. This is where you will find the buffet breakfast, include in your hotel reservation. Typically in Europe, this would mean a few cold slices of meat, cheese and cereal but this was more international. We were served all of those, plus bacon, pancakes, sausages and eggs (made any way you ask). This is in the main food court, and there is someone there to record your room number.
For lunch and dinner, there are a handful of other restaurants that open up and they are not included, you pay with your wristband. The breakfast buffet turned into an Asia-style buffet. The Food Court across the hall had burgers, fries, pizza and half-chicken. Meals run for roughly 13 euro per plate, including drink and deposit. If you don't want to keep the cup, simply return it to the cashier for a refund of deposit (2 euro per cup) or get a refill.
Other Areas
Children's Play Area
The kiddie pool was a great way to let Baby Girl run around and have her own fun. She was able to climb up the slides (there are 2) or splash around in the ankle-high water. The faux-waterfalls were a hit with the parents, as they were heated jets of warm water flowing over them while they watched their little ones play.
I wasn't a huge fan of this pool, mainly because the other parents didn't supervise their children all that well. Too often my Baby Girl was pushed out of the way on a slide because an impatient toddler wanted to go ahead of her in line, all while mom chatted with another parent or just stood there watching. We came back when the pool had fewer people and she had a much better time.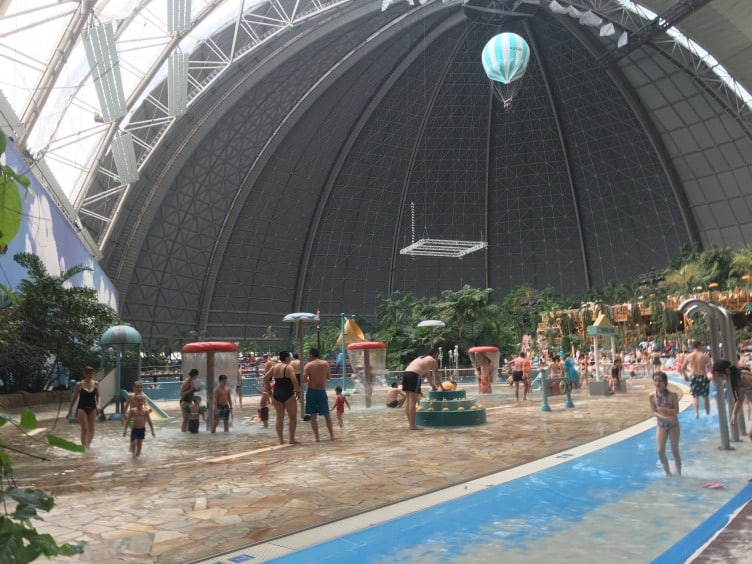 Amazonia
Amazonia was a little chilly this time of year but we have something similar to it at our local pool so the kids desperately wanted to give it a try. The area doesn't open until noon, so after nap time we headed out and found it incredibly popular. Due to the chilly weather outside, guests didn't stay long so it wasn't crowded, it just looked that way by the foot traffic in and out of that general area.
After the two flights of stairs down, there is a line of cubbies where we can leave our towels and beach/diaper bag. We were outside for 20/30 minutes before the kids wanted to go back in. The water was plenty warm enough, it was just the parts of our bodies that were outside of the water that started getting cold.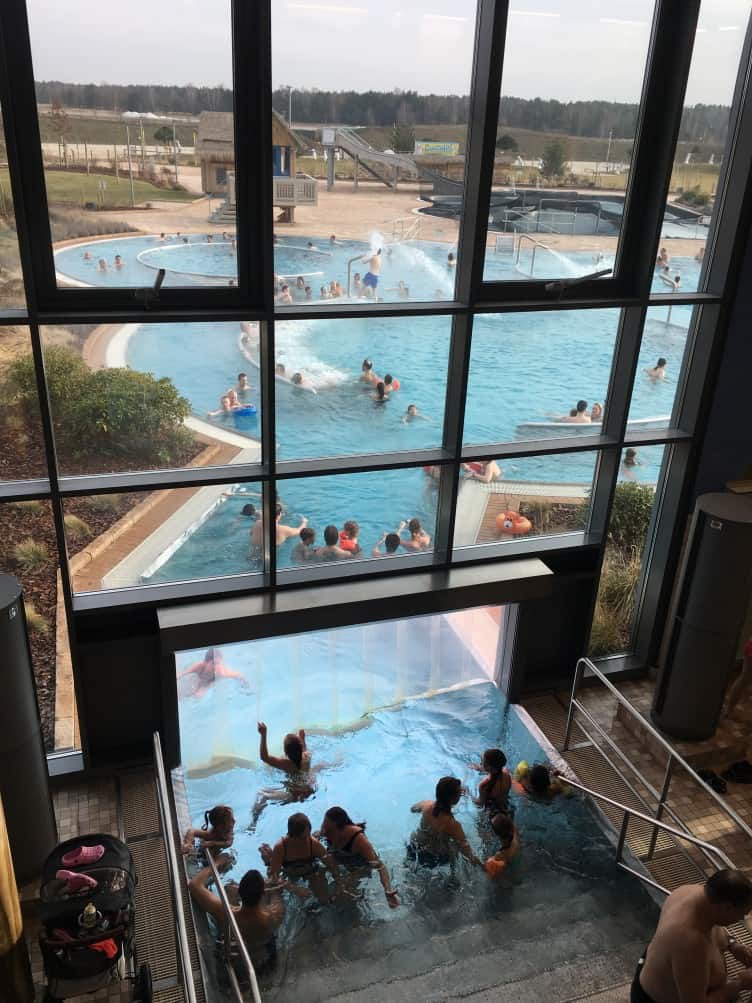 On the top level of Amazonia is another waterslide feature. This is strictly rated for 8 years and older, so neither of the kids could use it yet. Hubby went and I took the kids to the kiddie pool; he agreed that the slide was much longer and more intense than it looks from the window and the age rating is justified.
Water Slide Tower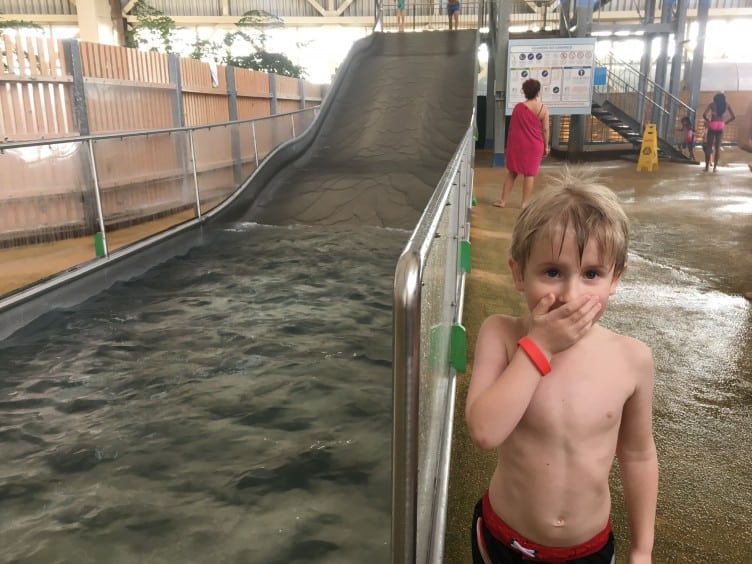 On the map, we can see a large blue water slide and a slightly smaller red water slide. What isn't on the map, is this perfect small slide, made exactly for Munchkin. Once Hubby and Munchkin discovered it during Baby Girls nap time, it was hard to get them to leave. Even Baby Girl was having a great time going down the slide with me.
Attractions
Tropino Club
If we had another day or so, we would have explored the Tropino Club a little more. They offer mini cars, bumper boats, power paddle, and air hockey. Childcare is available at the club, for kids 3-11 years old, and from 9 am – 5 pm. A full day will only cost 15 euro (per child) and includes lunch. This is a great way for mom and dad to explore the Sauna and Spa in peace, or laze around the lagoon.
Since Baby Girl is only 20 months old, and Munchkin didn't know it existed, we felt it best to ignore the club altogether. We did, however, see many relaxed parents picking up there smiling (and face painted) children around dinner time.
Ballooning
This looked really cool. There are two hot air balloons in Tropical Islands Resort. The blue one was more like a carnival ride, where you sat in a bucket seat and it went up for a few minutes, then came back down. This is located at the Tropical Sea.
The red one is more like a true hot air balloon. Passengers went into the bucket, and a guide walked them around the resort for an aerial view of the whole resort. This is located next to the restaurants, towards the front of the resort.
Neither of these options is included in the price of admission. I believe they were 10 euro per person, but don't quote me on that. Since the kids couldn't go on them, we would have had to take turns going up in the air and I wasn't about to go alone (due to my debilitating fear of heights).
There was a video stream, for advertising purposes, next to the balloon station and the view looks like it would have been incredible. Maybe next time when the kids are in childcare.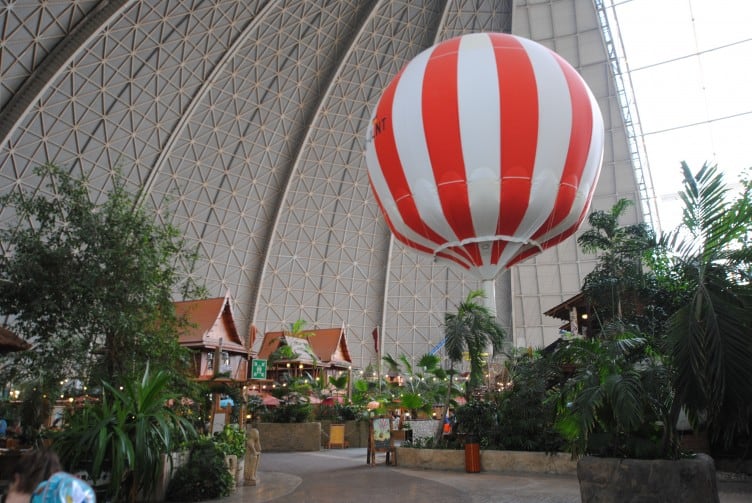 Sauna and Spa
In true German fashion, the Sauna and Spa are a naked event. The dress code is towels or bathrobe only, in order to allow for proper airflow to the body and prevent overheating – bathing suits or other garments would trap the heat in and potentially cause you to pass out.
There is a change room available in the Spa area, however, so you aren't running around the whole resort in your birthday suit. Appropriate clothing is still required for the bar, restaurant, massage and treatment rooms.
Since we couldn't take the kids in, we planned on switching after bedtime. Once they were asleep, we were just too tired to even leave the room. Swimming with a kid on your back is a lot more exhausting than we planned.
Check out a Shy Girls guide to Naked Saunas for tips on how to survive German Spas.
Accommodations
Tropical Islands Camping
When I first looked into booking a room at Tropical Islands Resort, I was hoping to try the tents. They looked really cool, the kids love camping, and they are far less expensive than a regular room. The downside is when you have a screamer, you want a little privacy and soundproofing.
The Safari tents are a little smaller and more intimate, while the Premium tents are tall enough to stand in and have some storage room. There are tents available for 4 people, so our family size wouldn't have been an issue. Maybe next time.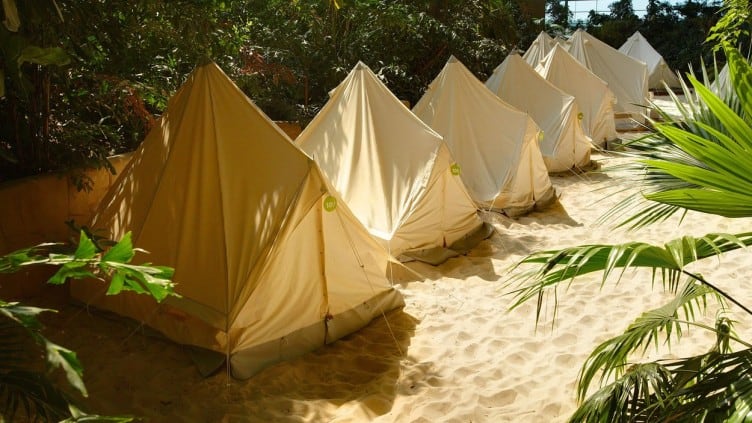 Guest Rooms
I am glad that we ended up with a Tropical Islands Resort Hotel Guest Room. While Baby Girl ended up spending way more time sleeping in my bed than I cared for (honestly, she could have done that in the tent with far less screaming), I enjoyed having all the space to ourselves.
The kids could walk around, we could still talk and read after the kids went to sleep. It wasn't an apartment with two bedrooms or anything, but it was large enough to hold a playpen and travel cot on either side of the bed so I still managed to save some money in that respect.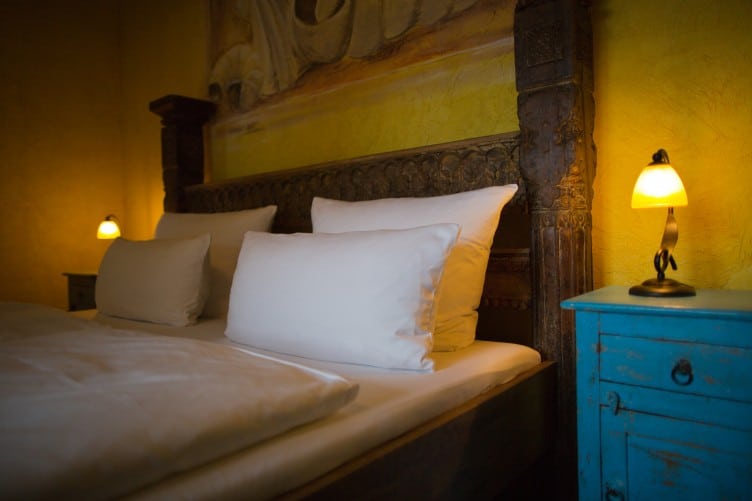 Exclusive Lodges
There also are beachside rooms. If we were just the two of us, I may have sprung for one of these. Nothing like having your room on the Lagoon to feel like you are really there. The guests were surprisingly quiet and respectful during the waking hours so I wouldn't have a problem with the potential noise in the morning, though I hear the nightlife can be a little rowdy, not that I would know what that's like.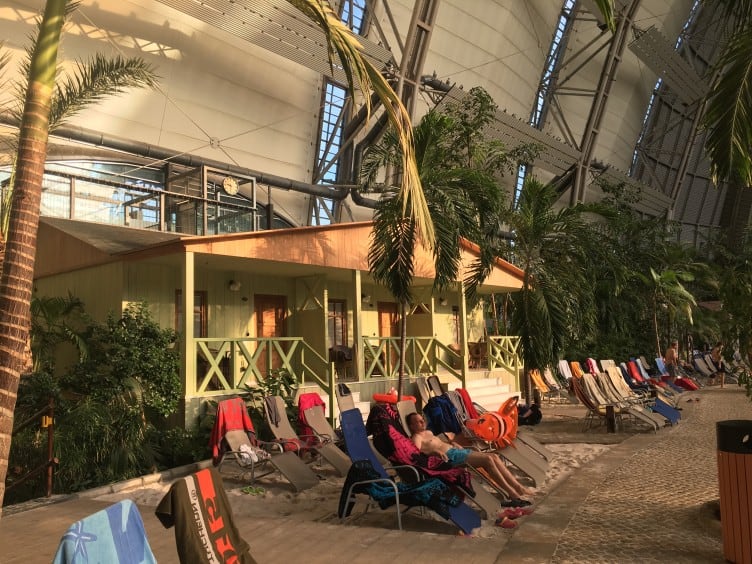 Tropical Islands Campsite – Mobile Homes, Caravans and tepees
Tropical Islands Resort can book up quite fast and if you're a last-minute planner, the campsite is a great solution. If you aren't sure exactly when you will be arriving, or don't want to lock into any dates, the Campsite looks like there is more than enough room to accommodate last-minute guests. Mobile homes have as many as 6 beds, tepees during the summer months and caravan parking are all available just down the road from the resort itself.
All reservations include unlimited access to the resort, and a shuttle is even provided so you don't need to drive back and forth throughout the day. The only downside would be if you forgot something in your room (sounds like something I would do). Day-trippers may also find this option particularly handy due to its price point. A family friend met up with us on our last day at Tropical Islands and they decided to spend the day in Berlin sightseeing, then return to the resort for dinner and resort-fun before taking the shuttle back to their mobile home.
Extras
Shopping
There were several stores along Shopping Boulevard. A Candy store, an arcade, clothing, and Surfer's Paradise sold swim gear. They also sold diapers in case someone runs out, and we did run out, of course. It wasn't too bad, at 1 euro per diaper, I only needed enough to get home the next day.
The first shop in the line is a small convenience store, with snacks, magazines, books and adult necessities like shaving cream, razors and female hygiene products.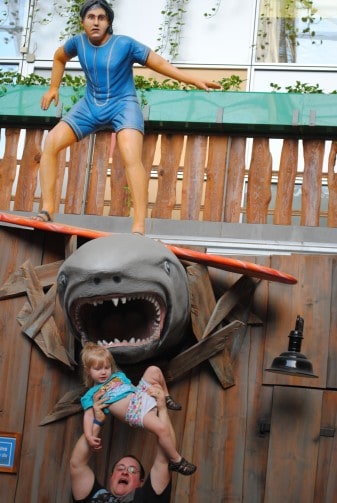 Food and Drink
There are also a few bars located around the Tropical Sea and Lagoon that serve snacks/meals.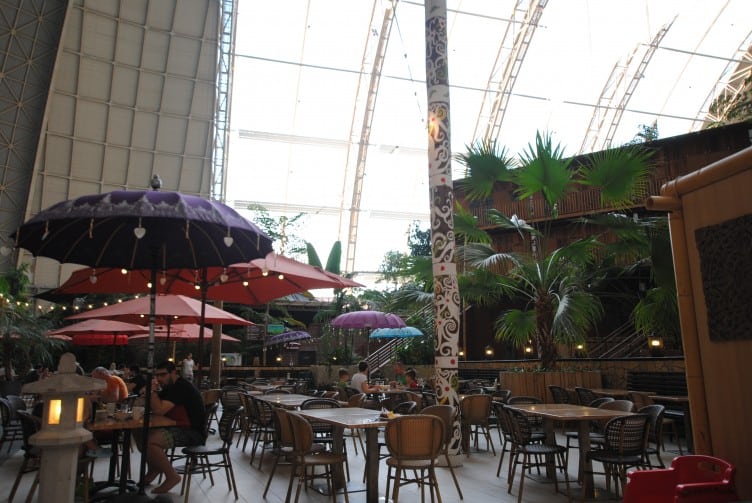 Once Munchkin found out there were slushies available, it was only a matter of time before both he and Baby Girl had to have one. They shared one each afternoon, so now we have 2 coconuts and one tree souvenir slushie cup.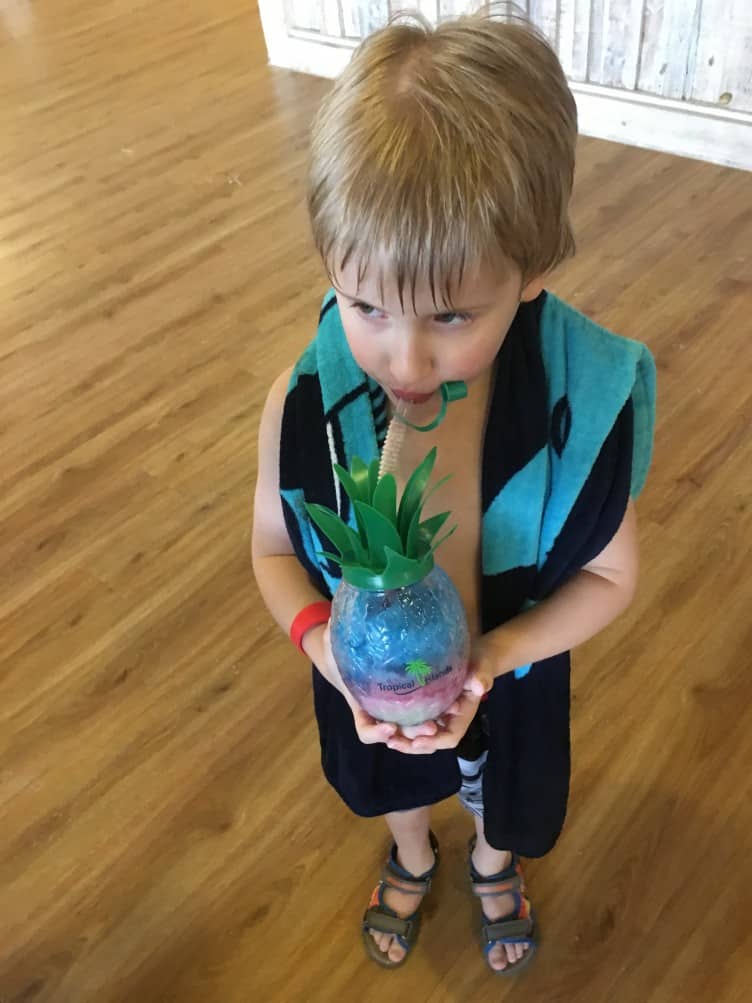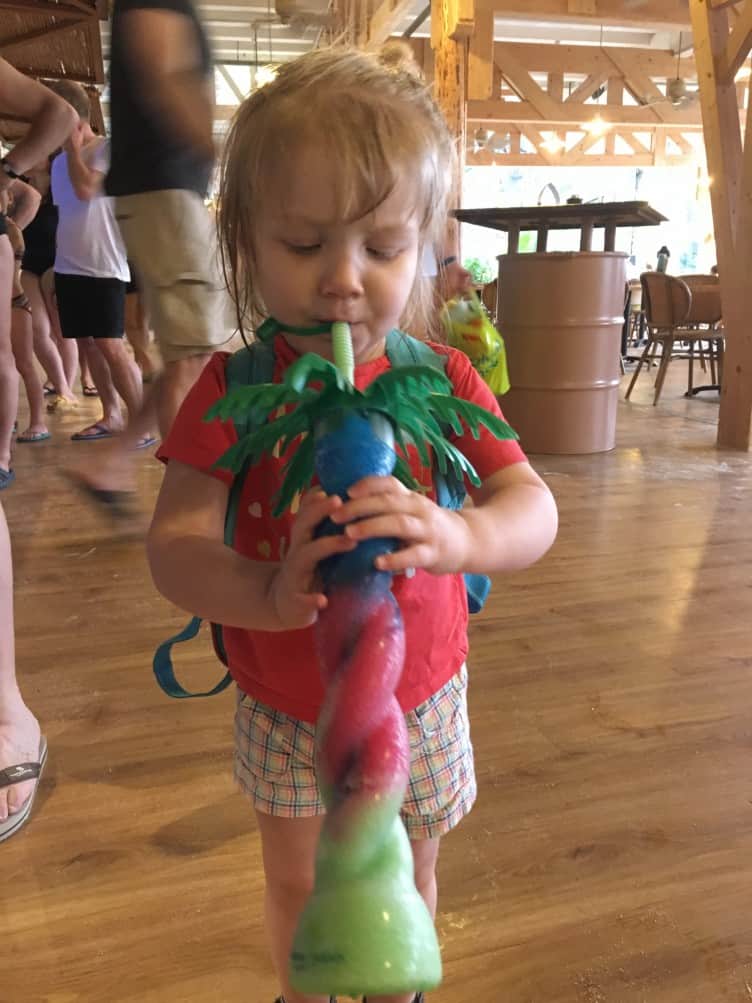 Tropical Island Check out
Check out was relatively painless. There are check-my-balance stations throughout the resort so you can keep an eye on how much you have spent. This is only valid for the wristband being scanned, not the account as a whole.
When checking out, there are stations where we can scan our bands and pay for them there, or simply take them back to the overnight stay desk and check out with them. The bill will be divided into every individual purchase to make it easier to see where you spent your money.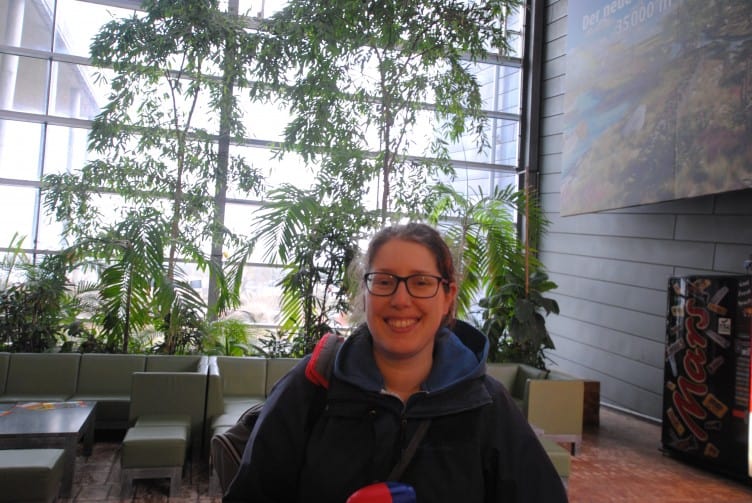 Tips.
For An Even Better Experience
Have any diapered kids in a two-piece instead of a bodysuit. This makes it that much easier to change out of a diaper and into a swim diaper just before entering the water.
Wear contacts. The change in temperature and constant splashing made it very hard to wear glasses. I have contacts, I just forgot the solution. Typical me.
If your kids are loud, be respectful of other guests and don't book a tent.
Take the time to wander, shop and explore the resort. There is much more to it than just water slides and pools.
Shoes are not required throughout the whole resort. The floors are kept impressively clean.
Semi-stroller friendly. The areas that little ones can roam freely have a make-shift parking lot, but nothing formal.
Surfer's Paradise gift shop offers diapers at 1 euro per diaper. A little expensive but I didn't have any other option. Size 3 and 4 was all they were selling at the time
Save money and grab a larger room and bring a travel cot for toddlers/small children.
Use packing cubes to leave any non-swim gear in the car or in the lockers. Saves on wasted time rummaging through luggage and the rooms are way too beautiful to be destroyed with the kit.
The resort is kid-friendly but not made for babies. The slides are for 7 years + and the club is for 3 years +. Playpens are available and the Kiddie Pool is made for little ones so they are definitely welcome at the resort. While not all of the bathrooms have a baby change station, they do exist. Be prepared and it will work out great.
The posts and pages of Tapped Out Travellers
do contain affiliate links that we earn a small commission for,
they come at no extra cost to you!
* Although this post is sponsored, all opinions are my own.
Your Thoughts...
Please share your thoughts in the comments or reach out on social media...We would love to hear from you.
You May Also Like…