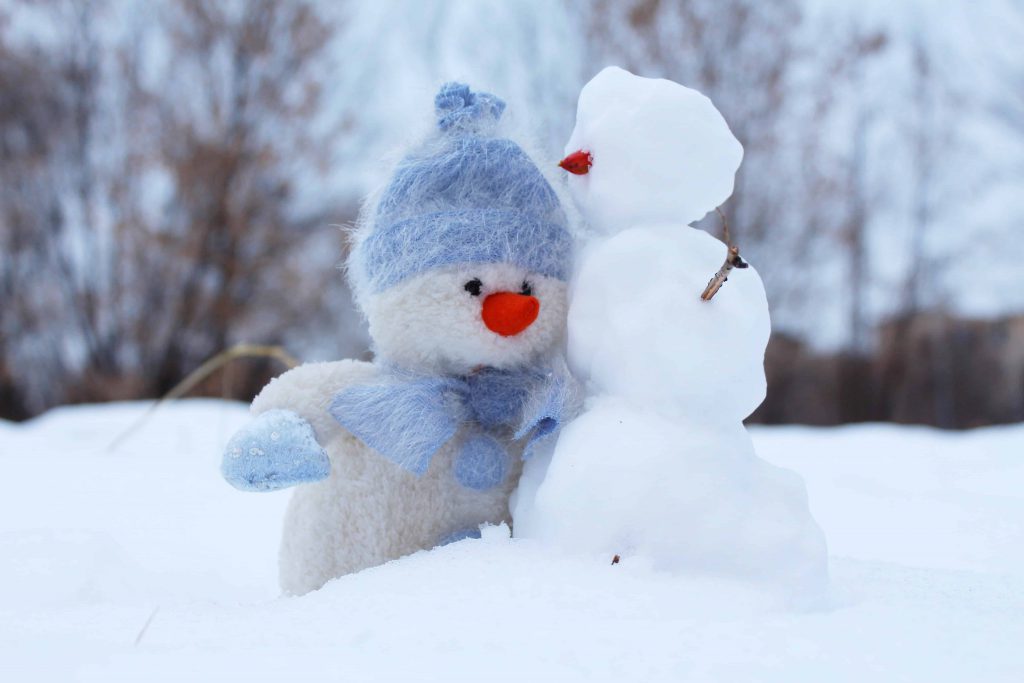 Some great suggestions for Winter Travel Gear in Europe. Here we detail our tried and tested top winter gear that fits a budget.
A Guide To Essential Winter Packing List Ideas…
What to Wear in Europe for Winter
Ever wondered what your favorite travel bloggers are wearing? and what to wear in Europe? Wonder no more; after years of trial and error, I have put together the master list of must have travel gear. Not all European cities are created equally. Some are wet and cold, some are warm, some snow, some rain. They are all different. How on earth are you going to back for these kinds of changing weather patterns? Did I mention some cities can have rain, snow, blaring sun and strong winds all in one day. Those are the special kinds of vacations that we like to warn you about.
This post may contain affiliate links.
To which I earn a small commission, at zero cost to you!
Find more info in our
Privacy Policy
.
Layers
Clothing Layers are your friend. It is much easier to take off those extra layers than create layers out of thin air, or worst; buy them. I generally have everyone wear a long sleeve shirt, a sweater, and jacket on the super cold days.
Basics
In the diaper bag, or the camera/snacks bag if you are childless that day, always have a hat, scarf, and gloves. You want a nice, warm wool hat that covers your ears properly.
I prefer to have the children in a neck warmer instead of a scarf; it falls off, they play with it, gets stuck in their zipper its a what to wear in Europe kind of moment. Also, a quality neck warmer is super long and have extra fabric to cover the head for that extra layer of warmth. For myself, we like wearing a scarf. It's that little bit of fashion accessory that I can actually get away with; it also makes your outfit look completely different depending on the scarf worn so I do pack a handful of different ones or choose to purchase some at a souvenir store. A splash of color never hurt anyone.
Gloves. Not all gloves will survive your travels so don't get too invested. I have a nice pair of leather driving gloves, those stay in the house or hotel. I refuse to go out into the city with them, only because I have a habit of leaving things lying around – I left my sunglasses on the table in the airport, not 2 weeks after purchase. Walmart or Target have great $1 gloves, those are often enough for us. Try getting a pair with leather patches on the thumb and forefinger; this is useful when using a smartphone or tablet.
These gloves also come in children's size; roughly 6-10 years old. If you need a cheap pair for the little ones, wash and tumble dry. Instant infant sized gloves. Now they can continue to feed themselves snacks and grasp their drink bottles without help. My kids hate mittens. Too much work.
I also bring an extra pair of hat, gloves and scarves for the kids, and leave them in the hotel. If they lose a pair while out, there is a replacement set waiting for them.
Feet
A good, solid pair of waterproof shoes are required for any vacation, anywhere. As a traveler, you really don't want to carry around 5 pairs of shoes 'just in case.' Finding a pair of fashionable, affordable and functional shoes is also a real pain. While not exactly fashionable, the right accessories can turn practical into less-obvious pretty quickly. Because let's be honest, the first rule of safety is 'don't stand out'. You already have a suitcase and camera, what more do you need – a giant sign over your head that reads "Tourist; come rob me!" Once your luggage is away and your camera is safely hidden in your day bag, your shoes don't need to give you away.
We have been through several pairs over the last few years and these recommendations are our latest and favored finds. They are a little on the expensive side but I have worn them 8 months out of the year, for nearly 3 years now, and they still look brand new.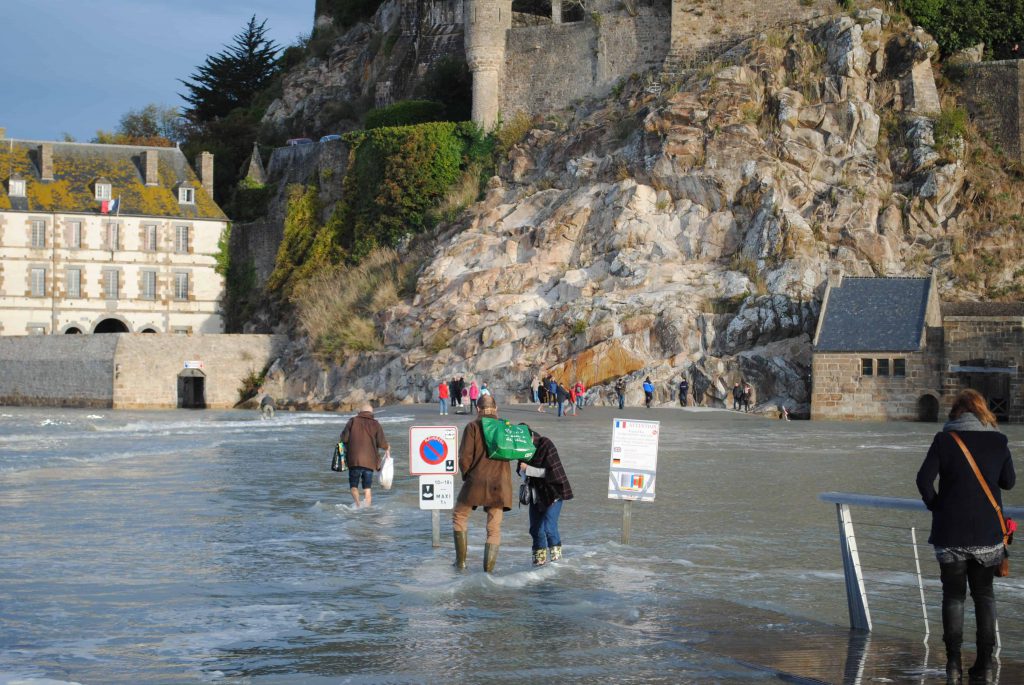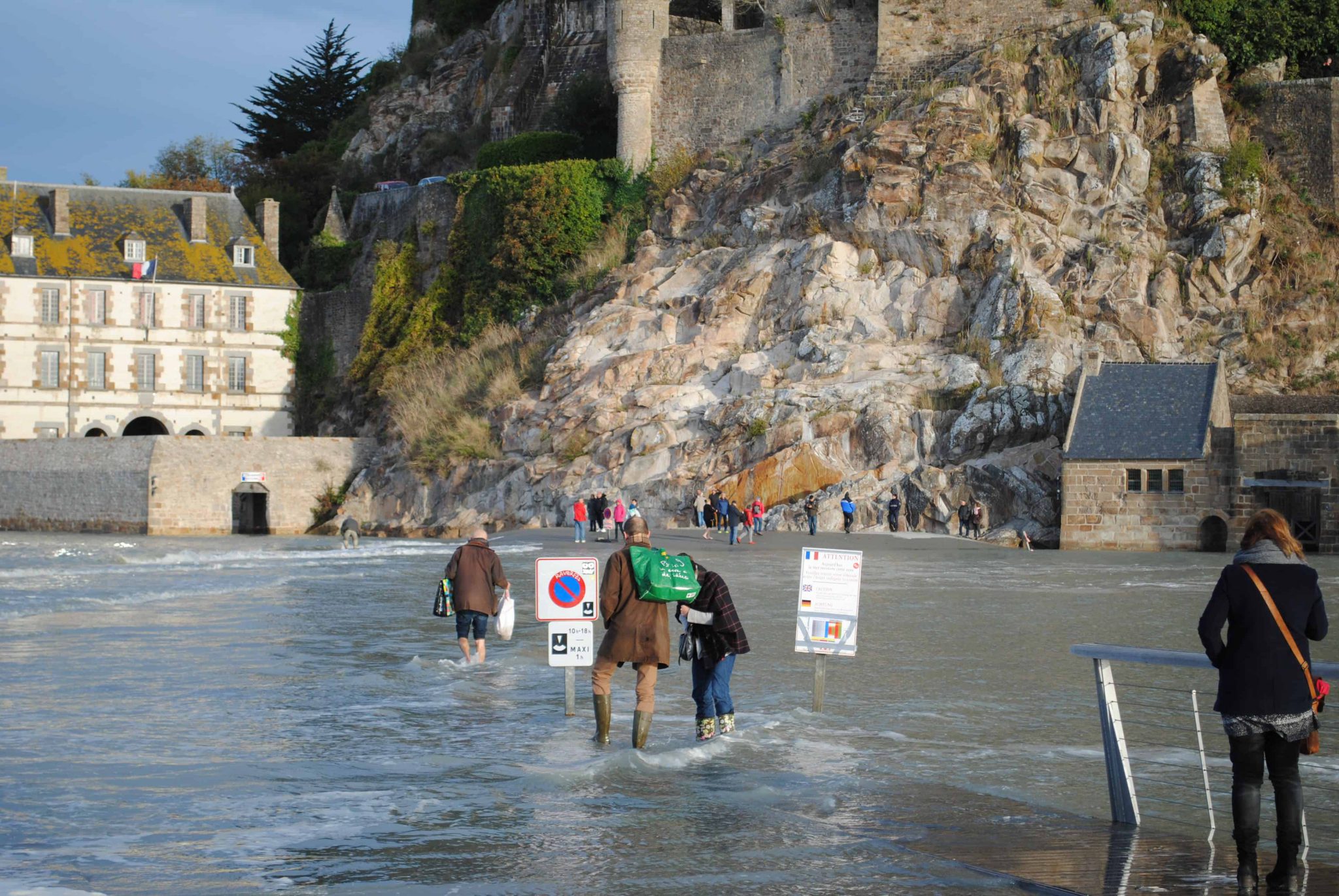 Your Top Half
Thermal top and Underwear
3-4 tops
2 sweaters
Because sweaters are bulkier than cardigans, try to wear large items in transit to free up precious space in your luggage
When layering your clothes, be sure to have a warm layer, followed by a "presentation layer" as some have come to call it. This is what everyone will see when you take off your coat in the restaurant. Personally, I don't make that distinction since my closet is filled with mom clothes – I haven't done a serious update since before my son was born… and he's almost 5. Sometimes I will change it up for a t-shirt and pull-over sweater if it's truly cold.
Jacket
I have several jackets in my closet, as most of us do. They have all been on vacation with me and I have sworn them all off for one reason or another. My big winter coat is a ski jacket, which is plenty warm, but it's rather bulky for sitting in the car. My fall/spring coat doesn't have much room for a sweater and isn't waterproof. I have a windbreaker/rain jacket but offers zero warmth. I recently discovered the Columbia interchangeable jacket. It is a waterproof shell and warm insert. It is a 3 in 1, and when worn all together with a light sweater works as a winter coat. Much slimmer, easier to move and less 'tourist' looking.
Your Bottom Half
1 Black pant

everything matches with black, and you never know when you need to dress something up for a surprise night out.

3-4 Jeans
Winter boots
For the love of traveling, don't wear yoga pants. They are thin and retain water. You get wet and you will stay wet for the rest of the day. Layering leggings under your jeans is a much easier way to stay warm and fashionable. Feel free to substitute jeans for trousers but trousers are thinner so keep that in mind as well.
Bottoms
Waterproof bottoms are always a good idea. While one would assume throwing on a pair of ski-pants is the answer, it really depends on the weather and destination. Ski pants are very bulky and very warm, which is great when you are flying down a mountain, but exploring a city? Not really. We all have a pair of thermal splash pants that we wear when traveling. Just like the pair you wore to jump in puddles as a child, these just go over your clothes and act as a windbreaker and water repellent. The thermal lining also means you can stay warm without all the bulk. They are fairly easy to find at any outdoor apparel store.
For the stationary child sitting in the stroller, it can get much colder, much faster, than those walking around and burning energy. A good foot-muff or winter sack is needed. We used a thick blanket when we traveled with just our son but he was much older and knew not to throw it off. Our daughter, on the other hand, will throw it away then cry that she is cold. The Footmuff zips around her like a sleeping bag so she can't take it off. Too warm, unzip parts of it for some air circulation, or unzip it completely and store the top half until needed. There are many brand names you can use, as well as the one designed for your specific stroller. We went with the cheap one and modified the strap holes to fit our own needs.
Baby
The age of your child will dramatically affect the type of baby gear you plan to bring with you on vacation. The destination will also help make the final decision. Our trip to Switzerland meant the stroller never left the car, just not possible to bring it into a castle or up the mountain. Munich, on the other hand, I needed my stroller, and the kids needed weather protection. These are my recommendations, whatever you choose… note; I brought it all to Normandy, it was just that kind of vacation.
This is the new version of the carrier we have. Ours was a gift, and they received it as a gift, so it is fairly old, but looks new. We have used it a handful of times and plan on using it more often. The high weigh limit (23kg or 50lbs) means I can, in theory, wear either child on my back while the other runs around.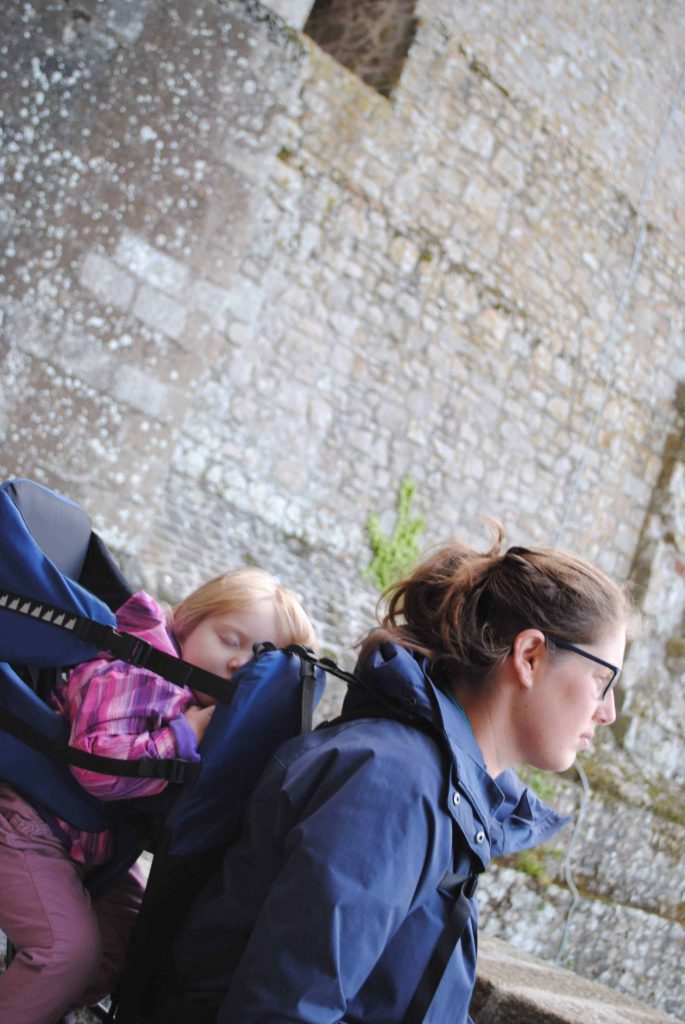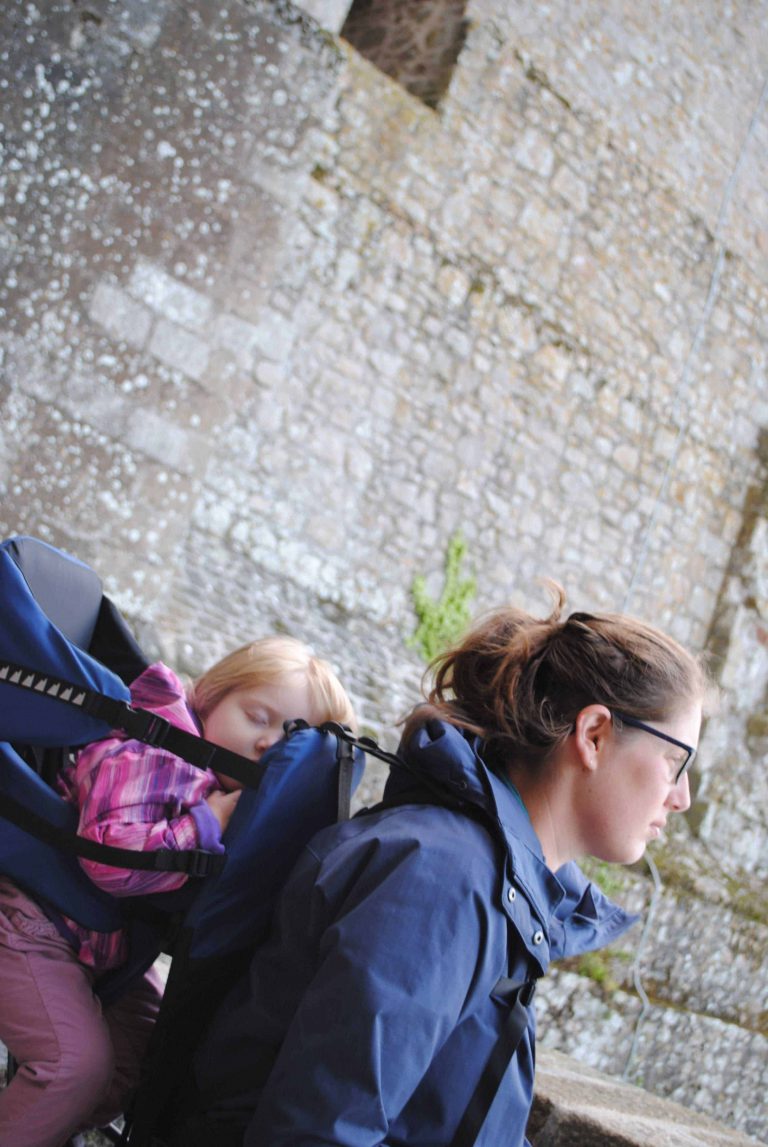 And this is Bob. Bob is my favorite. Bob was expensive. Bob has never let me down. Did I mention I love Bob?! Along with the stroller itself, we have purchased the rain cover, handlebar console, travel bag and car seat adapter. What are these things and are they necessary? The Rain cover, clearly. You can buy the general shape ones at Walmart, and we have, not gonna lie. But they flapped in the wind a little too much for me. When ours broke, we thought hard about our next purchase and decided to go with Bob Gear brand. Never looked back. The handlebar console is great for my snacks, coffee, cell phones, and house keys.
The Travel bag is for packing up the stroller and sealing it in a protective bag of its own so it can fly. Keep in mind, Bob is the width of a standard wheelchair – which is fine, legally, he fits everywhere. But not all airlines allow Bob to be gate checked. Airlines also mention that you bring your stroller at your own risk, they refuse to take responsibility for any damage. The bag means everything is stored properly, the wheels are apart, and Bob has the best chance of coming out the other end unharmed. We have used the bag a few times, when we knew we needed to check it in over-sized, when Bob is gate-checked, we leave the bag behind. And finally the car-seat adapter; my favorite accessory. So we bought Bob when munchkin was 8 months, he just used it as is. When Baby Girl came along, I didn't want to buy another stroller just to fit a newborn. The Car seat adapter meant I could use her existing car seat and fit it into the stroller and continue traveling. This made transferring the baby from car to stroller a no-brainer and travel became that much easier.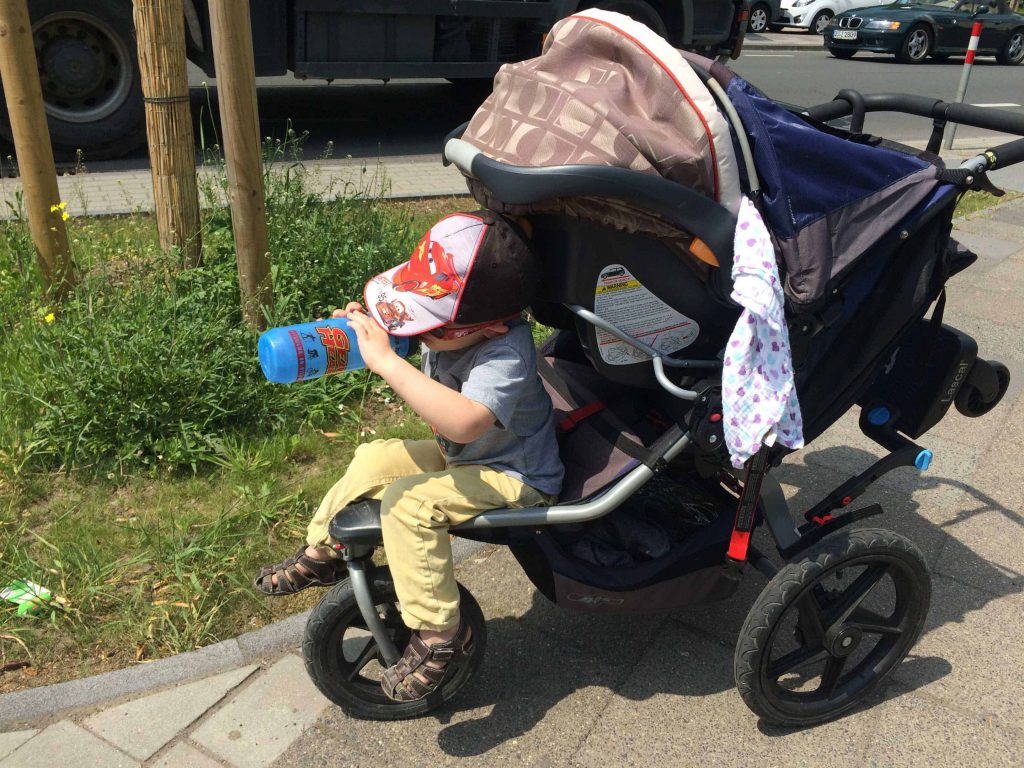 Lastly, the infant carrier. When the baby is too small to fit in the MEC hiking carrier, and you still need to carry them around, the Rose and Rebellion carrier is perfect.
This carrier can be used up to 32 lbs. We have used it for both kids, and now my sister is using it for her kids; recycle recycle. When the baby finally is too heavy to carry on your chest, the carrier converts to a back harness, which I have used a few times. We store this in the basket under the stroller at all times, and it comes with a great bag; if she gets restless sitting there all day or munchkin gets sore legs, I wear her and he gets to sit.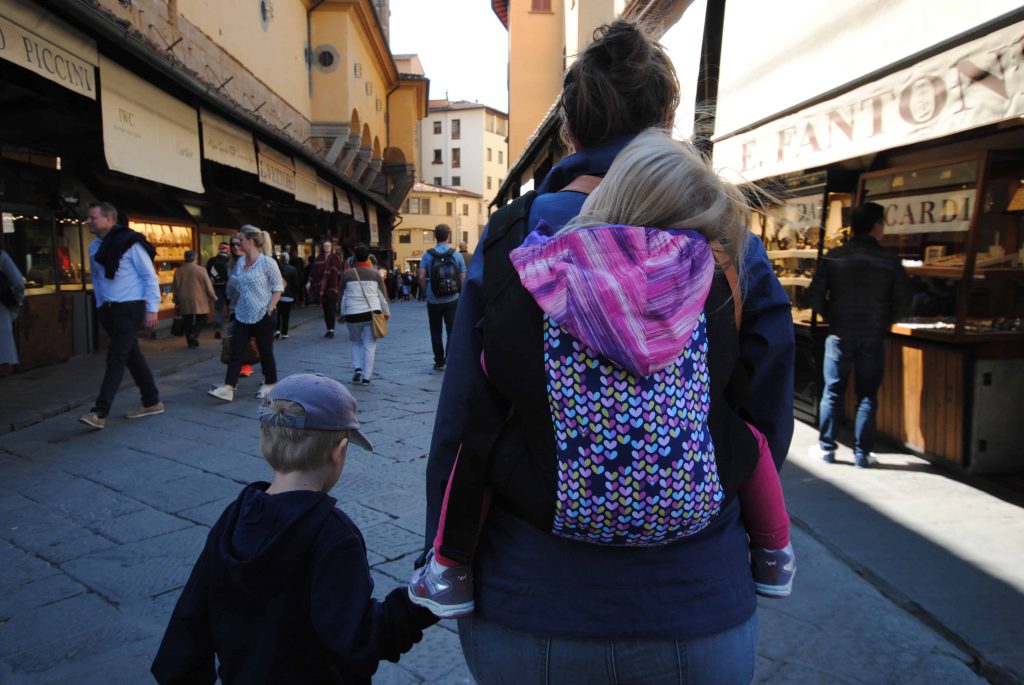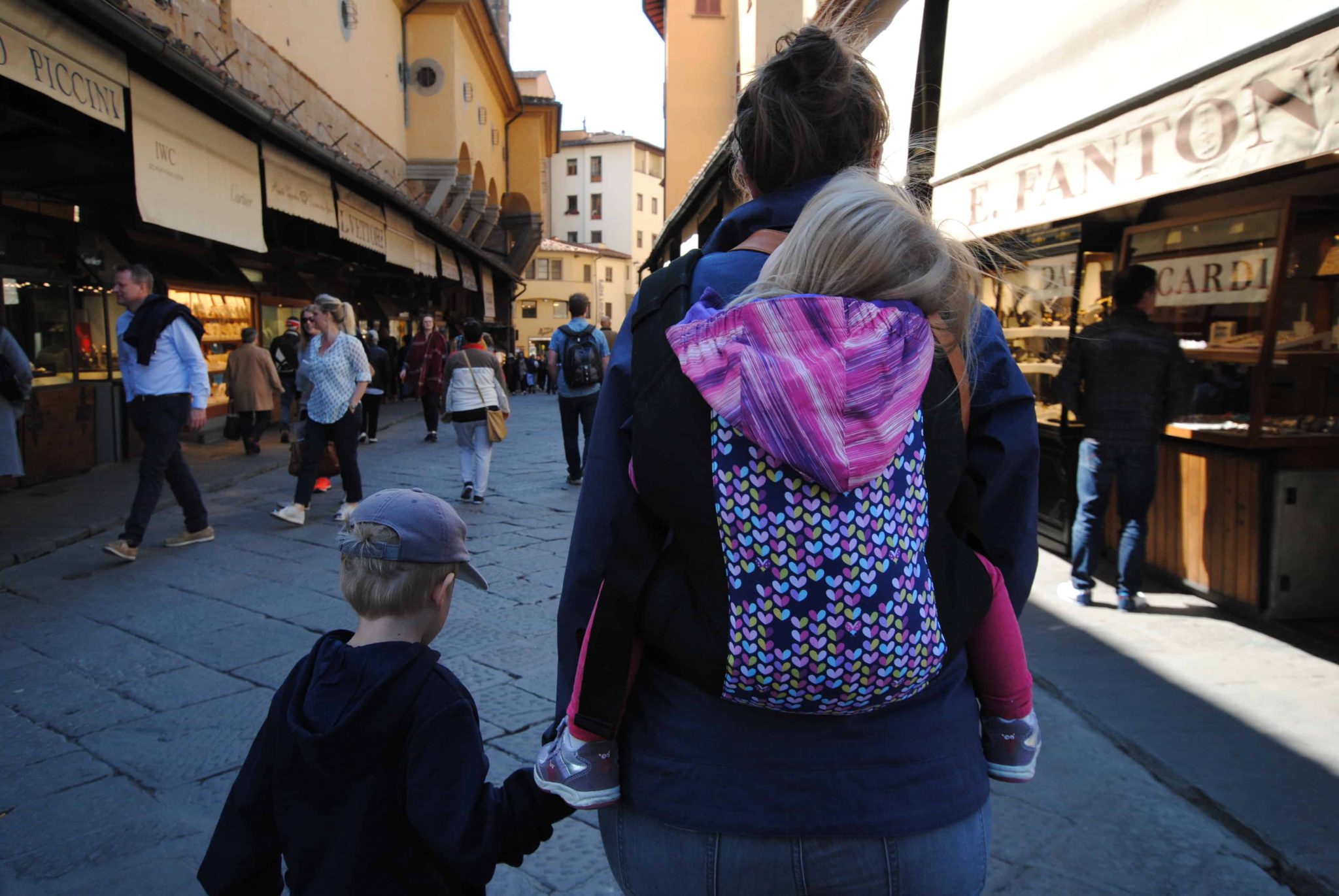 There are varying styles of covers for this as well, like adding a blanket on the baby during the colder months. Since I preferred to have the carrier directly on me while she was on my front, instead of over my jacket, it meant my jacket was half-opened in the middle of winter. The cover also filled in some of that gap to keep the cold air out of my jacket. Clearly, a blanket wrapped around my midsection would have the same effect but it was a gift, so I enjoyed it.
Backpack
Having a proper way to carry your belongings while still being weatherproof is important. I won't always have the stroller and I really shouldn't be lugging that much useless gear anyways. If it belongs to the parents, it needs to fit in the bag or it doesn't need to come. Camera, umbrella, wallet, tripod, snacks, drinks; also a free place to store souvenirs without standing out in the crowd. This is also where we store the basics when they are not in use; the bottom of the stroller is not for loose items.
This particular bag has a chest strap to keep the whole thing from swinging around when walking, which is great, and comes with a water cover. The side straps also carried the tripod and umbrella.
Sunglasses
The last thing you want is snow-blindness. Snow is very reflective and sunglasses are always a good idea. Even the kids have their own pair. You never know when that sun will break through the clouds and overpower you.
There you have it, what to wear in Europe to survive a European winter! It's not as cold as you have been lead to believe, it is as wet as you have been lead to believe. Europe rains. A lot. And often. Always have an umbrella, even in February. Asking a local what to wear during any season is going to give you mixed results and won't be true to your own needs; their 'cold' may not be the same as your 'cold'. Having someone from your part of the world let you know what your destination is like is, unfortunately, a better gauge of what you need to purchase/pack for your next vacation.
Your Thoughts...
Please share your thoughts in the comments or reach out on social media...We would love to hear from you.
You May Also Like…
Do you really need a stroller to travel
Guide to Best Travel Strollers
Best Packing Tips to Feel More Organized + Less Stressed
Family Travel Gear Product Review