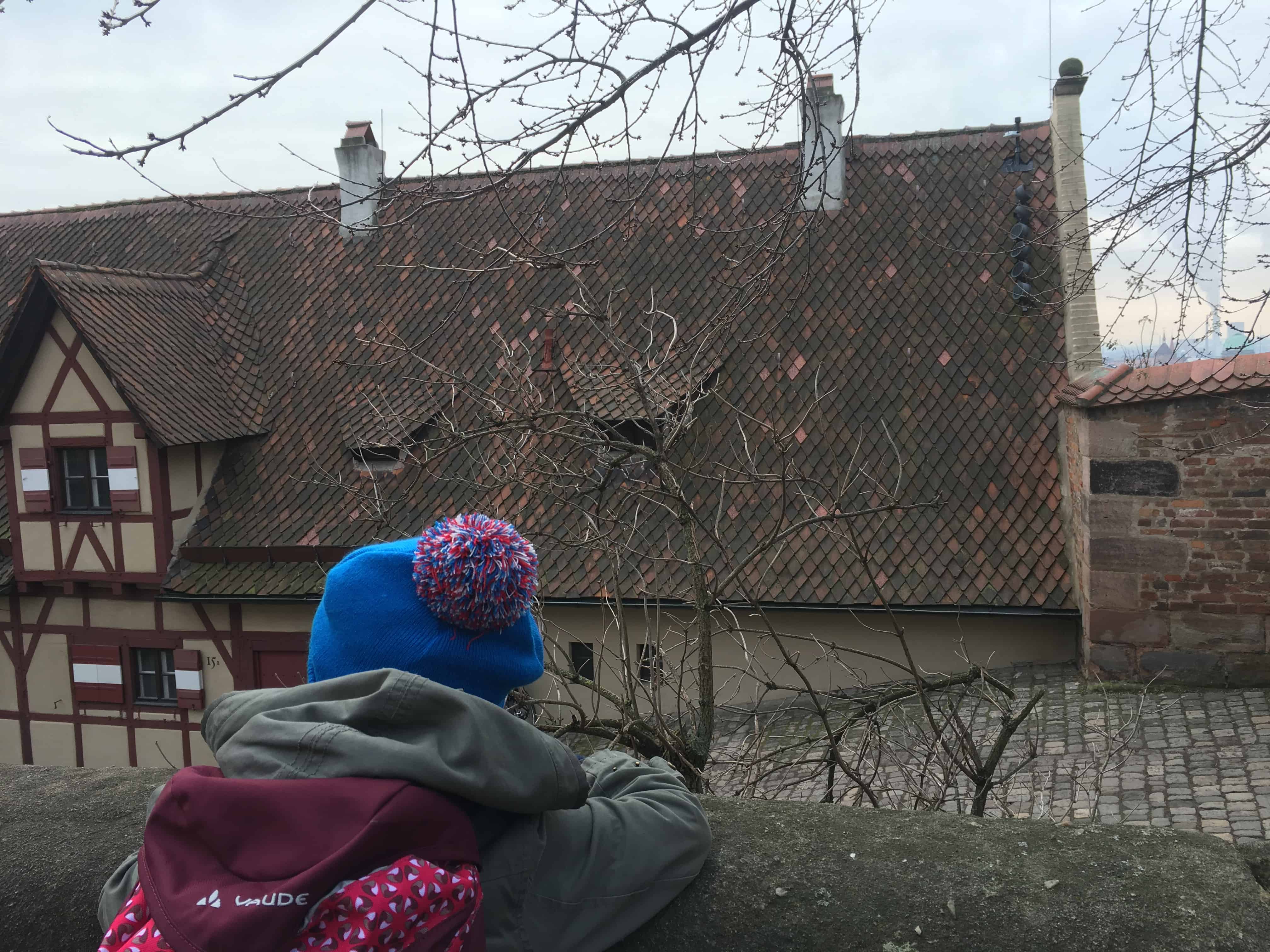 Helping you find the right mix of hotel, things to do, places to see and restaurants to visit while on Nuremberg Christmas vacation, with kids.
Family-Friendly Guide To Nuremberg Germany With Kids
While this generation may only know the name for it's historically recent and infamous position of power during World War II, Nuremberg Germany is much more than a city of office buildings and war-crime tribunals. Nuremberg is a central hub for countless day trips at the top of Bavaria, it is home to a magnificent medieval castle, and host to one of the most famous Christmas Markets in the world. We started our Winter Vacation road trip with 3 days in Nuremberg and the city did not disappoint. Of all the things to do in Nuremberg at Christmas, our first stop was clear; the Christkindlesmarkt. This is what to do in Nuremberg Germany with kids in mind.
This post may contain affiliate links.
To which I earn a small commission, at zero cost to you!
Find more info in our
Privacy Policy
.
Know before you go
Before heading out to Nuremberg, it is best to give the kids a little information. We like to give them books, videos, activities, anything that will resonate with them and help grab their attention.
How much time to spend in Nuremberg
One roughly needs 2-3 days for the whole city, plus any day trips being made. There is a lot to see in the city and many cities around Nuremberg that
We would recommend at least half a day for the Castle, as it can be exhausting, especially with the kids.
Nuremberg Christmas markets
With about two million visitors a year the Nürnberger Christkindlesmarkt is one of the largest Christmas markets in Germany and one of the most famous in the world.
It doesn't matter where your hotel is or what the receptionist says, never drive into the center of town if you can avoid it.Take the train or bus into the city center. The Markets are just down the street from the nearest transit stop, and this also means there is no need for a designated driver (because we are all about safety and responsible drinking). Behind the church, you will find the toilets. They are 50cent Euro per person, children are free of course.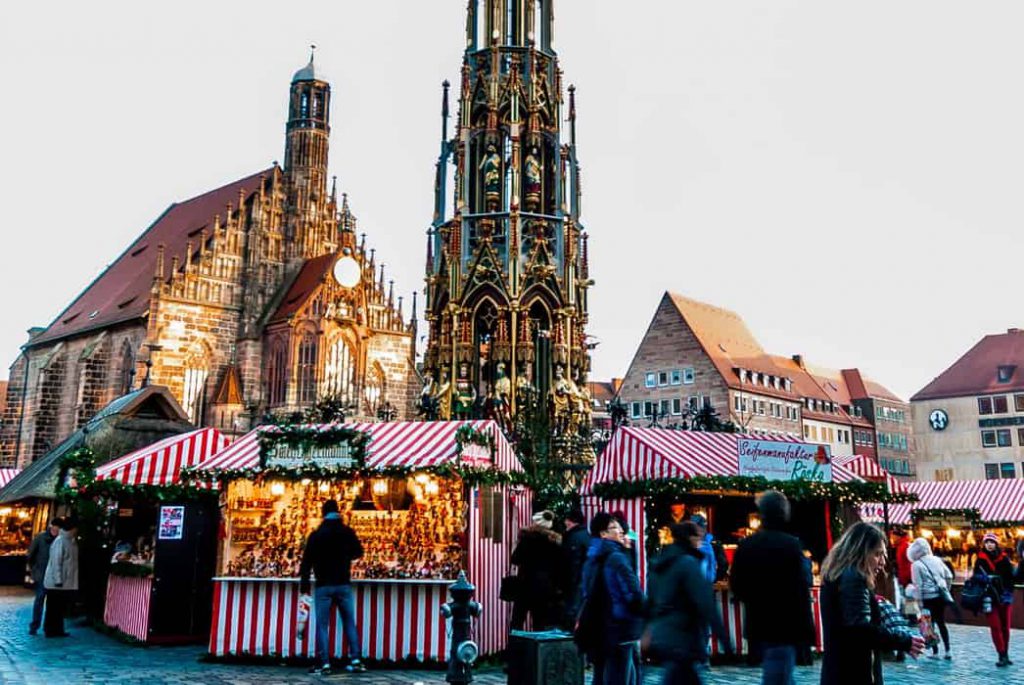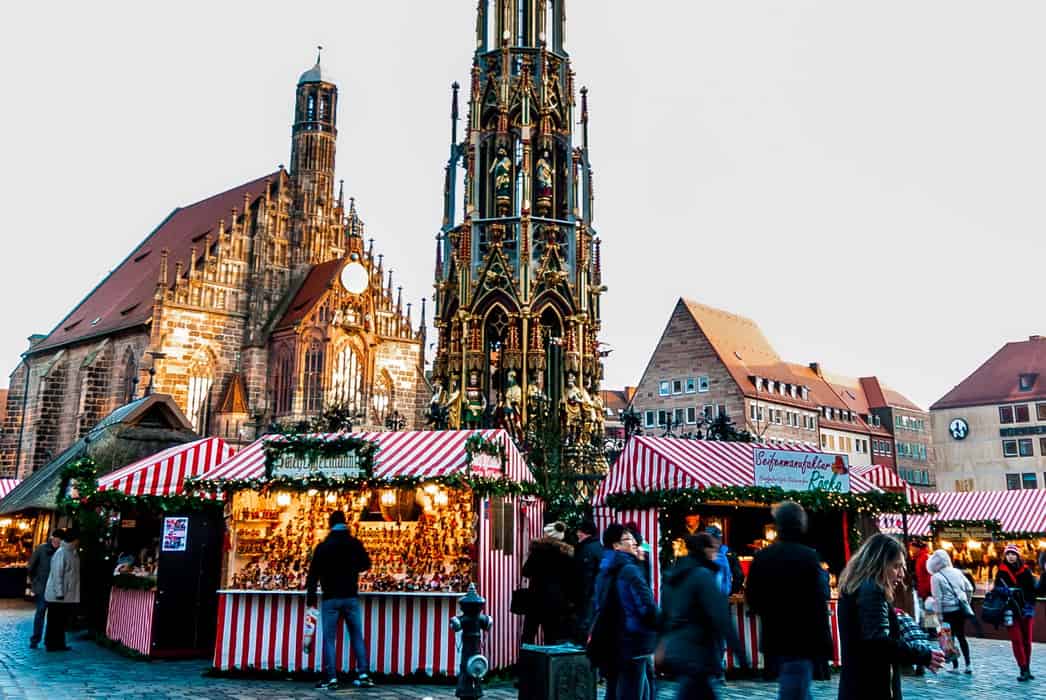 There is a Nuremberg classic, called Winter Warmer. It is a hot, mulled beer with a slice of Orange. Not every stall has gluhwein, as we are used to in Northern Germany. Some had mulled beer, others had grog. We did find the majority had gluhwein but we needed to read the signs on the stalls.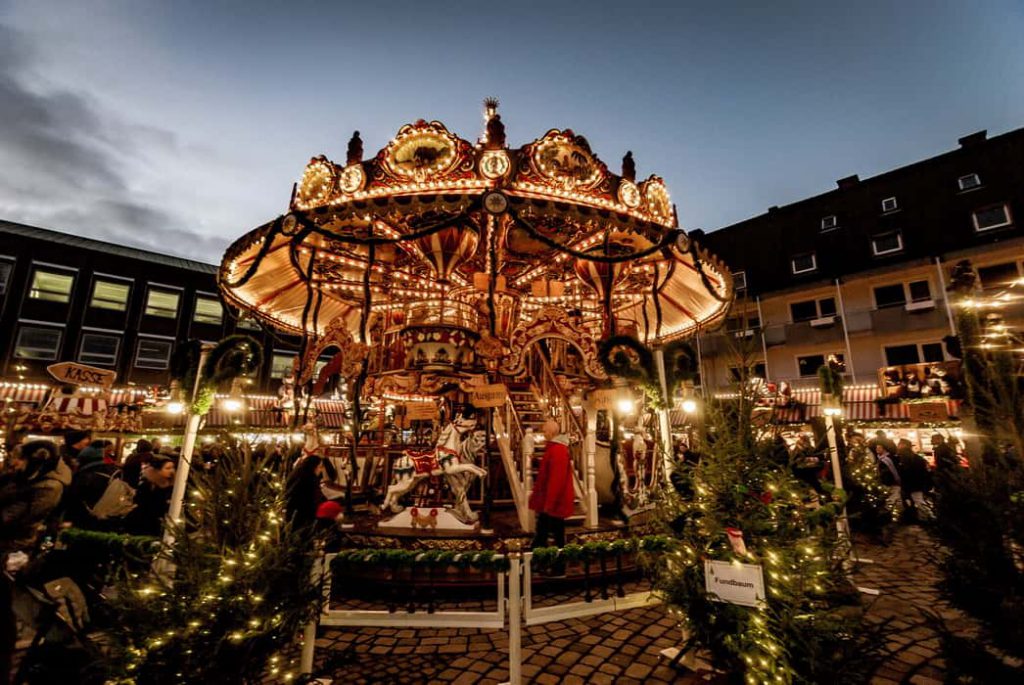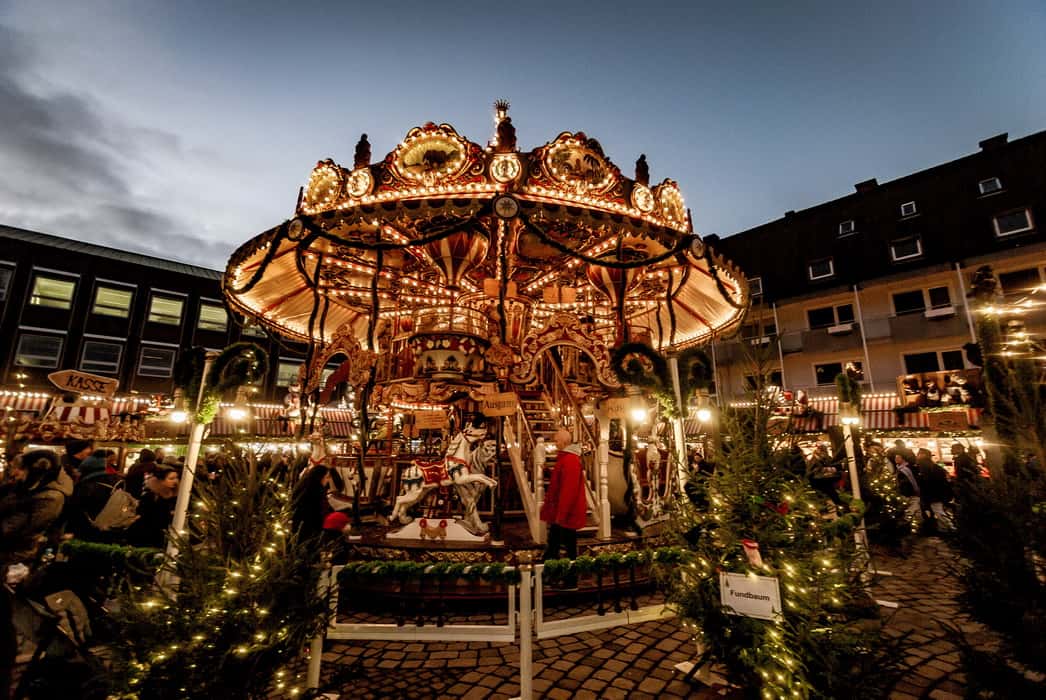 Down the street, there is a Kinder market. This also has adult drinks, products for purchase and food, but this is also where all the rides are hiding. There are 4 rides, and tickets can be purchased at the front Kasse for 1.5euro each, or 6 tickets for 7.50 euro. This helps take the stress off parents while touring the regular markets; they can walk around and not be constantly reminded that the kids want to ride the carousel or Christmas train. "Out of sight, out of mind".
Imperial Castle of Nuremberg
In the Middle Ages, German kings did not have a capital but voyaged from one of their castles to the next, thus the castle in Nuremberg slowly grew in importance. Archeological excavations within the castle unearthed remnants of walls dating back to around 1000ad.
Dedicate at least half the day to exploring properly.
It costs 7euro per person to enter Nuremberg Castle and this includes an audio guide. Upon entering the first room, the next set of doors looked like they were locked and reserved for private tours. NOPE. Just the way they keep the door from sticking. We looked a little foolish ending the tour after just one room. Lesson learned; let the kids try every door they see and hope one opens.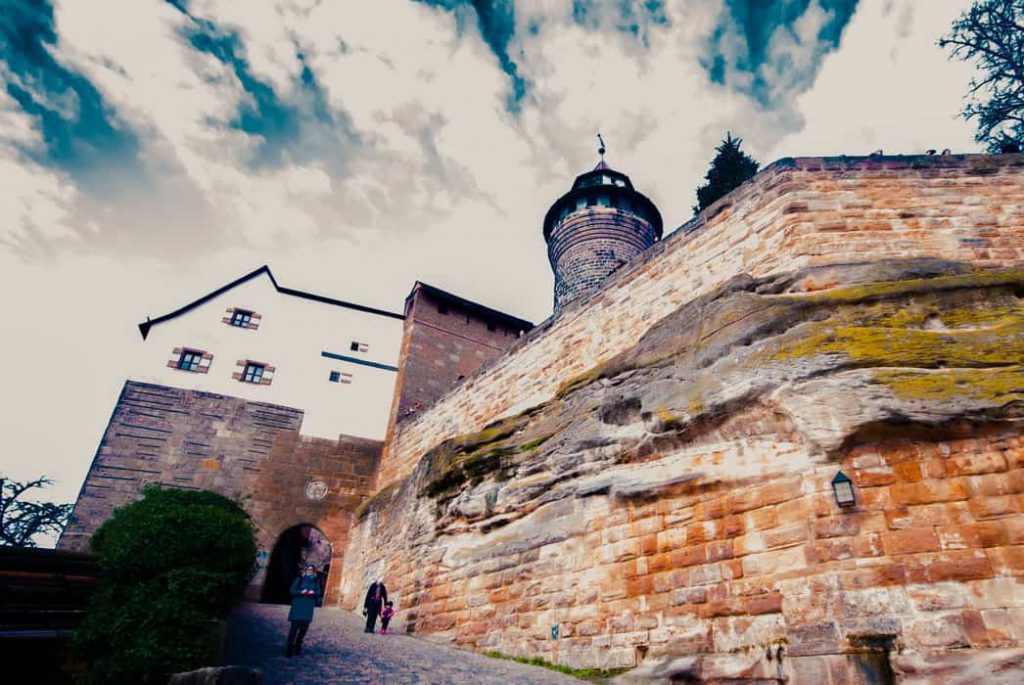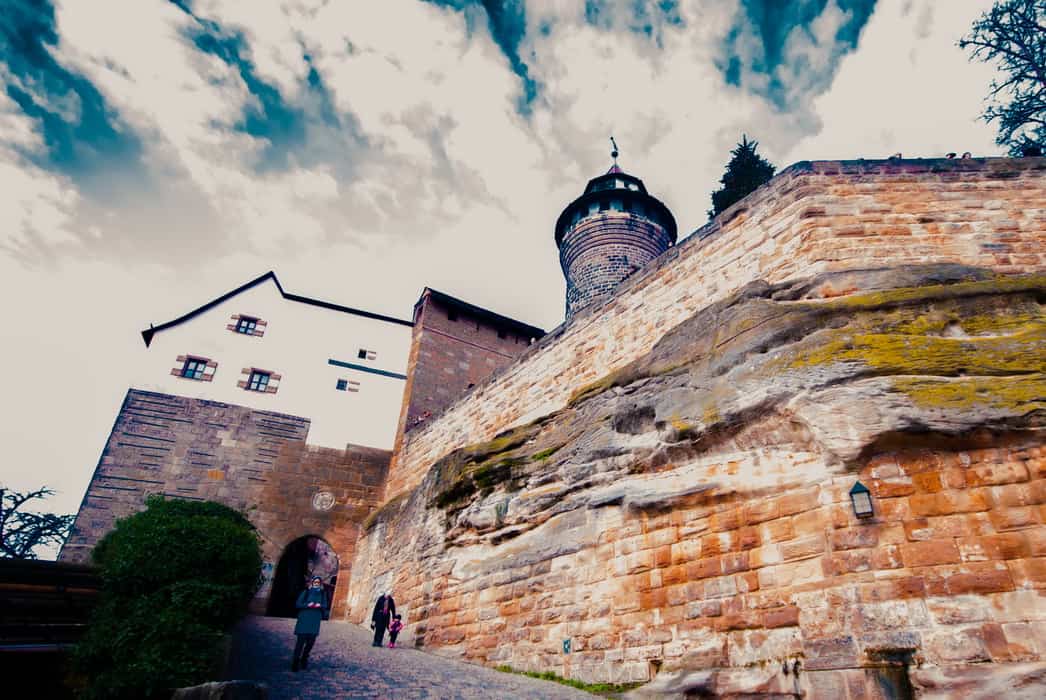 Like most castle tours, this one is definitely not stroller friendly. The entire castle is filled with stairs and narrow entrances. I wore Baby Girl on my back the whole time, as I did not want to have to deal with her in the stairs.
The climb up the castle was also not very friendly; it is fairly steep. We did see two strollers parked at the Front Office so it is clearly possible but I would not advise it. We did this at Neuschwanstein and it was quite a workout.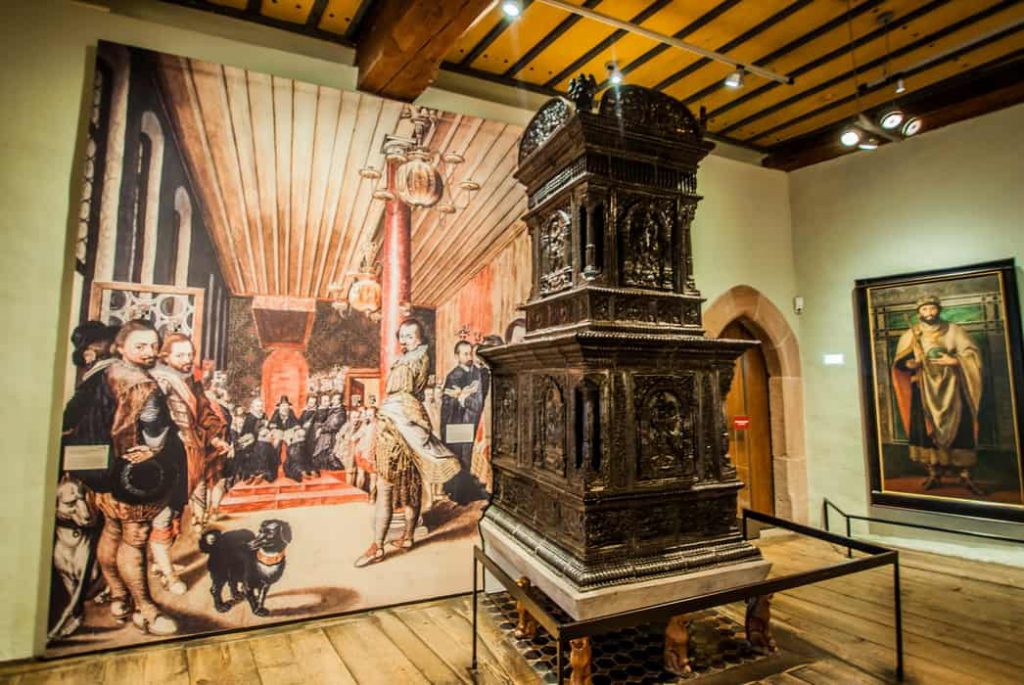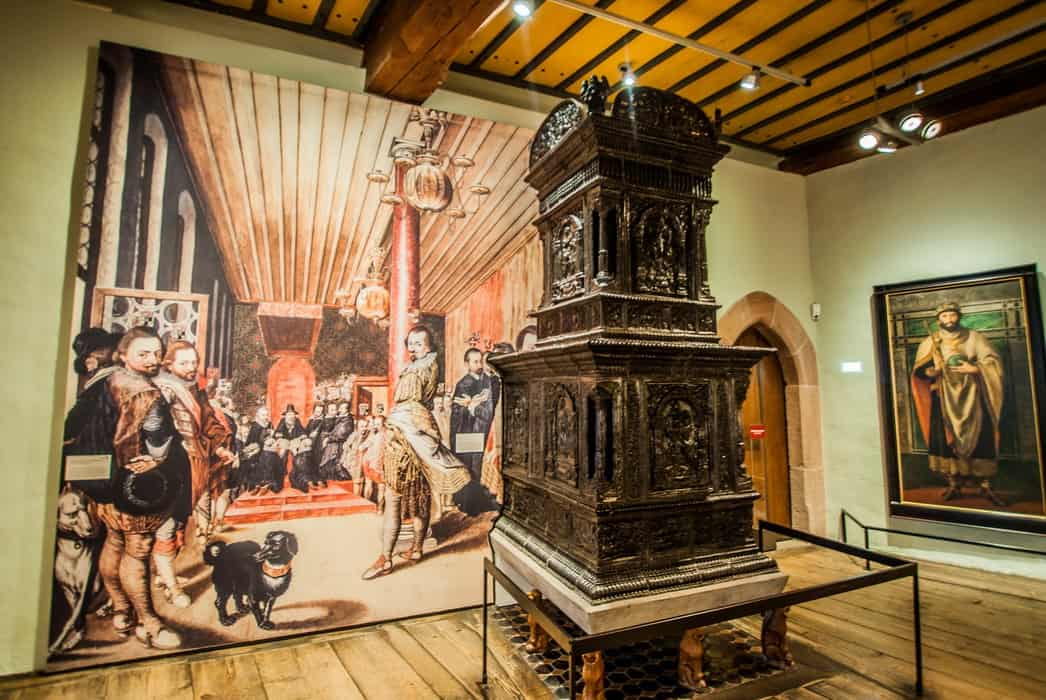 After the self-guided tour, there was an option to climb the tower as well as look down the Deep Well. The Well is only accessible with a guide, and they collect guests at the Deep Well door every: 30 and: 60. It only lasts about 10 minutes; they lower a set of candles into the well and drop water. It takes about 5 seconds for the water to splash.- this means the well is very deep, 100 meters.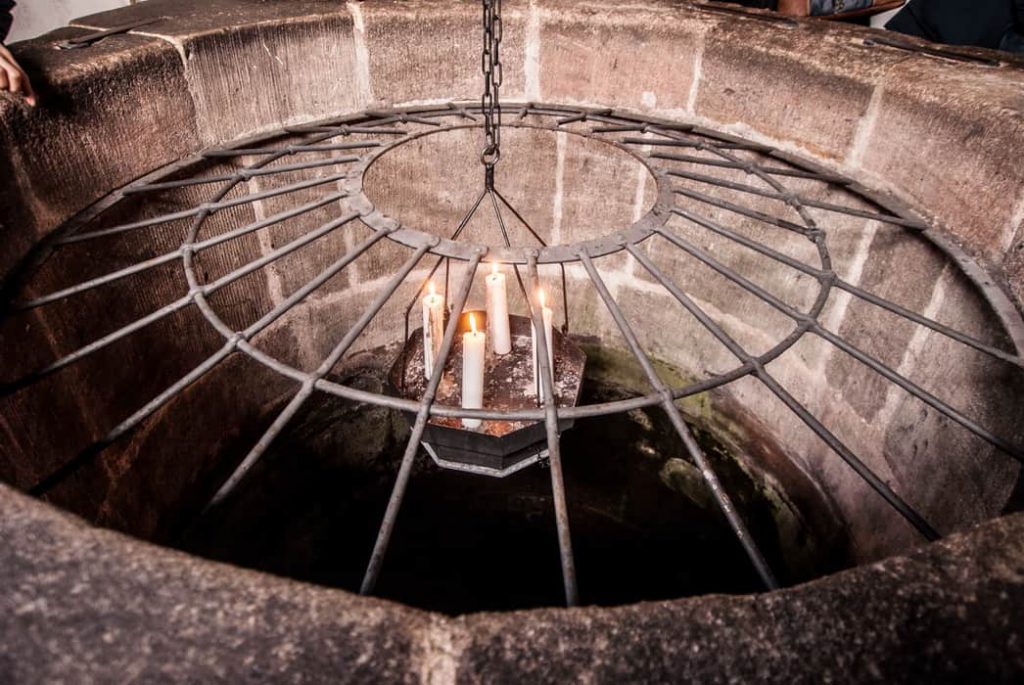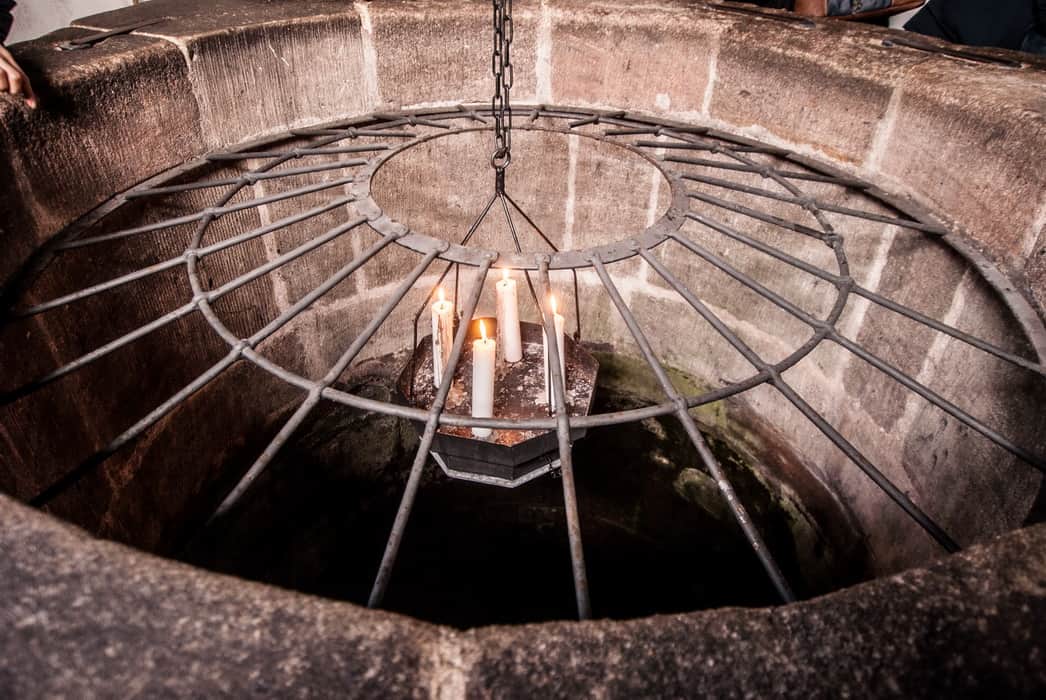 It took us 2 hours to tour, including the outside views of the city. We also arrived at the castle was opening for the day and beat many of the larger tours, so this helped speed up the process. Munchkin also tends to speed through many attractions that aren't hands-on, as he is not all that interested in reading every single placard.
Best Restaurants in Nuremberg
As there isn't a Hard Rock Cafe, we had to get creative with where we eat. Not every eatery is child-friendly and some just don't have anything that appeals to picky eaters. We did have one meal at the markets – I mean, why not. Nuremberg sausage (3 to be exact) on a brotchen, with a side of gluhwein and gingerbread cookies for desert- Perfect.
Hubby managed to find Boogie BBQ smokehouse. It was incredible!! Only 11km from the hotel, it was a quick drive away from the crazy city (not accessible via public transit but I am sure a taxi ride wouldn't have been too expensive). The decor is authentic BBQ restaurant; simple and bbq like. The menu is limited but that also means you are served roughly 5 minutes after ordering. The main menu is a rack of ribs, but pulled pork or turkey sandwiches are also available for purchase. Each menu comes with two sides; coleslaw, bun, caesar salad, potatoes, or fries. We didn't realize it, but a reservation is strongly recommended; she told us we had 1 hour to eat and leave as someone else had reserved our table – with these two, 1 hour is more than enough time to eat and leave, as long as the food is served promptly. They are cash only, I believe, but they also have nice swag. We bought a tuque and it looks pretty great. Drinks are also great; go the fridge, grab what you want and pay at the end. Simple and easy. The price is also on point; 3 menu options, a beer, and hat only cost 60euro.

Best Things To Do In Nuremberg Germany With kids
Kongresshalle (Congress Hall)
After the war, it was found to be too expensive to complete the building, yet too expensive to tear down, and was thus left unattended. Congress Hall is the biggest preserved national socialist monumental building and is landmarked. It now it serves as a documentation museum and storage facility
Cost – Free of charge. Though you can enter the Documentation Centre (for a fee) and get a birds-eye view of the hall
Location – Bayernstraße 100, 90471 Nürnberg
Tip – Don't forget to walk around the building, the Arcade Walk, not just the inside. The columns and design are actually quite breathtaking.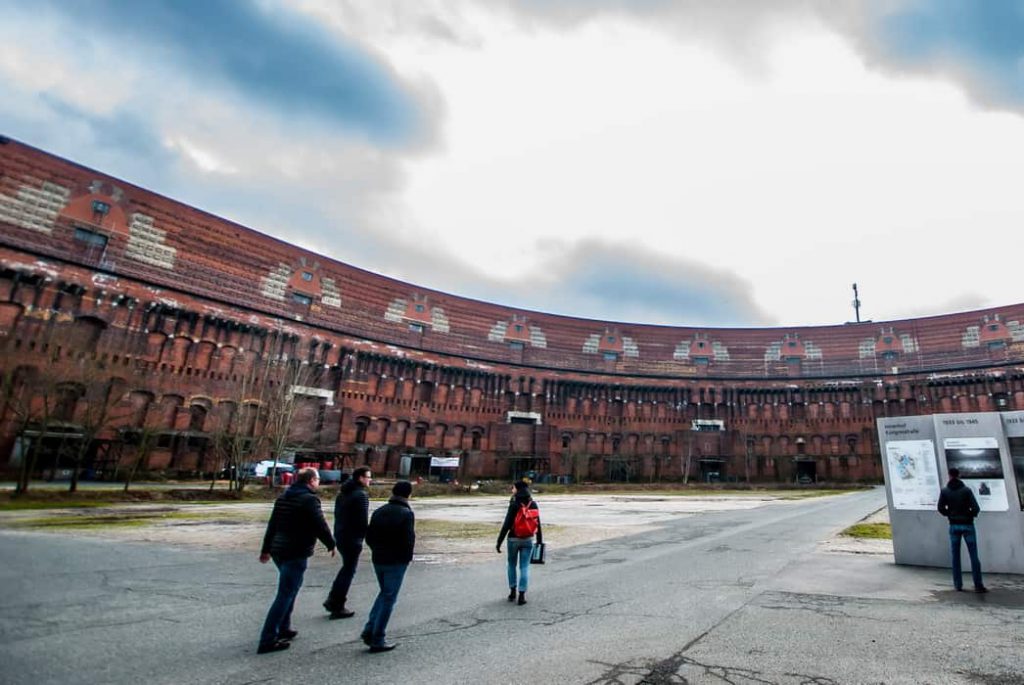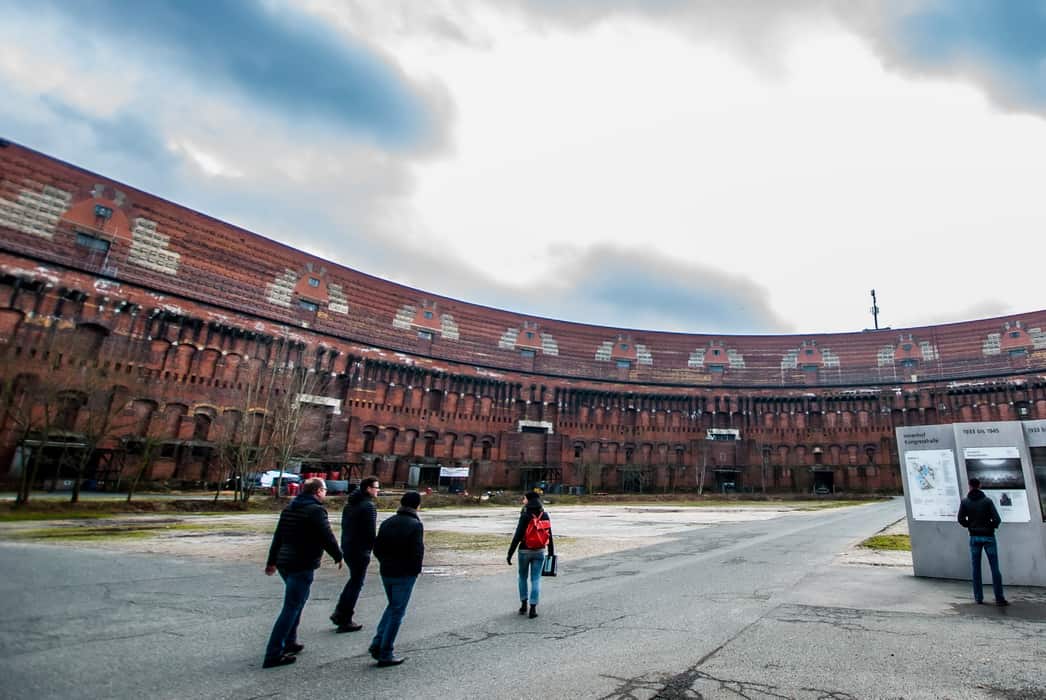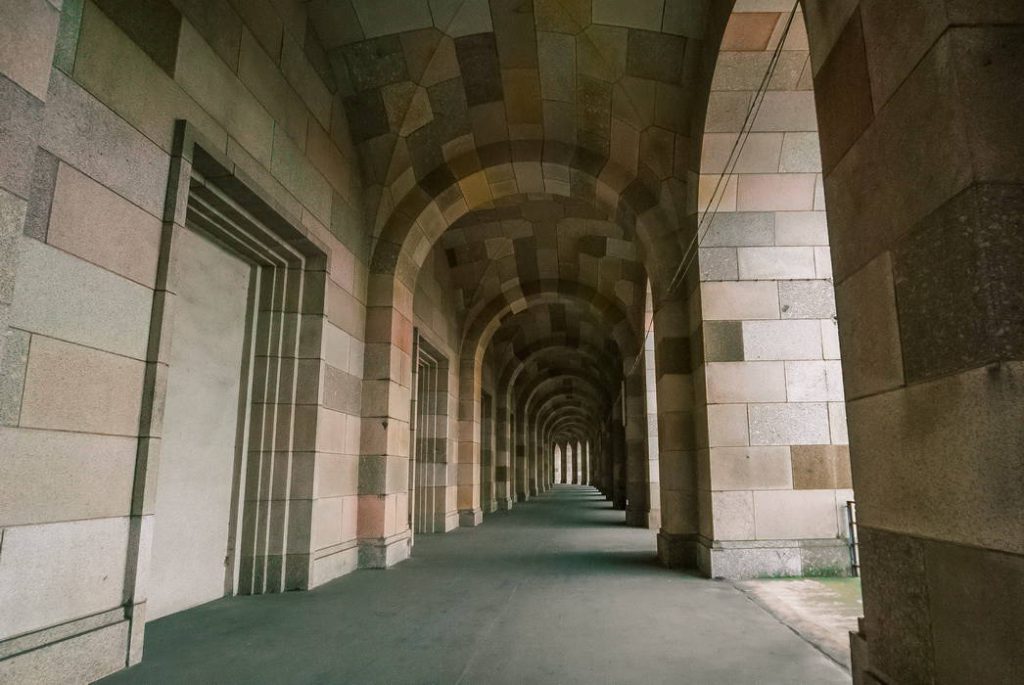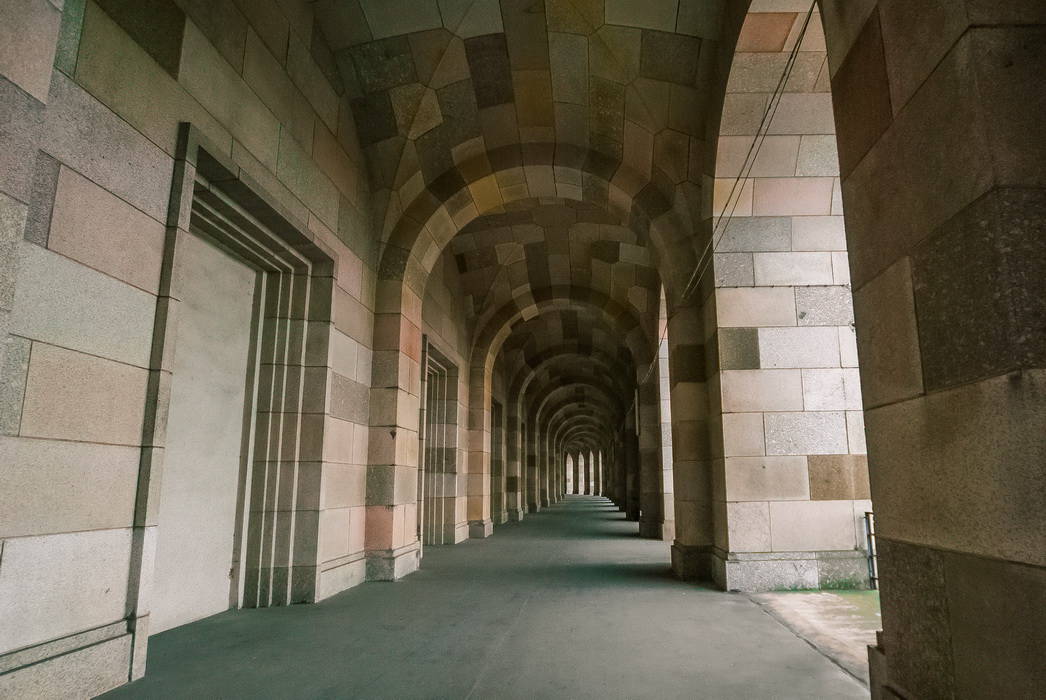 Nicklaus Copernicus Planetarium
The planetarium is a sky simulator. It can recreate an artificial sky on a huge dome-shaped ceiling. Sophisticated equipment is used to present virtual voyages through space and time. All presentations take place in the air-conditioned sky-theater on the upper floor of the building. – www.planetarium-nuernberg.de
Cost – 9euro per adult, 6euro per child
Location – Am Plärrer 41, 90429 Nuremberg
Tip – check the online timetable for English presentations before heading to the Planetarium.
Memorium Nuremberg Trials
The building was the location of the Nuremberg trials that were held from 1945 to 1949 for the main surviving German war criminals of World War II. The Palace of Justice was chosen as the site of the trials because it was almost undamaged, offered sufficient space and included a large prison complex. The choice of the city of Nuremberg was symbolic as the Nazis had held large Nuremberg Rallies in the city.
Cost – 6euro per adult, plus 3euro for the guided tour
Location – Fürther Str. 110, 90429 Nürnberg
Tip – Special permission is required to take photos destined for commercial use. Many cities consider social media to be in violation of these "freedom of panorama" laws, even on a private profile. Be sure to check municipal office beforehand.
Ehrenhalle (Hall of Honour)
During the Third Reich the Nazis used the site primarily as a commemoration for the fallen soldiers of World War I
Cost – Free of Charge
Location – 90478 Nuremberg
Tip – the Hall of Honour sits at the foot of a large public space. Bring a picnic and take a break on the grass.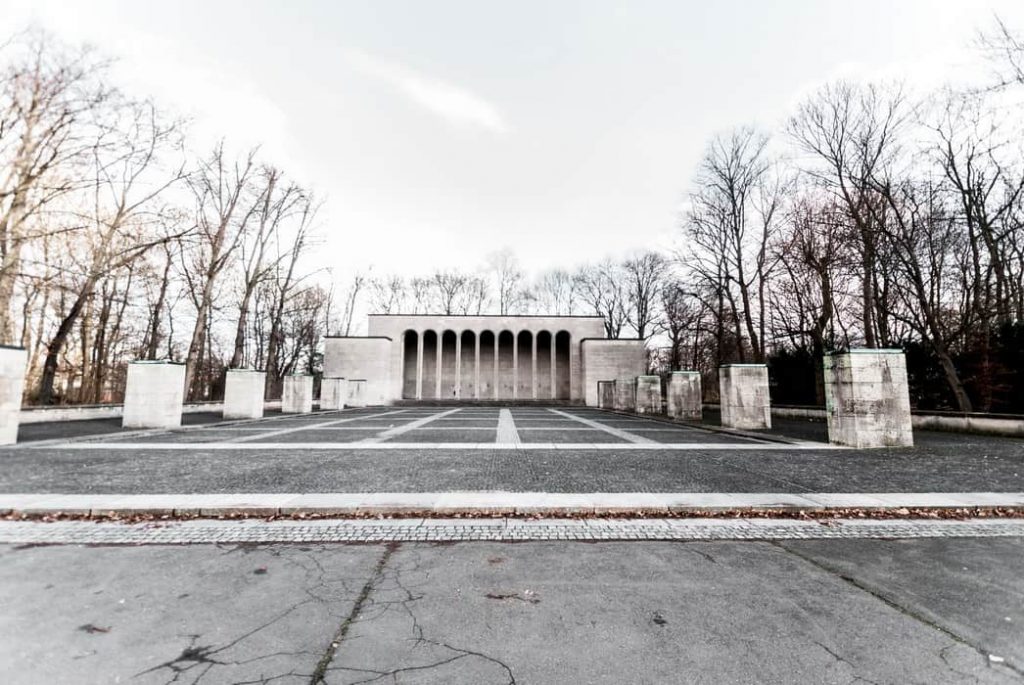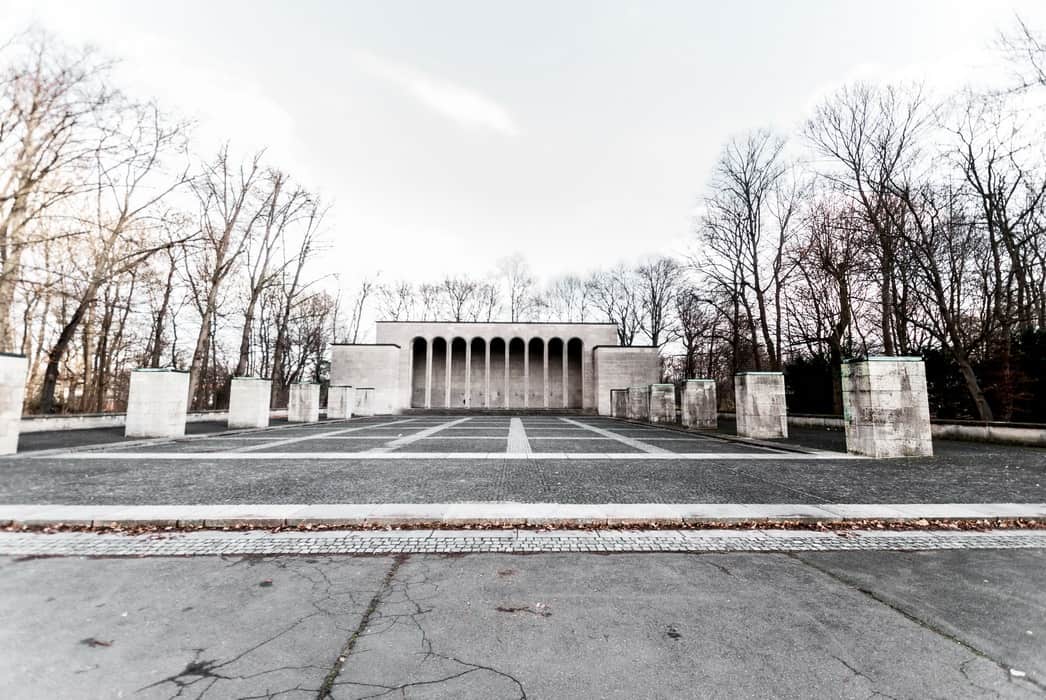 Germanisches National Museum
It houses a large collection of items relating to German culture and extending from the past to the present day
Cost – 10euro for Families
Location – Kartäusergasse 1 D-90402 Nürnberg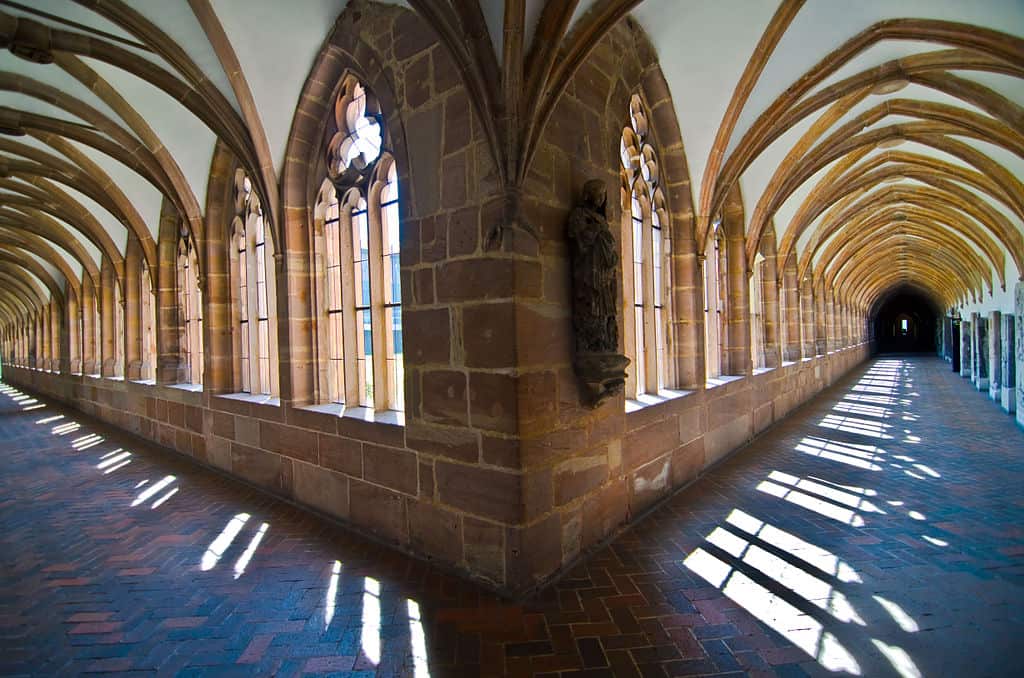 Fleisch Bridge
The bridge crosses the river Pegnitz in the center of the old town, linking the districts St. Sebald and St. Lorenz along the axis of the main market. It opened in 1598
Location – An der Fleischbrücke, 90403 Nürnberg
Tip – It is often hard to miss as there are so many street vendors on the bridge. Probably best to see it from a parallel bridge.
Natural History Museum
The Natural History Museum of Nuremberg is a Volunteer-run museum, offering geology, archaeology & ethnology exhibitions.
Cost – 5 euro
Location – Marientorgraben 8 , 90402 Nuremberg
Zeppelinhaupttribüne or the

Grandstand
The name "Zeppelinfeld" or "Zeppelinwiese" refers to the fact that in August 1909 Ferdinand Graf von Zeppelin landed with one of his airships (LZ6) in this location. The grandstand is famous as the building that had the swastika blown from atop it in 1945, after Germany's fall in World War II.
Cost – Free of Charge
Location – Beuthener Str., 90471 Nürnberg
Tip – be mindful of the stairs and respectful of the building. Kids can easily get out of sight and it is a fair climb.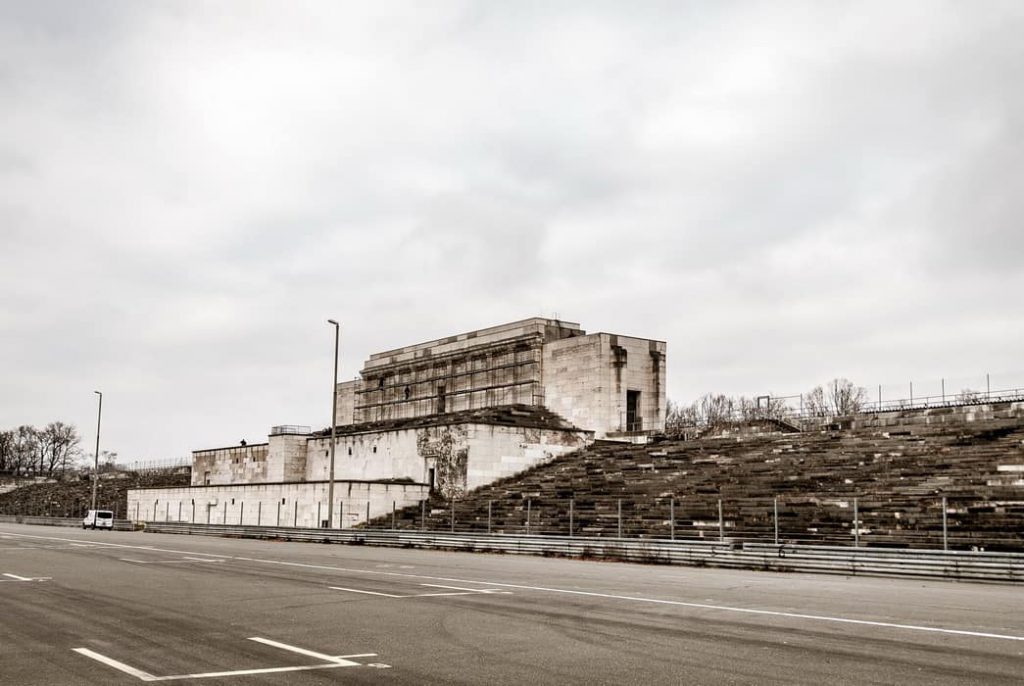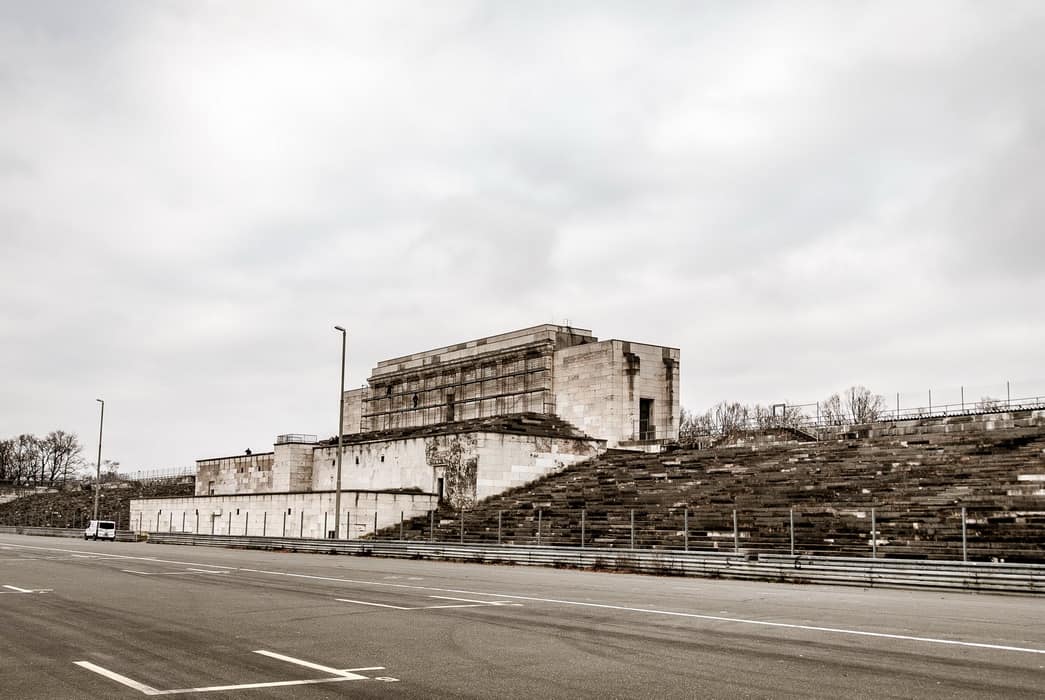 Toy Museum
Nuremberg has been well known for its toys for more than 600 years. Its tradition goes back to medieval doll makers and ranges forward through outstanding makers of pewter figurines and the numerous tin toy makers of the industrial era, all the way to today's International Toy Fair, the world's most important trade show of its kind. – https://museums.nuernberg.de/toy-museum/
Cost – 6 euro
Location – Karlstraße 13-15 , 90403 Nuremberg
Nuremberg Transportation Museum
Having opened its doors in 1882, the DB Museum is now the world's oldest museum devoted to the railways.
The original vehicles at the museum are another major draw for visitors. Some 40 rail legends are on show in two halls. They include the oldest surviving passenger coach in Germany, a replica of the country's first steam locomotive, the Adler, and a model of the ICE 4, the next generation of high-speed train. The museum's external exhibition space covers some 15,000 m² and includes a vintage train platform, interactive signal box and a display depot containing train-related treasures from the museum's various collections. – DB Museum
Cost – 12 euro Family ticket
Location – Lessingstrasse 6 , 90443 Nuremberg
Where to stay
The Novotel Nürnberg am Messezentrum was pretty great. It is on the outskirts of town, avoiding all traffic to and near enough to the highway that we could avoid city driving.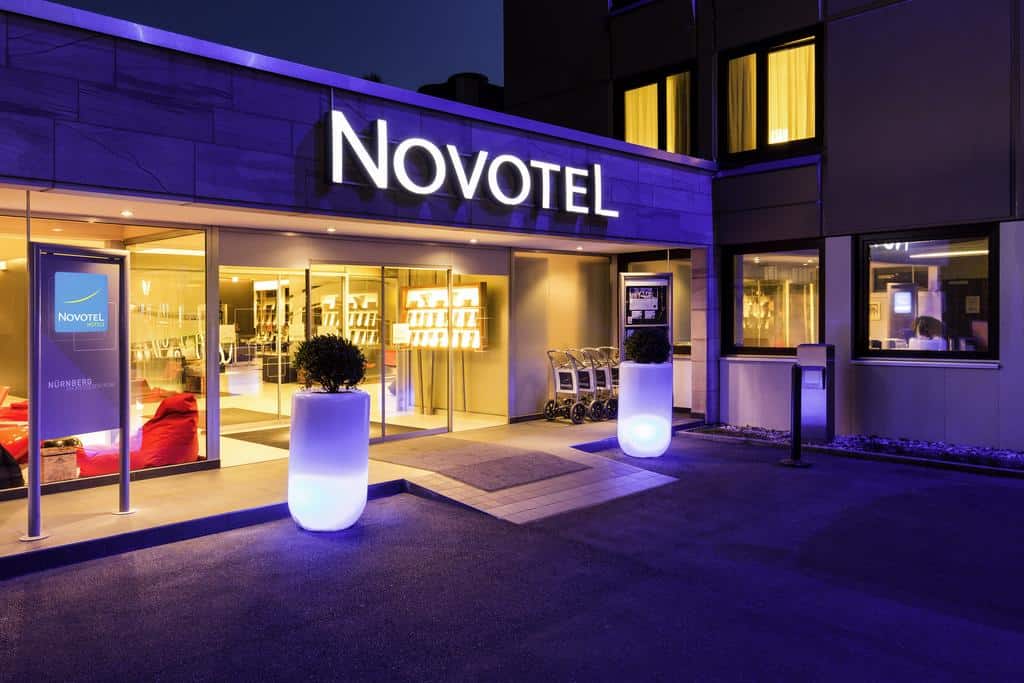 See our hotel review here, Novotel Nürnberg am Messezentrum
Public Transit
The transit system in Nuremberg is pretty straightforward. Most stops only have one or two lines running rough it, unless you are at the core so it seemed fairly easy to navigate, even for those unsure about German transit systems.
Day Trips from Nuremberg
Of all the possible day trips available from Nuremberg, two stand out the most. Also, these are the two that we managed to squeeze during this trip.
Rothenburg ob der Tauber
Once a year, the medieval town of Rothenburg transforms itself into a fairytale winter wonderland. Ever since the 15th century, the festive time prior to Christmas has been accompanied by a delightful Christmas market. – Rothenburg Tourism Office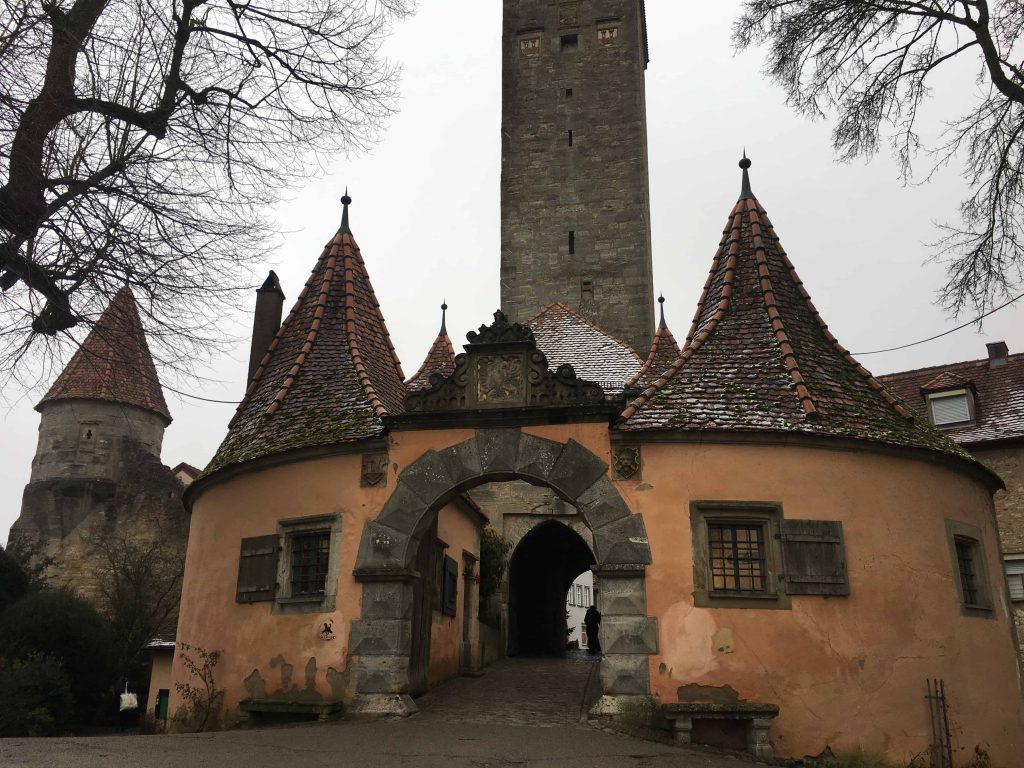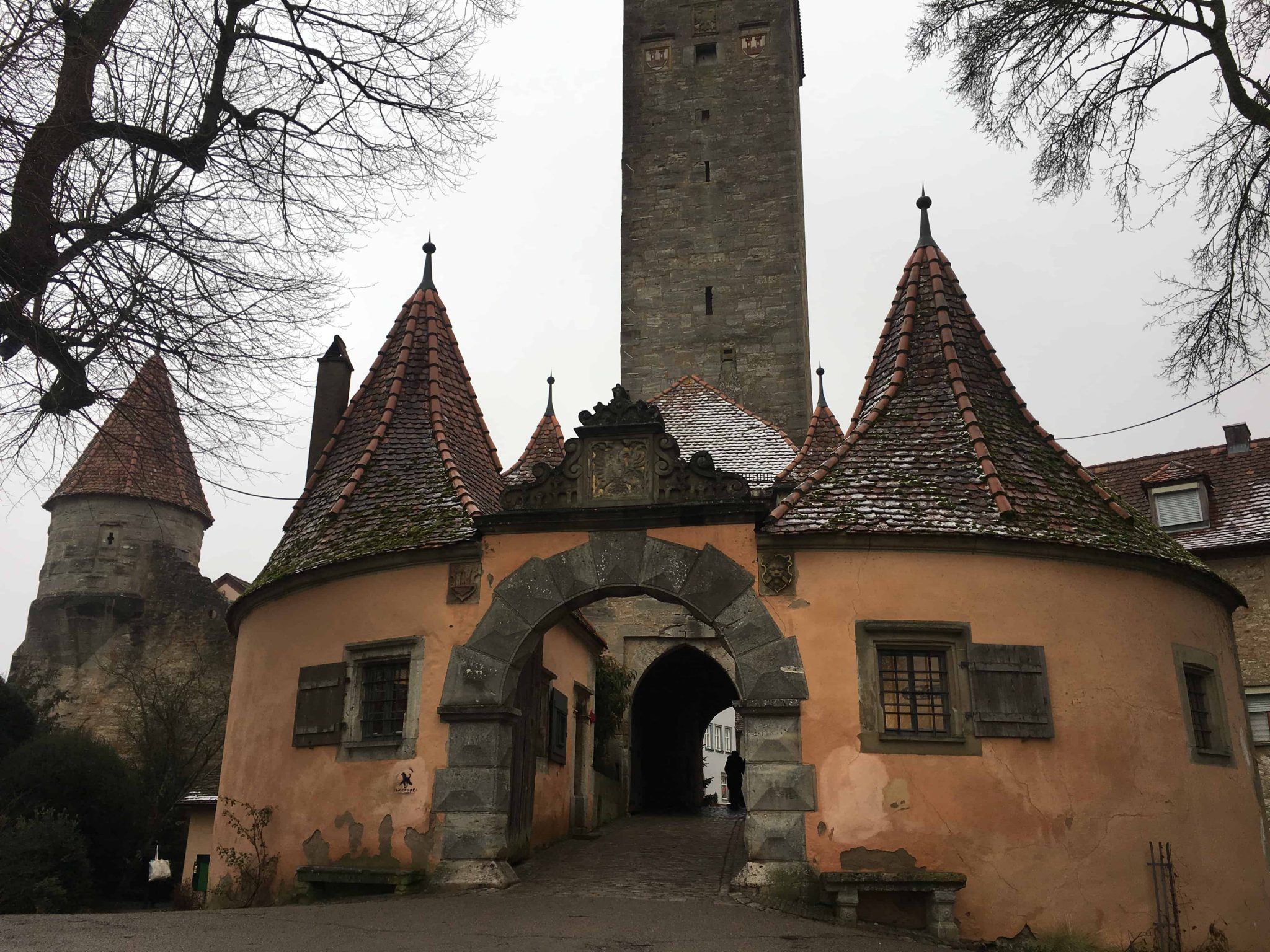 A quick 1-hour drive from our hotel in Nuremberg, Rothenburg od der Tauber is a great way to spend a slow day with the kids. Only local traffic is allowed within the walled Alstadt and there are still plenty of pedestrian streets that make exploring the markets perfect for kids that just want more freedom.
It is well known for its well-preserved medieval old town, a destination for tourists from around the world.
Würzburg
Technically our first stop on our road trip, Würzburg 75 minutes from Nuremberg.
On 16 March 1945, about 90% of the city was destroyed in 17 minutes by fire bombing from 225 British Lancaster bombers during a World War II air raid, despite the presence of 40 hospitals and the absence of any major armament producer. Wüzburg became a target for its role as a traffic hub and to break the spirit of the population. Over the next 20 years, the buildings of historical importance were painstakingly and accurately reconstructed. The citizens who rebuilt the city immediately after the end of the war were mostly women – Trümmerfrauen ("rubble women") – because the men were either dead or still prisoners of war. On a relative scale, Würzburg was destroyed to a larger extent than was Dresden in a firebombing the previous month.
The city is incredibly quiet, it's history is well preserved (rebuilt) and the Würzburger Stein vineyard just outside the city is one of Germany's oldest and largest vineyards.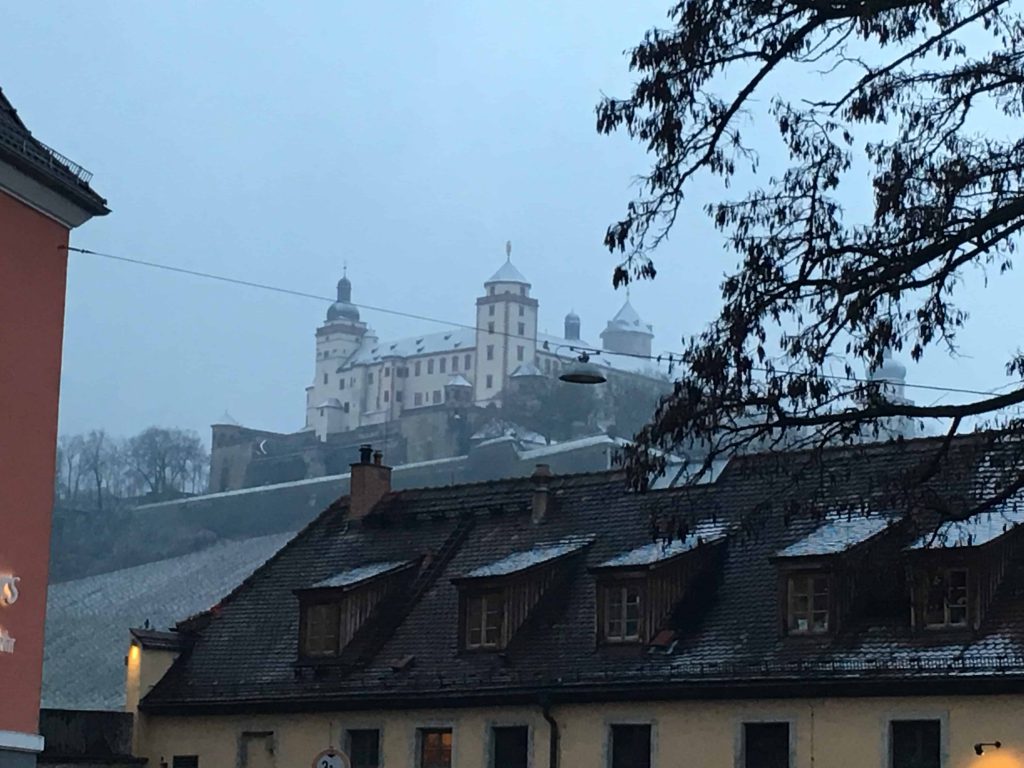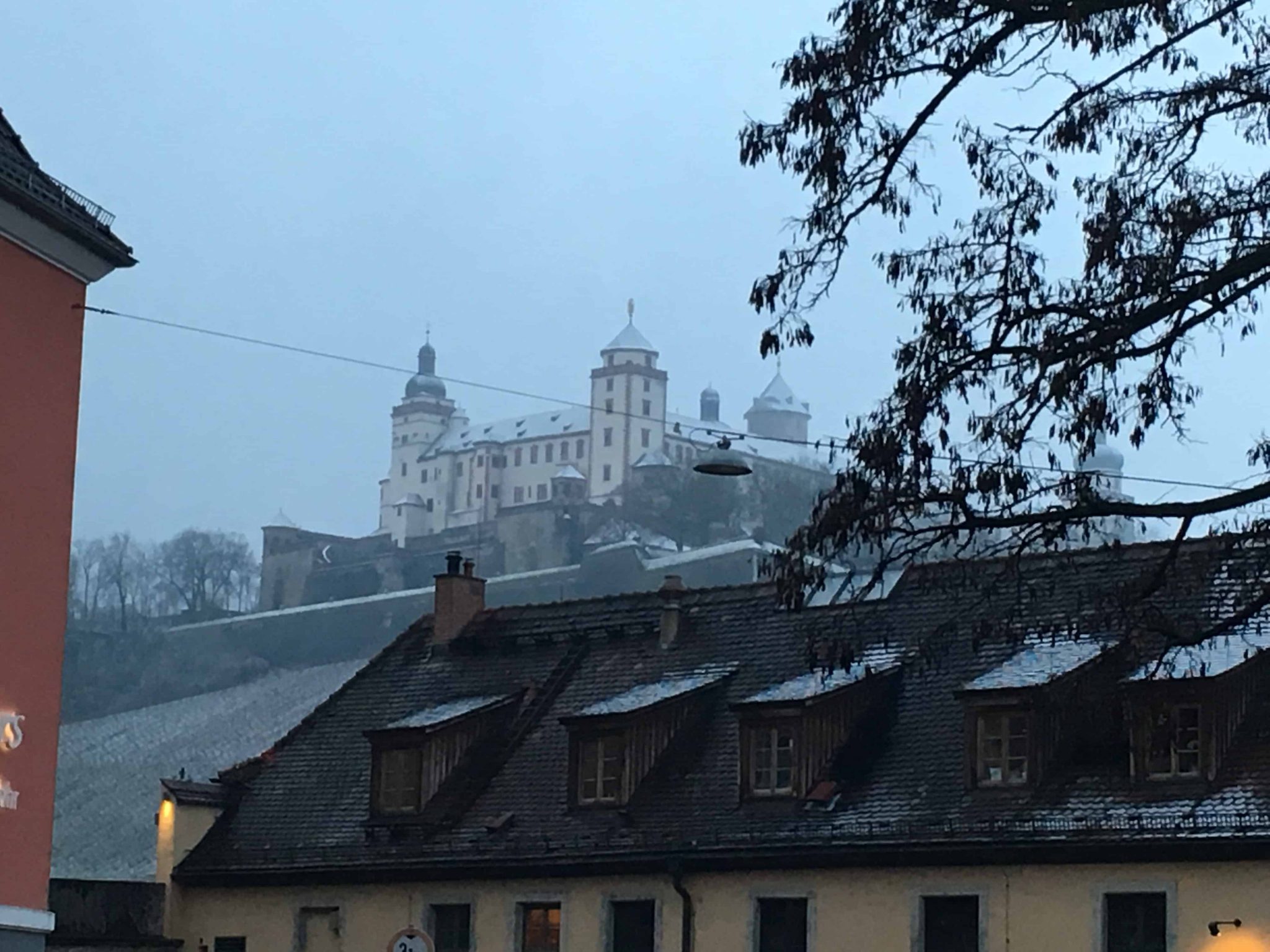 Want to see more of authentic Germany; check out this tour The Art and Science of Beer Brewing Self-Drive Tour from Wuerzburg to Wiesbaden, Koblenz, and Trier by Viator. It looks incredible.
Your Thoughts...
Please share your thoughts in the comments or reach out on social media...We would love to hear from you.
You May Also Like…
Do you need a stroller on your next vacation
Day Trip Nuremberg to Rothenburg ob der Tauber at Christmas Time
The 10 Best German Christmas Markets in Germany
Canadian Christmas Traditions : How to Celebrate Christmas in Canada