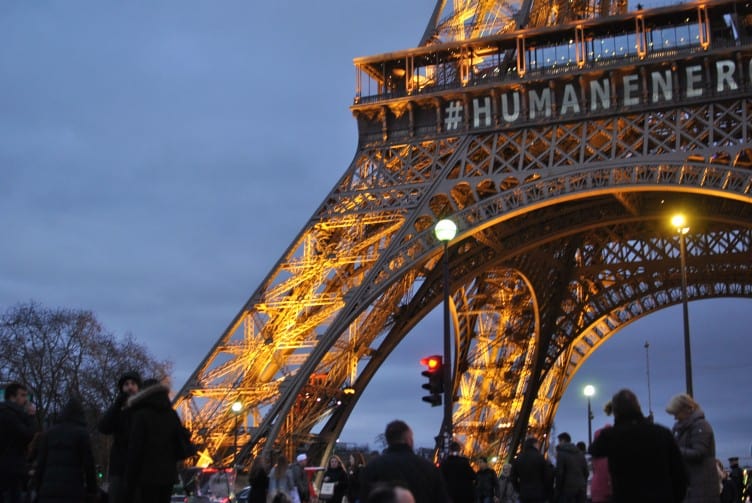 Paris is incredibly kid-friendly. Here are our top 10 tips for having an amazing family-friendly vacation in the City of Light.
Beautiful
Paris

, France
Notre Dame Cathedral
I like old buildings like Notre Dame Cathedral. The architect is amazing to see and the history is very fascinating. When you arrive at the Notre Dame you will probably see a long line but don't let that hold you back because the line goes pretty quick.
It is not possible to bring a (big) stroller inside but I do recommend showing your kids this beautiful building and learn them about history.
The entrance is free but if you want to see the towers you have to pay 10€. Make sure you get there in time because it is possible that there is a long line and they close the line on the day.
Don't forget to walk behind Notre Dame Cathedral. The back is also very beautiful. You will also find a little park where you can sit, relax and have a picnic.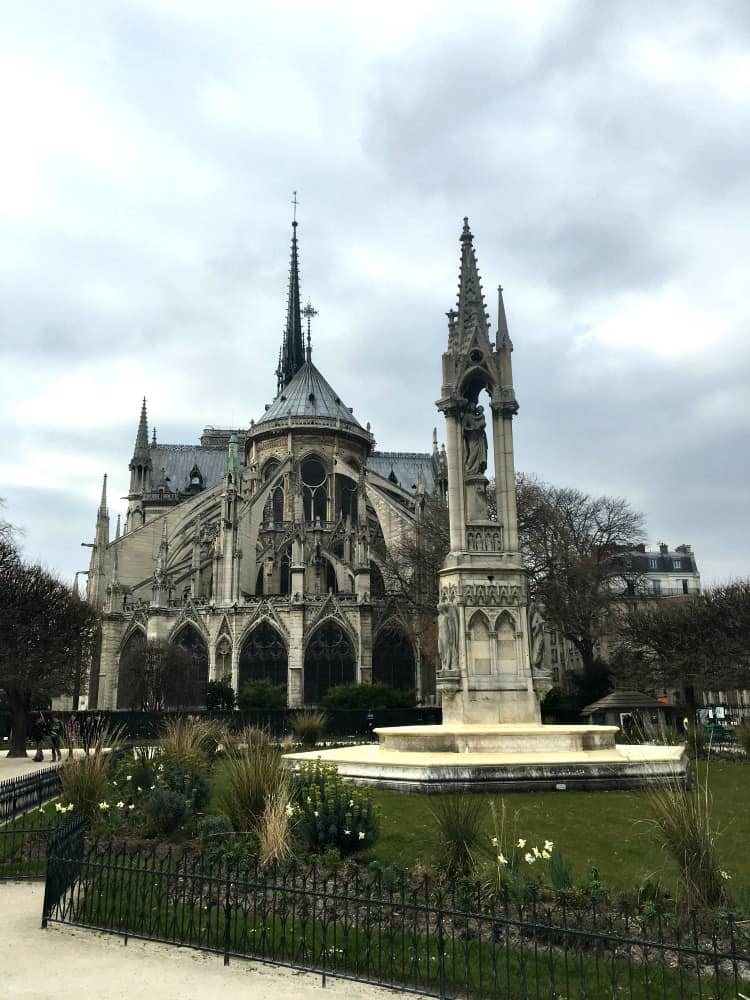 This post may contain affiliate links.
To which I earn a small commission, at zero cost to you!
Find more info in our
Privacy Policy
.
Canal St. Martin
While the banks of the Seine are rather a hotspot for everyone who wants to be seen, the Canal St. Martin is the laid back waterside stroll option.
Slightly alternative with its concert venues and street art, plus a little bit of an Amsterdam flair, it's inviting for both: having a nice walk or enjoy a drink at the bank.
The canal is the place to be in summer to have a relaxed beer either along the waterside or in one of the countless bars and restaurants.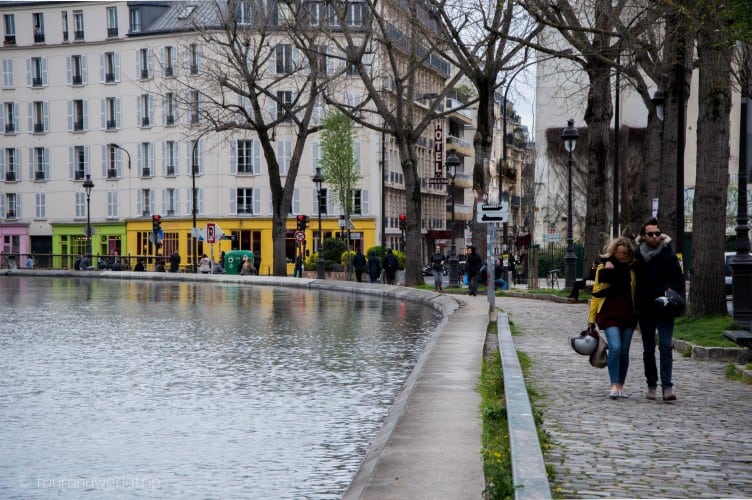 Rue Mouffetard
You don't need to be a foodie to fall under the spell of this cobbled stone pedestrian street in the 5th arrondissement. In one of Paris' oldest streets, you find countless offers on gourmet food: cheese, meat, fresh fruits and vegetables, delicatessen from all over the world and an irresistible choice of cakes and pastries.
But besides all this delightfulness, it's very interesting to just enjoy this lively street and watch the merchants do their daily routine.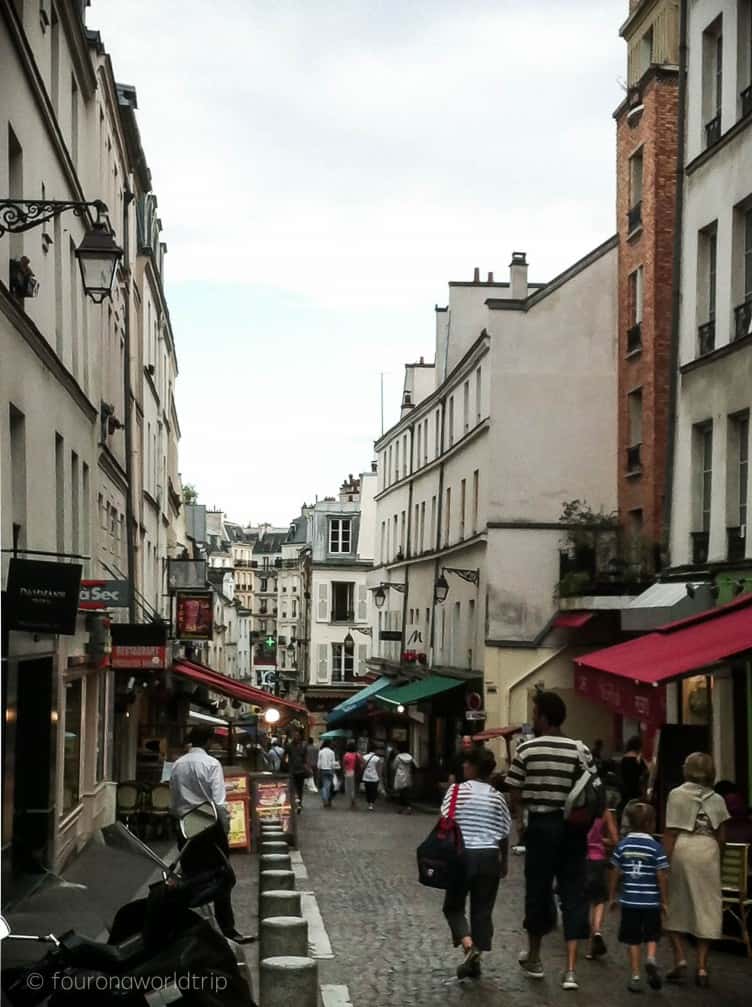 Tour the Louvre with Paris Muse
This is, by far, the best tour we've ever done! This private tour with Paris Muse gives you access to the Louvre, skips the line and provides you with a guide who is a qualified historian (ours had a Ph.D.!) and will teach you and your children more than you ever thought you could learn from an art museum.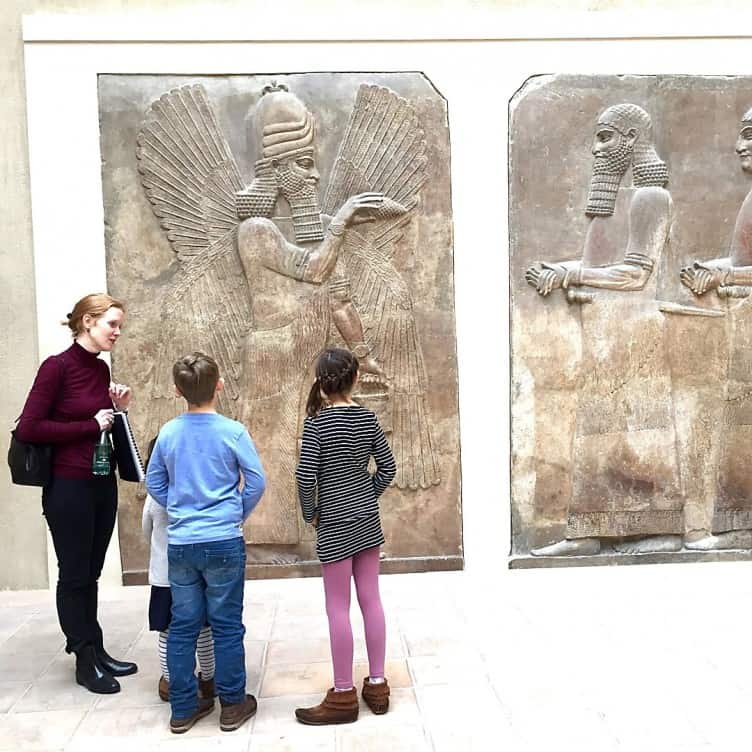 Nearly a year later, my kids still talk about little gems they learned. The tour is run as a little scavenger hunt and the kids receive a prize at the end.
Wander Around Montmartre
Montmartre is a neighbourhood sitting atop of a hill in Paris's 18th arrondissement. When people refer to Paris as a romantic city, it is always Montmartre what comes to mind and always make sure to pay it a visit when I'm in Paris!
All the narrow winding cobbled streets, the adorable windmills, the extremely talented artists everywhere… It's really no surprise that some of the greatest artists in history such as van Gogh, Picasso or Monet, all had studios here. And of course the star of Montmartre: the Basilica of Sacre-Coeur, a beautiful work of art watching over Paris.
Carousels of Paris
So often, travellers think of Paris as a city meant for adults. There are museums to wander, churches to appreciate, and fine meals to enjoy! How can you keep your kids happy during a visit to the City of Lights?
In between all of the serious site-seeing, take breaks to let the kids (and kids-at-heart) ride the city's gorgeous carousels, which is a sight unto themselves. The best part? A ride is usually only 1-2€ for adults, and our 2-year-old daughter often rode for free!
There are many styles of carousels in Paris, ranging from zoo animals to sparse utilitarian versions. My favourites, though, are the classic, ornate ones that you rarely see elsewhere.
As you ride the carousel at Les Jardins du Trocadéro, you're greeted by a full view of the Eiffel Tower on every turn. The stylistically similar carousel in front of the Hôtel de Ville has fun classic cars in addition to the standard fare and makes a great stop on your way into le Marais.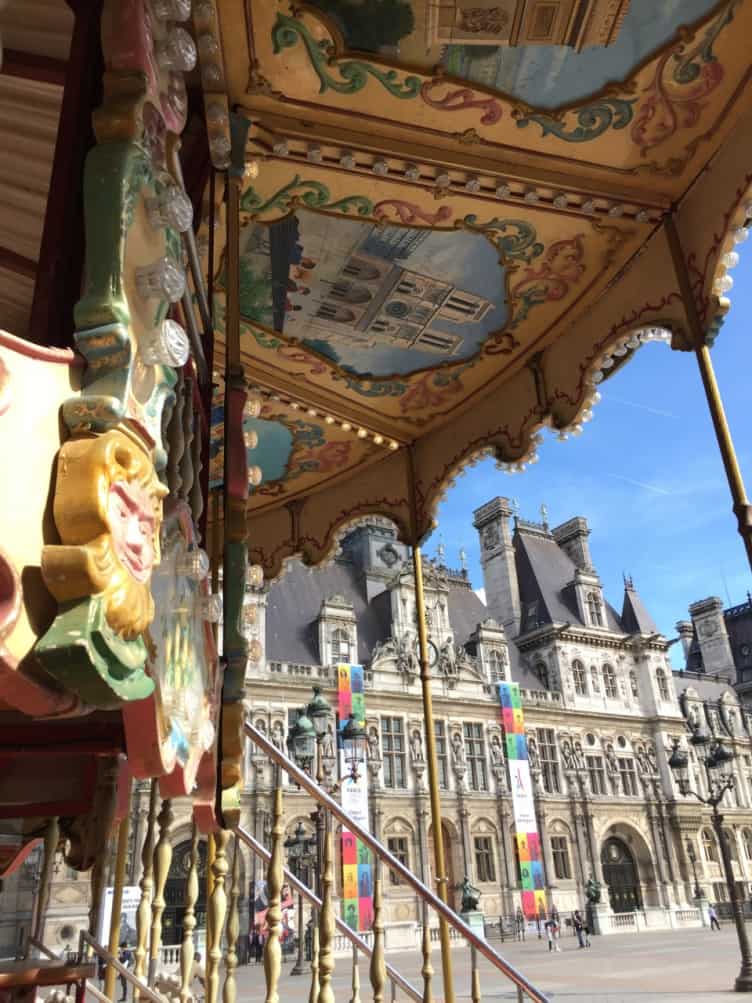 Hop On Hop Off Boat Tour of the Seine
We had started our day at Notre Dame when we came across the information board about the river cruise. The fact that the BATOBUS cruise was a hop on hop off service suited us well. BATOBUS stops at 8 locations along the Scene River giving you access to the most popular sites in the heart of Paris.
The boat stops at The Eiffel Tower, Musee d'Orsay, Saint-Germain-des-Prés, Notre-Dame, Jardin des Plantes/Cité de la Mode et du Design, Hôtel de Ville, The Louvre, Champs-Elysées, and Beaugrenelle. Plenty of people got off at our stop and we had no problems getting a seat altogether.
The girls loved watching Notre Dame slowly glide past us as we set off from the dock.  The fact that there was little walking involved was also a winner for the kids. We had time to dip our feet in the Seine River while waiting at the Eiffel Tower to be picked up. We loved the hop on hop off the boat and it was a great way to cross the heart of Paris in relaxing way.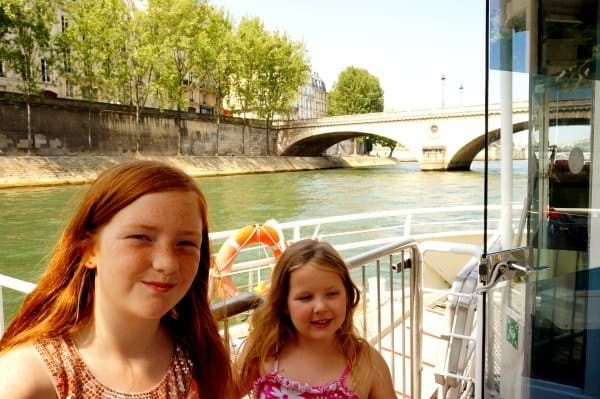 Paris Plages
If you are visiting Paris in July or August, you don't want to miss Paris Plages.  These pop-up beaches run for 3 km along the Seine River and are a great place for kids to frolic in the city and parents to do some Parisian people watching.  
It is common for the French to leave the cities at the hottest time of the year, but Paris Plages encourages locals to stay in the city and provides some beach fun for those unable to getaway.  
These free beaches, which were thought of by a former Paris mayor are also a great way for visitors to the city to spend an afternoon.  The kids will be happy to play in the sand, while the adults will enjoy relaxing on the free lounge chairs, under the bright parasols.  
You have three beaches to choose from: central Paris, the right bank quay and the 19th arrondissement.  Who said you have to leave the city to spend time at the beach?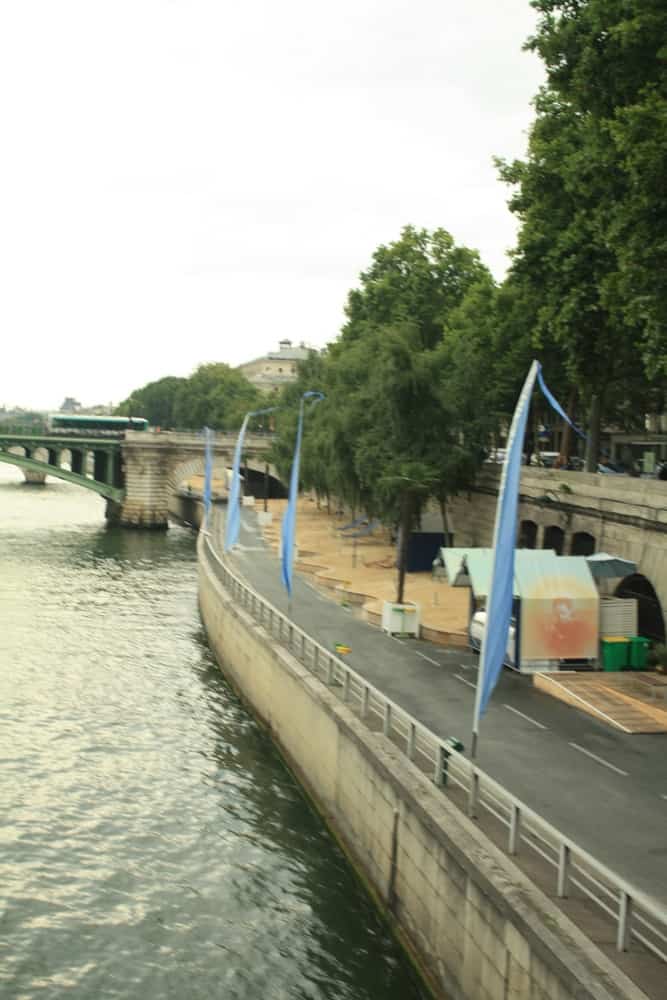 Eiffel Tower
The Eiffel Tower is truly iconic and worth every second you're there. You can freely walk around as much as you want, but you must have a ticket to enter the actual structure. Ticket prices depend on summit level and age, but keep in mind that the elevators stop running about an hour before closing time.
Thankfully, you're still able to use the stairs, but only to floor two. Although we were a bit disappointed by this, upon reaching floor two, we were amazed by the views. You have a full panoramic view of Paris; it's just beautiful!
You can stay in the tower as long as you want (as long as it's during operational hours) so enjoy the view and take lots of pictures! We'd eaten before coming so didn't take advantage of any of its restaurants or bars, but it's something I'd definitely like to do in the future.
Once you come back down, spend some time on the lawn of the Champ de Mars, the green space behind the Eiffel Tower, especially if it's after dusk. It's a great place to sit and enjoy the hourly light show. Every hour on the hour, the Eiffel Tower lights up and sparkles for about five minutes and it is one of the most enchanting things I've ever experienced.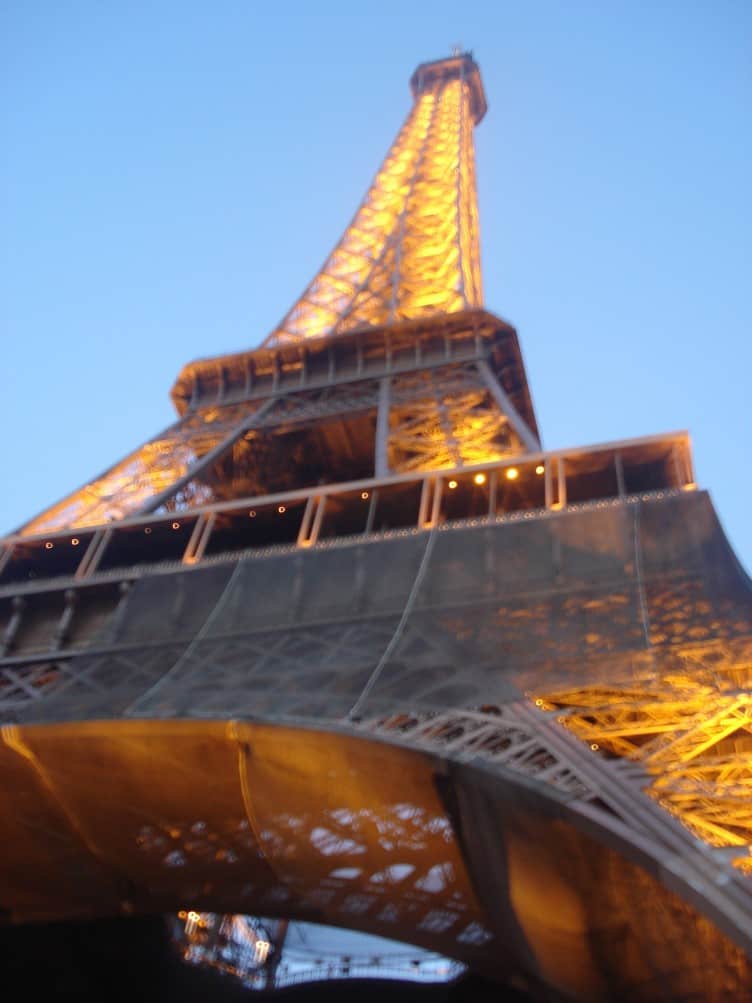 Hop-On Hop-Off Bus Tour
These bus tours are the perfect way to see the main sights of Paris and help you get your bearings. All tours provide you with headphones when you hop on so you can plug into the running commentary and learn a bit about each attraction along the way.
You can also buy your ticket from the driver at any of the stops or some of the main stops, like outside Notre Dame Cathedral, for example, have salespeople with signs for each company who you can buy a ticket from while waiting for the next bus.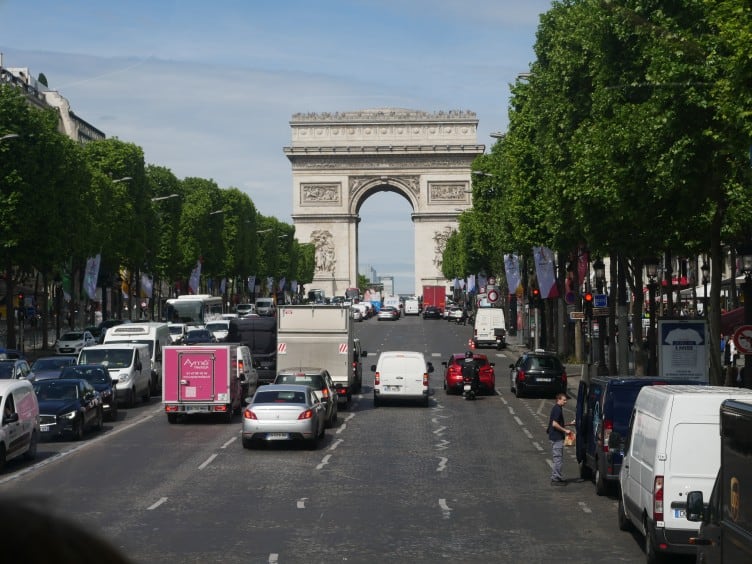 Bonus Top Attraction – Sacre Coeur
Sacré-Cœur Basilica definitely deserves its place on a TOP 10 list of must-sees in Paris.
Perched up high in Montmartre overlooking Paris you get magical views out over the city. It is a fantastic place to people-watch while sitting on the stairs or a grassy spot in front of the basilica.
You can catch Le Petit Train de Montmartre from just opposite the Moulin Rouge if you do not feel like walking all the way up to the Basilica. The train will take you up through the streets on Montmartre and drop you off right outside Sacré-Cœur.
Inside you will find amazing stained glass windows as well as the magnificent architecture and statues. There is also a little side museum, it only costs a few extra Euro to enter and see some of the artifacts they have on display.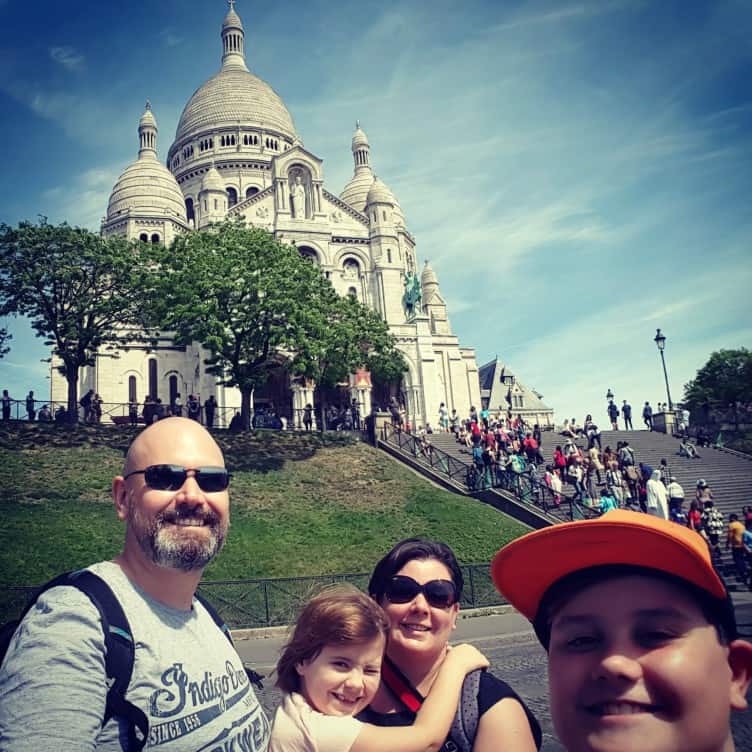 When you are finished you can either make your way down the stairs while admiring the views or take the Cable Car down. If you have a metro pass the Cable Car is usually included in your pass as it is part of the Metro system.
Where To Stay in Paris
We have already mentioned how much "fun" it is to find family-friendly, budget-friendly accommodations near the city centers can be. If you missed it, you can find that here. 
Best Budget Hotel: 
Private Apartment – Eiffel Tower – Ecole Militaire
Best Mid-Range Hotel:
Best Western Eiffel Cambronne – Tapped Out Travellers Approved
Best Luxury Hotel: 
Hotel du Louvre in the Unbound Collection by Hyatt
Best Airport Hotel:
For more information on things to do, what to eat, where to stay and how to save money, check out our in-depth travel guide to Paris.
Your Thoughts...
Please share your thoughts in the comments or reach out on social media...We would love to hear from you.
You May Also Like…
Disneyland Paris Planning Guide
How To Keep Kids Safe on Vacation