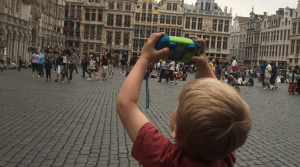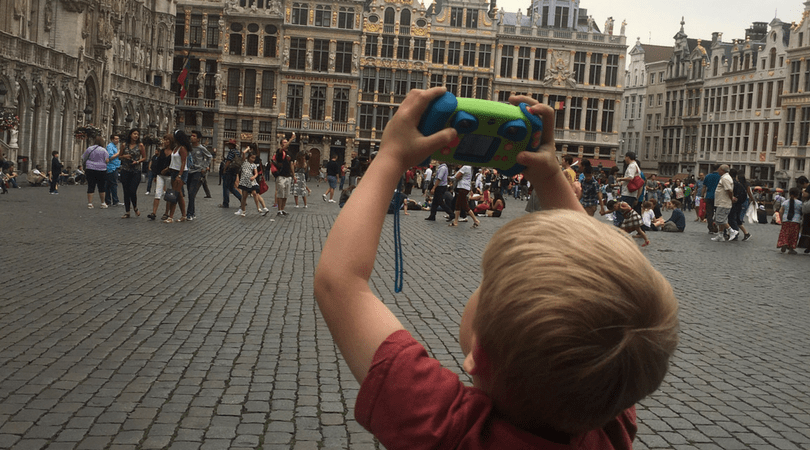 Why you need a kids camera for your next vacation!
There are many reasons why your kid wants a camera while on vacation; experience the location, copy mom and dad as they take images, free souvenirs, amongst other things. But should you give the kids a camera? They are kids, after all, they'll just break it or lose it.
This post may contain affiliate links.
To which I earn a small commission, at zero cost to you!
Find more info in our
Privacy Policy
.
Curious – children are naturally curious about the world. They want to explore the world like we do, and capture those images for a later date
Individuality – being allowed to control their own entertainment is important to kids. They want to be in charge and since I believe in picking my battles, having a simple kids camera on hand makes it that much easier.
No "photography rules" – unlike adults, kids don't care about photography rules. They don't even care if the photo turns out or not, they just like the act of taking a picture.
Accessible – no need to read or write. Kids don't need to be able to know much in order to use a simple digital camera. Just point and shoot and away they go.
Instant gratification – while I don't generally preach "instant gratification", showing the children that their hard work has paid off – they learned the functions of the camera, found an image-worthy subject, aimed and held the camera still long enough to capture the picture. Now they can see their work on the screen, to be saved for years to come.
Observation skills – children have a way of noticing things that adults may miss. Intricate patterns in the stone, for example, or the various shoes fellow travellers are sporting that day. Being that much lower to the ground has a way of changing perspective of the world.
Best Digital Cameras for Kids
| Camera | Image | Megapixels | Weight | Price | Rating |
| --- | --- | --- | --- | --- | --- |
| | | 2.0  | 7.7 ounces | | 4.3 |
| | | 5 | 0.3 ounces | | 4.8 |
| | | 12 | Lightweight | | 5 |
| | | 0.3 | 5.6 ounces | | 2.6 |
| | | 2 | 13.8 ounces | | 4.4 |
| | | 5 | 9.1 ounces | | 4.4 |
| | | 21 | 9.6 ounces | | 4 |
| | | 0.3 | 17.6 ounces | | 3.5 |
| | | 60mm f/12.7 Lens | 10 ounces | | 4.6 |
| | | 0.3 | 9.6 ounces | | 4 |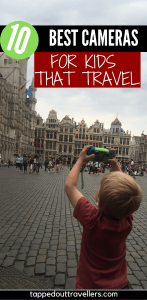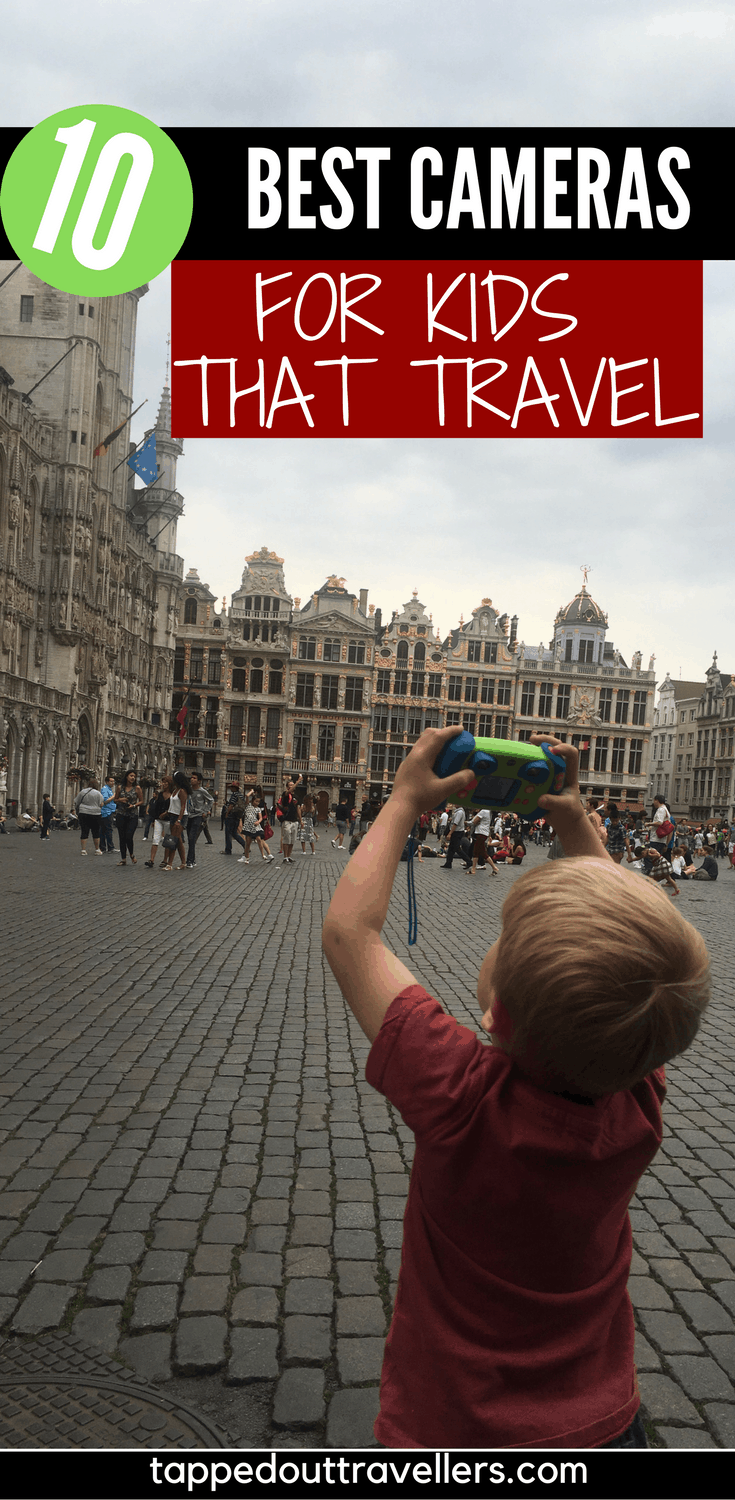 Types of Kids Cameras
Kids Underwater Camera
It's the perfect travel companion, ready to capture all your adventures and fun selfies – even underwater. Rugged, compact, and lightweight, it goes anywhere and can handle every challenging journey, from the bumpiest, dustiest desert road tour to underwater selfies amid the coral reefs.
Pro: Since they are waterproof, they can be taken on many more adventures and no one has to worry about the camera's functionality afterward. Also, this means parents don't need to be afraid of the toddlers dropping their camera in the tub or a mud puddle while they take practice pictures.
Con: The housing can leave audio files a little "tinny", or sounding boxed in. Unless the camera can come out of the waterproof housing for non-water based pictures, there is no way around this feature. However, cameras with external housing have a risk of leaking, even if that risk is small, compared to a camera that is solid waterproof.
The Ivation Underwater Shockproof Digital Camera is another example of a fully waterproof, droppable camera.


Practice Camera
Pro: Allows kids to learn the various functions of a camera; pressing buttons, centring the image, posing the subject, and being responsible with their property, without costing a small fortune should something happen to it. Training wheels for digital photography.
Con: The quality of the images is something to be desired and may put off a child from photography. These cameras are not meant for older kids, as they are more about the quality of their work, instead of the act of taking photos and doing the same as mom and dad.
Video Cameras for Kids
Pro: I also advocate for multipurpose products. If I can get 1 product that does the same as 2 or 3, why not? Practice photography and videography at the same time, without having to buy a separate unit.
Con: Because it can do more, these units tend to cost more than a standard practice camera. There are also a few more options for the children to learn, so it is best recommended for the older kids as they will be less likely to be frustrated with so many options.
Don't forget to grab an SD Card, from here, or some batteries found here. Not all cameras come with these accessories and having a spare isn't always a bad thing.
Best Kids Camera Reviews
One of the great features is auto-detect; just turn the camera to take a picture of yourself and it will automatically detect faces for a perfect selfie! I love the audible electronic shutter sound that plays when a photo is taken. It's a good indicator for the kids when they can move the camera. I could do without the games programmed into this, though. It is a little distracting for the in-between kids – old enough to figure out how to use it but too young to ignore it when it's time to focus on picture-taking.
When editing a photo, the original photo is preserved and your edited version is a new, separate photo. I was after a camera that wouldn't immediately break and with few enough buttons that the kids would be able to operate them without throwing off settings. This definitely fits that bill. We have even bought it for a few friends on their kids' birthday; it's always a hit when we host playdates. We've owned ours for 2 years and it's still going strong.
Check out the latest prices here
---
This item is great for a toddler. The size of it makes it easier for little hands to hold. It is also difficult to break, which is a huge pro since it will probably be dropped several times. The only thing that I wish was a bit different, is for the button to be in a different location. It is a bit awkward for them to push. You can download the photo's onto a computer anytime to make more room but they can still take many photos with a 32G SD card
Check out the latest prices here
---
Deemed one of the best waterproof cameras for kids as outdoor gifts for those that are adventurous, surfers, snowboarders, for swimming, diving, and breaching. As a waterproof, dustproof, drop-proof camera, it is practically indestructible, which is perfect for little hands that tend to drop just about anything, pretty much anywhere you don't want it to be dropped.
This camera is more than a toy. The colour was bright so great for kids – and it doesn't look like those cheap toys we usually see for kids. It comes with the camera itself, lanyard, USB cable and the manual. Note: It requires 2 AAA batteries and an SD card which are not included.
---
The screen is a bit small but my 3-year-old does not mind. It does not take a lot of pictures – maybe 75 or so, but it is perfect for little children who just want a camera to play and practice with. It can double as a webcam on your computer, which is great for communicating with loved ones, not on vacation with you.
Digital Concepts camera allows you to take up to 75 quick photos to go and shoots video clips. Simply plug the digital camera back into the USB port and download and edit your photos. The camera includes a neck strap, PhoTags Express photo editing software for fun and cool pictures.
This camera, unlike the others in this list, does not protect from dropping and is not waterproof. It is a real "adult" camera, but smaller and less expensive. Overall this product is not the best camera out there but it served its purpose for the price.
Check out the latest prices here
---
Great for older and younger kids.
Bought two – one for each boy (ages 4 and 6) for a long 20-hour road trip. They loved taking photos (about 300 of in the inside of my van….) and played with all the special effects and learned all about the world of selfies! They took great pictures on our trip and the games were great for spurts of boredom on the road trip when they needed something to keep quiet (while their siblings were napping). I didn't find the games to be a nuisance at all because they're basic games (think Frogger)
You can disable or set a time limit on the games (the shortest limit is 15 min/day), which is a great feature to have, as they are not exactly educational games. It is drop-proof, I want to say splash-resistant (will survive a splash of juice, but not submersion in the tub) and durable. The colour is great for kids' imaginations.
Check out the latest prices here
---
This waterproof shockproof camera for kids has worked great. It is a very simplistic waterproof camera which is great for young kids. You can take pictures and record videos. You are also able to view both the photos and videos and delete any you don't like directly on the camera. Setting up the camera is super easy and to download the pictures or videos you just plug it in the computer and they pop right up!
The biggest card you can use with the camera is a 32GB, which is more than enough space for a budding photographer. The Powpro Kfun pretty shockproof as well. Just don't expect the audio to be anything special. It is not, especially in the waterproof housing. If you speak directly toward the speaker it's great. From the side or behind, not so much
Check out the latest prices here
---
It's a little bit smaller than expected but is very convenient to carry around as it is super light, great size & weight for kids to play with, and fits well in pockets. Taking the price into account, it does deliver amazing image quality, pics look great on its 2.7″ TFT LCD display screen, brought lots of joy to the kids. And the photo quality is pretty good as well after transferring onto the computer. Very easy to operate, one-button control with essential options. I would recommend this as the best point and shoot camera for kids.
It does not come with an SD card, however.
Check out the latest prices here
---
It's easy for toddlers to use and very durable- it's been dropped numerous times. The internal memory tends to wipe clean if the batteries are allowed to die before exporting the files, so it's best to check often.
My only issue with it is the quality of the pictures it takes, but I wasn't expecting a high pixel count for something meant for kids, and how easy it is for the pictures to get deleted by a kid exploring the buttons.
Check out the latest prices here
---
I would compare this to a Baby Go Pro. While this isn't a perfect action camera by far, this is the perfect action camera for kids. It's easy to use. You can take it pretty much anywhere: in the air, underwater, you name it. It floats, and it's just about indestructible.
The video quality is about as low as it gets, but that doesn't really matter. What does matter is that this is a great toy and that it gives little kids a chance to use a cheap action camera without any fear that it might break?
It is recommended to purchase a 32GB SD card with speed class VI.
Check out the latest prices here
---
The camera quality makes you feel like you're in the 90s, it's great as long as you're not expecting crystal clear, see every one type of picture. Great for when you hang out with friends, and perfect for scrapbooking.
As a kids' polaroid camera, it takes the cutest pictures ever, a lot of people may not like the quality of the picture but I love it because it gives it this old fashion look and feeling to it. It's so much fun to see a printed photo right after you take it. This is the best instant camera for kids and adults.
---
Hopefully, I've helped you find the Best Kids Camera for your needs! If you are looking for more kids or baby products for travel, you can also read our guides to the best travel stroller, the best toddler travel bed and many other useful travel products here.