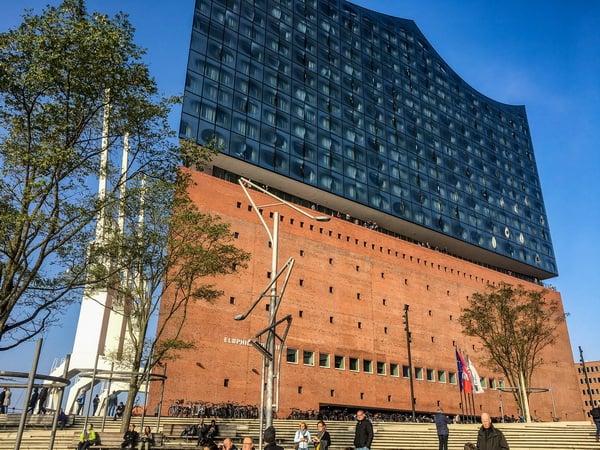 As the second-largest city in Germany, Hamburg is the home to many attractions, buildings, and cultural events.
Hamburg with Kids
It also happens to be the destination/origin point for the Queen Mary 2 Transatlantic Cruise that we took to get from Canada to Germany. There is so much to see and do in Hamburg with kids, that a weekend hardly does it justice, but for some, like us, a few days is all we had to spare.
Thanks to the City of Hamburg for helping me plan this great city-escape, we were able to experience the Hamburg with kids, and have some adult fun ourselves.
This post may contain affiliate links.
To which I earn a small commission, at zero cost to you!
Find more info in our
Privacy Policy
.
Fun Facts about Hamburg
The low vs high tide difference is only 3 meters
Hamburg is the second-largest city and a state of Germany, with a population of over 1.7 million people.
Hamburg has been known for being an important financial center for centuries and is the home of Germany's oldest stock exchange and the world's second oldest bank, Berenberg Bank.
In the past, Hamburg had a reputation throughout Europe as a city of vice and criminal activity, thus serving as an open invitation for performers. Many have come to Hamburg in an attempt to launch their careers, and for some, their wish came true.  Beatles-Platz was created in Hamburg in 2008 at the corner of Reeperbahn and Große Freiheit streets, with five stainless steel sculptures of the Beatles.
Hamburg is the most important international port for Oriental Carpets. Watch for the pullies and see "flying carpets"
The famous German pirate, Klaus Störtebeker, was beheaded in Hamburg.
Störtebeker is said to have asked the mayor of Hamburg to release as many of his companions as he could walk past after being beheaded. Following the granting of this request and the subsequent beheading, Störtebeker's body arose and walked past eleven of his men before the executioner tripped him with an outstretched foot.
Hafencity is the largest construction zone in Europe and will be completed in 2025. Some 43,000 people will be able to live in the city, once complete
The Maritime Musem contains over 40,000 ship models
The largest shoe shop in Europe is located next to Hamburg Central Station
Alster Lake was created from a river that was dammed in the 13th century
Hamburg is the 5th largest city in Europe. It is 40% trees, 10% harbour, 8% lakes and rivers, and houses 1.8 million people.
There are 60 museums in Hamburg
Planenunbloom is a park with a large playground for the children. The lake has a light show and music between May and September in the evenings.
Hamburg is famous for its Franzbrötchen
Hamburg has more canals than Amsterdam and Venice… combined.
Many landmarks start with the prefix "Elb" due to the Elbe River
With a diameter of 8 meters, the tower clock of St Michels Church is the largest in Germany.
How much to budget for Hamburg?
Hamburg is definitely one of those cities where you can spend very little if you really wanted to. With the Hamburg Card, I would suggest around 100euro per person for the weekend, plus the cost of food and hotel.
Reserved enough in advanced, hotels can run as low as 100-150euro per night, for a 4 person room. When using booking.com don't forget to select the cancellation feature and check that breakfast is included; not only does this help if something comes up and you need to change your dates, but having a free meal greatly impacts your spending ability for the rest of your day.
Travel tip: Booking.com rewards repeat customers with exclusive discounts, included breakfast (when everyone else has to pay extra) and a few inhouse perks – like free minibar. Party! #afterthekidsgotobed
Again, there are tons of street vendors and inexpensive cafes throughout the city, especially along the pier, that one doesn't need to sit down at a 5-star restaurant for each meal.
Souvenirs, on the other hand, I am of no help to anyone. I have a problem; Hello, my name is Christine and I am a shopaholic. I didn't see many shops outside of the Landungsbrocken area and most shops all carry the same thing so don't feel the need to step into each one. I mean, I did, but you don't have to. Also, each attraction has its own shop with its own specific trinkets and souvenir items.
How much time to spend in Hamburg?
A full week could easily be spent exploring the city in its entirety. Taking your time to visit during optimal sunlight as well as avoiding the crowds is a time-consuming task but well worth it in the end.
If time is not on your side, a fast-paced tour can be done in just 3 days.
How to get to Hamburg
While you can fly or drive to the city, I always find it best to take the train. Not only is there less for you to do, but there are also fewer expectations for your children and more room to walk around.
There is an international airport that services Hamburg and this is where my mom landed. We met at the hotel, and she says her taxi only took 15 minutes, and 30euro. She could have taken the tram/bus but after 10 hours of flying and crossing one too many time zones, having someone else be in charge is probably a better choice in this case.
How to Get Around Hamburg
With the Hamburg City Card, public transit is free. Google Maps, as well as your hotels' transit schedule, will help you get anywhere you need to go.
From the city centre, where I recommend finding the least expensive family-friendly hotel within the city limits, a taxi shouldn't cost more than 15-20 euro to get to any attraction or destination, if public transit just won't cut it.
Walking is also a great way to get around. Between any two attractions, there is a ton to see and explore within Hamburg that I would be remiss if I didn't suggest this route as a primary mode of transportation.
Like any good European city, there are always bike tours and bike rentals available throughout the city, and many have children's bike options or children's seats as well.
Hamburg City Card
Along with access to free public transit, which more than pays for itself if used correctly and often enough, the Hamburg City Card also gives up to 50% discount on 150 restaurants, attractions, museums, city tours, and prepaid mobility plans.
Find the English pamphlet PDF by clicking here.
Save yourself a fluctuating exchange rate and purchase your Hamburg City Card through Get Your Guide from home or your hotel room.

Where to stay in Hamburg
Hampton by Hilton Hamburg City Centre
Amazing hotel location – the immediate area doesn't have a whole lot to offer – surrounded by more hotels and a Staples store (unless you really need stationary while on vacation, that is), the Hampton is in a surprisingly great location. It is 3 km from the port, where most of the attractions are located, and there are great attractions along the walk back to the hotel, as well as attractive food options.
Great breakfast options. Considering I am the kind of person that requires a decent meal to function in the morning, having a great breakfast spread is important to me. The Hampton offered eggs, hash browns, and bacon, just the way I like it.
The kids were thrilled with the make-your-own waffle bar, though they were expecting maple syrup instead of chocolate sauce and sprinkles (we are Canadian after all). They do not offer dinner but are not afraid to recommend the neighbouring hotel as a dining option, which I felt was pretty great of them.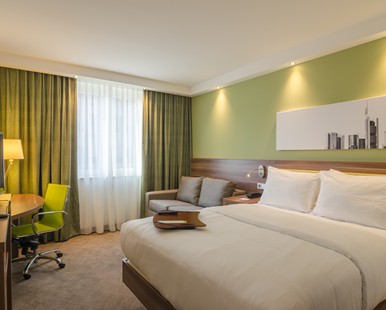 The room is large enough to hold an open stroller and still walk around. As a budget traveller, I don't mind little close quarters in order to save a few dollars. The room had a double bed and a double pull out couch, and enough room that we didn't need to fold the stroller – and we were comfortable this way.
No one was stepping on each other. However, there would not have been room to bring the cot and/or travel bed with us and leave the sofa-bed open as well – so I was forced to cosleep with the baby. Nothing wrong with that, though, I love baby cuddles in the night.
The pullout couch was a little harder than I expected it to bed – but I was also sleeping on the hard pillow instead of the soft – most hotels offer the two.
There is a bus stop across the street. We grabbed the bus in the morning and walked home in the evening, but it was super easy to find and Google maps are very accurate with stop locations and timing. The hotel reception was able to show me the schedule as well so I was sure not to miss our bus out to the docks.
The hotel is approximately 1km from the central station, which is also along the HoHo route.

Great Hotels in Hamburg
Best Budget Hotel: Hof Beuck
Best Mid-Range Hotel: Holiday Inn Express – Hamburg – City Hauptbahnhof – Tapped Out Travellers tested
Best Luxury Hotel: Empire Riverside Hotel
Best Airport Hotel: Ibis Hotel Hamburg Airport
Where to eat in Hamburg
Hofbrauhaus
Just as I had mentioned the World Famous Hofbrauhaus in Munich, they have opened 3 restaurants/beer halls in the city of Hamburg. While we didn't have a chance to eat there this time, we did take a quick look inside and the menu looks amazing. The decor is also authentically German.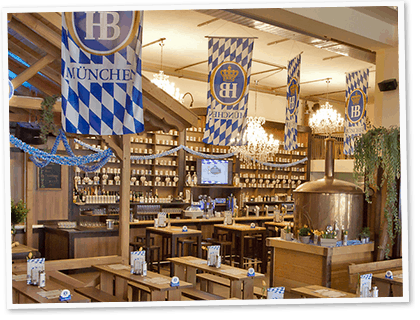 Hard Rock Cafe
Good, old fashion American food. It's the kids' favourite and they were so amazing on the train that I had to reward them… also, we like to collect their mugs and t-shirts. It's still a pretty great place to eat, not too slow, always know what they have and they don't usually mind when the kids get a little loud.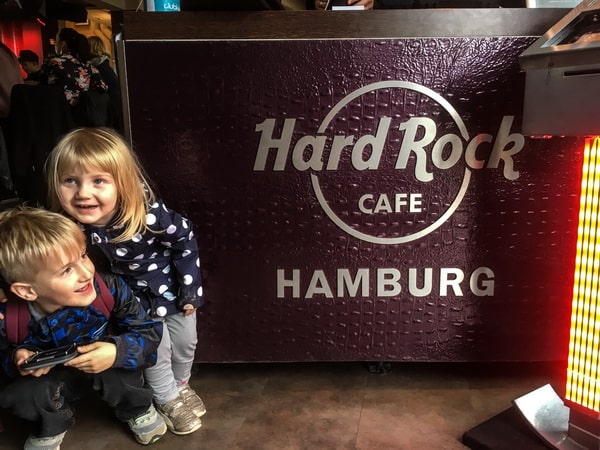 Anywhere along the docks of Landsungbrocken
All along the pier, there were great little cafes, street vendors and Pommes shops (fries or chip trucks, depending on where in the world you are from). There are also ice cream vendors here so proceed with caution, the kids will find it.
Cafe de Paris
While I haven't personally been here, the tour bus guide strongly recommended it. He claims it is the best cafe in the city. They are located near the Rathaus, so be sure to stop by while visiting the town hall… let me know your thoughts in the comments below, I would love to know more about it.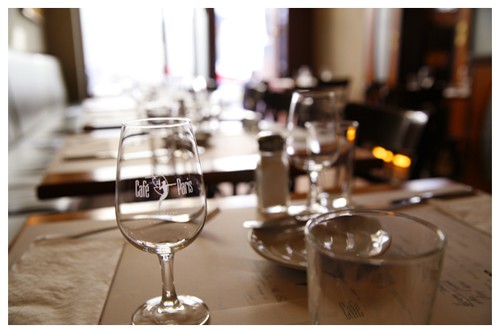 What to do in Hamburg with Kids
There is so much to do with kids, and without kids, that I will be dedicated to another article entirely to that topic.
In the meantime, make sure these are on your list of things to do with kids in Hamburg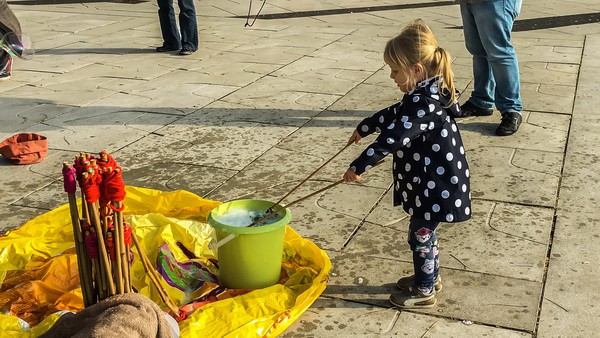 Landunsbrucken
– they loved looking at the boats, running along the pier, and chasing pigeons.
– the best half-day you will ever spend
– the best second half of your day. It is the largest model railroad in the world and one of Germany's most successful leisure tourist attractions
Located near St Pauli's Fishmarket. Otherwise known as the Russian spy boat
Harbour Cruise/Tour
The kids can refuel and you enjoy a 1-hour cruise. This may be the time they nap or get screen time. It's ok, you all earned a break.
Your Thoughts...
Please share your thoughts in the comments or reach out on social media...We would love to hear from you.
You May Also Like…
Hotel Expectations for a Travelling Family on a Budget
Love Train Travel; Relaxed Adventures With Kids
Our Guide to the Best Travel Strollers
Opportunity Cost; The Hidden Costs of Budget Travel
Queen Mary 2 Guide: Transatlantic Crossing with Cunard
20 Things to Know Before Visiting Germany