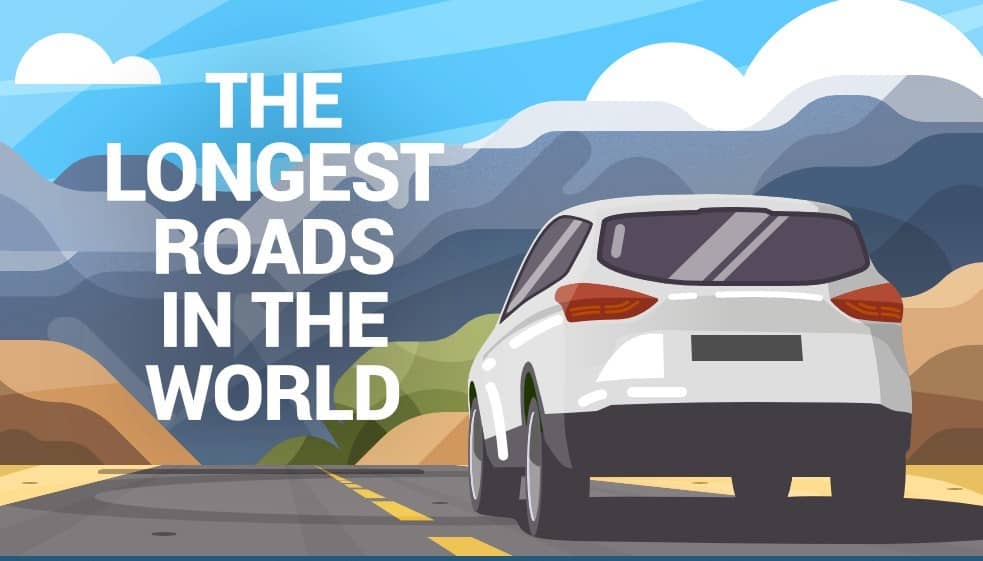 Exploring the world's longest roads…amazing road trips for all. Let's explore the Longest Roads in the World. #roadtrip #familytravel #panamericanhighway #transcanadahighway #usroute20 #australia #canada #russia #southamerica
Taking the (really) long way home
I must confess, I love road trip culture. Singing old songs, seeing weird out-of-the-way places, learning about local culture, and participating in unique food challenges; all these are par for the course. Not to mention road trip cuisine, filled with favorites like Combos, Chex Mix, Moon Pies, and Sour Cream & Onion Pringles. What could be bad?
And despite the stereotypes you hear, I actually love road tripping with my kids. Usually, our car adventures are way better than anything we get into once we reach our destination.
It's almost enough to make me want to hit a really long road — like one of the world's longest — to go from point A to B — to see if we could do it. Just me and the fam-squad out on the long highways and byways.
But this guide of nearly interminable roads put together by carrentals.com (the longest being about the length of the equator) gives even me some pause. I'm not sure there are enough Sun Chips in the world to keep us on some of these holiday roads.
Here are a few from their list that (despite myself) have me itching to get behind the wheel:
The Longest Roads
The longest highway chain in the world, The Pan American Highway, runs continuously (but for a trip on a ferry through 100 miles of swampland in Panama) from the top of Alaska to the tip of Argentina's Tierra del Fuego. It's 30,000 miles of "99 Bottles of Beer on the Wall" fun. If you can make it past Costa Rica's "Summit of Death" (at more than 11,000 feet), that is!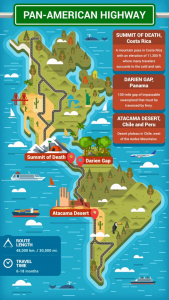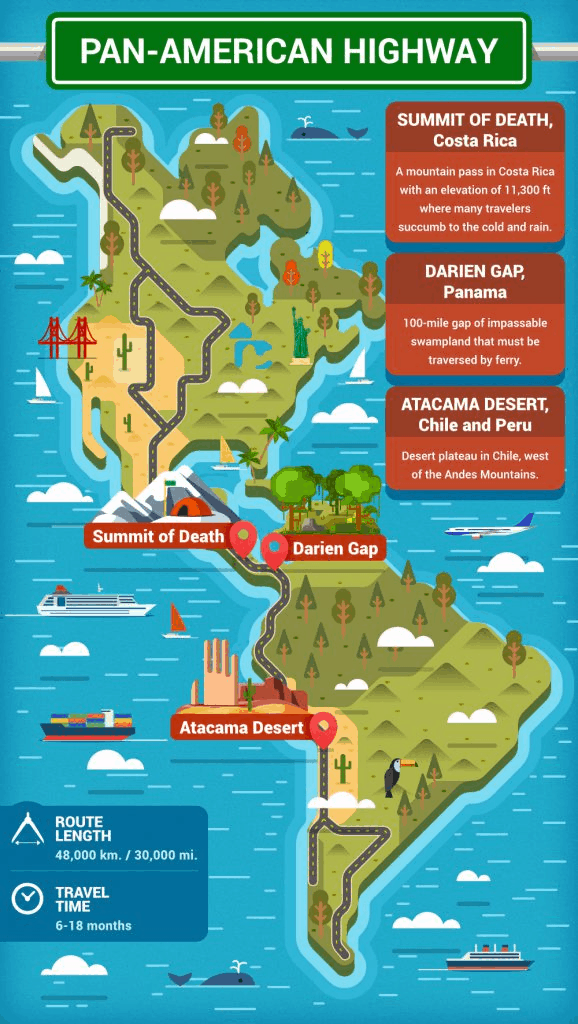 THE BIG LAP
Circumnavigating Australia is easy, just give yourself a few months and you can ride Highway 1 (AKA The Big Lap) all the way from Perth to Perth. That's right, it's a never-ending 14,000-mile circle that goes through all the largest cities down under – Sydney, Perth, Brisbane, Melbourne, and then back again and again and again… kind of like a boomerang.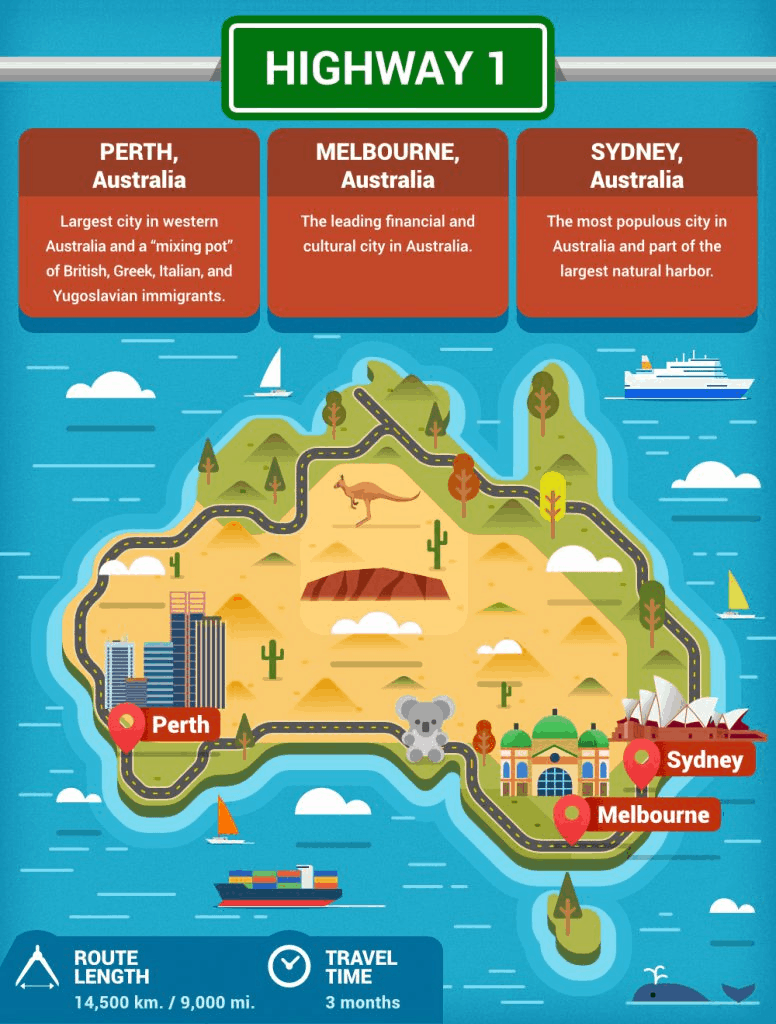 TRACKIN' THE USSR
The Trans-Siberian Highway runs the length of Russia from St. Petersburg, past Red Square in Moscow all the way to Vladivostok near the sea of Japan (what used to be called Kamchatka when playing Risk). At just 11,000 miles you think it might be an easy 1-2 month jaunt, but the weather conditions are notoriously nasty with common avalanches, heavy snowfalls, and landslides. And the fact it was built by Gulag labor might be a bit of a turn off too.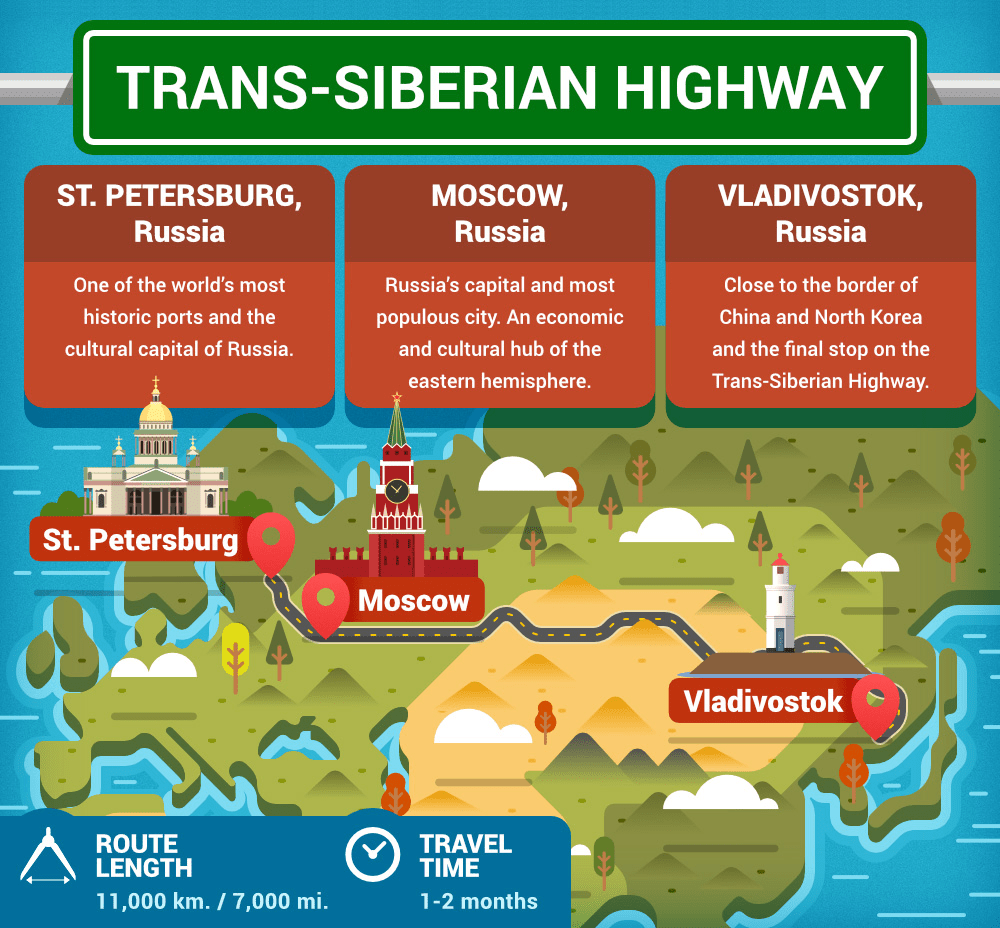 OH, CANADA
From Vancouver's Lookout Tower all the way to the brightly colored row houses of St. Johns, you can witness the great Canadian nation in all its glory. It's a very doable 5000 miles of gorgeous territory. Watch out for moose and be mindful of mounties and you'll get along fine.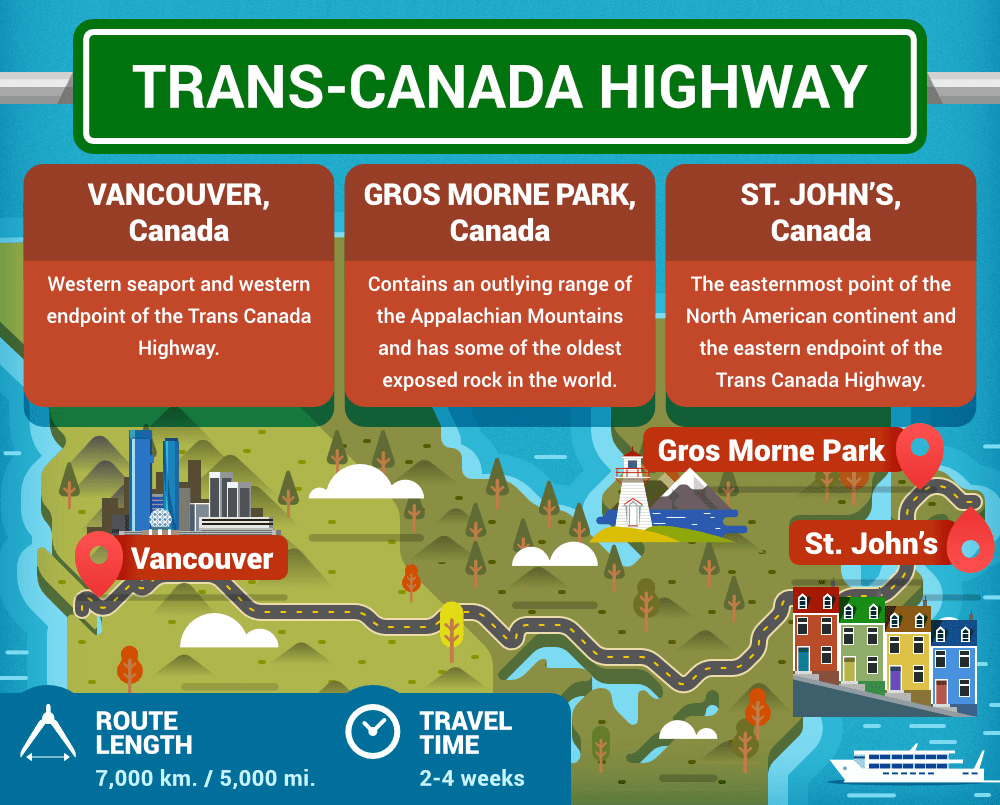 AMERICA THE BEAUTIFUL
Route 20 and Route 6 both run the length of the US of A hitting some amazing sites along the way. US 20 is the longest American road running from sea to shining sea, starting in Boston and rambling over purple mountains majesty all the way to the relatively sleepy shore town of Newport, Oregon (Go Newport High School Cubs!). At only 3100 miles, Route 6 is a sweet trip all the way from Provincetown, Mass on the tip of the cape through amber waves of grain and across the Nevada desert to beautiful Long Beach, California. The scenic drive includes a stop in Denver to see the Rockies play. You can't beat that.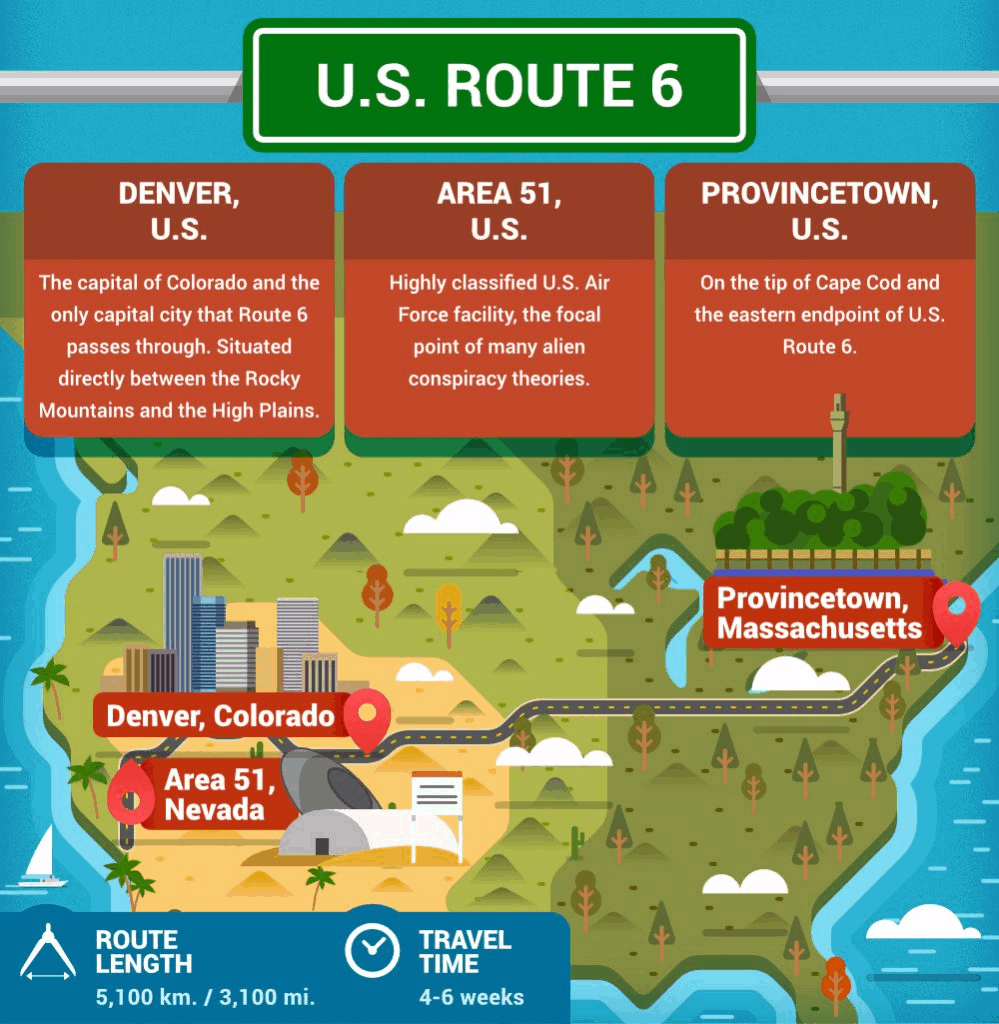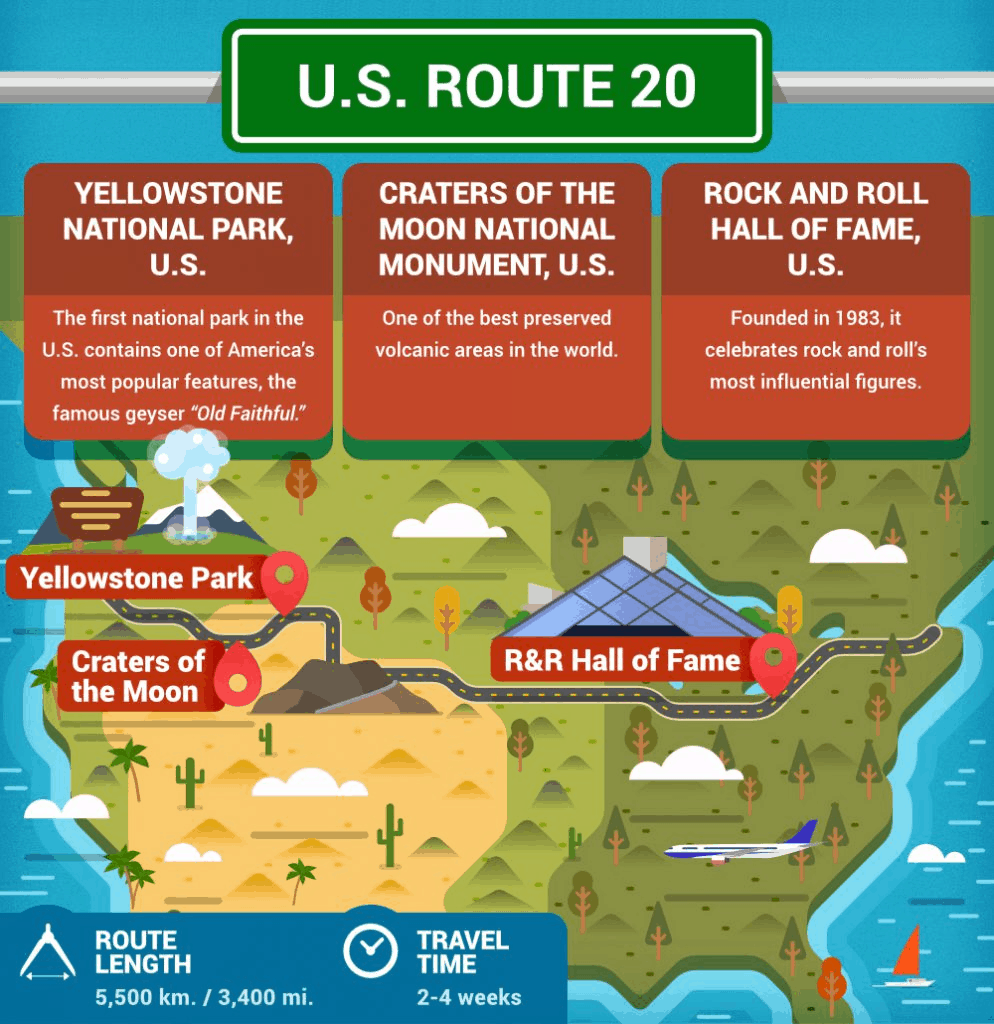 Trips like these are once in a lifetime and with summer around the corner, it's the perfect time to say what the hay and hit the road. Maybe traveling through Panamanian swamps isn't your idea of a great time, but renting a car and getting out on the open road is a celebration of freedom that every family should experience.
They say that life is about the journey and not the destination. Maybe embark on a nice long road trip and find out why that is.
---
Thank you to carrentals.com for providing this great article and even better infographics.
Your Thoughts...
Please share your thoughts in the comments or reach out on social media...We would love to hear from you.
You May Also Like…