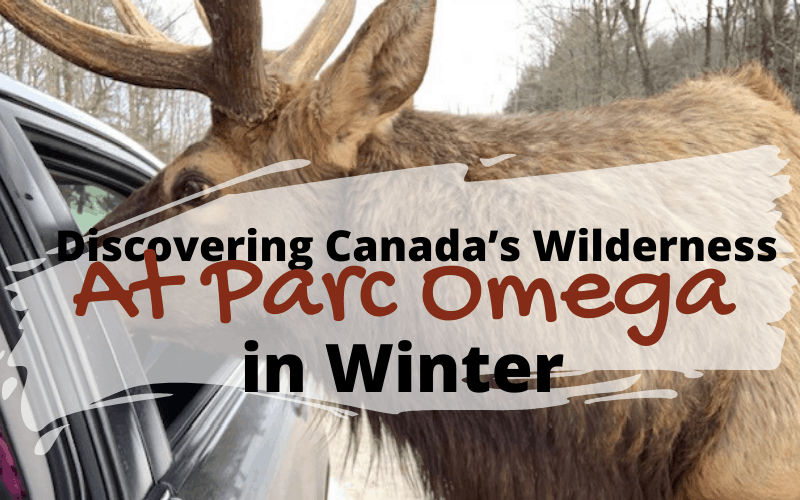 Situated on 2200 acres, Parc Omega is located within an easy hour's drive from Ottawa-Gatineau, Mont Tremblant, and Montreal, making it a great day trip destination for the family.
Don't forget to join our Ottawa with Kids Facebook group. We are all in this together.
Parc Omega wildlife park
Parc Omega is NOT a zoo. It is a wildlife park.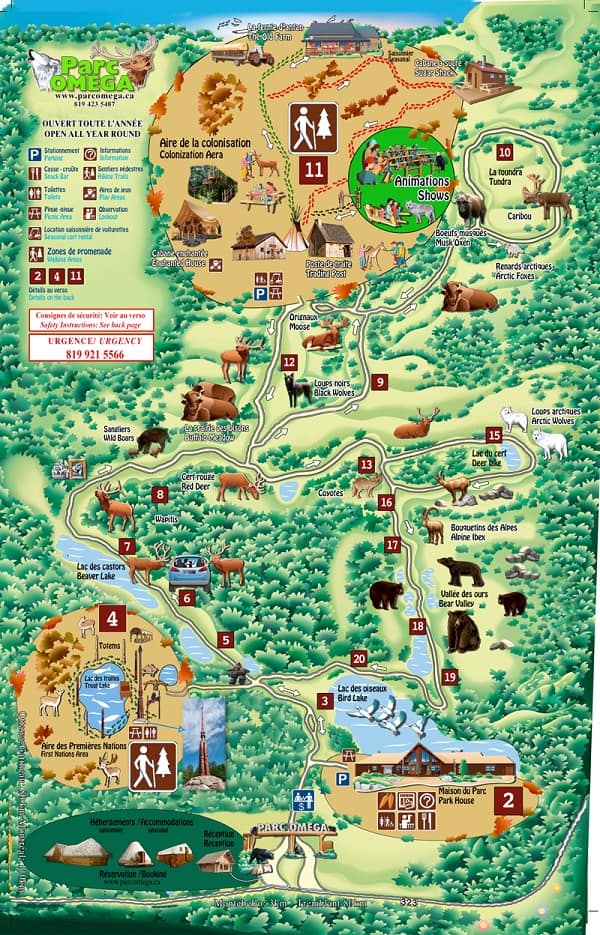 Parc Omega is a unique concept in Quebec: its 15-km trail winds its way through an extraordinarily varied landscape of lakes, meadows, small valleys, forests and rocky hills.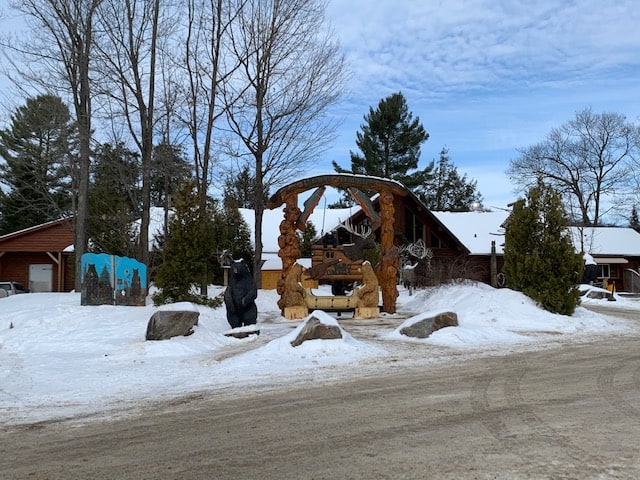 The Animals
There you will see wolves, black bears, moose, deer, beaver, elk, snowy owls, and much more…
Drivers are asked not to stop on the grates. These areas are fenced in order to keep certain species away from either other.
The trail is numbered so you and your kids can follow along on your map and get a heads up of which animals to look out for.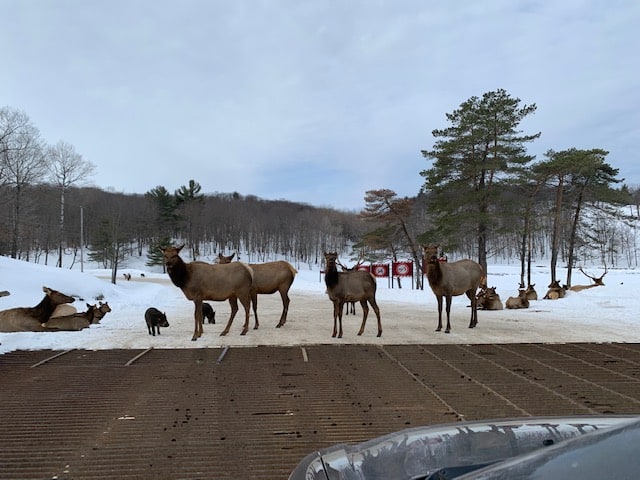 While Parc Omega does sell bags of carrots in their Main building and Snack building (halfway through your journey), $3 for a bag. We found it more economical to buy a few bags of baby-carrots before leaving home. We were able to feed more animals this way, and the children didn't have to worry about sharing; each child got their own bag to feed deer as they pleased.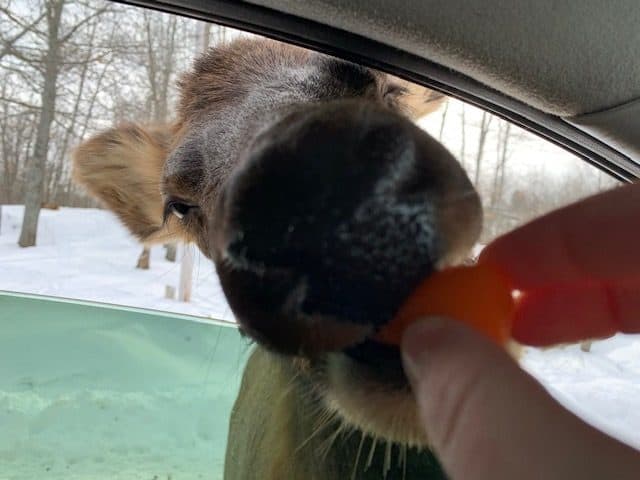 We needed a car wash after this trip… because a Moose licked my windows.
This will forever be the greatest one-liner I will ever tell. And it's so epically Canadian too.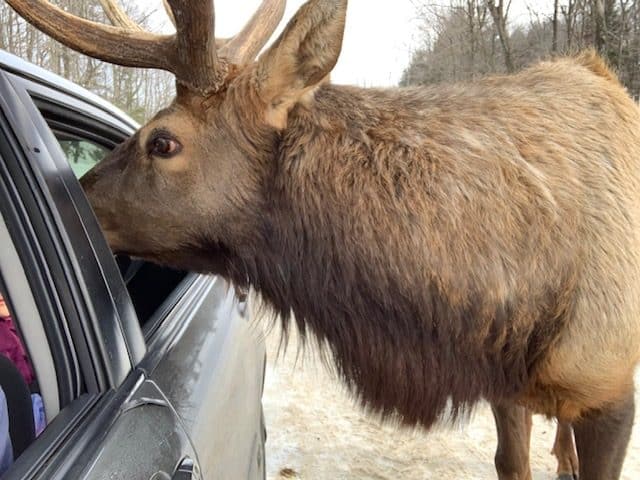 Have insurance!
The car in front of us was forced to stop when a mountain goat climbed on to their vehicle and refused to leave. Because these animals are highly domesticated at this point, the sound of a car honk and moving vehicles didn't seem to sway the animal.
On the note of safety, our little car had trouble getting up the hills if we drove too slowly. We drive a Toyota Corolla, and it weighs nothing with just two little ones in the back seat. We tried to stop mid-hill (like everyone else in front of us) to see the animals but we weren't able to get going again afterward.
Embarrassing as it was, we ended up parking in the hill, allowing the 2 cars behind us to keep going, then reverse down the hill in order to get more momentum up the hill. This also means we didn't start hills unless they were clear enough for us to drive up "quickly". This is obviously because they can't salt the roads and warm days will wash away any sand on the roads.
Kitty litter in the truck to weigh it down would have been a good idea.
Don't feed the Buffalo
Throughout the trail, you will see signs saying which animals you can or can't feed. The Buffalo, for example, are able to eat carrots, but the radio information noted that they tend to charge when excited, and are capable of seriously damaging your vehicle.
You are also advised not to leave your car and to keep your windows closed. This is to protect yourself from any large animal that could get a little too excited by your presence. As the radio host reminded us, your vehicle is your best protection.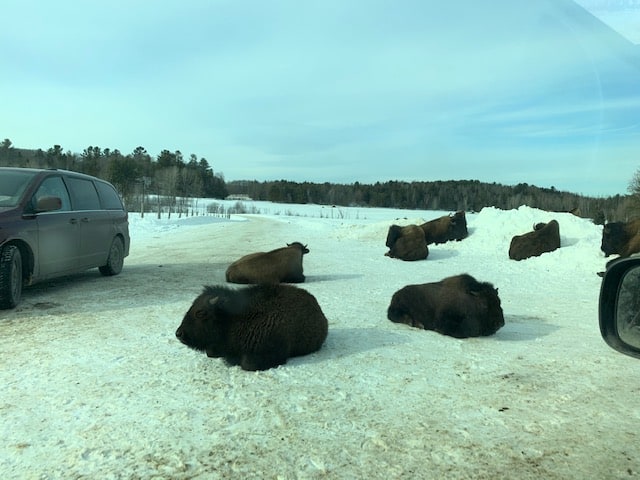 First Nations Area (#4)
There are two walking paths throughout the park. The first is the First Nations Area.
The First Nations trail, either winter or summer you may stroll and enjoy the history of 11 of the First Nations of Quebec, visualizing totems made by a Native American artist. Throughout your visit, it will be possible to observe wild deer. They are not shy and will wait impatiently for our carrots.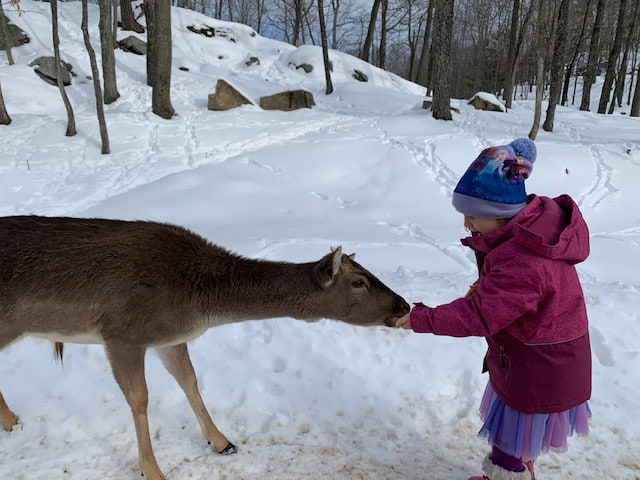 Totems made by Algonquian artist, Denis Charrette, representing each of the first nations and a series of Inukshuks illustrate the intimate relationship between aboriginal peoples, nature and the fabulous legends which founded their culture.
Colonization Area (#11)
While I have feelings for the name of this area, the buildings and what they offer are nice.
From here, you can rent free snowshoes, have a snack, warm up by the fire and even picnic in a heated Yurt. This is also where you will find the toilets.
There are several activities going in #11, including the Old Farm, the sugar shack and the enchanted house.
Cabane à sucre
In late winter, Omega Parc offers an incredible Sugar Shack experience. While we were a little early for this particular activity, we know we want to visit again in March.
The Horse-drawn Wagon
Winter Weekend visits also include a Horse-drawn Wagon ride next to the Trading Post.
Free Snow Shoe rental
Is it still called a rental if it's free? This trail will take experienced snow-shoers about 20-30 minutes to complete. Though we are told amateurs can take as long as 1 hour to return to base.
These show-shoes come in a variety of sizes for the whole family, simply follow the marked trail.
Parc Omega Facts
When many other attractions close for winter, or on holidays, Parc Omega is open 365 days a year – even on holidays!
Prices vary throughout the year and based on the age of the passengers. They start at $26.05 for children in the off-season. 10$ family discount by adding 4 tickets including at least 2 adults
Opening hours: 10 am – 5 pm (last entry at 4 pm)
A typical drive through the park takes about two hours unless your path is blocked by the animals.