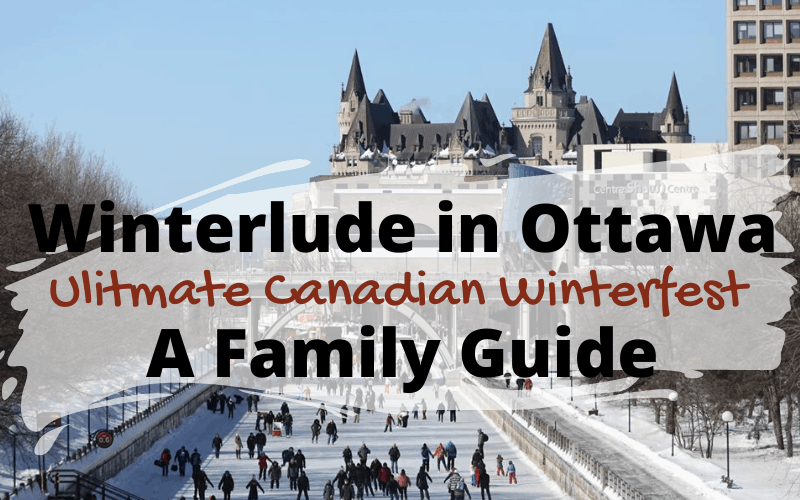 The 42nd annual Ottawa Winterlude is happening from January 31 to February 17, 2020. Known as Bal de Neige Ottawa in French, this celebration of Canadian winter lets you witness beautiful ice sculptures, skate on the world-famous Rideau Canal Skateway, and play till you drop in the Snowflake Kingdom.
Most festival activities are free and take place in the urban Ottawa-Gatineau region during the first three weekends of February (including Family Day, Monday, Feb. 18). Here's your guide to the main festival sites in 2020.
Don't forget to join our Ottawa with Kids Facebook group. We are all in this together.
A Family Guide to Winterlude in Ottawa
For Winterlude, Ottawa and Gatineau are transformed into a winter wonderland that features some of the world's greatest snow and ice sculptors, concerts and performances by some of Canada's most talented, and a massive playground of ice slides, tube rides and sled tracks.
This is all topped off by having turned the beautiful Rideau Canal into the world's longest skating rink at 5 miles. One of the best features of Winterlude is that, except for your accommodations, almost all of the activities are free!
GETTING AROUND OTTAWA DURING WINTERLUDE
The free Snobus is a great option to make it between Winterlude locations. It operates from 10-5:30pm on Saturday and Sunday. Look for the Winterlude signs at the following routes:
Dows Lake to Elgin Street
Centre Robert-Guertin park-and-ride to Jacques-Cartier to Elgin Street
Special family day bus (Feb 17) will go from Dows Lake to Elgin Street to Jacques-Cartier Park from 10-3pm.
Winterlude Destinations
Rideau Canal Skateway
Rideau canal skating, world's largest outdoor skating rink
This 7.8 kilometre (4.8 mile) UNESCO World Heritage Site conveniently winds through downtown Ottawa within walking distance of most hotels.
Skate and sleigh rentals
If you don't have your own skates, you can rent a pair (as well as helmets and other accessories) on the Skateway. Rentals are available at both Capital Skates kiosks (National Arts Centre and Fifth Avenue) and at Dows Lake Pavilion.
Sens Rink of Dreams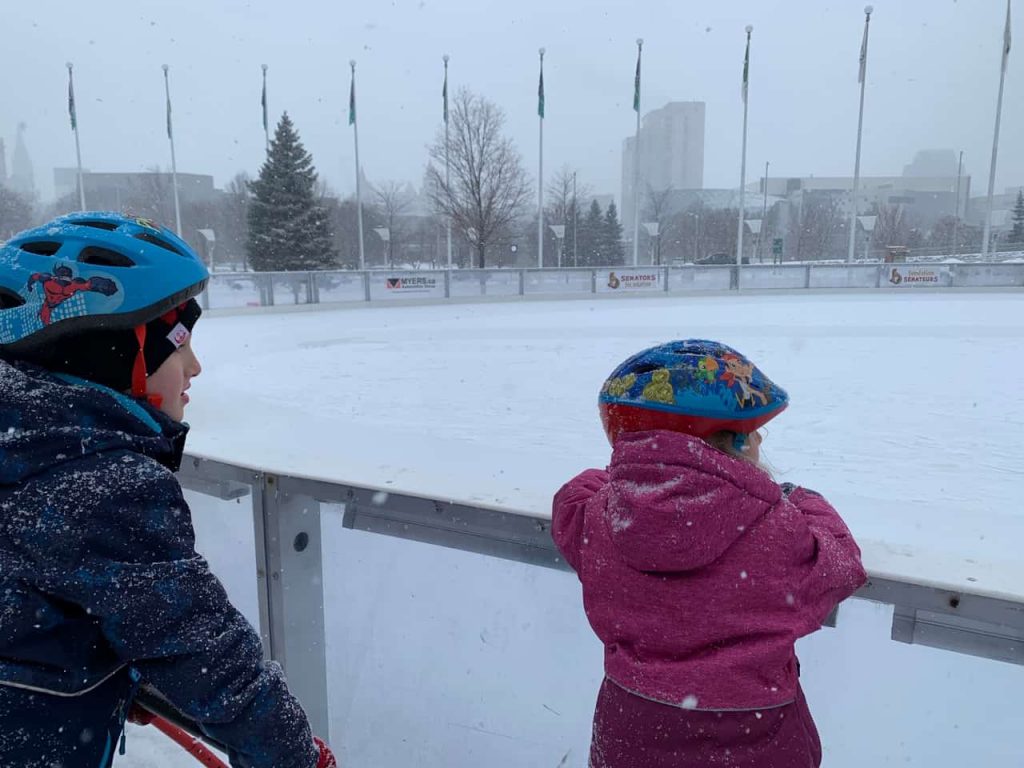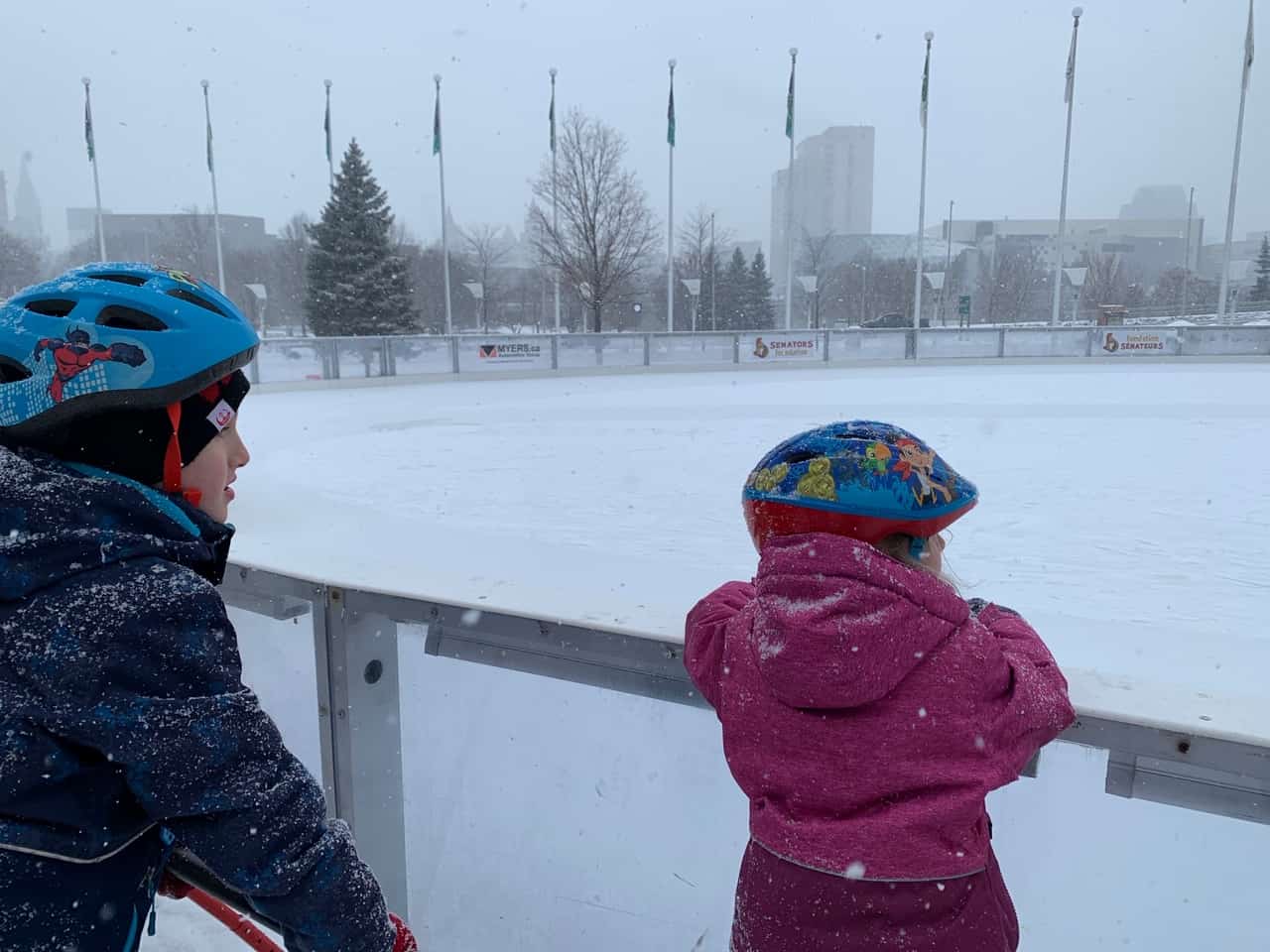 At City Hall, you are welcome to try your hand at skating in a much more relaxing atmosphere. Skate rentals and Skate trainers are available on site, as well as a changing room to keep your gear warm and out of the snow.
On weekends, City Hall offers free underground parking to all visitors. Just be sure to remember where you parked.
Ice Dragon Boat Festival
On Feb 7-8, the BeaverTails Ottawa Ice Dragon Boat Festival will be taking place at Dows Lake
Sparks Street
In the heart of the city, there are numerous activities going on at the same time. On Sparks Street, the bulk of the action takes place on the first weekend of Winterlude.
Ice Carving Creations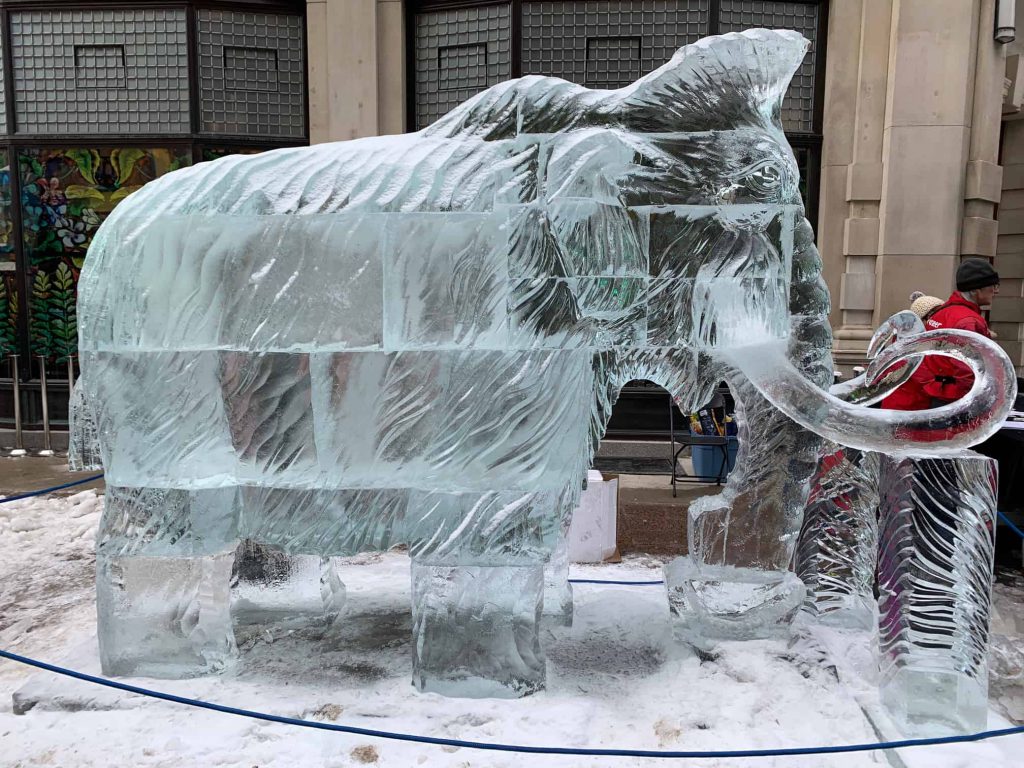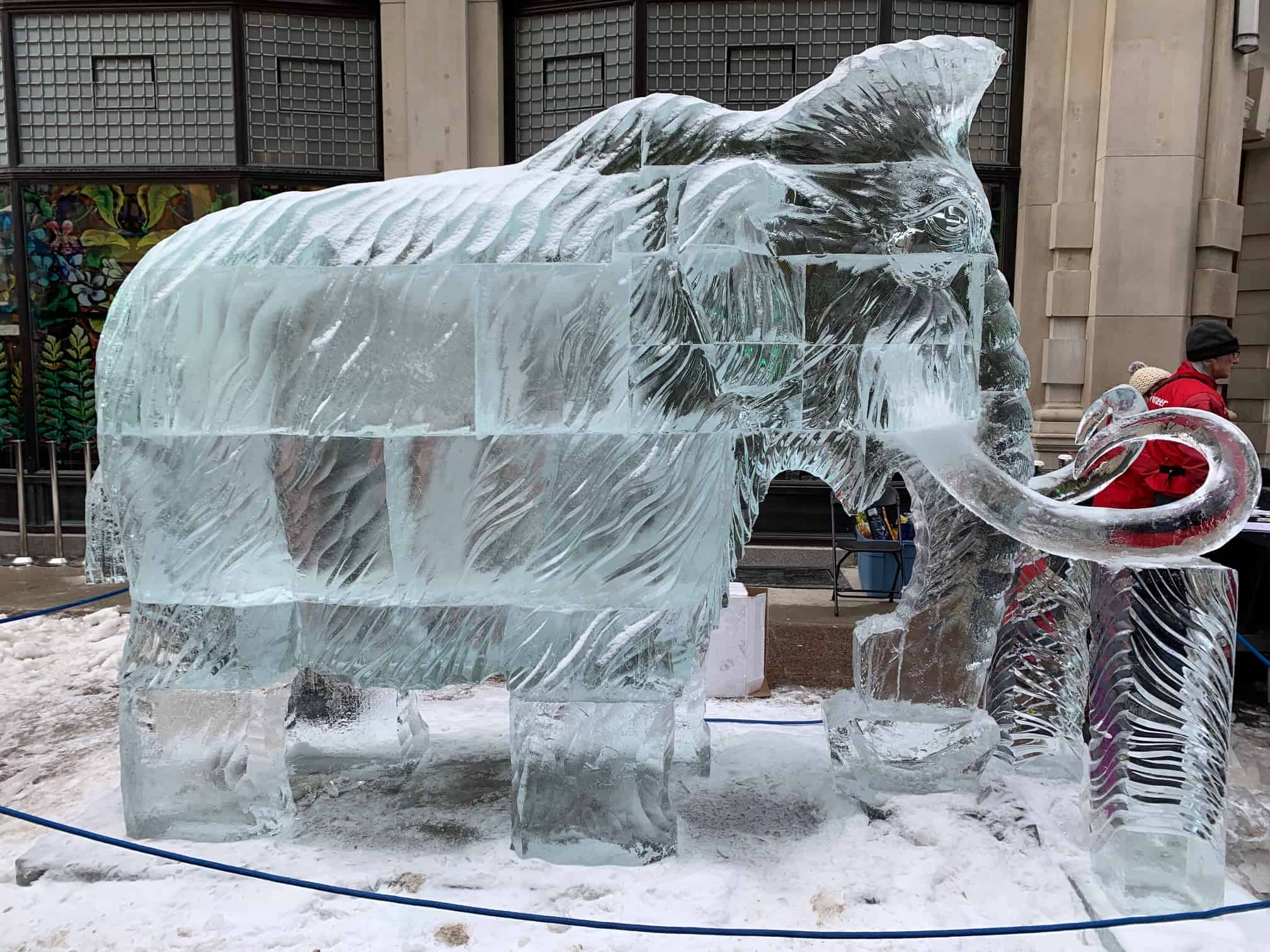 Sparks Street will have lots of family-friendly entertainment including a dino-ice dig to a hockey circus show, and more.
Dino-ice dig
Children 7 years of age and older are invited to dig out their own dinosaur from a block of ice. Hosted by the Natural History Museum.
Hockey Circus Show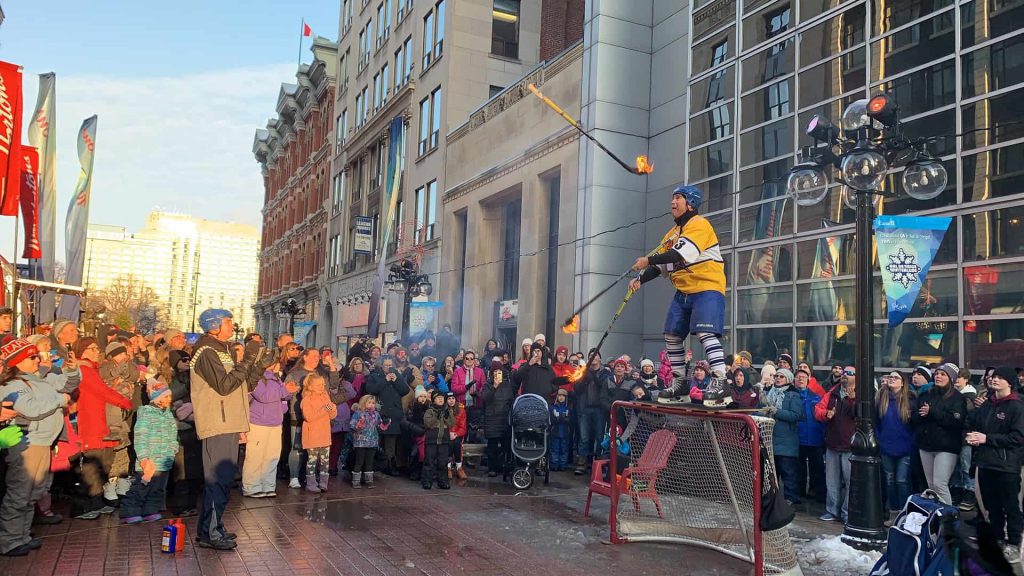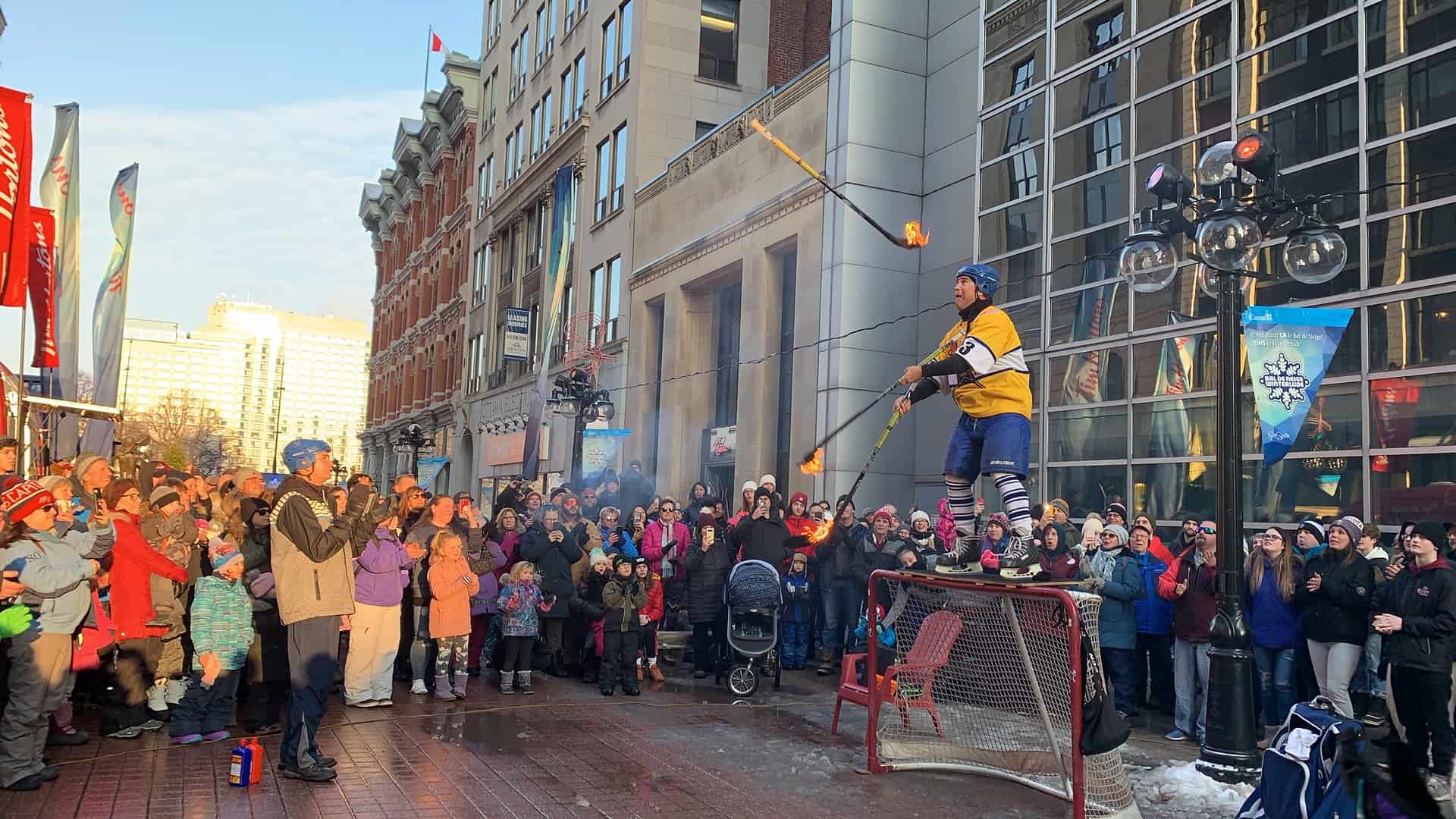 A true one of a kind spectacle, this Calfornia-native turned Canuck impresses us with his hockey-puns and juggling acts. Don't forget to collect his official Hockey Trading Card after the show.
Winterlude ice sculptures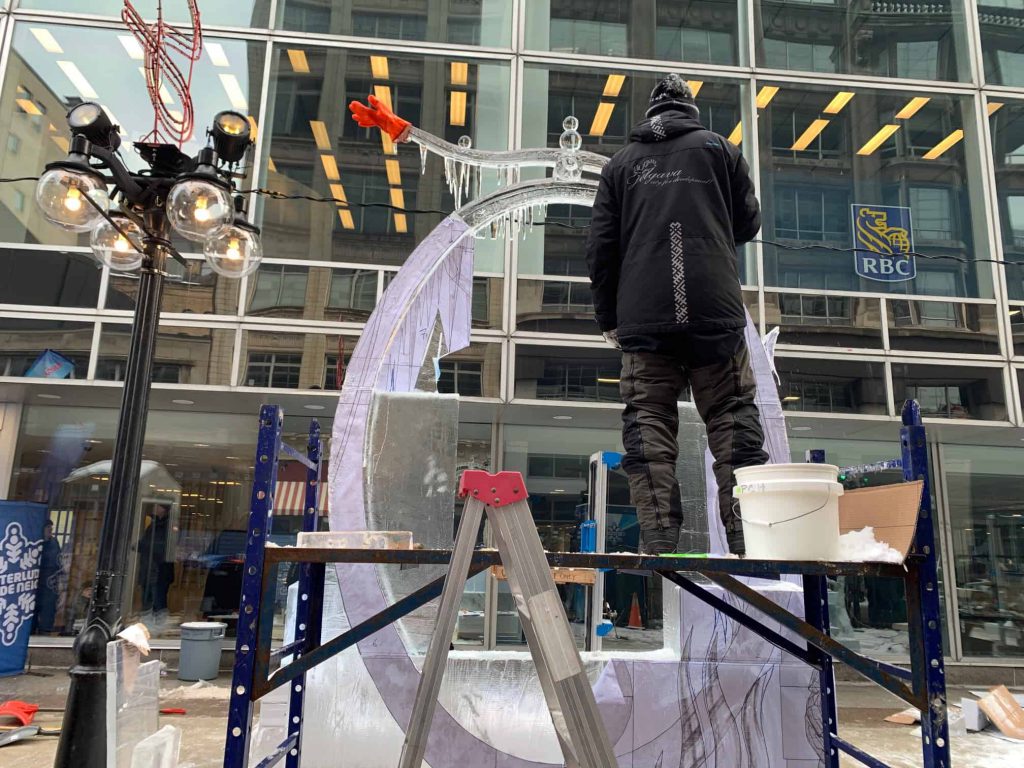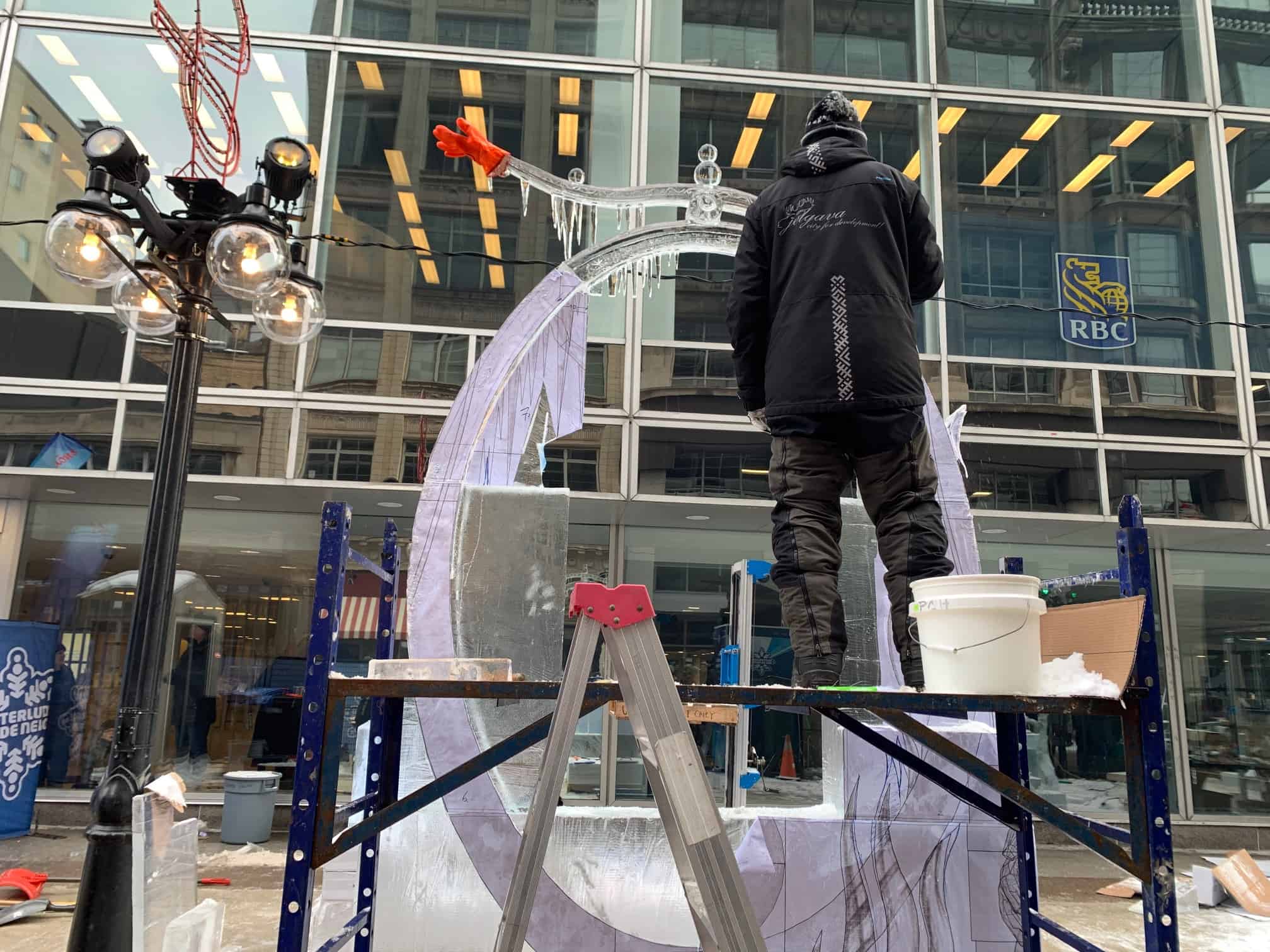 Between the ice sculptures and the children's activities, there are countless artists at work, creating amazing ice masterpieces.
SNOWFLAKE KINGDOM AT WINTERLUDE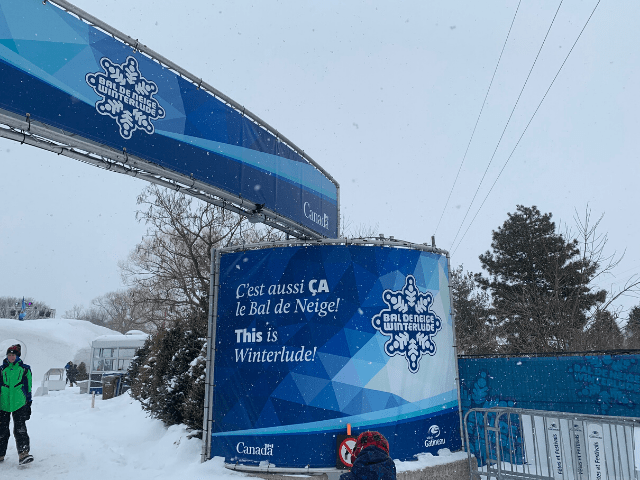 Jacques Cartier Park: Giant winter playground
During Winterlude, Jacques Cartier Park in downtown Gatineau – just across the Alexandra Bridge from downtown Ottawa – becomes a giant winter wonderland for all ages. Snowflake Kingdom is packed with fun activities, including:
Tube sliding
Skiing and snowboarding lessons
Kiddie Zone for toddlers
Zipline
Indigenous performances
Snow sculptures
Snowflake Kingdom is open Thursdays through Sundays during the festival (plus Family Day, Monday, February 17).
From sliding down super snow slides, a zip line, intro to downhill skiing and snowboarding, a kid zone, treasure hunt, tug of war, and challenge course, there's plenty of winter fun to be had at Snowflake Kingdom.
Giant snow sculptures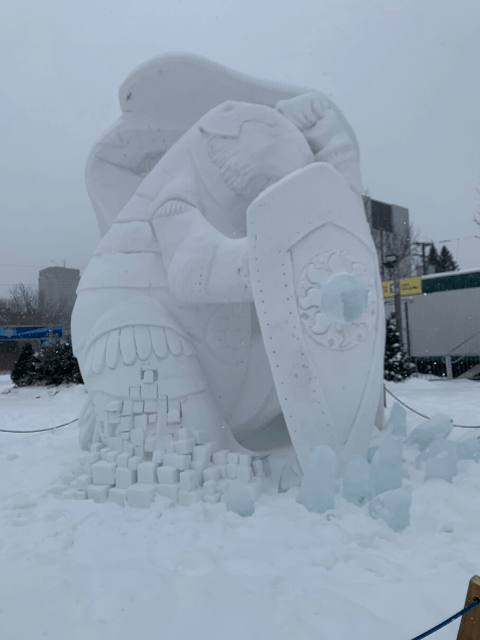 Experience the magic of gigantic snow sculptures when you visit the Snowflake Kingdom! Discover fantastic characters shaped by the hands and skills of wonderful artists.
Tube Sliding
There are two tube sliding options available Snowflake kingdom; on top of Chinook, this one has a slightly longer queue and there are two bumps along the path down. This is great for older kids looking for adventure. Kids 39″ and taller must ride alone, short must ride with a parent. Parents are not allowed to stand at the bottom in order to film or photograph their children.
On top of Iceberg, next to Chinook, is a slightly more tame tube slide. The queue is much smaller and the slide down is a lot more gentle. There is a place on the other side of the "landing strip" where parents can stand by an watch their kids slide down.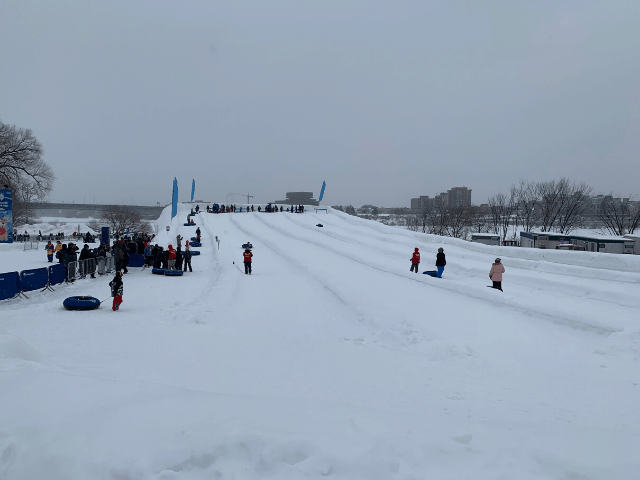 Chinook Alcove
When you first walk into Snowflake Kingdom, you will see giant Snow sculptures on your left and a large mound on you right. This mound is the home of the Chinook tubing slide, as well as fun alcoves, ice caves and body impressions.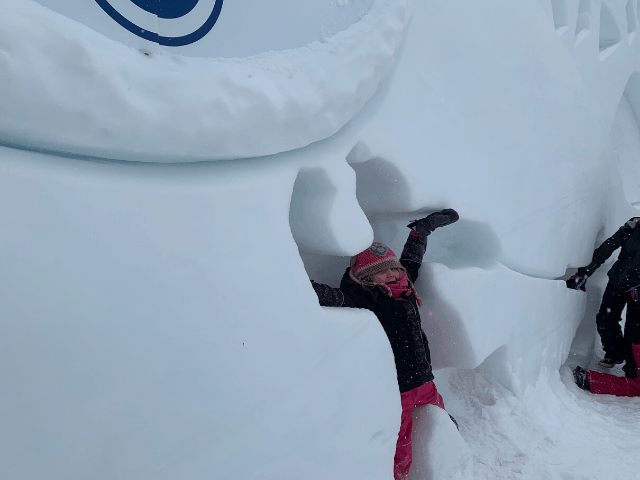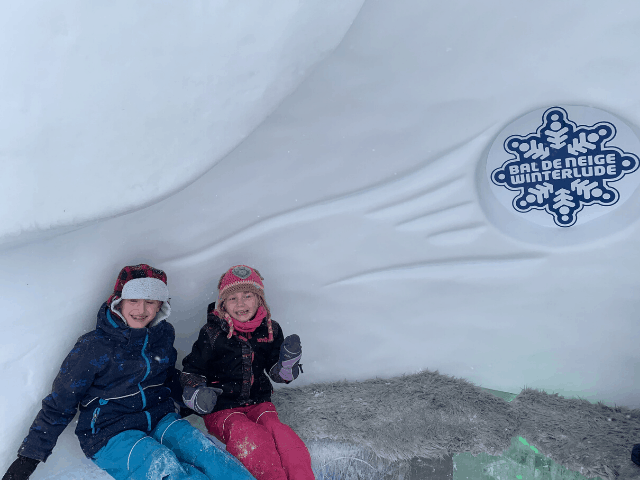 Parking at Snowflake Kingdom
If you're like me and simply forgot that the Snowbus was an option, or simply don't have the patience to travel on someone else's schedule, you will need to self-drive and park your vehicle.
Jacques Cartier Park closed its parking lot of make way for more activities. While we appreciate the thought, this means guests need to find alternative places to park their car. There are a few make-shift parking lots that open up around the Park for $10/day, but their space is limited and they don't tend to close their gates when the lot is full.
Street parking is available to you as well, just make sure you stay clear of the "no parking" signs and avoid blocking the locals' driveways.

Canadian Museum of History is only 2 blocks away from Snowflake Kingdom. While they do charge for parking, they have ample space for the influx of visitors and I would much rather give them my money.
Tips for visiting Winterlude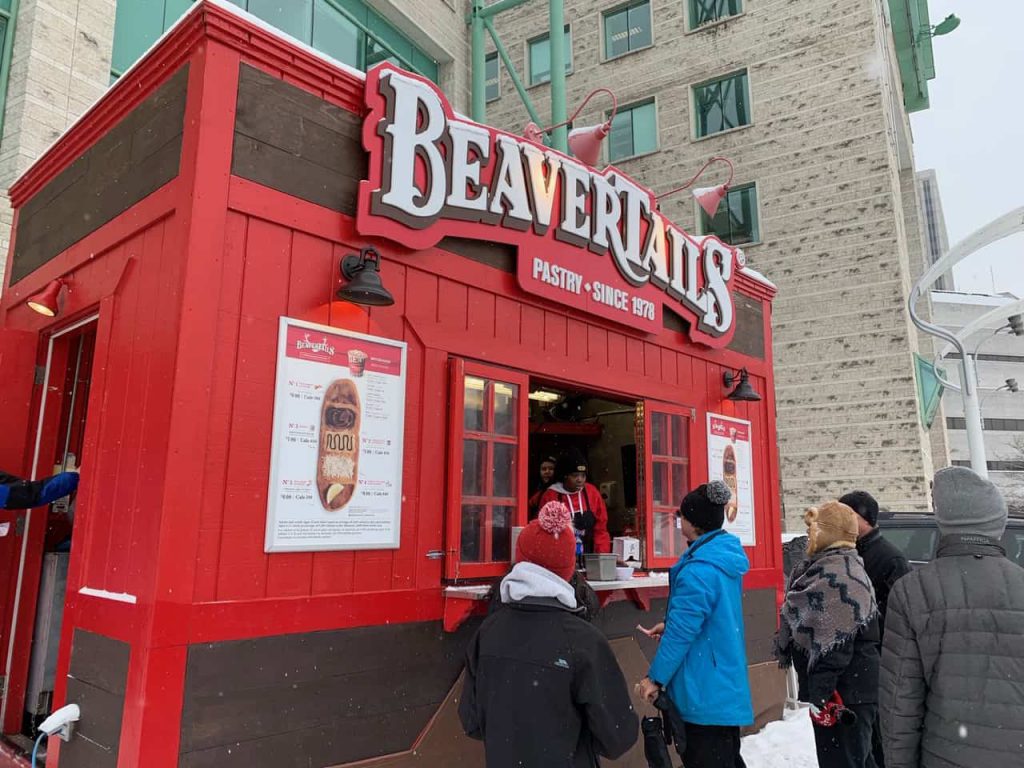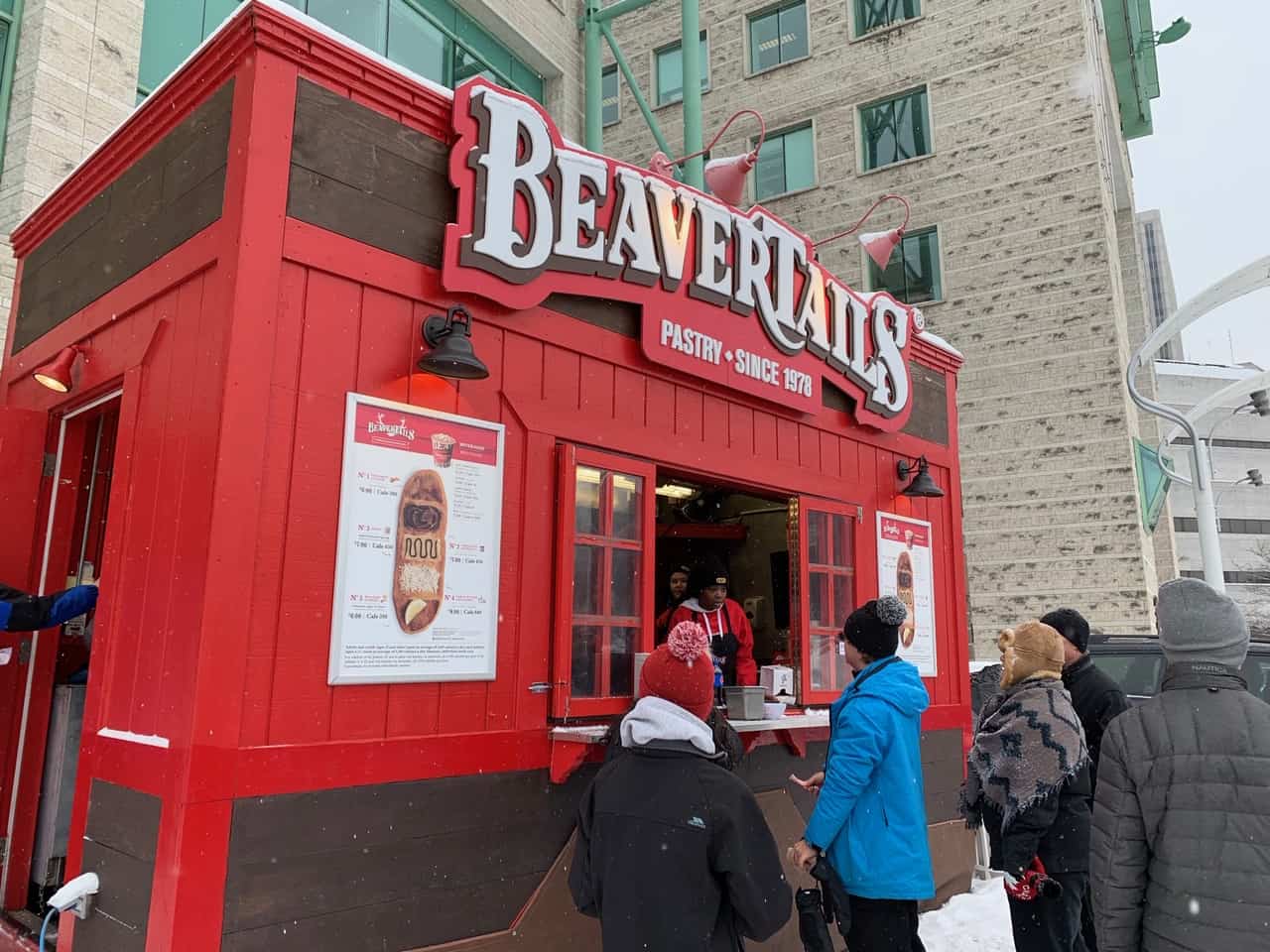 Don't Bring A Stroller – we've seen many strollers, but they have all been jogging strollers. They tend to have the best maneuverability in snow and slush.
Bring A Sled – if the baby is old enough to sit up, we suggest bringing a sled instead. Not only will this make the whole experience that much more magical, but you will also find it much easier to move around Snowflake Kingdom in particularly with a sled.
Don't worry if you can't skate – As I have mentioned on Instagram, I can't skate. I can stand up, push myself a little and more or less get around the rink on my own. Once I'm down though, it's a PITA to get me back up. That being said, I skate anyway. Practice makes perfect right?! And if you don't want to risk falling and looking like a lost soul, plenty of people are boot-skating. Enjoy the Rideau skateway anyway you want.
Dress warmly – it's cold in Ottawa, especially after being outside for a few hours. The heaters and fireplaces are great but they are few and far between. Dress warm and dress in layers.
Take The Bus – The free Snobus is a great option to make it between Winterlude locations. It operates from 10-5:30 pm on Saturdays and Sundays.
Beavertails and Hot Chocolate – There are Beavertail locations at every Winterlude destination. The queue looks long but there are at least 4 workers taking your order and they are fast. Cash is preferred, but they do take plastic as well.
Winterlude packing guide
Snow pants
Bag for boots while you skate
Warm accessories – A warm hat, gloves or mittens, a scarf
Proper winter boots
Skates and sleighs
A little cash – technically everyone takes debit/credit but having a little cash on hand can speed the process along and it never hurts to tip
Tissues and wipes
Water bottle
Sunglasses, sunscreen, and lip balm
Camera
There's nothing more Canadian than standing in your skates with a BeaverTail (a hot pastry treat) in one hand and a hot chocolate in the other, on the Rideau Canal Skateway.
Join our Facebook group!!!!
Ask any questions, share your knowledge and just enjoy getting to know other Ottawa locals in our Facebook group called Ottawa with Kids
Also, join me on Instagram here.
You May Also Like…