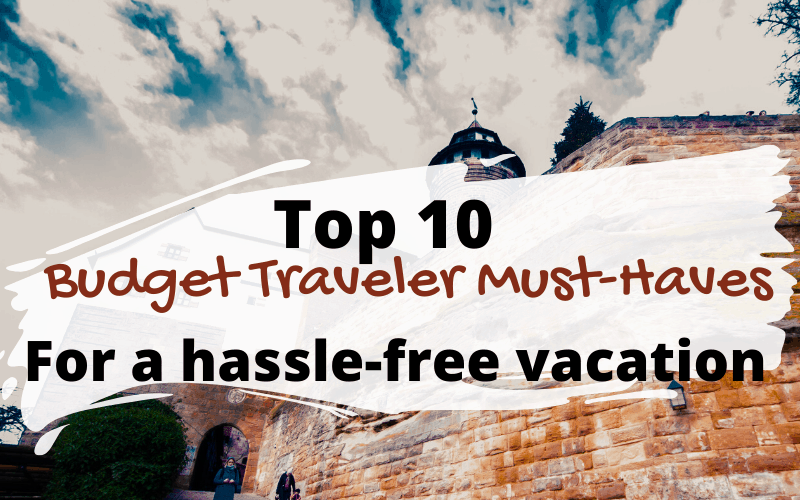 We aren't the type of people that like to travel in luxury, with a "go big or go home" mindset. Personally, we like the idea of having money left in the bank when we get back from holiday so actually pay for said home. Traveling isn't cheap, but it doesn't have to break you either.
If you're a budget-friendly traveler that likes to save not only money but time replacing useless items, or just finding inexpensive ways to make your traveling life a little easier, here are our 10 must-haves for a hassle-free budget vacation.
Power bank
Personally, I use my phone like my main camera. There are times when a proper DSLR is needed but for the most part, our Instagram is fueled by iPhone photography. Because I use my phone so much during the day – photography, google maps, iTunes, YouTube during a long bus ride with the kids – my battery takes a real beating.
A portable charger will recharge your phone, and your partners, on a single recharge. Just be sure to plug it in a night so it is fresh for the morning. You will get a full charge or two, or maybe even three; more than enough to last you through a long day of touring and sightseeing.
And bring your own cable. Your charger is useless without that.
Bluetooth wireless and noise-canceling headphones.
People are loud. There is no getting around that. If you want a quiet flight, bus ride, train ride, anything that gets you stuck in a metal-tube far too close to other people for extended periods of time – you will want some peace and quiet.
Bluetooth noise-canceling headphones allow you to connect to any Bluetooth enabled device and drown out the sounds of everyone around you.
While you will need to connect them to an outlet eventually to recharge, the battery life is pretty amazing. There is a cord included so your Bluetooth headphones can be hooked up to the in-flight entertainment as well. Always thinking.
Universal Travel Adapter
We now have 3+ items in our backpack that require power… but you are visiting a foreign country. Don't be stuck at the airport or hotel gift shop wondering how to connect your device to their electrical outlets.
Purchase a travel adapter well in advance and save yourself the "convenience fee" of buying it last minute. Make sure you have something that also charges via USB cable, allowing you to carry less in your bag.
Hiking sandals
Are you planning a trip soon? If yes, whether you're a beginner or pro, you will agree that getting the best gear for your adventure is usually at the top of your checklist. Even if you are hiking for just one day, your hiking shoes contributes greatly to whatever goals you set out to achieve, which is why getting the right pair is of utmost importance. Whilst most hikers typically would pack some boots for their trip, you would agree that boots can get uncomfortable at times, especially in warmer temperatures. Getting a pair of quality hiking sandals as an option will definitely be worth your while.
Best For Men
Keen Men's Newport H2 Hiking Sandal
Best For Women
KEEN Women's Whisper Sandal
Best For Wet Conditions
Merrell All Out Blaze Hiking Sandal
Best For Kids
KEEN Unisex Kid Newport H2 Sandal
Hiking Dry Bag
This is very important when traveling, but especially important when traveling with small children. Things get wet. And you aren't always able to wash/dry them immediately. A dry bag allows you to store your wet/soiled items in a separate, waterproof area, that won't get the rest of your luggage dirty.
This is also useful when you are visiting a wet area, or it is going to rain, and you want to keep your contents dry. A dry bag keeps water in, as well as keeps water out.
Cross-body Bag
While I like the idea of a sling bag, or a backpack while traveling, you know – to carry all my wonderful new goodies, they aren't the most secure.
Having a bag that goes from one shoulder to the opposite hip (and actually using it this way) means a thief can't just grab your bag and walk away. You can also hold it in front of your body when in tight places so wandering-hands can't reach inside of the pockets.
To be clear, the cross-body messenger bag is the millennial version of the bum-bag ("fanny-pack" to my North American friends). A small place to keep all of your valuables while sightseeing.
Packing cubes
I can not get enough of packing cubes. They have saved our luggage countless times.
The idea behind packing cubes is that you can separate all of your pieces, as well as compress much of your clothes, so you aren't wasting as much space in your suitcase.
As a family of 4, I love that I can pull out a cube and throw it at one of the kids and tell them to get dressed. I don't have to worry about them digging into the suitcase and messing everything up. This is very helpful when you want to unpack your luggage into the hotel drawers.
RFID travel zip organizer
This is similar to the Cross-body bag security system but it has all of your travel documents in one place – enough for the whole family so little Jonny can't lose his passport. This makes it great when boarding your flight, or international train travel in the European Union (it doesn't happen often but your train can be stopped and officers can ask for travel documents if they want).
There are many European countries that actually require by law, that everyone carries official government ID on their person. This means passports for foreigners since many countries like the British, Canadians and Americans don't have a universal ID system like they do in Germany or Spain, for example.
Refillable bottles
Since the whole purpose of being on a budget is to spend less so you can do more, why not start with the most basic of human needs; water.
You would be surprised how many water fountains are available in the public space throughout Europe and North America. Refill your water bottle at any chance you get, even at the restaurant, for free and save $1.5 each time. That adds up quickly.
Not to mention the environmental impact of using refillable vs single-use plastic.
Our sister blog has gone through the trouble of listing the best water bottles for traveling.
Duct tape
Duct tape can fix any problem, big or small. Packing cube popped a seam; duct tape. Luggage ripped; duct tape. Bra strap broke; duct tape.
There are many different brands of Duct Tape, as well as colours and patterns. Some hobbyists have gone as far as making clothes and accessories out of duct tape alone, which is terrific. But at the end of the day, when your stroller tire leaks and you forgot your repair kit on the kitchen table, duct tape will at least let you finish your holiday in peace and with very minimal downtime. A bike pump might not be a bad idea if you are taking a jogging stroller.
---
Where to Find Gear
These items can be found on Amazon and shipped quickly and free of charge with Amazon Prime.
But that's not the only benefit of having an Amazon Prime membership — especially while you're traveling. Need entertainment? Kick back and stream any of Amazon's Primes movies, TV shows, and music while you await your adventure. As a member, you can also read unlimited amounts in Prime's extensive collection of titles. Did I mention you can also get exclusive shopping deals? So if you're not a member, I strongly encourage you to become one or give the free trial a go.
Your Thoughts...
Please share your thoughts in the comments or reach out on social media...We would love to hear from you.
You May Also Like…
How To Pick The Perfect Destination For Your Budget
Opportunity Cost; The Hidden Costs Of Budget Travel
Hotel Expectations For A Travelling Family On A Budget
What To Do If Your Airline Goes Bust
The Best Kid-friendly Destinations In Europe