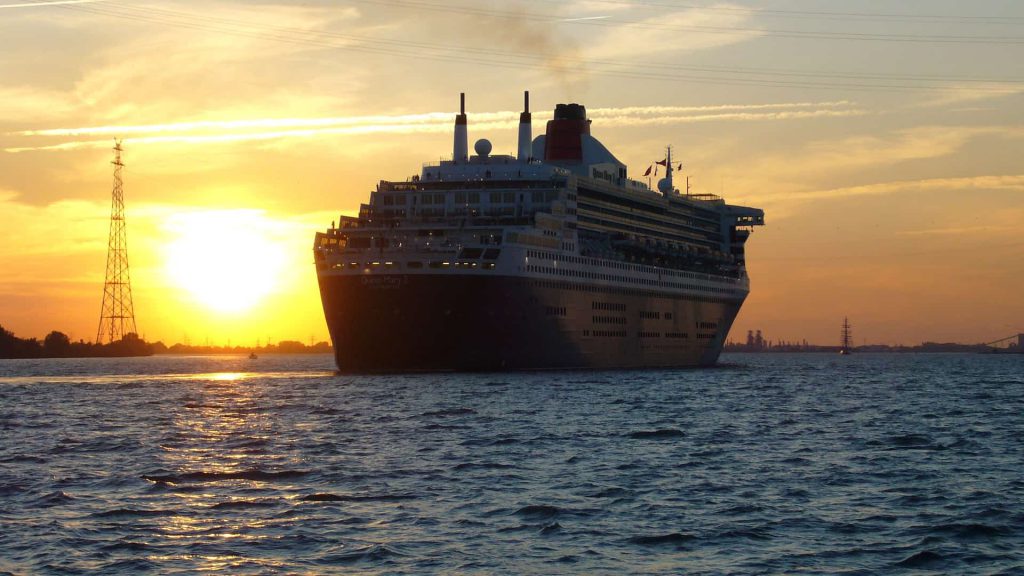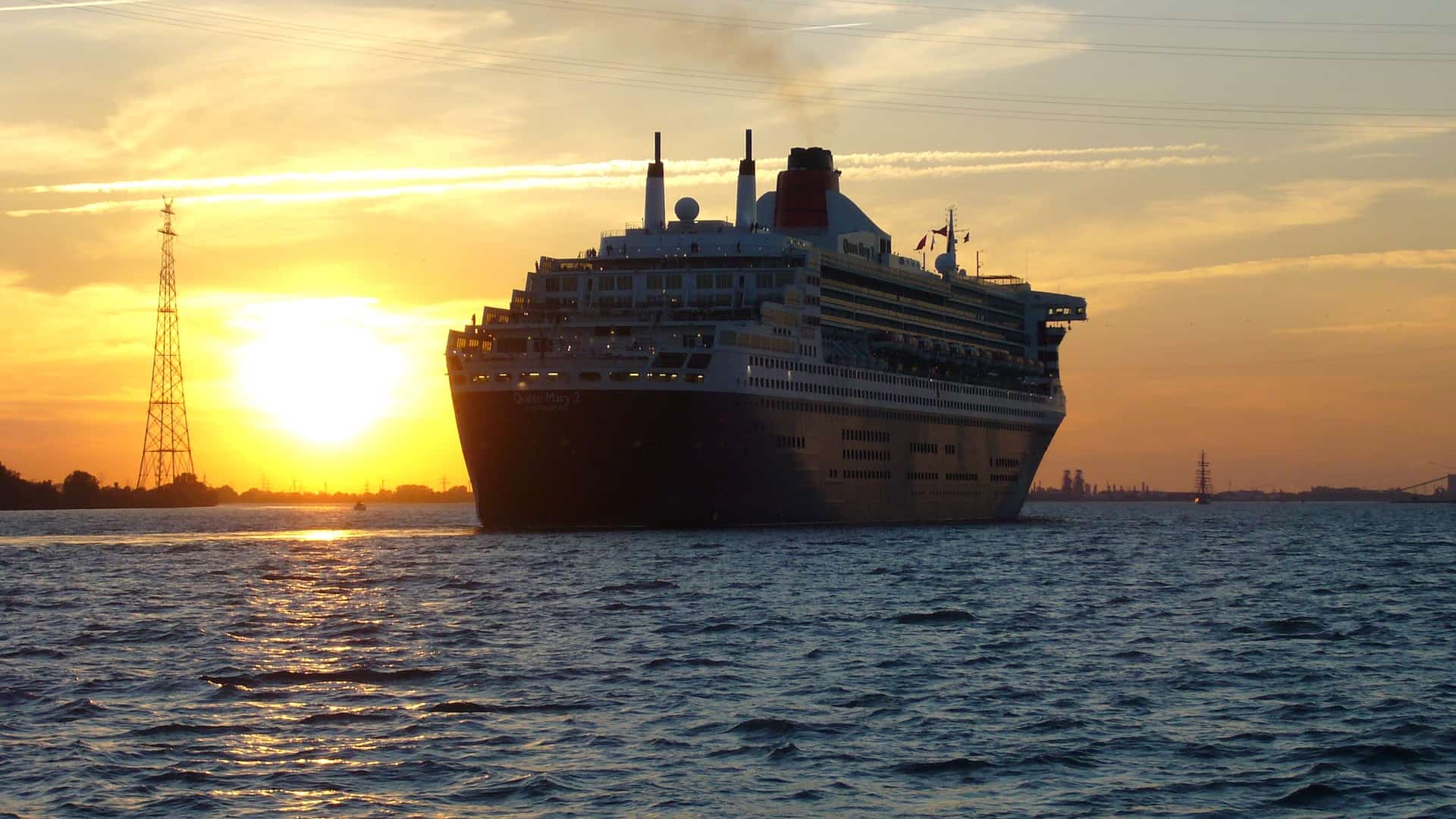 Transatlantic cruise onboard Cunard's Queen Mary 2. Whether making that first-time trip to Europe or relocating halfway across the world, 7 days at sea experiencing the true beauty and wonder of crossing the vast Atlantic ocean.
We are going to delve into the option of Cunard Lines Queen Mary 2 for a relocation trip (work opportunity) to Europe.
Cunard Line | Transatlantic Crossing
I am going to talk about cruising; Transatlantic cruising on Queen Mary 2. If you can spare it, how about 7 days at sea experiencing the true beauty and wonder of crossing the vast Atlantic ocean, and what if you could do it in luxury, and if you're doing it right, for less than the price of a plane ticket and 7 days in a hotel.
Whether making that first-time trip to Europe or relocating halfway across the world, there are 2 very different ways of getting there; you can fly, or do something some may not even believe is still possible.
Queen Mary 2 received a much overdue remastering in 2016 and marks its 12th year in service. This is a complete back-to-the-drawing-board makeover, with new carpets (enough to cover the Wembley Stadium pitch 10 times), artwork, soft furnishings, light fittings, decorative ironmongery, plus a fair amount of French polishing.
As well as 50 new cabins, including 15 for single occupancy, all existing suites and cabins onboard benefit from new carpets, curtains, cushions, sofas/chairs, and – deep breath – the addition of kettles.
#QM2 Remastered
Check out this video from Cunard:
This post may contain affiliate links.
To which I earn a small commission, at zero cost to you!
Find more info in our
Privacy Policy
.
Let's have a look at the room options available to get you started planning your Cunard sailing. There are 30 new Britannia Club staterooms, all with flat-screen TVs, and a new stateroom structure has also been installed on the top deck (13). The average floor area of the new single cabins is 178-183 sq ft. She holds a whopping 2800 passengers and 1250 crew members.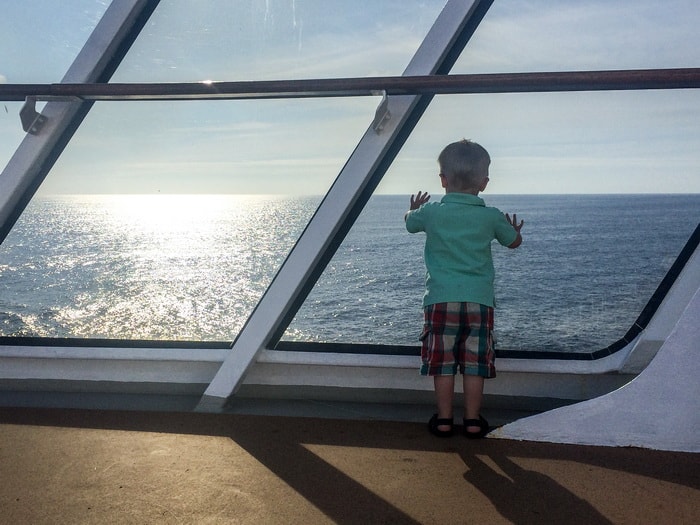 Queen Mary 2 Suites & Staterooms
There are various stateroom types. Consider the room layout and your family's needs.
The rooms offer a generous luggage allowance, they are very comfortable and have lots of space to move around. Oversized pieces can do in the hold, as many relocating persons will have tons of luggage while they await their sea container to arrive.
The balcony is a nice addition but the weather can often be too cold to use more than once or twice during the trip.
Britannia Club.
Single
As of July 16, 2016, there are now single staterooms for solo travelers, 15 brand-new Single cabins — in two sizes, 178 and 183 square feet — on Deck 2 and 3 and 62 Standard Outside cabins — 194 square feet — on Decks 5 and 6.
Single cabins include a built-in window seat and either a large armchair with a footstool or a short-length chaise lounge, a small circular table by the window, and a large mirror over the desk space.
Because of how new they are, bathrooms in the Single cabins are arguably the most impressive of all the non-suite cabin bathrooms onboard.
Inside
The 194-square foot interior cabins, located on Decks 4, 5, 6, 9, 10, 11, 12, and 13, are sub-categorized into Standard Inside and Atrium View Inside cabins, with the 12 Atrium View cabins looking into the ship's Grand Lobby.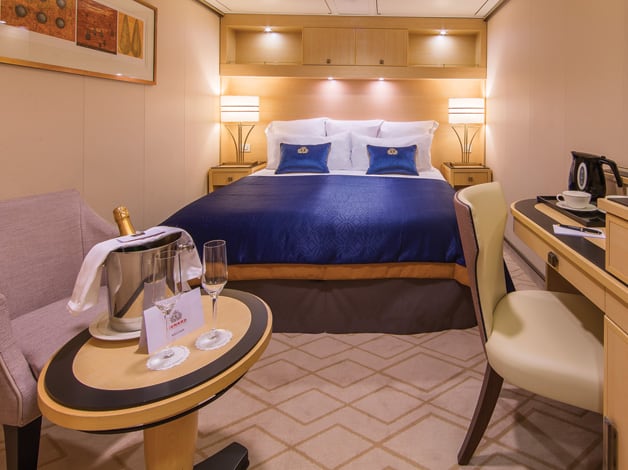 Oceanview
With a cabin size of between 180 -201 sq ft. Britannia Oceanview staterooms feature a picture window. These staterooms have a king-size bed which may be converted to twins, and a bathroom with a shower. There is a sitting area with a sofa.
Thoughtful amenities include robes with matching slippers, refrigerator, hairdryer, safe, direct dial phone, nightly turndown service with pillow chocolate, 24-hour room service, an interactive TV system, daily shipboard newspaper, and Bon Voyage half bottle of sparkling wine.
Some staterooms are equipped with an upper Pullman-style bunk bed to accommodate a third guest.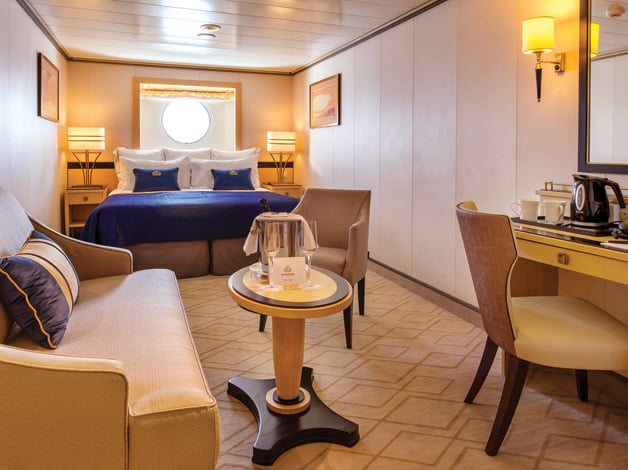 Travel Tip.

How to Score Free Drinks on a Cunard Cruise, with a Balcony stateroom or a Grill Suite of course. Before you go for that rare expensive whiskey on board, purchase the Cunard Drink Package. Note that only drinks under $12 are included and the offer doesn't apply to drinks ordered through room service.

Even so, you're going to get significant value. Let's say you order three $12 drinks per day during your seven-night cruise (and don't worry about the 15 percent automatic gratuity, because the line is covering that, too). That saves you $252, or $290 with gratuity. And hey, no one says you can't order a few more, either.
Balcony
There are two types of balcony cabins; Britannia Balcony and Britannia Club, and there are minimal differences between the two.
With neutral color tones used in the carpets, walls, and furnishings, both feel spacious and light.
Located on Decks 4, 5, 6, 8, 11, 12, and 13, the 248- and 269-square-foot Balcony cabins, some of which are sheltered (Deck 4, 5, and 6) or with obstructed views (Deck 8), make up the largest proportion of the ship's cabins.
Britannia Balcony cabins include a king-size bed, which can be separated into two twins, a nightstand, and a lamp on either side, containing one drawer and a shelf below.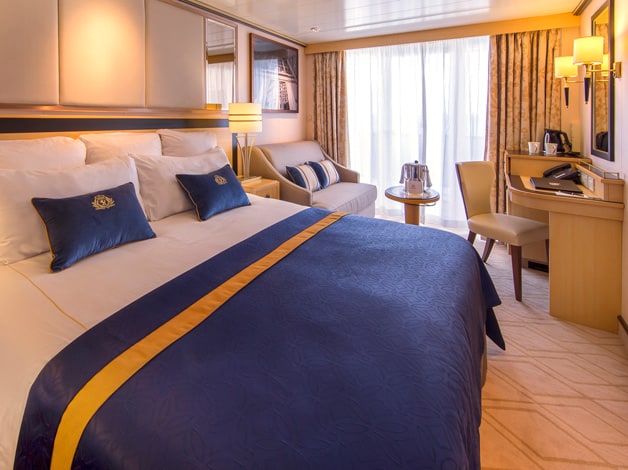 Princess Grill.
Located on Deck 10, the 381-square-foot Princess Suites are larger and more luxurious than the ship's Balcony cabins. They contain more high-end fixtures, such as the plush nightstand lamps and gray wall padding behind the bed.
Added features include a concierge service, sparkling wine and chocolates in the cabin upon arrival, daily fresh fruit, personalized stationery, and an upgraded soft velour robe and slippers. There's also an atlas provided in the cabin — useful for tracking the ship's progress the old-fashioned way!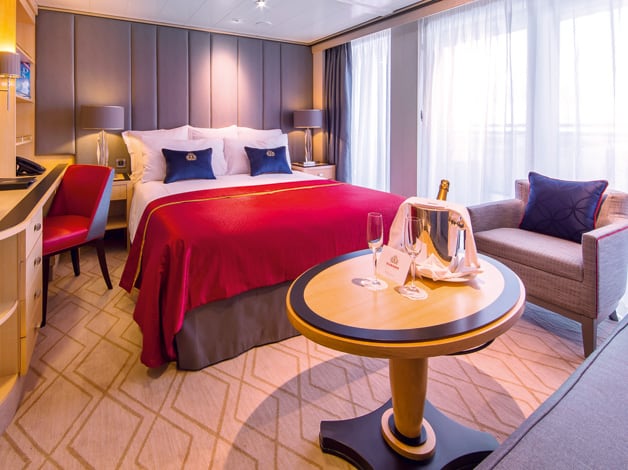 Queens Grill.
Located on Decks 9, 10, and 11, the 506-square-foot Queens Grill suites feature a spacious living area, dressing room with a walk-in wardrobe, and bathroom with a separate shower and whirlpool bath.
Extra amenities include 24-hour butler service, concierge service, Champagne and chocolates upon embarkation, complimentary in-cabin drinks (including two bottles of wine or spirits of your choice and soft drinks), pre-dinner canapes, daily fresh fruit, and a turn-down "surprise" on formal nights.
Regular nightly turn-down service with chocolates is also provided and there are the atlas and a selection of books in the cabin's library. Queens Grill passengers also receive priority embarkation, disembarkation, and tender service. All Queens Grill passengers receive allocated dining in the Queens Grill.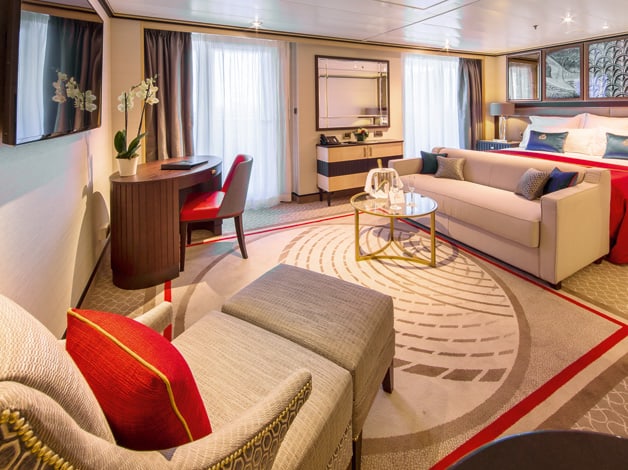 Queens Grill Penthouse
Located on Decks 9 and 10, the six 758-square-foot Penthouse suites feature the same decor style as Queen Grill suites, with a dining room table and chairs, illy coffee machine (in addition to the kettle), a luxury Wedgwood tea set, an L-shaped sofa, two armchairs, a coffee table and luxury thick woolen blankets neatly stacked on an armchair in the living area.
The Grand Lobby
We really like the new look of Queen Mary 2, Cunard has created some spectacular footage of the finished redesign. Enjoy it below:
The Man in Seat Sixty-One stated: "From personal experience, I now realise that staggering round a transatlantic liner in a dinner jacket with a martini is the normal, rational, reasonable way to cross the Atlantic. Heading for an airport and strapping yourself to a flimsy aluminium tube is an unfortunate and eccentric aberration."
Booking Process for Queen Mary 2
When and How
There are early bird specials for passengers who book early; this often includes onboard credit and better room options and availability. Be sure to do your research regarding room types, noise levels, and traffic in the halls around certain areas of the ship.
In our experience, there are advantages and disadvantages of using a travel agent as opposed to booking directly with Cunard. There can be better prices with an agent however you may find better pricing based on which country version of the Cunard site you use. Each country has varying offers that can most often NOT be matched by an agent. Get lots of quotes.
What does the fare include?
The fare includes your room, meals in the main dining hall, free access to the buffet, use of the pools and access to live theatre shows, and a movie theatre.
The daycare center is free of charge but does fill up quickly. There are a number of restaurants, pubs, and activities available on the Queen Mary 2 for an extra fee; such as the spa. Of course, these non-standard extras are out-of-pocket expenses for those traveling for work relocation.
Getting to the Boat
When arriving in New York, it is best to arrive the night before and spend the night in the city. We have heard stories of families being forced to sail without their luggage because the airline lost their luggage, and they arrived the same day. This is also when proper packing and organization will come into play. Your carry-on should get you through the first day or two until Plan B can be sorted out.
There are trains from Toronto and Montreal that are direct, but this arrives far too late in the evening. It would also be required to spend the night before embarkation in order to meet the ship on time. There are many hotels that cater to the cruise and will either have a shuttle prepared or a discount service with a local taxi company. A standard cab will cost around $60 from the city center.
Queen Mary 2 Check-in & Embarkation Procedures in New York
Once you, your family, and your luggage have safely arrived in port, it becomes a waiting game. At the entrance to the terminal hall, there are a few chairs but if check-in hasn't started yet, there are likely to be more people waiting than there are chairs.
There is a short queue in the entrance lobby where they inspect your cruise tickets and passports, then you pass to another queue for the X-ray machines. After the X-ray and walk-thru metal detectors, you are given the health form to complete and then you join one of two check-in queues depending on your cabin class or Past Guest status.
At the desk, you show your passports and tickets again and they swipe your credit card(s) and take your photos for the onboard accounts. You receive your cruise cards and a numbered boarding card. There is a larger hall with rows of chairs where you wait for your boarding number to be called. There may be vending machines but no staffed coffee/snack bar or anything like that.
As far as boarding time goes, there will be many passengers disembarking from the ship and will have to clear the terminal area to allow for embarkation. This starts at about 7 a.m. but takes hours and is a process in and of itself.
While the previous voyage passengers exit, the stewards are working like mad to clean and make-up all the cabins for the new passengers, who will be boarding. Some cruise lines allow earlier boarding time, but won't allow entry into one's cabin until after lunchtime.
Cunard has all the cabins ready before new passengers are invited to board. This is great because you can go straight to your stateroom and drop off any hand luggage, then off to deck 7 for some lunch.
There isn't much at the port except the terminal building, a parking lot, and of course a large volume of passenger traffic. Around the Brooklyn Cruise Terminal, you will find that the buildings are industrial. The area around the terminal building isn't a comfortable, hang-around, kill-some-time environment.
While boarding Queen Mary 2 there will be photographers and videographers after the check-in point, documenting your family's boarding process.
These photos can be purchased the next day on board the ship, and the video will be playing on a loop on the tv. We suggest arriving in comfortable yet photogenic attire.
Travel Tip.

Photograph each piece of your luggage before you arrive at the terminal. If any pieces are misdirected en route to your cabin, photographs will help the searchers.
Considerations for Pregnant Passengers
According to Cunard's pregnancy policy, guests who will enter the 24th week of pregnancy by the last day of the Voyage are not permitted to board Queen Mary 2.
Babies must be a minimum of six months old to sail on most Cunard cruises. The exceptions are transatlantic, "exotic" and full world cruises, where the minimum age is 12 months. This is due to being at sea for longer than 24 hours and the ability of the onhand medical facilities being able to care for small children should they become sick or injured.
Also, Prams, feeding bottles, bottles, and baby food, as well as diapers, are not available onboard.
Queen Mary 2 with Kids
There are a number of pros and cons for taking Queen Mary 2 with kids. Most notably, Cunard is very adult-centric – this means any child found "out of line" will quickly and dramatically get stares and shhh's. This is not to say there isn't anything for the kids to do, just that in this case – children are best "seen and on their best behavior" when moving through non-kid zones.
There are many live shows, clubs, and activities for the kids in The Play Zone (2-7 years old) which are supervised by trained Youth Staff. You will also find The Kids' Zone for 8 to 12-year-olds, as well as The Teen Zone for 13 to 17-year-olds.
Promenading is a unique experience for parents and kids to experience the spacious decks of Queen Mary 2 caressed by sunshine and salty winds. The cold weather on the open sea, however, does limit the amount of time on deck as it can get rather chilly.
There is also free ice cream located in the king's court.
Queen Mary 2 Children's Activities
There are a variety of childcare options available aboard Queen Mary 2. The children are divided into age-appropriate groups and spend the day playing and learning with a trained childcare specialist. The Play Zone is for children ages 2-7. The Kid zone for kids aged 8-12. And the Teen zone, for guests 13-17 years old.
There is a Night nursery for up to 2 years old. While there is no formal daytime care, there is a family area where parents can stay with the children to color and play. The pool areas can be quite crowded, typically there are more kids on board in the summer months so there are plenty of opportunities for your children to make friends.
The Play Zone & Nursery on deck 6 is filled with toys, games, and activities including a soft play area and ball pool, supervised by fully trained nursery staff. A range of engaging activities is prepared by staff including sports, arts and crafts, and a disco, as well as themed days such as Pirate Day.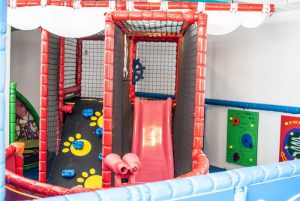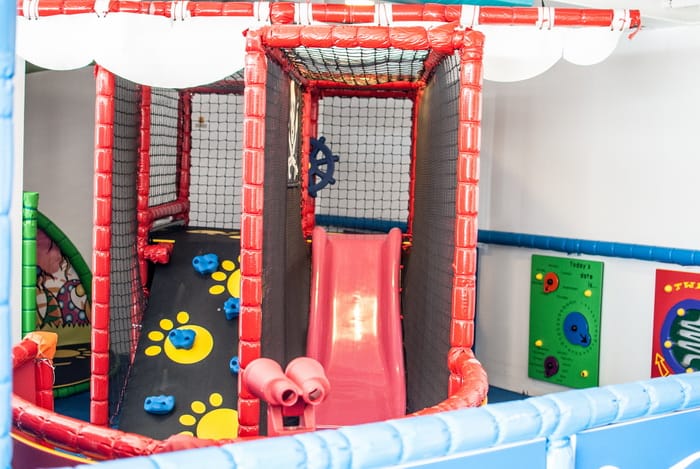 Travels with Kids Cabin and Dinner Suggestions
A cabin towards the stern of the ship is beneficial if you want to be close to drop off at Kids areas. The Play Zone is at the extreme aft end of deck 6.
Also, rooms with bunk beds do not appear to be as comfortable as they sound, while they are a budget saver.
We suggest the 1st sitting if you have young children. Fellow passengers will be more accommodating to your little one's volume and moving around.
The 2nd sitting, at 9 pm, is unofficially reserved for older families or couples travelling without children.
Queen Mary 2 Alcohol Policy
According to Cunard, no alcohol may be purchased or consumed by any Guests under the age of 18, except when in waters of the U.S., in which case no alcohol may be purchased or consumed by any Guests under the age of 21. Guests agree not to bring alcoholic beverages of any kind on board for consumption except one bottle of wine or champagne per adult of drinking age (no larger than 750 ml) per voyage.
Life Onboard QM2
Queen Mary 2 is enormous, with 13 decks and vast sprawling spaces, which include a ballroom, a theatre, and an art gallery. Kings Court, the self-service restaurant, is the size of three basketball courts.
What to Expect When Your Cruising
Life onboard the Queen Mary 2 is unlike any other experience we have ever enjoyed. It is slow, relaxed, and refined. It is more than being in a hotel; it is a self-contained city at sea.
There are days when even the onboard schedule is not to your interest, it happens (can't please everyone, all the time), these days are for sunbathing with a cold drink in a large sunchair. Scheduling some well-deserved spa days, theatre days, shopping days, and library days will help the days pass.
Queen Mary 2 Dress Code
Formal or relaxed, the cruise has a little something for everyone. The daily itinerary will mention what the dress code is for that evening. The dress code traditionally rotates between Formal and Informal each night, with the first night being casual as not everyone has received their luggage yet.
Formal
Evening wear consists of an evening or cocktail dress or smart trouser suit for ladies. A tuxedo, dinner jacket, or dark suit with appropriate neckwear for men or guests wear formal national dress and military uniform.
Informal
Evenings would consist of a required jacket and optional tie for gentlemen, whilst ladies should wear cocktail dresses, stylish separates, or equivalent. No jeans or shorts.
Always wear stylish casual except at the pool. It is not acceptable to walk around the ship in your bathing suit or a towel.
Travel Tip.

If traveling after disembarkation, have one piece of luggage just for your cruise attire, this is preferable to spreading it out amongst all the pieces. This way the other luggage can be stored under the bed and forgotten for 7 days.


Payment Onboard Ship
As with many cruises, electronic transactions are the most convenient and often only method of payment on the ship. Your credit card will be placed on file and your room key will serve as a charge card. This way everything is charged to your card, and it will be billed on the night before disembarkation.
Don't have a credit card or want to pay cash? When it comes time to settle your onboard account, you are able to settle your bill in cash at the Pursers Office in the Grand Lobby. The ship operates on USD, American Dollars.
International travelers are best to secure a good exchange rate with a bank and travel with some American dollars. Be sure to settle everything before the last night on board, as this is typically when everything is billed to the customer cards.
If you don't register a card ( credit or debit ), you will need to deposit an amount of cash to your onboard account at the start of your cruise.
Internet & Mobile Phone Access
Cunard charges per minute for internet access, these blocks of time for internet access can be purchased once onboard. There is often an embarkation special that provides extra minutes if you purchase one of these time plans on the first day of the voyage.
That embarkation special typically adds 15 minutes to the 2-hour plan, 25 minutes to the 4-hour plan, and 50 minutes to the 8-hour plan for no additional cost.
Skype and Video Calling Connections
The restrictions on available satellite connectivity and bandwidth make the use of Skype and other video callings (ie. FaceTime) extremely unreliable and Cunard doesn't recommend their use onboard.
Pay As You Go:
$0.75 per minute
2 hours:
$47.95
4 hours:
$89.95
8 hours:
$167.95
Commercial Internet providers have come a long way to provide better speed, availability, and price. Many cruise lines have responded to the customer demand for a more connected experience.
Cunard does not seem to have made any changes during its renovations. It appears, however, that they have no intention of changing in the future as well.
One blogger is said to have spoken with staff members and they were told: "that folks on holiday do not need to stay obsessively connected."
We personally like this idea and I would imagine it allows Cunard to maintain their onboard atmosphere of elegance and high class.
Travel Tip.
Pack a walkie-talkie for each member of the family that plans on separating throughout the day
Internet stations are open 24 hours a day. Assistance is available at various times throughout the day and evening. On the QM2 you will find these services from Cunard ConneXions iStudy on Deck 2.
Give this a read: Swapping the internet for the many delights on board Queen Mary 2
Smoking
All smoking areas will be signposted as designated smoking areas. Cunard Line's Smoking Policy prohibits throwing cigarette filters or flicking ash over the Ships side as they can be drawn back into the ship creating a fire hazard. Please use the receptacles and ashtrays provided and ensure that smoking materials are fully extinguished.
Electronic cigarettes, including those which do not emit smoke, are not permitted in public areas but can be used in staterooms, balconies and designated areas of the open deck. Please be aware there is no cigarette smoking in the cigar room, only cigars, and pipes.
QM2 Pet Luxury Aboard the Queen Mary 2
There are 24 kennels, and cost roughly $100 each. They are also very strict about the required paperwork. They must remain in the kennel area throughout the trip but there are designated visiting hours.
The Queen Mary 2 operated by Cunard Lines is an approved carrier in connection with the Pet Travel Scheme (PETS) on Transatlantic Crossings. The passage in the kennels is subject to size restrictions, availability, and the requirements of the Pet Scheme. Pets are accepted on all Transatlantic crossings, except the first and last crossings of the year.
For more information regarding Pet Passage, check out Pet-Friendly Cruise Ships
Laundry Self-Service
Self-service launderettes are free. Full-service laundry is available for a fee. Launderettes provide washers, dryers, irons, and detergent packets. Full-service laundry will return everything pressed or folded on hangers as needed. Dry cleaning is also available, as well as a press-only service should a shirt or dress be clean but ruffled from packing.
Queen Mary 2 Dining, Bars & Lounges
Your allocated restaurant:
Standard dining guests dine at the Britannia Restaurant. If you walk down the impressive staircase of the Britannia restaurant and look at the three-deck-high dining room, you will be reminded of the great tradition of the Oceanliner.
Wine lovers will enjoy the impressive drink opportunities Queen Mary 2 has to offer with the largest wine assortment onboard a cruise ship.
It is the tradition of Cunard to assign passengers to a restaurant based on their room category, where a fixed table is already reserved. In accordance with the daily itinerary, appropriate clothing is expected at the main meals! To be clear, for men, you will be refused entry at dinner if they are not wearing a jacket and tie!
Seating:
There are two sitting options available for selection. This is chosen at the time of booking but can be changed on board by asking the host/hostess. The 6 pm sitting tends to have more families, and the guests in the restaurant seem to be more open and tolerant of noises that come with sitting near families.
The 8:30 pm sitting is more for older families and couples wanting a quiet evening. While these are not hard fast rules, they are suggestions based on previous observations.
Buffet:
Access to the King's Court Evening buffet is all-inclusive with your trip.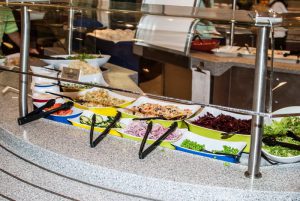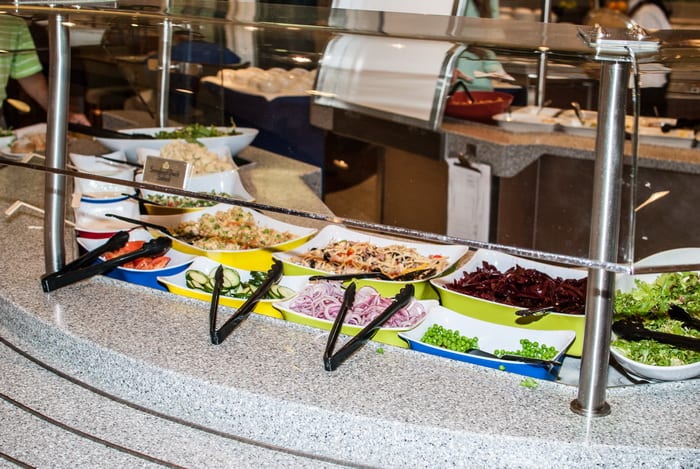 Optional Dining Venues:
QM2, guests have in addition to the many included restaurants, a wide selection of specialty and themed restaurants, which cost extra.
Verandah Restaurant: The price for a 3-course meal for lunch is $ 20.00 per person, and dinner is $ 49.95 per person. In this restaurant, guests can enjoy fine French cuisine. The contemporary creations are created with fresh and exquisite ingredients depending on the season.
Lotus Asia Restaurant: With a fee of US $ 17.50 per person. Asian dishes of various Asian styles are served in the Lotus. Light and spicy Thai cuisine and rice dishes.
La Piazza Italian Restaurant: Table fee of US $ 17.50 per person. Friends of Italian cuisine will be in good hands at La Piazza; antipasti, Italian pasta and of course yummy desserts.
English Pub "Golden Lion": Typical English dishes are served in the English pub. If it's meant to be "a bit different," this pub is perfect for lunch, serving fish and chips, a traditional cottage pie, a chicken korma, or a plowman's lunch.
Smokehouse: Table charge of US $ 17.50 per person. American food such as shrimp, ribs, burgers and chicken wings can be enjoyed at Smokehouse. Round off these hearty meals with a craft beer or one of the exquisite wines.
Room Service Aboard Queen Mary 2
If the many restaurant possibilities do not suit your needs or maybe your just looking for a cozy evening in your stateroom, room service is available 24 hours a day, different dishes are delivered directly to the cabin.
24 hours a day, different dishes are delivered directly to the cabin. From salad to soup, cold or hot sandwiches, but also wholesome dishes such as burgers, Thai curry, wraps, or pasta dishes. And of course also desserts.
More QM2 Luxury to Discover
There are several bars and lounges throughout the Queen Mary 2. Each with its own distinct theme, decoration, and unique views from onboard the ship.
For example, the Commodore Club on deck 9 overlooks the bow of Queen Mary 2, providing panoramic views as you sail towards the horizon. An extensive selection of martinis is available with soft relaxing music from the resident pianist.
In the Veuve Cliquot Champagne Bar on deck 3, guests can choose from an extensive range of Veuve Cliquot Champagnes, served by the bottle or in Waterford Crystal flutes accompanied by your choice of fine canapés
Queen Mary 2 Entertainment
There is a Daily Programme sent out each morning and delivered to your stateroom. It includes showtimes, activities, as well as evening dress requirements. This makes for a great souvenir and a quick way to plan your day.
Royal Court Theatre
Lavish musicals and guest entertainers perform in the extravagant Royal Court Theatre that seats nearly 1,000 guests and spans two decks.
Empire (Casino)
Enjoy a drink from the casino bar or tempt lady luck on the 11 gaming tables and 115 slot machines in Empire Casino on deck 2. Not sure how to play? Then take part in complimentary gaming lessons
The Queen's Room
The Queens Room on deck 3 features a high ceiling with crystal chandeliers. By day sample afternoon tea with traditional scones and clotted cream. Cakes and delicate sandwiches are served by white-gloved waiters whilst you appreciate the magnificent sea views. In the evenings Royal Nights themed balls are your opportunity for formal dancing, moving on the dance floor in a sea of glittering ball gowns and tuxedos.
Library
Elegant, lit bookcases, thick carpets, and comfortable seating provide an ideal setting for the over 8000 volumes contained in the library on deck 8.
QM2 Bookshop
At the OM2 Bookshop on deck 8, you can peruse or purchase any number of items such as limited edition artist prints, maps, travel guides as well as Cunard gifts and memorabilia.
The Canyon Ranch Spa
Indulge in massages, and treatments from the classic Canyon Stone Massage or Rasul Ceremony, to exotic Ayurvedic or Thai treatments.
You can enhance all spa services with the rejuvenating experience of the Aqua Therapy Centre and Thermal Suite.
Illuminations
Take a virtual ride into outer space, view the stars and other visual spectacles, or set a course of celestial navigation in Illuminations, Queen Mary 2's full-scale Planetarium on decks 2 and 3.
Each day see a new show to tantalize your imagination. It also functions as a grand art deco cinema, a 500-seat lecture hall, and even a broadcasting studio.
Enjoy Your Cunard Voyage
There is much to discover on Queen Mary 2. The possibilities are endless, from the exquisite meals to the fancy dress. All the comforts you can imagine are available on Queen Mary 2. We hope you enjoy your sailing and found this information useful for planning your Cunard cruise.
Now that you are safely on dry land, where will you go?
What is next for you and your family?
We hope to update this guide after our next Cunard cruise.
Your Thoughts...
Please share your thoughts in the comments or reach out on social media...We would love to hear from you.
You May Also Like…
Cruise Guide: Cruise Packing Essentials
Long-Term Packing 'Quick Guide' for 30 Days in a Hotel
Cruise With A Toddler On Cunard's Queen Mary 2
Our Cruise With A Toddler On Cunard's Queen Mary 2