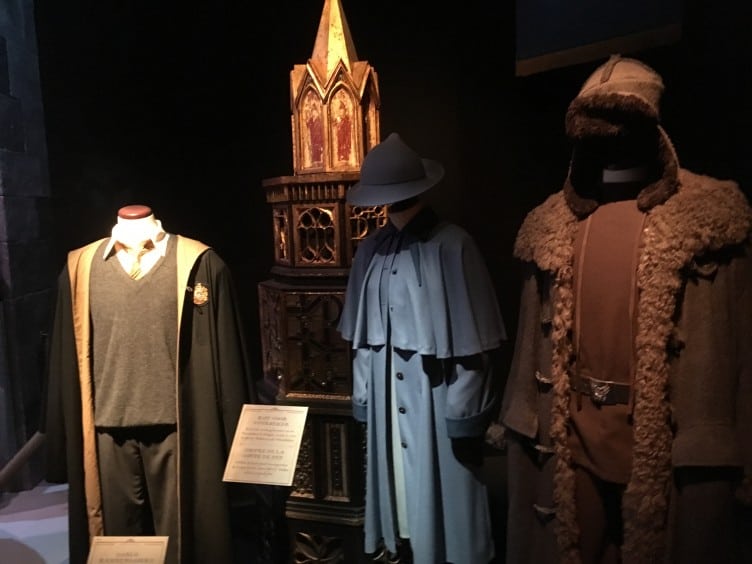 Family friendly Harry Potter Exhibition Brussels during our latest vacation and I just HAD to see it.
I wasn't sure what to expect at a Harry Potter Exhibition. I'm a huge fan of the movies, though I have yet to carve out the time to read the books, and I scarcely remember seeing David Tennant play a role in the movie until someone told me ( Super Huge Whovian!!). OK, so maybe not a huge fan, but I am a big fan.
I had never been to an expo before so I wasn't sure what it would look like; Google search was not kind. I wasn't sure if this was going to be like The Doctor Who Experience (which I have been to, surprise surprise), or a Harry Potter Museum, or something in between. I was pleasantly shocked to find it was something like an interactive museum and super kid friendly.
First Impressions
So we walk into the main lobby and it is pretty spread out; ticket sales to the left, line for pre-booked to the right, get you're picture taken in front of a green screen on the way to the queue, it was great. Baby girl was fast asleep so I didn't have to worry about posing her. The three of us (I thought) took a cute photo with a wand and promptly gave it back. I say promptly because any longer and munchkin would have thought it was his to keep.
The audio guide is not part of the admissions fee. It requires pre-booking or 5 euro each on site. Usually we only get one so at least someone can hear while the other wrangles the kids, then switch part way through. This time, munchkin wanted a head-set too so there went 10 euro. The signs are also only in German or French so I was provided with an English booklet; it had the signs all translated into English.
We queued up at the giant doors to the expo. The kind gentleman, properly dressed in his finest wizarding outfit explained that food and drink is not allowed, expect in the case of small children, then water only and please don't make a mess. Fair enough.
Room after room
The exhibit had a handful of rooms, the first separated by a door, and the next by a wall and arch way, to delineate the themes. The first room was the sorting room. We managed to get to the front of the line, and the kind woman spoke in both French and German, as we were expecting. I just so happen to speak french so I was able to keep up with the narrative. She had asked for volunteers to be sorted before going on to the expo proper; As any normal mother would do, I volunteered my 4 year old son. He was happy to volunteer, he loves volunteering. He does not, however, like to be in the spot light or spoken to by a stranger. He ran up to the stage, sat on the chair, and then saw the group in front of us… and froze.
She asked him, in English, which house he would like to be in. He's four! I asked him which one of the flags he liked best. "Red Mommy because it's my favorite colour!" She did her magic and voila, Gryffindor! The crowd cheered, he gave a half smile and jumped off as fast he could. Silly dude.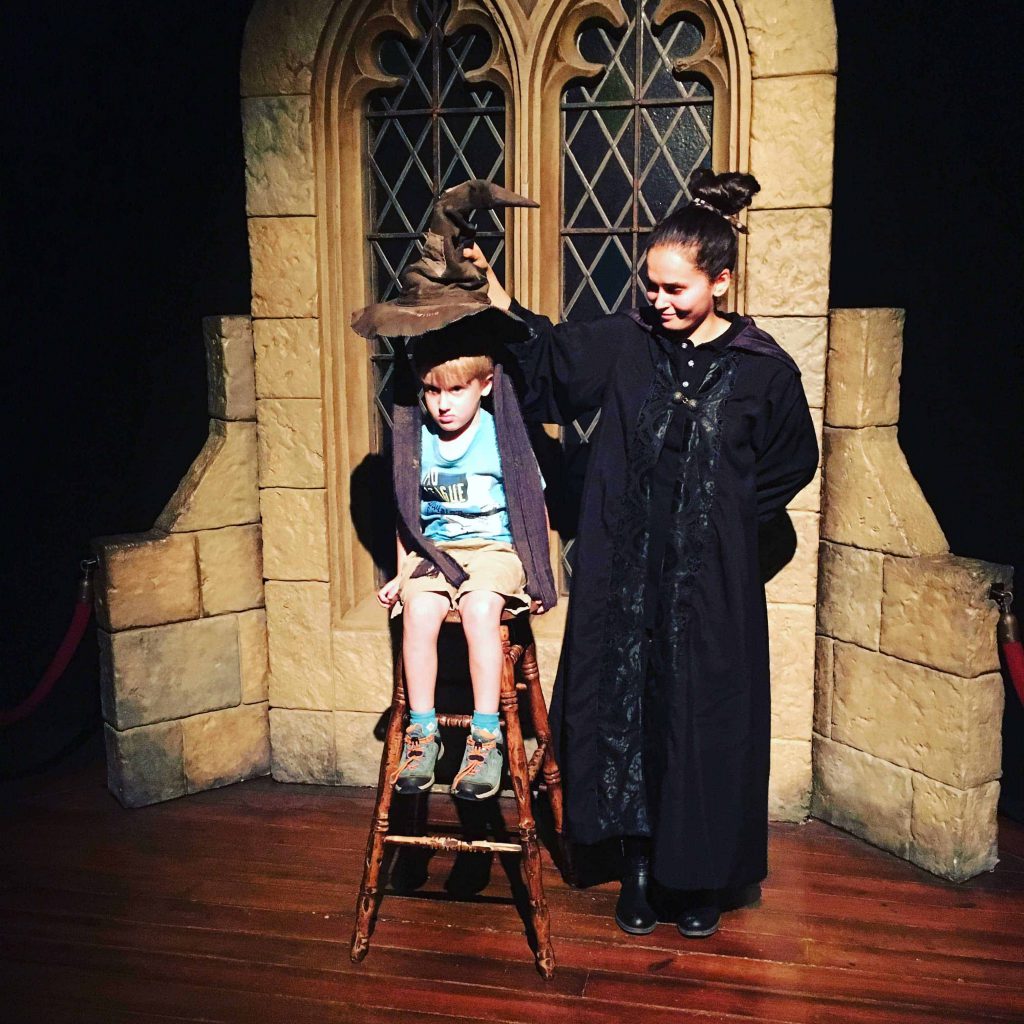 The next room had the famous Hogwarts Express. We tried to take numerous photos, as the little guy LOVES trains. Unfortunately, flash photography was not allowed and I have yet to master the flashless-DSLR. My cellphone was able to capture a few great images.
All of the costumes were on display, along with a handful of props from the set. The attention to detail was impeccable.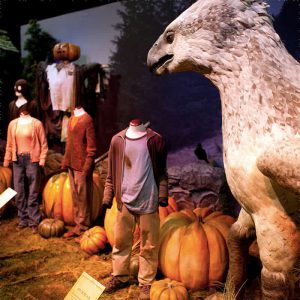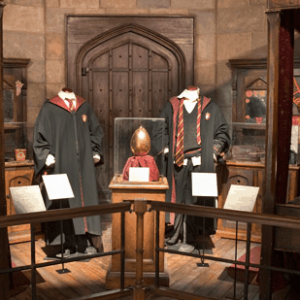 In the next room, we could hear a squeal from around the corner. Munchkin looked around and found "screaming plants"; the Mandrake. It was awesome. A handful of Mandrake's at the front were interactive. A nice woman offered to pick munchkin up and help him pull up a plant while I snapped a photo, hubby stayed away as to not wake the baby.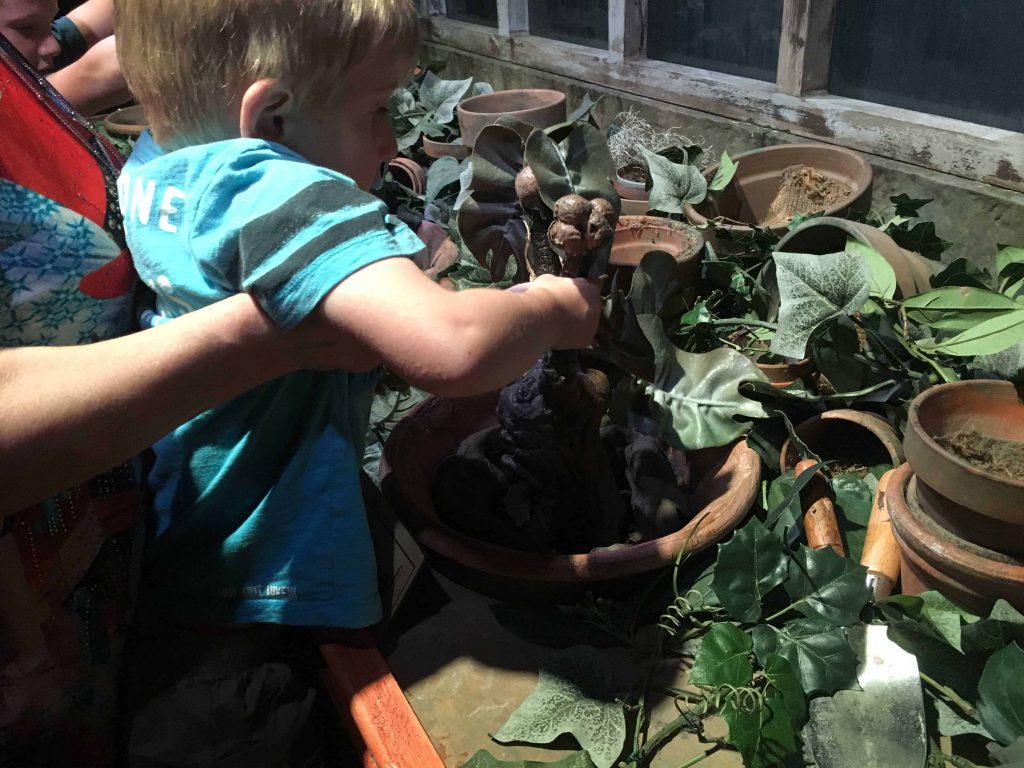 The following room was dedicated to Quidditch. Among it's displays, were various costumes from the cast, props and info-graphs. As with every place I try to take my children, we went through this Harry Potter Exhibition faster than I had intended. He stopped at a few displays to take a closer look but it did not last long.
The crowds were manageable, thanks to the nice gentleman at the front door; by clumping the guests into groups, they were able to artificially control the traffic within the expo itself. Due to our speed, we passed everyone within our group after the first few rooms; story of my life.
Shop
The souvenir shop was at the end of the tour; required to walk through before exiting the expo, standard operating procedure. The walls were full of amazing looking souvenirs that I would have loved to take home with me, but I only have so much room in my suitcase. One wall was dedicated to the selling of wands. I took one look at the price and decided it was too expensive to investigate as to their styles, descriptions and inscriptions. At 40 euro each, I was forced to say no.
The Meltdown
Throughout the whole exhibit, munchkin had been discussing magic. What makes magic, how to use magic, who uses magic. Keep in mind, he is 4 years old. He was happy to leave without a wand until he saw two girls roughly his age, taking photos in front of a few promo walls, with their very own wands. He was convinced that they belonged to the Harry Potter Exhibition, just like at the front, and he could borrow them for a picture. He really wanted a picture with the train. When I told him that they belonged to the girls, he then demanded to own one.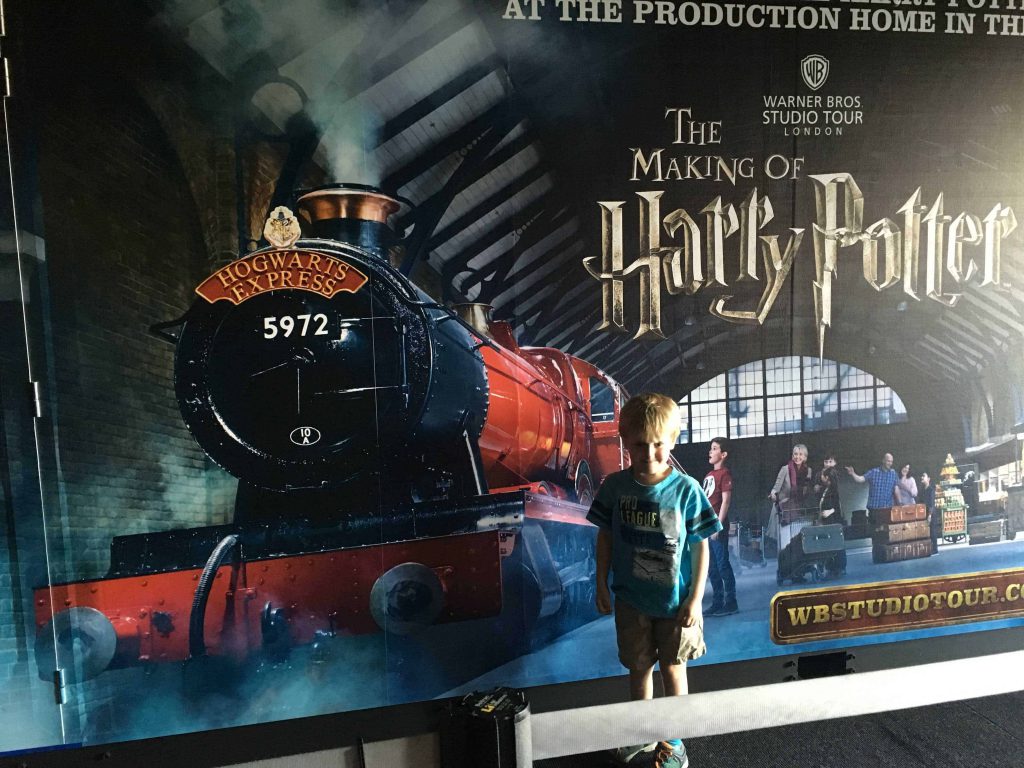 Final thoughts
Though is doesn't seem like it, I really did  enjoy myself at the Harry Potter Exhibition. I really liked the costumes, displays and photo opportunities within the expo as well. I think I should have left my toddler with Nanny and Gramps as they toured the city on the Hop On Hop Off bus and just kept the sleeping baby; I would have had more time at each display, been able to listen to the commentaries on the head phones that I rented (total waste of money when you have a 4 year old), as well as spend the time to mentally translate the plaques or read the English booklet.
**Though I received complimentary tickets, all thoughts and opinions are my own. Please read my disclosure for more information***
An excellent resource for planning can we found with the Lonely Planet Belgium Guide.
Your Thoughts...
Please share your thoughts in the comments or reach out on social media...We would love to hear from you.
You May Also Like…