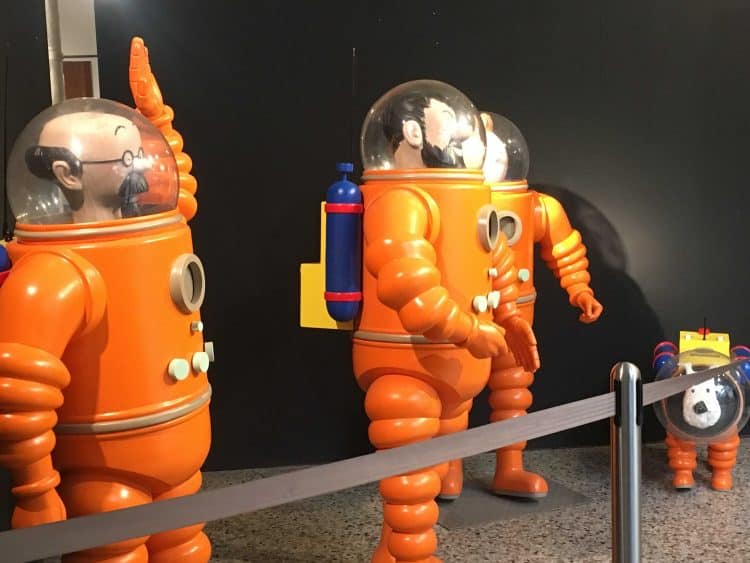 Comic Tribute Brussels, Belgium
In the heart of Brussels, the Comics Art Museum has become the main attraction for visitors from all over the world. It is dedicated to the celebration of a Belgian cultural tradition. With its frequently renewed permanent exhibits and great temporary exhibitions, it allows visitors to discover the history and cultural significance of the comic strip. It is fitting that this spectacular collection is housed within the artfully mastered Art Nouveau home designed by Victor Horta, honouring the creators and heroes of the 9th art.
This post may contain affiliate links.
To which I earn a small commission, at zero cost to you!
Find more info in our
Privacy Policy
.
Where Comics Meet Culture
Growing up in a French Canadian family, I was surrounded by Belgian and French comic strips. Condensed to book format, they focus on social, political, and historical situations. Compared to the superhero comics of Marvel and DC.  I grew up with Tintin, Asterix, Les Schtroumpf (The Smurfs) and Lucky Luke. Many of these works were adapted to TV in the form of Saturday morning cartoons, but for the most part, I often read them in their book form. I have a special place in my heart for this work. Now that my kids are starting to be interested in books, and not just Clifford or Peppa Pig, I have started to think about how to introduce them to the same French language and French/Belgian culture that I was exposed to. And of course, I enjoy the likes of Marvel and DC, I watched plenty of that growing up. (OK, last week, but who's counting).
Moving around the globe and being so far away from French Canada means very little outside sources for French Canadian tradition. How do I teach my kids French Canadian culture? When ideas are lacking, a book is always a great way to start.
Well, researching what to do in Brussels and I found several references to comic strips, their authors, and sculptures. According to the Comic Strip Museum, "With 700 comic strip authors, Belgium has more comic strip artists per square kilometre than any other country in the world". So logically, I had to visit the comic strip museum. I wasn't sure what to expect, exactly; was this a comic book store or a library, or both, or neither? What I did find was both informative and entertaining for the whole family. Surprised? Keep reading.
Getting there
So we decided to be lazybones after trucking around Brussels the whole day before, and we took the train from the Gare Central to Brux-Congress. While this meant I didn't have to drag a toddler behind me while navigating the street of Brussels, this train lasted all of 5 minutes and cost 5 euro for one direction. If I could do it again, I would save the money and grab a coffee after the tour; it was a 10-minute walk back. Serious lazy bones this morning.
Arrival
When we walked up to the museum, we found this great entrance with statues of my favourite comic characters, and a few I had never heard of – not everything makes it across the pond, after all.
The museum offers free wifi, which was abundantly clear when we saw a group of teens staring at their phones while sitting around a rather uncomfortable-looking pole. Before attempting to climb the stairs with the stroller and a sleeping baby, the front desk (at the top of the stairs) pointed me to the elevator. This is what happens when you don't look around. The sign was visible.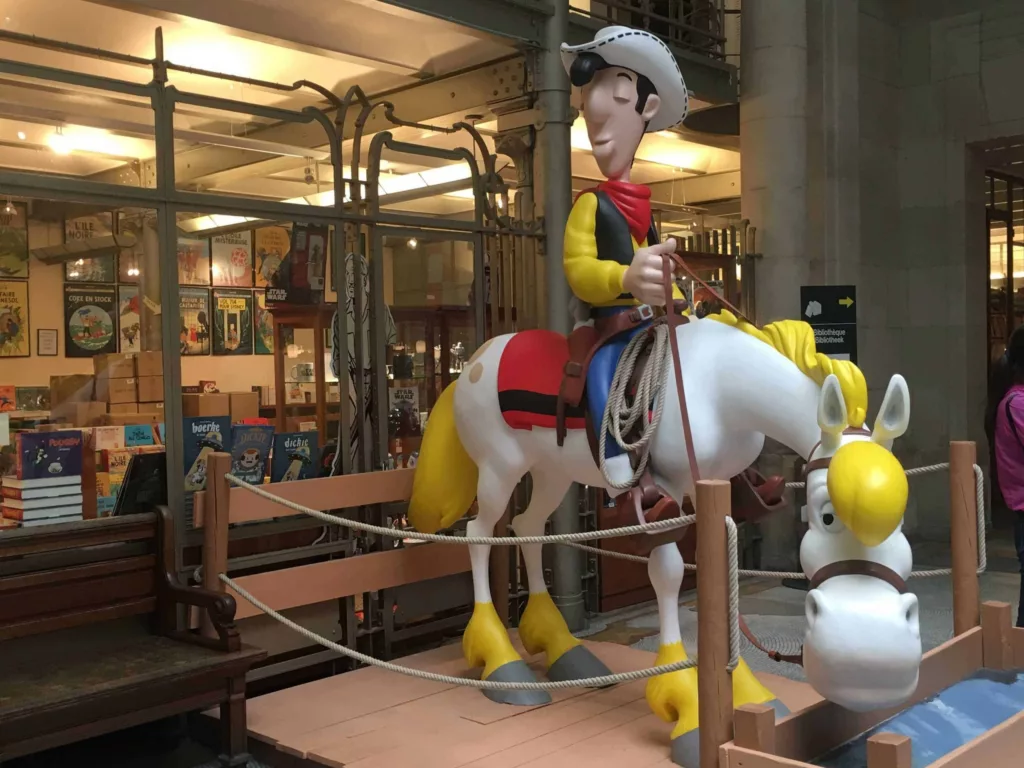 Inside
The first thing my little monster sees is the astronaut characters from Tin Tin. Perfect start to the day, he loves astronauts. OK, maybe not perfect, he didn't want to leave and didn't understand why he couldn't touch them but still. It set the tone for the morning; let's keep walking and see what other great characters we can find.
It turns out, when my parents brought him to Brussels last summer, right after I gave birth, they had taken him to this museum. He was running around "I remember this! Memere showed me that last time!"
Further down the first floor, we were introduced to the history of comics. Did you know Monks invented comic book form? With the history of comics also came how to create a comic. We were taken through the sketch, draft and inking stages.
Finding the elevator to the next floor was pretty easy, again, nicely marked. It was a fair size too, for Brussels. I don't know how many times we have had to take two trips just to get all 4 of us to the next floor at other locations, let alone adding the in-laws. The second floor was Tintin and Smurfs; my favourite floor! Many of the info-graphs were extremely informative; from where Tintin gets his looks, to which characters appear in each Tintin comic ever printed.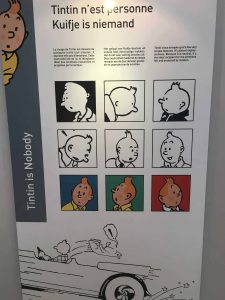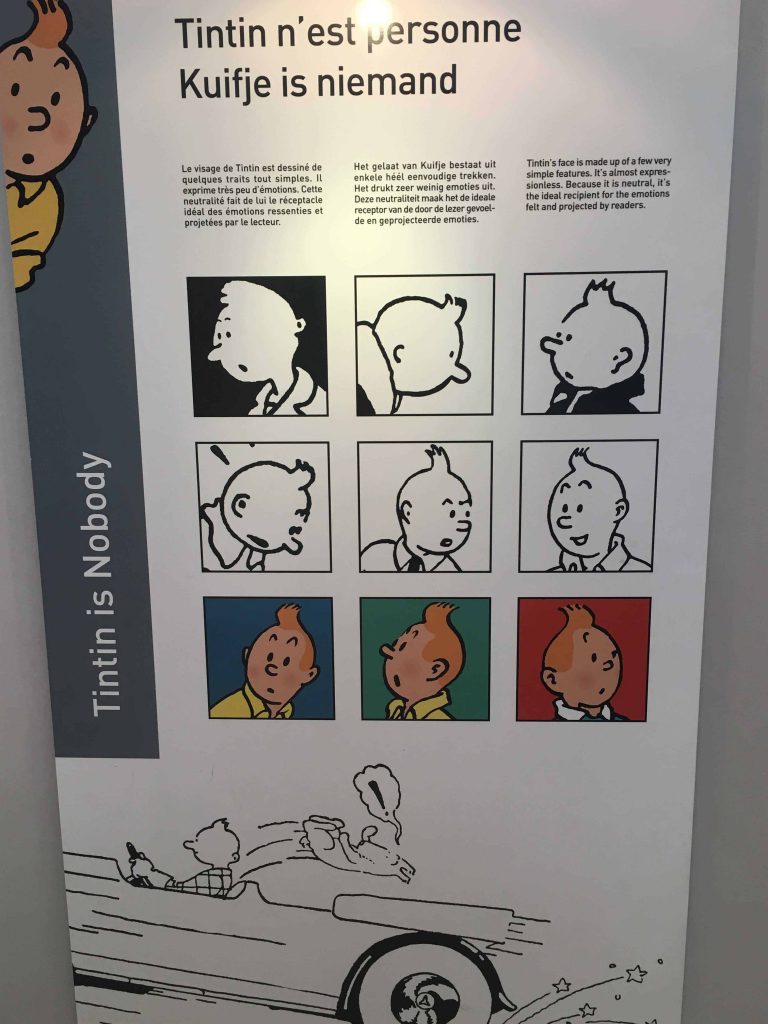 Munchkin couldn't help himself. He loves having his picture taken and these cutouts are great. They had steps for him to climb up on his own; perfect for the solo parent trying to take a pose.
The Smurfs section was adorable. He wanted to know everything about the little blue people, why they lived in mushrooms and refused to leave the little house. Perfect resting place.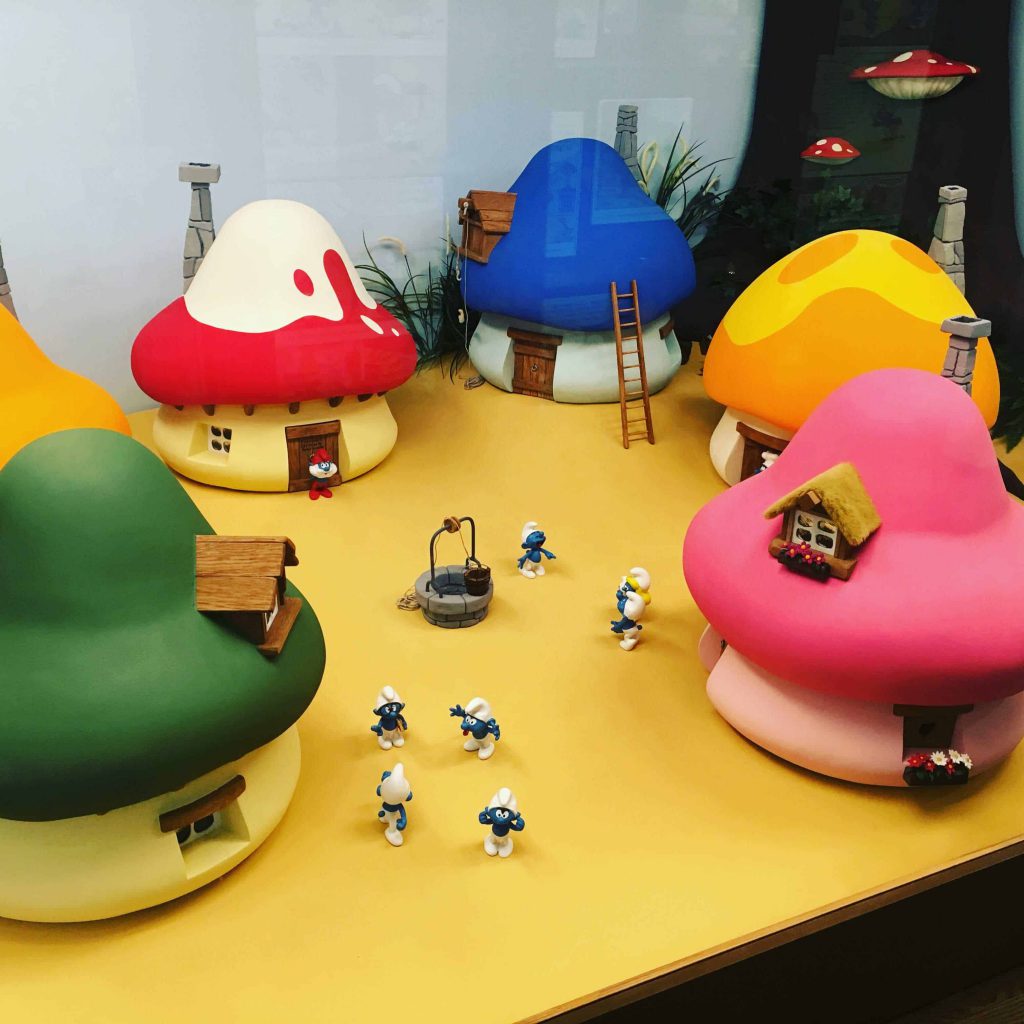 Rotating and Permanent Exhibits
Due to the nature of rotating and permanent exhibits, you never really know what you are going to see on some of these levels. Again, I wanted to keep the mystery alive and purposefully refused to check out what was displayed on the top floor. Unfortunately, this was to my detriment. While I appreciate art in all forms, the style of comics being displayed here was not my style.
Furthermore, there were a handful of topless depictions of women in several images on display. While tastefully displayed and explained throughout the exhibit, it brought out a few questions from my son that I was not prepared to answer. The thought "I'm not ready to have this conversation with my children" came up a few times. In the end, I recommend that research should be done beforehand to see what will be exhibited during your intended visit.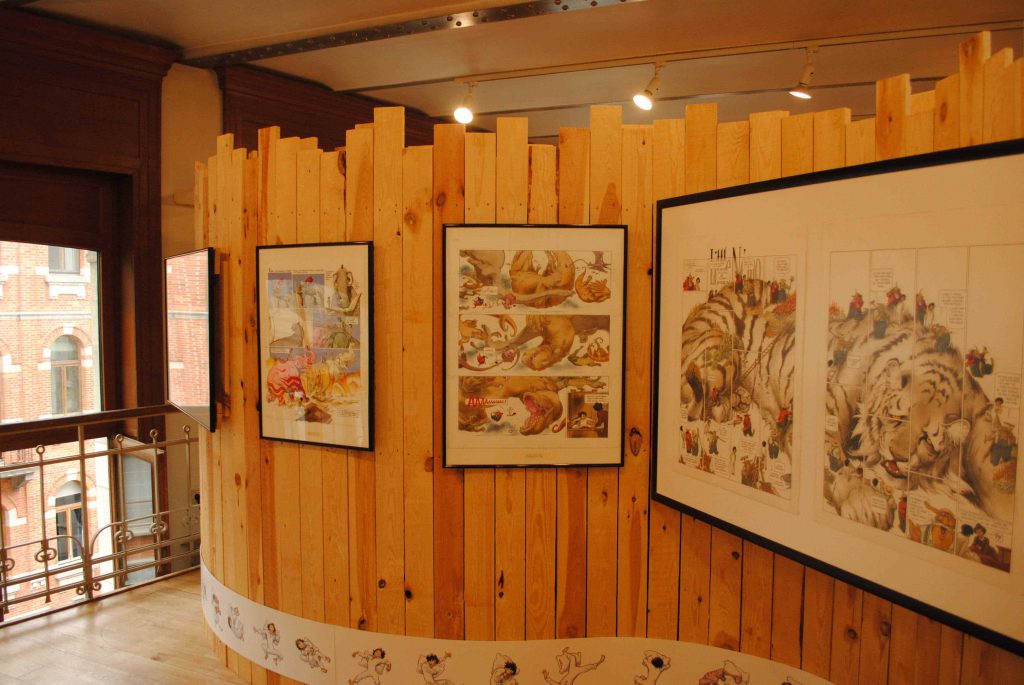 Final thoughts
At 10 euro per adult and 3.50 euro for children under 12, this museum does require some intent. A little research is required to make sure this is the style of comics one is interested in, though every style has a common ancestry and who doesn't love expanding their horizons?
Munchkin left the museum demanding to visit the souvenir shop/bookstore back on the main floor. This time it felt different. He wasn't looking for any old thing to buy because spending mommy's money and acquiring new toys is so much fun in its own right; he was looking for Astronaut Tintin and the blue mushroom people (Smurfs). We got him a Tintin puzzle and Smurf stuffy, as well as a handful of Asterix books based on where we have visited (Asterix in Switzerland, Asterix in Belgium etc). He may not be able to read just yet, but I can introduce him to the world of French comics, one puzzle at a time, or in Daddy's case, one wall hanging at a time.
Explore more of Brussels with our Top 10 Brussels
An excellent resource for planning all of Germany can be found with the Lonely Planet Belgium Guide.
Your Thoughts...
Please share your thoughts in the comments or reach out on social media...We would love to hear from you.
You May Also Like…