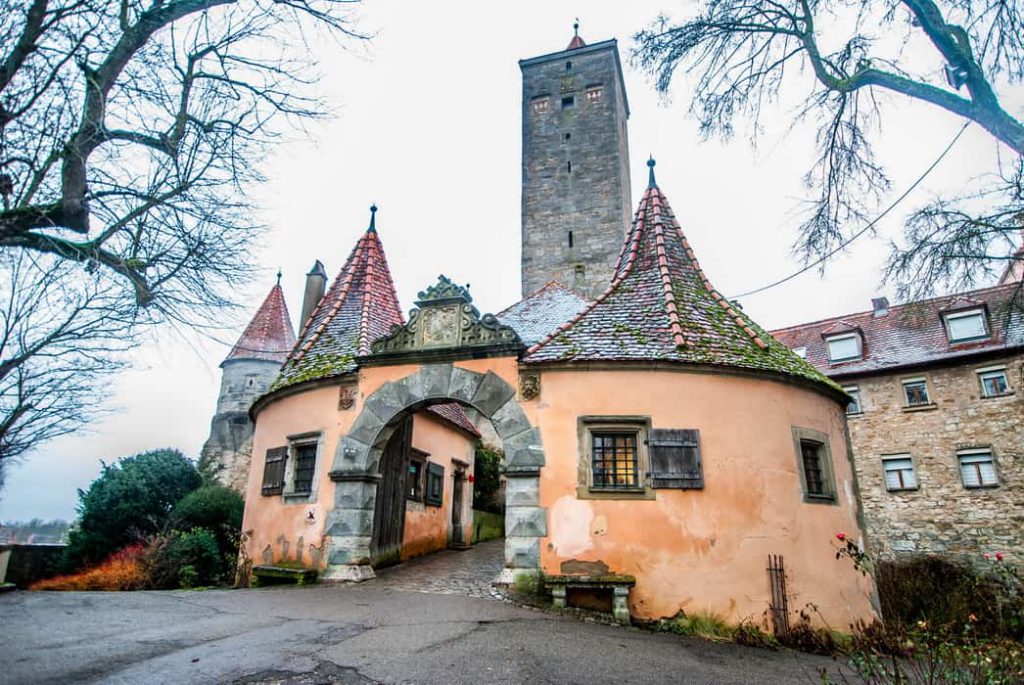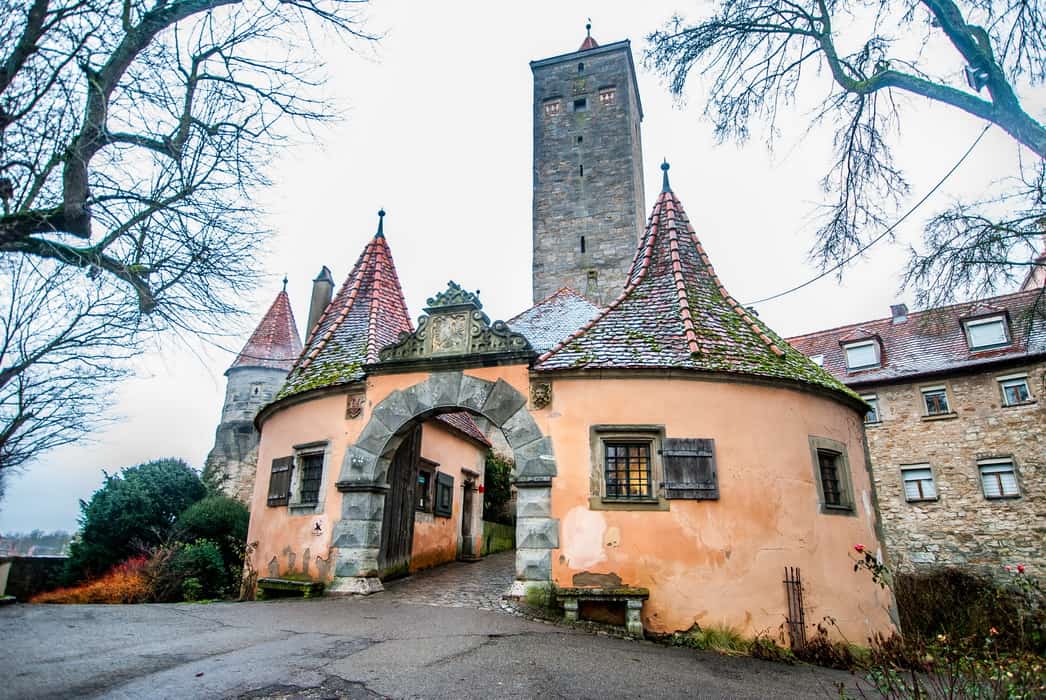 A family day trip to Rothenburg ob der Tauber from Nuremberg
We knew this Christmas vacation was going to be fast-paced and we would be seeing a lot in the 2 short weeks we had available. From Nuremberg, we planned on visiting Rothenburg ob der Tauber for the day.
We weren't sure what to expect, as it is such a popular destination, especially during the Christmas season, but we were sure it was something that we needed to cross off our bucket list.
The drive from Nuremberg to Rothenburg ob der Tauber was uneventful. The roads were clear, drivers respectful and clear of traffic. The physical road, however, was loud as they are made of cement instead of asphalt. The sounds of Toy Story 3 playing on the tablet quickly drowned it out.
This post may contain affiliate links.
To which I earn a small commission, at zero cost to you!
Find more info in our
Privacy Policy
.
Rothenburg ob der Tauber: Know before you go
Rothenburg ob der Tauber is not the only Rothenburg in Germany!
Technically, the other city is named Rothenberg, not Rothenburg (pronounced the same but spelled differently). Rothenberg is roughly 1.5 hours south of Frankfurt, towards Heidelberg, while Rothenburg ob der Tauber is 2 hours south of Frankfurt, in the general direction of Nuremberg and Munich.
In case you were wondering, Berg is German for "Mountain", and Burg is German for "Castle" with ob der Tauber meaning "Over the Tauber" – as in, the Tauber river. So there you go, a couple of homonyms in a foreign language. Make sure you are programming the correct destination in your GPS…and hotel booking service.
Understand the pros and cons of on/off-season.
While going in the on-season will mean attractions are open longer, more day-light to explore and the best weather conditions that Germany has to offer, this also means everyone else is having the same idea. As one of the most famous cities in Germany, and just as popular, the streets and hotels can get pretty crowded during the warmer, summer months.
On the other hand, travelling off-season sees fewer crowds and therefore a much more enjoyable experience. Many businesses will cut their hours of operations so be sure to check the timings when decided whether or not to spend the night.
In the off-season, I would suggest spending at least one night, to make sure you have enough time to visit everything on your list during the shorter business hours.
Technically, we visited in December and should have been in the middle of the peak tourism season. We travelled to Rothenburg ob der Tauber on a Monday, while most schools were still in session – and therefore families not yet on vacation.
Munchkin's school is a little special, in that they end a week sooner for Christmas and Easter, but continue classes well into July… I am perfectly happy with this schedule, as we get to vacation while everyone is still in school. Boom! Off-season crowds during peak-season months!

How to get to Rothenburg ob der Tauber
Tour
each major city has some sort of guided tour to Rothenburg. Check here for Viator tours from Frankfurt, Nuremberg, Munich, and a full day Munich and Rothenburg tour from Frankfurt.
Train
It will take a transfer or two, but you can easily take the train from Frankfurt (3 hours), Wurzburg (1 hour), Nuremberg (1.5 hours) and Munich (3 hours). The station is fairly close to the city centre.
Car
Taking the car from your current location is probably the best bet, considering the number of transfers (especially with kids) can be a little overwhelming. This will also turn your trip from an overnight to a day trip. Parking is 5euro for the day, just outside the walls. Be sure to pin your location so you know how to get back at the end of the day.
Rothenburg ob der Tauber Weihnachtsmarkt
The Christmas Markets in Rothenburg ob der Tauber are incredible. There are several sections that bleed into each other so it is easy to say that there is just one LARGE market. Each section has a different food specialty and all sections sell gluhwein.
The mug deposit return is a little different here; there are designated return stations where you get your money back or go to any vendor and simply ask for a refill.
I feel this is more sanitary this way, and there are enough signs (in English and in German) that no one should have any problems getting their money back… but why would you want to, these mugs are awesome.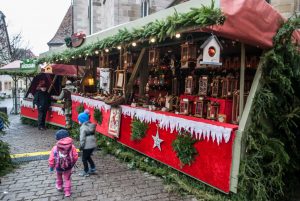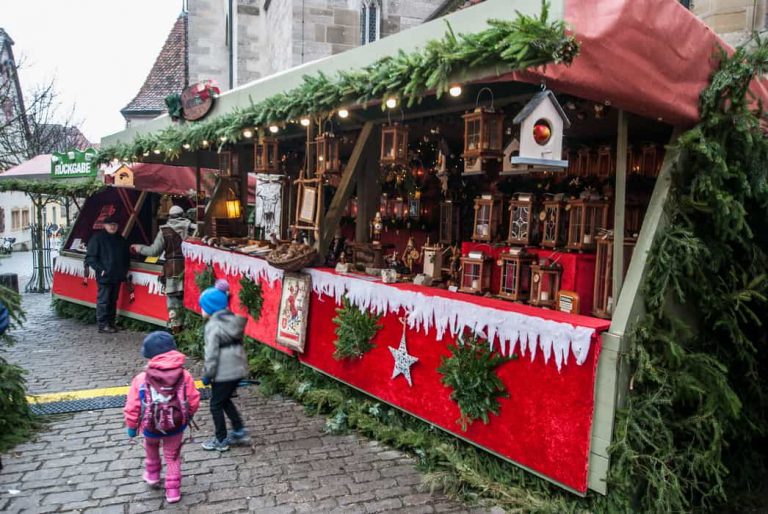 As far back as the 15th century, Advent festivities have been accompanied by a wonderful Christmas market. This market can look back on over 500 years of living heritage that has hardly changed a lot since its historic origins – Rothenburg Tourism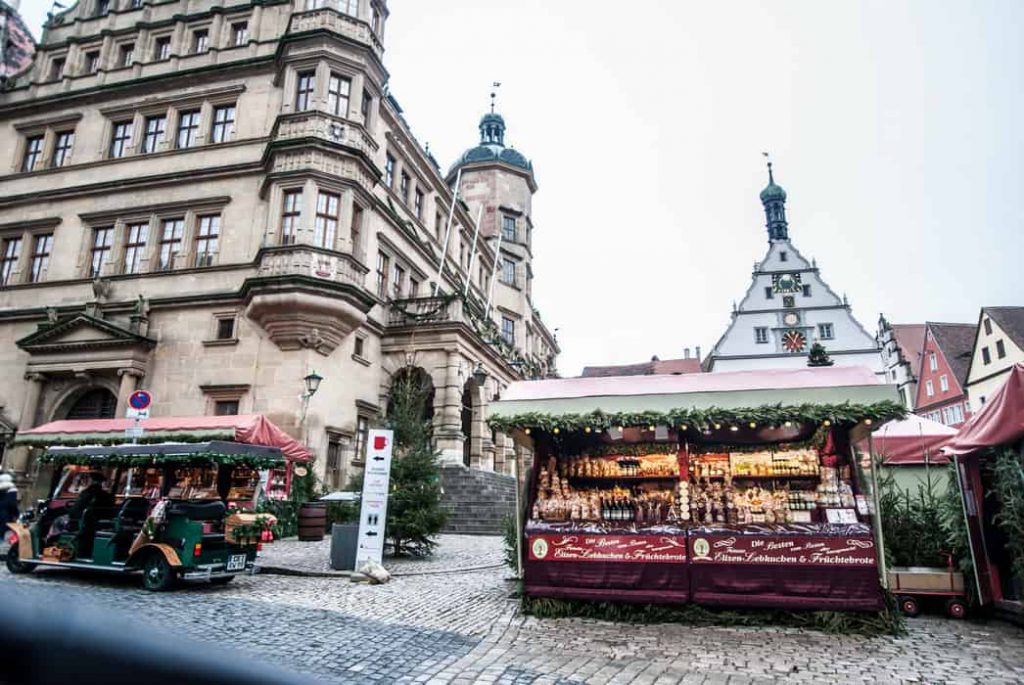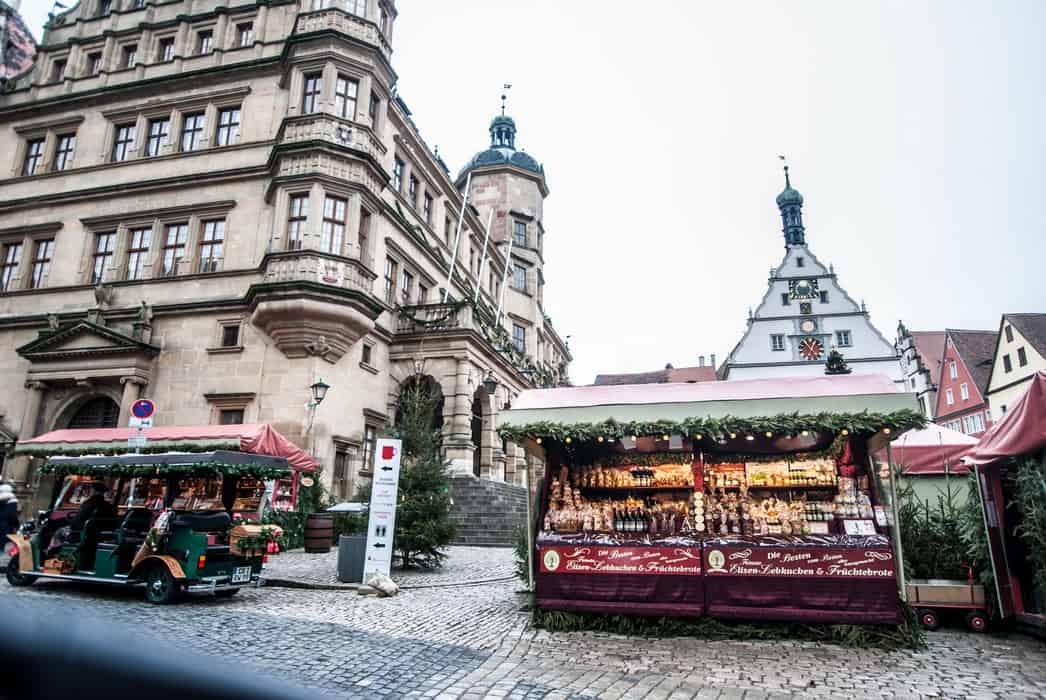 Like every Christmas market, the first section we hit from the main gate has a carousel. We managed to arrive just as everything was opening for the day and the kids were the only ones on it. They still managed to fight over the horse (there were 3 others like it but THIS ONE was better than the others, apparently).
They ended up playing Feliz Navidad over the speakers while the kids were still on the carousel so they started singing while going round and round. A few couples thought they were hilarious and started taking pictures.
Best things to see in Rothenburg ob der Tauber
There is so much to see in Rothenburg that it can get a little overwhelming. Here is a list of all the museums and buildings that make Rothenburg ob der Tauber special. Most museums will close at 6 pm during the week; subsequently, there is free parking around the city after 6 pm.
Museums
Doll and Toy Museum (Puppen- und Spielzeugmuseum)
The Criminal Museum (Kriminalmuseum)
Imperial City Museum (Reichsstadtmuseum)
Craft House (Handwerkerhaus)
Shepherds' Dance Museum (Schäfertanz Museum)
Christmas Museum (Weihnachtsmuseum "Käthe Wohlfahrt")
We had never been to a Christmas museum before. There were artifacts from Christmas celebrations decades ago, as well as stories of the origins of many of our traditions. It was neat to discover how most (if not all) of North America's Christmas traditions – cards, star, ribbons, the tree – come from Germanic origins.
It is located upstairs, in the Käthe Wohlfahrt building. If you are unfamiliar with that name, it is the epidemy of Christmas tree decorations, THE Christmas store. Most cities will have at least one market stall dedicated to selling their products.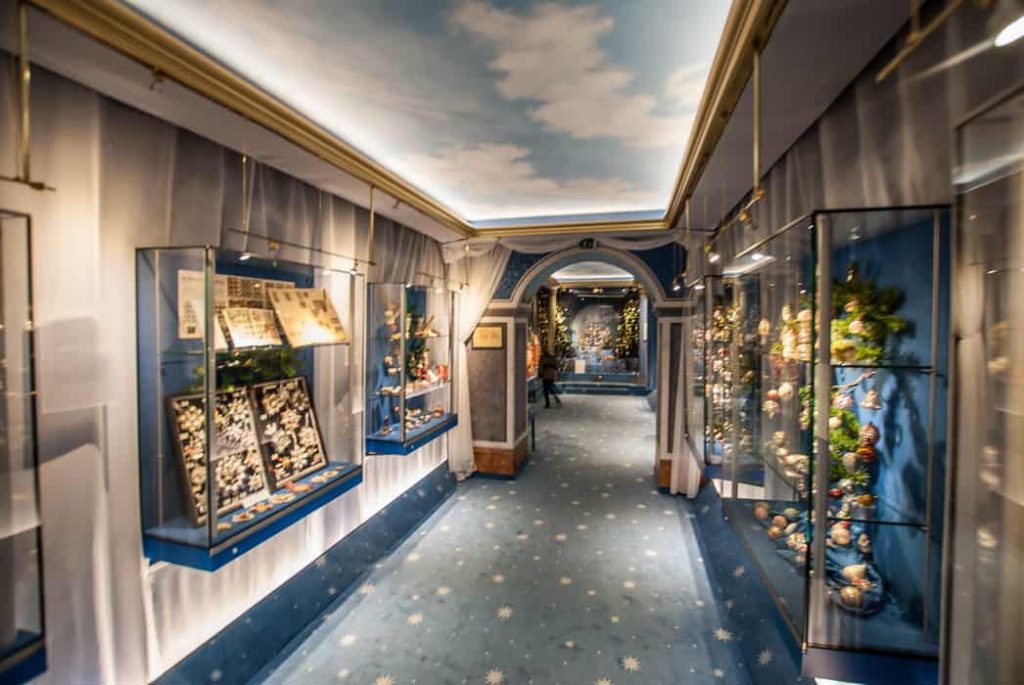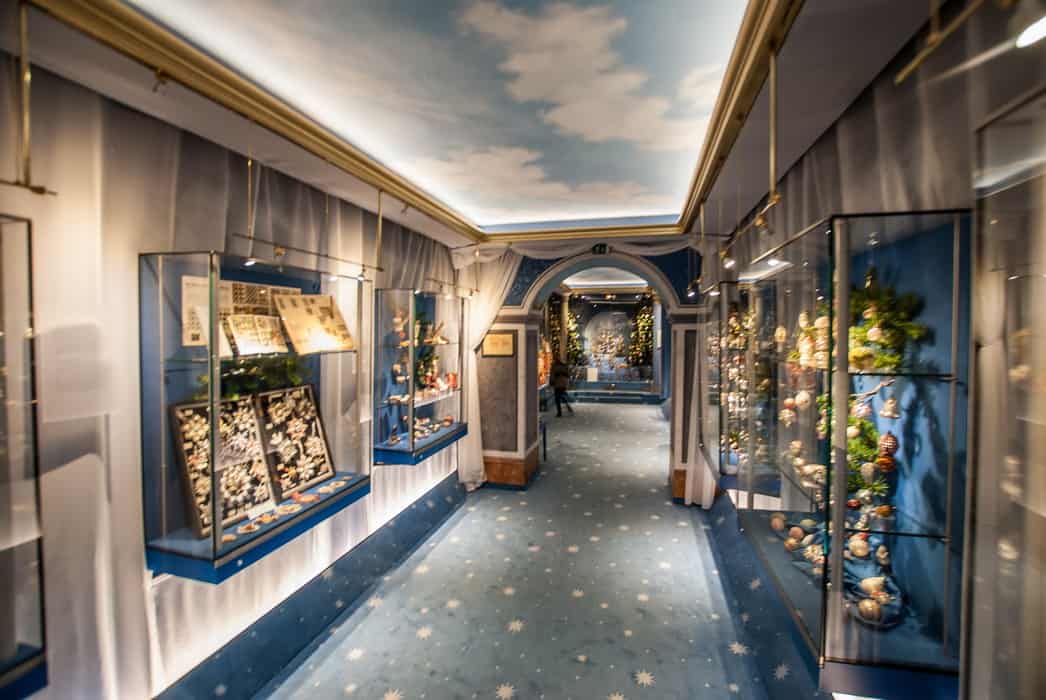 Buildings
St. James' Church
Walking the Town wall
Walking the wall is an incredible way to see the city and its incredible views of the valley below. See that timbered part in the top right corner of the photo – that is the Rothenburg City Wall Walking Tour. It takes roughly 2-3 hours to finish and is completely self-guided.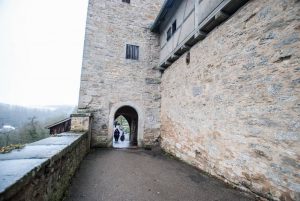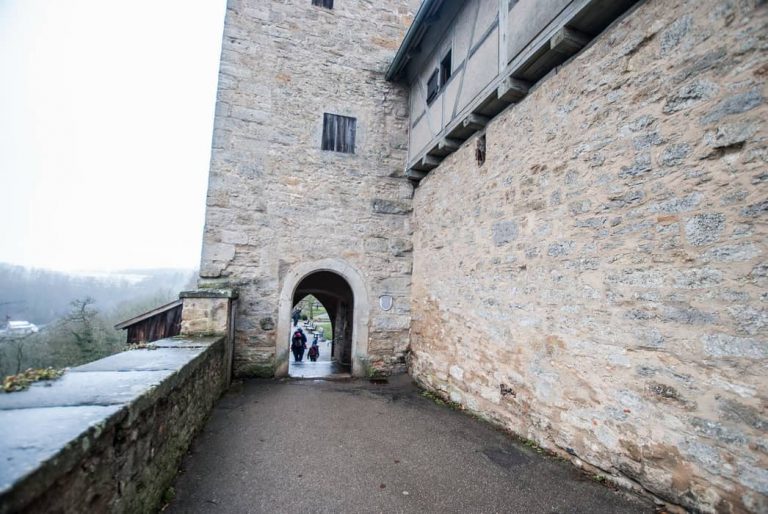 Plönlein
St. Wolfgang's Church by the Klingentor gate (fortified church)
Great hall of the castle (St. Blasius' Chapel)
Burgtor (Castle Gate)
There are 42 gates around the city.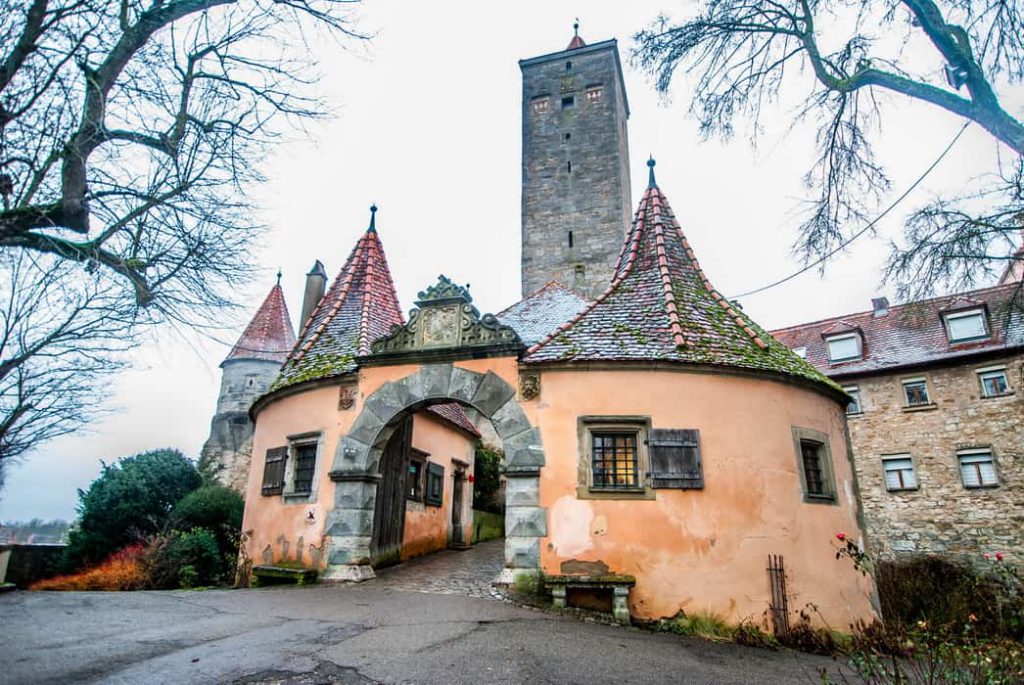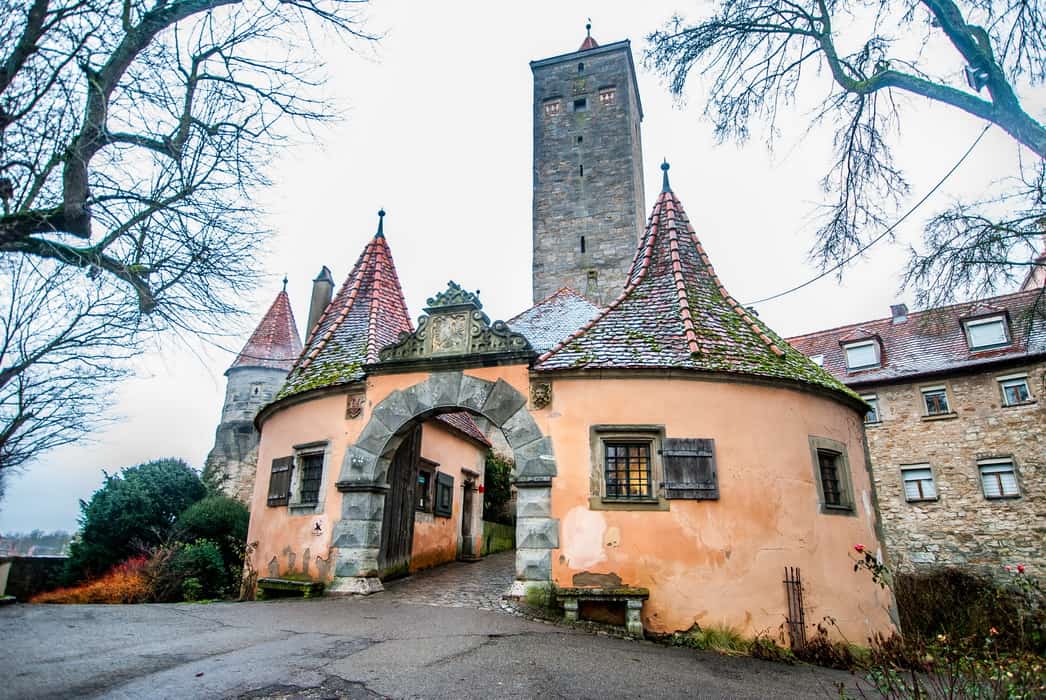 Toppler Castle in the Tauber valley
Double bridge over the Tauber
Monastery
Exterior Town wall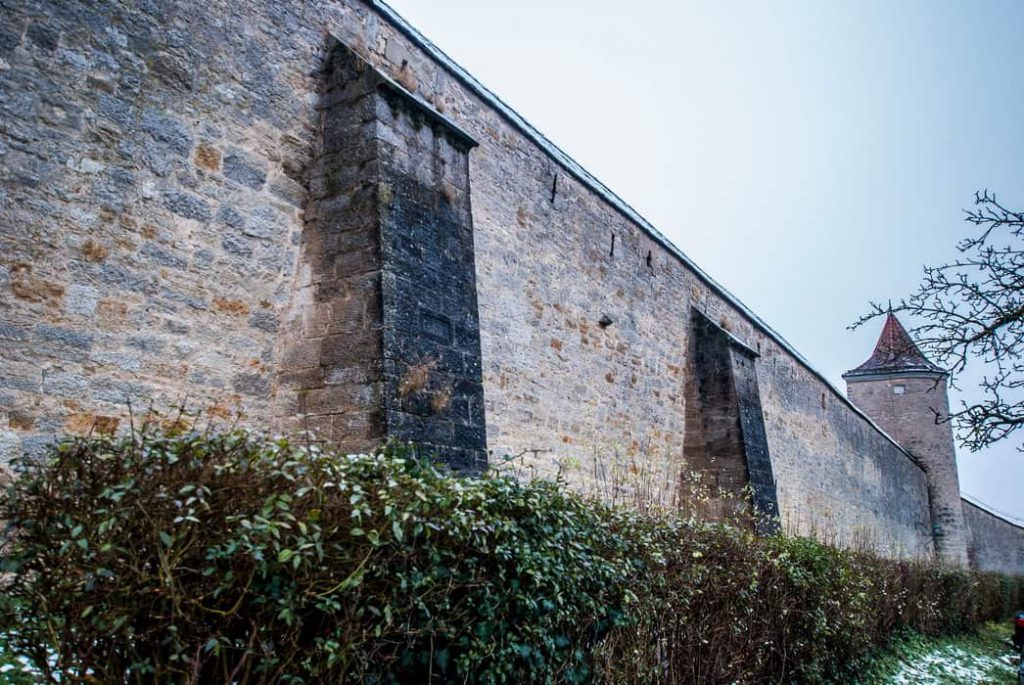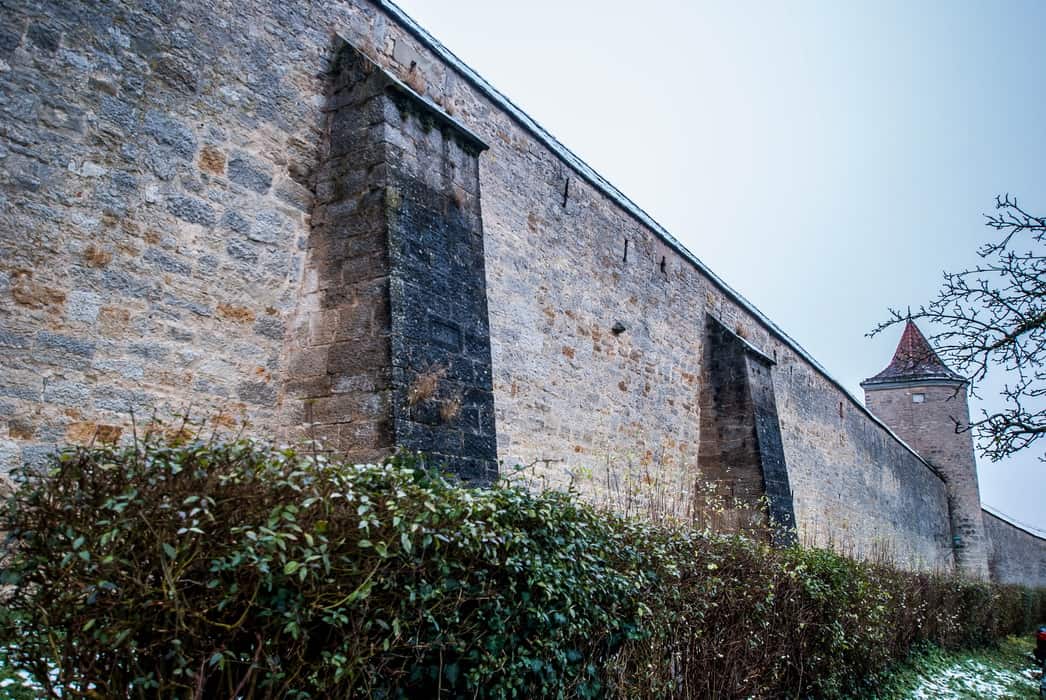 Historic town hall with clock tower and Meistertrunk clock
The Rathaus is surrounded by magical Christmas markets in December so we almost missed it. On Fridays and Saturdays, it is possible to climb the tower and get a panoramic view of the city from up high… if only we had the time to go back.
Altes Brauhaus
Old Smithy
St Jakobs Lutheran Church
This cost us 2euro to enter as a family, and they gave us two beautiful postcards as entrance tickets/souvenirs. There is also a cute little kids section near the front with colours and pencils.
We told him the rules and left him there while we walked around the church. He was finished his picture by the time we were finished looking around and Baby Girl was none the wiser.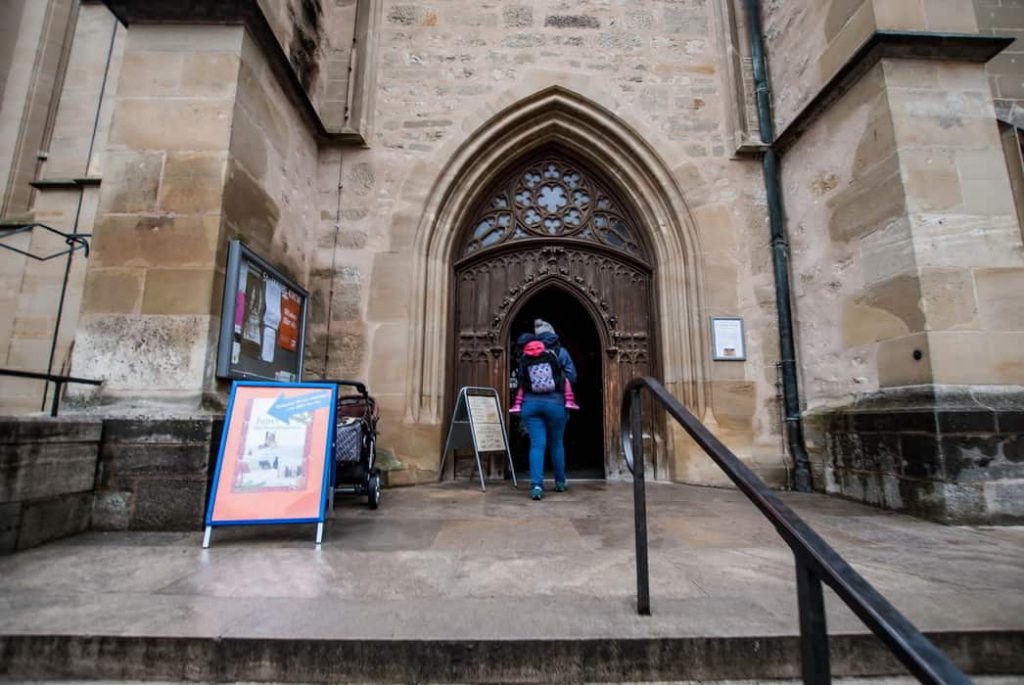 Don't forget to check us out on Instagram for exclusive photos of Rothenburg and other great locations we visited during Christmas break.
Where to stay in Rothenburg ob der Tauber
Hotel Reichs-Küchenmeister features a sun terrace and views of the city. Guests can enjoy the on-site restaurant. Private parking is available on site. Certain units have a sitting area to relax in after a busy day. Every room has a private bathroom.
Guests can enjoy various activities in the area, including biking and hiking. The hotel also provides bike rental. 15euro per night is charged, per child, for an extra bed – with a maximum of 1 extra bed allowed per room.
Click here for current prices and availability through Booking.com
Historik Hotel Goldener Hirsch Rothenburg
Historik Hotel Goldener Hirsch Rothenburg features a terrace and views of the river. Guests can enjoy the on-site bar. Free WiFi is provided throughout the property and private parking is available on site. You will find a shared lounge and gift shop at the property.
You can play pool at the hotel. The hotel also provides bike rental. This property also has one of the top-rated locations in Rothenburg ob der Tauber! Guests are happier about this property than compared to other properties in the area.
Click here for current prices and availability through Booking.com
An incredible day trip for the whole family
At the end of the day, Rothenburg ob der Tauber was an incredible day trip for everyone. The kids stuffed their faces with chocolates, bratwurst, and gingerbread, I got my Christmas tree ornaments and gluhwein, and hubby got his vanilla-iced roasted almonds. We had an incredibly relaxed, fun-filled day and the kids slept the whole way back to the hotel. Bonus!
Your Thoughts...
Please share your thoughts in the comments or reach out on social media...We would love to hear from you.
You May Also Like…
The 10 Best German Christmas Markets in Germany
Exploring Nuremberg during Christmas vacation, with kids
10 Tips for Experiencing Christmas Markets in Europe