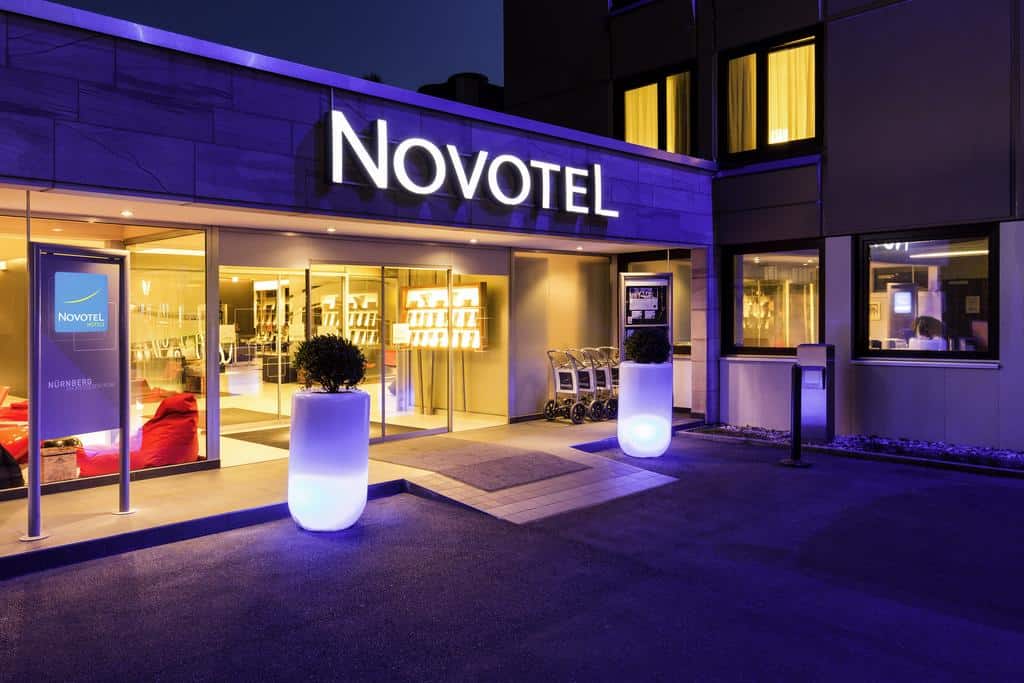 Novotel Nürnberg am Messezentrum
We have been trying to visit Nuremberg for the better part of 3 years now. It is always on our list and always manages to get pushed back by some vacation or emergency. This year, we were making it happen and adding it to the very beginning of our vacation. There was no way out of this city, not this time.
Finding the perfect hotel in any city is never easy. Finding the perfect hotel that has parking, a family room, breakfast included and within my budget is like finding a needle in a haystack, especially when it comes to larger or more well-known cities.We did manage to find Novotel Nürnberg am Messezentrum fairly easily via Booking.com and we couldn't have picked a better location. Check out our review of Novotel Nürnberg am Messezentrum for your next vacation to Nuremberg with kids.
This post may contain affiliate links.
To which I earn a small commission, at zero cost to you!
Find more info in our
Privacy Policy
.
Location
We got extremely lucky with Novotel Nuremberg. Not only was it near the highway (no city driving for us), but it was directly off the main road. There are even signs for it before approaching the intersection; it is that easy to find. The parking is super easy to access and the hotel gives a ticket valid for the whole stay, once checked in and paid for. It couldn't be easier.
When it did come time to use the car, to get to our day trip in Rothenburg ob der Tauber, it was quick and easy to get back on the highway
Transit
The nearest train station is roughly 500m away from the hotel, and a bus stop is halfway along that walk. It is easy to reach and there are only two platforms, so it is fairly straightforward to access.
There are ticket kiosks at each station and are available in a number of languages. Pick your destination or purchase a day-long ticket for all regions and away you go. It took us only a few minutes to reach the downtown core from the train station and was much easier to navigate than driving.
Facilities
This Novotel does offer a spa and gym service, though sadly we were not able to take them up on their offer. The kids wanted to come too and let's face it, kids plus sauna do not go well together.
There is also a pool available, though it is an outdoor pool and therefore not useful to us in December.
The front desk also has a Quinny stroller available for rent. We saw this before, at the Freiburg Novotel. Nuremberg isn't the more stroller friendly city that we have visited, in fact, my little umbrella stroller hasn't touched the ground since we packed it 4 days ago, but should a guest need one for a day trip or to just walk around town, it is available to you.
Just like the Novotel Hannover, there is a small kids corner near the front entrance to entertain the children. A few toys, a couch, and a Microsoft surface coffee table to play Angry birds and other fun games. Being the busy beavers that we are, the kids didn't get to play for long, much to their disappointment.
Rooms
The room was fairly large for the price. There was a nice double bed, a sofa bed, a desk and chair, mini bar (with room to spare for my own drinks) and large bathroom.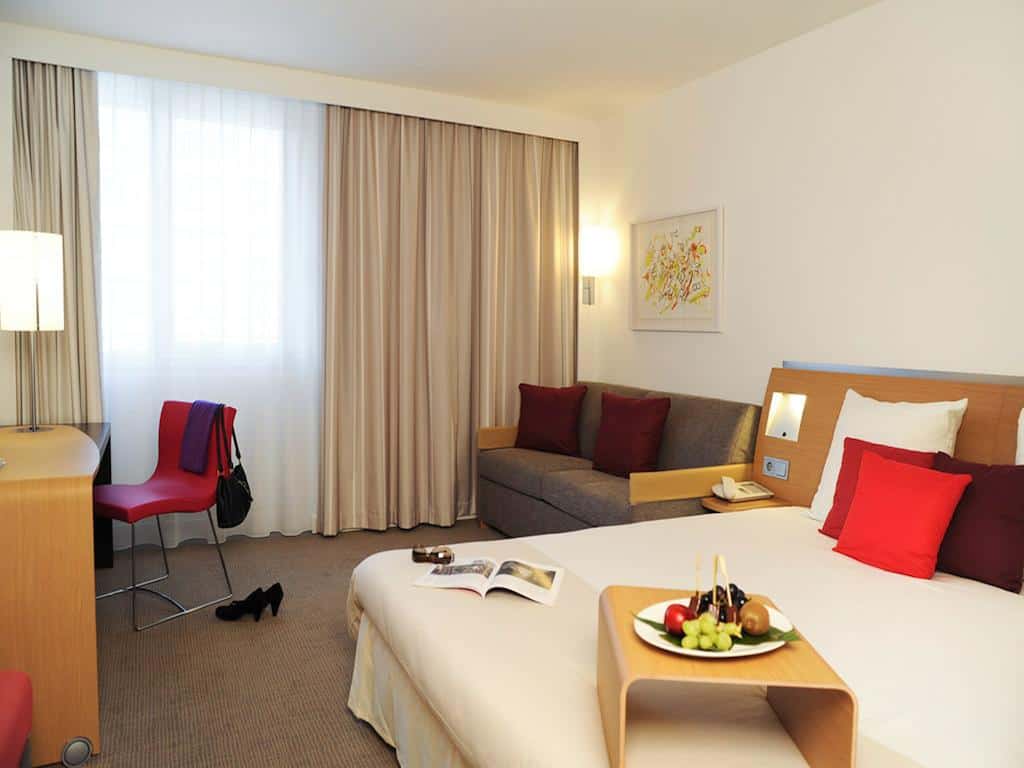 We manage to move the stool out of the way (not sure of it's purpose exactly but it looked nice) and slide the Toddler bed in its place. There would not have been enough room for a playpen in this configuration, but the sofa bed was only open so that I could co-sleep with the baby while hubby had a bed to himself. A playpen, toddler bed, and regular bed would have fit in the room perfectly, with plenty of room to spare to walk around.
Breakfast
Breakfast was not included in our reservation but considering there are literally no other options within walking distance to the hotel, we decided to do it anyways. At 17euro per adult (kids eat free), I got what I was expecting; bread, cheese, veggies, American breakfast, cereal and 5 different types of juice.
There were several types of jelly available, however, none of them were strawberry or raspberry so the munchkin was a little disappointed in that respect. However, everything was at a level that he could reach so his disappointment soon turned into excitement when he realized he could fetch his own breakfast.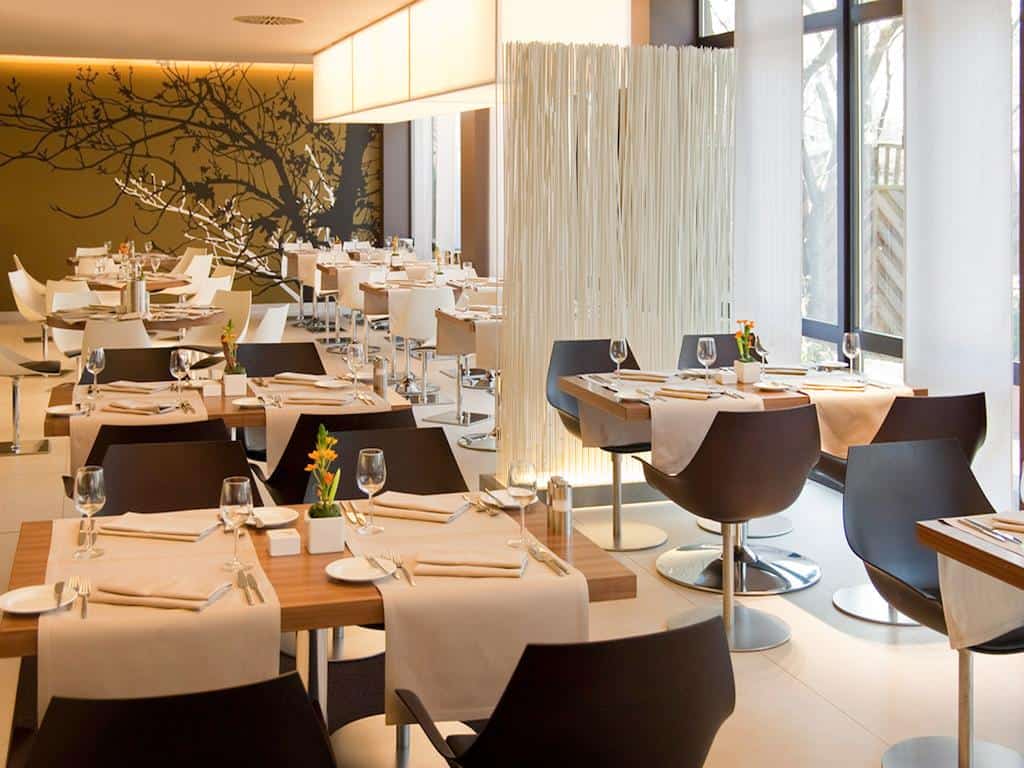 The restaurant is also available for dinner menus. We had a lazy night and stayed in after our Rothenburg day trip (once you get back to the hotel, no matter how early, it is nearly impossible to muster the energy to leave again) so we simply went downstairs for dinner. Offering a variety of soups, burgers, chicken or pasta, the menu wasn't out of this world but it did arrive quickly and tasted incredible. Portions and prices are simply reduced for the children, as they do not have a dedicated children's menu.

Pets
Like many things in Europe, pets are allowed at this hotel. On the way to our room after breakfast, we ran into two little dogs on our elevator and a Saint Bernard in our hallway. Baby Girl wasn't sure what to think about the big dog, but she defiantly wanted to pet each animal she came across. Luckily for my son, he didn't see anything, as he was keeping dad company at the breakfast table and missed all of the excitement…he isn't a fan of dogs, and yet he constantly asks if we can buy two German Sheppards when we move back to Canada.
Bottom Line
I would recommend this location and stay here again if we had the opportunity to visit Nuremberg a second time. The location, price, size, and facilities made this city hotel a great choice for families.
Your Thoughts...
Please share your thoughts in the comments or reach out on social media...We would love to hear from you.
You May Also Like…