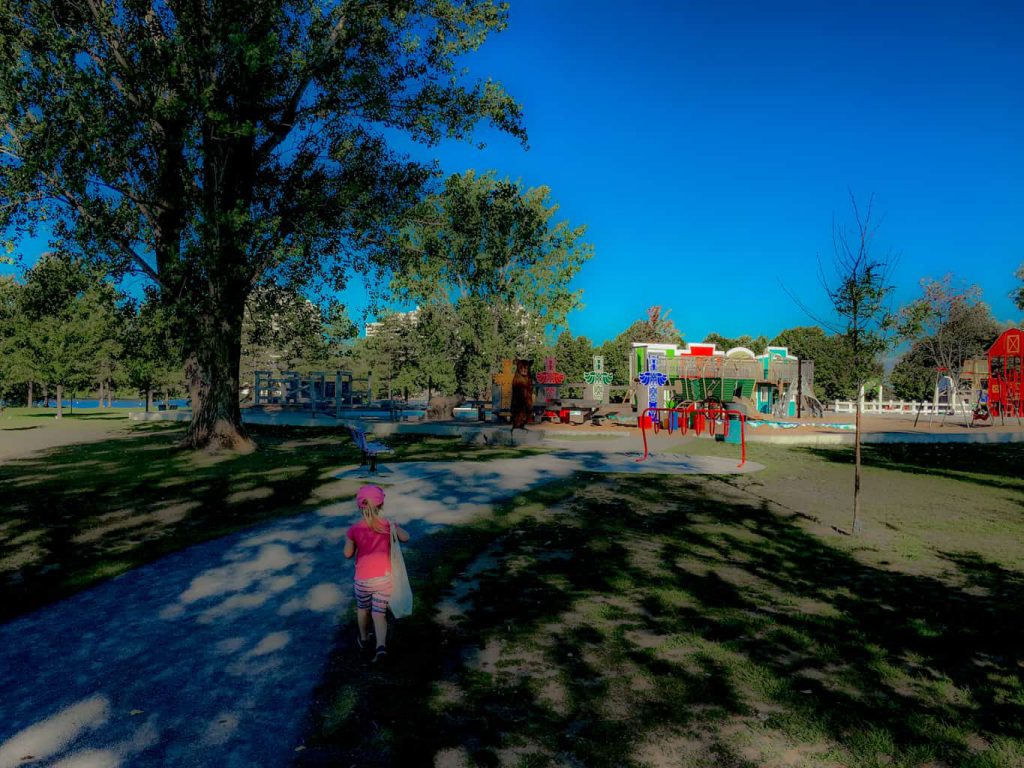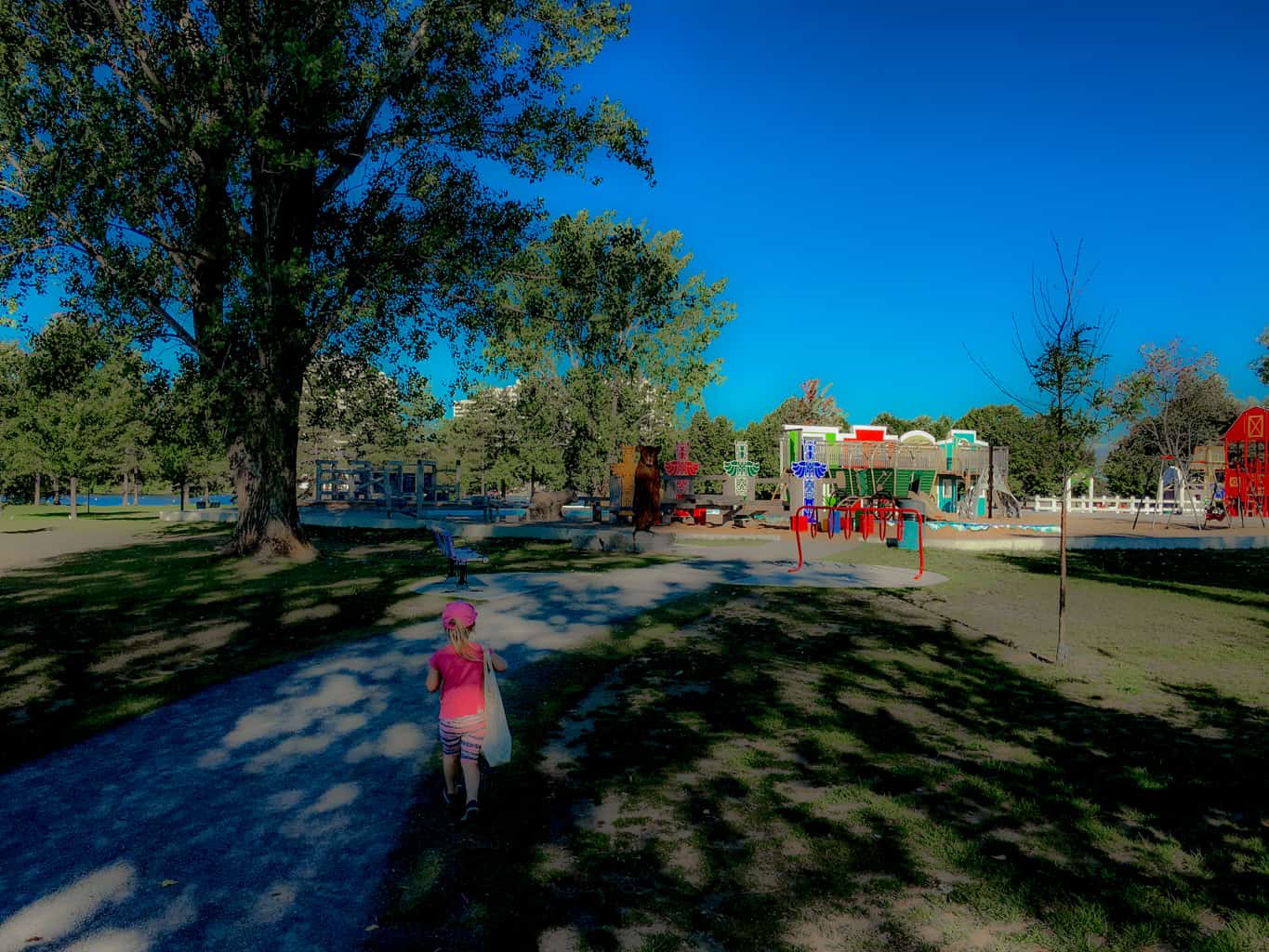 Back in 2016 when the Canadian government was planning for the country's 150th birthday, there were talks about how Ottawa specifically would celebrate. We are the nation's capital, after all. It didn't take long before the news finally reached us in Germany; there was going to be a playground, in the shape of Canada, that represented the different provinces within Canada.
I'm sorry, what?! I'm not an engineer or playground designer but how exactly was this going to work? Fast-forward two years and we finally have the pleasure of visiting Mooney's Bay and we were able to see first hand what was constructed. Amazement doesn't even begin to describe how we felt when looking at all the different play structures. This is our review of the Mooney's Bay Canada-themed playground.
Don't forget to join our Ottawa with Kids Facebook group. We are all in this together.
Mooney's Bay Canada-themed playground
Mooney's Bay is an artificial bay on the Rideau River. The Bay was created during the construction of the Rideau Canal when a dam was built, creating Hog's Back Falls, with canal locks for boats to bypass the falls. This created a widened area of the river, suitable for boating.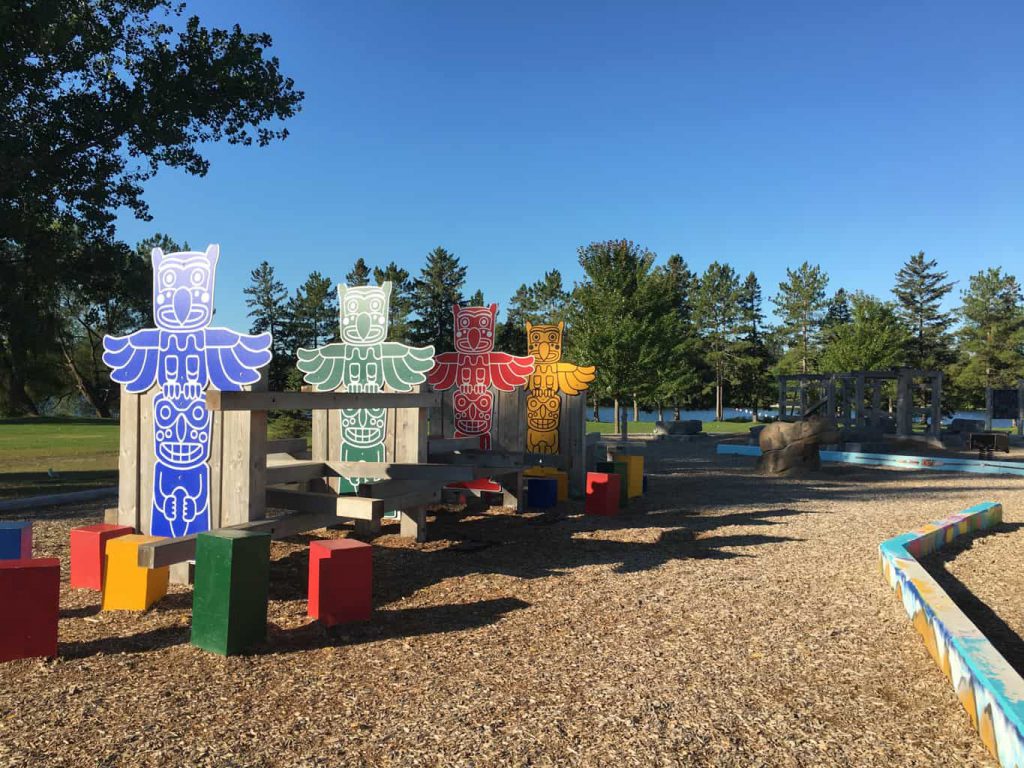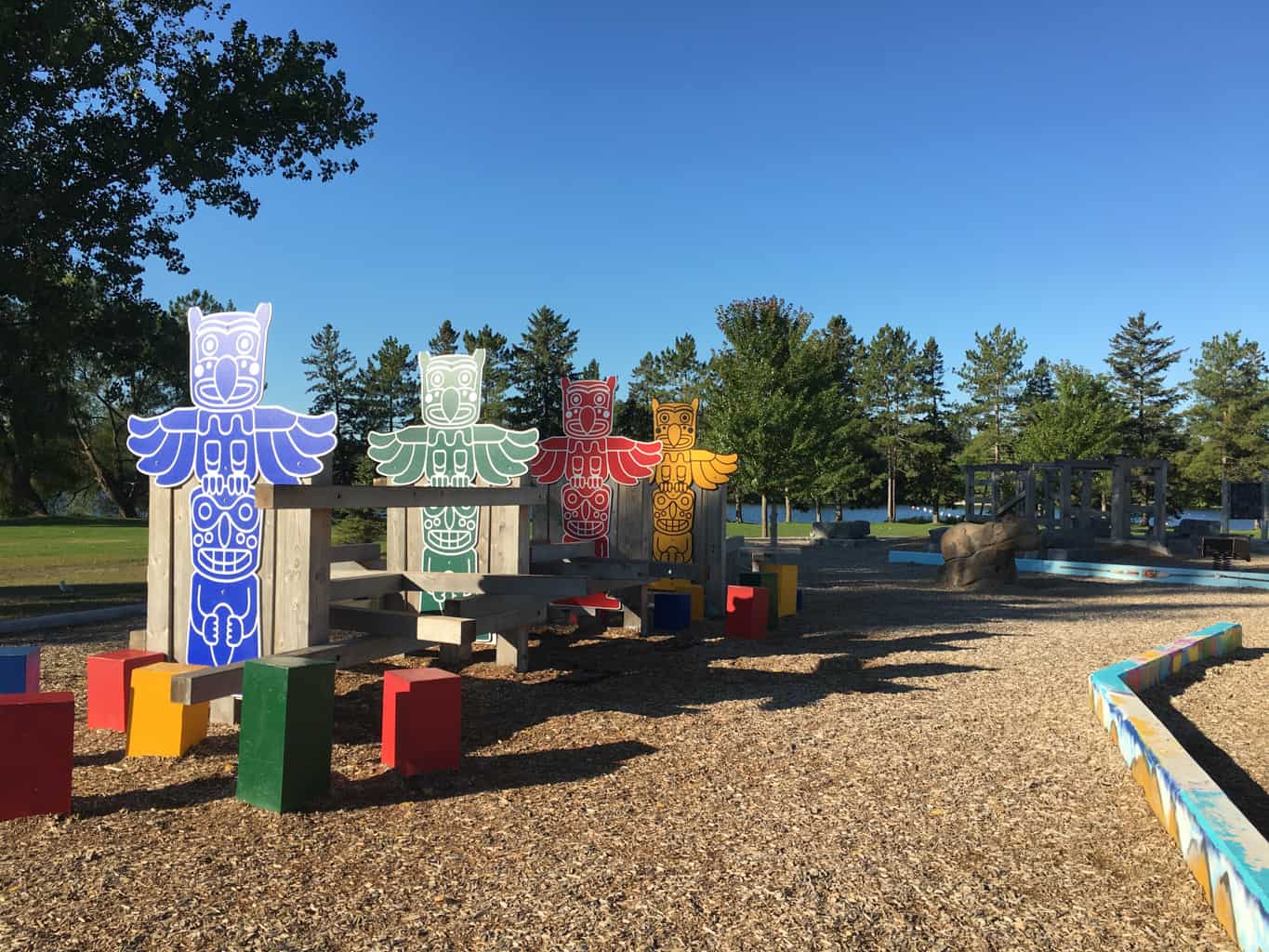 Toronto television production company Sinking Ships Entertainment partnered with the City of Ottawa to build the playground, which now consists of 13 structures meant to represent a part of each province and territory's history.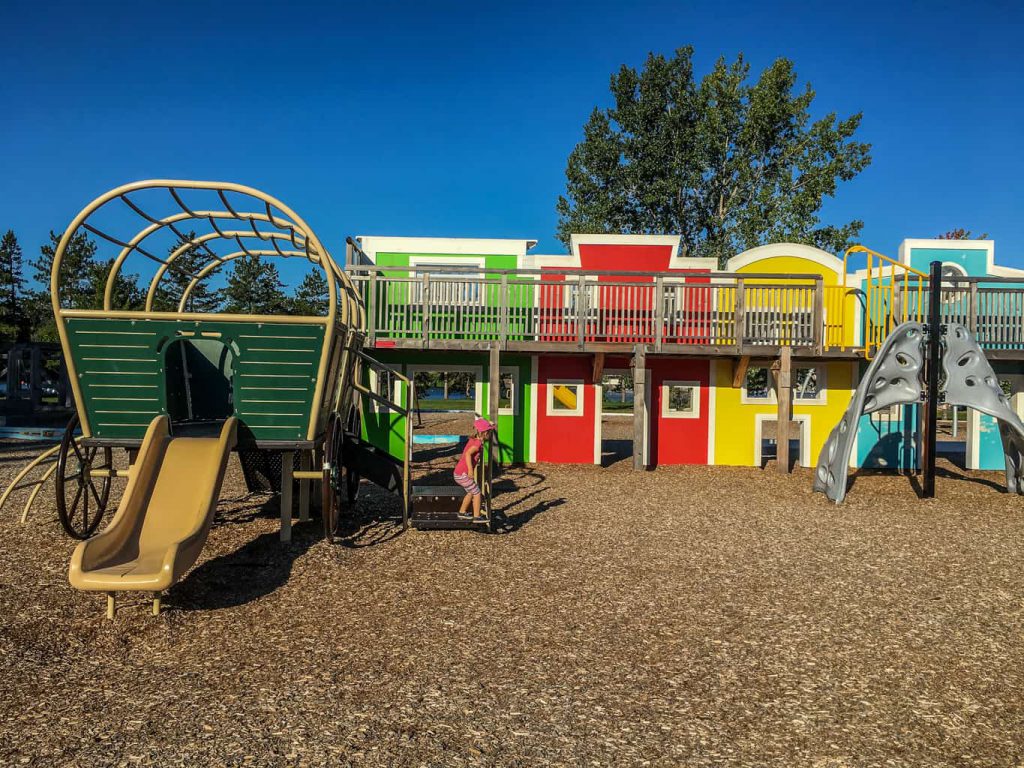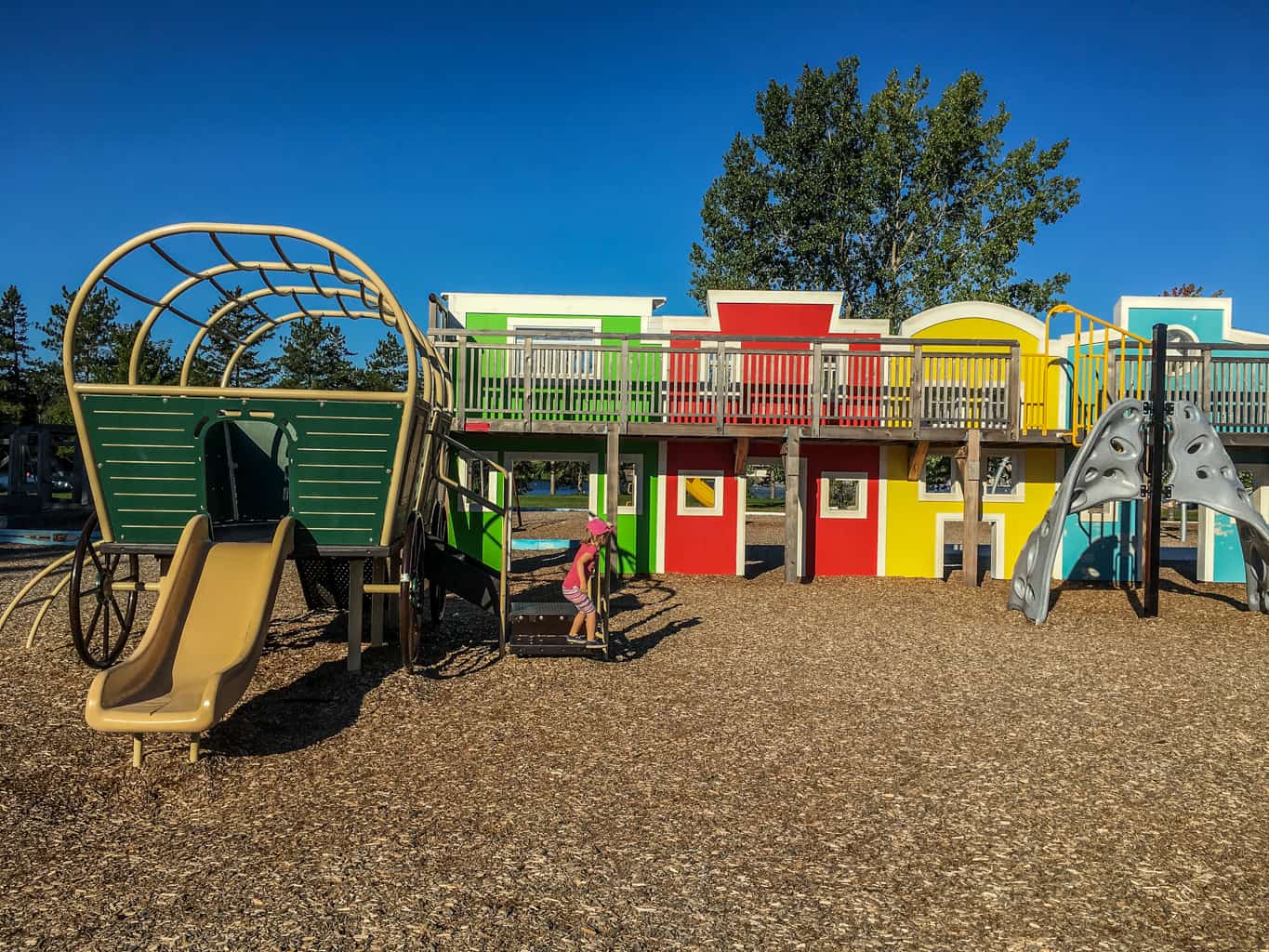 The building of the park was featured on the TVO children's show Giver. The show followed kids from across Canada as they worked with contractors and volunteers to build the 13 individual play structures.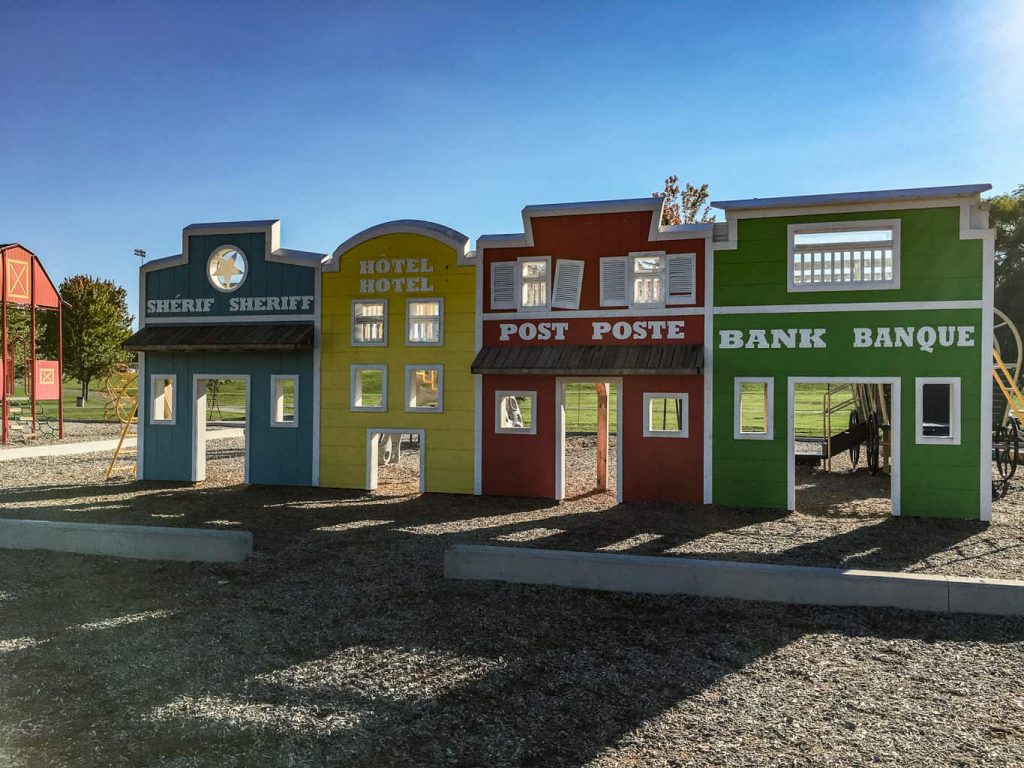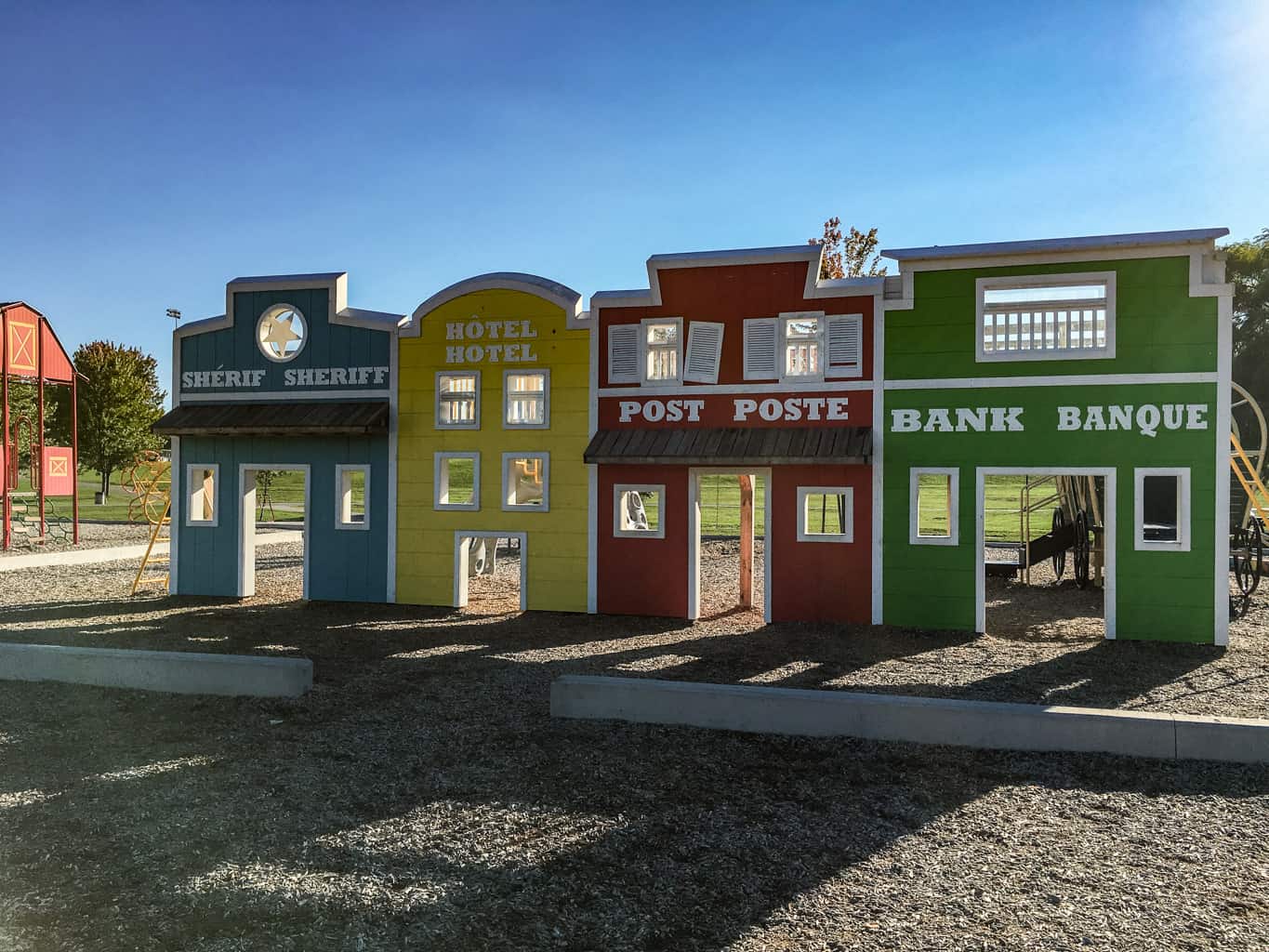 While researching accessibility and playgrounds, we learned that Mooney's Bay Park has metal slides for deaf/hard of hearing children. This is because plastic slides can cause the processor of a cochlear implant (CI) to malfunction, which then needs to be reset at CHEO (Children's Hospital for Eastern Ontario) with an Audiologist. Also, the boats are wheelchair accessible and the mulch is accessible for wheelchairs and strollers.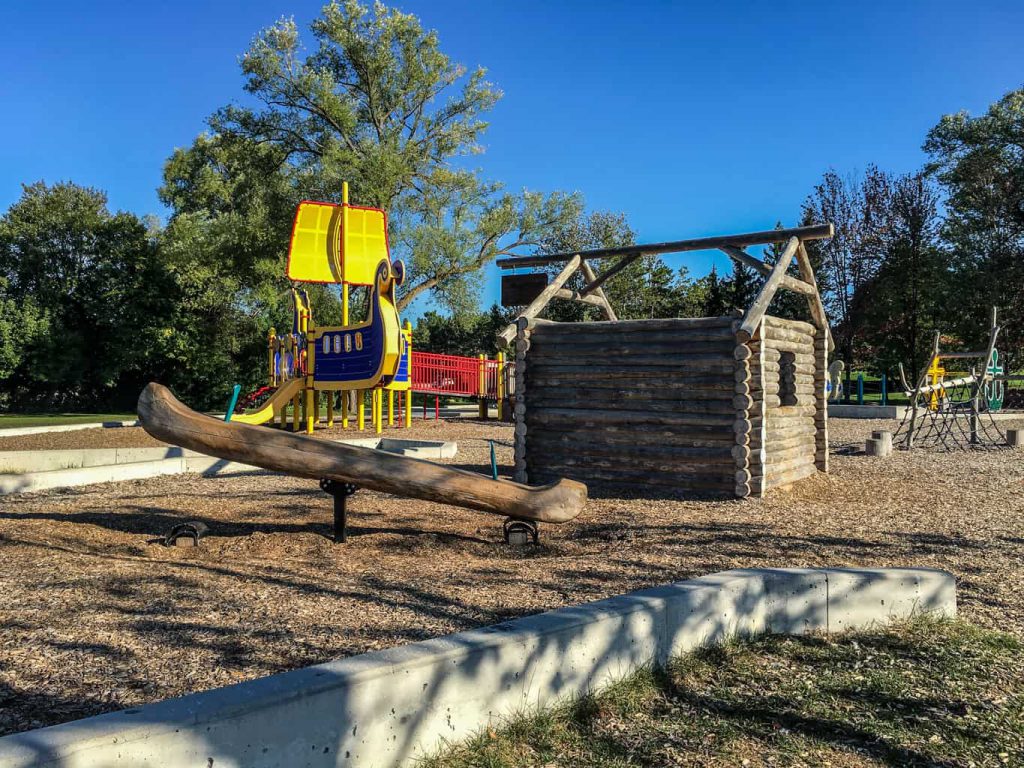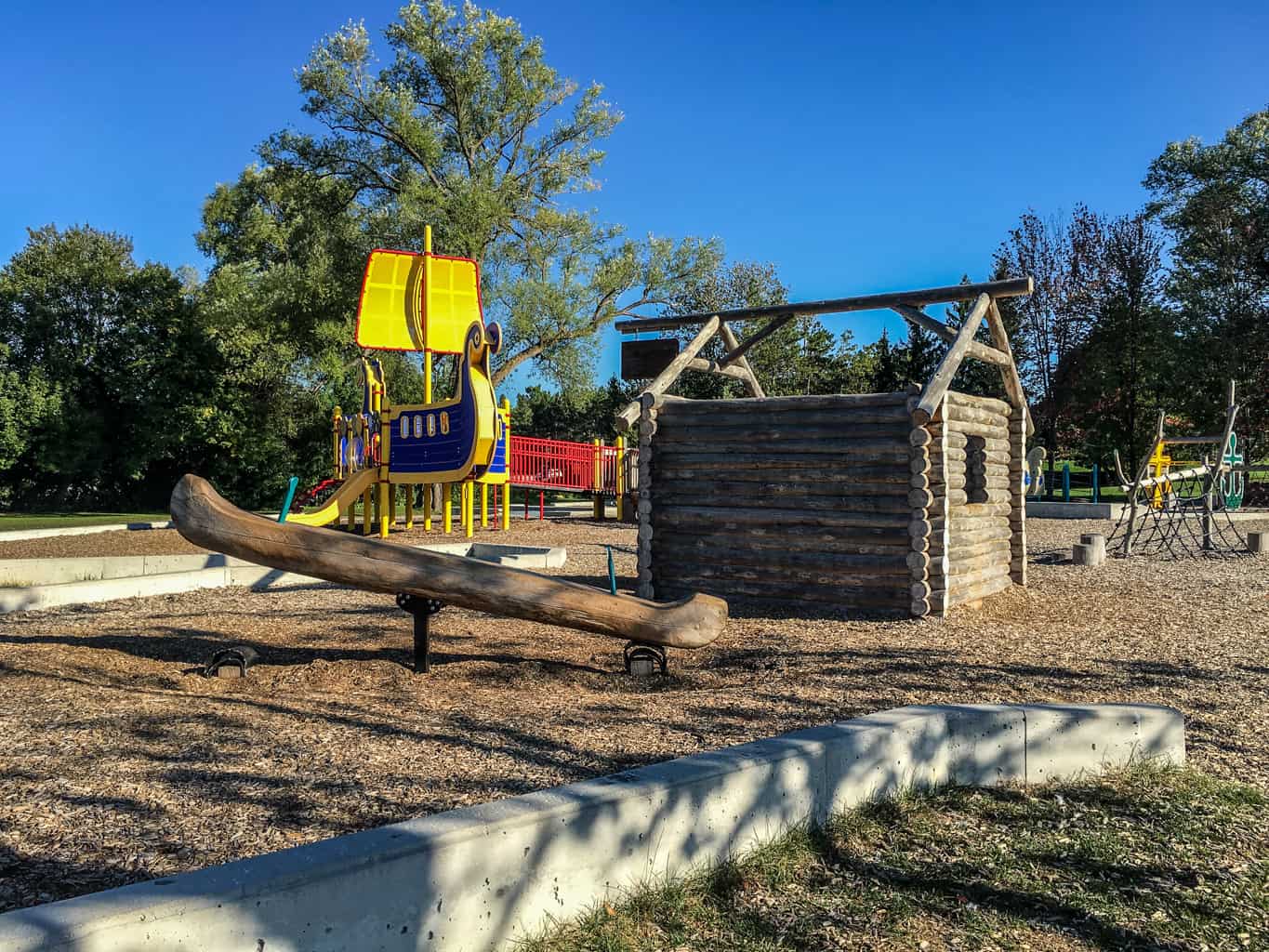 While there are a number of pieces that were geared towards younger kids, there were far more pieces of equipment means for older children. My 3.5-year-old is fairly tall for her age, and ambitious, but I just wasn't comfortable with her climbing all the pieces without at least her big brother to remind her to not die. Hubby will say that I am being over-protective, and he wouldn't be wrong, but I can't be the only to feel this way.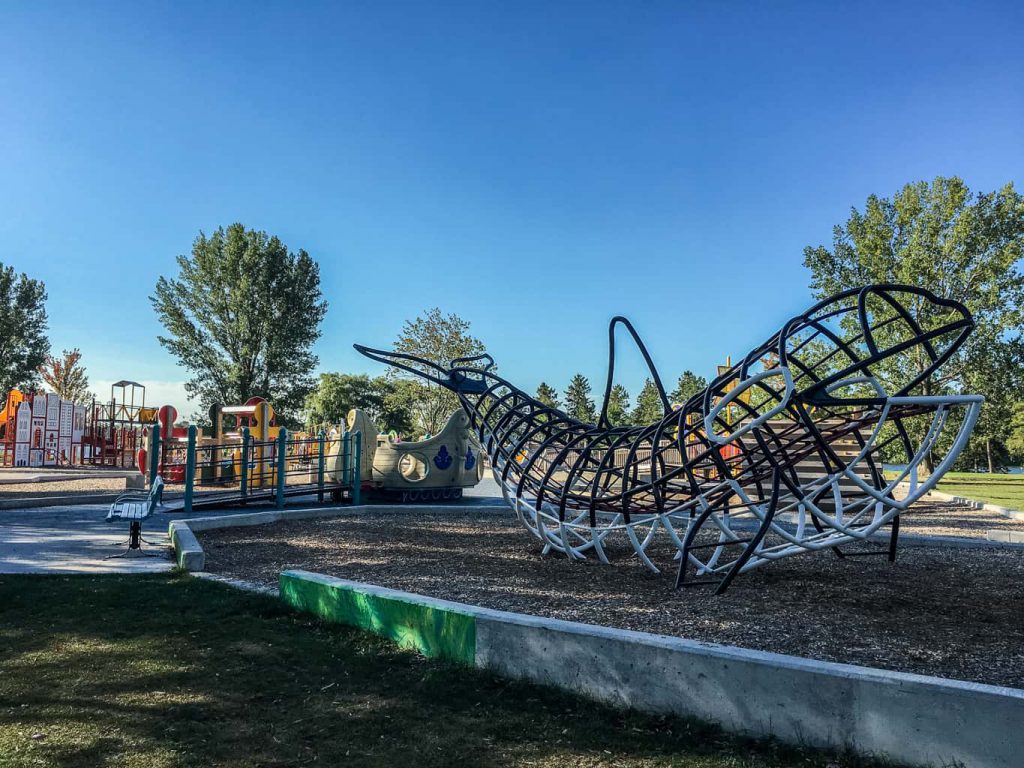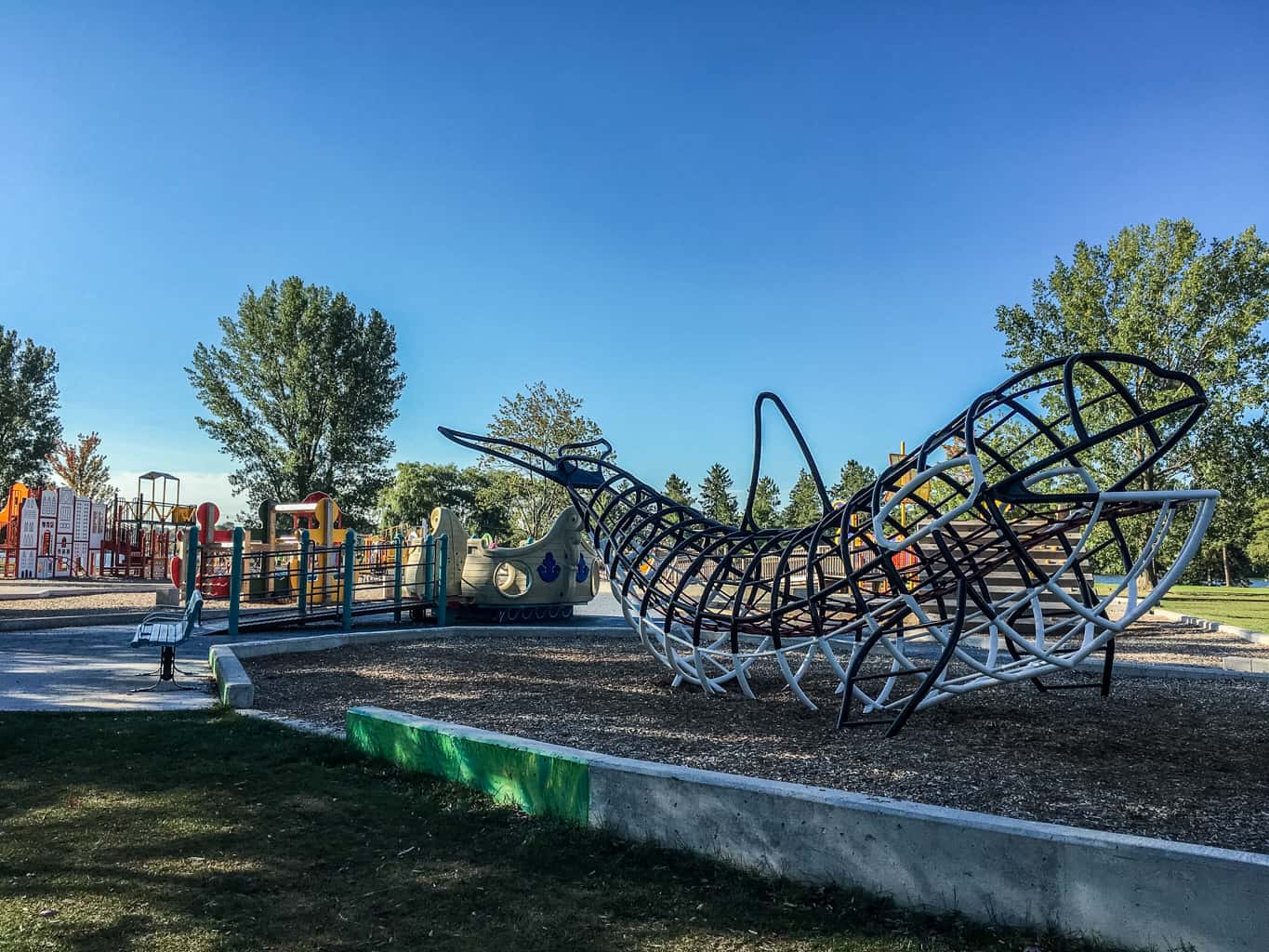 In the end, there was plenty for her to play on, with or without her brother present. We just needed to explore the entire park before finding which structures were more her age and skill level. If there were more children there that morning (it was fairly windy, and school had just started), I'm sure she would have had an even better time.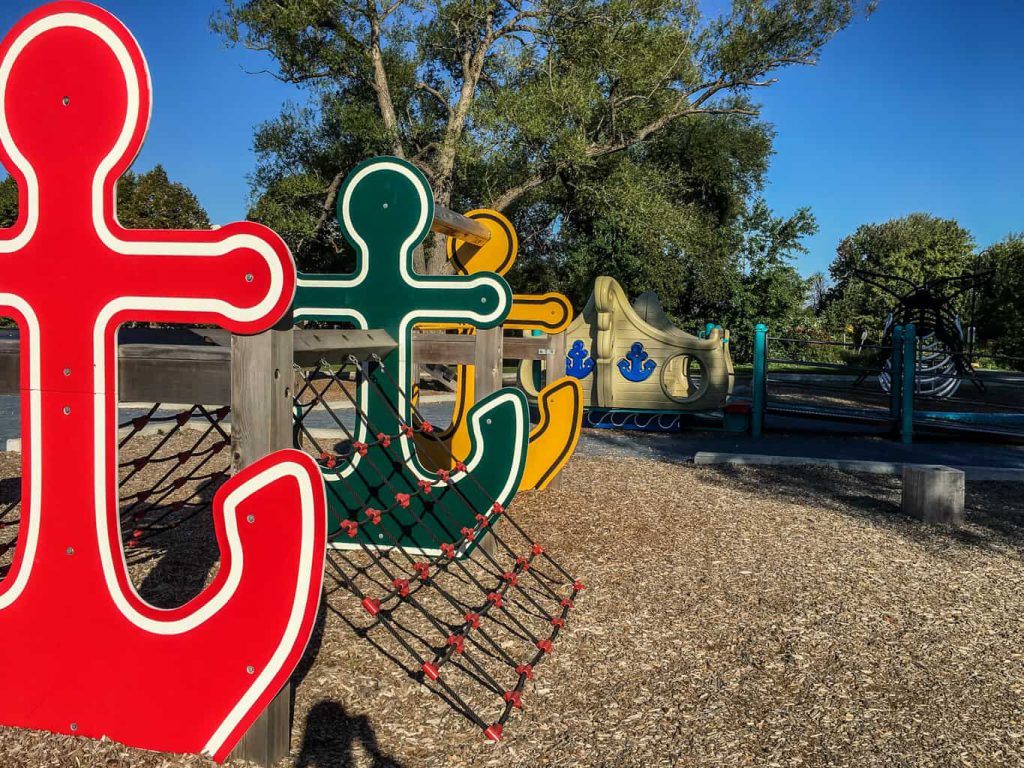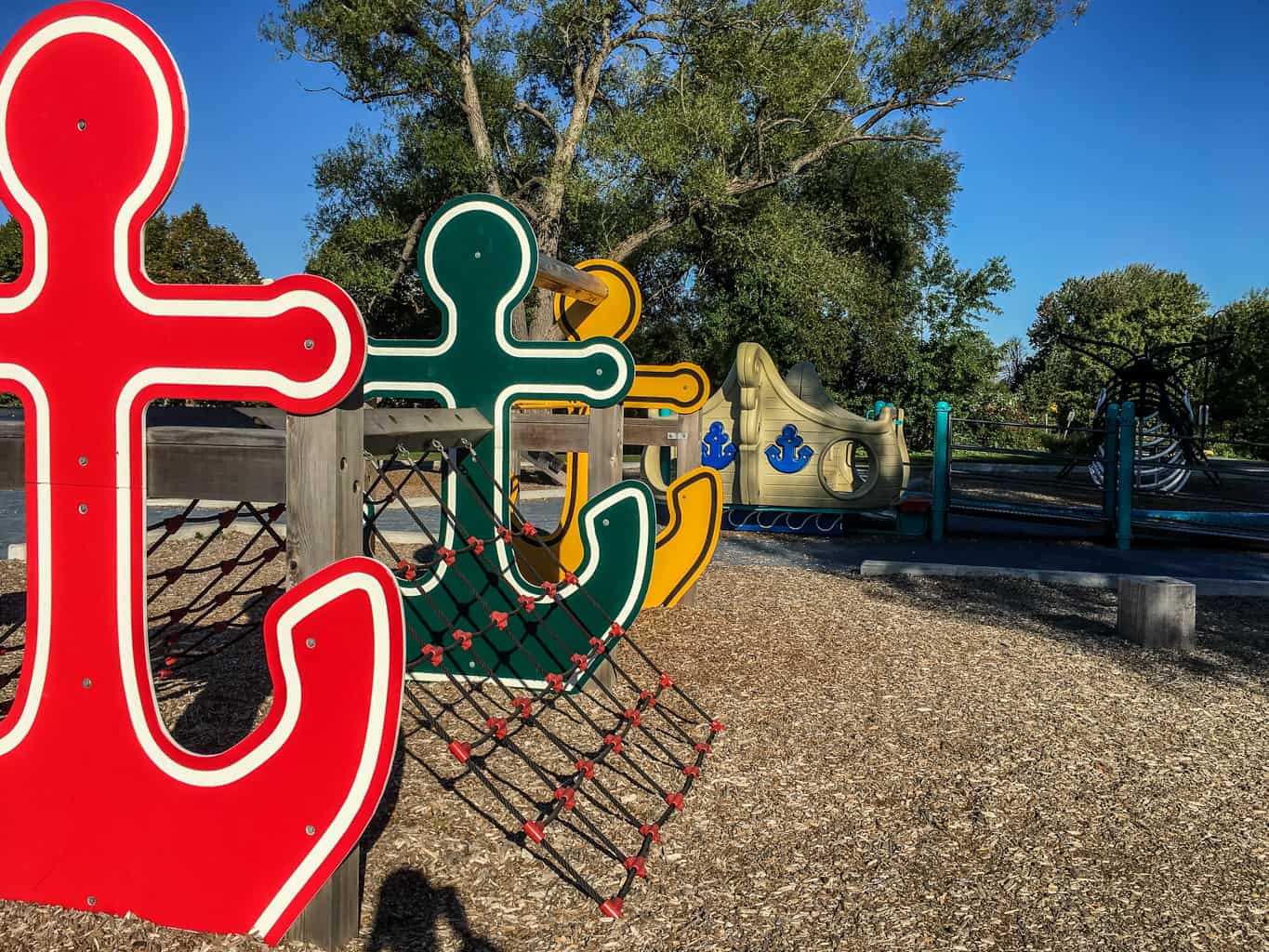 What else can you do at Mooney's Bay Park?
Visit Hog's Back Falls
Mooney's Bay empties into the Rideau Canal Locks and Hog's Back Falls. Both continue along until they empty into the Ottawa River at another system of locks for the Canal and at Rideau Falls for the river
Beach
In the summer, Mooney's Bay Beach is one of the City of Ottawa's four supervised beaches. The city's Parks, Recreation and Cultural Services Department set up a swimming area, which is supervised by trained lifeguards from 12pm-7pm each day, from the third week in June until the third week in August.
From mid-May until early September, volleyball nets can be rented per hour or for the day and stand-up paddleboards (SUPs) can be rented by the hour. This can be done from beach and lifeguard staff.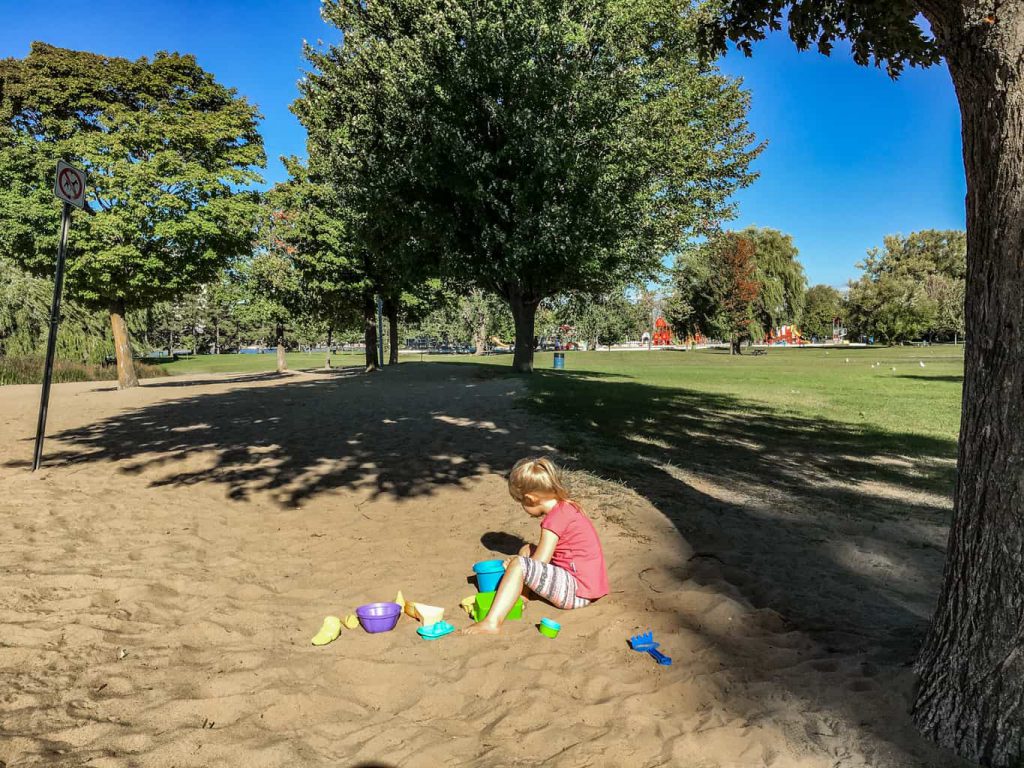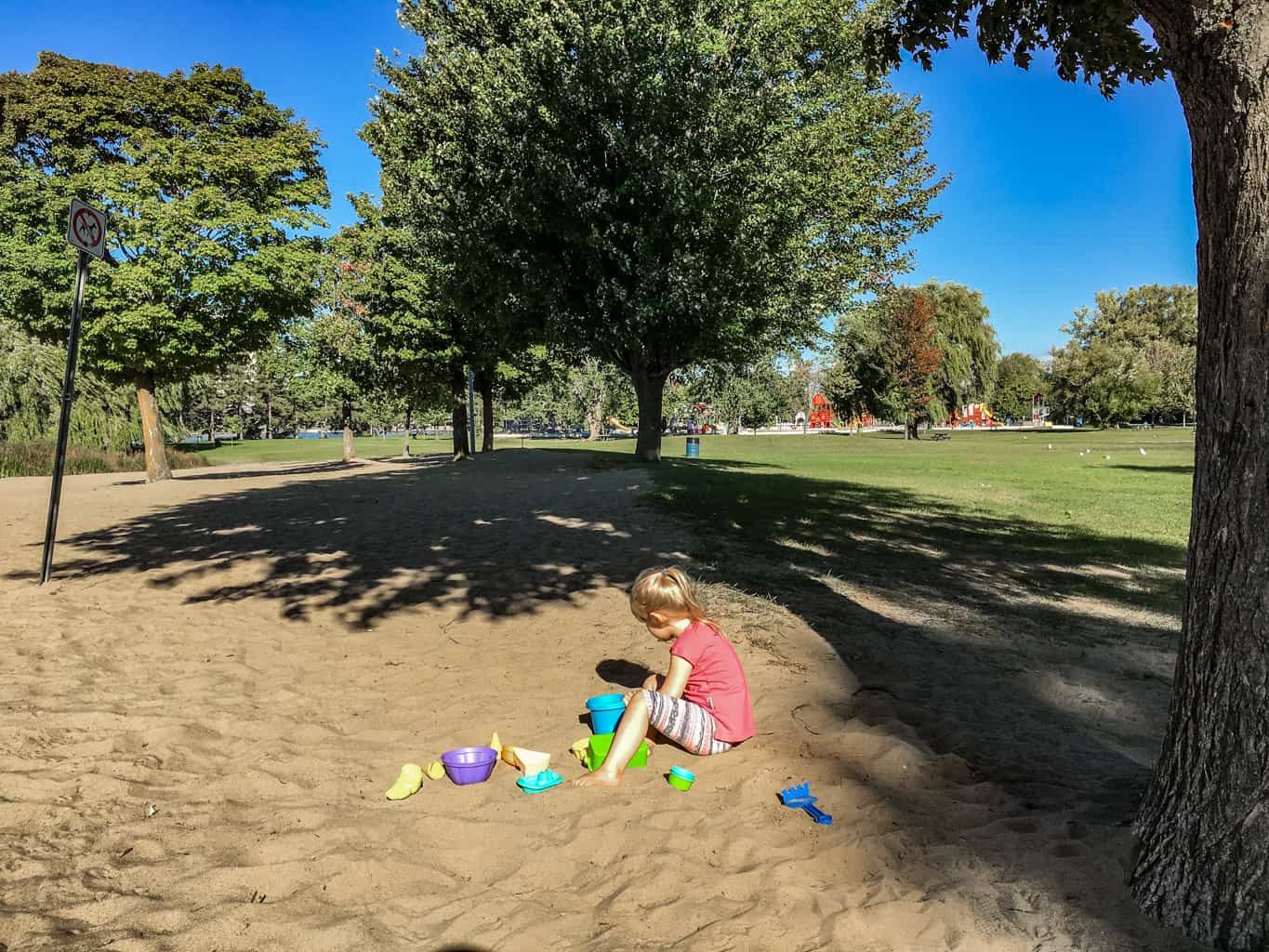 Roll down the hill
Between the parking lot and the park, there is a large hill. From there, one can see the whole park, the beach and a great view of the sports field. During winter, I imagine this hill will be very popular with belly-bogoners and sleds.
Fly a kite
We have yet to master the art of Flying a kite but the open fields near the park look like a great place to practice. The space is large enough to fit a good number of children without their kites getting entangled.
Have a picnic
The Beach Shack is a popular spot for cool treats, and The Beach House Bistro Bar offers drinks for the adults as well as a variety of menu options.
Know before you go
Dogs are not allowed in the park OR on the beach
There is plenty of parking, but you do have to pay. Seasonal parking passes available at the Terry Fox Field House – 2960 Riverside Dr
Watch out for the goose poop!!
After rainfalls, swimming is often prohibited due to excessive bacteria.
What did you think? Leave a comment and let us know!

You May Also Like