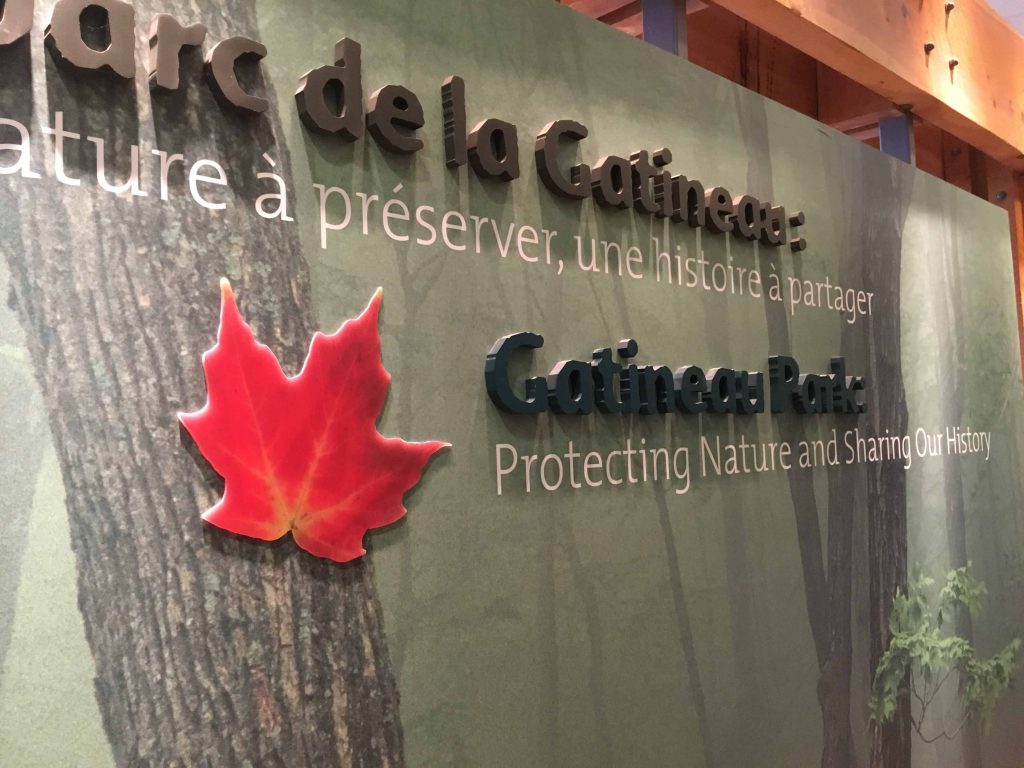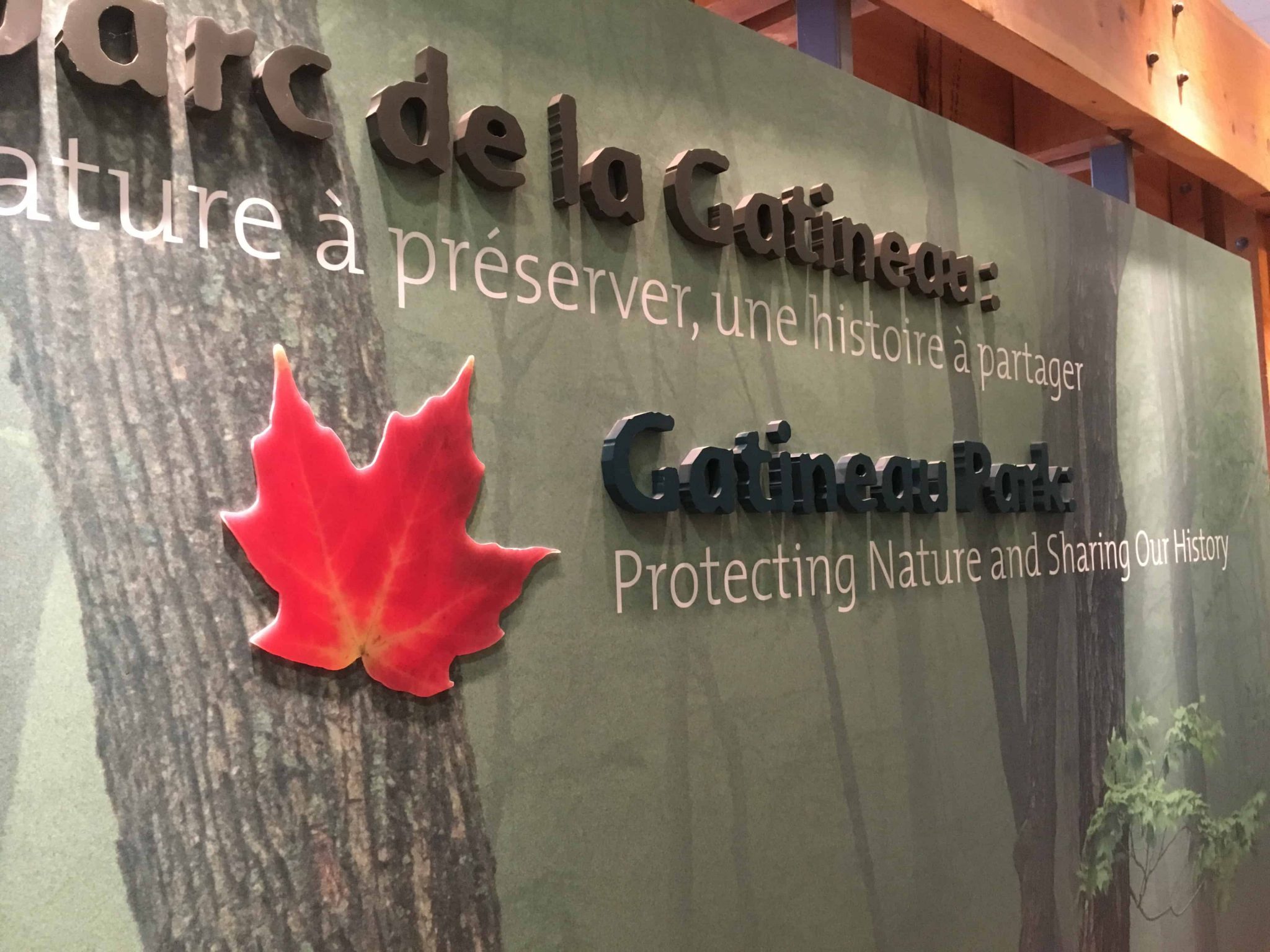 If you are looking for somewhere to take the little ones that won't tucker you out nearly as much as it will burn the children's energy, then a gentle hike is usually the way to go. Hiking and little ones don't always go hand in hand, but getting outside and staying active is a great way to promote a positive work/life balance and keep yourself healthy without hitting the gym.
We have since ditched the Toddler Carrier and are slowly putting the stroller out of commission, our 3.5-year-old is learning the hard way that these activities are always about laying back and watching the birds fly by. On the odd day that she isn't in daycare, we try to find a family-friendly activity that isn't too far from the city and won't break the bank. Gatineau Park is the perfect place to visit in between rainy days in the city.
Don't forget to join our Ottawa with Kids Facebook group. We are all in this together.
Gatineau Park – Sugarbush Trail
The Sugarbush Trail is a 1.8 kilometre heavily trafficked loop trail located near Old Chelsea, Quebec, Canada that features a river and is good for all skill levels. The trail is primarily used for hiking, walking, trail running, and snowshoeing and is accessible year-round. Dogs are also able to use this trail but must be kept on a leash.
Located adjacent to the Visitor's Centre, which means Free Parking, we were able to quickly grab some information before heading out on our hike. Speaking of, the Visitor's Centre is a great place to start your visit to Gatineau Park if you aren't familiar with the area. They have maps of some of the different trails, and the people working there seemed like they knew the area really well. They also rent snowshoes.
Within the Visitors Centre, guests are able to use the toilets, purchase season passes as explore the exhibit. It showcases the different types of wild animals that live within Gatineau Park, what they sound like, what they eat, and how to protect yourself from them without hurting them (mostly, how to avoid coming into close contact).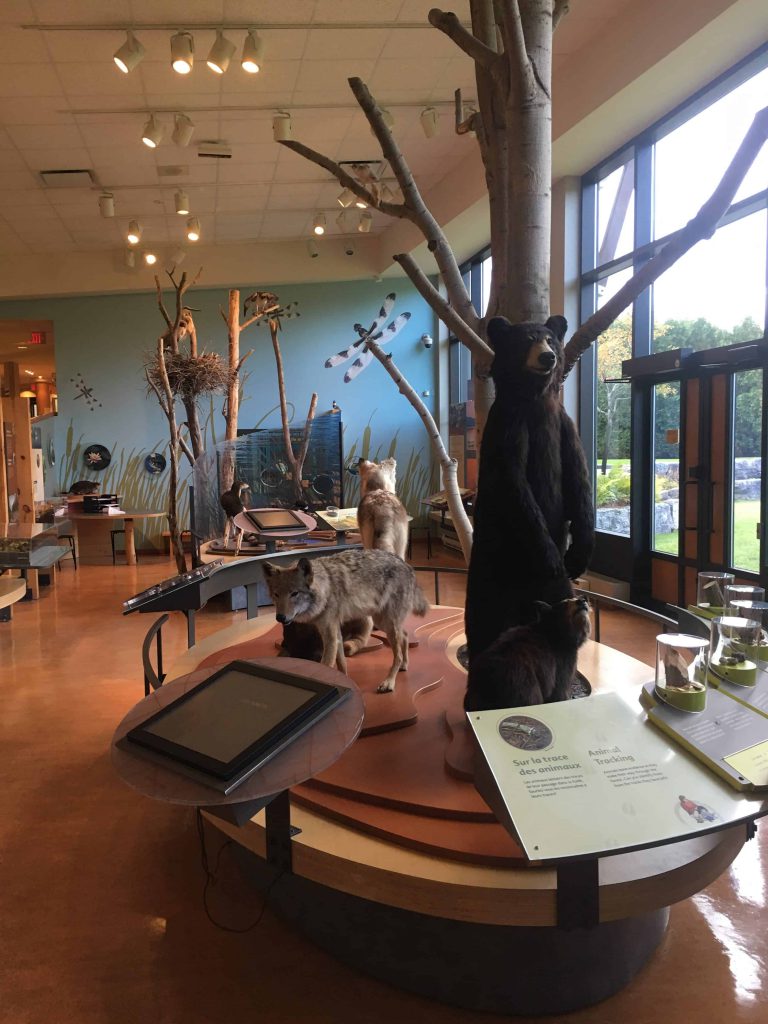 The Route
To start the Sugarbush trail, we crossed over the red (rusty?) bridge that was to the south of the visitor's centre. It was to the left when we were facing the centre.
After we had crossed the bridge and walked for 200 metres, there was a split in the trail. The Sugarbush Trail is a loop, and we chose to turn left. While this is traditionally how one walks a circle – clockwise – we seemed to be meeting everyone coming from the other side. This was nice, though, as we were able to say hi and wave to anyone that was coming towards us.
We were in the forest immediately, and the path was nice and wide so we could walk side by side. Baby Girl wanted to be "up high" so she tended to walk into the woods and off the path. She was wearing her splash pants and covered head to toe in layers, just in case she fell in anything or touched anything (namely Poison Ivy).
Gear We Brought
Closed toed shoes – preferably waterproof
Splash pants
Hat
Gloves
Lined waterproof jacket
Snacks
Refillable water bottle
Back pack
This trail is only one of a select few that are stroller friendly. The ground is flat and there are very few inclines throughout. While other trails are a little more adventurous and scenic, they are longer (starting at 3km) and require guests to climb a fair number of stairs.
The Sugarbush Trail was perfect for her little legs. She had her map, she found interesting things to see and talk about. Even met a few nice people along the way.
Know before you go
33 Scott Road, Chelsea (Québec), J9B 1R6 Canada
819 827-2020
1 866 456-3016
NCC-CCN.GC.CA/PLACES-TO-VISIT/GATINEAU-PARK
PRICING
Free admission
Just pay for parking

Your Thoughts...
Please share your thoughts in the comments or reach out on social media...We would love to hear from you.
You May Also Like