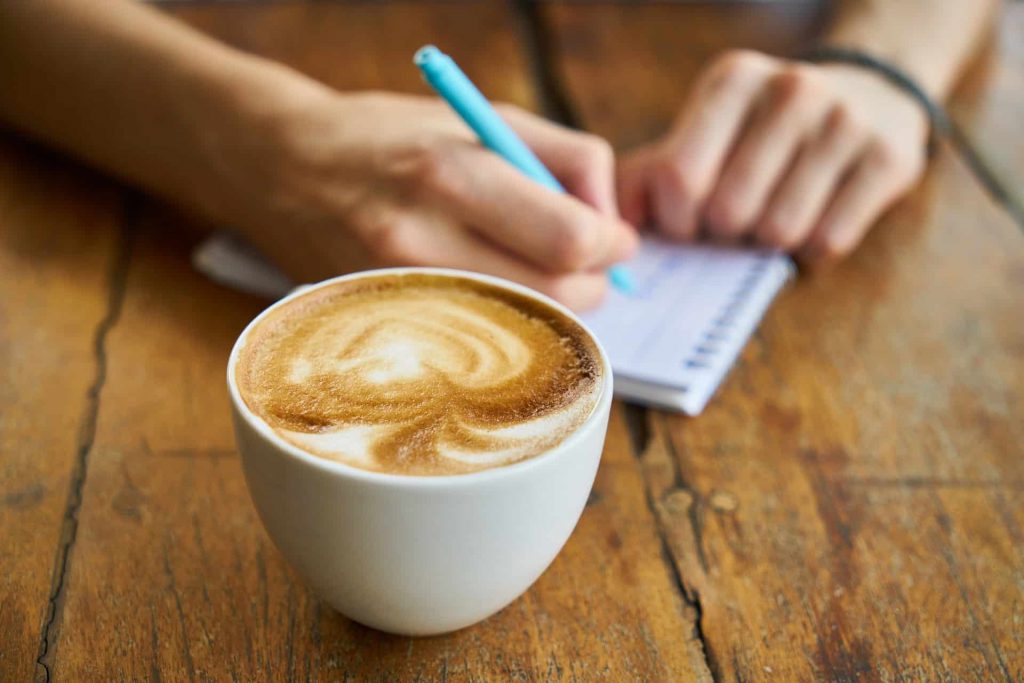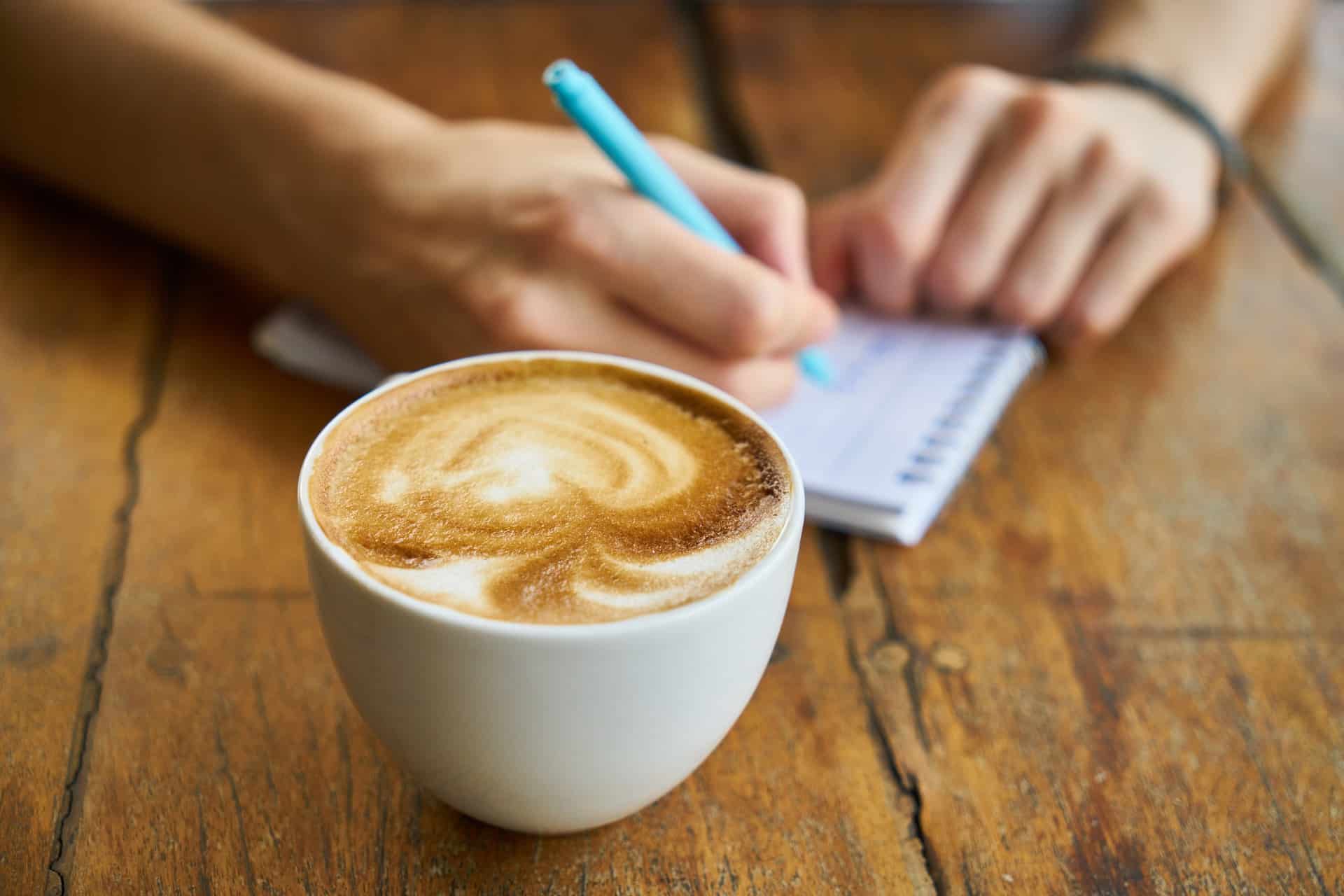 As we explore our new city Ottawa, I am excited to tour its unique and traditional streets and shopping centres. Everywhere we go, we find interesting corners and trendy neighbourhoods.
On one warm beautiful day, I explored some coffee shops on Wellington Street West. Hubby thought this was strange since I don't drink coffee. Not everything about a coffee shop is about the taste of the coffee; sure, that's important, but so is the atmosphere, the location and the quality of everything else on the menu. I am more than happy to sample every single treat that these shops have to offer. And that is what I did.
This list will continue to grow as we explore more and more coffee shops in Ottawa. They are listed in the order that I explored them, not which ones I prefer. That will be made clear when I review them below.
Don't forget to join our Ottawa with Kids Facebook group. We are all in this together.
Hintonburg / Wellington Village
I took my first adventure in Wellington village. This is near the library that I have been calling my office for the past week. The library doesn't open until 10 am so I have plenty of time to walk around and explore before hunkering down and getting back to work.
As I am walking, I see these sculptures. They are odd, and unique, and pretty neat at the same time. Wellington Village is known for being artistic, which is apparent when walking down the street. There are so many unique shops, cafes, art studios and art supply stores. I am surprised there aren't more unique installations, now that I know a little more about the neighbourhood.
To find out more about the sculptures, check out this article by Spacing Ottawa.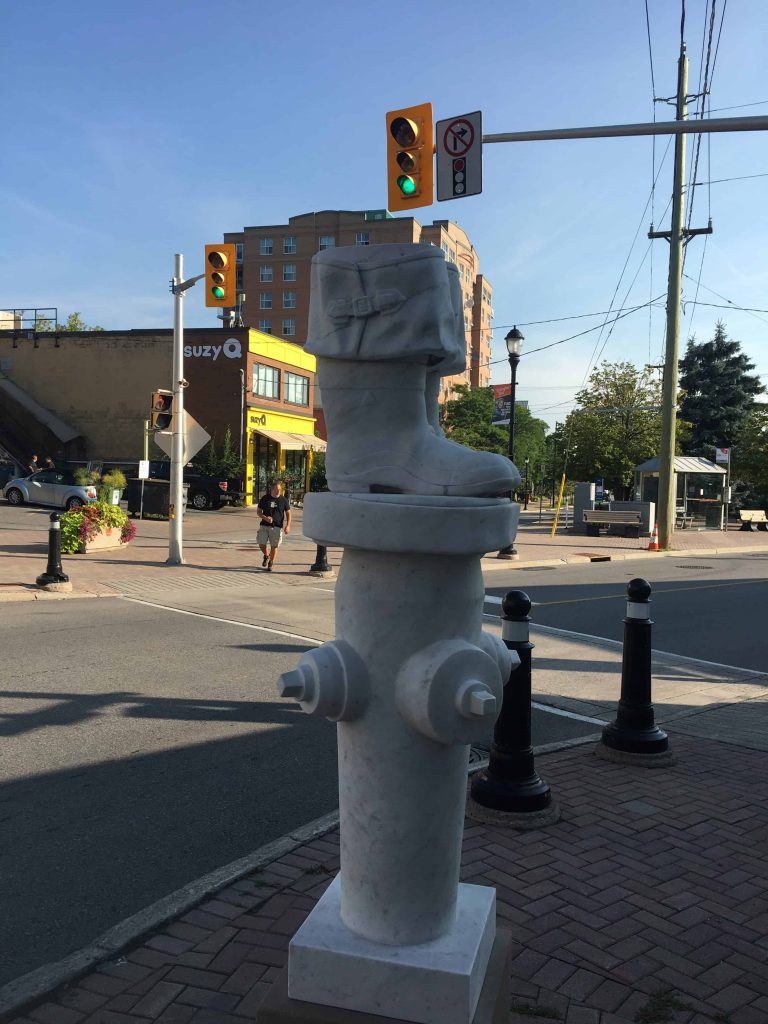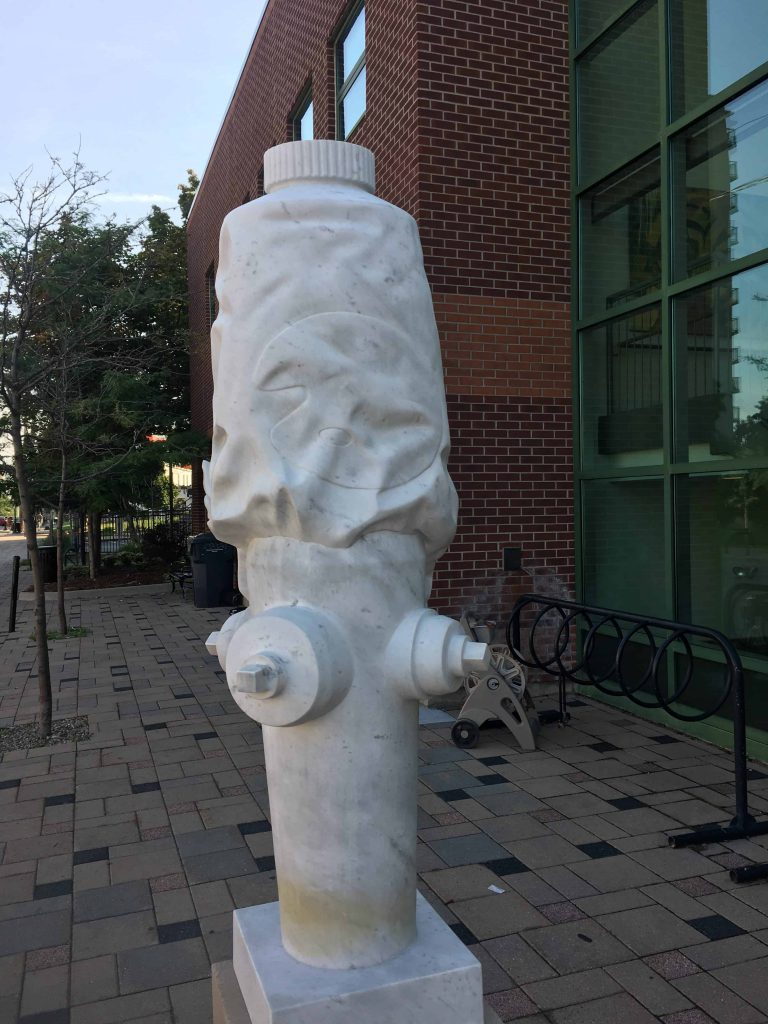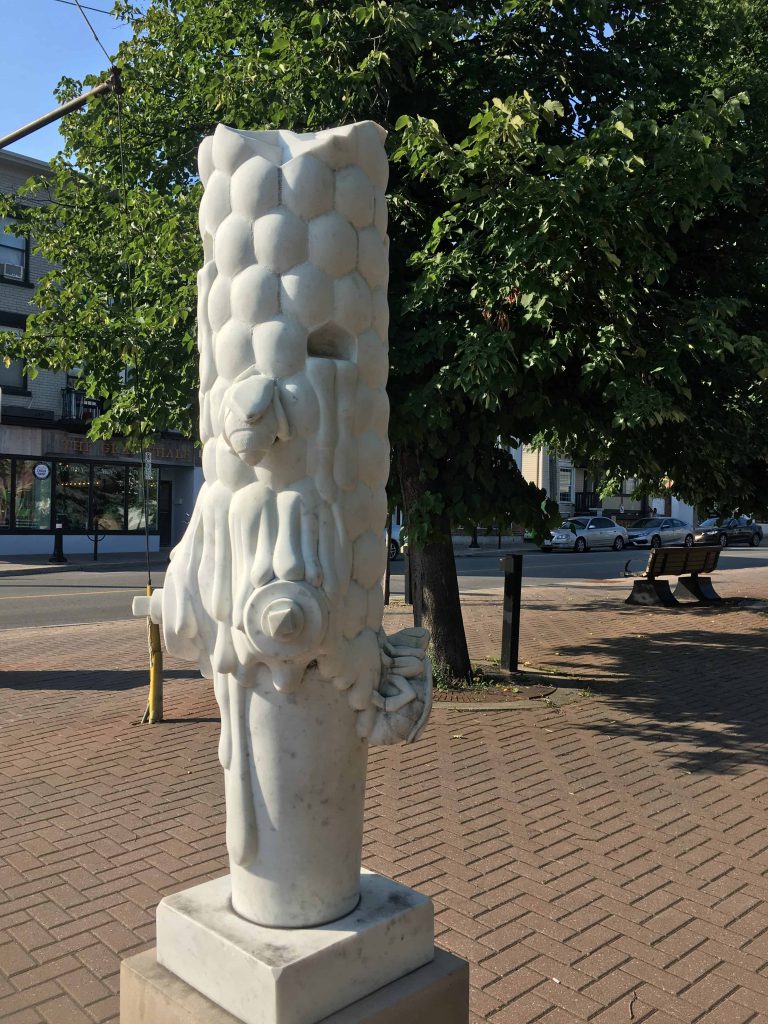 SuzyQ Doughnuts
SuzyQ Doughnuts is located on a great little corner of Wellington village. There isn't much parking but is great for walking up. There is even a nice little fountain in front.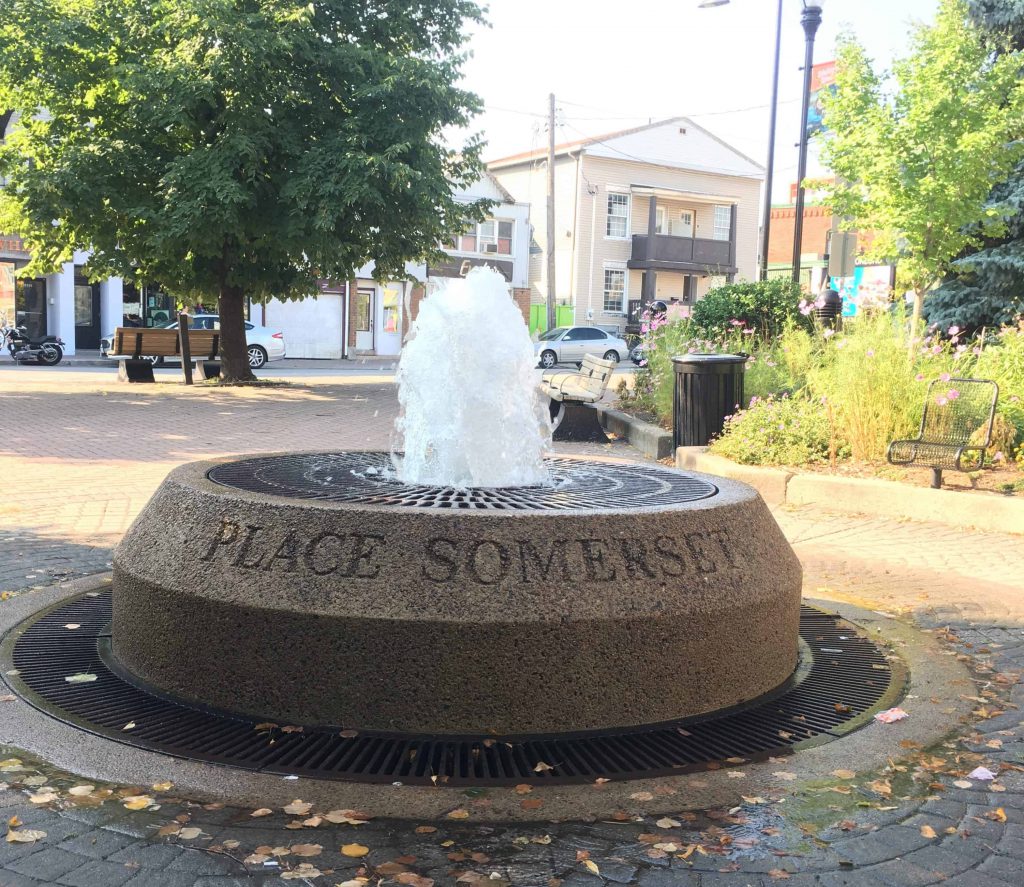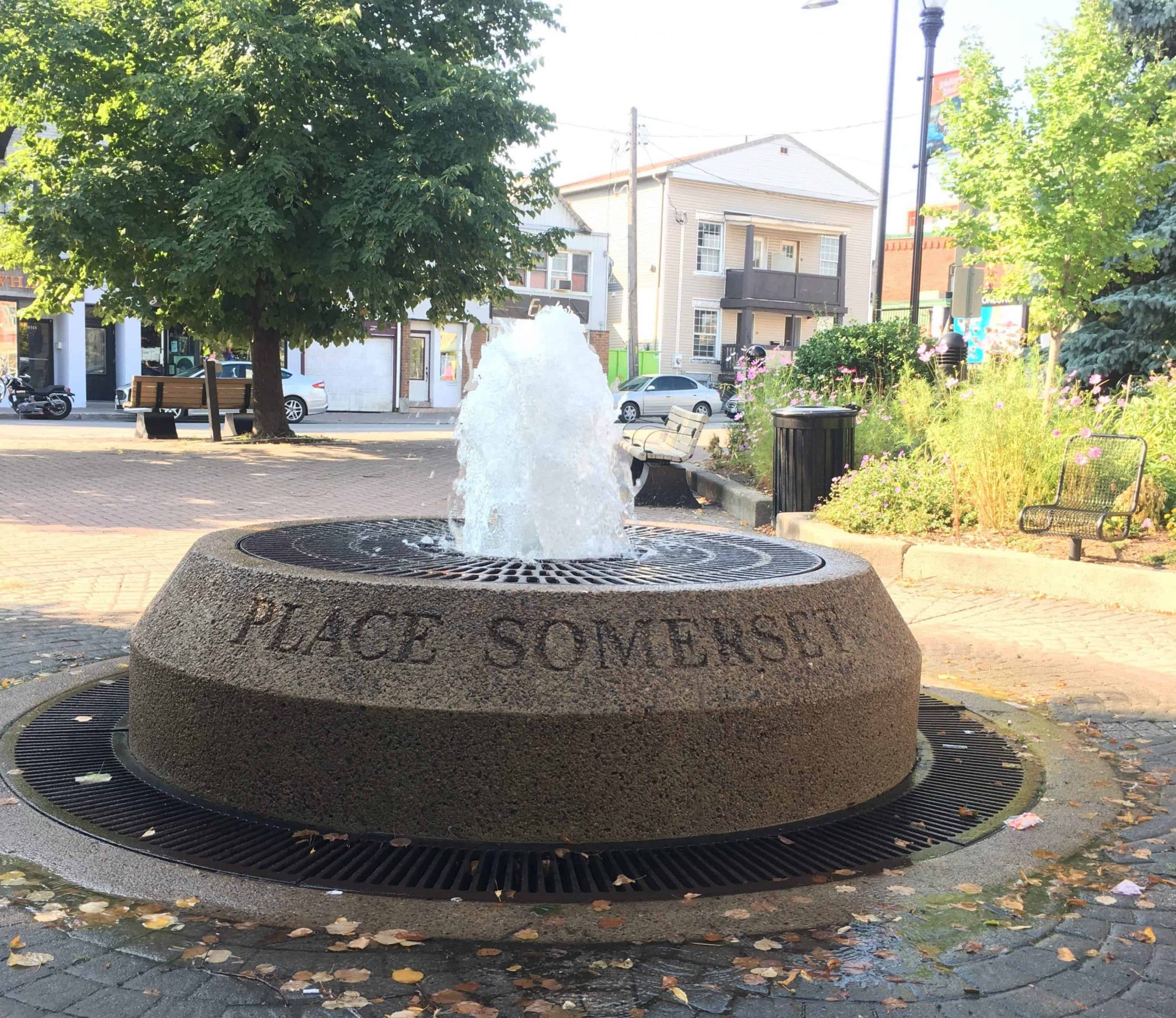 The service isn't the speediest in the morning but that just means they are taking their time with each and every customer. Guests don't seem to be bothered with the wait either. They appear to know it is worth it.
Everyone is ordering a dozen or a 6 pack. Treats for the office, perhaps.
There is a myriad of drink options; espresso, cappuccino, teas. And the donut selection is incredible. About 24 varieties when I walked in and the names are both catchy and accurate. Maple bacon is the most popular, I have seen. Followed by bubble gum and Sugar Munkki.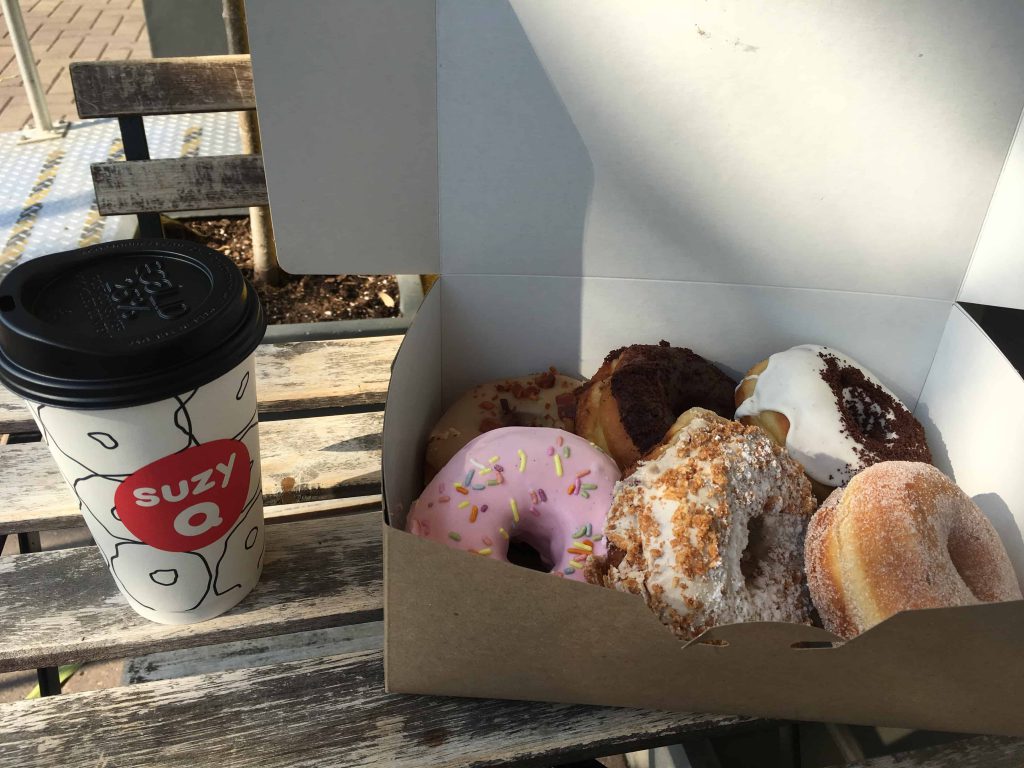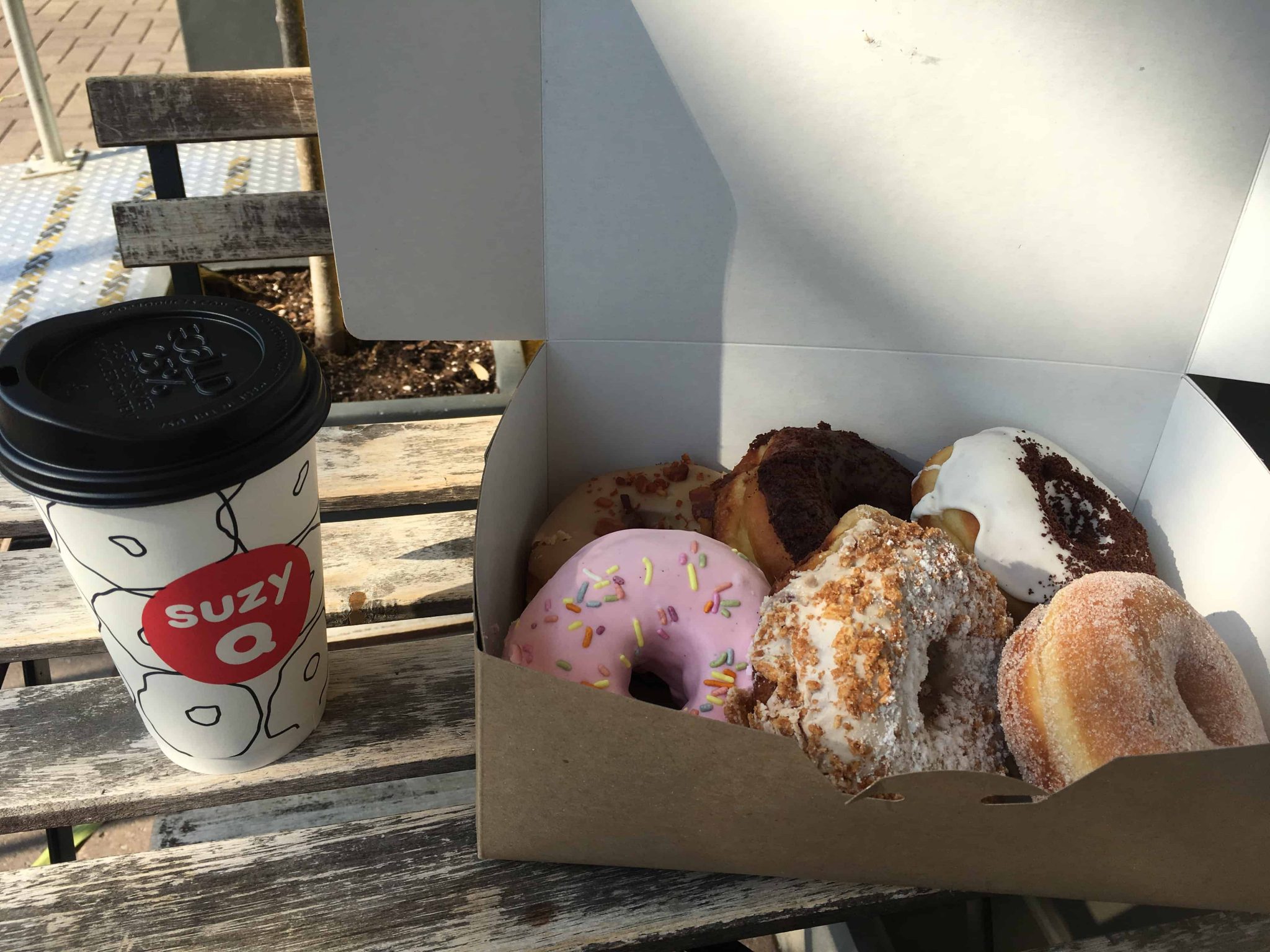 And the lids are so secure! I dropped my cup on the table (outside) attempting to sit. The cup was laying flat across the table and the lid stayed on! Obviously, tea jut out the mouthpiece but still. No wasted tea for me.
According to their website, SuzyQ Doughnuts honour the old Finnish traditional recipe of the "Sugar Munkki" with new and unique flavours being created all the time. Check out the "Realer Story" to hear about their family's escape from war-torn Europe and finding a place to rebuild their family here in Ottawa.
Many of their products are available for online ordering and delivery (for a fee), and their merch seems quite nice as well. There is a minimum order of 2 dozen doughnuts and they require 24 hours notice. Not all of their in-store selections are available for online order, though. So if you really wanted to get your hands on a Bloop or Cinnamon toast, you will have to make the trip down to their location.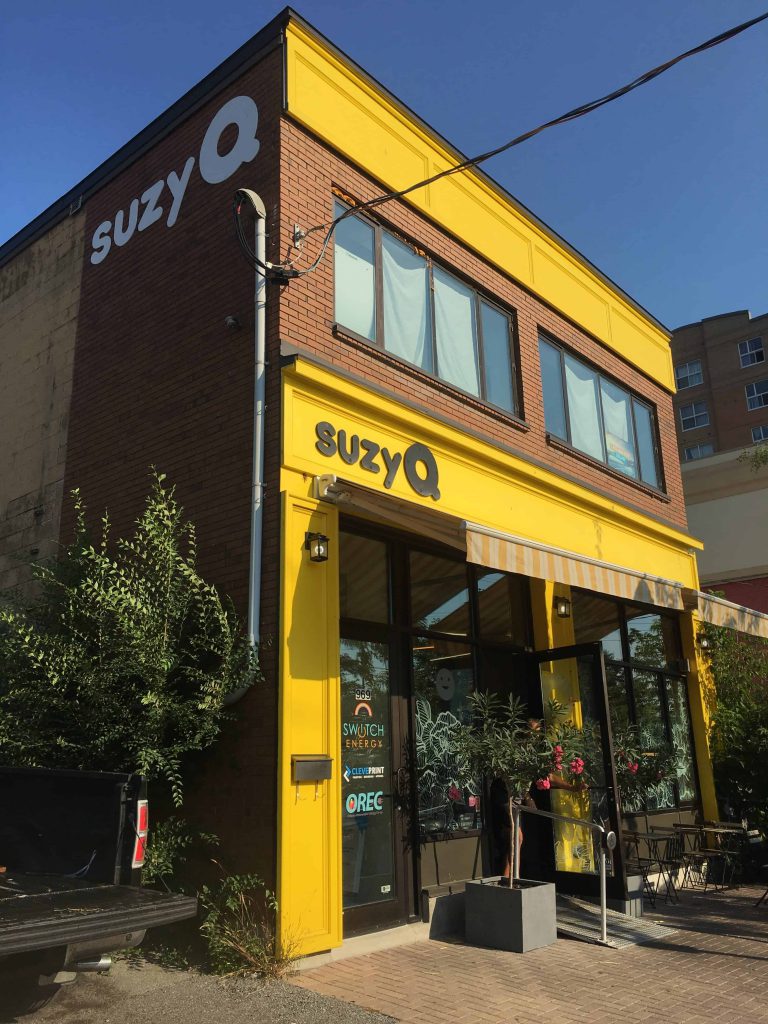 The Ministry of Coffee and Social Affairs
Considering I dislike coffee and yet I am wandering around my city looking for the best coffee spots, I wanted to make sure they also sold tea and other drinks. I like the atmosphere of a good quality coffee shop. I am pleased to say that not only does the Ministry of Coffee sell tea, they offer cocktails after 6 pm. This was very exciting for me; not that I would be here for that long, or necessarily needed wine at 11 am, but it was nice to know that I had options. And that this location was multi-faceted. I could be served just about anything I wanted, depending on my mood.
The Hintonburg location serves wine and local beer from 11am to close. and at 6pm we start our evening small plates menu, with coffee service until midnight.
There were lots of people on their computers or cell phones – which is ironic since it's called the Ministry of Coffee and Social Affairs. 930 am is a little early to be chipper and social though, so I don't blame them. A few people are meeting friends here by chance so there is chatter. It seems fairly busy for 930 in the morning.
The decor is darker, more lounge feeling. Jazz music was playing. It is a nice atmosphere for relaxing or working. I can see it being popular after work.
The signature tea is a mix of Darjeeling and Asam black tea. It sounded great, but I wasn't a fan. A little too much punch at the end.
We bring the best quality coffee and food to our customers. We rotate our coffee weekly from a well curated list of the best roasters from all over Canada, the US and beyond. But we don't stop there. We make all of our syrups and food in house to ensure quality and freshness.
Find out more about The Ministry of Coffee and Social Affairs and their many locations on their website, here.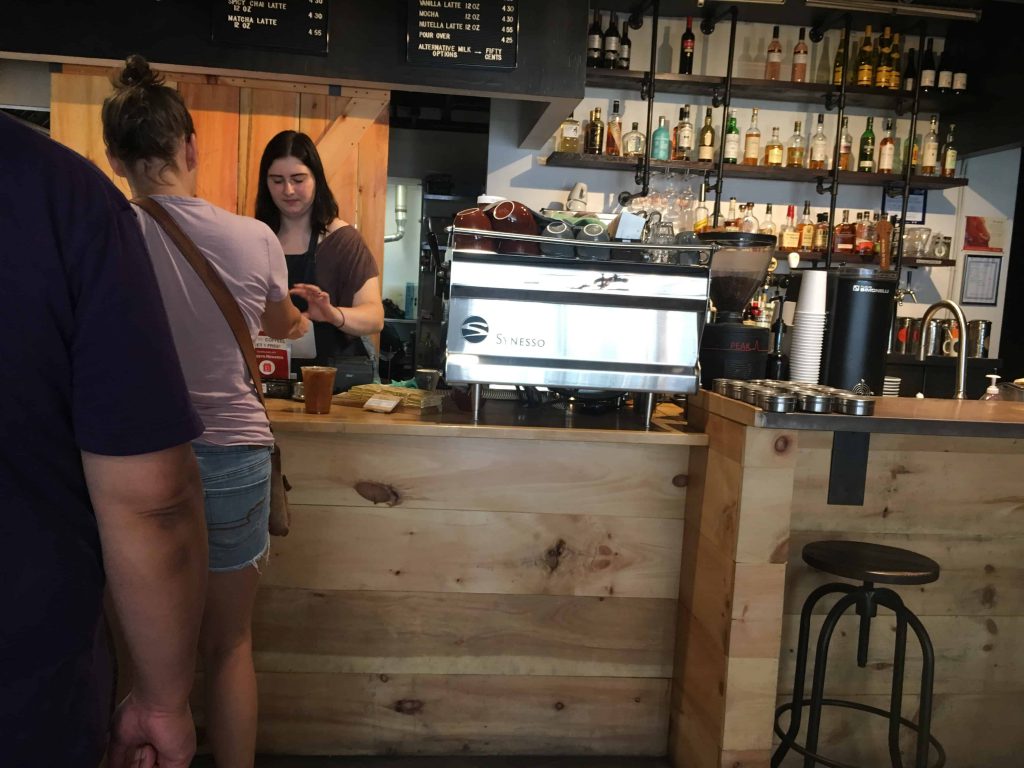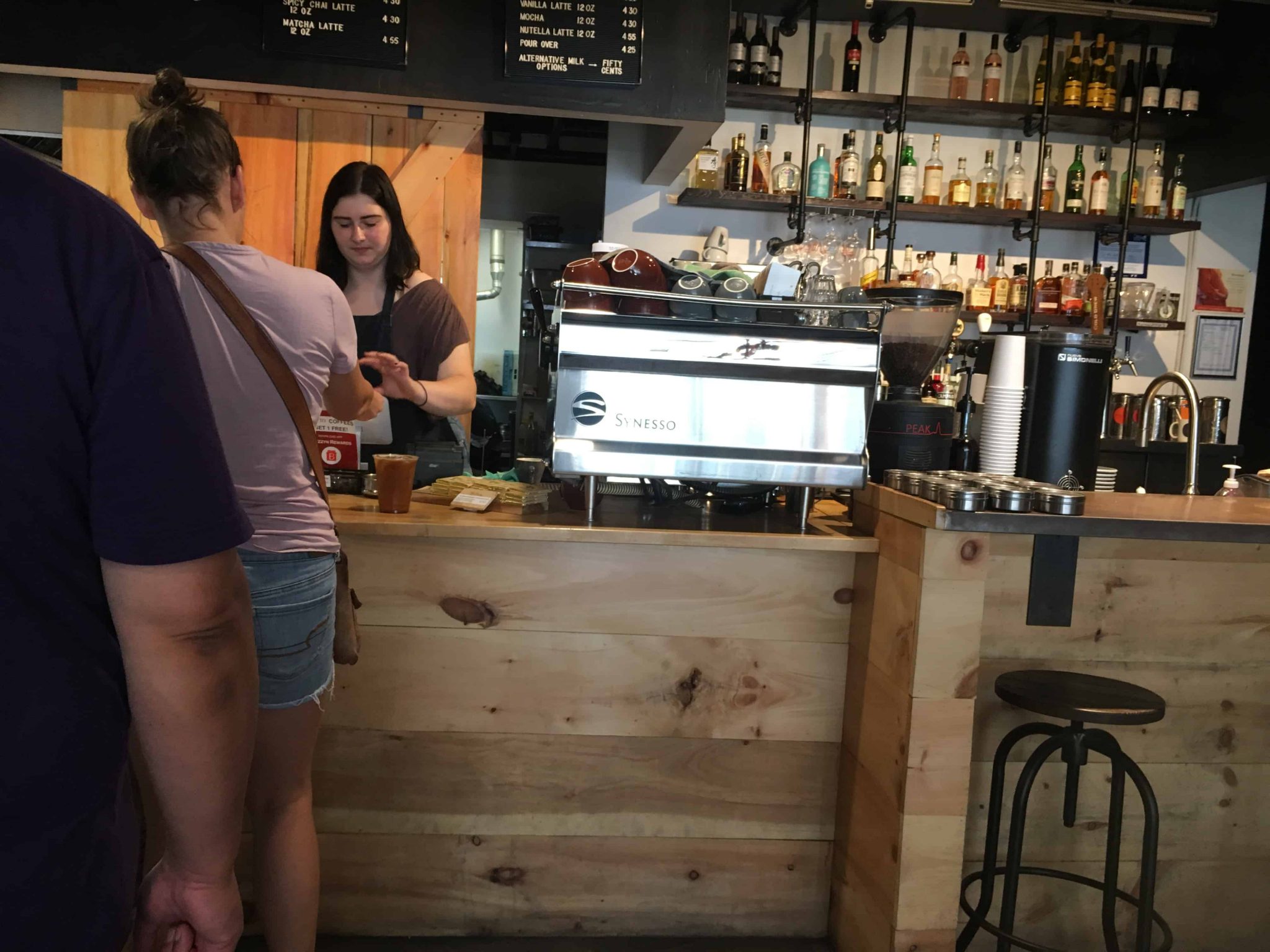 Feline Café
I have never been to a Cat Cafe before. This was great. Both my son and I are allergic to cats, but I don't care. I love cats, I have always owned a cat and when we lost Franklin 7 years ago, I was devastated. Having never been able to get a new cat, I love to find ways to interact with cats; visiting friends and family that own cats, seeing them on the street ( don't worry, I know who they belong to), or slyly visiting a shelter just to pet one for a bit.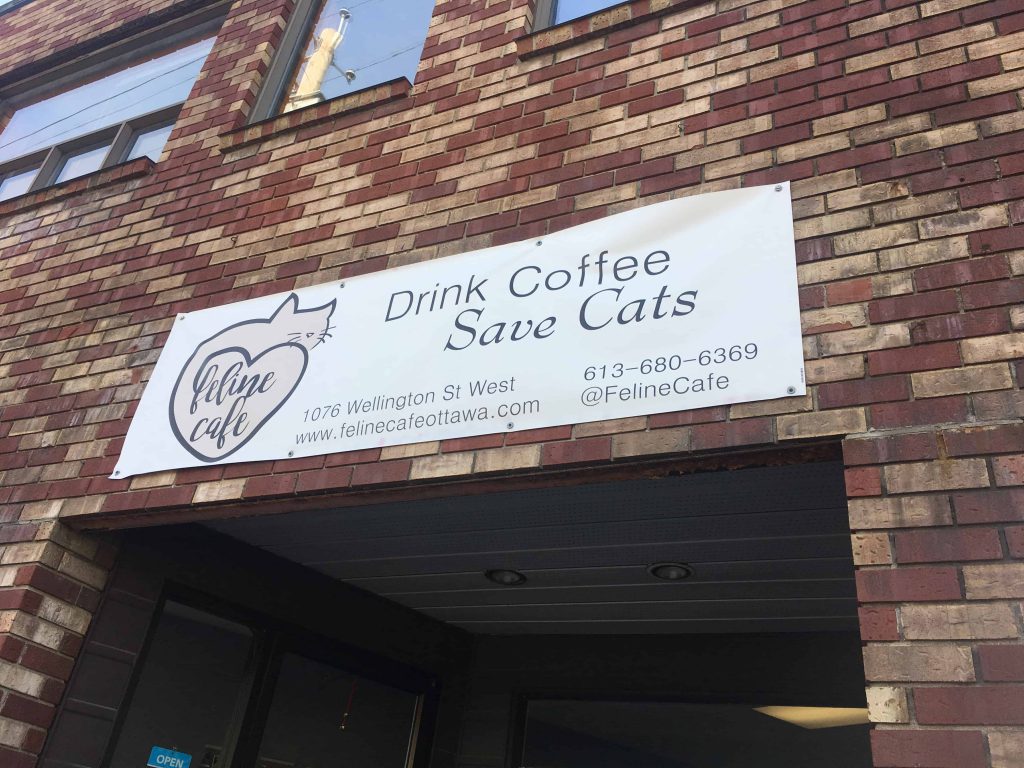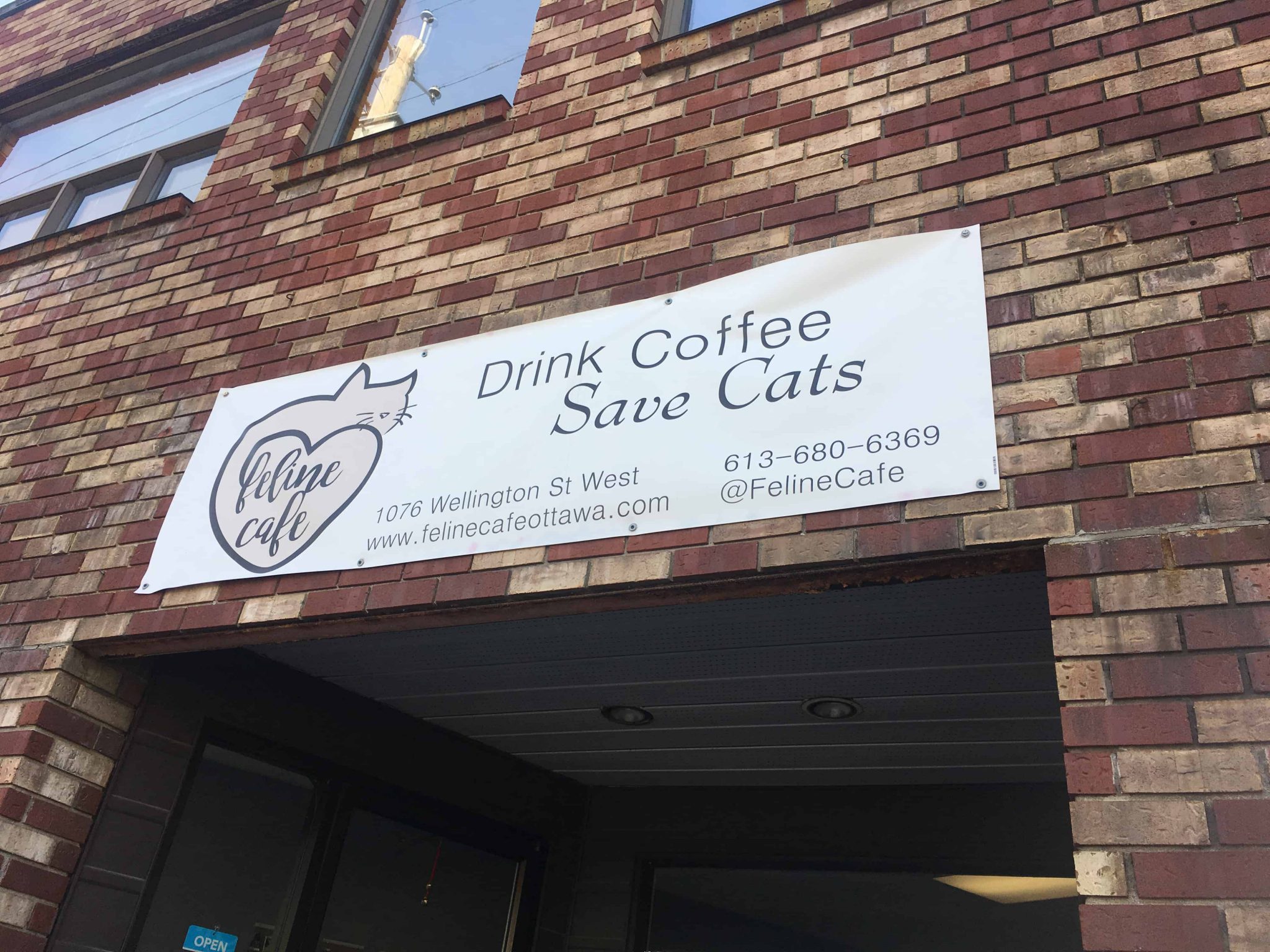 When I walked by the Feline Cafe on my way to SuzyQ, I knew I had to come back and make a visit.
There are a few rules to follow before entering the car portion of the cafe. Mostly, don't hold them and don't feed them. There is an administration fee, but no purchase is required. $3 if you buy something, $5 if you don't. One can simply arrive to play with the cats. The money is used to house, feed and care for the cats while they are at the cafe and await a forever home.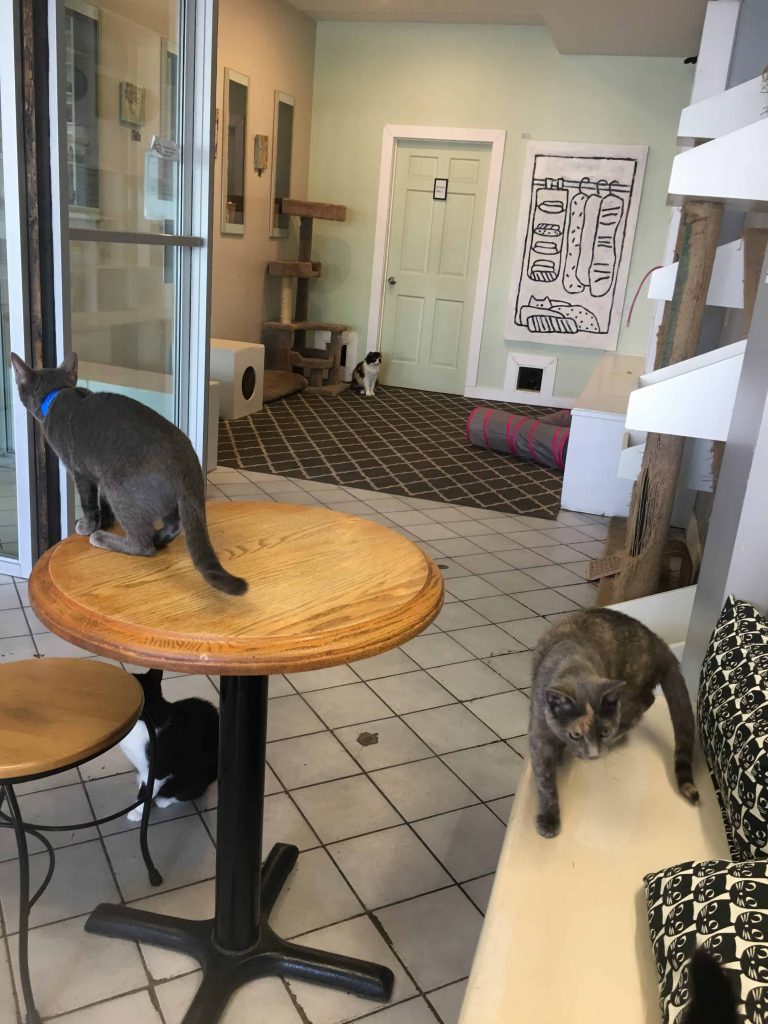 I ordered the English muffin, toasted with butter, and it was amazing. I was offered the Cream of Earl Grey tea – a pinch of vanilla. It wasn't that bad, actually. I'm not usually one for breaking with tradition but the vanilla wasn't too strong.
All the cats play fairly well with each other but they are not declawed, so pet and play at your own risk.
There can be anywhere from 5-14 cats on any given day, depending on how many get adopted.
Follow them on Instagram for adoption updates and stories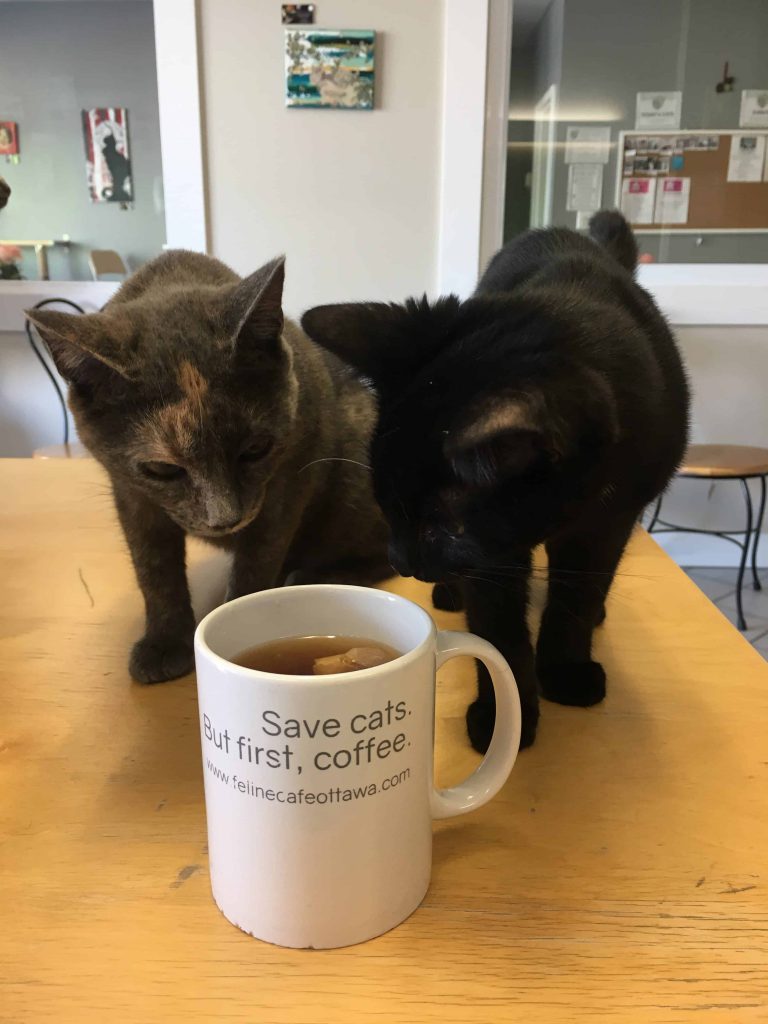 Bread By Us
Bread by Us is a small-batch artisanal bread bakery creating sourdough breads. Because no bakery is complete without coffees and teas, they have a small espresso bar in the shop as well. The cafe portion of the building is more like a standing cafe, as it is not meant to be a coffee shop. I thought it looked perfect.
There is a great selection of breads and pastries and the whole place smells so good. There is also a rack of yesterdays creations; just in case you didn't get in time to purchase your favourite bread, they keep and sell at a discount, any unsold products.
We do our best to support local suppliers because we love our home and we love the bounty that comes from it. We are dedicated to sustainable environmental practices, and creating a healthy and prosperous work environment within our own walls
They are also supplying Detour Coffee (Burlington, ON), Happy Goat Coffee (Ottawa, ON), and Barking Barista (Ottawa, ON).
Their website, here, has an entire schedule for the week, of when their bread will be prepared and ready for sale. This is incredible!
The bakery looks so handsome in the morning sunshine. Have a happy Sunday folks. I hope life treats you kindly today ♡♡♡ pic.twitter.com/0CqAoyYUEe

— Jessica Carpinone (@BreadByUs) May 13, 2018
That is it for me today. Check back here regularly and see what kinds of updates we've made to our list. I am hoping to cover more ground as the weeks go on if the weather holds (I am currently on foot, though I don't see that changing. I can't imagine driving in the downtown core. On purpose).

Your Thoughts...
Please share your thoughts in the comments or reach out on social media...We would love to hear from you.
You May Also Like…