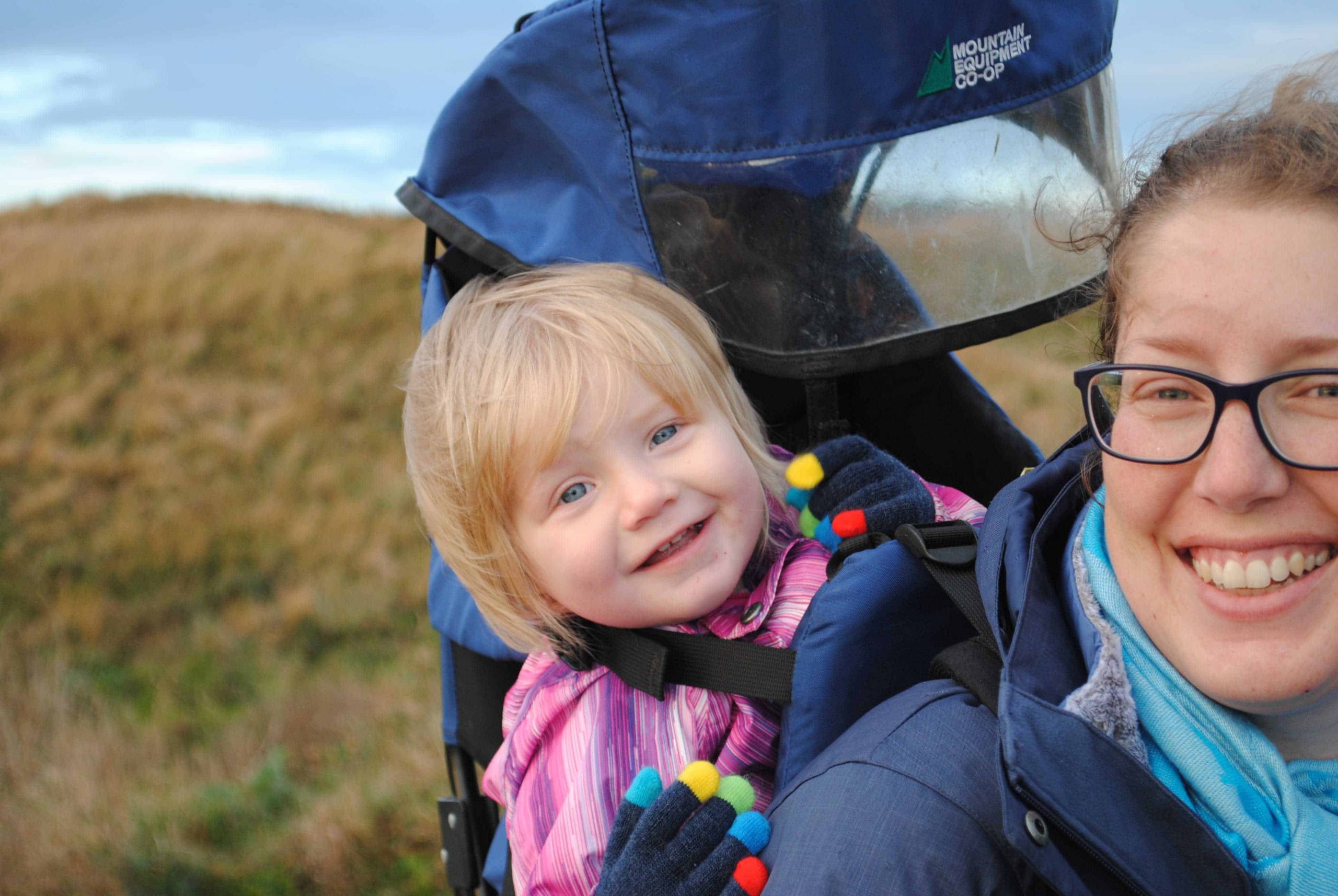 Are you looking for the best toddler carrier for hiking and traveling? We compare the popular and less known brands' products to give you an overview. We evaluate the products based on their weight, comfort level, weight limits and their price too, so you select the best budget hiking baby carrier for your needs.
Much like a carrier is used to relieve some stress from parents' back and evenly distribute weight across the shoulders and hips, a hiking carrier does the same thing and more. This is your guide to the best hiking baby carriers lets jump right into it.
Not only are hiking carriers able to carry much more weight than your standard baby carrier (this is both a good and bad thing), they help parents be more active and stay out longer (again, both a good and bad thing).
This post may contain affiliate links.
To which I earn a small commission, at zero cost to you!
Find more info in our
Privacy Policy
.
Frame backpack or soft carrier for toddlers?
You might be asking yourself, why use a hiking carrier vs a regular carrier? There are a few things to consider when deciding if a frame backpack, like a hiking carrier, or a soft carrier is best for travelling. It depends on what type of hiking you're going to do and how big/heavy the child is. The soft carrier travels much better, but the frame pack will take a bigger load and be more stable when hiking on rough ground.
The frame packs definitely allow more airflow for both the parent and child, but many find them to be quite bulky while travelling and potentially heavy feeling. A soft carrier is much more comfortable due to its lack of frame, and one can maneuver around with much more ease. However, a soft carrier can run hotter due to direct contact with the child.
There is a purpose for each style of carrier. For more information, check out our review of soft carriers for babies and toddlers.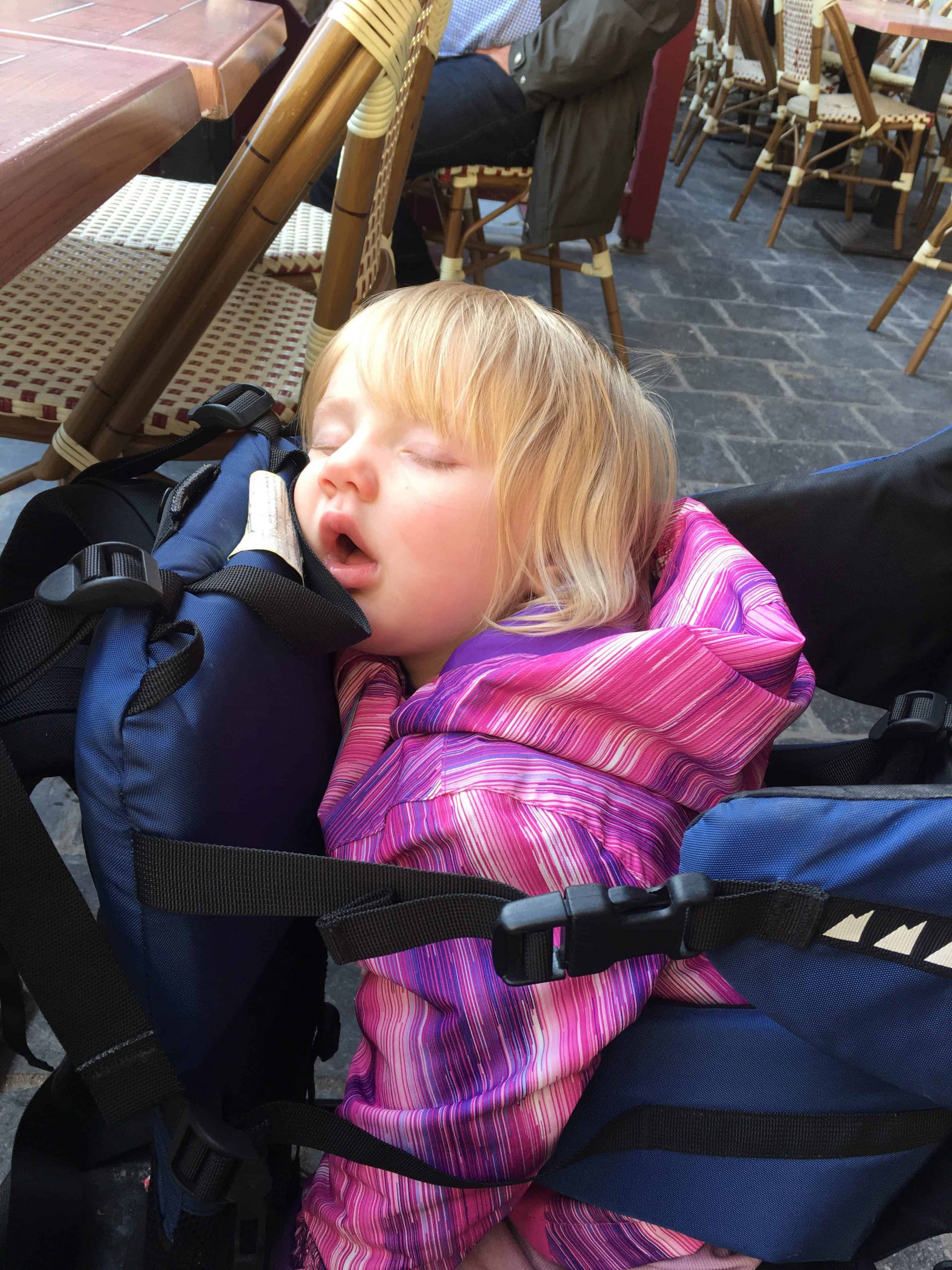 Destination
If you plan on hiking, climbing or otherwise go off-roading, a frame backpack will have more support for yourself and the child. On the other hand, destinations that require more stop and go, inside buildings or small spaces, may find a soft carrier to be more practical.
Size of the child
The size of the child has a huge impact on the style of carrier that is best. Kids need to be swaddled in front until roughly 6 months before graduating to a backpack-style carrier. Soft carriers are great for hiking with your baby because they can be used even with very small babies
You will want to move into the frame backpack if you have an older child and are finding that your soft pack carrier doesn't provide enough support.
How long you plan on wearing
If you are going on a multi-day hike, you will want a frame backpack for both the storage and because these carriers are specifically built for hiking and will likely be better on your body over several days.
Hiking carriers are also best if you have an older child and are finding that your soft pack carrier doesn't provide enough support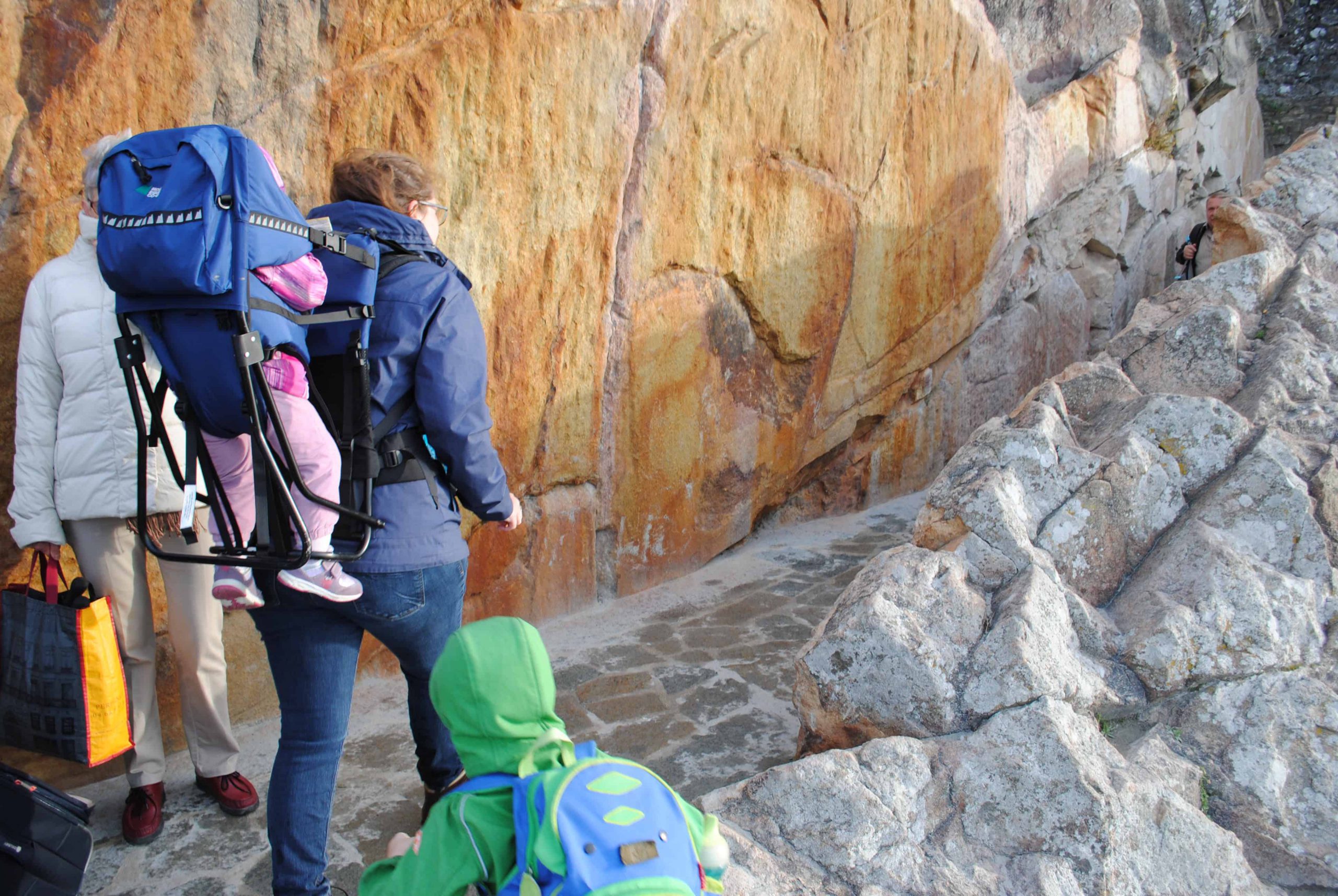 Things to consider when looking for a hiking baby carrier
We have looked at the best hiking baby carriers and backpacks on the market that have been designed especially for the wear and tear of venturing into rugged terrain. You need to ensure you look for hiking baby carriers with the following features.
Comfort and Padding
Some carriers have more padding than others. You will want something with enough padding to be comfortable after a few hours of carrying around a 40lb child.
Ergonomic design
Make sure the carrier you choose fits your body type and size. Something for your 5foot frame will not be comfortable for your 6foot partner.
Sun and Rain protection
A must-have feature for outdoor activities. A sun and rain hood can be detachable or permanent, but it needs to exist.
Pack Weight
The empty weight of a pack may not be the first thing you check on when researching baby carrier packs. The smallest pack may not be the best choice, however, as it needs to be robust enough to carry out the task.
Adjustability
If multiple adults will wear the baby carrier, a highly adjustable fit system can be an important feature. In particular, your pack will need a wide enough torso range to be comfortable for all users.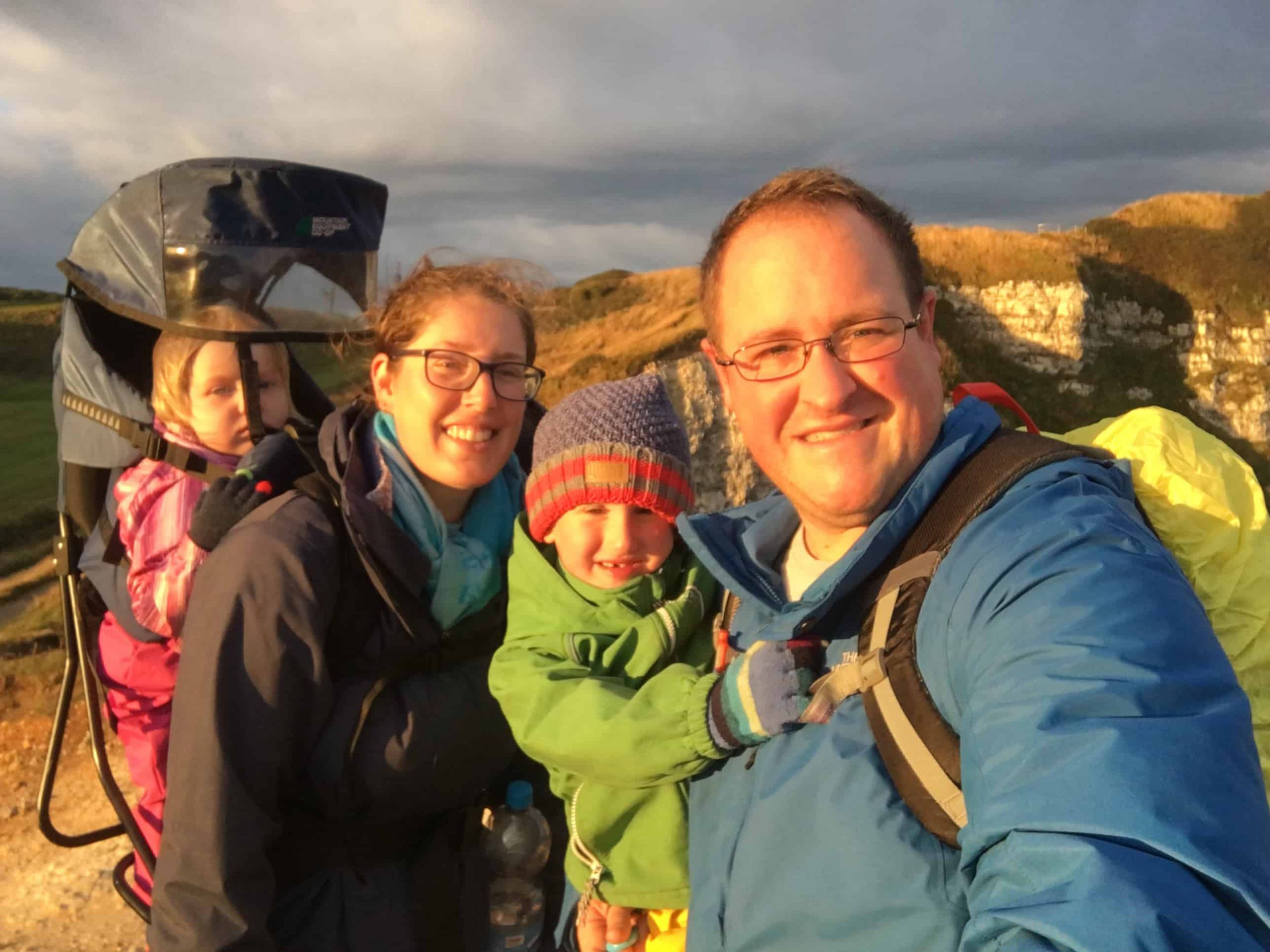 Pockets and storage capacity
Baby carrier packs include an array of pockets for organization and storage. This helps alleviate the need for a diaper bag, or at least make the more important items closer to the parent's body and easily accessible; like snacks and water.
Extra storage
Outside of just having pockets, there are carriers with hydration pack storage for Camelback, detachable daypacks, loops for carabineers, key rings or toys, space for sunshades, pouches at the waist belt and more. Depending on your needs, these are important things to look out for. They come with an extra price tag so it may not be necessary for everyone.
Footrests
Adjustable to the baby's height, the footrest offers space for resting her feet. This is a useful option for older children who might not appreciate long-term hanging. The footrest will allow the baby to feel as if she is sitting.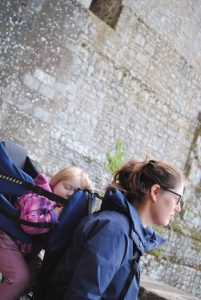 Taking into account all these considerations we believe that the following are the 10 best-hiking baby carriers you can buy online.
Best Hiking Baby Carriers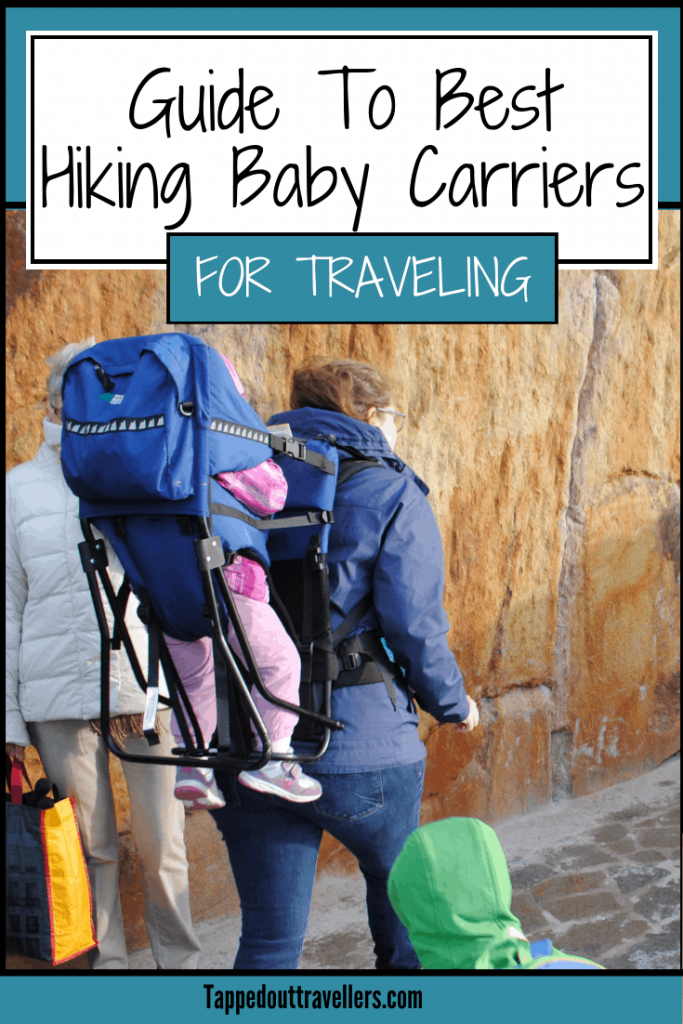 Our pick for the best baby carrier for hiking
Users have reported being able to load the children upon their own, therefore able to explore and hike without the assistance of another adult. The pack has a great kickstand, kids feel safe and secure in the pack. The thick padding is all around as well as nice sturdy straps. The sun shade is easy to slide on or off; protection from the elements is vital during sunny hikes. Also, there is a nice big storage compartment attached to the back underneath the child. Parents are able to carry enough diapers, wipes, and snacks for the entirety of the hike.
However, most wish there was an easier way to get to the water bottles while hiking when alone. Since it holds up to forty pounds, kids will be in it for a while.
Max weight 33 lbs
Ideal for Children Between 9-48 months
Adjustable Foot Stirrups
Multiple pockets including two water bottle pockets
---
Best support and comfort
So far, the only drawback of Kelty Journey PerfectFit Elite is that its designed for bigger babies and the harness is too big for babies. There is a large zippered pocket with internal stretch pockets that store extra layers, toys and anything else you may need.
Completely redesigned for 2018 with feedback from parents around the country, the new Kelty Child carriers offer best in class features and comfort. Developed with a pediatric specialist, our 5-point safety harness features a wide seat base and adjustable foot stirrups to offer proper positioning of the childs legs for health and all-day comfort.
---
Best backpack baby carrier
This pack is exceedingly comfortable and easy and highly adjustable. This pack is comfortable for both the tall and the short. If the pack is not comfortable, I highly recommend watching the videos on YouTube for guidance on how to fit an Osprey pack. Keep in mind that a comfortable fit is dependent on torso length, not height. The padded portions of the pack (hips and shoulders) are a bit stiff out of the box but soften up very nicely with use, while still being very cushiony
Adjustable and Removable Stirrups
Adjustable Torso
Anti-Gravity Suspension
Built-In Sunshade
Dual Grab Handles
Zippered Stash Pocket
---
Best hiking carrier for mountain kids
The ratcheting shoulder straps allow it to adjust between "sizes" and fit both myself and my husband. There are size markings on the side, but you can easily adjust it above and below those. The design itself is great too. The side pockets do well for hats and toys, and the lower pocket is roomy and perfect for diaper supplies.
The hip pocket is nice for a camera, and you can roll up the waist straps and tuck them in so they don't dangle. I love that the child's straps bring the child forward, closer to your back (like the Osprey), instead of away from it (like the Kelty).
Comfortable for Kids and Parents – Step-in side access makes it simpler to get kids in and out of the carrier

Soft chin pad provides optimum support for little ones to rest or nap and is removable and washable

Height-adjustable footrests keep little legs warm and promote circulation

An aluminum frame pairs up with ergonomic, padded hip belt and load adjustment straps for optimal load transfer and stability
---
Best hiking baby carrier
When looking for a hiking carrier, many people have two criteria; big enough to haul the child+his nicknacks, yet small enough that you aren't knocking things over when turning around. Phil and Ted's Escape baby carrier checks both boxes.
The straps are extremely comfortable and wide. Well padded. The quality is noticeable immediately. It's meant to be more sleek, smaller than the other comparable frame packs. There is a very rigid and lightweight frame, however, unlike other designs- it doesn't tower 2 feet above your head. It's comfortable, but you have to keep in mind you're hauling a living person in it. There has to be some expected level of discomfort when you consider that fact.
Hydration pouch and storage
Supportive and adjustable
Includes a hood and rain shield, day pack, change mat, mirror and foot stirrups
Included foot stirrups maximize your child's circulation
---
Top hiking carriers
Luvdbaby Premium Baby Backpack Carrier has lots of pockets, is very comfy for baby and is easily adjustable for all different heights of parents. There are straps to prevent the baby from falling out of the top and we love the mesh roof for shade. It comes with a rain cover that would protect baby's head from getting wet.
Multiple pockets and an insulated pocket for bottle
The baby backpack will protect your backpack as you carry your child
Diaper changing pad
Baby back carrier built to last with premium materials
---
Best Hiking Carrier
The pack is well made, sturdy, has lots of storage, and securely fastens the child in the seat. Many have reported being able to check it for free at the airport because it is a child accessory and some airlines provide complimentary checking of those items – it's big but not too big to be considered oversized.
The Thule Child Carrier is great quality, adjustable sizes, and has tons of storage by an awesome brand.
---
Top baby carrier for hiking
The weight of this carrier is nicely distributed and allows you to move freely. It was easy to fit, just a few tugs at the straps and it's ready to go. It's stylish and sleek enough that you don't LOOK like you are going hiking in the wood, in case you wanted to use it for city touring. I love that it has a good amount of space in the pack below for diapers and wipes, toys, snacks, water, and an extra coat. There is a little zipper pouch on the waistband that is perfect for chap stick and a small knife. The kickstand is nice for loading the child, and there is a little handle on the top that makes it easy to lift the pack up to swing it around onto your back.
Carry children up to 40lbs
Freestanding for Loading
Drink Bottle Storage
Detachable Mini-Backpack
Compact Fold Flat
---
Best Hiking carrier for big kids
We can't leave the big kids out. Carrying children on your shoulders or traditional piggyback rides quickly become uncomfortable and cause back pain. While your 4-year-old is more than capable of keeping up with the family during a fun hike, sometimes the walk back to the car is just a little too much for them. The fun is over and their motivation is gone. This Piggyback rider is great to help redistribute the weight.
It's great when he's ready to go, but if he's tired, it's not so great because he can't fully relax. We loved it for short spurts of time on flat ground. I didn't quite trust it during our hikes through the woods, just because he's not fully secured. It is well made, easy to put on, easy to adjust, compact for travel, and well packaged.
---
Your Thoughts...
Please share your thoughts in the comments or reach out on social media...We would love to hear from you.
You May Also Like…