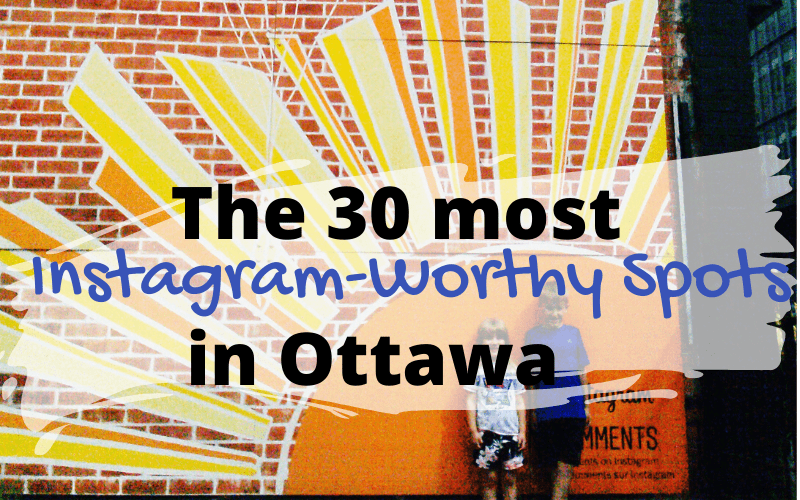 Instagram and Pinterest have me rethinking the Best Places to Photograph in Ottawa for Instagram finding new Ottawa activities and awesome photo locations each and every week. Today we are going to look at the Most Instagram-Worthy Spots In Ottawa.
Don't forget to join our Ottawa with Kids Facebook group. Stay until the end and download your free printable checklist.
What are the best places to take pictures in Ottawa?
Whether you have lived in Ottawa all your life or you are planning on visiting for the first time, everyone needs a bucket list. During our 2 years in Ottawa, we have amassed a list longer than my arm of all the amazing activities, locations, and family-friendly things to do in Ottawa but what about photo locations?
While I would never profess to be a professional photographer, I do enjoy taking nice pictures here and there. My biggest problem is knowing where to find these "hidden gems".
National War Memorial
Bank st. Bridge
Bank st. Bridge over the canal is popular for picture taking, especially at night.
The Waterfall Trail in Gatineau Park
Laurier bridge
Laurier bridge (the green metal one) over the canal.
Dominion Arboretum
There's a small wooden bridge along the Arboretum pathway.
Nepean Point
Fairmont Hotel Château Laurier
The National Gallery of Canada
Big Mama
Hog's Back Falls
Notre-Dame Cathedral Basilica
Plaza Bridge
Rideau canal
Parliament
Major's Hill Park
Rideau Falls Park
Canadian Museum of History
Quelque Chose Patisserie
When in the Byward Market you need to visit Quelque Chose Patisserie to see their Ottawa sign!
Central Experimental Farm
In late summer the Central Experimental Farm has a large sunflower field that makes the perfect backdrop for a selfie.
Street Art in the Glebe
Canadian Museum Of Nature
Beach shack at Mooney's Bay
Remic Rapids
Laval Street Gatineau
Head to Laval Street in Gatineau for a colorful photo of the umbrella-covered street. You can find the umbrellas on the Gatineau Culture Trail, which is a 3km red line around some of the best sights and places to eat in Gatineau.
Rideau Hall
Ottawa Sign at the Byward Market
Mer Bleue boardwalk
Photography is about what you see, not what others see. Go explore and take pictures with your creative eye.
Your Thoughts...
Please share your thoughts in the comments or reach out on social media...We would love to hear from you.
You May Also Like…
Click the image for your free downloadable checklist