The Essential Beach Packing List For Family Vacation Fun

7-day beach vacation  packing list
Can't decide what to pack for your family beach vacation? The lists and options are endless. Having been a few times, and failed more than once, here is a handy family beach vacation packing list and beach house items that are essential. And a quick reference of what can be left behind.
What to take to the beach
Battery Operated fan. To cool off the babies when not in the water.
First Aid Kit. Stings, bites, scratches and the like happen everywhere. And the beach is a dirty place.
Beach toys; this was all they needed used for the week, only cost 5 euro per bag. Make sure all beach toys can double as bath toys in order to justify taking up so much space in your luggage.
Beach cover-up
2-3 Swimsuits each
Sun Hat
Walking shoes
Maybe flip flops for the beach house
2 baby beach tents – one to use and the other for a spare when you break the first because you were distracted while putting it together
Sunscreen
Sunglasses
Bug spray
Aloe vera
Hair ties
Conditioner – this belongs in your beach bag! Hair can get very dry from playing at the beach all day, condition in the showers when it's time to pack it in for the day and your hair will thank you (well, technically it will hate you less, but I take gratitude where I can)
GPS so you can drive around. We've had TomTom in our rental cars and Garmin at home, and even though the differences were subtle, we prefer Garmin GPS and choose to replace our lost GPS (aka forgot it in the rental car even though we had more than enough time to inspect the car for left items, and buddy "didn't see anything" after we handed over the keys) with another Garmin model.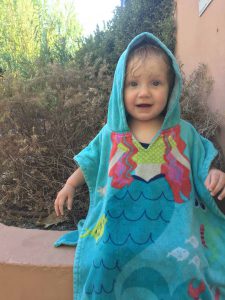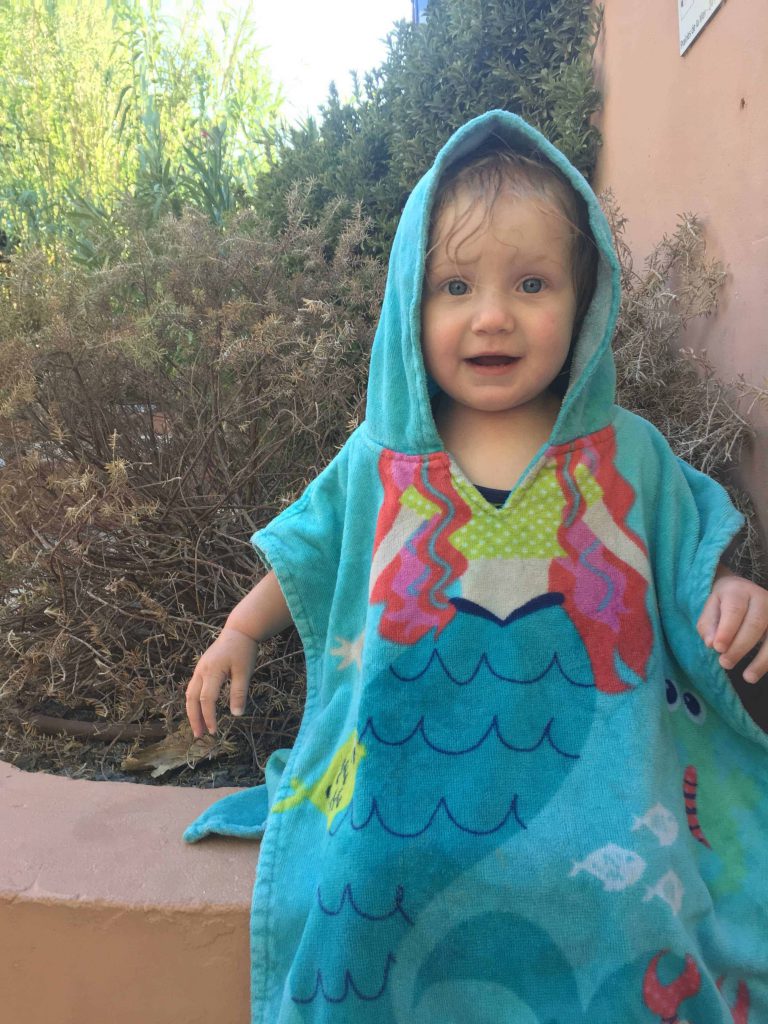 Standard medicine bag contents, shower gel, baby powder and diaper cream in the beach bag – shower before heading back to the beach house. Shower gel is great for rehydrating your skin while washing in the shower, after spending hours in the salty water, or worst, being buried in the rough sand.
Beach bag; preferably one that zips closed
Bamboo rolling mats for sunbathing. Easier to clean than a beach towel
Water bottles or sippy cups. Enough for everyone to have their own
Sand-free Mat – does an amazing job at sifting the sand off the towel, so you never have to dust it off (for the millionth time) again. That or a flat sheet (since it uses less room in the luggage and weighs less, but I prefer no sand)
Kite and frisbee.
Ocean books and colouring pages. Sometimes mommy and daddy just want to rest, which means little ones need to get out of the water. Have them read (or be read to) and colour while you catch up on your tan. This activity book for older kids, and just about anything Octonauts for the little ones are a great way to keep their minds busy.
Keep camera accessories and other fragile items in a Ziploc bag. Blowing sand can be just as harmful to your equipment as water.
Waterproof cameras are a great idea too. Check out our full guide to kids cameras here, and this waterproof point and shoot camera for adults.
Cornstarch or a small bottle of baby powder will go a long way to helping get that scratchy sand off your legs without tearing you apart.
For the beach house / furnished apartment
Spices, toilet paper, knife set, snacks, food, garbage bags, a small bottle of dish soap, whisk, bbq flipper; these don't come with the beach house. All available at the local store, but much more expensive than buying at home. This way, once used, you have room in your bags for souvenirs! Win-win!
Individual packets of condiments to make burgers at the house. Taco seasoning. Anything small that can help make a bigger dinner with minimal purchases
Cork screw, bottle opener combo. Not all houses have these.
Mesh Hamper – to keep your clothes separate and contained
Kiddy Life jacket – some pools require it of little ones wanting to take a dip. This Puddle jumper is a great compromise for the kids.
Tablet with movies/shows on it. There is no (affordable) wifi available and sometimes we just need a break
Toilet seat adapter for the little ones. Not all toilets have toilet seats in France and little ones can get scared. This was true during our day trips. Amazon sells great foldable potty covers and they can hold up to 30ish lbs.
Coffee, tea, and accessories. There is always a grocery store near a resort but why buy when you can easily bring what you already own. You also paid much less than they are charging.
Not-so beach necessities
Beds! If you are flying, consider renting the playpen and high chair from the beach house rental agency. It may seem a bit odd and expensive to rent but are you really going to truck all this in your car, or worst, on a plane (rental cars are ridiculously overpriced and small)?
Try to find a rental that includes towels and linen. If not, find out what is included. We rented our linen and turns out, the linen on the bed came with the house, only a spare was extra – I didn't need to spend that kind of money on spare sheets for 7 days; Laundry takes 1 hour.
You may also like