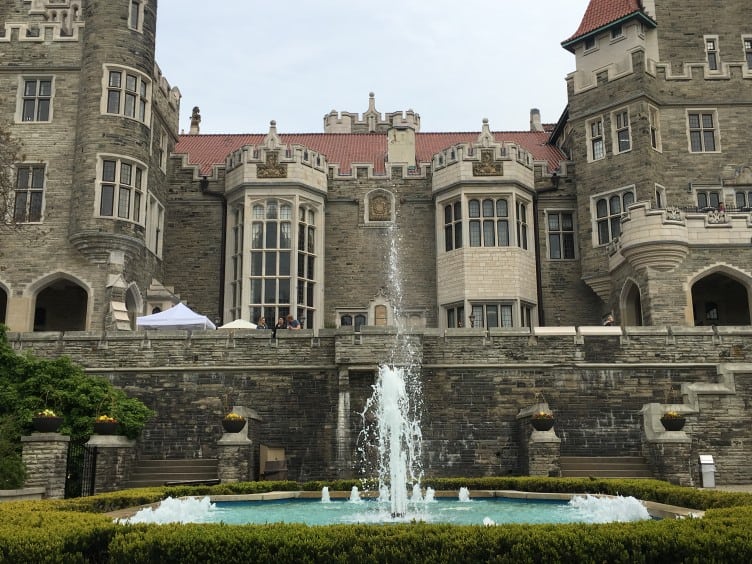 The castle in the centre of Toronto
I had no idea that Canada had castles, let alone this many. I have seen Chateau Frontenac in Quebec City, but it is a hotel and I didn't think much of it. Because Canada has never had royalty live on our land, I found it hard to believe that these were true castles. Germany has enlightened me a little in this respect; Schloss and Burg both mean castle, as well as a large house, palace or mansion. Casa Loma is Spanish for Hill House and is literally a castle-looking mansion. While I am not saying this building is being overplayed or not worth your time, because it was amazing to see and the views are incredible, just don't expect Neuschwanstein when someone says "hey, want to visit the Castle in downtown Toronto".
Keep in mind, this is Casa Loma in Ontario, Canada. There appear to be many hotels, apartments, and buildings with the name Casa Loma throughout the world. Notably in San Fransico and Columbia. Watch those Google results before clicking anything.
Taking TC Transit with kids
We arrived in Toronto via Go Train from out of town and landed at Union Station. It wasn't hard to find TC transit from inside the station, just follow the signs within the building or the heard of people all going away from the station – it's a good indicator that you are going the right way. During construction and renovations, it is hard to see the signs for elevators or ramps but they do exist, just keep looking.
This being said, I don't suggest you take the TC transit to Casa Loma Castle, unless you are prepared to fold the stroller. We took Line 1 Subway from Union to Dupont, which is the closest station to the castle. This is where the no-so-stroller friendly part comes in. There are no elevators at Dupont, only narrow escalators. While this would normally be fine, I had my mom, my son, my nephew and my daughter (in her BOB stroller – not the smallest of jogging strollers). We had a construction worker help me fold and carry the stroller up the stairs while my mom took the 3 kids on the escalator. Once up top, we noticed our sidewalk was closed due to construction, hence the worker, and the only way around was to go back down and take the other escalator to the proper side of the road. Another helpful gentleman in uniform stopped traffic so our group could cross instead. Such a great group of guy. I love Canada!
There are a few other stations that are handi-friendly but they are not close and would require a bus/tram transfer. There is a bus that will get you there from Union; 320 North. Get out at Yonge St and Shaftesbury Ave north and walk 2km to the castle doors. From Dupont, it is a 600m walk, or roughly 10 minutes, up and around, to reach the front entrance. There are signs along the way in case you get turned around.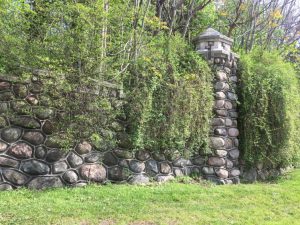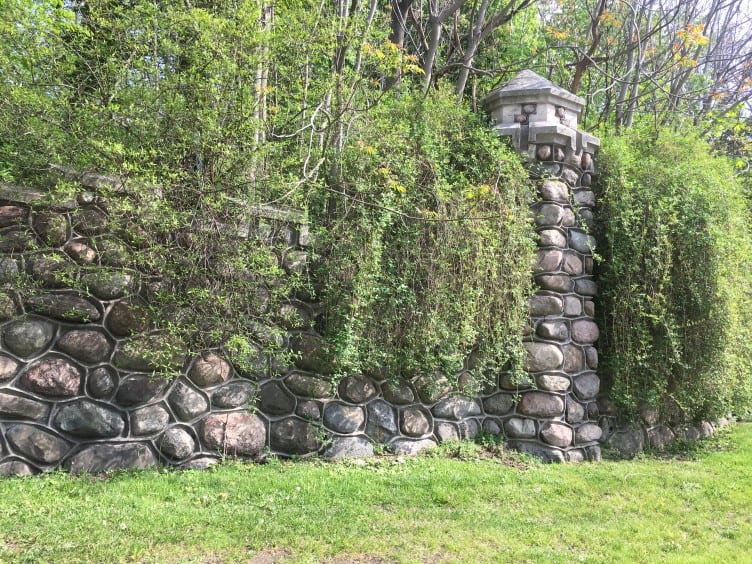 Casa Loma tickets
Casa Loma is open daily 9:30 a.m. – 5:00 p.m
Adults (18-64) $30 with tax, Children (4-13) $20
Purchase General Admission Tickets online via this button >>
or
Save up to 50% off combined prices for admission to must-see attractions with CityPASS Toronto
Please note the tower closes at 4.30pm to accommodate Casa Loma Escape the Tower.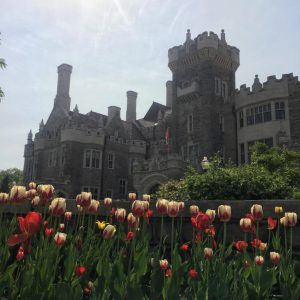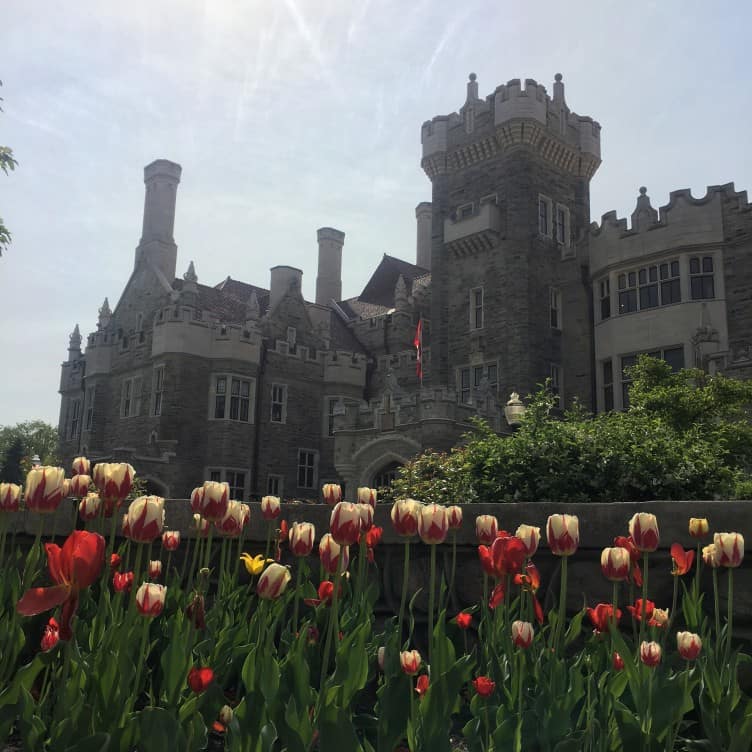 Visiting Casa Loma with kids
Stroller parking is an invisible area next to the Piano that is not marked all that well. The staff at the front doors say nothing has ever happened to pieces left behind, but I wasn't about to risk it. We left our snacks and hats in the storage bucket and grabbed our valuables.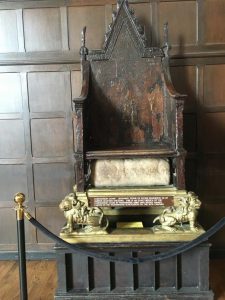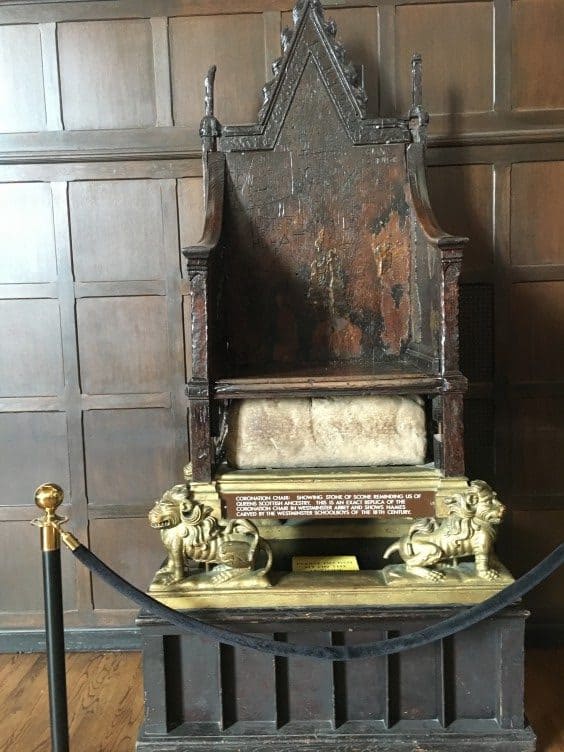 From here, send a member of the family down the stairs and into the gift shop (how clever) to retrieve the free audio guides. I grabbed 5 guides, one for everyone, and hoped this meant my mom and I would be able to listen to a few sections of tape.
Nope. This is why I do guides tours; audio guides just don't cut it.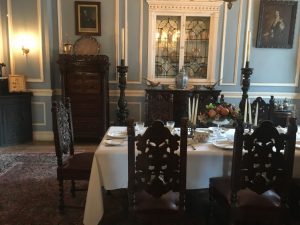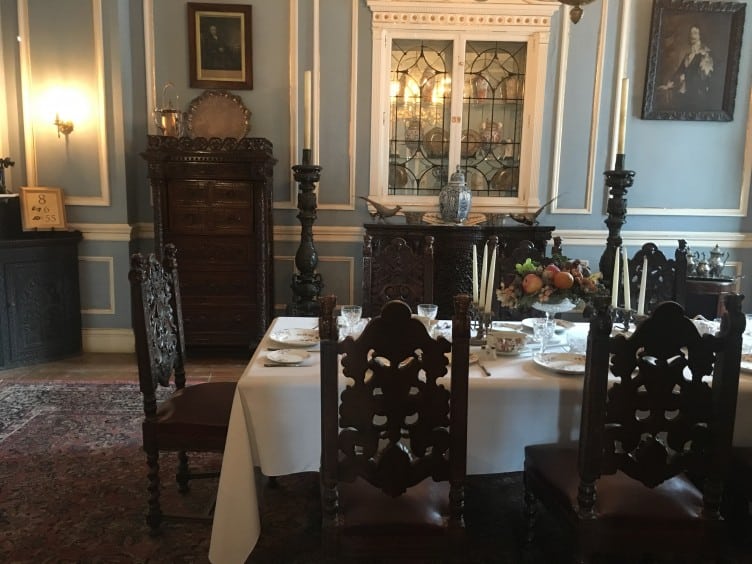 One of my favorite things to do when traveling is to look for souvenirs to take home for family and friends and something for my bookshelf! Check out the Best Souvenirs from Canada for a few suggestions.
Casa Loma Gardens
We popped our heads out on to the deck and had a gorgeous view of the gardens. The kids kept asking if they could see the fountain up close – not sure if they wanted to throw coins in it or swim in it.
FYI – there is a food stall just outside of the back doors, and they sell ice cream. Food is not allowed in the building so it must be eaten in the gardens. There are benches everywhere as well as a sitting area next to the stall. But at 10 am, no thank you.
I could have easily spent a few more hours checking out this great Casa. There is even a wine cellar and bar in the basement, next to the souvenir shop, again – very clever. Between the two strollers and the carrier, why not. But, we had my nephew with us and my sister was running errands in the city so we had to meet up with her and continue on our day-trip full of kids activities.
I thought Munchkin had had enough of castles but he seemed really happy to show his cousin and mémère all he knows about castles and "knights in shiny armor".
Big thank you for Casa Loma for this wonderful opportunity to work with you. The kids and I are very appreciative.
An excellent resource for planning all of Canada can we found with the Lonely Planet Canada Guide.

Your Thoughts...
Please share your thoughts in the comments or reach out on social media...We would love to hear from you.
You May Also Like: