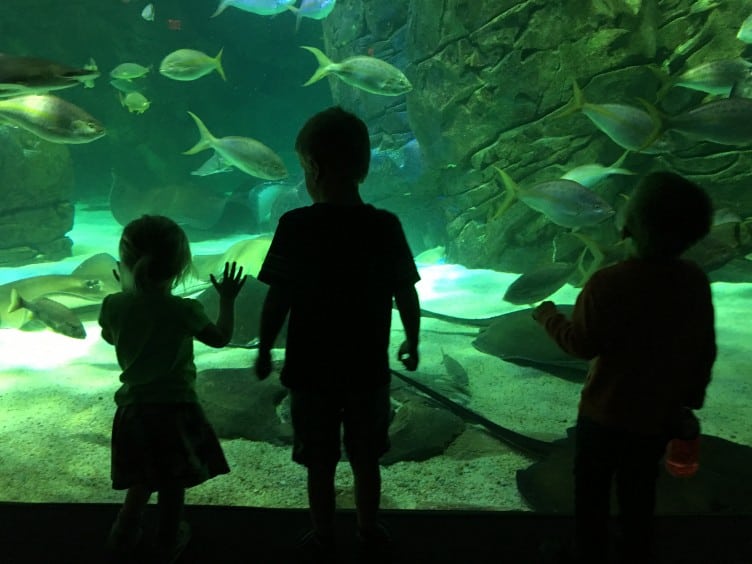 One day in Toronto with kids.
Having spent the better part of a week exploring Barrie, Ontario and everything it has to offer, we decided to change the scene and take a trip to Toronto for the day with the kids. Taking a day trip to Toronto isn't nearly as scary as it sounds. Load up on Timmies, pack a picnic bag, and you are ready to go.
Notice how we didn't say "load the car"… we have made it a personal mission to never drive in Toronto if could avoid it. I took the train to university 4 days a week for 3 years, this was going to be a piece of cake.
The first thing you need to do is grab the train really early in the morning, but not "Commuter Traffic" early. We arrived at the Allandale Go Station around 7 am, found plenty of parking, and waited patiently for the train. The bonus of being at the start of the line – no fighting for space to hold the strollers. Between the 5 kids, we had 3 strollers so we needed the room. The center car has a ramp and plenty of space for wheelchairs and strollers – as is the intended purpose.
This post may contain affiliate links.
To which I earn a small commission, at zero cost to you!
Find more info in our
Privacy Policy
.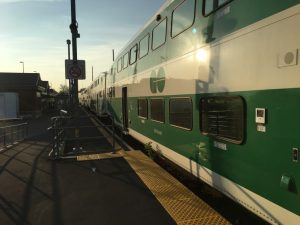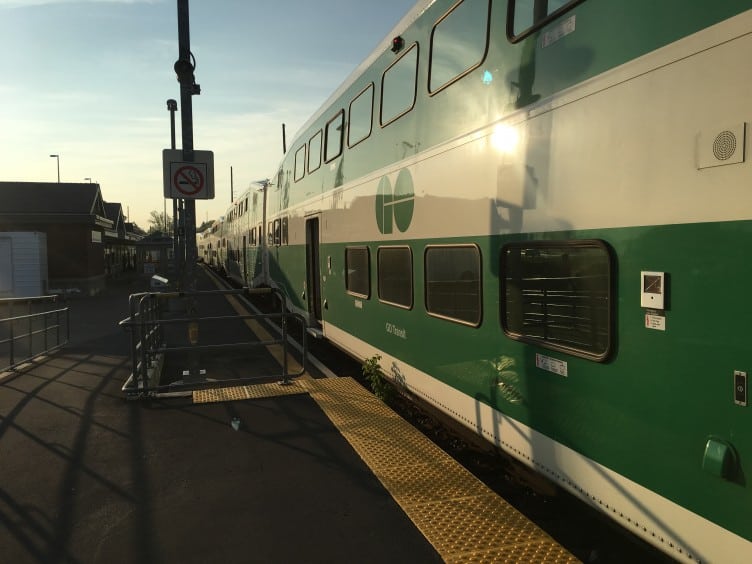 2 hours later, we arrived at Union Station in Downtown Toronto. The possibilities here are endless. A quick walk over to the TC section of the station and we were on our way to Casa Loma. 
Once all the commuters are at work, and students are in school, there doesn't seem to be many people riding out of Union Station at 930 am. Good for us.
Before we get too far into our journey, I want to point out a great way to see it all and save a bit of coin at the same time. Save up to 50% off combined prices for admission to must-see attractions with CityPASS Toronto! One less you have to wait for as well.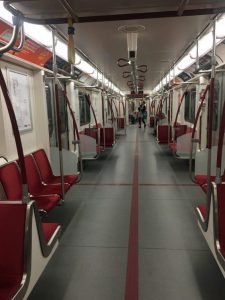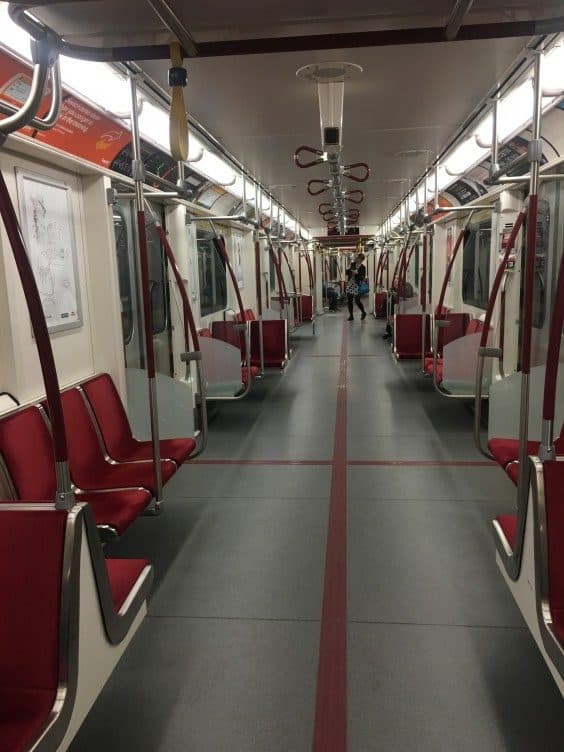 Casa Loma is Spanish for "House on the Hill"
Starting from the furthest point and working our way back down to the station, we took the kids to visit Casa Loma. It is one of Canada's few castles, as we have never had a monarch reside on Canadian soil, only important and rich families building important and expensive homes.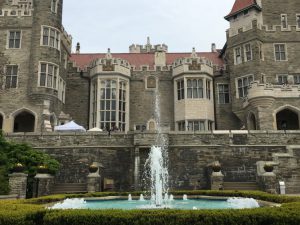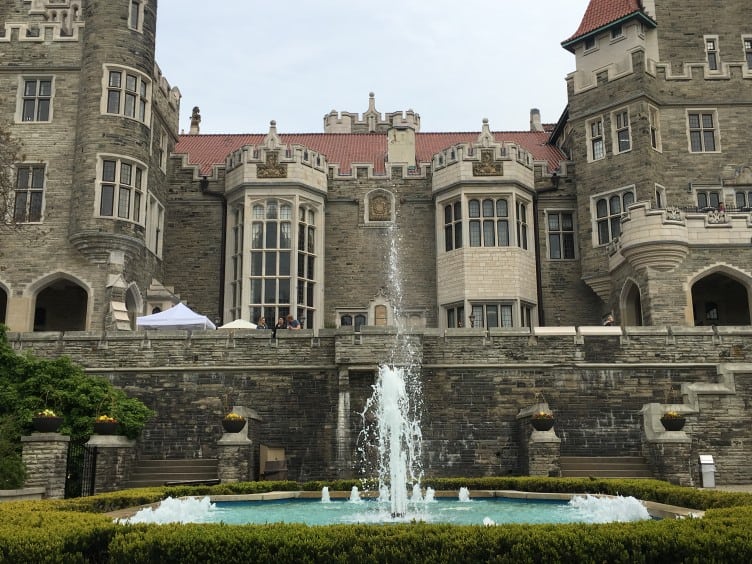 Stroller parking is available on the ground floor and free audio guides are located on the lower level. After strapping the baby into my trusty carrier, we took off throughout the castle for a self-guided tour.
Munchkin loved being able to show his mémère and cousin around a castle, considering he is a pro at it by now.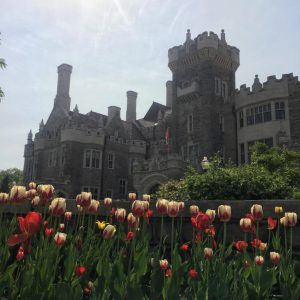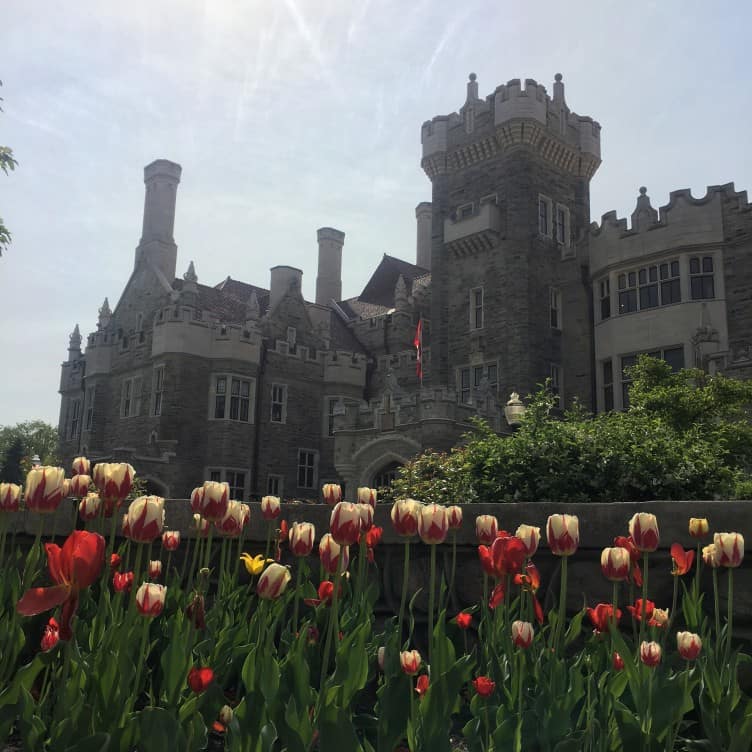 >> Click here for more on our adventure at Casa Loma <<
Royal Ontario Museum (ROM)
The Royal Ontario Museum was a great way to spend 2 hours with the kids. We had a quick lunch before heading upstairs. Because it was only a day trip, we didn't have time to visit the entire museum. Instead, we decided to stick to the major point for kids – Dinosaurs! Who doesn't love a good dinosaur exhibit?
While it hasn't changed much since I last visited in college (I won't tell you how long that has been but let's just say… it's been a while), it was still a great experience for everyone. A few volunteers are scattered around the exhibits with manipulatives (things they can touch) for the kids to get some hands-on information about dinosaur bones and animals teeth. You'd be surprised how gentle a group of children can be when a complete stranger tells them the artifact is fragile and ancient.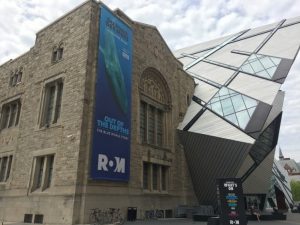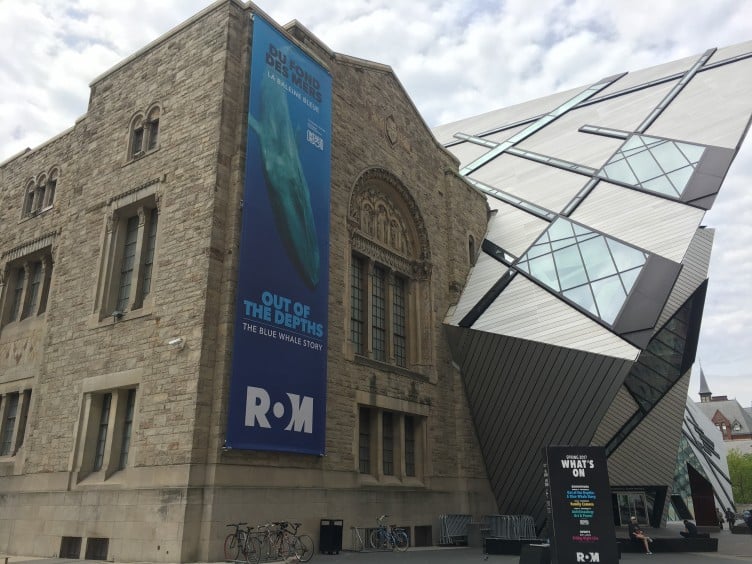 Staying on Level 2, our group was able to visit the two dinosaur halls, as well as Biodiversity, the Bat Cave, Birds, and Discovery Gallery. This took us about 2 hours.
If we didn't have reservations elsewhere, we would have tried visiting the Level 3; Ancient civilizations, and Level 1; Canadian First Peoples and Asian Special Exhibitions. More for us than them but it's good to show the kids cultures outside our own and Munchkin has been asking about evolution and Aboriginal Peoples recently. Next time.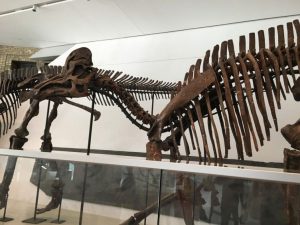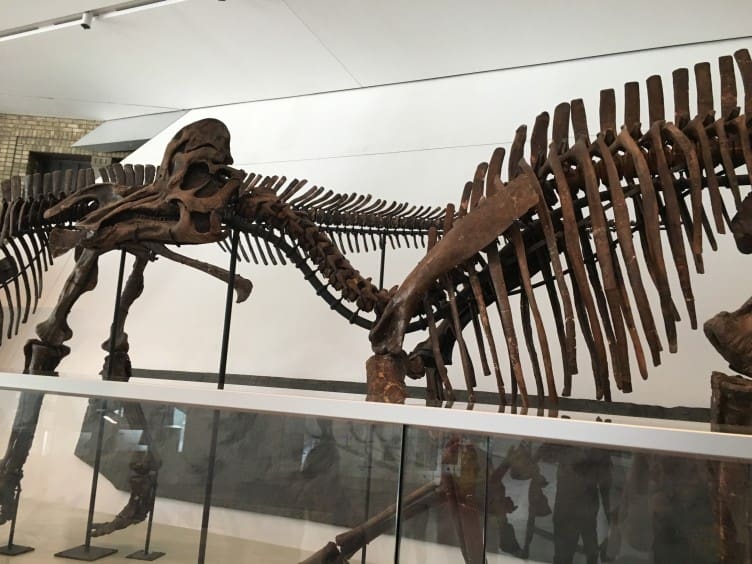 Be warned, during the summer months, just outside of the ROM, is an ice cream truck. While I had intended on buying them each a cone, they started asking well before I was prepared to take 5 – persistent – requests. They offer soft-serve vanilla ice cream with various hot dips.
CN Tower
On the way to Ripley's Aquarium of Canada, we walked along the SkyWalk and passed the CN Tower. Tickets start at $38 for kids and $48 for adults, although children under 3 are free. This includes the Skypod. There is also a restaurant and Skywalk for the adventurous adults in the group. We didn't have the time, or budget, to attempt the climb and to be honest … my fear of heights doesn't do well with an audience. Climbing the Arc du Triumph alone with the kids was one thing but the CN Tower, no thank you. I will be leaving that one to hubby on another trip.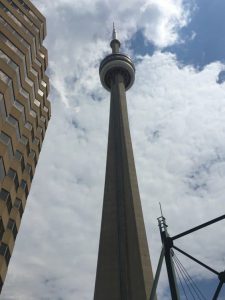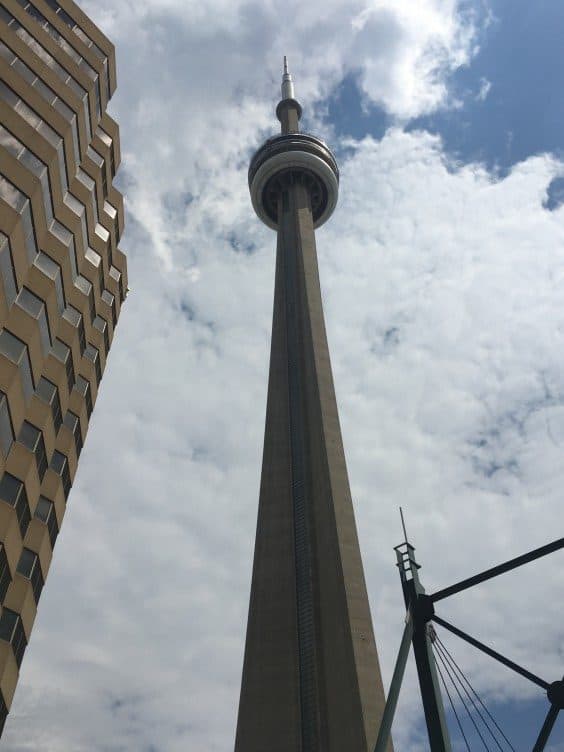 Ripley's Aquarium of Canada
La Piece de Resistance! The last leg of our day trip was Ripley's Aquarium of Canada.
By this time it was roughly 3 pm. While Munchkin enjoyed showing his cousin how pro he was at exploring castles, cousin has been to Ripley's several times and it was his turn to be our little tour guide.
We camped out for a snack on the various benches within the Aquarium and stopped for a group photo near the end when all the babies were awake and happy. The halfway point of the tour had a great mini-cafeteria with snacks, pizza, and drinks; a little overpriced for my taste so I was happy with the snacks that we had packed – others would say two full lunch bags for 5 kids and 3 adults is overkill but no one ever complained about having too much food.
There is also a String Ray petting station and amazing play structure for the kids to burn any energy. There are two large slides and a submarine that leads underneath the shark tank.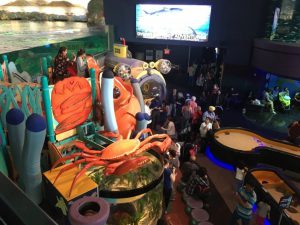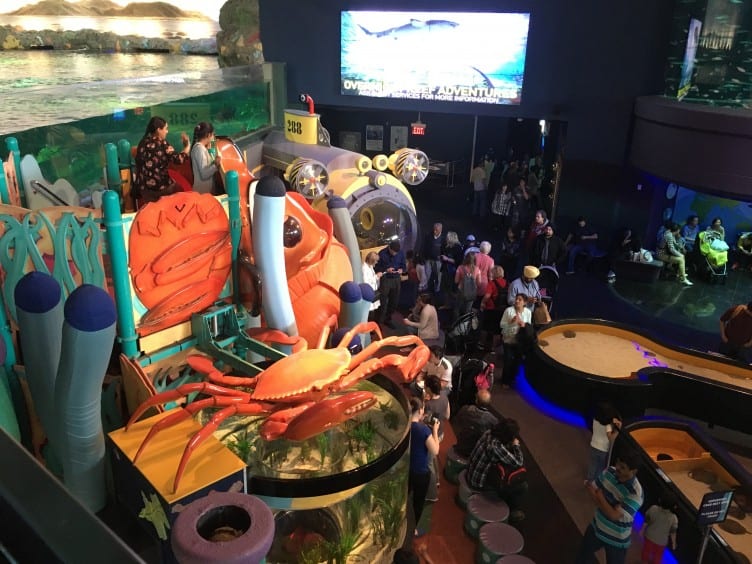 The kids had a great time in the shark tank tunnel. The moving carpet was great for keeping the kids all together and focused on the task; can't speed through if you aren't allowed to leave the carpet.
Happy Birthday Canada
After the aquarium, we were all finished. It was time to say goodbye to Toronto and make our way back home. We grabbed bagels at Union Station – because their lack of fast food both surprised and disappointed us all – and enjoyed our souvenirs from all 3 locations on the train ride home… well, the few of that were still standing, anyway. It was a long day.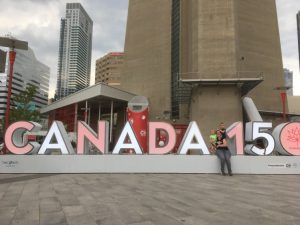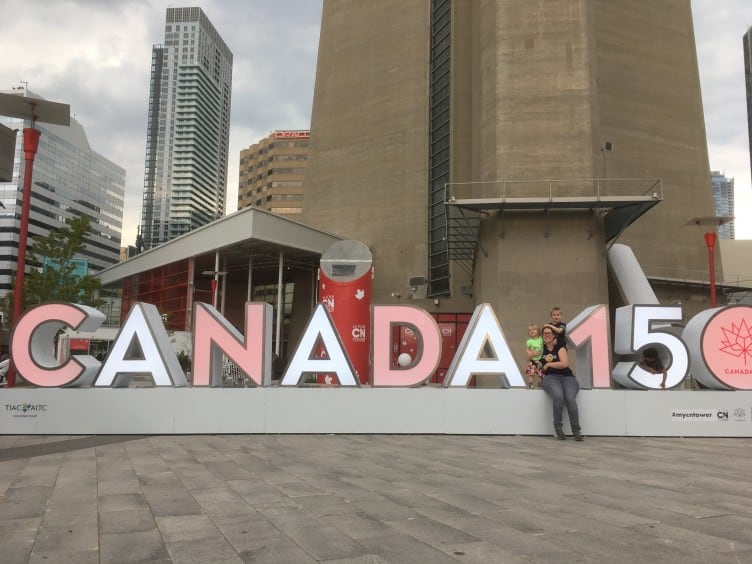 Your Thoughts...
Please share your thoughts in the comments or reach out on social media...We would love to hear from you.
You May Also Like
Top Things to do in Quebec City
Photos to Inspire you to visit Ottawa