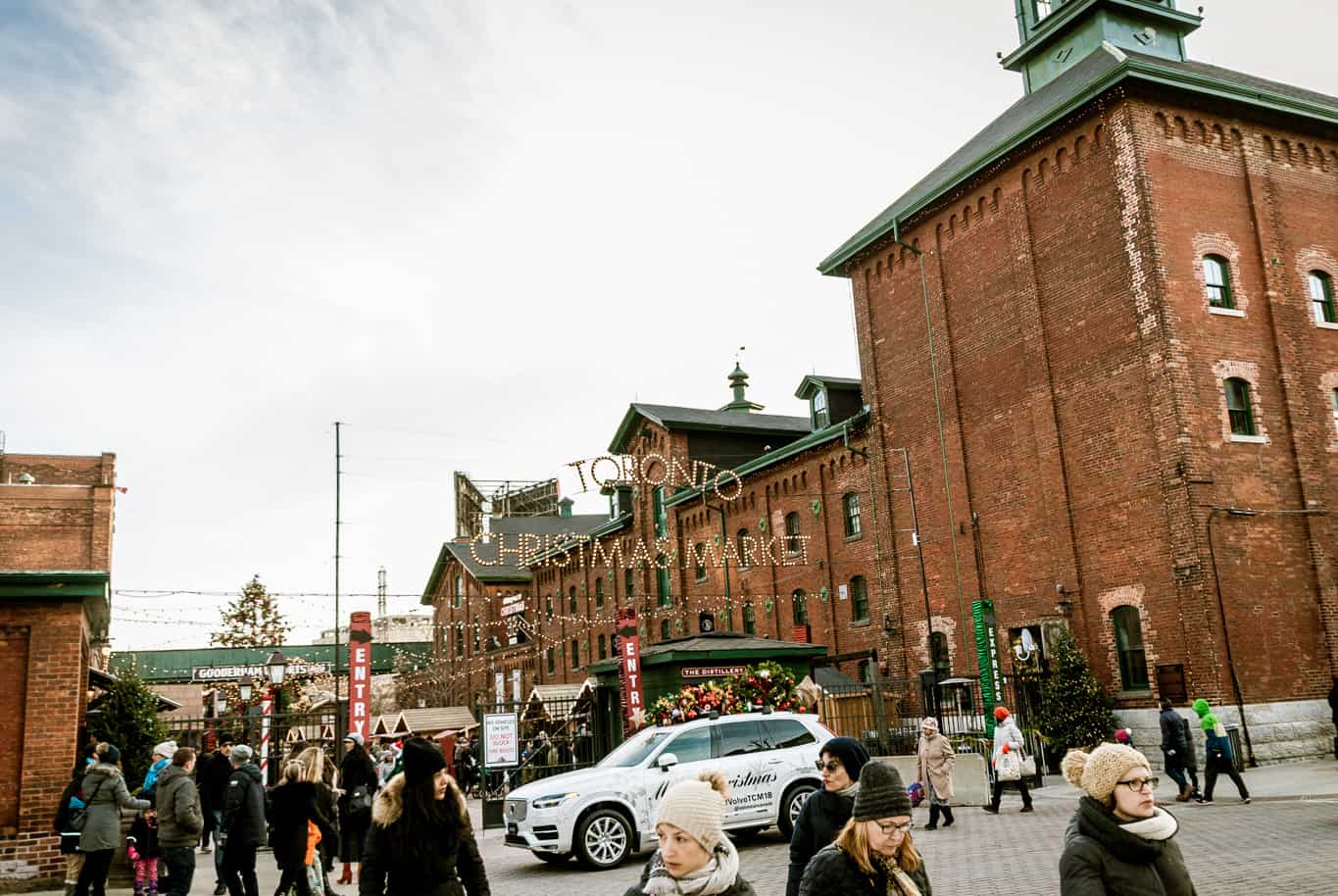 This year marked the 9th annual Toronto Christmas Market at the Distillery Historic District. As former Expats in Europe and your friendly neighborhood Christmas market expert, we didn't feel that visiting the Toronto Christmas Markets was much of a choice; it was just something that we HAD to do. It's tradition.
Having never been to a proper Christmas Market in Canada before moving away, we had no idea what to expect. We were pleasantly surprised with the theming and organization of the markets. It wasn't Europe, but it was a great way to beat homesickness during the holidays.
Unlike European Christmas Markets, the Toronto Christmas Market did have many Instagram-worthy photo displays set up throughout the market. Below, you see a wall of ornaments. They were lighted up after the sun went down and there was a significant line waiting for their turn to snap a photo. In true Canadian fashion, everyone was pleasant and accommodating.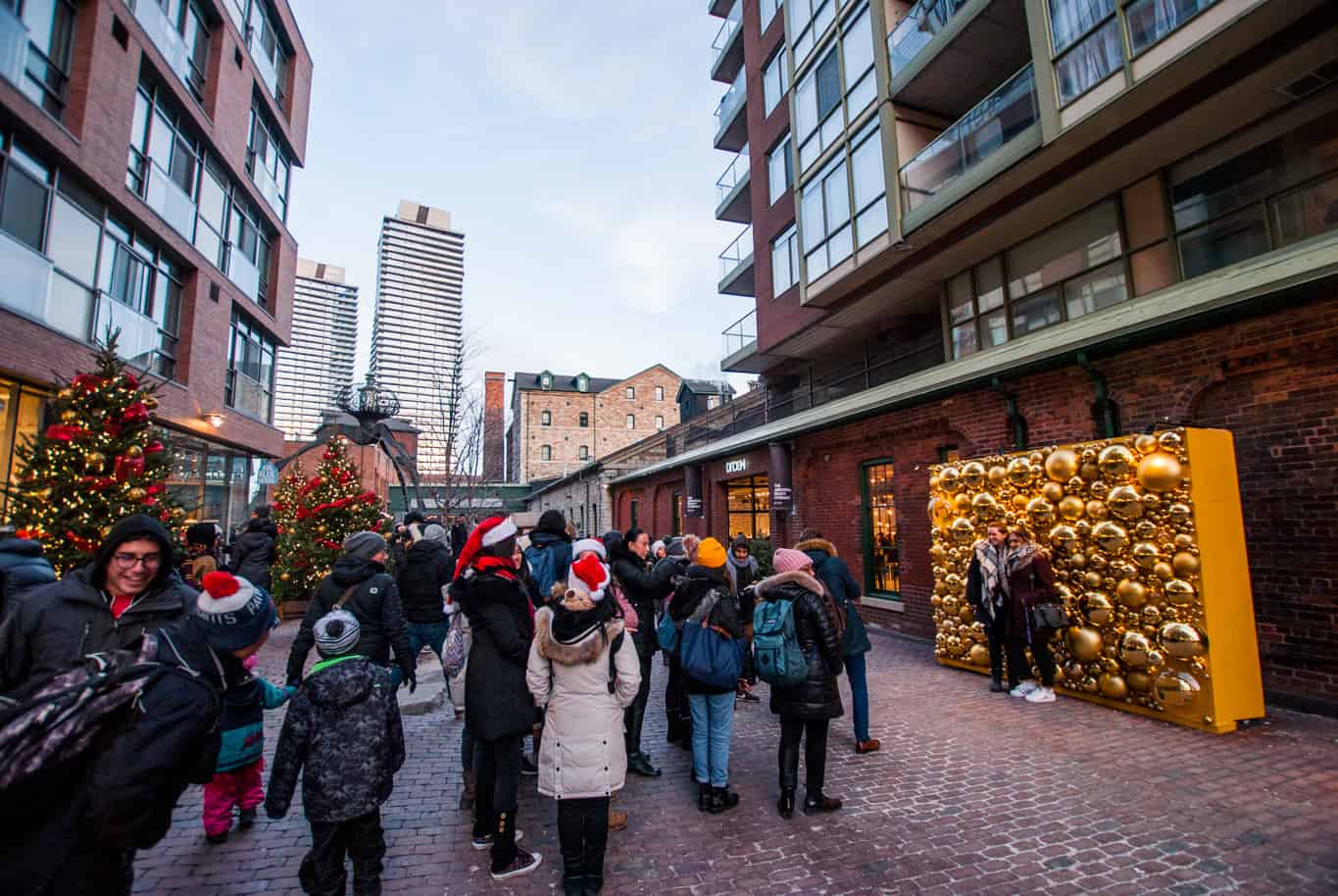 When to visit the Toronto Distillery District Christmas Market
Tuesdays to Thursdays are hands down way less busy than Fridays and the weekends, not to mention has free entrance!
Entertainment comes in many forms within the Toronto Christmas Market. From carolers, to live music and carnival rides, there always seems to be something going on every day.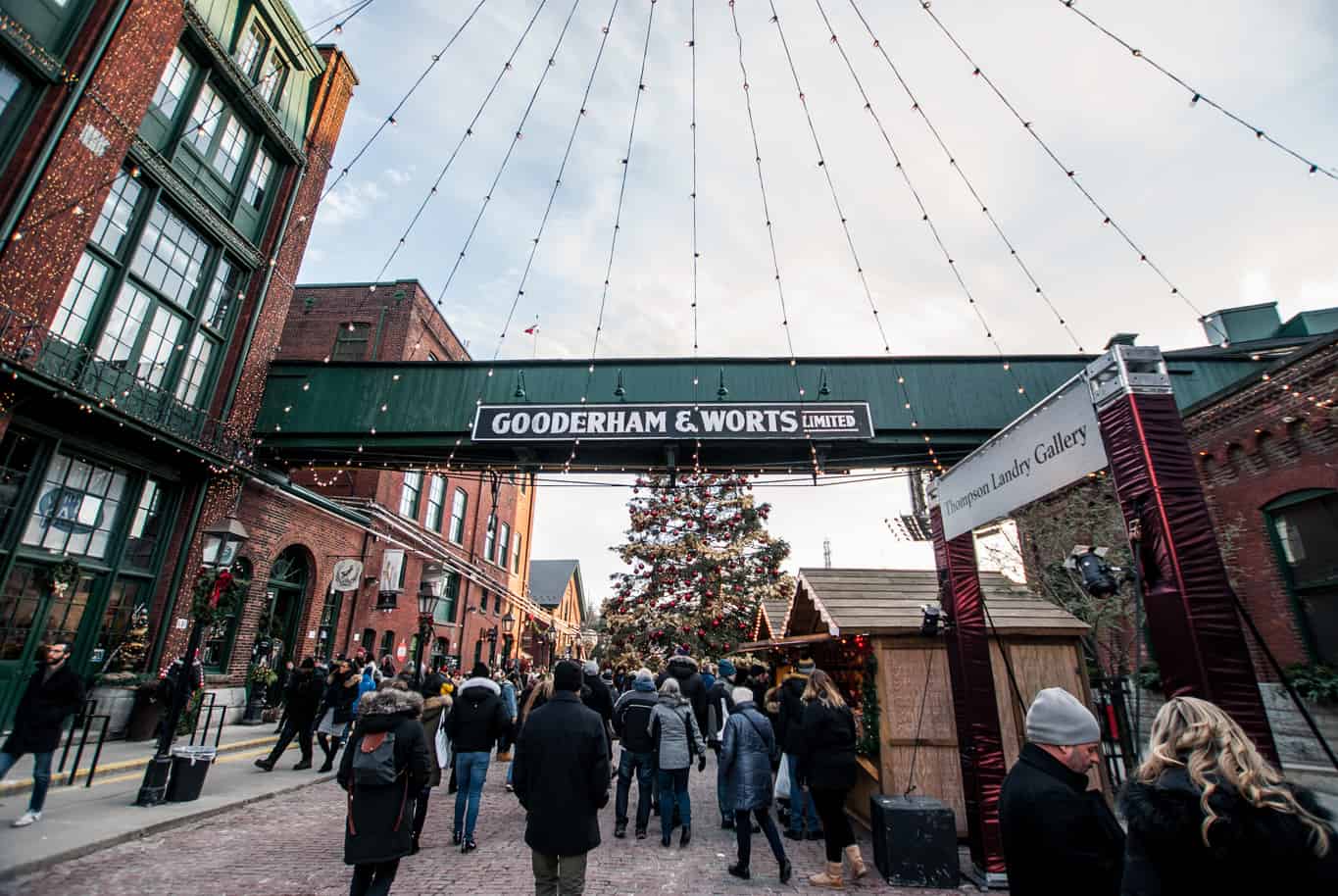 What to eat:
There are so many food options at the Toronto Christmas Market, it's ridiculous. Surprisingly, everyone takes Debit/Credit at these little market booths. There were a handful of stalls that refused cash. This was understandable, considering I don't recall seeing an ATM machine on site.

DAS KARTOFFELHAUS' Tornado Potato
Fresh Canadian Poutine
Käse-Sandwich: hot grilled-cheese on artisan bread
Raclette
Fresh roasted cinnamon glazed nuts
Gingerbread
Chimney Cakes
Weiner Haus' Bratwurst, Farmer's Sausage, Hungarian Sausage, etc.
Wafel Bar: fresh caramelized Liège styled waffles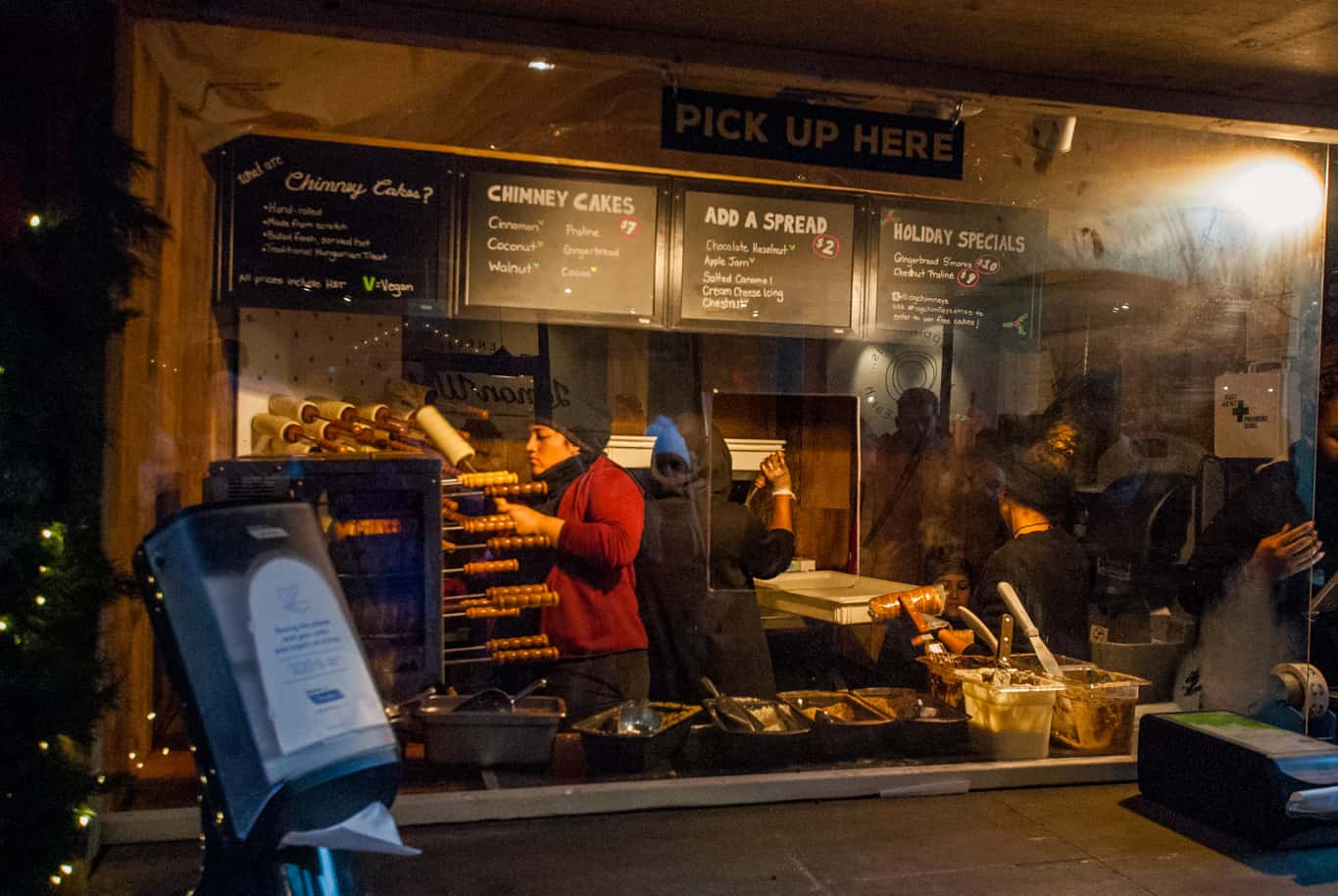 Toronto Christmas Market hours
November 15 to December 23, 2018
Free admission Tuesday to Friday noon to 9 pm
$6.00 admission Friday evening, Saturday and Sunday 10 am to 10 pm.
The Market is closed on Mondays.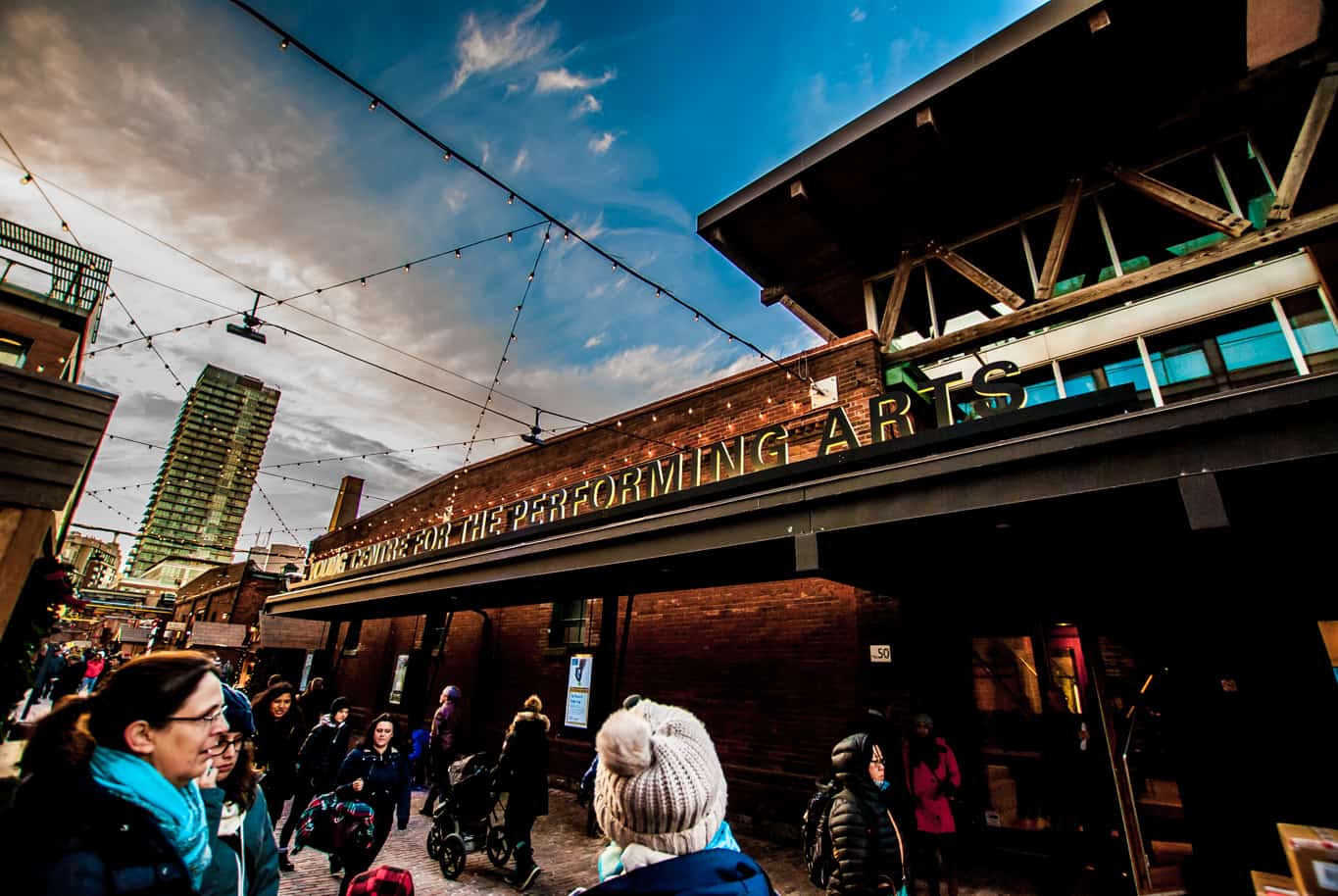 Toronto Christmas Market Beer Garden Hours
Tuesday to Friday, 5 pm to Close
Saturday & Sunday, 11 am to Close
And drinking throughout the markets is not allowed. Drinks must be purchased and consumed on the adjoining patio.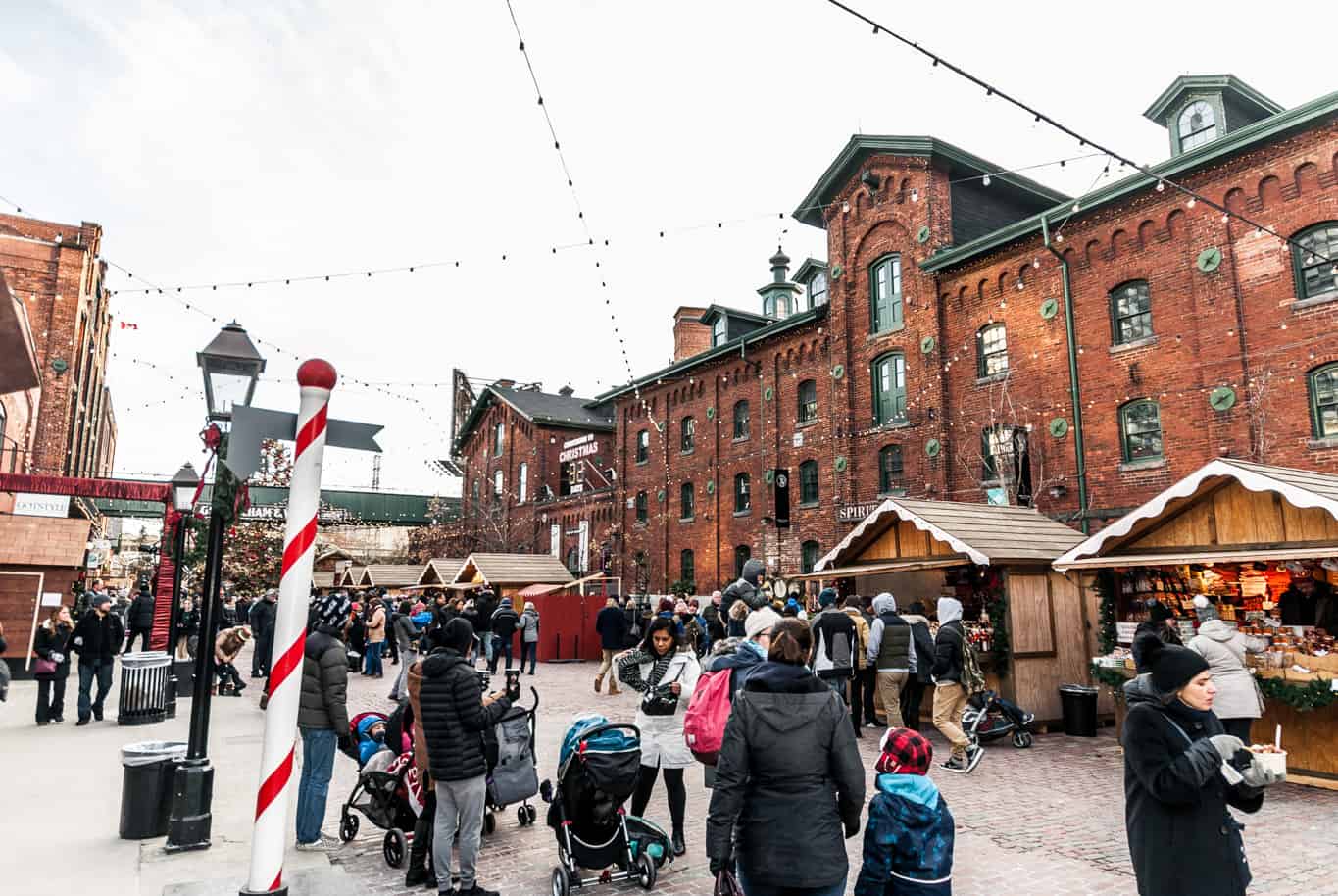 Toronto Christmas Market Location
Distillery District
55 Mill Street, Toronto ON, M5A 3C4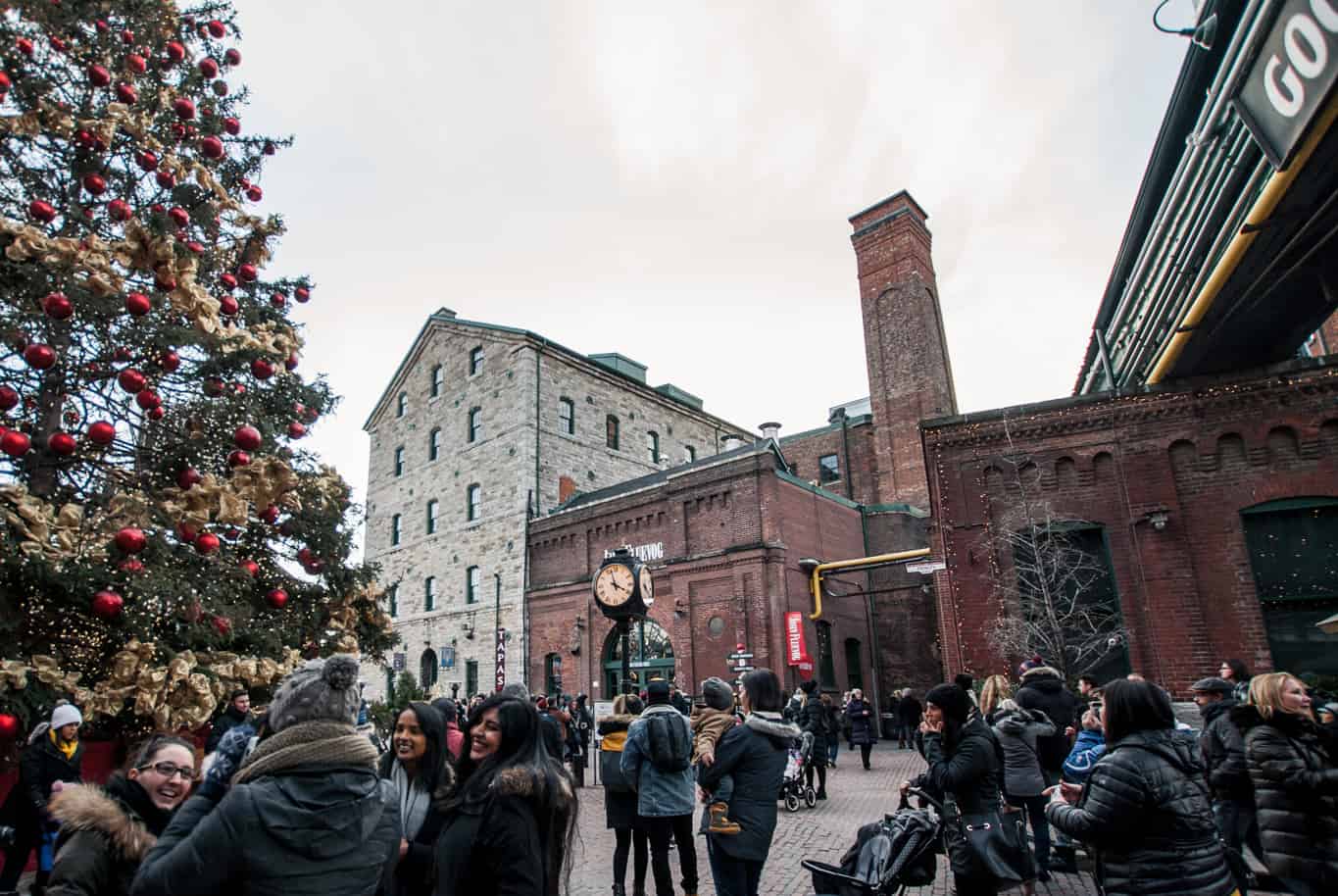 Toronto Christmas Market Parking
373 Front Street East – $2.00/half hour, $12.00/4 hours
Mill Street & Cherry Street (125 Mill Street) – $2.00/half hour, $12.00/4 hours
44 Parliament Street – $2.00/half hour, $16.00/10 hour
345 Front Street
333 Lakeshore – $12 per car & $40 per bus
Click here to reserve parking ahead of time at the 333 Lakeshore parking lot
429 Lakeshore Blvd. East& 324 Cherry Street –
(429 Lakeshore is the 3rd driveway east of Parliament Street, running south) $10 Flat Rate all day
Toronto Christmas Market for Families
There were a handful of places that didn't allow children. Namely the stores that served alcohol or the little alcove that had a fire pit burning. There is security standing outside of these areas and they will let you know before heading in.
On the bright side, there are tons of photo ops to be had around the markets, as mentioned before. There are also a handful of carnival rides and yummy treats that the little ones can enjoy. Santa and his helpers make an appearance as well, so there is that to look forward to.
Overall, Christmas Markets aren't really meant for children, they are just accommodated as to not alienate parents. Be aware of this and everything will be fine. It is customary, however, not to have the children out much past 5 pm or once the sun goes down. This is when the adults come out and the bars start to open.

Your Thoughts...
Please share your thoughts in the comments or reach out on social media...We would love to hear from you.
You May Also Like