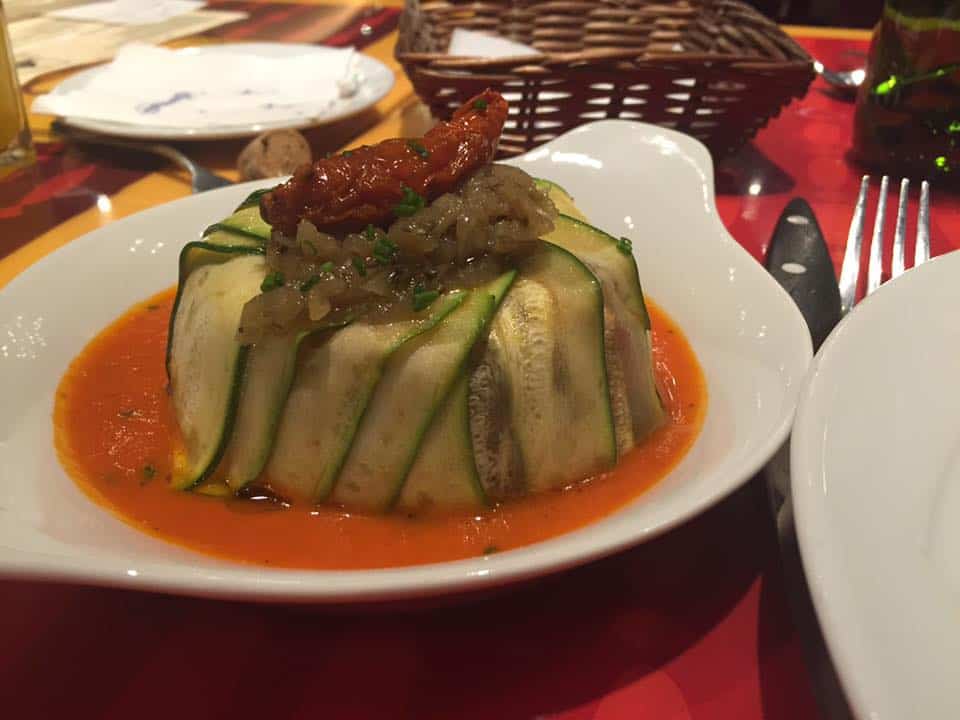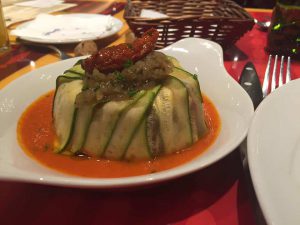 Get the most meal for your money
When booking your Disneyland Paris or any Disney holiday for that matter, what is the first things they offer?
The Disneyland Paris Dining Plan.
But what do we really know about the plan?
Is it really for you?
What is included/excluded,
Will you be restricted in where you can eat?
All of these questions have been asked and answered a thousand times, with hundreds of different opinions, around the internet.
"are the

Disneyland Paris Dining – Meal Plans

worth it?"
Today, I spoke with a professional versed in these matters. Britani Stratton from Ears of Experience, a Certified Disney Planner. I asked Britani for her expert opinion of the Disney Dining Plan and which plans work for each type of traveller. We will also provide a little insight into some of the sit-down restaurant reservations you might be interested in dishing-up during your visit. You can expect to part with good money for a Disneyland Vacation, budget accordingly. At Tapped Out Travellers we want to ensure you are well-informed and have the most exciting and cost effective Disney holiday experience possible.
Disneyland Paris Meal Plans
Only guests staying on-site are eligible for the Disneyland Dining Meal Plan. It is recommended that you purchase the dining plan if you intend on having any sit-down dinners, especially the Character Dining. Disney's fabulous Character Dining can cost a pretty penny per person but are well worth it for the kids. Character Dining is very popular, and we strongly recommend that you make reservations well in advance.
On the other hand, if you are a day packer and only want quick service (fast food) for all your meals, the dining plans may not be for you. By this method, you will not see a return on your investment, as a combination of quick service dining and sit down service is the only way to make Disneyland Paris Dining cost effective.
From 29th March 2017, buffet breakfast will no longer be included with Disneyland Paris hotel bookings as standard. Except for Disney Hotels Club rooms (Castle Club, Empire State Club, Golden Forest Club) and suites.
You'll receive 1 Breakfast Voucher per person per night of your stay, allowing you to enjoy breakfast at your own hotel's Buffet Service restaurant only.
* Breakfast Vouchers only apply from 29th March 2017. For bookings before this date, breakfast is included at Disney Hotels as standard.
Also, from 29th March 2017, all Half Board and Full Board Dining Plans will include breakfast. This means that breakfast has been added to the standard meal plan which has definitely added value.
Check out these handy-dandy graphs showing you where and when you can use your meal plan, depending on which tier you purchase before 29th March 2017;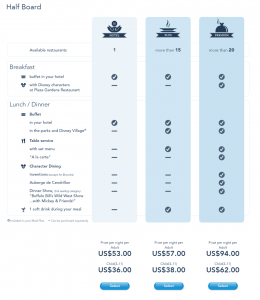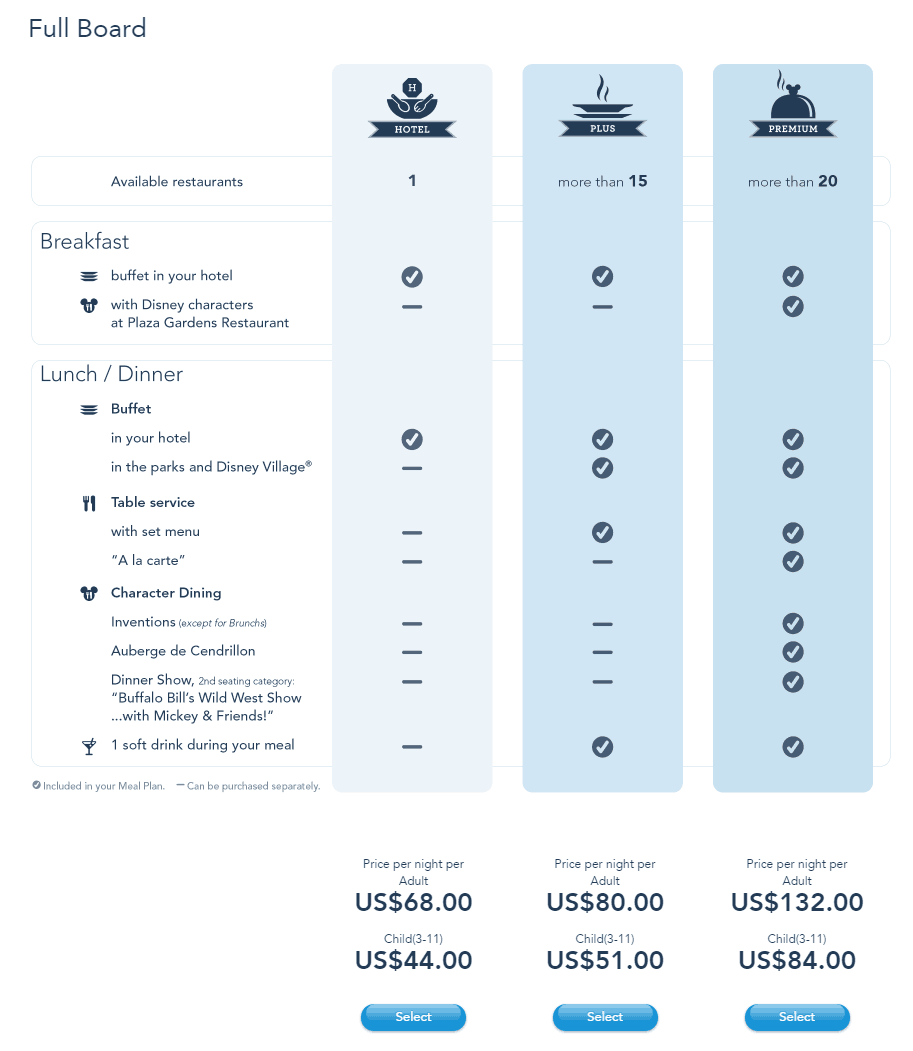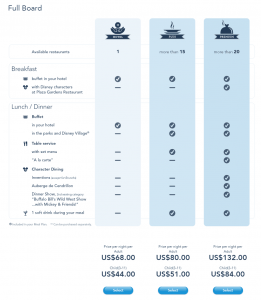 DLPGUIDE has produced a detailed guide for Disneyland Paris Dining Plans.
Just a note, gratuity is included on the check in Europe but if service is very good, an additional few euro is customary. Nothing crazy like in North America, though. 5 euro for a family is acceptable, even at the fancier restaurants. And to clarify,  you do NOT have to stay on site or have the Dining Plan to do Character Dining or any of the sit-down restaurants. You can still make reservations and pay out of pocket for table service.
Disneyland Dining Reservations
Disneyland Dining Reservations can be made up to 60 days in advance. We recommend getting reservations for Character Dinners because the meet and greets in the park can have extremely long lines, cutting into your attraction times.
In our experience Disneyland Dining Reservations are strongly recommended for:
Bistrot Chez Rémy, the restaurant inspired by the Disney film Ratatouille,
Buffalo Bill's Wild West Show in Disney Village,
Character meal –  Auberge de Cendrillon in Disneyland Paris,
Character meal – Disneyland Paris Hotels Inventions Buffet,
Rainforest Cafe in Disney Village
Café Mickey in Disneyland Paris.  Cafe Mickey no longer has character breakfasts. They since been moved to Plaza Gardens permanently.
Call the Dining Reservation Service at +33 1 60 30 40 50, online during hotel booking, or through your Travel Agent.
Bistrot Chez Rémy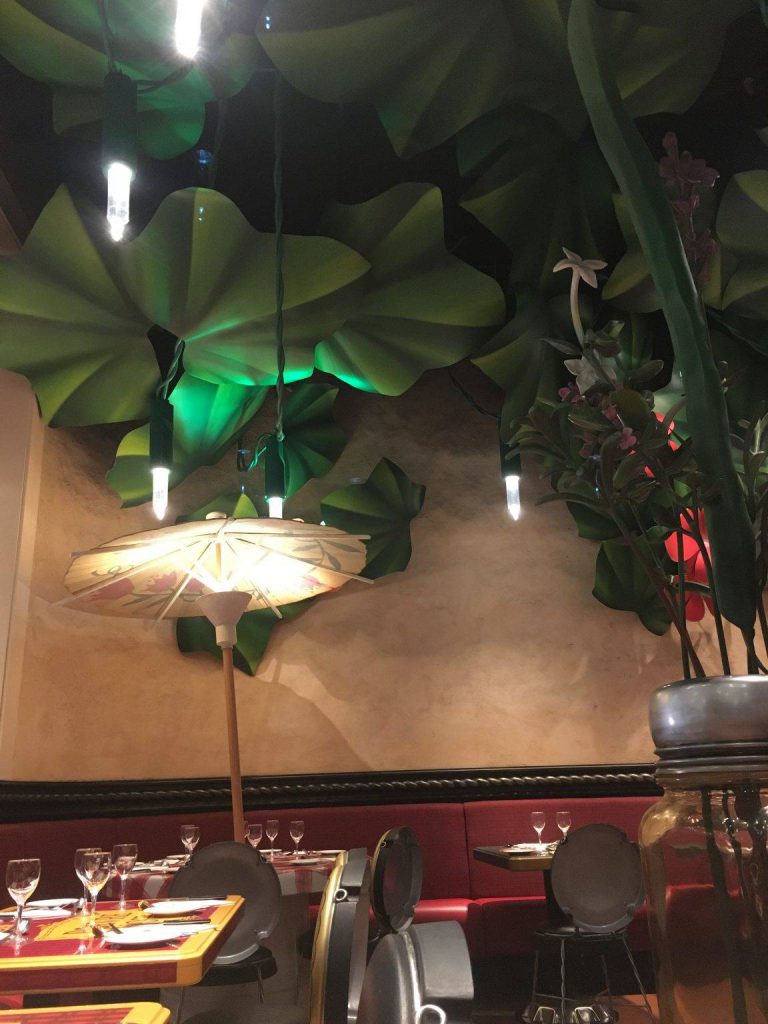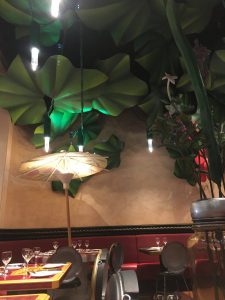 At Bistrot Chez Rémy, just like the movie, we were shrunk down to the size of a rat and ate in style. The menu was a little interesting to understand at first; there is a main course, and you can either pay for just the meal or meal plus drink and dessert. There are only a handful of options for adults and even few for the children, but this does lead to a quick turn around time. The food was a little expensive for my taste, but this is a Disney sit-down dinner so I wasn't too surprised. We sat at 5:30 pm and the place was practically empty. When we left, however, closer to 7 pm, it was starting to get full, and with families, so there is something to be said for beating the rush. Also, we only made reservations at 11 am after we finished the ride and the kids say the front entrance. They were full for lunch but clearly, dinner was available: this was during our October visit, by the way. So slow season equals fewer requests for reservations.
Edit – When the park closes earlier, Bistrot Chez Rémy does adjust it's schedule accordingly.
Buffalo Bill's Wild West Show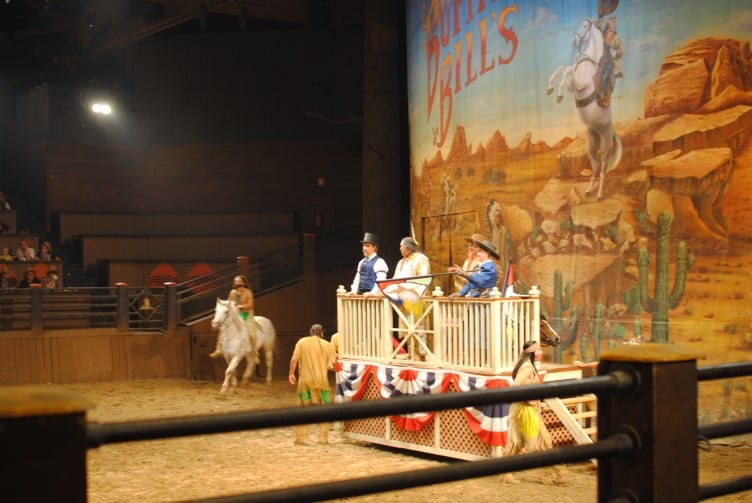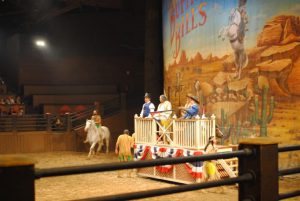 The Buffalo Bill's Wild West Show is very exciting and set in the heart of the Old West it is the biggest Disney dinner show in Europe, great for families! We paid extra for front row seats, to make sure no one was in the way of our son seeing the show. They said under 3 doesn't need to purchase a seat, which was great. In the fine print, however, they said that they will give him a chair for free if one is available, otherwise, he is on my lap. Since there were only enough buyers for one row of special seating, they decided not to open up the second row just for my son to have his own chair. We were nice and tight at the table…for 2 hours. He was served dinner first, all finger foods, and they brought out plenty of tortilla chips to keep him happy, but the older couple next to us didn't appreciate all the fidgeting and complaining he was doing. Next time, I'm paying for a seat.
"Notably Medieval Times in Toronto, Canada has a beautiful dinner with arena show of "Knights of the Realm" performing skills competitions on horse back."

 
Café Mickey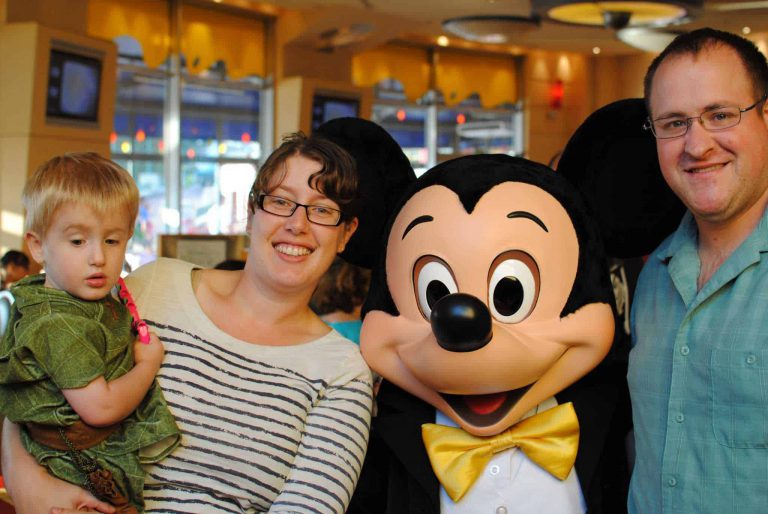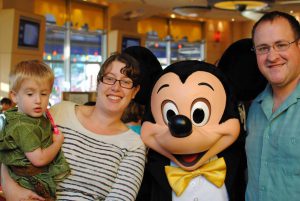 Café Mickey was a cute little continental buffet breakfast in Disney Village. We arrived at the opening so we didn't have to wait long for our table. Shortly after everyone sat down, the characters were escorted out, one by one, with a few minute intervals between them. This allowed each character time at each table, before being whisked away to another family. Our 2.5-year-old was not interested in the characters at all and refused to get anywhere near them unless in my arms, and even then. Be sure the kids can tolerate characters before trying your hand at a character dinner.
Rainforest Cafe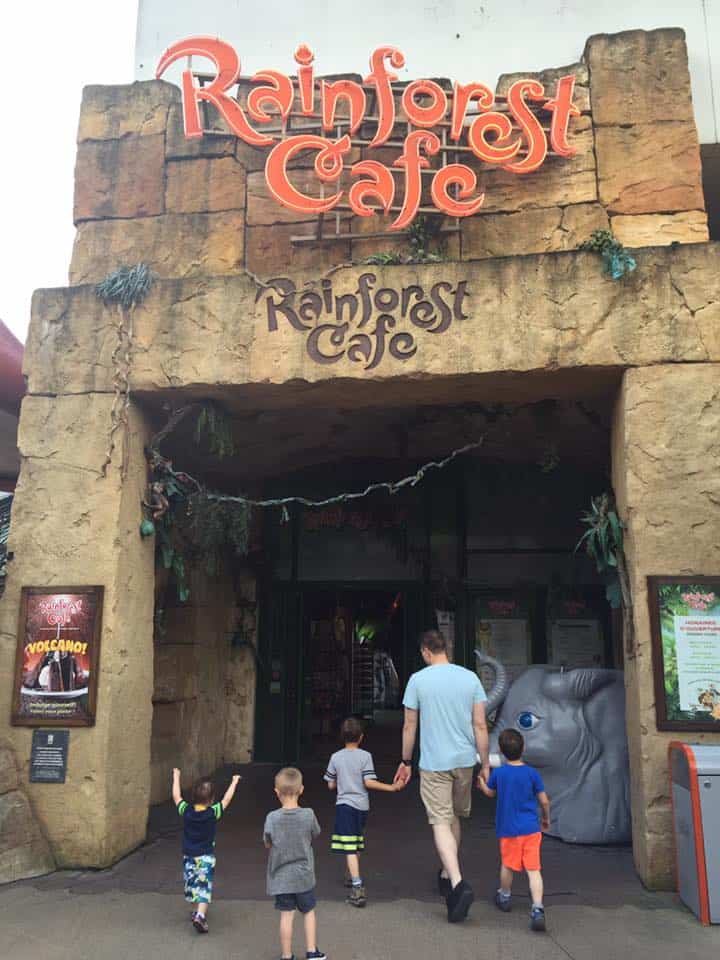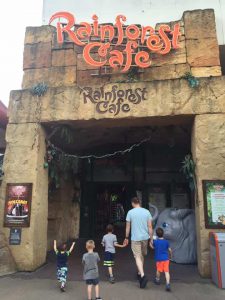 The Rainforest Cafe is also in the Disney Village, across the street from Cafe Mickey and near the Lego store. I mention this because you run the risk of your kids seeing it when you enter or exit the restaurant. You have been warned.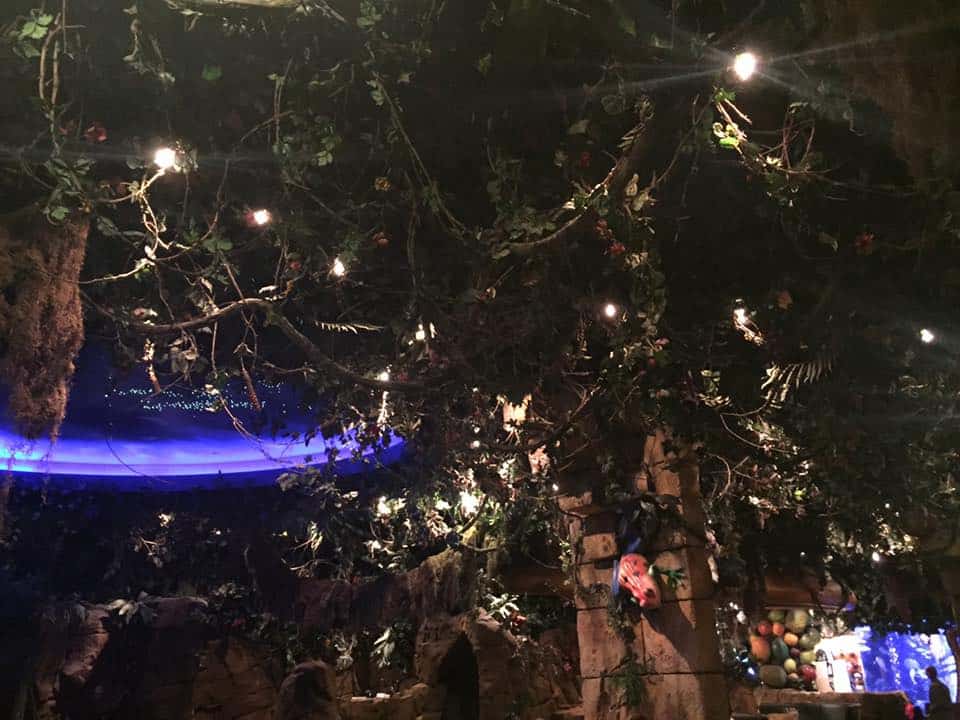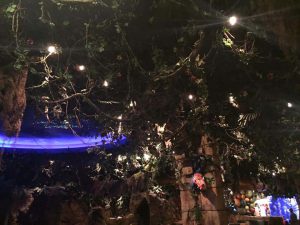 The prices are in line with Disney's, and so are the long lines. While a reservation is not technically required to get you in the door, it will significantly reduce your wait time, like a fast pass vs standard queue. Around 530 pm is when the real lines start to form so be sure to jump in line before then. We arrived at 7 pm during the off-season on a Thursday night in October and still waited 45 minutes to be seated. The service was not as fast as I would have liked but the restaurant was full, loud, and included running children that had grown bored of waiting for their food to arrive. We love coming here on our first night (before grabbing tickets in the morning).
---
In case you haven't realized yet, I have been working closely with my very own Certified Disney Vacation Planner, Britani Stratton, to compile all of this great information for you. She has also graciously provided a handful of these images, as I am clearly too involved in my food to remember to take any decent photos in the restaurant.

The posts and pages of Tapped Out Travellers
do contain affiliate links that we earn a small commission for,
they come at no extra cost to you!
Your Thoughts...
Please share your thoughts in the comments or reach out on social media...We would love to hear from you.
You May Also Like…
Disneyland Paris Planning Guide
Disneyland Paris Winter Guide to Meal Plans
Disneyland Paris Military Discount
Reasons Why Your Baby is Not Too Young for Disney