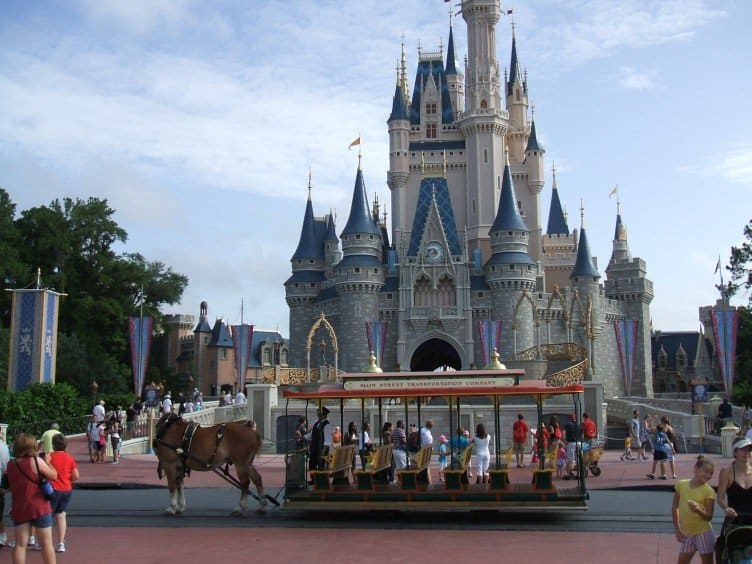 How does one visit Walt Disney World as a Canadian resident? When you think of Walt Disney World, you think of making memories, magic and of course, Mickey!
The meet and greets are up there too! But how do you make that happen on a budget, and with the Canadian dollar doing, well, not so great, is it even possible?
Canadians Visiting Walt Disney World
My husband and I have been talking about booking another trip to Walt Disney World as soon as we left the last time.
That last trip was an add-on to a work convention I had to attend, so in terms of budgeting and costs, it was very affordable, but having only one day at the Magic Kingdom, wasn't nearly enough for my kids. This time, we were going to do it right!
We were going to do multiple days at multiple parks. But which ones? How do you pick? What's the best time to go? Where do we stay? How would we afford it all? How could we do it all?
These were just a few of the questions we asked ourselves as we began to plan this monster of a trip.
Planning for Disney Flights, Ground Transportation & Accommodations
What I have learned about anyone who wants to visit Walt Disney World, is this isn't a trip where you wing it. Disney isn't for the faint of heart. No sir; you need to plan, plan, plan.
There are hundreds of Pinterest boards and Facebook groups dedicated to helping you plan the perfect trip. Join them, read them, absorb all wealth of knowledge and pay attention to the tips. It will only serve to help ensure your family gets the most out of each day.
And that's the goal, right? We work hard for our money. And when we choose to spend it in the most magical place on earth, we want to make sure we get our money's worth.


Our game plan started with teaming up with my sister-in-law and her family. They are Disney-virgins, but my brother-in-law had a connection to an off-site house in a gated community. It was a beautiful home that slept 12 comfortably, with two family rooms, six bedrooms, a games room and a pool in a lovely little community close to restaurants and amenities.
That meant there was plenty of room for four adults and four kids (two girls and two boys) and we didn't have to all sleep in one hotel room.
Accommodations Staying off-site
Staying off-site meant that we could cook at home for those non-Disney days. We didn't want to have to worry about meal plans and who was going to eat what, or when. We chose mid-April, avoiding the popular March break timing, and the super-hot start of summer. I had never been in April, but we hoped the weather would be good because it's never fun to walk around in the rain.
Staying off-site also meant that we needed rental cars. While the property was only about 15 minutes from the Walt Disney World parks, we needed a way to get there. And each family needed their own car, in case we didn't end up doing everything together.
And with our family of two girls and their family of two boys, the chances of that were likely. My brother-in-law and I ended up doing most of the research for this trip, and he ended up booking his rental car through Costco, while I decided to use my Air Miles and booked with Avis.
I will say that the cost probably ended up being the same, as I found that Air Miles doesn't include all the options/insurance and I had to dish out another couple hundred dollars and wait about two hours in line to get the car.
While my brother-in-law picked up his car right away and got to the house first with plenty of time for the boys to call dibs on the bedrooms. In hindsight, I would probably book with another company and save the 5,000 Air Miles for something more worthwhile in the future.
Flights
Flights were next. I know people who swear that there are certain days that are better to book airfare than others. I don't know if it's true or not, but my husband was looking up different options/flights/times every day and they all came in around the $400+ mark for direct flights from Toronto to Orlando.
When the prices start to rise a few dollars, we booked. There are ways to save on flights by choosing an indirect flight and possibly look at options for flying out of different cities.
We looked at US flights from Buffalo, but once we factor in the hour-plus drive to Buffalo with the early morning flight, we couldn't do that to our kids. There was an option to stay overnight in Buffalo, to avoid the extra-early alarm clock, however, once you factor in the cost of the hotel room and the gas to drive there, is it the same as just flying from Pearson?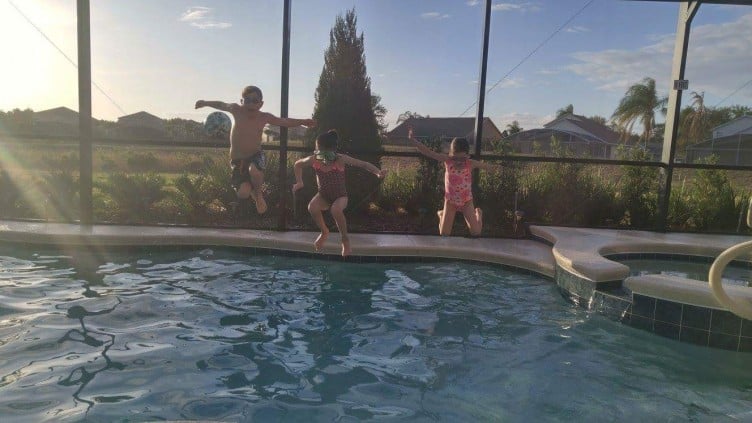 Which tickets to purchase?
Now that our accommodations, transportation and flights were booked, it was time to get to the fun stuff! Since we were going Easter weekend, we took advantage of the Canadian offer Disney had for park tickets and got 25% off the price of 4-day passes to the parks.
Originally we had planned to do 3 days and spread it out with a rest day in between, but the cost of 3 days without the discount, vs the four days with the discount, worked out better. So, four days at the parks it was.
My in-laws weren't too sure if their kids would want to do four days, but the price of the tickets was enticing enough that they too bought the four day passes.
Anyone who's been to Disney, specifically the Magic Kingdom, knows it's impossible to do it all? But how do you make the most of your time there? We aren't the kind of family who travels annually, so we wanted to make sure we got the most of our time and money out of each moment we were there.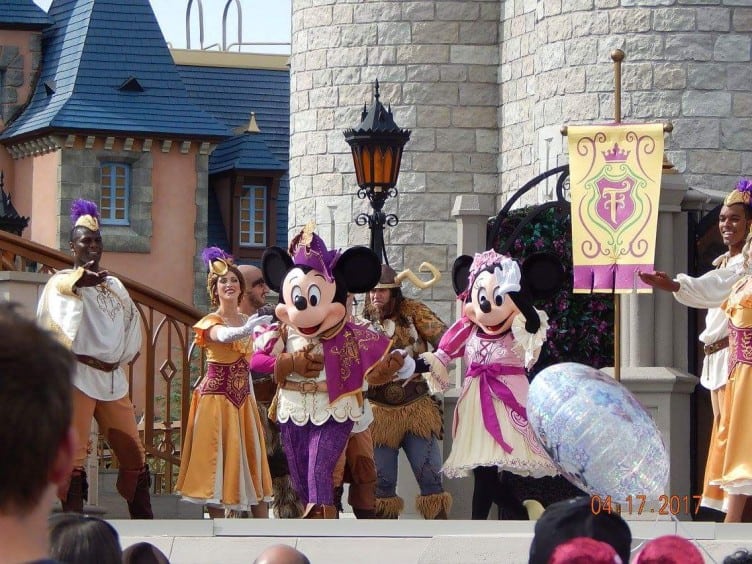 FastPass+ for offsite guests
That's where FastPasses come in. Again, thanks to Facebook groups and Pinterest, there are ride priority lists that exist that tell you what the most popular rides are in each park. And if those are the most popular, then you can be sure that there will be a line – a long line – at these attractions all day long. So, the best way to ensure you get to go on those attractions, and not waste 70+ minutes in line, is to use those FastPasses.
If you stay at a Disney resort, you can book those FastPasses 60 days prior to your trip. Since we were staying off-site, we had to wait until 30 days prior. That meant that some FastPasses weren't available, however, for the most part, we made sure we got in our Princess meet-and-greets, and the attractions and rides we had never been on.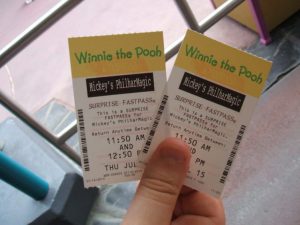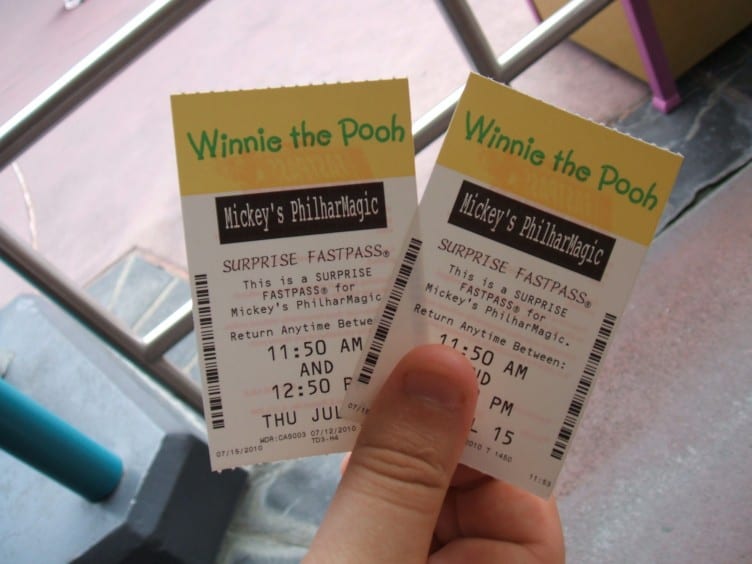 Creating an Itinerary
Our plan was to visit the Magic Kingdom on day one, Epcot on day two, Hollywood Studios on day three and we went back to the Magic Kingdom on day four, where my in-laws were going to the Animal Kingdom on day four.
Part of making the most of your time is preparing your backpacks and bags the night before. We had our outfits picked out, shoes lined up and bags ready with snacks, extra clothes, ponchos, autograph books and hats. In the morning, we got up, got dressed, ate breakfast, slathered on the sunscreen, grabbed our water bottles and were out the door and at the park by 9:30.
During our one-day at the Magic Kingdom a few years earlier, the kids (then 3 and 6) needed a stroller, but I didn't get one this time and saved myself some money. Multiply that by four days, and I saved a couple of hundred dollars.
We didn't have a goal this time. Our plans and FastPasses were set, and we told the girls we could go wherever they wanted in between those. During our last trip, the girls had to pick between rides and meeting the Princesses.
Since they chose Princesses, the only ride we got to go on that time was It's a Small World. This time, we were free to do whatever they wanted. And it felt good knowing that whatever they didn't get to do and see, we could try again on our next visit to the park.
Epcot is a huge park! Again, we took advantage of our FastPasses to meet Mickey, Minnie and Goofy and went on Soarin', but we had to wait in a pretty long line to meet Joy and Sadness.
This is probably the hardest part for the kids. There is a lot of waiting around. Not everything has a FastPass, and they don't understand why.
I brought along little toys for them to play with while we waited in line, but there are still meltdowns and fighting and that can lead to mommy and daddy wondering why they did this in the first place. But once you hug your favourite character, that melts away until the next long line.
I will say, that while it was hot and the parks were busy, no wait was extremely ridiculous. There were a few rides and attractions where the wait was 70+ minutes (mostly Peter Pan and It's a Small World a couple of times), but since we did those with our FastPasses, we were good not to do them again.
Personally, I enjoyed Hollywood Studios. That park is the right size and we felt we did it all, met everyone we need to meet; we sang along with Ana and Elsa, watched Indiana Jones outrun the boulder, saw the Storm Troopers march, the Star Wars show on the main stage, rode Toy Story Mania and hugged Chewbacca.
I didn't feel like I had to drag my kids by the end of it, we didn't leave that park too late and they didn't pass out from exhaustion on the way home. And while I think they enjoyed that park, they will say that there weren't enough rides to go on.
The Eventual Curveball
When you go on any trip, you must go with the flow to a certain extent. If you're on an all-inclusive beach vacation it might be easier to accept a change of events, but when you've planned for months, ensuring your FastPasses follow a certain route through the park, to make the most of your time there, and life throws a curveball, it can be hard to accept.
Our curveball was that my husband and nephew became ill on the last morning of park visits. While I felt bad to leave them, and my sister-in-law who stayed with them, we knew we didn't want to waste the day. So, I repacked my backpack for one, rebooked a Fastpass to put them closer together in time, and I and my girls headed out later, so they didn't feel rushed.
Head's up
Leaving later means parking further back. And that means a longer tram ride through the parking lot. It also meant that the monorail was packed and we were directed to the fairy (which we had never taken). The wait was long and hot and wasn't a good way to start our day, but the girls were great troopers.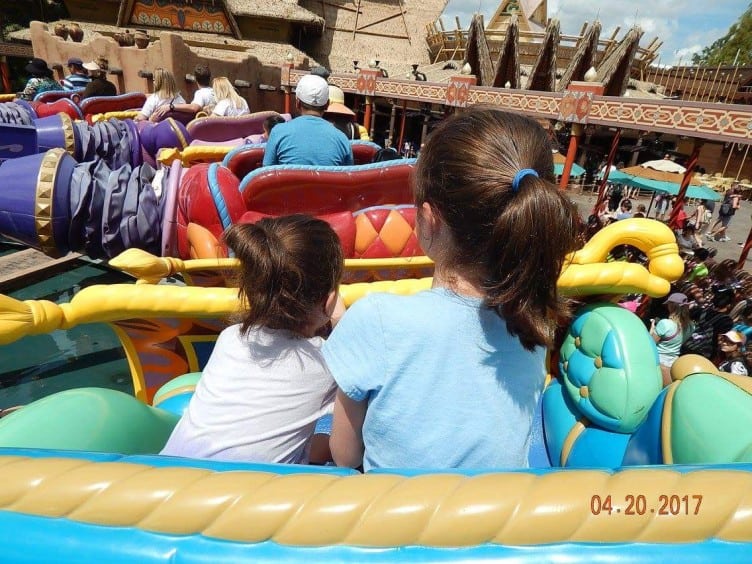 Saving on Souvenirs
Some final tips I think are important to remember when visiting Walt Disney World are we only went to the gift shop twice, once at Hollywood Studios and once at the Magic Kingdom. We didn't need to pile our luggage full of toys that we could get at home, so we encouraged them to look at things we couldn't get, or had never seen.
Walmart near Walt Disney World offers a full array of Disney items, so we also did some shopping there, buying some Minnie baseball caps for the girls, complete with ears and a sun visor for myself. I had purchased a lot of Disney gear before our trip, including t-shirts for everyone, so the girls were good with their toys and items and that helped us to stay on budget too.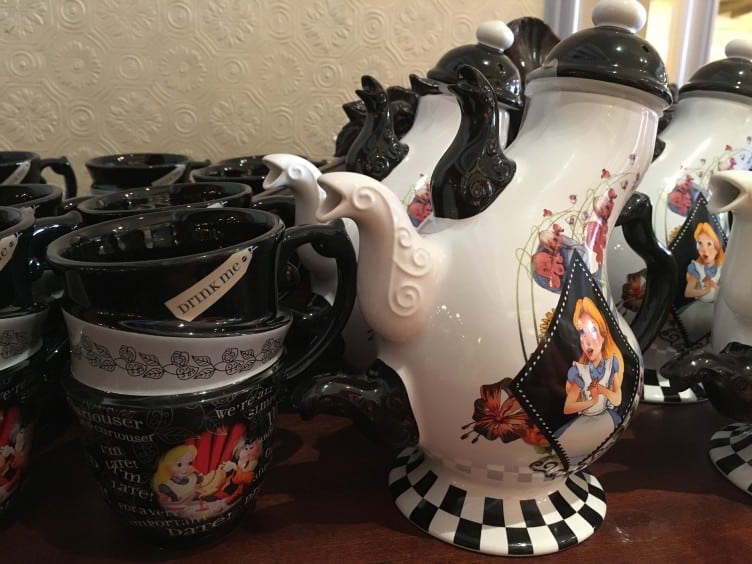 So, did we do it all?
The simple answer is no. There is still a whole side of Magic Kingdom that we have never visited. We didn't do the Animal Kingdom either. But the truth is, we did enough.
There are so many things to consider when you book a trip like this:
Budget. Make one and stick to it! Factor in the value of the Canadian dollar, how much you want to spend. Disney trips aren't like all-inclusive. You need to factor in food and snacks, transportation, gas, gratuities and souvenirs.
Kids ages. This is important. It doesn't feel as hard pushing a stroller around, because they are comfortable and can nap whenever they want to. Older kids who don't necessarily want a stroller will sometimes have to be dragged around. They get hot, they get tired, they want to go one way or not another. Make sure you factor in what your kids can handle.
Timing. The most asked question I see online is "when is the best time to go?" The answer is up to you. What works for your family? Are you willing to take them out of school? Are there limitations to when you can travel due to work or other obligations? Do you want to be there for Christmas? Summer? All these answers will determine when you go, what the crowds will be like and of course, what the weather will be.
Disney offers. Always keep an eye on what offers Disney has available to Canadians. There is usually something going on, whether it's a dining plan or Disney resort offers. Those can help you save big money and determine where to stay, for how long, and where to go.
With these things in mind and a bit of help from some online forums, your next trip to Disney is sure to be a memorable one. And if you're like me, you'll be planning the next one as soon as you leave!
Being Canadian, eh!
Budget. Make one and stick to it! Factor in the value of the Canadian dollar, how much you want to spend. Disney trips aren't like all-inclusive. You need to factor in food and snacks, transportation, gas, gratuities and souvenirs.
You also need to factor in that everything upfront is paid in US Dollars; the park tickets, the MemoryMaker (if you pre-purchase it), even the cost of our rental house. So, when planning out your budget, be sure to factor US Dollars into your equation.
Disney offers. Always keep an eye on what offers Disney has available to Canadians. There is usually something going on, whether it's a dining plan or a Disney resort hotel offer. Those can help you save big money and determine where to stay, for how long, and where to go.
Being a Canadian resident and understanding how the Canadian residency offers work is important. The Facebook groups were a huge help in navigating that; for example, on the first day of using our Canadian residency passes at the park, we needed to bring all our Canadian passports in order to transfer the passes to park tickets.
While I was nervous about walking around all day with my passport, the process of transferring them was simple and pretty quick. And those passes can be used as soon as your FastPass windows open, and easily transfer to your park passes. But I know there is a lot of fine print when it comes to Canadian offers.
Mickey wants Canadians to visit him, we know that. But be sure to read all the fine print so you can make the best out of each offer they serve up!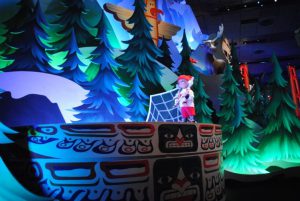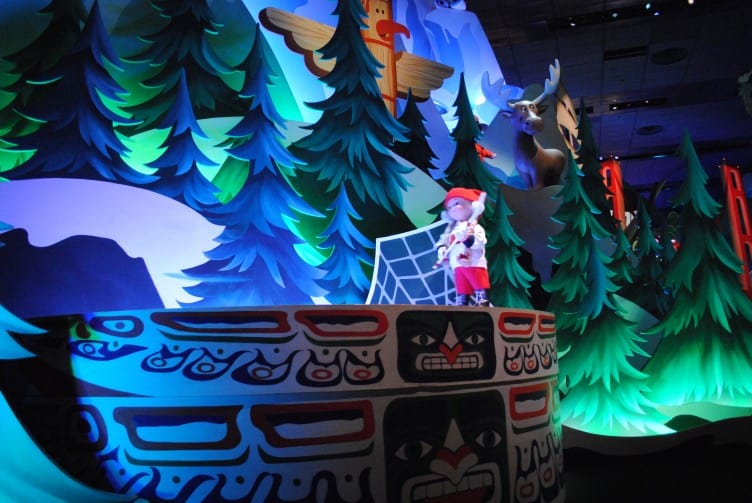 ---
– by Tania from tania2atee.com
Your Thoughts...
Please share your thoughts in the comments or reach out on social media...We would love to hear from you.
You May Also Like…
How To Keep Kids Safe on Vacation
10 Great Gift Ideas for that Hard to Shop for Traveler in Your Life
20 Great Castles in Europe We Have Explored!
25 Ways to be a Sustainable Traveller