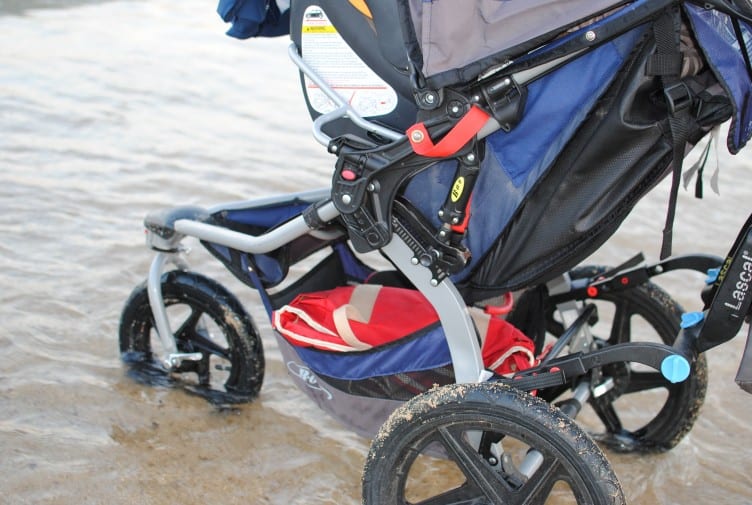 Comparing the top 5 single strollers and double strollers to help you make that forever purchase; the best travel stroller on a budget.
Best Travel Stroller for Families on the Move
Travellers always asked themselves, should we or shouldn't we travel with a stroller? And the answer varies among different types of travellers, the age and abilities of the children involved and how available the stroller is at the moment.
Deciding which is the best travel stroller can be a long and expensive task, check out our comparison of 5 single strollers and 5 double strollers that are both durable and inexpensive (considering what they offer, because I would be lying if I said they were cheap. A $20 Umbrella stroller from Walmart doesn't always cut it).
This post may contain affiliate links.
To which I earn a small commission, at zero cost to you!
Find more info in our
Privacy Policy
.
For more information about strollers, check out this article; Do I need a stroller for vacation? Do I need a stroller for a vacation? Where I discuss the pros and cons of the dreaded Stroller vs carrier debate.
Travelling With a Stroller
Owning a stroller for every day errands is not the same thing as travelling around Europe. Their purpose is different, their use and abuse will be different and the conditions in which the stroller will be subjected to will be dramatically different. Just getting to your destination, be it by plane or road trip, can have a lasting effect on even the most robust stroller.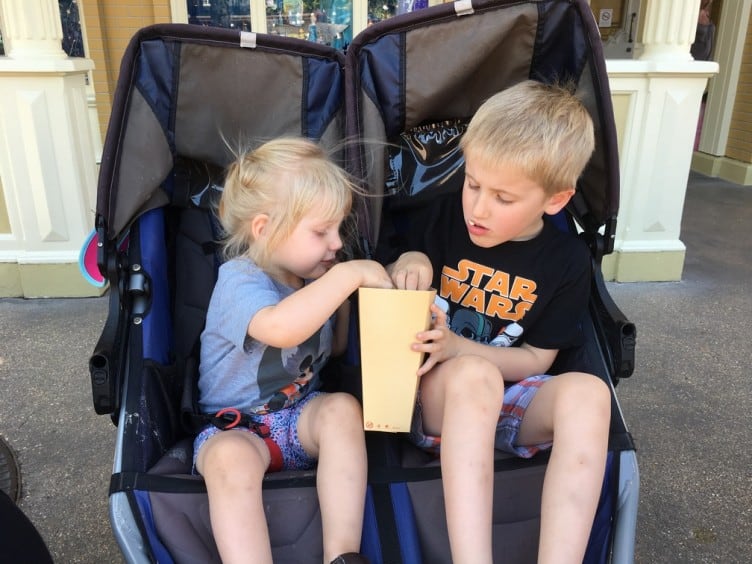 How to Choose a Travel Stroller Basics
Dimensions
The size and weight of the stroller will be a huge factor. There will be a point when someone has to fold it up and place it back into the car, or up the stairs into the hotel room.
We don't want anything too large, or too heavy. On the other hand, it does need to be big enough to comfortably fit the child and not be easily tipped over when navigating cobblestone sidewalks.
Scalability. Will it fold
Easy to fold. Fold it, carry it and place it in the trunk… is there room for suitcases? Why have a stroller if you can't bring anything else with you. Especially for travelling, you will want a stroller that folds down flat, and preferably one that has removable tires – to save that much more space.
Storage
Storage basket. The basket will become a lifesaver after an hour or so of carrying around the lunch bag or afternoon snacks. Even your shopping can fit under the stroller if you have made the right purchase.
While a mommy hook, see here, can technically hold all of your packages, there is a safety issue when carrying too much weight on the handles; if the child suddenly gets out of the stroller or the stroller becomes uneven while walking uphill (or on  a turning bus) then the stroller may become top-heavy and fall backwards. Please, don't be afraid to use the mommy hook that keeps heavier objects under the stroller.
Nap Time Comforts
Recline. While this is not a deal-breaker, it is something to think about. Little ones, especially, will prefer to have a reclining stroller to nap in. This way, their little necks aren't turned too much to the side or flopping downwards to their chest, when they are sleeping.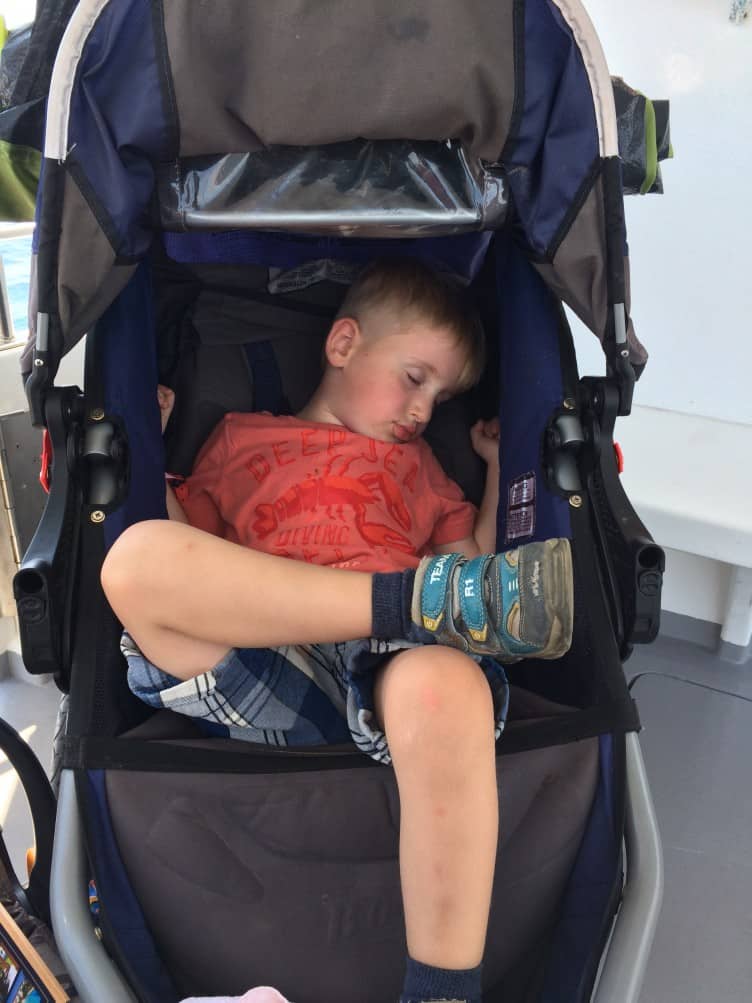 Location Specific Requirements
When picking your travel stroller, there are a number of things you will want to know about the location/locations before making your purchase.
Is the location stroller friendly? Even if you wanted to bring one, is it even possible to use a stroller once you arrive? We brought ours all the way to Switzerland and it left the car twice over the 14 days we were on vacation. Not the best use of our limited trunk space, only because we were climbing in gondolas and exploring castles. None of which allow strollers.
Will the children even need the stroller? If they are around 5/6 years old and have been travelling for a few years now, chances are, they will be just fine. They may even come to hate the idea of the stroller being around for back up. New to travelling or newly independent 3 years old? Little legs aren't going to last long and you can only hold them for so long. Take a stroller.
Can you rent a stroller at your destination instead of buying a new one? This means you don't need to go out and purchase a stroller or bother bringing your own with you in the car, or on the plane.
Will your insurance covers the cost of replacing/repairing a lost, damaged, stolen stroller while on vacation, specifically while in the airlines' possession. They are not the most careful people and things get broken from time to time.
Do parents want to stay out well past the children's bedtime? Maybe a stroller for the evenings is better.
Best Single Strollers
Based on various mommy-groups, baby blogs, and Amazon best-sellers list, I have made a quick list of the top 5 budget-friendly travel strollers.
There are many more options available but they were either crazy expensive, too light or just didn't make the cut in general.
Bob Revolution Flex
Best Jogging Stroller
Bob Revolution has been our household favourite, going on 6 years now. We bought it shortly after Munchkin turned 6 months old when Hubby went on parental leave. They are more the outdoor adventure type, and I was more the 'relaxing at the mall' type. Throughout our many adventures, Bob Revolution has been there; we even dedicated entire review for this stroller.
The flex handles allow parents/caregivers of various heights to push without hurting their shoulders. Air-filled tube tires make for a smooth ride whether on-road or off-road and can easily be refilled with a bike pump – included in the handlebar console add-on.
Available Accessories:
---
Chicco Bravo Trio Travel System
Best Travel System
Travel systems are the way to go when looking for a well-rounded and budget-friendly stroller. We had this style (our model is currently discontinued – it has been 7 years already) and it was amazing.
Not only does it come with a car seat and base, but you know it will fit perfectly with the stroller because it was literally designed this way. No fumbling around to find accessories to match – Sorry Bob.
Each stroller has its purpose and this travel system is great for indoor activities like museums, malls, and small walks downtown. Travelling in Europe can be problematic due to all of the cobblestone, but not impossible. Shortly after the baby was born, we took the kids for a long day trip to the city.
Being only 3 years old, we didn't think Munchkin would want to be awake for the whole trip, so we travelled with two strollers (this is before we bought the Double stroller) and our travel system did a great job handling the terrain – just don't try running after the train or off-roading.
Features include:
Removable Seat
Included Car Seat Adapter
Multi-Position Recline and Extra-Large Canopy
One-Hand Fold
Auto-Swivel Wheels
Self-Standing Fold
Extra-Large Storage Basket
Parent Tray – With cup holders and a storage compartment
Height-Adjustable Push-Handle
---
Quinny Moodd Stroller
Best Reversible Stroller
Readers have mentioned that this stroller is near indestructible. Travelling around Europe months and dozens of plane rides (and we all know how hard those luggage handlers can be on our baggage). The metal frame is solid.
Features Include:
Revolutionary Design – Unfolds Automatically & Folds easily.
Usable forward or rear-facing.
Easy fold from parent handle
Includes shopping basket, sun canopy, removable front bar.
---
Britax 2017 B-Agile Stroller
Best Lightweight stroller
This the type of lightweight stroller that I saw all the other moms pushing around. It's a very new-style. Already owning two single strollers and two double strollers, I was not about to buy a third but this did look like a great stroller.
It folds nearly flat, and has a fairly small folded footprint, making it perfect for storing in small European trunks (they call it a 'boot' by the way), or trucking it up narrow – and steep – European stairs.
It does feature the one-handed fold system, which is perfect, but there aren't that many more bells and whistles to get excited about. The Britax 2017 B-Agile Stroller is a great lightweight stroller for getting the job done.
---
Maxi-Cosi Zelia Max 5-in-1 Modular Travel System
Best Folding Stroller
Best Double Strollers for Travelling
Have two kids that might need a break? No problem. I have also taken the liberty of creating a double stroller comparison. All limits are total, not per side.
And while the kids may have a smidgen less wiggle room than two single strollers, nobody has time or space for two single strollers. Like I tell my 5-year-old when he complains "be happy you're sitting because too much whining means I sell it and you walk next time."
Thule Cadence Child Bicycle Trailer
Double stroller for infants and toddlers.
Remember when I mentioned that we had two double strollers… well, this is double stroller #1. We bought this shortly before moving to Germany, before knowing we even needed a double stroller. Why? Because it was barely more expensive than the single Thule and figured Munchkin could use the extra legroom.
Moreover, this stroller was technically purchased as a bike trailer. That's right, those front two tires come off and a bar replaces it – this then attaches to the bike. It can also turn into a jogger and an infant stroller.
We took this out a few times when my sister and her son came to visit – the boys were in the double and the little princess was in her Bob Revolution. The resale value of a Thule is incredible!
---
BOB Revolution Flex Duallie Jogging Stroller
Best Jogging Double Stroller
No surprise here, Bob Revolution Duallie is our second double stroller. There came a time when our bikes were stolen and our insurance refused to pay. This made our bike stroller useless.
We could have kept it as a regular double stroller but as the kids got older, they started wanting to have more free space. His legs are also fairly long so he was getting a little cramped.
Move on to the Bob Duallie. A few friends purchased the infant car seat adaptor and were able to use it from their second child's first days. For us, we liked that the total weight limit was the highest among other mid-budget double strollers; at 70 lbs, our 6-year-old and 3 years old are only now starting to outgrow it.
With all the great features and benefits of Bob Revolution and the added comfort of restraining two children within one unit, I love my Bob Duallie.
The whole wheel unit is interchangeable with the Bob Single, making replacing inner-tubes that much easier – switch it out and wait for the replacement in the mail. It also folds down practically flat and still fits nicely within my tiny Toyota Corolla.
---
Contours Options Elite Tandem Double Stroller
Best Tandem Double Stroller
There are instances when side by side strollers just don't fit. Sometimes halls are just too narrow, elevators too small. We did own this stroller for a short period of time.
She used this guy for at least a year afterward, making this stroller one hard worker. The basket underneath is incredible and there are so many features that make this stroller a great day-to-day tandem double stroller.
Positions include:
Newborn and Big Sibling
Strolling With Twins
Baby And Big Sibling
Eyes On You
Face Forward
Eyes On You And Exploring
Sibling Fun
Convenient Shopping with Big Sibling
---
Joovy Caboose Too Ultralight Graphite Stroller
Best Lightweight Double Stroller
The new Caboose Ultralight Graphite is the most lightweight, compact and efficient double stroller. Designed for two children of different ages, it is preferred by parents for its practicality.
At 22 lbs. fully configured, it is lighter than some single strollers. A new rear canopy attachment provides shade for the child sitting in the back. The new parent organizer also holds two beverages and has a convenient zippered pocket for keys, phone or wallet.
---
Best Double Stroller for Twins
Ideal for two children, this toddler jogger stroller is a perfect option for those who have twins. This Baby Trend double stroller accommodates 2 Baby Trend infant car seats.
It also includes multi-position, reclining seats provide a comfortable place for your children to relax while you go for a jog.
In case you were interested, your babies can also enjoy music along with you as this stroller comes with MP3 plug-in and speakers.
My Pick for Best Travel Stroller
Personally, I have a thing for Bob Revolution. No, I have not been paid or compensated to say this, I just really love Bob. I have mentioned this brand a few times over the past few years and I can't say much negative about them.
I can't even say what their customer service is like because I have never needed to call them; in the last 5 years, I have replaced the inner tube once and sewn the basket back to the stroller once (last week because I overstuffed it). That's it! I did a Bob Revolution Review here.
Also, Bob Revolution is able to grow with the child from birth to toddler to big kid. With the car seat adapter, see here, I was able to adapt the stroller from my 3-year-old son to my new baby, without having to purchase a new car seat.
Slap on the buggy board, so he can stand while I push, and my stroller just transformed into a sit and stand. The double stroller also has this ability, with the double stroller car seat adapter and snack tray, making it the best double jogging stroller for infants and toddlers.
The posts and pages of Tapped Out Travellers
do contain affiliate links that we earn a small commission for,
they come at no extra cost to you!
Your Best stroller for Travel
Whichever stroller you choose to purchase, will be the right choice. There will always be one that is flashier, has more bells and whistles, or just looks cooler. Never compare yourself, or your stroller, to someone else's.
The grass is always greener on the other side, right? So there you have it, top 5 single strollers and top 5 double strollers that are both durable and relatively inexpensive. They are designed to withstand European sidewalks and maybe a little off-roading in the woods.
Your Thoughts...
Please share your thoughts in the comments or reach out on social media...We would love to hear from you.
You May Also Like…
Do you need a stroller for a vacation?
Best Packing cubes for travelling
The toughest part of travelling in Europe with kids
Travel hacking to a cheaper vacation