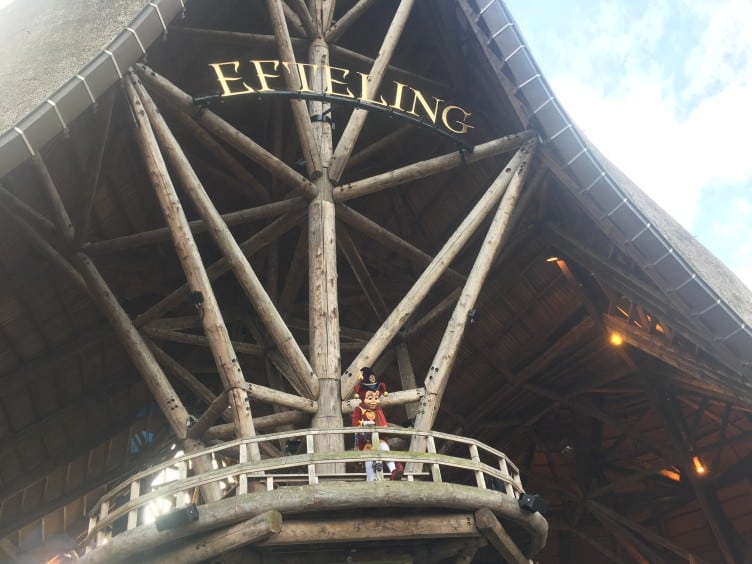 World's Oldest Theme Park
Efteling Park is one of the world's oldest theme parks. In May 1935, the creators of Efteling opened a Sport Park. A year later, they added a playground, carousels, pony rides and a slide. Over the next few decades, the park continued to expand, adding the Efteling Nature Park Foundation in 1950 and by May 1952, the Fairytale Forest was opened, with ten fairy tales "huts". More attractions were added in 1984 and finally a hotel in 1992. Exploring Efteling Park with kids has since become easier and more fulfilling for the whole family.
Part of the charm of Efteling Park is that it is so low key. Many locals have heard of it, but enough have yet to visit that the overall experience is not lost to large crowds and over priced meals. Our first hint was a total lack of hear-say when I asked the local mommy-group if it was appropriate for our children (then 3.5 year old and 10 month old). Finding the park itself was a little tricky; we drove and there were a handful of signs that pointed the way but nothing crazy like Disneyland Paris. A quick look into a potential train journey deterred us right away; 3 transfers and 3 hours later from Dusseldorf or Brussels central station. The car took 1.5 hours at most.
As seen on; 70 day trips from Dusseldorf
Efteling Park with kids in January
We purchased tickets to Efteling Park back in March last year when we were on our way to Rotterdam for Easter. It decided to poor rain all day so we scrapped that idea and continued to the city. The tickets default not-date-specific which is great. Not only is it easier to purchase them online, but one can give them as a gift (or receive them) and use when ready. It is free under aged 4, and all tickets expire the next March 5. I don't know why that date specifically, but when I went to purchase an additional ticket for Munchkin (he turned 4 between purchase date and visit date), they said "expires March 5, 2017", which was a month away.
Efteling Park is open 11 am-7 pm during the winter months, and they offer a "winter experience". Many told me I was crazy for going in January because it would be so cold, and run the risk of poor weather, but my February was booked and I didn't want to waste 70 euro (35 euro per person). Many of the trees were sprayed with artificial snow, there was a Christmas market in the middle of the park serving food and drinks, and a giant bonfire was erected in the centre of each Land as a nice little place to warm up and regroup.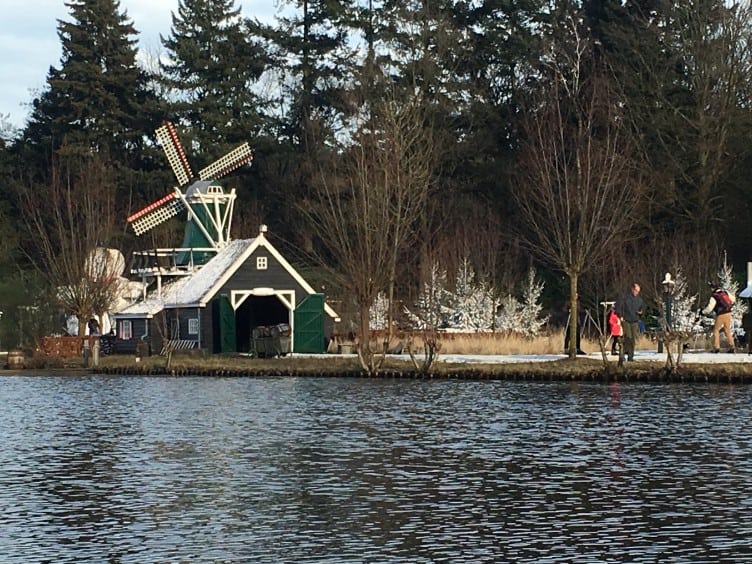 Cross-country skiing is an attraction during the winter months
An excellent resource for planning all of Netherlands can we found with the Lonely Planet Netherlands Guide.
The Fairy Tale Forest
The map was a little overwhelming when we first entered the park. We had only decided the night before that we were going to visit so I didn't do my customary research and route planning before entering the park. We started at the bottom and worked our way around, following the handy guide on their website regarding family-friendly, and children friendly activities.
The first turn is The Fairy Tale Forest. Walking through the woods and along the path, we came across several huts that are the homes of various fairy tales. Some have animatronic scenes inside that we just view from the windows, and others, like the one photographed below, are elf houses where one can walk throughout. It didn't take too long to visit this section, the kids saw a roller coaster above the tree line and wanted to get to that as soon as humanly possible.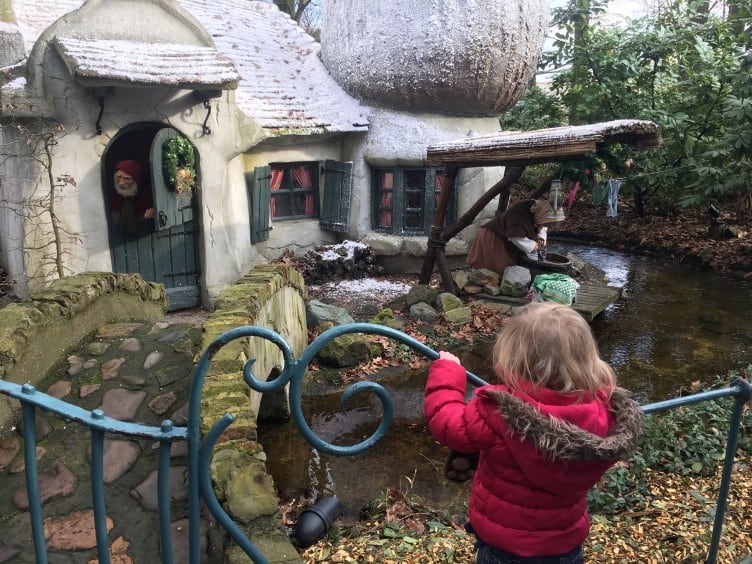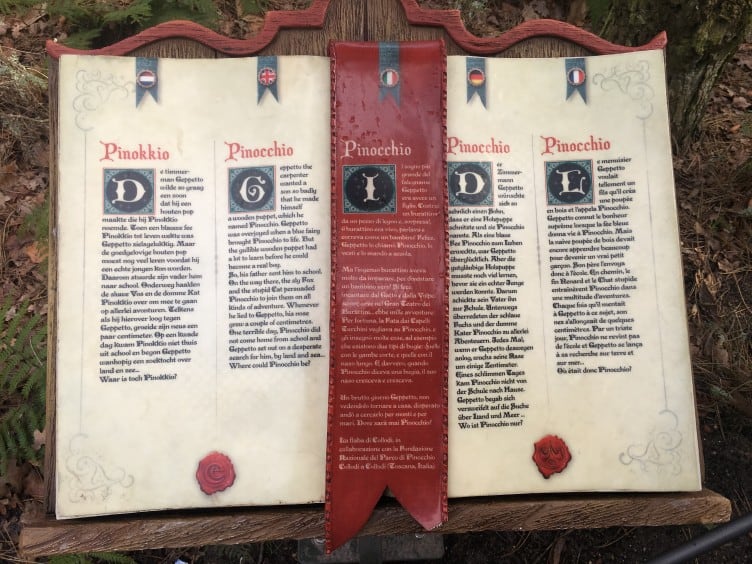 Marerijk (Lore Realm)
After exiting the Fairy Forest and finding somewhere to have a quick lunch, the kids were aching to get on a formal "ride". We walked passed the Steam Train, around the bonfire with performers, and discovered the first playground. With a see-saw, swing set and sandpit, it was plenty to keep the kids attention. They, however, weren't interested in it today once they saw the Monorail pass overhead. The entrance was through the playground, inside the court yard and up the stairs. There was an informal Stroller parking available at the entrance/exit which was great. Off load the camera and purse, leave the snacks and diapers behind, and climb the stairs.
I found that most rides only allow for 2 adults and 2 children. This would become a reoccurring theme at the park. All signs showed 2 adults with one child, 2 children with one adult, 3 children, or 2 adults. Hubby took Munchkin and I took Baby Girl in the car behind them, so we were able to waive at each other every time we turned the corner.
Further down the land, we saw several carousels, and a Miniature World inside the same building as the large Steam Punk Carousel and bar. It was nice to have a quiet place to regroup our thoughts, read the map, and watch as Munchkin chased the little train around the Miniature World and watch the thunderstorm move across the world.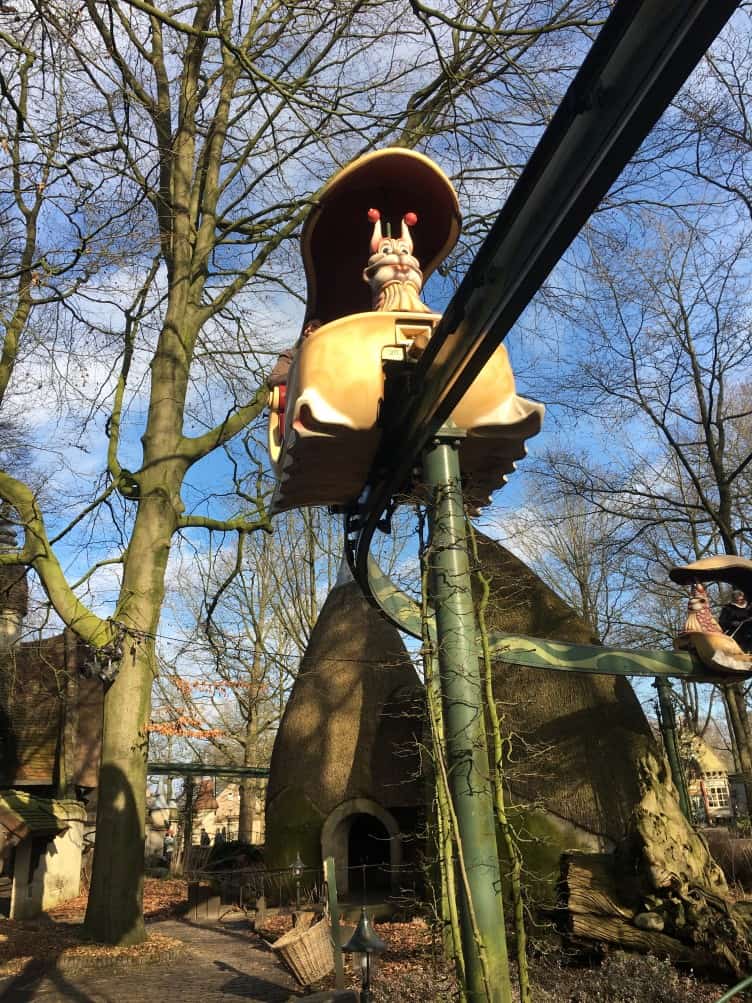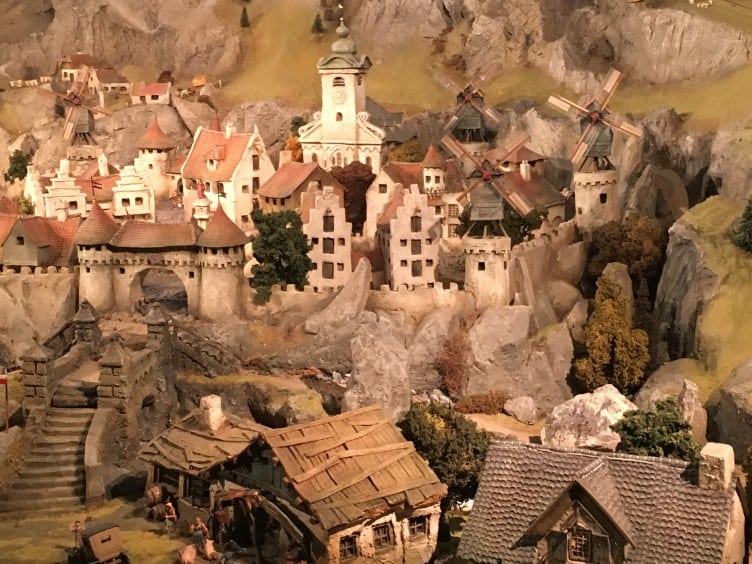 Reizenrijk (Travel Realm)
Getting lost trying to find our way from the Monorail to the Park Train, we accidentally walked into the Carnival Festival and surrounding area, the Reizenrijk land. We looked around, realized this wasn't where we came from and just before we turned, we noticed a giant clown head come from a circus-tent like building and people were just flooding in and out of it. We checked the Efteling App for line size, since it wasn't marked anywhere on the outside and who-knows how long the line is passed those doors… it was 20 minutes. The line moved surprisingly fast, and the kids were excited to see what was up ahead. The other kids in line seemed pretty excited as well so that was a good sign.
When we finally made it onto the ride, we slowly realized what this was. "It's a Small World" -esk 10 minute ride through various countries, represented in clowns and buildings. There was no ear-worm music though, which is great because Munchkin loves to sing those for days on end. We saw a moose but nothing else in the scene looked familiar so I'm not sure if Canada was represented, but we did catch a glimpse of our flag on the way out. Munchkin was so happy to see it.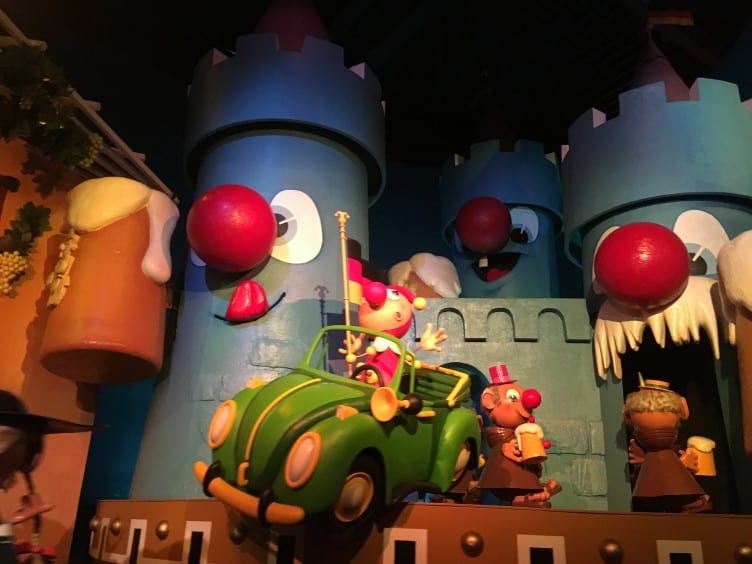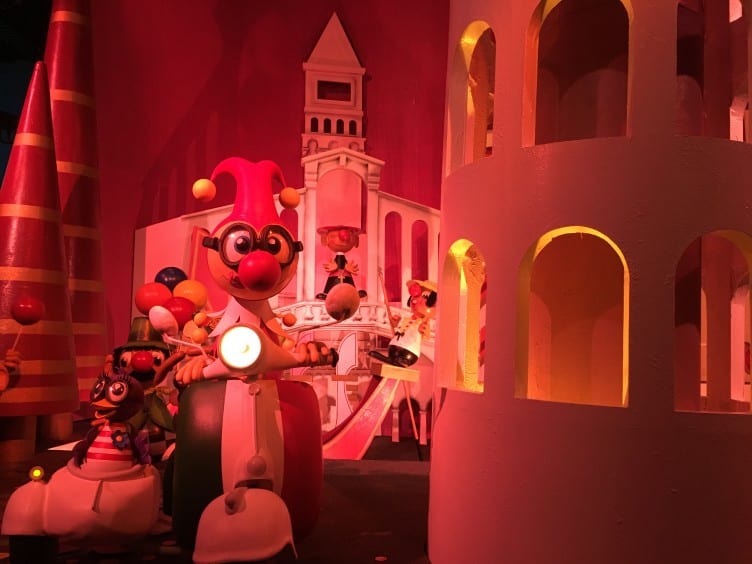 Just outside of the Carnival ride was this adorable photo station. We were at the front of the line and they had a blast. Each was pretending they were high above the clouds, Baby Girl was shouting "Yay" and "WEE" a lot. Munchkin was giving orders on how to steer the balloon, thank you Mrs Rabbit and Peppa Pig for the great instructions.
There were a few other rides in this park, including a building with a giant Eagle on the side, but it was listing as a roller coaster for older visitors so we skipped that one.
Ruigrijk (Rough Realm)
We finally found the Steam Train and grabbed it to the next realm. From where we were, what we wanted to see and how much energy the children had left in the reserves, the train was the most fun, and most practical way to get there. Strollers are allowed but they must collapse, as no spot is large enough to hold an open stroller. There is stroller parking at the station but that is only useful if you plan on coming back right away. We wanted to explore Ruigrijk before heading back around. We collapsed the stroller, placed it under our chair and off we went. Note to self, a row is not large enough for 2 adults and 2 children sitting side by side, as were most of the chairs; 3 bum limit.
Pirates carousel, or Polka Marina in Dutch, was the highlight of this land. We walked right up to the ride and even Baby Girl was welcome to ride. It wasn't anything special, reminded me of Slinky Dog in Disneyland Paris but the kids loved the Whale in the centre and the pirate theme had them over the moon. Baby Girl shouted"Argh" several times.

There was another bonfire in this land, and several large rides for older visitors, so we didn't stay long in this land. It wasn't far from the entrance and it took us through a path we had yet to visit so we were more than happy to walk. By this time, it was nearly Dinner time. We were on the lookout for decent food before driving 1.5 hours back home.
Meals
The meals were not over priced like many are in Disney Land Paris, but it was strictly Dutch food. Without a large international following, there really is no need to cater to anyone other than your home country, so I am not complaining. We tried some local foods, and at that price, I didn't mind exploring the menu, but I was not prepared to have the kids dislike the Chicken Nuggets. We went somewhere else for dinner and they had Spaghetti Bolognese but they were too tired to appreciate the meal. In hindsight, I should have packed at least one meal as a picnic. If not for the sake of the kids, but for my wallet as well; I can always do with one less meal at a restaurant.
Every restroom had a baby changing station, which was great. And the larger venues had a separate restroom for the babies so both mom or dad could take care of business. I have already learned that Europeans are not shy people so when I saw the changing station was just a table in the middle of the room, and baby-bits were exposed to everyone, I was't too surprised.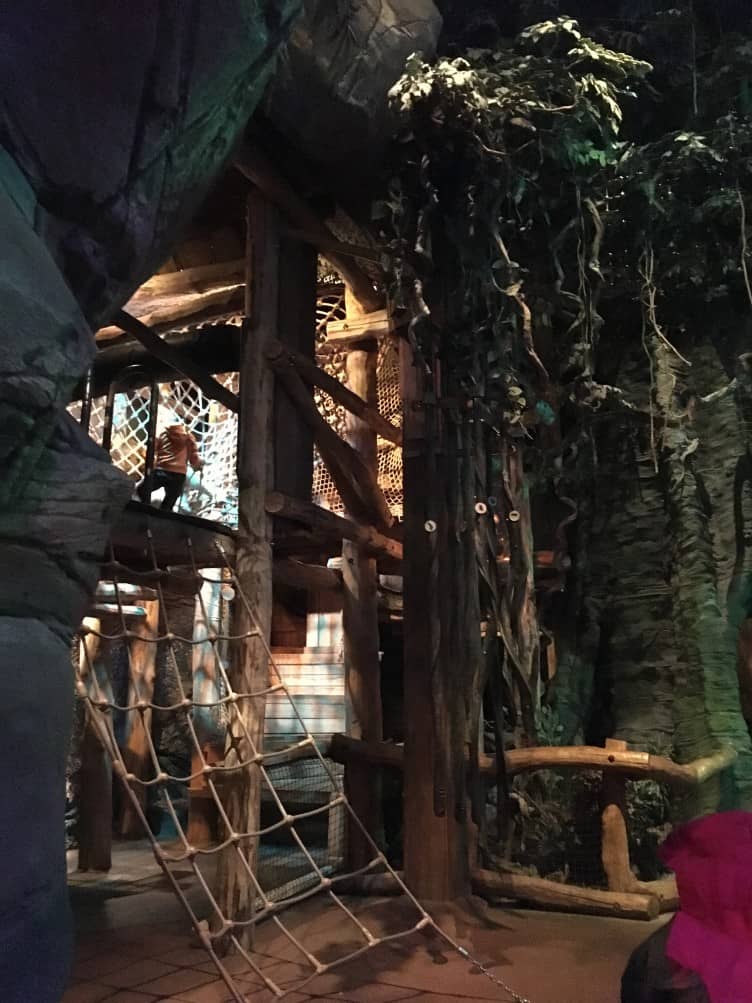 Final Impressions
I was thoroughly impressed with visiting Efteling Park with kids. There was plenty for the little ones to do, and even more for the adults, so one doesn't need to feel guilty about leaving the kids behind and exploring alone. The park wasn't too busy, even at peak daytime, which was great because I was not in the mood for long lines and crowded theme parks.
We didn't leave the park until nearly 6:30 pm so we were able to see the evening lights. I am told there is a light show along the lake within the park, but the kids were eager to leave and we all had to get up in the morning. The parking lot was getting a little busy with people trying to leave before it became busy, so we went with the flow and left before closing.
A friend had asked me if my tickets included Parking, which they didn't, but the gates were wide open when we arrived at 11 am. When we left, the gates were closed and they asked for my parking ticket. Oops. We rang the button, put on our 4 ways, and buddy told us to come to the hut and purchase a ticket. It came to 10 euro for 7 hours so I wasn't disappointed in the price, just a little annoyed that we weren't given a ticket on the way in.