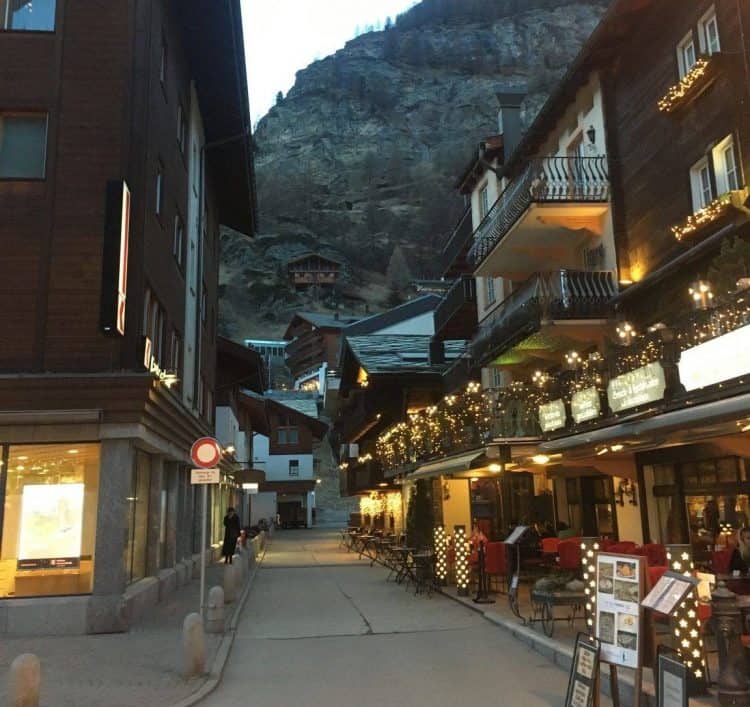 For the love of snow!
As a non-skiing family, we still appreciate a good ski resort, we just don't do the same things other families do when they visit. And don't get me wrong, we are not the only ones there that can't or don't ski. I have seen my fair share of little ones on the ground floor. Sometimes we just want to enjoy the view, and the fresh air, and just play in the snow. If you read my previous article regarding snow in the swiss alps, you will know that this did not happen according to plan. But we did get some fresh air and enjoy the view, so it wasn't all for not. But what is there to do in Zermatt for non-skiers?
This post may contain affiliate links.
To which I earn a small commission, at zero cost to you!
Find more info in our
Privacy Policy
.
If you're looking for the others posts in the Ultimate Travel Guide to Switzerland, we'll link to them as they are available!
Part 1: Swiss Museum of Transport
Part 2: SaurierMuseum – Dinosaur Museum in Zurich
Part 3: Guide to Visiting Jungfraujoch – Top of Europe
Part 4: Top Things to See in Vaduz, Liechtenstein
Part 5: a Guided walking tour of Zurich
Part 6: Snow in the Swiss Alps: Little Snow for Christmas
Part 7: Touring Lake Geneva with kids
Part 8: Jungfraujoch with kids
Part 9: Top family-friendly Hotels near Jungfrau
Täsch near Zermatt in Switzerland
To start, we stayed in the neighboring town of Tasch. Since cars are not allowed in Zermatt and the hotels there seemed rather expensive for my budget, we decided this was the perfect little mountain town for us. We stayed at the Tascherhof hotel and which is direct across the street from the train station. Under the hotel was a public parking garage; simply validate your ticket on the way out and voila, free parking.
For the latest prices and bookings at Tascher Hotel, click here!
A beautiful breakfast buffet was also included in the reservation and the front desk was so helpful in answering all of my questions. They also offered discounted tickets to the Glacier Paradise; 80 CHF instead of 100 CHF at the tourism office. The only problem was that this transaction was cash only, and I don't usually carry cash. The train station across the street has a bank machine so it wasn't that big of a deal. Hubby packed our day bag and got the kids ready while I ran an errand, met in the lobby, and left. Easy as pie.
They do offer dinner in their attached restaurant but we didn't get a chance to try to it. It smelled great when we walked past if that counts for something.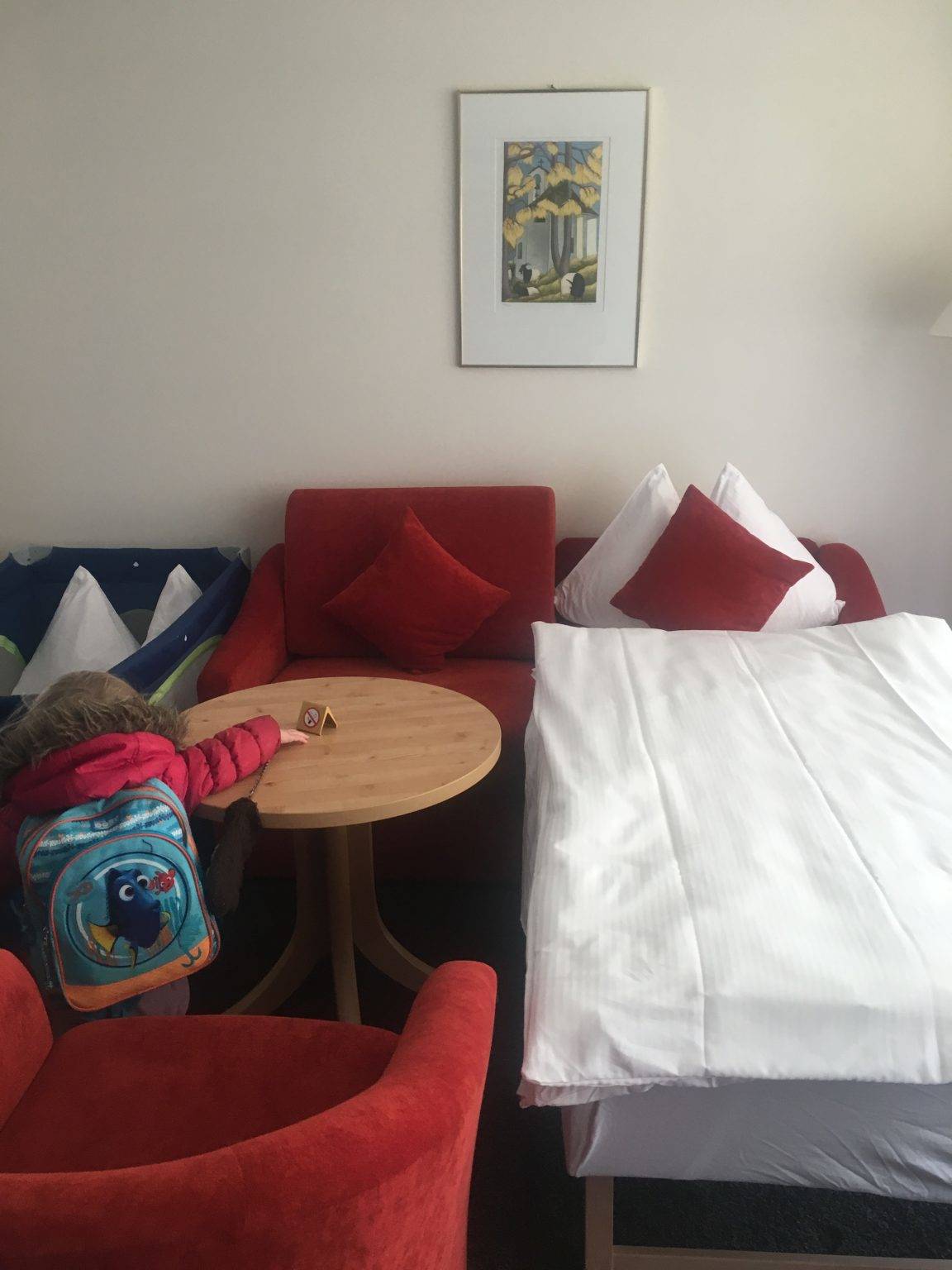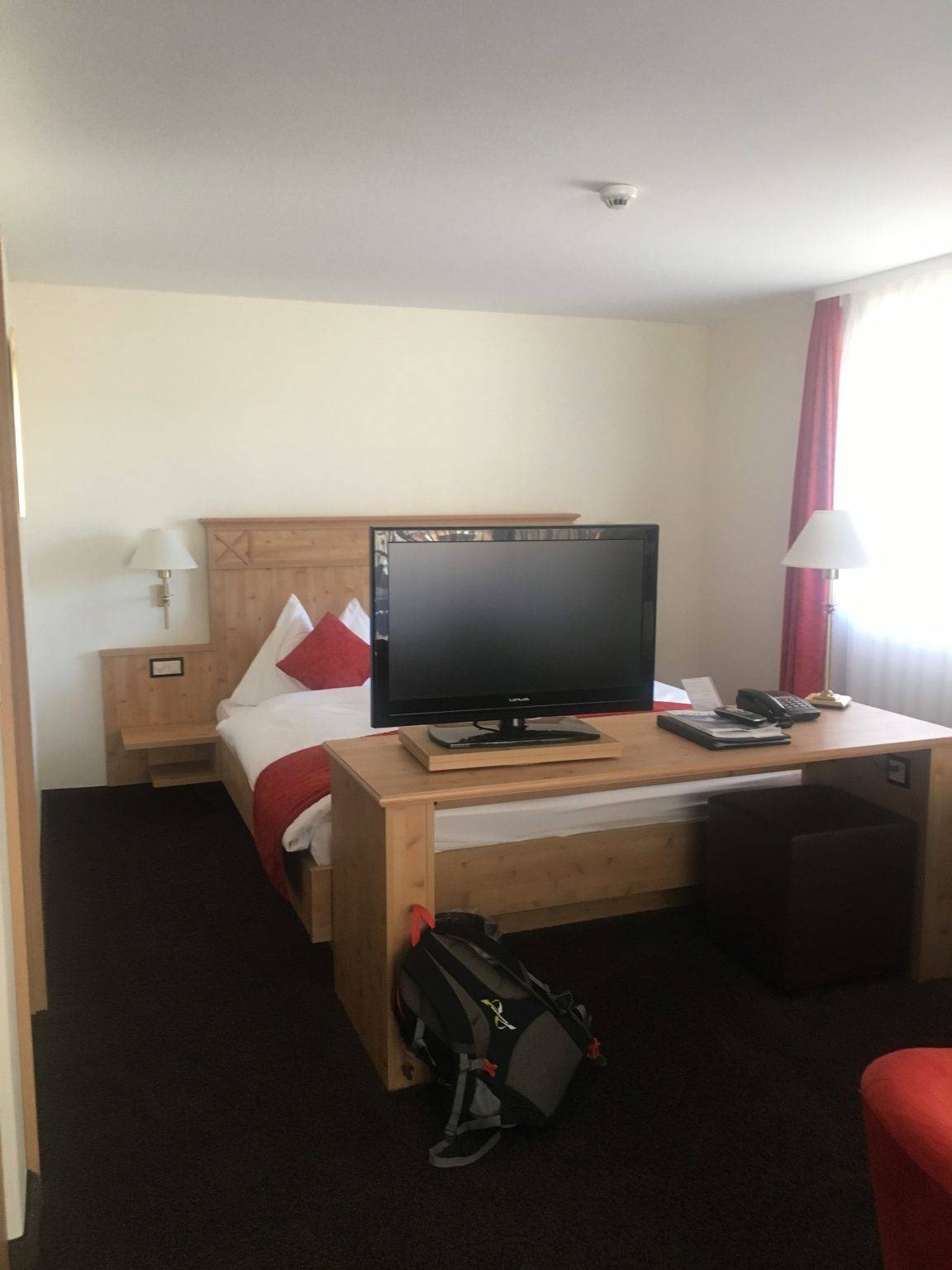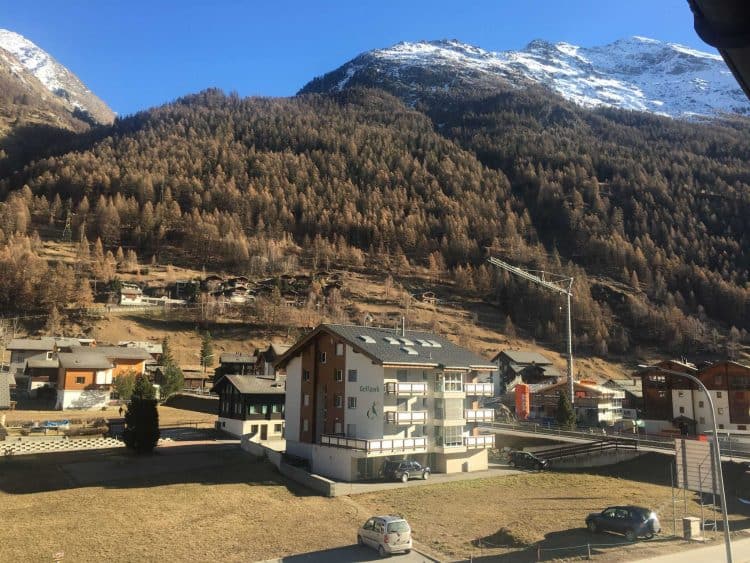 Fresh and clean after a hard day climbing a mountain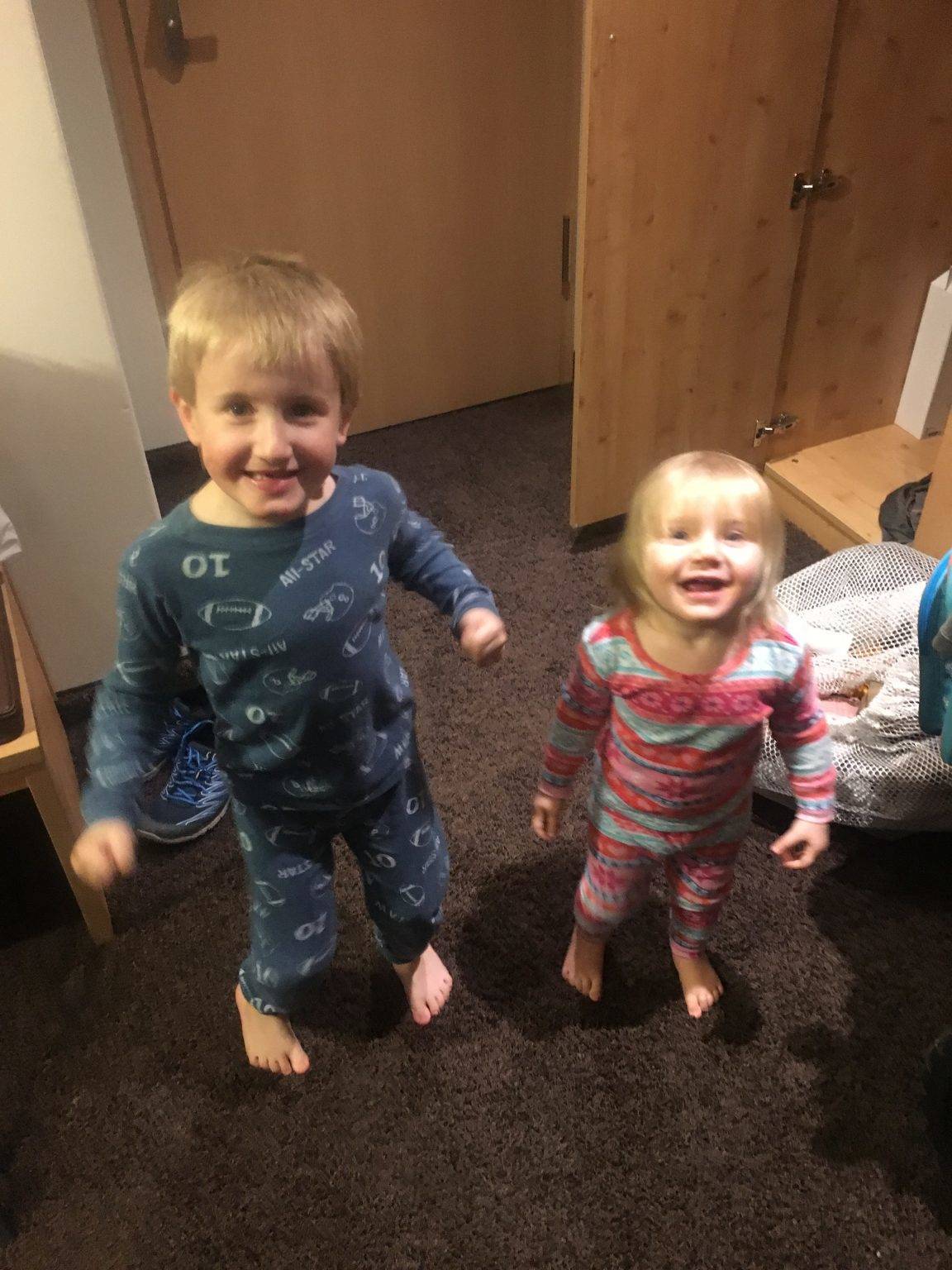 How to get to Zermatt | Shuttle Train
Getting to Zermatt isn't all that difficult. The train station runs between Tasch and Zermatt every 20-30 minutes. There are 4 ticket counters available for purchase, and an automatic machine. Directly beside the machines is a little ATM, hidden from sight. Took me a few tries to see it, I bet I looked crazy to a few folks. They have a corner store with loads of souvenirs, a more fancy souvenir store – we purchased Baby girl and the hubby a pair of sunglasses there – very expensive, but required.
The ticket agents are something to be desired, however. I asked to purchase 2 adult tickets for 2 days. He asked me a few different times when I wanted to start my tickets. I said "tonight", as in, I plan on boarding the train in a few minutes so sell me tickets now, please.
They were a little more money than I expected to pay, the front desk at the hotel said 16 CHF per person for a single return and I just paid 64 CHF for 2 return tickets, for 2 days. I thought there was supposed to be a discount there. Another agent helped me and she said they were fine. I confirmed that I was going to board the train in 6 minutes. "Yes, your ticket is correct. There is no discount". Perfect.
Get in line, and scan my ticket. Nope. Denied. The bouncer said my 2-day ticket expires on Dec 24, in 3 days, which means I can't use it until tomorrow morning. I went back to the agents, the first 2 are busy so I see a third. He says to visit the original agent. I wait and wait. for 4 minutes before it leaves. Buddy takes my tickets and asks what is the problem. I tell him I want to leave now, he says these are the right tickets, what am I trying to pull.
I remind him that the scanners won't take it, and the date on the tickets actually says December 24, therefore he sold me the wrong tickets. He hums around and prints me a new pair; 2 days, expires December 23. We race to the scanners and jump in the first car, and the train pulls away as soon as the doors close… I was not interested in being stuck in the same building as the people that made me 20 minutes late for my train when my kids are jumping excitedly to get this show moving.
Anyways, rant over. The shuttle was a quick ride up the mountainside. The view was nice, we didn't see much of it because of construction and tunnels. I hear December is their down-season.
At the train station in Zermatt, there are e-cars waiting to transport people to their hotels. They are only available for hotel guests. The lone horse and buggy in the area also belong to a hotel.
Things to do in Zermatt with kids
Brewery tour
A quick google of things to do in Zermatt and we found a brewery tour. We have done the Keith Brewery in Halifax with our son and it was great, so why not this one? For one, it's a few flights of stairs down, and the brewery is super tight inside so no stroller, and I had a sleeping baby. Hubby went, he took the munchkin and I went shopping with a baby girl.
They have only opened for 1 year and spent 3 years in the planning process. The brewery is owned by a Doctor in town and a Russian businessman. They hired a German brewmaster to create this blend in town. As they only specialize in unpasteurized beer, the shelf life is only 2/3 months.
Reservations are required to be booked online so they know to expect you. A tour is only offered at 4 pm, every night, but only if enough patrons request it. We were lucky and showed up right at 4 pm, as this information was not listed on Zermatt's website (as sign of things to come), and a few of the English tour's members were running late so they hadn't started yet. Hubby paid his 15 CHF and started the tour. It was only supposed to be 1 hour but they got to talking and got carried away. They serve plenty of samples during the tour as well, to encourage patrons to purchase a case on the way out.
At this point, I should have purchased the Swiss Pass. There was a special rate for owners of the Swiss Pass and I hadn't really given it much thought during the planning stage. I know for next time.
It was 10 CHF per adult and the kids were free. There were 2 floors underground, the main exhibit being on -2 and information panels on -1. There is an elevator and the hallways are more than wide enough for a stroller.
The kids had a great time walking in and out of old huts, touching the live-stock models, and looking at what life was like "in the olden days" when Zermatt was nothing but a poor farming village.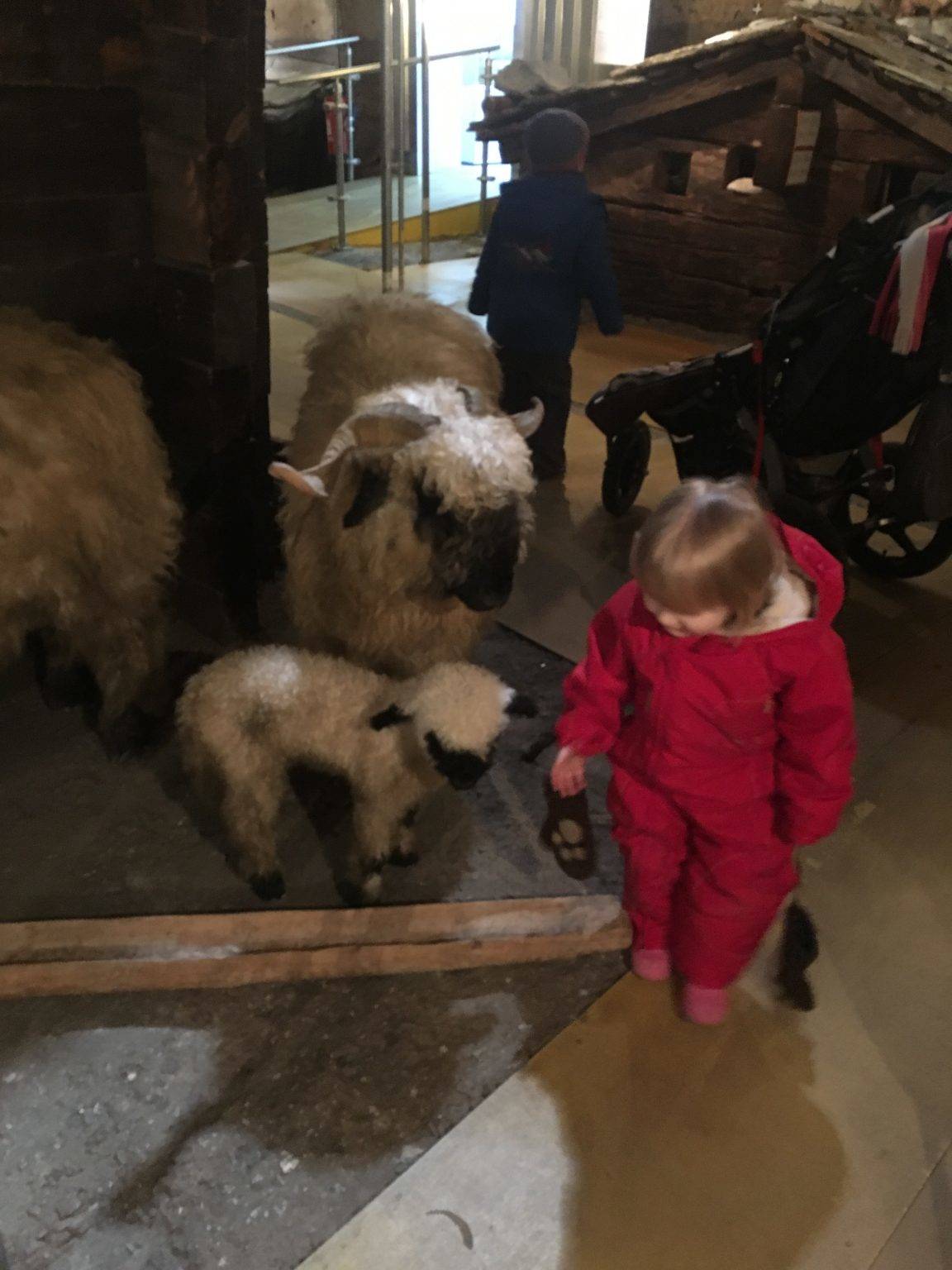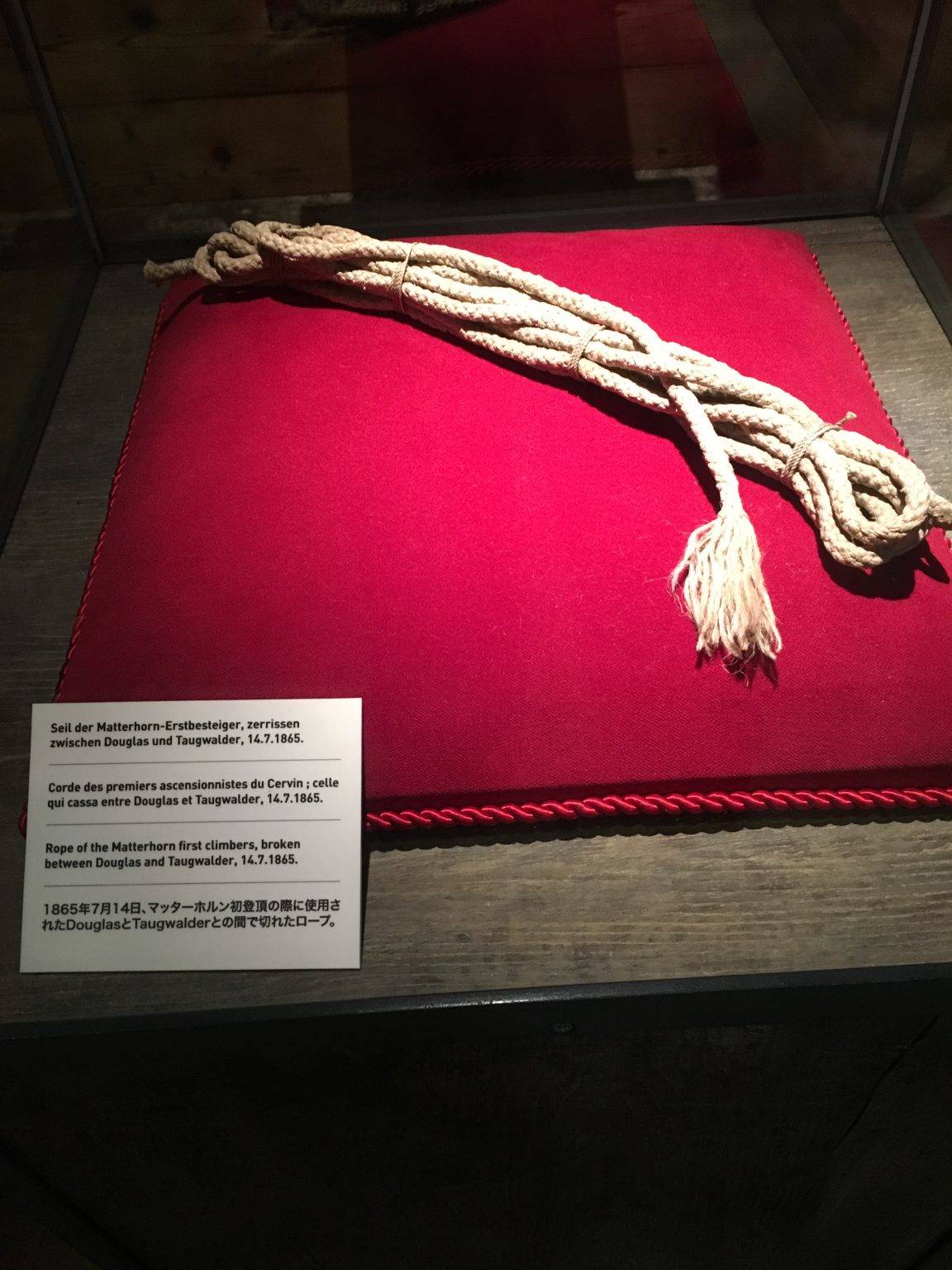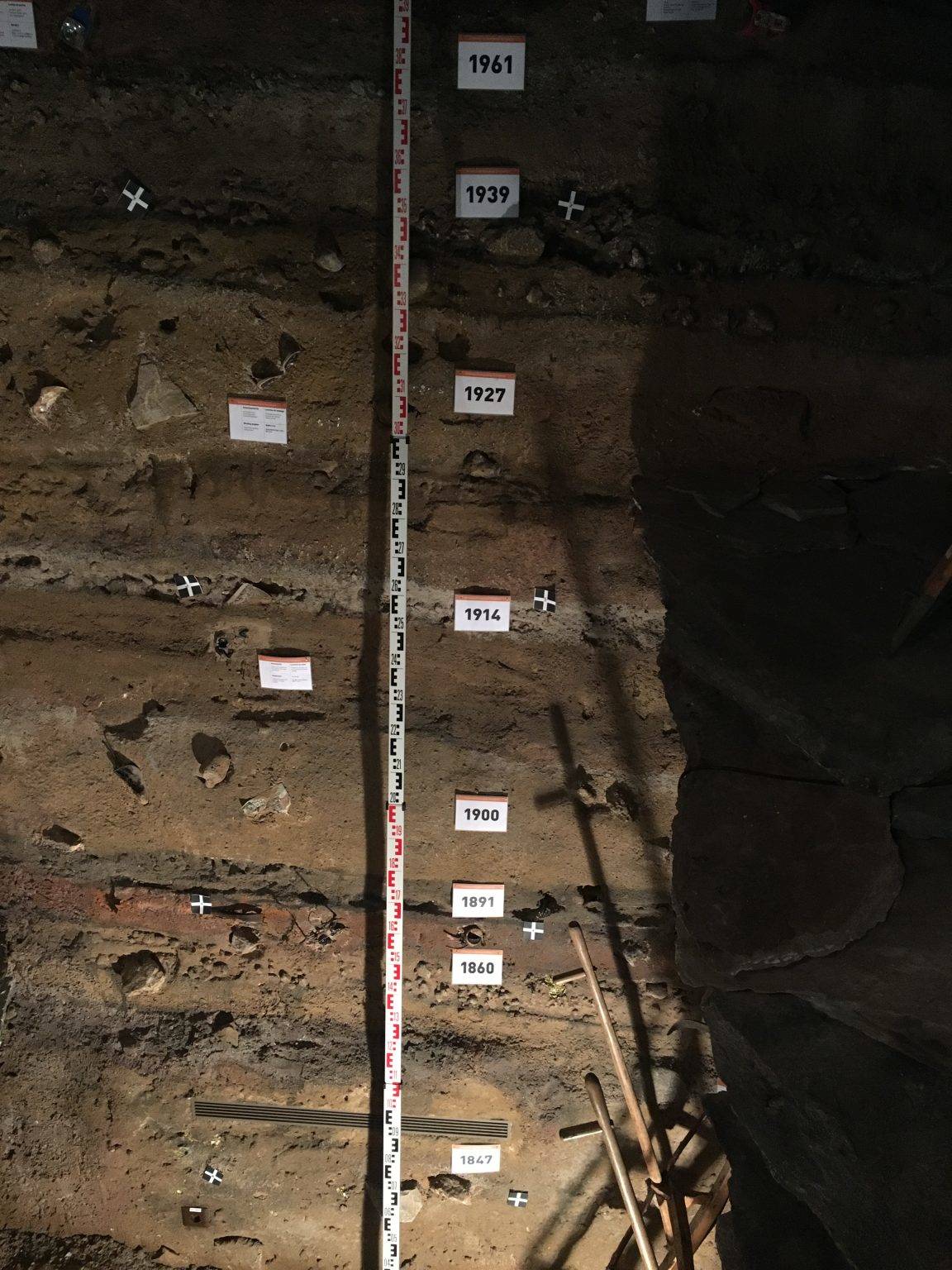 The rope from the first ascent was prominently on display, as were other pieces from that expedition. Information was provided regarding the life of the original climbers, how they made their achievements and the conditions that lead to their deaths. They also showed tools from the Neolithic period that has been discovered throughout the area, including "the soldier". "The Soldier" is the name given to a set of remains found with coins, shoes, and weapons. He is the "second most important archaeological discovery of human remains in the Alpine region – following Ötzi, the Iceman [1991]"
We spent about an hour touring this museum. It was great fun for the kids, we learned a lot about the area and the original expedition. Shortly after the tour, we found a souvenir shop and we purchased a "children's" book regarding the same subject… it was a little more detailed than I prefer reading to my 4-year-old, but he seems OK with it.
Zermatt Tourist Information
I have to say, I am very disappointed in this tourism office, and its employees. I asked a few simple questions about the train schedule and they weren't able to answer me, I asked about the e-cars and they couldn't help me. There were very few questions that they were actually able to answer with confidence, since none of this was their department, apparently.
The horse and carriage rides that are prominently displayed all over their website and pamphlets, let alone social media and blogging, is no longer available. The owner retired suddenly a few months prior and no one has replaced him yet. When asked why their promotional material was not updated…guess what, they couldn't answer that. My kids were so pissed. Not only was there no snow, like I promised them, but no horse and buggy. Explain to them that the only one they see is not available to us because we aren't hotel guests of this town.
Also, the age restrictions on various rides were never mentioned on their website or print media. We purchased tickets to go to Glacier Paradise and the baby was at my side. I asked if the stroller would go all the way up or if should I bring the carrier. They said the stroller was fine, but there are stairs after the second ascent, so it would need to be parked there. This, to me, means I can bring her to the very top. Nope. We were helped by various employees on the bus, at the gondola entrance, and gondola exit. Only when we were done relaxing and tried to get into the last gondola we were turned around. He said under 3 is not allowed any higher, and we would need to take turns watching her. By the time hubby and munchkin were done exploring, it was lunch time and baby girl was awake – good luck getting out of her sight for 5 minutes, let alone 45 to explore properly.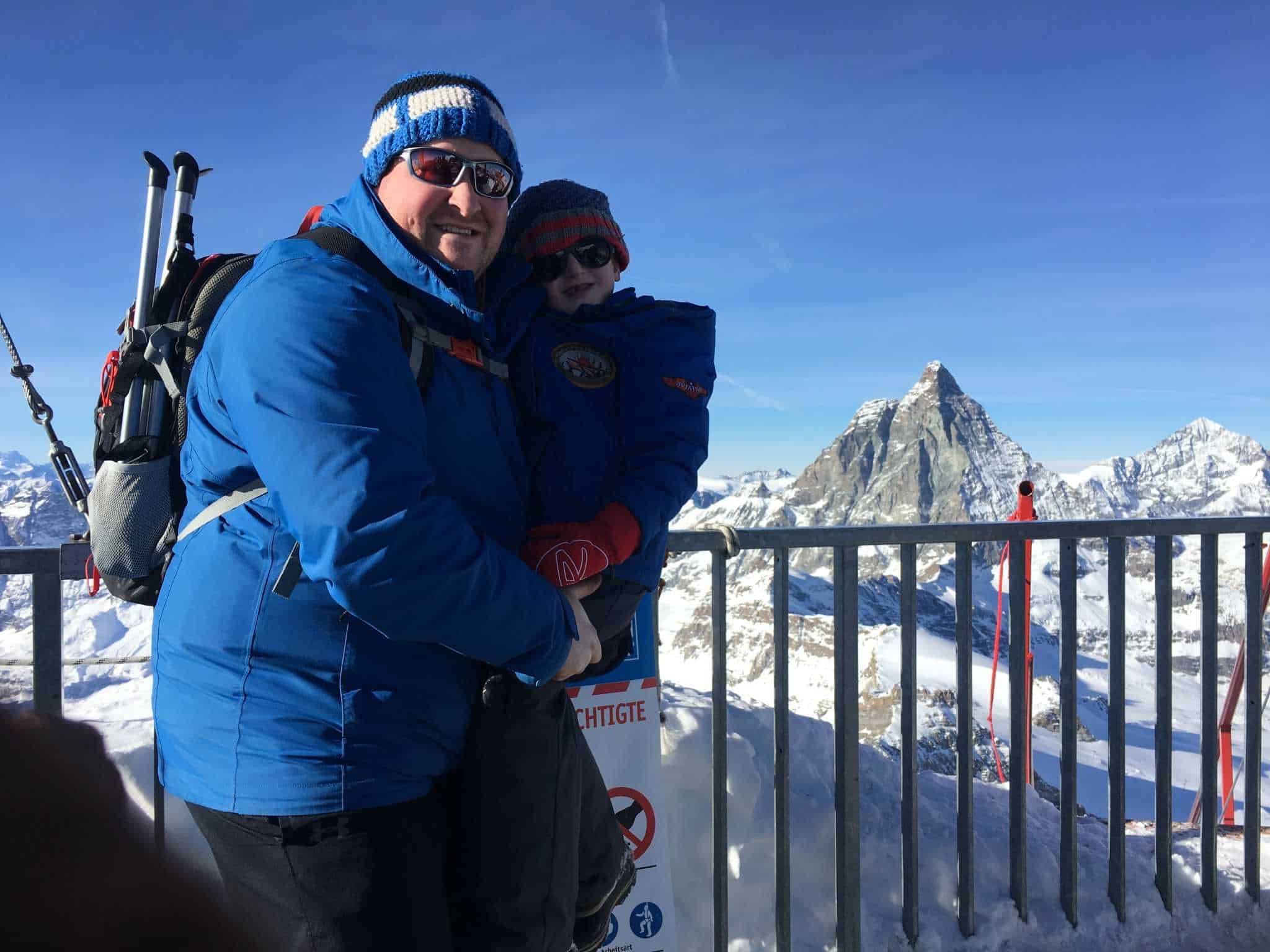 Matterhorn with kids
As mentioned earlier, our hotel was able to get us discounted tickets, 80 CHF instead of 100 CHF per adult, though this was a cash-only purchase. From the train station, we walked across the street to catch the Green Line bus to the Gondola station. We decided to wait for the second bus, as the first was fairly full, and did not have a rear door for the stroller to enter. In hindsight, I probably should have worn Baby Girl I was assured the stroller would be welcome and I did see more at the restaurant, so I was not alone. The bus only lasted 10 minutes and the Gondola station is the end of the line.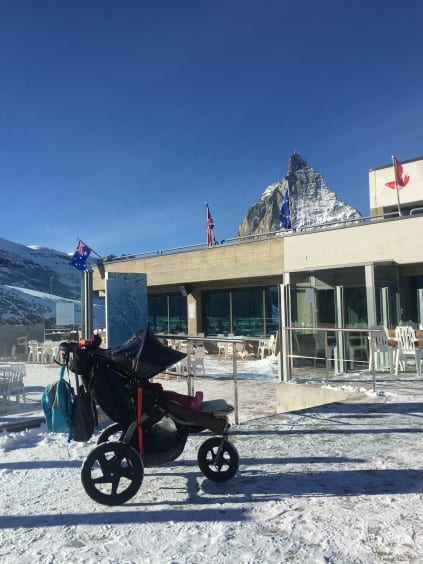 From there, we took a quick elevator up, and a 30-minute Gondola ride all the way to Trockener Steg. I am terrified of heights so I really should have been sitting facing forward. Munchkin kept asking me a million questions about my fear. Such a loving child.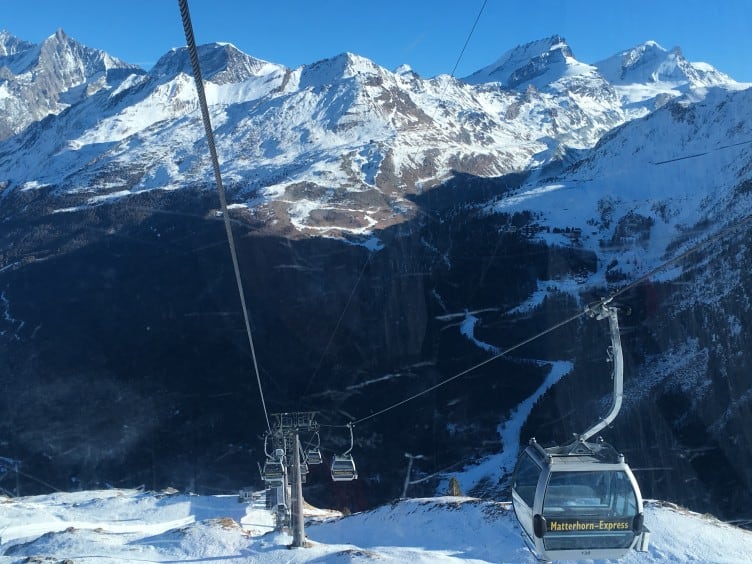 Trockener Steg is the rest stop, and restaurant area where we were able to walk around, check on the kids and have a much-needed potty break.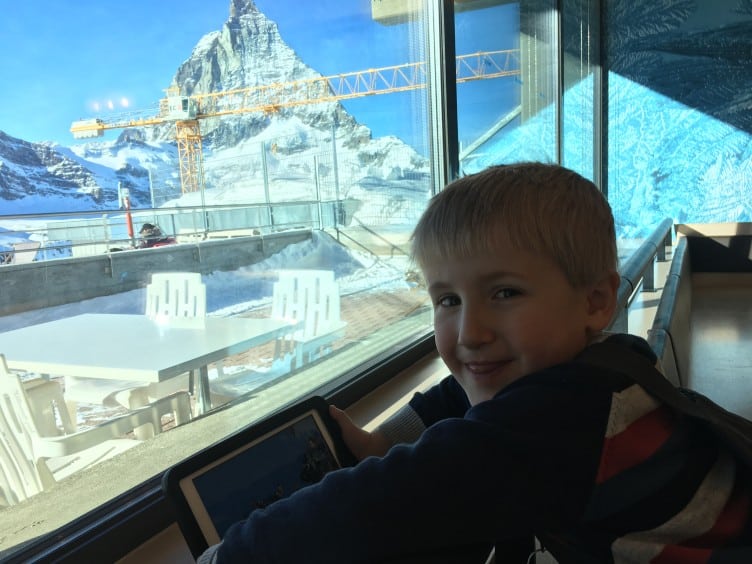 Visiting the Matterhorn | Glacier Paradise
Since I didn't go any further, hubby and Munchkin told me all about it on the way back down the mountain. There is the option of going down the Matterhorn from the Italian side. It was a quick Gondola to their rest stop and had the option of skiing down the mountain. I would imagine Schengen policies apply to Swiss crossings.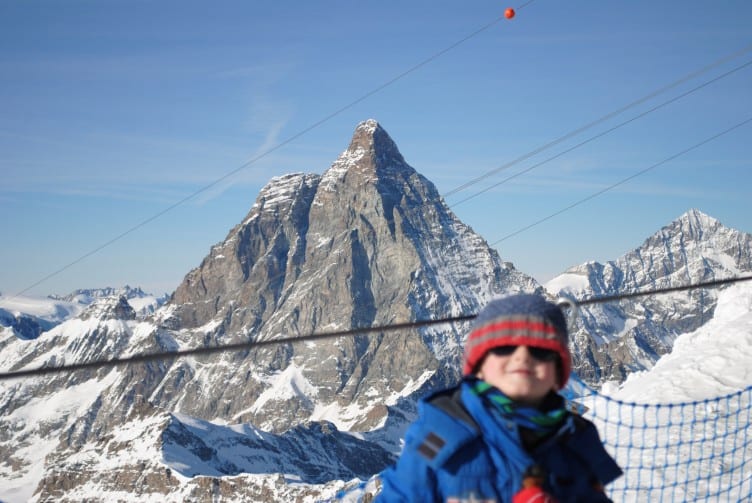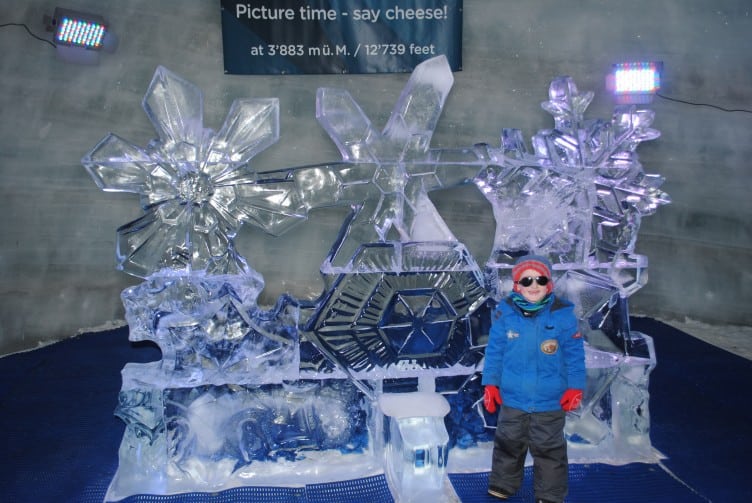 Shoulda Woulda Coulda
Looking back at our experience, there are a few things that I would have done differently to get the most out of my hard-earned time and money.
First of all, I would have specifically asked the words "is my baby allowed at the very top?" Thus either knowing beforehand or having a leg to stand on when demanding a refund.
Second, I would have looked more into Gornergrat. This was a major planning failure on my part. There was a cog train instead of gondolas, restaurants, and a larger platform available as well. Most importantly, it was at the right elevation that my daughter would have been welcomed.
Third, I would have carried around my portable phone charger. I knew my phone had a habit of shutting down at 45% battery when very cold, mainly because my phone is garbage at the moment, and this would have saved me a lot of time and stress when I couldn't contact the hubby.
Fourth, I would have checked the weather predictions for this year when we got closer to the date and scheduled something else in its place. I have been checking Instagram over the past few weeks, because I am a glutton for punishment apparently, and they are covered in snow at the moment. Lots of glorious snow… we missed it by 2 weeks.
Fifth, had there been snow, I would have scheduled more time to dedicate to the resort. There were plenty of cross-country skiing options, tobogganing, and snow-man building available, as well as ski lessons for the Munchkin and a daycare/kindergarten available.
Lastly, I wouldn't have lied to myself regarding the budget. Switzerland is expensive. Ski Resorts are expensive. Swiss ski resorts are crazy expensive. I paid 20 euros for a single pizza, and it wasn't even that great. McDonald's had slightly lower prices so we cheated in the evening and had fast food. All of my shoulda woulda coulda come at an extra cost but we did pay a pretty penny to get here, and we don't plan on coming back anytime soon so these little changes would have dramatically altered the way I remember the resort…I say "I" because hubby had a great time. He is also the one that got to go to the top.
Your Thoughts...
Please share your thoughts in the comments or reach out on social media...We would love to hear from you.
You May Also Like…
Best Museums in Europe for Kids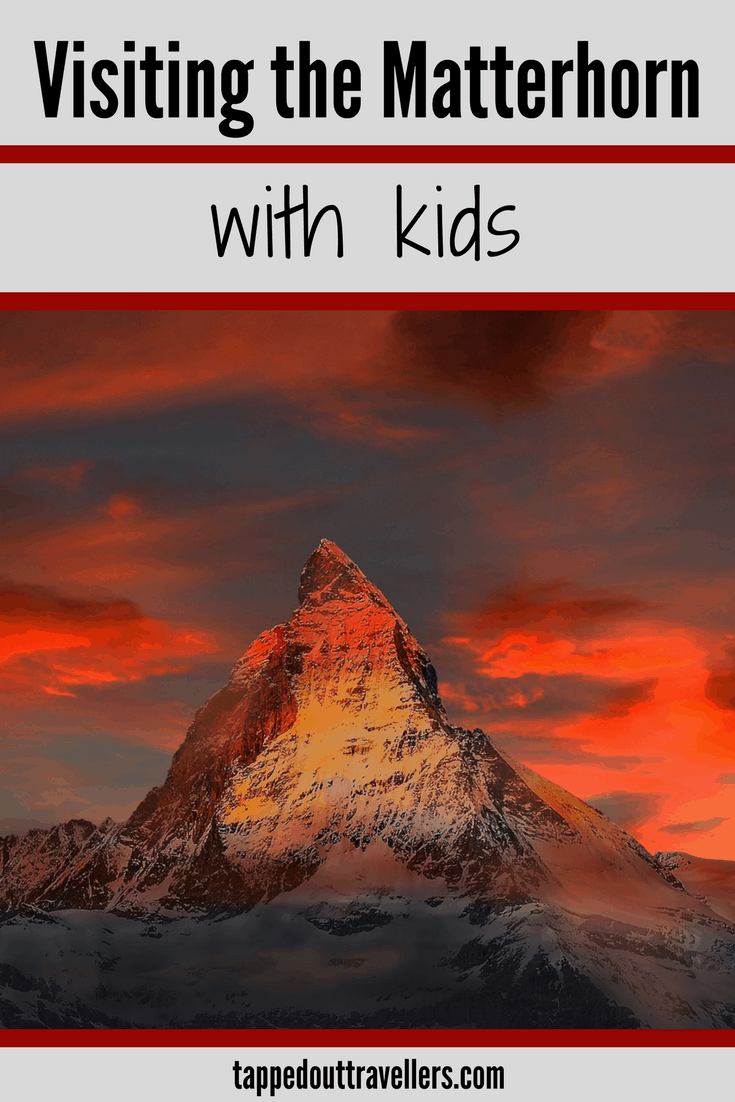 Plan Your Trip – Stay and see everything
Accommodations
Booking.com 1,136,997 properties worldwide. Including 581,306 holiday rentals in 105,263 destinations in 225 countries and territories
Flights
Skyscanner.com compares millions of flights to find you the cheapest deal, fast. Fly for less with Skyscanner!
Car Hire
Blacklane.com Take your time and relax. Airport pickups include 60 minutes of free wait time, and all other pickups include a free 15 minutes. Limousine Service!