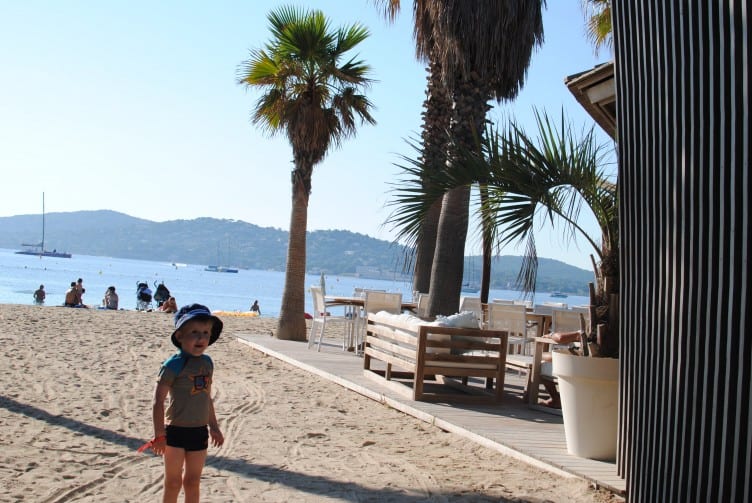 Prairie de La Mer was an excellent holiday in the French Riveria with the kids.
Beach Resort Living
The resort itself is called Prairie de La Mer and it is a series of mobile homes owned and managed by various companies. We stayed with the BJ Riviera holidays.
The Chalet
The home was not very large, but it wasn't that expensive either, considering where we were. One master bedroom with a double bed and two smaller bedrooms with two twin beds in each. They will remove some if space is needed, which it was. The kitchen was extremely small, and in the same room as the dining table, couch and front porch.
Food Around the Beach
A small grocery store, bar, quick service restaurant, playground, and mini carnival were all in the same area, just a 5-minute walk from our house. Having a fully equipped kitchen helped keep the cost down as we were able to buy and store food for the whole week. Had we driven, we would have brought all of our own food and accessories, and only purchased perishables, making it even cheaper.
There are three formal restaurants on the beach that had very good food at a reasonable price – though not something we did every night. They don't open for dinner until 7 pm, however, which was a little late for the kids but munchkin was able to play in the sand while we waited for service and baby girl was down for the night in her stroller before we sat down.
Amenities
Laundry service was available near the grocery stores and only took 45 minutes. Our house had a drying rack on the front step so we just brought our wet clothes back to the house to dry and continued on our way. While the area was fairly trustworthy in terms of leaving your clothes outside while we were away, we choose to bring them in overnight, only leaving the stroller outside but tucked away behind the car.
They do claim to have a gym on location but we found it was only a few weights in a single room.
Customer Service
We really did enjoy ourselves a lot, and the kids had a great time playing in the Mediterranean all evening, every evening. The front desk had a number of pamphlets for things to do in the area and was able to answer many of my questions.
The staff spoke many languages so the hubby was able to communicate with them easily enough, while I decided to practice my french. My accent was a dead giveaway that I wasn't a local and many asked if I was from Montreal – apparently, that's the only city that speaks french outside of France. It's better than Belgium when they thought I was British (they had no idea Canada had a second language – a few didn't know where Canada was, but that is a different story).
For Kids
There is a wonderful playground next to the grocery store, bar, restaurant, fairgrounds that the kids loved playing in. During mid-day, the equipment can get rather hot so we only played during early mornings or late evenings. We have seen older kids playing rough while parents were elsewhere so I don't recommend leaving kids alone in the park for that reason alone.
Fairgrounds? What? Yup, they have a fairgrounds every evening. It's nothing crazy exciting but the kids loved it and I enjoyed a few minutes of peace while I watched them go-round on the carousel or the mini train ride. There is a bouncy castle and trampoline that munchkin was allowed to play on, baby girl is still too small. All of these cost a token to access, which can be purchased at a stall next to the carousel – he isn't marked well but he is the only booth in the area so it's a little obvious what you know about it.
The two grocery stores and the many souvenir shops sell water toys, flotation devices, beach umbrella's and knick-knacks for the kids in case you run out of activities, forgot to bring something (I left the bucket and spade for sandcastles at home – rookie move), or something is lost or stolen.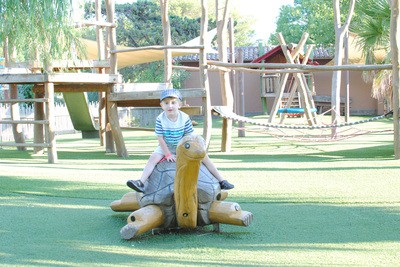 Security
I can't remember if I saw any formal security officers around the area during the day – which just shows how observant I am – but they were present in the evenings at high-volume locations.
I felt pretty safe at the resort. Only resort guests were allowed to drive in the area, everyone else needed to park across the street in paid parking. As a French resort, they are required by law to allow access to everyone as all beaches are public access. However, my chalet was much further into the resort and the beach is a straight walk to the car-park so there is no reason for outsiders to venture into the chalet-section.
There were mischievous teens, young adults and ignorant individuals, just like any resort, hotel or public area I've ever been to, so I didn't find them to be much of a problem. Other than the usual problems I have with them, of course.
Beach customs
The summer we visited, there was a huge uproar in France regarding Muslim women wearing the burkini on a public beach. The idea behind it was that the outfit did not conform to French ideals of freedom.
I think it's baloney and I was very disappointed to see so many resorts along the French Riveria demand a ban on such outfits, even prompting "the Fashion Police" to walk up and down the beaches and give fines to anyone wearing a burkini. I am proud to say that Prairies de La Mer did not participate in such negative and racist propaganda.
That being said, the French are very "liberal" in other areas of beach attire. Some private pools will require the men to wear speedos instead of swim trunks (hygiene issues – since trunks can be worn outside of the pool as shorts, thus contaminating the pool), beaches are allowed to enforce such policies. This one does not enforce anything.
Lonely Planet also suggested that nursing in public is frowned upon, and if the baby requires to be nursed, I should have her covered. It was 30 degrees, I wasn't about to cover her up, and I wasn't alone. Sure, there were a few looks but no one really cared. Honestly, I think they understood their choices – watch a baby eat for a few minutes or cry due to hunger.
Speaking of breasts; this beach also had several women sunbathing and swimming topless. Like I said, liberal. The French have no problem with their bodies and promote a healthy body image (including banning underweight models from all French fashion-shows).
Young girls were often running around without tops and young children often swam completely naked. As a North American, I was definitely taken aback by this but the more I thought of it, the more I realized it was my culture that was the problem – do we seriously think a 2 year old naked on the beach is a problem? Either way, by day 5 I barely noticed it and my son stopped pointing it out…loudly.
Your Thoughts...
Please share your thoughts in the comments or reach out on social media...We would love to hear from you.
You May Also Like…