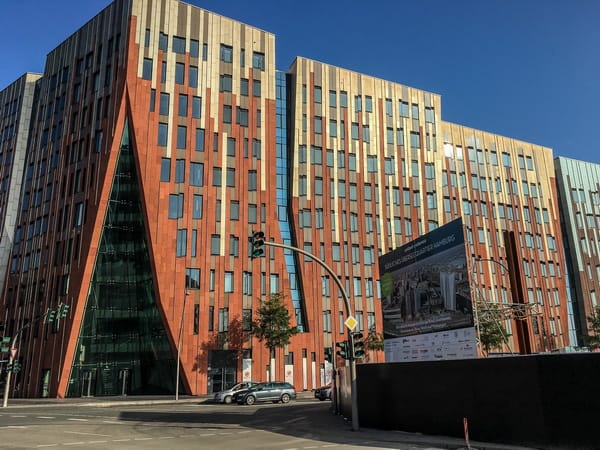 We decided to meet in Hamburg and spend a few days before heading back to Dusseldorf. So how to spend a weekend in Hamburg with the kids, let's look at what we did.
But Why Hamburg?
Mom was in town to visit for a week and we are pretty sure this will be the last time she visits us in Germany, considering we are moving back to Canada soon.
With that in mind, she wanted to spend some time with the kids, as well as travelling ( I mean, she didn't travel all this way to sit on my couch and walk the kids to school).
Our train arrived on Saturday at 1 pm and we left Monday at noon. There was plenty of time to see everything we wanted to, the kids weren't overworked and they went to bed on time.
For us, this was a great weekend trip, including train travel. Don't forget to check out our Destination Guide to Hamburg for our recommendations on where to stay, where to eat and other money-saving tips.
The Hamburg Card was particularly helpful. We were able to ride public transit unlimited for the weekend and get some pretty great discounts on entrance tickets for all the attractions we wanted to visit. While I prefer free entrance (obviously), the card is much to purchase they only offer discounts.
This post may contain affiliate links.
To which I earn a small commission, at zero cost to you!
Find more info in our
Privacy Policy
.
Day 1
– Landing at 1 pm, we checked into the hotel in order to drop off our bags and took a cab to the docks – 10min drive cost 15euro with tip, in case you were wondering. We could have walked, I actually had every intention of walking and we did walk to the HBF on the way home, but the train had been delayed and redirected so many times, then the rain started, that the kids and I were just done. We wanted to get to the hotel, see my mom, have lunch and grab a drink.
We had lunch at the Hard Rock Cafe, just because. The train ride was a bit of a journey due to mechanical failure and 5 transfers later, the kids did great and we wanted to reward them for it. Again, we took a cab because I was feeling lazy. We walked back to the hotel from this area and it was totally manageable, I was just feeling lazy and my mom is so great about it too.
From this area, we were able to explore a lot!
St Pauli Elbtunnel
There is an elevator or a set of stairs; pick your poison. We took the elevator down because I am terrified of heights. This tunnel crosses the river, taking pedestrians and cyclists to the other side safely.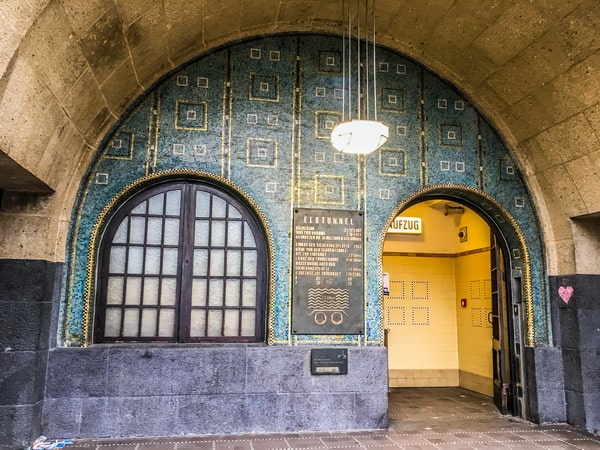 U-boat
The U-boat is an old Russian submarine from World War II. It is possible to take a guided tour, but we decided to just take the self-guided walking tour. The ticket-agent said it was ok to have Baby Girl in her carrier or walk, doesn't really matter…no, don't wear a kid on your back.
The halls are too small and the portholes for getting into each room are incredibly narrow and low. If anything, wear the baby on your chest of having walkers navigate on their own (except the stairs, I made my mom carry her down the stairs. I'm impossible).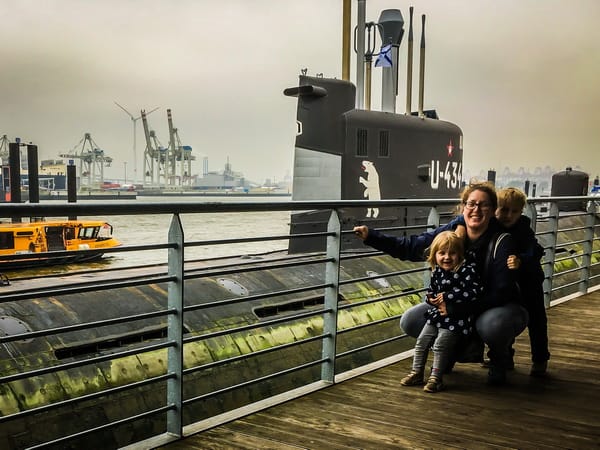 St. Nicolas Church
On the walk back to the hotel, we walked through St. Nicolas Church. The bombing of Hamburg in World War II destroyed the bulk of the church and its rubble was removed leaving its crypt, its site and tall spired tower, largely hollow, save for a large set of bells, together serving as a memorial and an important architectural landmark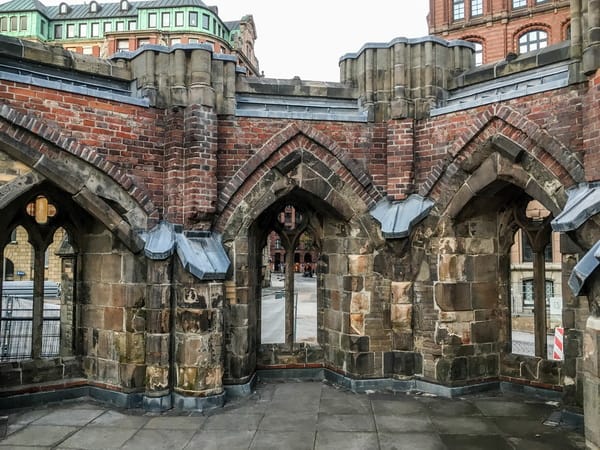 Day 2
First thing in the morning, we took the bus back to:
Landungsbrucken
St. Pauli Piers, otherwise known as Landungsbrucken, is Hamburg's largest pier and the hub of most tourist attractions.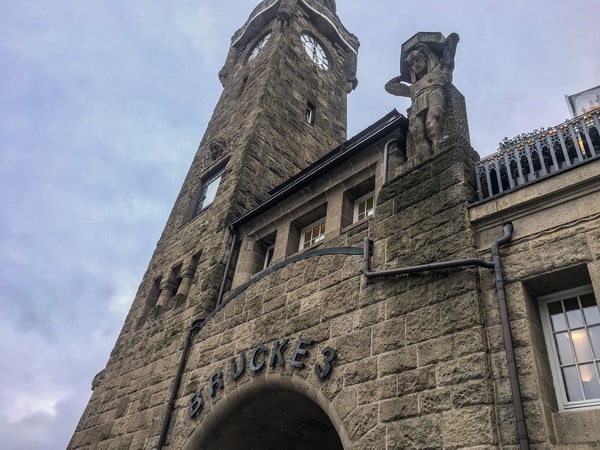 Since nothing was open just yet, but the children insisted on waking up so early and starting the day, we walked up to
St. Michels Church
There is a swing set near the church and a water feature (active during the summer months). A little too much fog for the harbour just yet.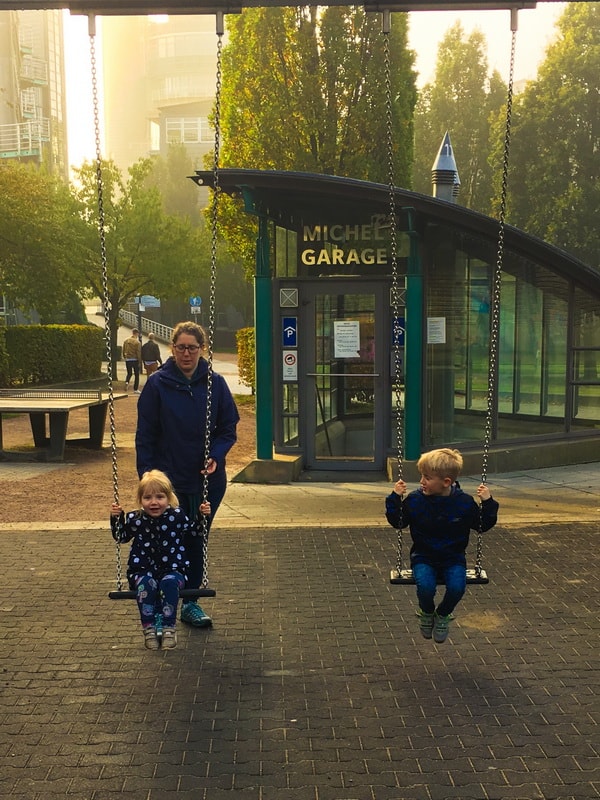 Walk back to the:
Elbphilharmonie
Be there for an opening time – tickets are prepurchased to avoid the line, and head to the side of the building for the lift entrance. Walk around the outside and take in the view, stop at the cafe and souvenir shop.
Try to dress appropriately, as others will be dressed up for a concert upstairs. We do not have access to further up without concert tickets. It takes about 1-1.5 hours depending on the quality of the view and if you are stopping at the cafe.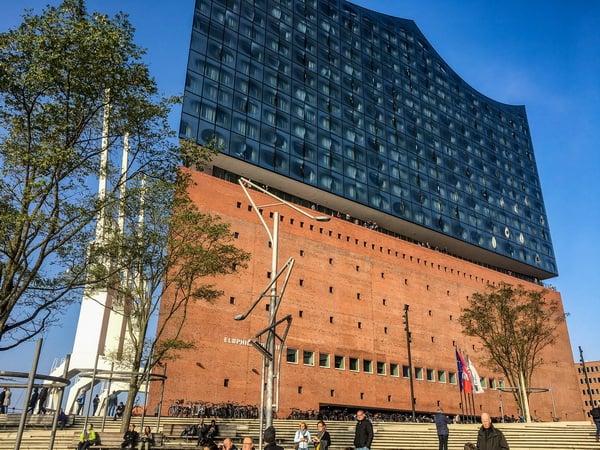 If your party is able to separate, I suggest taking the escalator down to the ground floor. My mom and Munchkin went down first and I took Baby Girl in the elevator.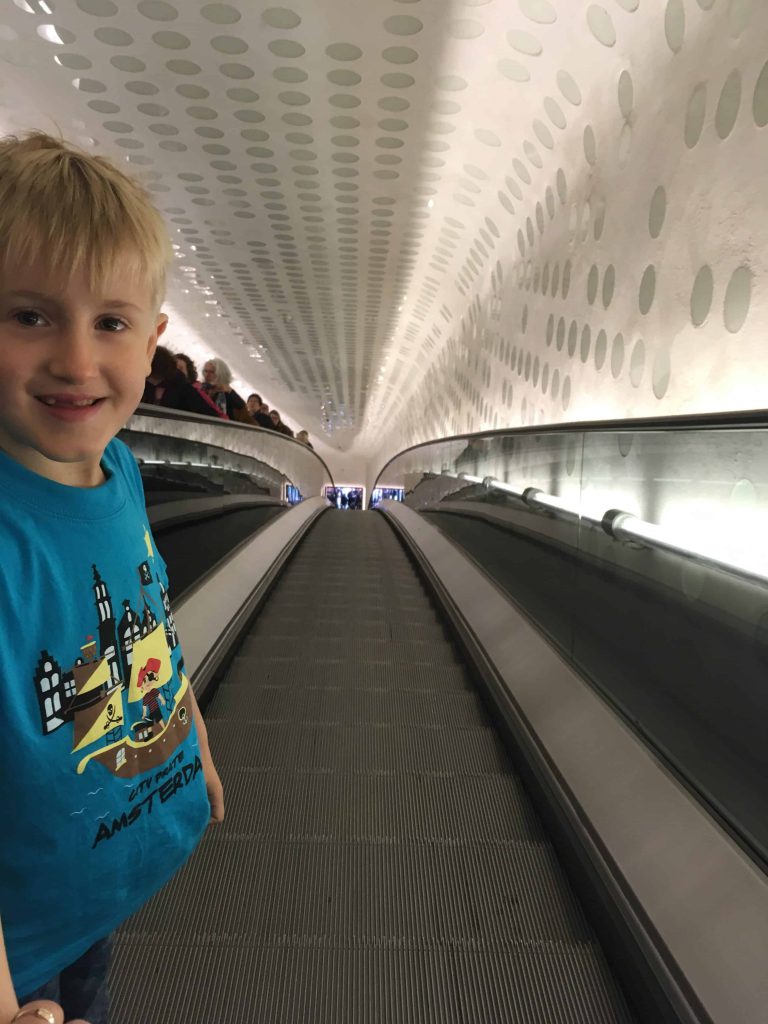 From here, head towards the waterfront in order to walk to the Maritime Museum – in good weather, there will be buskers and bubble people for the kids to play. This way will also take you passed a playground – we told them that it was only for people that live here, they bought it.
We didn't have the time to play and they didn't argue so I was pretty pleased with myself. If we had more time, I would have let them play but with only a few days to accomplish so much, they can play at home… which is usually what we tell them at the zoo "did we come to the zoo to play at the park or visit the animals?"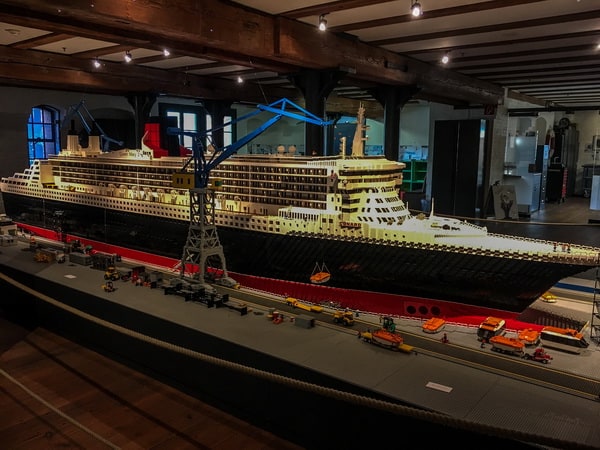 Maritime Museum
Is huge. We spend 2 hours before the kids got hungry for lunch, and only accomplished 4 out of the 9 floors. There is just so much to see here.
The oldest was excited about the pirate level since he is learning all about Pirates in his history lessons at school (my kindergarten child has history lessons!). There was also a large model of the Queen Mary 2 ship on the first floor – this is the ship we took to move to Germany and it also starts its transatlantic journey from Hamburg.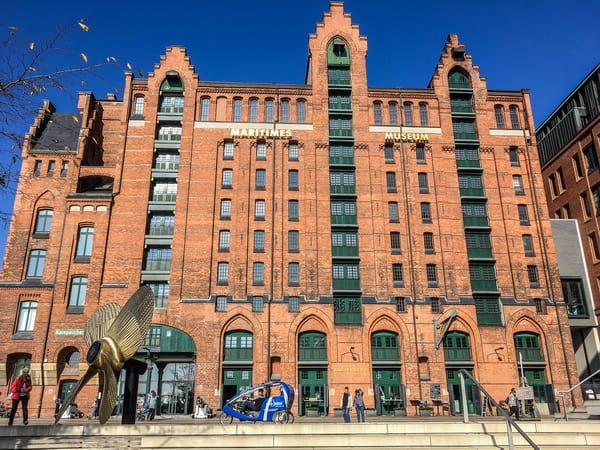 Down a few steps towards the pier, there were many cafes and restaurants for a good quiet meal. Make sure to account for German customs when eating at non-fast food locations – Europeans take their time when they eat. It's about the company and the conversation, not just-food. It could easily take you 1.5 hours to have lunch at these places.
Miniature Wunderland
there is a handy lift to the elevator, then around a few corners to the ticket office. Again, it was great to have purchased the tickets in advance. Leave the stroller and all belongings at the coat check – 1 euro per package, because the hall itself is fairly crowded.
When visiting the Switzerland section, be sure to look for the Lindt factory – it gives out free chocolates, but only if you are looking and press the button just right.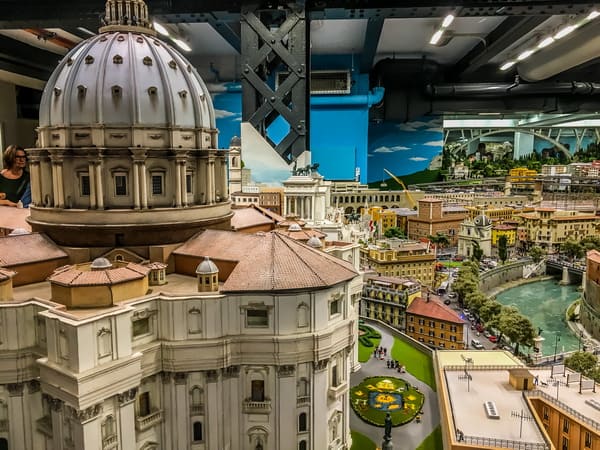 We've had lunch, visited an attraction and made our way back to the pier. One last attraction before we break for dinner. This is when having a snack pack or two in the kids' backpacks come in handy.
Harbour Cruise
Tickets say pier 1 or 7. 1 is a smaller ship, similar to a HoHo canal cruise and doesn't allow strollers on board, even folded. Pier 7 however, is much larger, allows strollers, and has a bar downstairs.
Grab an ice cream for the kids at one of the shops next door, and a beer for you and you have yourself a great time. Arrive a smidge early for a seat upfront or on the sides. The boat turns around at the warehouse loading docks so you will be able to see it from all sides even if not seated in front, the center seats aren't horrible though.
For the love of your children, please don't let them run around or stand on chairs while looking over the side of the boat. That dad with the uncontrollable little one and two others that he wasn't even paying attention to, gave me and my mom one too many scares. I think their mother was around somewhere, enjoying a peaceful cruise away from the kiddos.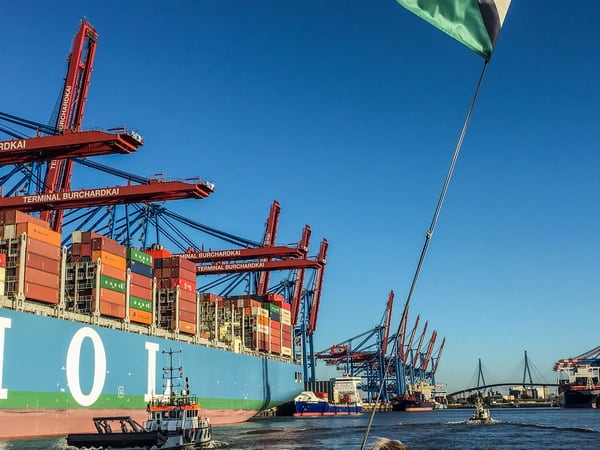 Souvenir Shopping
Walking back to the hotel and stopping at the Rathaus for a look-see and some dinner before bed.

Day 3
Check out isn't until noon. Perfect. Make the most of your time and schedule your departure train for after checkout to get that much more sightseeing in before it's time to go home.
We grabbed the bus downtown again and walked around a little before the HoHo bus started at 930. It is the red bus before Pier 1, not the yellow bus at pier 1. The shops opened at 9, so do a little more shopping before jumping on the bus for a great seat in the front. Be sure to bring some games and such for the kids to keep busy. The whole tour is 90 minutes long.
We finished at 11 am, and took the bus back to the hotel, collected our belongings, and walked to the train station (we have been sitting for long enough and will be sitting for much longer, 1 km is enough exercise for the day). Grab lunch at the station and wait for the train.
There are no lifts at this stations, surprisingly, and the escalators only go up from the platform to the main level. I brought the bags to the bottoms, Munchkin watched them (never leave your bags unattended!) and I helped bring the stroller down the stairs with the baby firmly attached inside. In hindsight, I should have travelled with the Backpack instead of a carry-on suitcase. I do this to myself every time. One day I will learn.
Where to stay in Hamburg
We have already mentioned how much "fun" it is to find family-friendly, budget-friendly accommodations near the city centers can be. If you missed it, you can find that here.
Best Budget Hotel
Best Mid-Range Hotel
Hampton By Hilton Hamburg City Centre – Tapped Out Travellers tested and approved
Best Luxury Hotel
Best Airport Hotel
That was our experience I hope you enjoy Hamburg with kids.
Your Thoughts...
Please share your thoughts in the comments or reach out on social media...We would love to hear from you.
You May Also Like…
Train travel through Europe with kids
Guide To Visiting Hamburg With Kids
How much does a European Family vacation cost?
How to Make Travel Affordable, as an Expat
How To Keep Kids Safe on Vacation