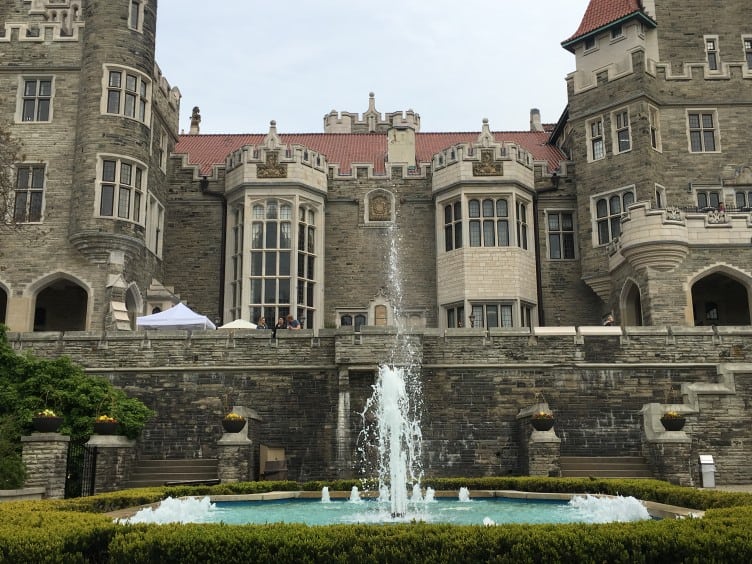 The castle in the centre of Toronto
I had no idea that Canada had castles, let alone this many. I have seen Chateau Frontenac in Quebec City, but it is a hotel and I didn't think much of it. Because Canada has never had royalty live on our land, I found it hard to believe that these were true castles. Germany has enlightened me a little in this respect; Schloss and Burg both mean castle, as well as a large house, palace or mansion. Casa Loma is Spanish for Hill House and is literally a castle-looking mansion. While I am not saying this building is being overplayed or not worth your time, because it was amazing to see and the views are incredible, just don't get too excited when someone says "hey, want to visit the Castle in downtown Toronto".
Also see; Best Castles in Europe
Taking TC Transit with kids
We arrived in Toronto via Go Train from out of town and landed at Union Station. It wasn't hard to find TC transit from inside the station, just follow the signs within the building or the heard of people all going away from the station – it's a good indicator that you are going the right way. During construction and renovations, it is hard to see the signs for elevators or ramps but they do exist, just keep looking.
This being said, I don't suggest you take the TC transit to Casa Loma, unless you are prepared to fold the stroller. We took Line 1 Subway from Union to Dupont, which is the closest station to the castle. This is where the no-so-stroller friendly part comes in. There are no elevators at Dupont, only narrow escalators. While this would normally be fine, I had my mom, my son, my nephew and my daughter (in her stroller). It was not practical to have my mom care for 2 little ones, carry the baby and I fold and hold the stroller up the stairs. When we looked a little confused and distressed, we ran into a construction worker that offered to help me carry the stroller up the stairs (with baby safely strapped inside) and my mom took the boys. Once up-top, we noticed our sidewalk was closed due to construction, hence the worker, and the only way around was to go back down and take the other escalator to the proper side of the road. Another helpful gentleman in uniform stopped traffic so our group could cross instead. Such a great guy. I love Canada.
There are a few other stations that are handi-friendly but they are not close, and would require a bus/tram transfer. There is a bus that will get you there from Union; 320 North. Get out at Yonge St and Shaftsebury Ave north and walk 2km to the castle doors.
From Dupont, it is a 600m walk, or roughly 10 minutes, up and around, to reach the front entrance. There are signs along the way in case you get turned around.
Also see; ABC's of Canada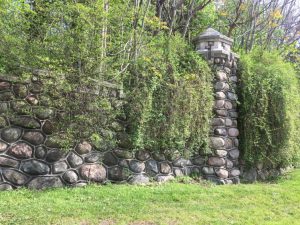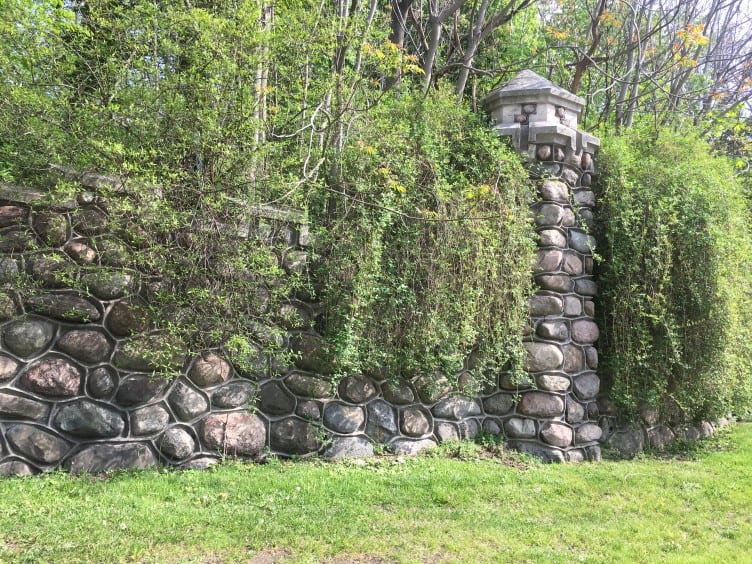 Visiting Casa Loma with kids
" Follow me Sam, I've been to all the castles in Germany. I know where to go."

– Munchkin to his cousin. Love it.
Once we arrived at Casa Loma, we took note of the middle school field trip gathering in the front lobby and quickly got our things together in order to get in front of the pack.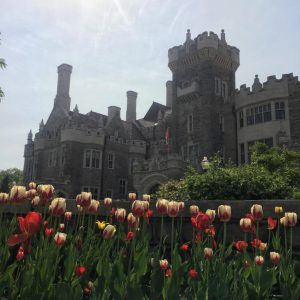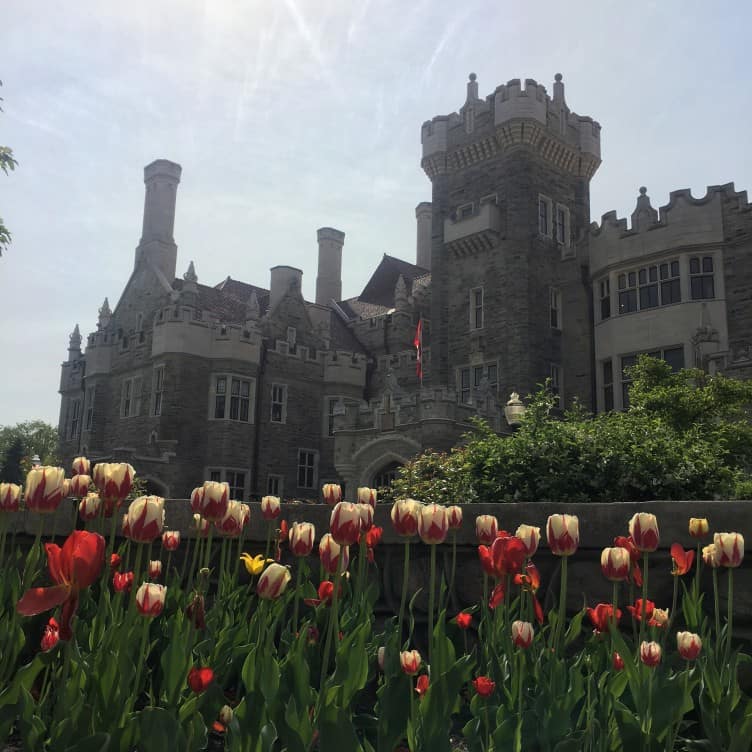 Stroller parking is an invisible area next to the Piano that is not marked all that well. The staff at the front doors say nothing has ever happened to pieces left behind, but I wasn't about to risk it. We left our snacks and hats in the storage bucket and grabbed out valuables.
Also see; Toronto day trip with kids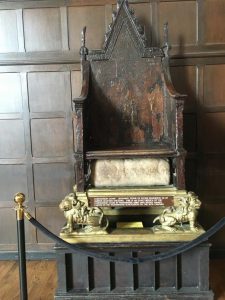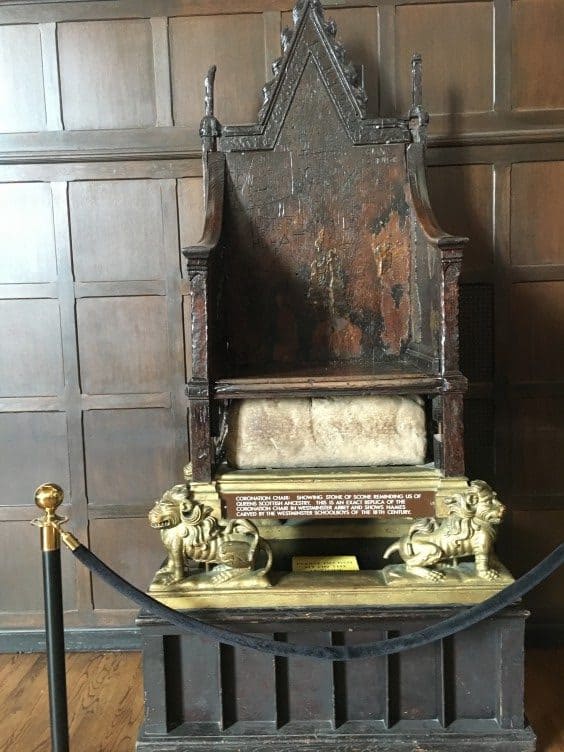 From here, send a member of the family down the stairs and into the gift shop (how clever) to retrieve the free audio guides. I grabbed 5 guides, one for everyone, and hoped this meant my mom and I would be able to listen to a few sections of tape. Nope. This is why I go guided tour; audio guides just don't cut it.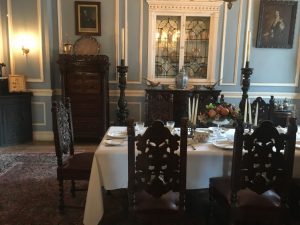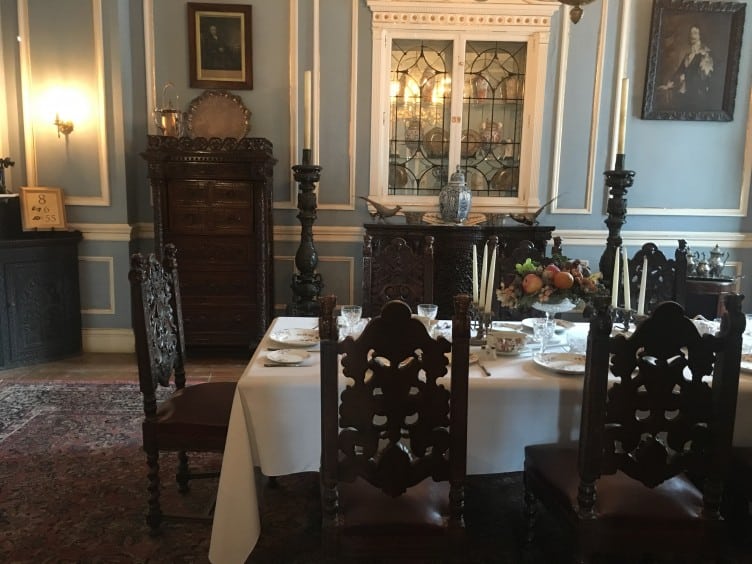 I did manage to take a few pictures without the crowds, though they were pretty much everywhere. Turns out, that group we saw wasn't the only one on the property that day. Most field trips happen near the end of the school year anyway and this was after May long-weekend (May 24 Pronounced May two-four in case you aren't Canadian)
Casa Loma Gardens
We popped our heads out on to the deck and had a gorgeous view of the gardens. The kids kept asking if they would see the fountain up close – not sure if they wanted to throw coins in it or swim in it.
FYI – there is a food stall just outside of the back doors, and they sell ice cream. Food is not allowed in the building so it must be eaten in the gardens. There are benches everywhere as well as a sitting area next to the stall. But at 10 am, no thank you.
I could have easily spent a few more hours checking out this great Casa. There is even a wine cellar and bar in the basement, next to the souvenir shop, again – very clever. Between the two strollers and the carrier, why not. But, we had my nephew because my sister was running errands in the city so we had to meet up with her and continue on our day-trip full of kids activities.
I thought Munchkin had had enough of castles but he seemed really happy to show his cousin and mémère all he knows about castles and "knights in shiny armor".
Big thank you for Casa Loma for this wonderful opportunity to work with you. The kids and I are very appreciative.
An excellent resource for planning all of Canada can we found with the Lonely Planet Canada Guide. 
Plan Your Trip – Stay and see everything
[wp_ad_camp_1]
Accommodations
Booking.com 1,136,997 properties worldwide. Including 581,306 holiday rentals in 105,263 destinations in 225 countries and territories
Flights
Skyscanner.com compares millions of flights to find you the cheapest deal, fast. Fly for less with Skyscanner!
Car Hire
Blacklane.com Take your time and relax. Airport pickups include 60 minutes of free wait time, and all other pickups include a free 15 minutes. Limousine Service!
Pin this to Pinterest:
Do you have any Tapped Out Tips?
Questions or Comments? Join the conversation below.