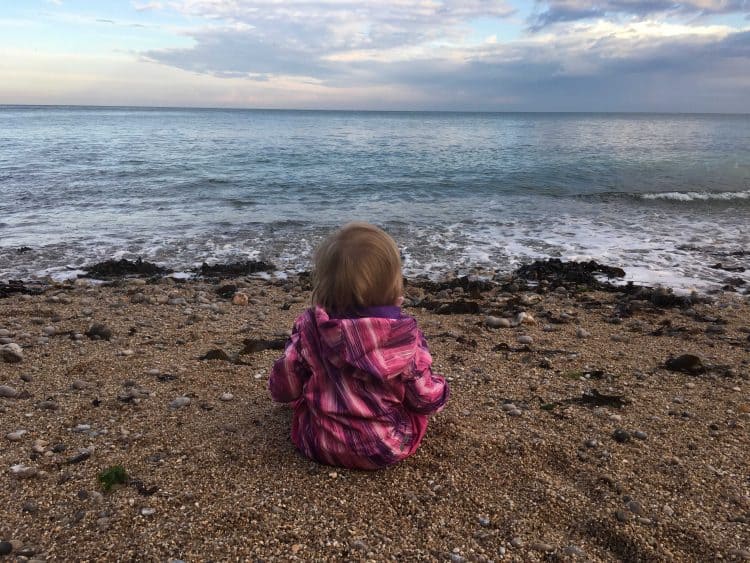 Affordable Family Travel without Compromising the Integrity of the Vacation! Find simple and easy ways to reduce the overhead and still have fun.
Spend Less, Travel More
If you've read it once, you've read it a million times; top tips to save money while traveling. That's all great until you actually read the article and nothing you read is applicable to your family situation. Couchsurfing, work to feed yourself, don't buy souvenirs, be flexible on your travel dates, use reward points. All I want is an affordable family vacation! While these are admirable and probably very valuable, they mean nothing to me. Why?
It is very rare that a family of 4 can find a place to "couch surf"
What am I supposed to do with the hubby and kids while I work to pay for their dinner
No souvenirs? Please.
I picked my travel dates for a reason; school schedule, work schedule, family obligations. I want to vacation when I want to vacation, I am not about to change everything to save a few bucks. I need to find money-saving tips that follow my needs, not the other way around.
Hostels can be intimidating to young families, and they are not always cheaper than a hotel
Reward credit cards are great if; you qualify for a credit card, spend enough to pay for the annual fees, are actually able to use a credit card (Europe does not offer a lot of credit card spending options, most are debit or cash only. Definitely no Mastercard or Amex, which have the best rate of return). This option is not feasible to everyone and overall, I don't like recommending credit cards.
Your Top Travel Tips for an Affordable Family Vacations
As you can see from the plethora of articles I have written since moving to Germany 2 years ago, I have had plenty of opportunities to learn from my own mistakes and mistakes of others when it comes to spending and saving for a vacation.
Book everything in advance.
Hotels, rentals, tours, everything. As soon as the idea comes into your head, book it. The closer you get to your vacation date, the more expensive everything will become if they are even available. I booked my Christmas vacation in March and most places were already sold out. Check back every now and then, something better may show up, but at least you have a place to stay that you are happy with.
VPN.
If booking from a country, not on your passport, try using your VPN to book a hotel from your home country, then check out their site from the country you are in (ie turn off your VPN). Even with the exchange rate, most hotels offer cheaper rates to foreigners, and even cheaper rates the further you are traveling. While hubby was in Italy for work, he booked a hotel for another Italian city. The rate he received was almost 3 times more than the price I quoted him using my VPN to Canada. The key though is not to hop around too much, some hotels can see your IP address and require your passport to match; I book from an Italian IP address, it's fine, I was on vacation. Canadian passport from a Scottish IP address, they will charge me the local rate; it hasn't happened to us yet but we have heard stories and aren't interested in testing the theory.
Third party deals.
Use skyscanner.net for searching the best flights. It will compare even the budget airlines for the best deal. Make sure to read the fine print; Expedia got me good with the fine print and I was out a few hundred dollars in luggage fees for it.
Booking.com is a great site for hotels. You can find some unique hotels here; tipis, wine barrels, castles… the filter even allows you to choose room size, apartment or hotel, special requirements, though the number of guests feature is a little off. I always say 2 adults and 2 kids and it keeps offering to sell me two rooms in its suggestions. Read the hotel facilities section before booking – does it have parking available, will it fit a playpen for the baby, do they charge for kids to stay, and how much is breakfast. After your 5th booking, you enter Genius level which gets you perks like included breakfast or free minibar at specific hotels, some even offer 10% discount. I only reserve refundable rooms up to the day of check-in.You never know when something is going to happen and you need to change your plans. This is roughly 10$ more than the nonrefundable rooms but I can't count how many times I have canceled a reservation.
booking.com is also great for reserving, hostels. Many hostels sell private rooms, but mixed dorms allow the family to meet other travelers. I have never used them but I have many traveling friends that swear by them.
Travel Insurance.
It doesn't take a genius to know that stuff happens and Murphy's law says it will happen when it is most inconvenient. Never broke a bone before? Don't have insurance? Well, guess what, you broke your leg and it will cost you your house. $50 per person could have saved you all of that trouble. Remember the "million dollar baby" a few years back; mom didn't buy insurance on the baby (inutero). When in doubt, ask, and tell them everything; take names and reference numbers.
I may have spent a thousand or so dollars on insurance in the last 2 years but instead of going cheap by not buying insurance, I choose to get the best cheap insurance out there. If you can't find a provider that offers both health and cancellation insurance, purchase that as well from the company, though a provider is always cheaper. Theft insurance is also a great thing to have; the bag was stolen with all your ID and money, how are you going to replace it all without ruining your vacation? Insurance!
Bring food from home.
We try to get an apartment every time we vacation, even if it's just for one night. The slightly extra cost of the apartment vs hotel is outweighed by the cost of eating out. Even a mini fridge in the room so we can all have cereal for breakfast instead of the 20 euro per adult hotel breakfast is better than nothing. On travel day we pack our picnic lunches, always try to have enough snacks for us and the kids to last throughout the vacation ( even when we are flying)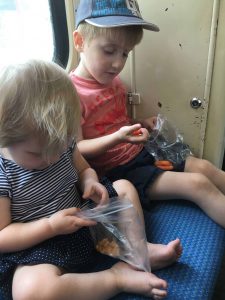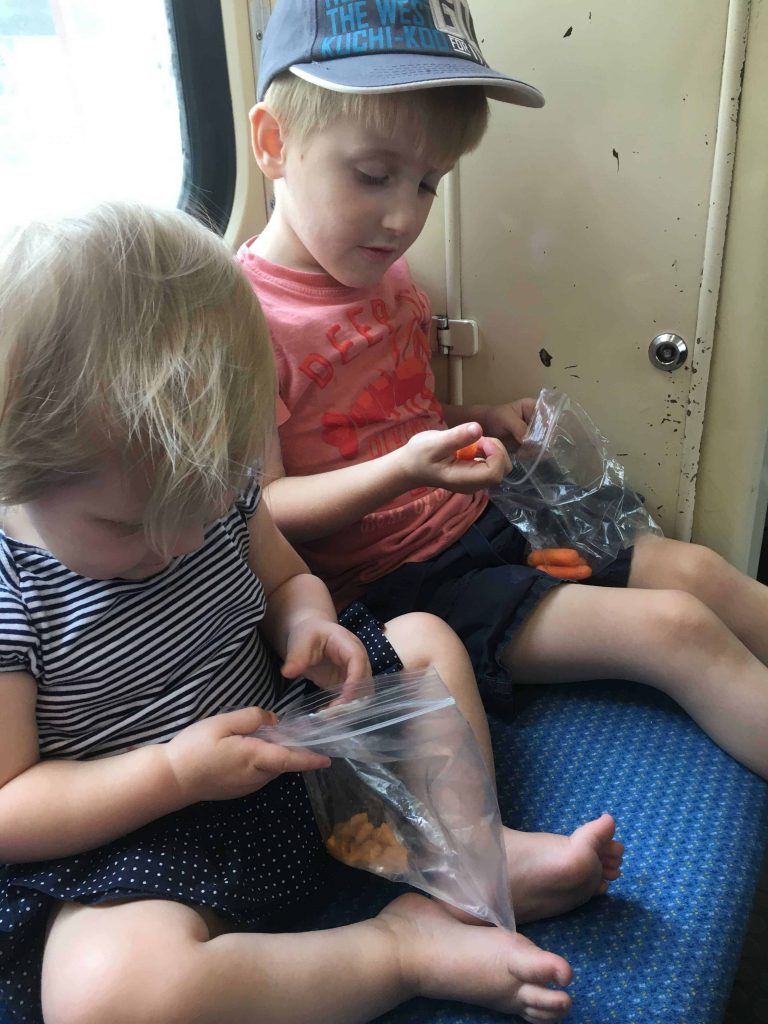 Smart car rentals.
When we do fly, we almost always need a car rental.
I bring the children's car seats; after having witnessed how they treat the rentals, the quality and price are also not in their favor either.
We also bring our own GPS (I refuse to pay 8 euro per day to use a machine I am not familiar with).
Return the car where you got it from; one-way car return can be almost the same price as the rental itself.
Learn to drive standard; small cars are all Standard, you need a mid-level SUV to get Automatic and they come with a hefty price tag.
Fine print alert; each company has a different security deposit amount. Just because the car is cheaper doesn't mean it is the cheapest car. I paid $600 for a car plus $600 deposit, next vacation I paid $650 for a car and $100 deposit. Between you and me, I'm on vacation, I don't have $600 just sitting on my visa. Also, what is your interest rate charging you for that $600?
Research research research.
There is always a ton of stuff to do for free, everywhere you go. Research those and see if you can't fill your day doing that. No? The paid stuff usually offers free nights once per month; try to arrange your schedule to visit them. Still no? Well, at least you tried. We can't win them all.
Just because you have to pay for what you want to see, doesn't mean you have to pay full price. Is there anything you can do to get a discount? Military discount, Teacher discount, Tuesday's half off, City Card free entrance (since you need public transit and want to visit 3 other places on their list anyway, why not make the investment), and so on. Where there's a will, there's a way. You just need to find it!
Never during high season.
A single property can go from $90/night to $400/night in one week just because it's high season. Check attractions operating hours before reserving. Restaurants often charge more for the same plate depending on which month of the year you are visiting.
Proximity to the action.
Even staying a block away from downtown can dramatically reduce your overhead costs; food, accommodations and parking. Most European cities are built in a circle formation, staying along the outer ring of the city but near public transit will optimize your budget-friendly accommodations with time-friendly access to attractions.
To maximize your cost vs time while on vacation, I try to book the closest, least expensive hotel available. I want to be as close to the center as possible, in order to avoid timely transit time (and transit with a stroller is not always graceful or easy). I need access to public transit in order to visit the attractions that are further away or take the train instead of the car to other cities for various day trips.
Go when the kids are little.
That's right, you heard me. When they are little. The older they are, the more they cost. Except for Disney, where the cut off is 3 years old, most attractions allow children up to the age of 6 to enter for free with one adult (some even until 18 years old). Hotels only add $20 per extra person after a certain age, usually 10/12 years old. Under 6 gets free public transit in most city centers, and the tweens get a discounted ticket until 15 years old. Little ones also get a reduced price at restaurants – I refuse to eat anywhere that doesn't offer a children's menu. So far, my 18-month-old is happy to steal food from her brother's plate and my 4 years old still can't finish all of it. Grocery stores love giving food away to tiny travelers, not so many big kids; in Germany anyway, I can stroll through our local store and can practically feed the kids dinner for free just by walking by all the counters ( brotchen, bologna, cheese, crackers, juice, yogurt samples- waffles on holidays).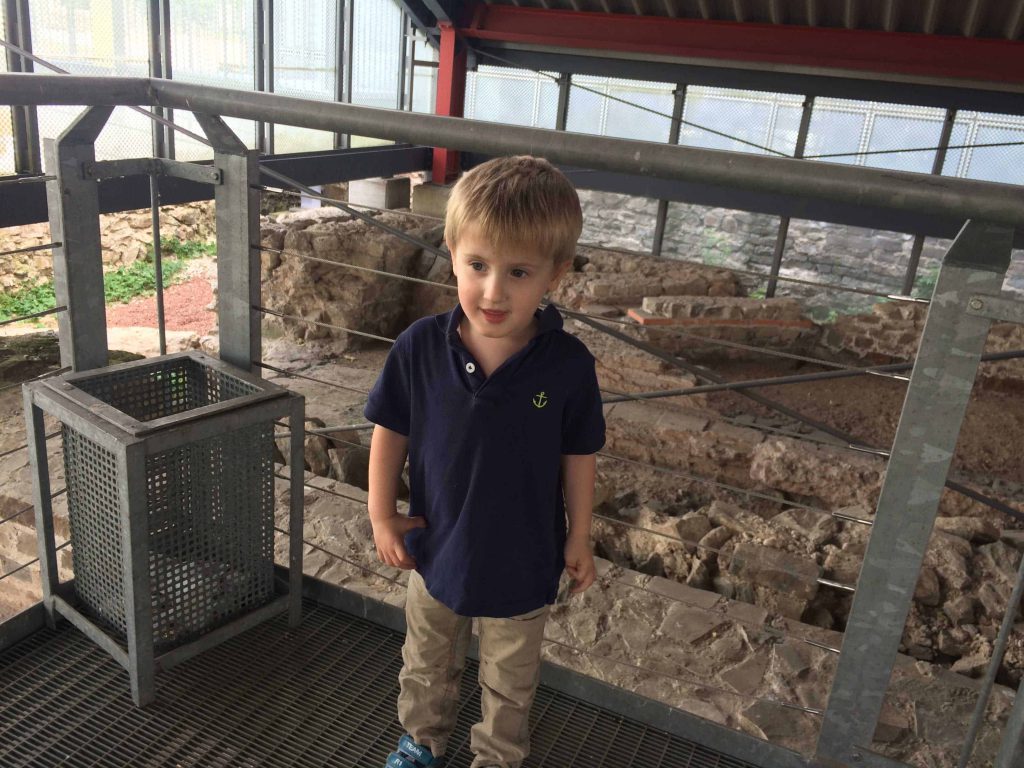 Type of accommodation
There is something to be said for having a nice, large, central apartment for that 1 week stay during a city break. We recently canceled such a reservation and choose to stay in a hotel instead. We even had to take a 5-minute train ride in order to get into the city before exploring anything. While this sounds like it goes against everything I have just suggested, take a look at my quick calculations and see why this was the right choice for us, this time.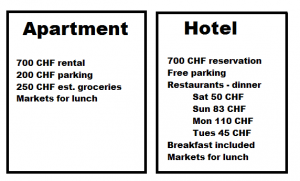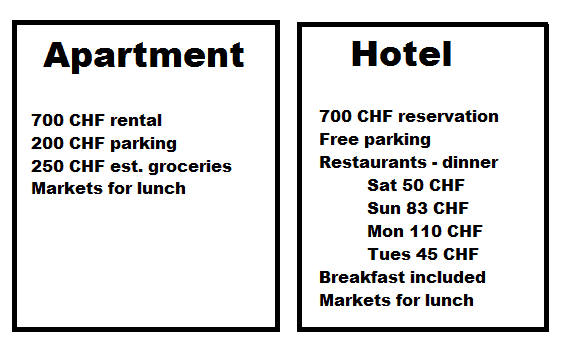 As you can see from these particular choices, it was more cost effective to have a hotel room instead of an apartment. Both of which would have required transit in order to get to downtown. We also had the opportunity to eat the local food and stay out later in the evening since we didn't have to rush back to make dinner.
Your Thoughts...
Please share your thoughts in the comments or reach out on social media...We would love to hear from you.
You May Also Like…
Do you need a stroller to travel?
Opportunity Cost – hidden costs of Budget travel
Get out of debt and start traveling
Plan a Toddler-friendly itinerary
---