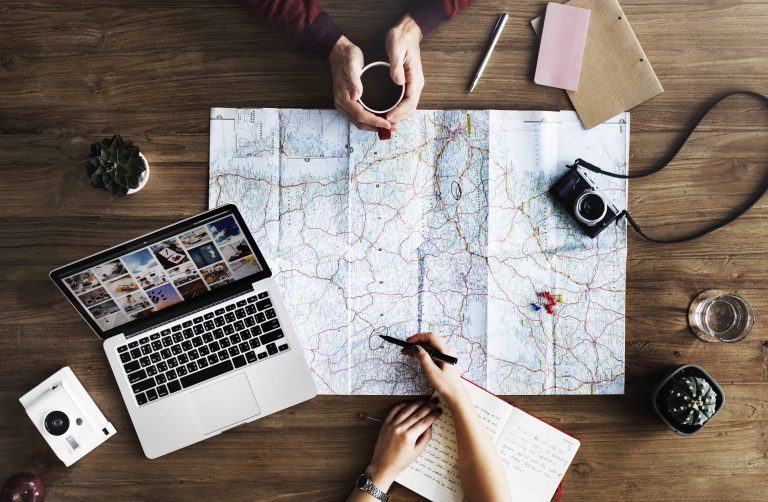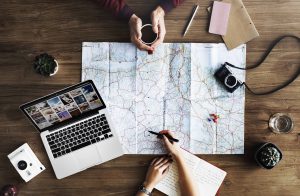 There are a lot of things to considering when creating a family itinerary with little ones in mind. How much time will you be at each destination, what are the day to day plans, and how will you get to and from each attraction? Keeping itineraries simple and logistically easy. This is relevant for all families travelling to Europe, not just those with kids in tow. Check out our tips for creating a toddler-friendly itinerary.
This post may contain affiliate links.
To which I earn a small commission, at zero cost to you!
Find more info in our
Privacy Policy
.
Time Frame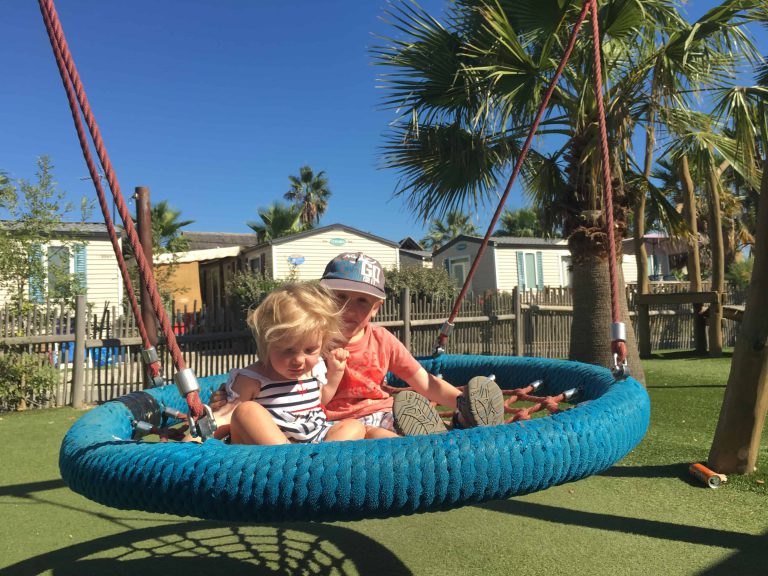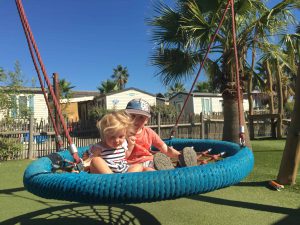 Slow down
The most important rule about travelling with the kids, and the first one that all burnt-out parents forget, is to slow down. Kids are small, sensitive little humans and can get overwhelmed very easily. Lower the expectations of the day's itinerary and you will be pleasantly surprised by how much better they behave.
Move less, stay longer
If it's your first trip to Europe with kids, "most popular" is a good thing. Destinations that see plenty of tourists have the infrastructure for families and this means more choice in terms of both accommodations and activities.
Keep the itinerary simple with as few accommodation changes as possible. One of the challenges of travelling with young kids is that they need so much stuff — don't exacerbate the issue by having to repack and move all time.
Plan on spending at least 2-3 nights in any single location. The beauty of day trips is not lost on the children.
Select Accommodations Wisely
Consider if you really need separate sleeping areas, a kitchen, and central location, because this all comes with a price. Knowing what you need in an accommodation will greatly reduce the stress once it comes down to actually searching for it. Just like buying a house, know what you NEED vs what you WANT, and decide how much are you willing to pay for it.
Downtime
The children can be easily burnt out with all of the day-to-day activities. Having a day scheduled just for kids activities, or relaxing by the beach/pool, can be enough to recharge their batteries and complete the rest of the vacation.
Mom and Dad can always use a relaxing day as well; take our trip to the French Riviera for example. We visited for 7 days and we alternated between beach days and day trips. They knew what to expect and behaved accordingly.
How long on the road
How long you are "on the road" encompasses a few factors; how long you will be physically travelling in order to reach your destination, how long will you be out of the hotel each day, and how much time will you be travelling all together?
Crossing a large number of time zones, like you would when travelling from North America to Europe, you will want to make the pain and suffering of Jet Lag worth it, so anything short of 10 days is not recommended.
Know what your children are able to comfortably handle on a daily basis, as well as how long can they stay still in the car, train or airplane, before needing a break to stretch their legs.
Plan a route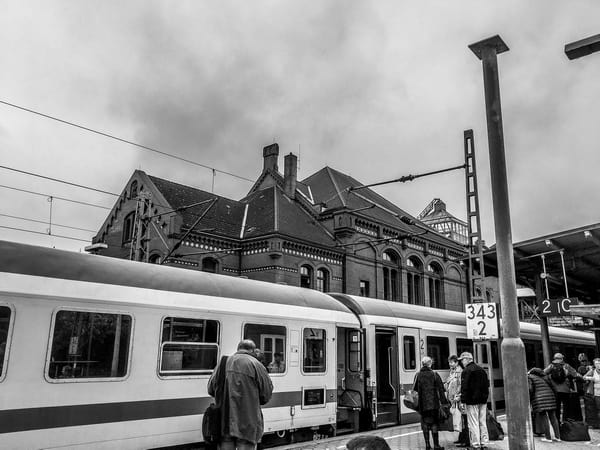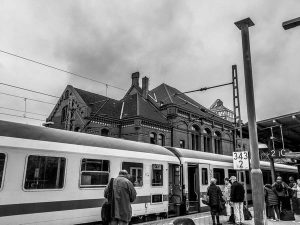 Flexibility
Having a flexible schedule means the kids will be more at ease, and therefore you will be more relaxed while travelling. If attractions are not date or time sensitive, have a more "play it by ear" schedule.
Take our trip to Hamburg, for example. We had a bucket list of places and activities that we wanted to see. According to Google Maps, we had a rough estimate of how long each would take to accomplish successfully. Keeping this "guestimate" in mind, we scheduled approximate times that we would aim to arrive and leave that attraction. Accounting for meal breaks, walking distance and scheduled play time, we had our 12 hour day planned out. Some attractions were done early, and others were done later. We also took our priorities into consideration and made sure our MUST visits were earlier in the trip, with a healthy mix of Mom/Dad activities mixed in with kid-centered activities to keep them focused and agreeable. Flexible yet scheduled.
Flight/Train times
From home to the next major gateway airport – London, Berlin, Amsterdam – consider making this your first stop in Europe. Afterwards, use budget transit like local airlines (Ryan Air) or trains to reach the final destination. Keep an eye on luggage policies and transfers.
Also, when booking transportation as opposed self-driving, it is important to mind the time of day that you will be travelling. Is it during nap time? Will they eat the provided meals or do you need to pack a special dinner? Will it be busy at the airport/station and therefore require more time to get through security
No plans on travel days
Travel day will be the worst day of everyone's vacation. Emotions are high, tempers are short and everyone is exhausted. Simply plan to arrive in one piece and everything else is gravy. Go to the pool, walk around the town looking for treats and just relax. There will be plenty of time to explore in the morning.
Also, things can and will go wrong when too much is planned. If there is traffic along the highway, someone forgets their lovey on the table and you need to turn back 2 hours to retrieve it (this may or may not be based on a real-life experience) and everything in between.
Our motto; Plan for the worse and hope for the best. Don't have any promises and no one can be disappointed.
Research and have a plan B
Research research research. Know everything there is to offer on every street corner. Locate every eatery near and around your attractions and know where you can buy last minute kids supplies (like snacks or diapers). Once you have researched everything you think you may need to know about your destination, karma will treat you well and everything will go perfectly. And if it doesn't, it still won't feel like an emergency because you are prepared for it.
Having a plan B works the same way. If an attraction suddenly is closed today, move on like it was never a problem. Have a little speech ready to give the kids in case they are disappointed but only make promises you are in control of. If the beach is closed is because a dignitary is visiting last minute (it happens), then find another beach or public pool or something else they are equally excited about.
Manage own stress
Once you have managed your own stress, the children will be more likely to follow suit. Remember, they are only mimicking what they see in you. Take a breath, bring some wine, have a little alone time, whatever you need to become and remain calm.
Day to day itinerary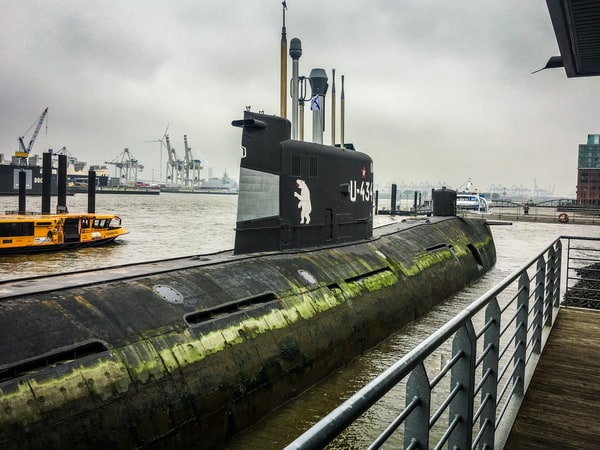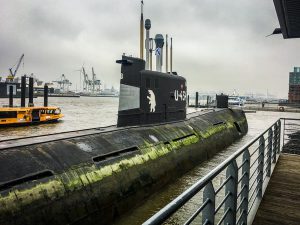 Prepare
Make note of every attraction open and close time, special free days (avoid those like the plague – it will be packed with tourists and locals), as well as travel time from each location to the next.
Prepare your day bag and the children's bag well in advance and try not to take anything out of it before the big day. Read up on what is needed for each destination if they differ – beach to city touring to a hike in the woods. For a location-specific packing list, check out our products and packing lists here.
Activities based on kids' mood
If your kids are like mine, they like hands-on and dislike anything quiet. They like museums only if they can have an audio guide and spend most of their time either finding the next station or reiterating what the guide told them (at least now I don't have to rent my own). We know this, so we aren't going to plan anything expecting a different result.
Our kids, daughter especially, hate Disney Princesses. When we go to Disneyland Paris, we avoid character greetings and stick to character meals instead. We get to see characters, kids don't need to waste their time in line and they need to eat anyway so why not.
Prioritize activities, especially when short on time
Have your list of MUST see and WANT to see. Schedule your must's earlier in the vacation and hope you will have time for your wants. Sometimes activities need to be moved from Day 1 to Day 2, and maybe even to Day 3. By scheduling your priorities first, you lessen the risk missing them.
Don't expect too much focus or concentration
Keep museums are short and sweet and don't expect too much from the kids. Especially while small, they have a mind of their own and are not always cooperative.
Plan naptime and make the most of it
If a museum or other non-kid attraction is on your bucket list, visit them when you will get the most out of it. Nap times are the perfect time to visit quiet and "boring" places. Not all of these will be stroller friendly but a baby carrier can more than compensate for this problem.
Plan to Buy Supplies in Europe
Many travellers with kids agree, don't pack more than you need and save that space for more important items. Diapers and formula are important, but kids live at your destination. They need to buy supplies somewhere. Pack enough supplies to last the first few days, enough to get your barrings, and plan on replenishing once you get there.
Decide on Stroller vs Carrier
Research your destination and determine if it is stroller friendly. Technically, all locations are stroller friendly, just like everything is "walking distance" but what are you willing to do in order to get your stroller down into the Metro station. Will your umbrella stroller survive the cobblestone sidewalks? Check out our guide on best travel strollers for families in Europe and see if what you own will survive the journey.
If you don't own a stroller, what kind of carrier will you be bringing? Can it handle the 10 hour days? Will you be able to take the child out easily and by yourself? Can your back handle carrying the child for that long? There is much to decide and only you can make that choice for your family.
Plan meal times and locations
These things take time from your day, and the kids will always want to add their opinion. If you decide beforehand, checking out the menu options and know that there is something there for everyone, then the kids will not have a choice. "We are going here for lunch" statements, instead of "Do you think this is a good restaurant for us?".
Make time to play
In between all of the attractions, events, and restaurants, make sure there is time for the kids to just be kids.
While we were in Strasbourg, on our walk from one location to another, we ran into a nice gentleman with a bubble station ( I want to call him a panhandler, because he was accepting money for his "services" and was selling his bubble sticks on site). We took the time to let the kids play in the bubbles, and even make a few of their own, before continuing on our walk. They enjoyed the break and would have caused a major fight if we walked past and didn't stop.
Expect meltdowns
Meltdowns always happen. Sometimes you can see them coming and sometimes they just come out of nowhere. Some would like to say it's because parents aren't listening to the needs of their children and allowed the chaos to build to this point, and others (like myself) would say sh&% just happens and you can't always see the trigger until after the fact.
Have a plan between parents on how to deal with meltdowns. Who is leaving the attraction to deal with the child and who will stay inside with the remaining children, or will everyone leave?
Give the children a way to communicate their stress and give them ways to cope with it. Travel itself is stressful but it needs to be done in order to reach the destination, let them know what to expect and come up with activities to distract them from the stress before it becomes a tantrum ( we like to call these distractivities, 'cause I'm clever that way).
Alone time?
Just because the kids are in bed at 7 pm doesn't need you to need to be too. Alone time is a perfect way to calm oneself, discuss the days to come and the days passed, with your partner, and just relax with a glass of wine.
There is also the chance that one parent, or both, want to visit something that just isn't suitable for children. Have a plan to switch "babysitting duty" or hire someone to watch the kids while both parents have a little alone time in the city. There are plenty of sitters available that will meet you at your hotel to watch them while they sleep (though I suggest you warn the children of the switch beforehand and install a nanny-cam, you never know). Join a local toddler group on facebook and ask for plenty of reviews before making the final choice.
Some cities even have a drop in daycare or day camp option for the slightly older children. This can give parents a few hours of peace before picking them up. Travelling with another family or extended family can have its benefits this way as well.
When we were in Berlin, my parents and my sisters family joined us. It was just a quick 20-minute walk to the bank, but those 20 minutes were the quietest and most relaxed 20 minutes that hubby and I experienced since moving to Germany 2 years prior. Or when I travel with my mom and she watches them while I go down the street to order dinner. It's the little things that count, and they are always appreciated.
The posts and pages of Tapped Out Travellers
do contain affiliate links that we earn a small commission for,
they come at no extra cost to you!
For more toddler-friendly tips and tricks for surviving vacation and travelling, check out our page Tips and Tricks.
You May Also Like…
The Ugly Side of Travelling with Kids
Travel with a Stroller: Should You Travel with a Stroller?
Our Guide to Smart Packing for a Road Trip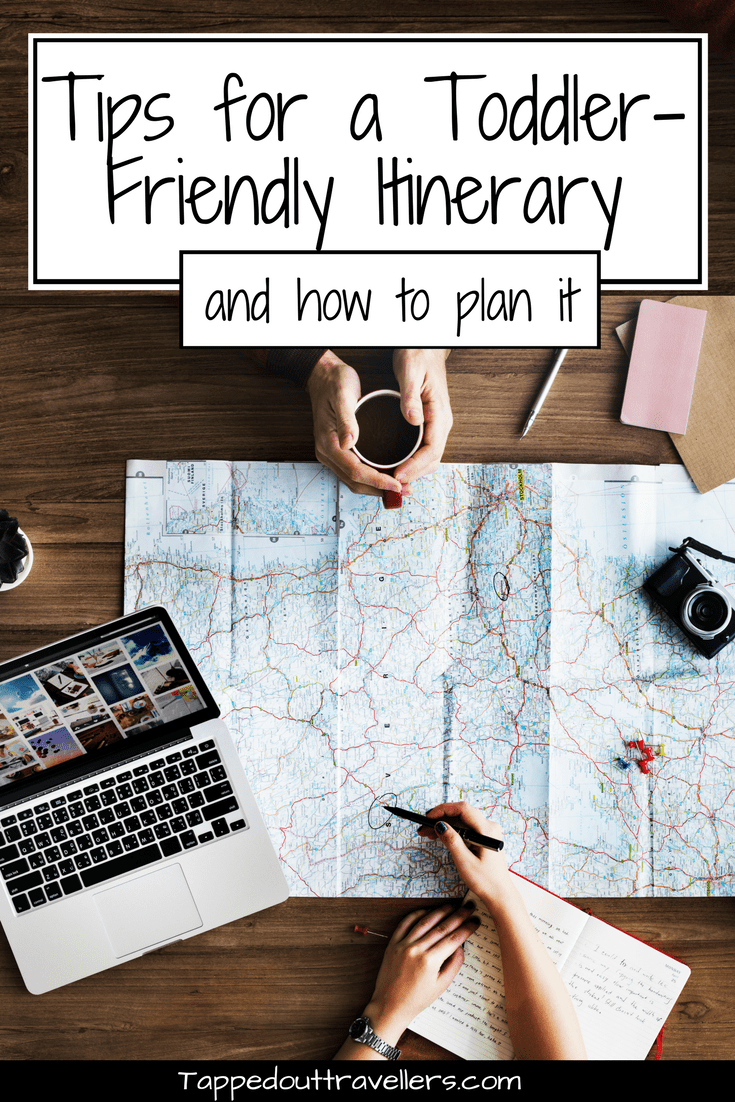 Do you have any Tapped Out Tips?
Questions or Comments? Join the conversation below.