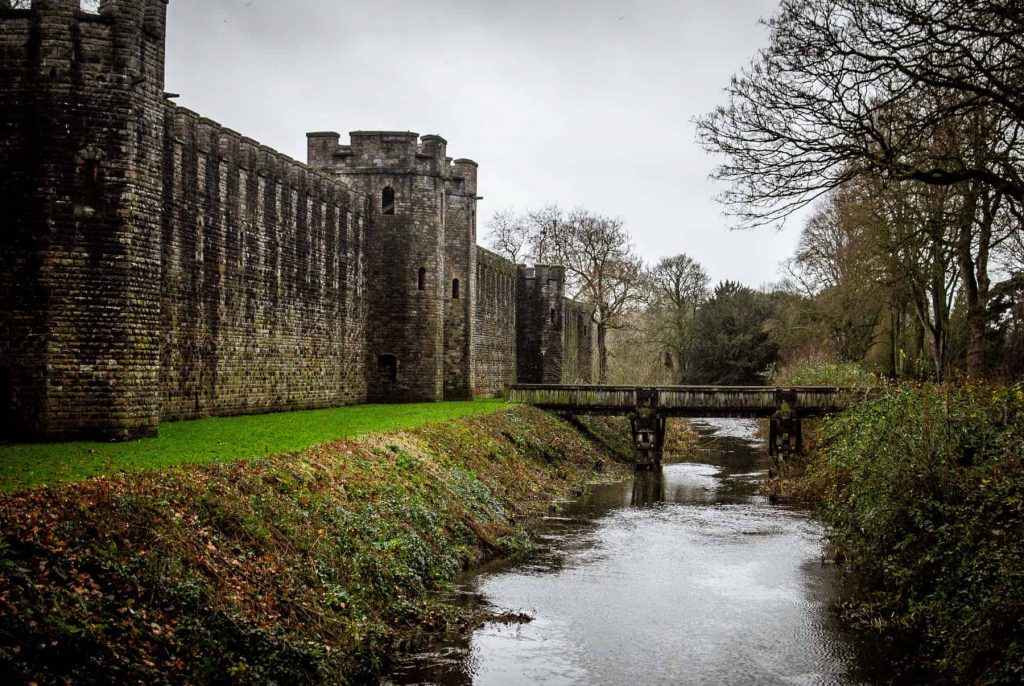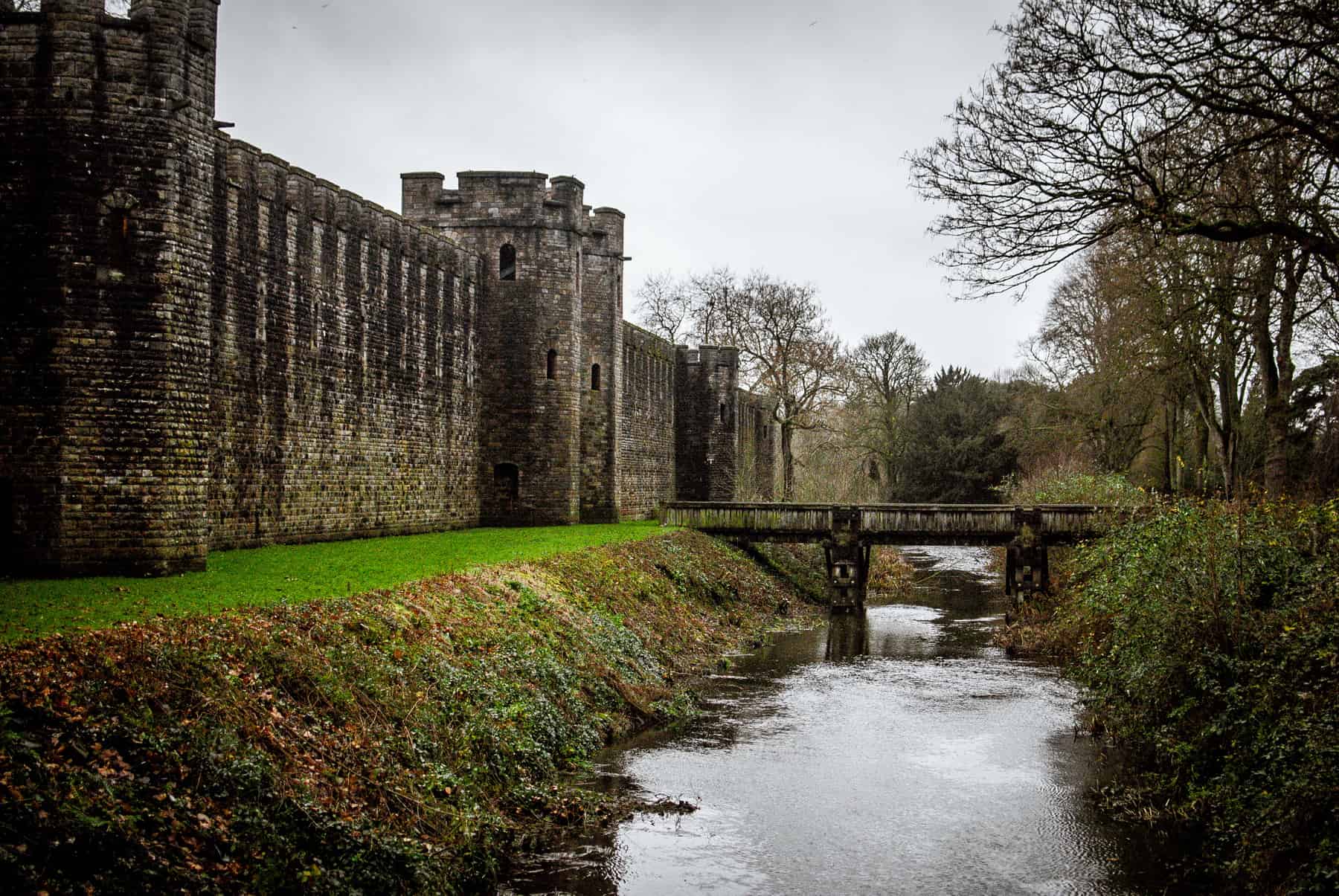 Cardiff with Kids what an adventure. With so much to see and do adults and kids will love exploring the many sites of this picturesque area of Wales. Spend a weekend in Cardiff with your kids here is what to see, do, eat and where to sleep on a 48-hour escape to the Welsh capital.
Cardiff Sightseeing
Once upon a time, the Doctor Who Experience was alive and well in Cardiff. Before the lease ran out, after the renovations to accommodate for the New Doctor, we decided it was time to visit Cardiff and get our Whovian fix. This also meant we would be spending "Christmas in London" ** fan-girl squeal** While this turned out to be the most expensive vacation we have been on as a family, it was worth every penny. These are the top things To Do In Cardiff With Kids.
This post may contain affiliate links.
To which I earn a small commission, at zero cost to you!
Find more info in our
Privacy Policy
.
Getting to Cardiff from the Airport
Getting to and from the airport was an adventure of its own. With two large suitcases, a cot, carry-on piece and a stroller, we decided to take a taxi to the Dusseldorf Airport instead of navigating the transit system. This quickly went from a good idea to a great idea when it started to rain as the taxi pulled up. There isn't much worse than a wet toddler before a 4-hour flight. Much to our pleasure, munchkin fell asleep on the way and stayed while transferring him into the stroller, and out of the stroller to go thru security. 3 hours of quiet contemplation never felt so good. Another taxi took us from the Cardiff airport to the hotel.
Be sure to check out our guide to flying with kids.
Europe does not have laws that require children to be in car seats while in a taxi. Since I know many families are not too happy about this loophole, there is a solution. The mifold, found here, is a great little invention. It is a tiny, portable car seat for kids 4 and over – but instead of boosting them up to safely reach the seat belts, it brings the belt down to the children's level and secures it in a way that is meant for their little bodies. According to their website, mifold is approved in Europe, Canada, and the USA.
Funny, not funny story. We check into the hotel, the clerk takes our travel vouchers (given to us by the travel agent, proof of payment) and "reminds" us that the hotel is closed at 11 am Dec 23, therefore we must complete our checkout by that time, and concierge service will not be available that day. WTF. My train leaves Dec 23 at 645 pm and the train station does not have lockers. We checked the visitor's centre and their lockers are for book bags and purses, not suitcases. Oh, joy, a problem and we haven't even checked-in yet.
What to do in Cardiff with kids
The Doctor Who Experience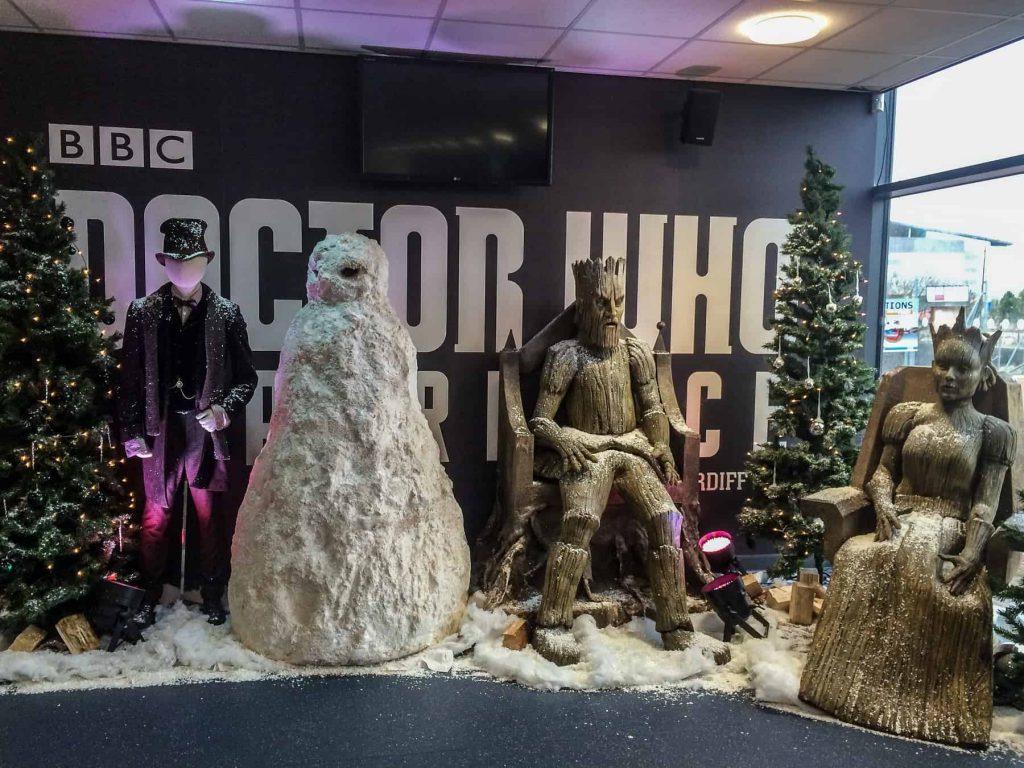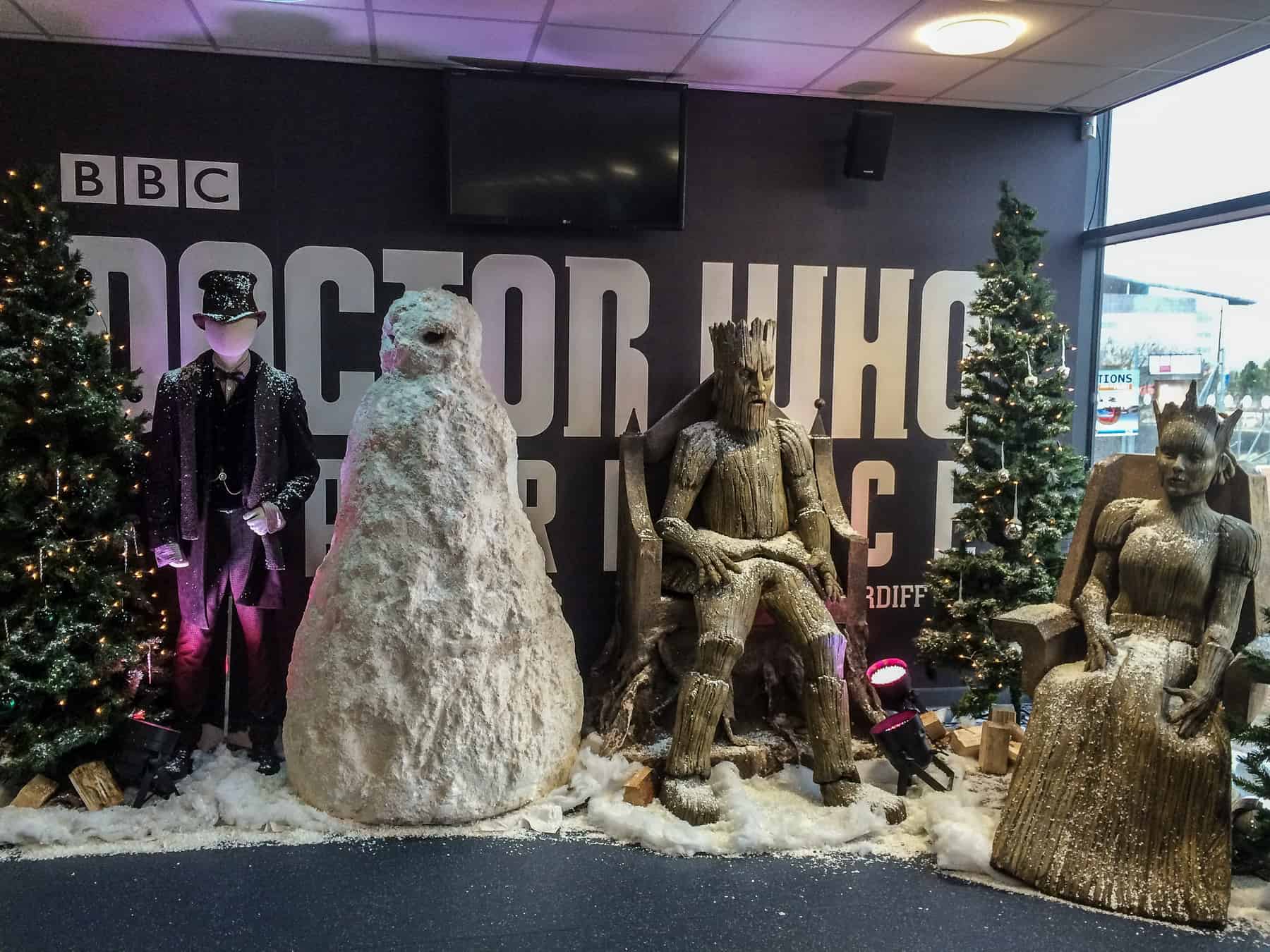 Because we went to bed so late, the munchkin had to wake up nice and early, it's just the rule. Breakfast was included in our hotel stay so we took our time caffeinating before heading out into the windy, rainy mist that was the weather in Cardiff.
We decided we needed a nice break from reality, so we did the Doctor Who Experience first thing. The Café opened at 930 am and the first tour wasn't until 10 am. Since we were such keeners, we arrived at 905 am after walking 30 minutes from the hotel…time to explore the surroundings. The Doctor Who Experience was amazing! The front entrance had been decorated for Christmas; including figures from previous Christmas specials. We woke up sleepy head, parked the stroller in the cloakroom and got rid of our jackets. There was an interactive portion at the beginning where no one was allowed to take pictures/videos. Basically, Peter Capaldi called us all stupid and called the tour guide "girl/boy" because they were wearing a ceremonial Gallifryaen robe.
The museum was next, full of costumes and alien figures, set pieces from previous seasons. The shop wasn't as amazing as I expected it to be, but there really is only so much I can fit into my suitcase and this is only Day 1 of 14. Hubby's ticket was a merchandise package so he received a bunch of free stuff, I bought the regular ticket so I grabbed a shirt, and Munchkin was free.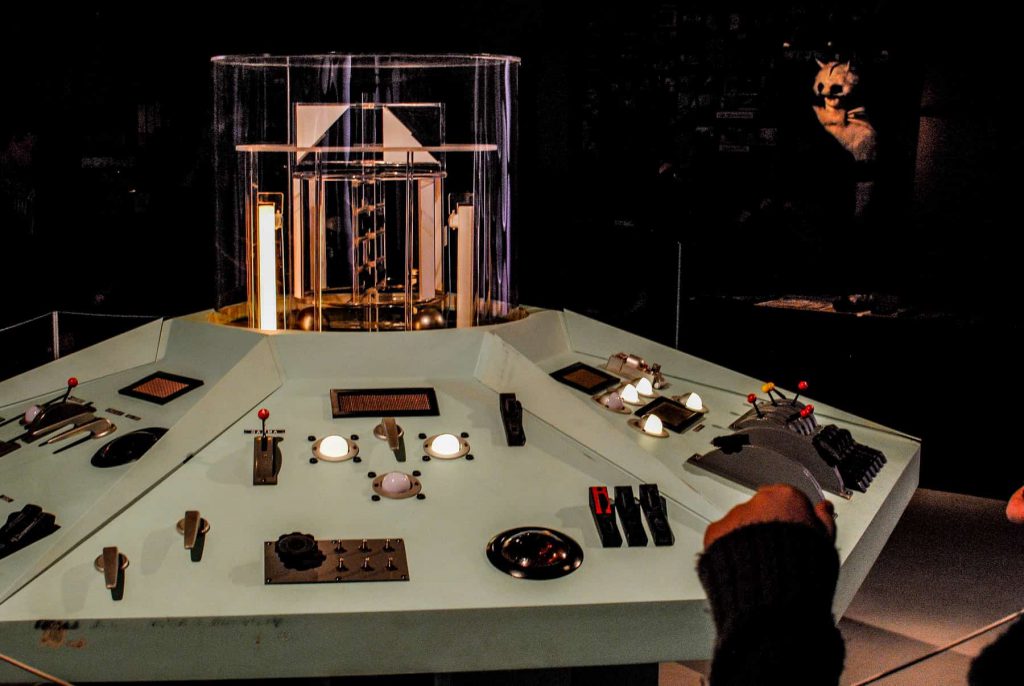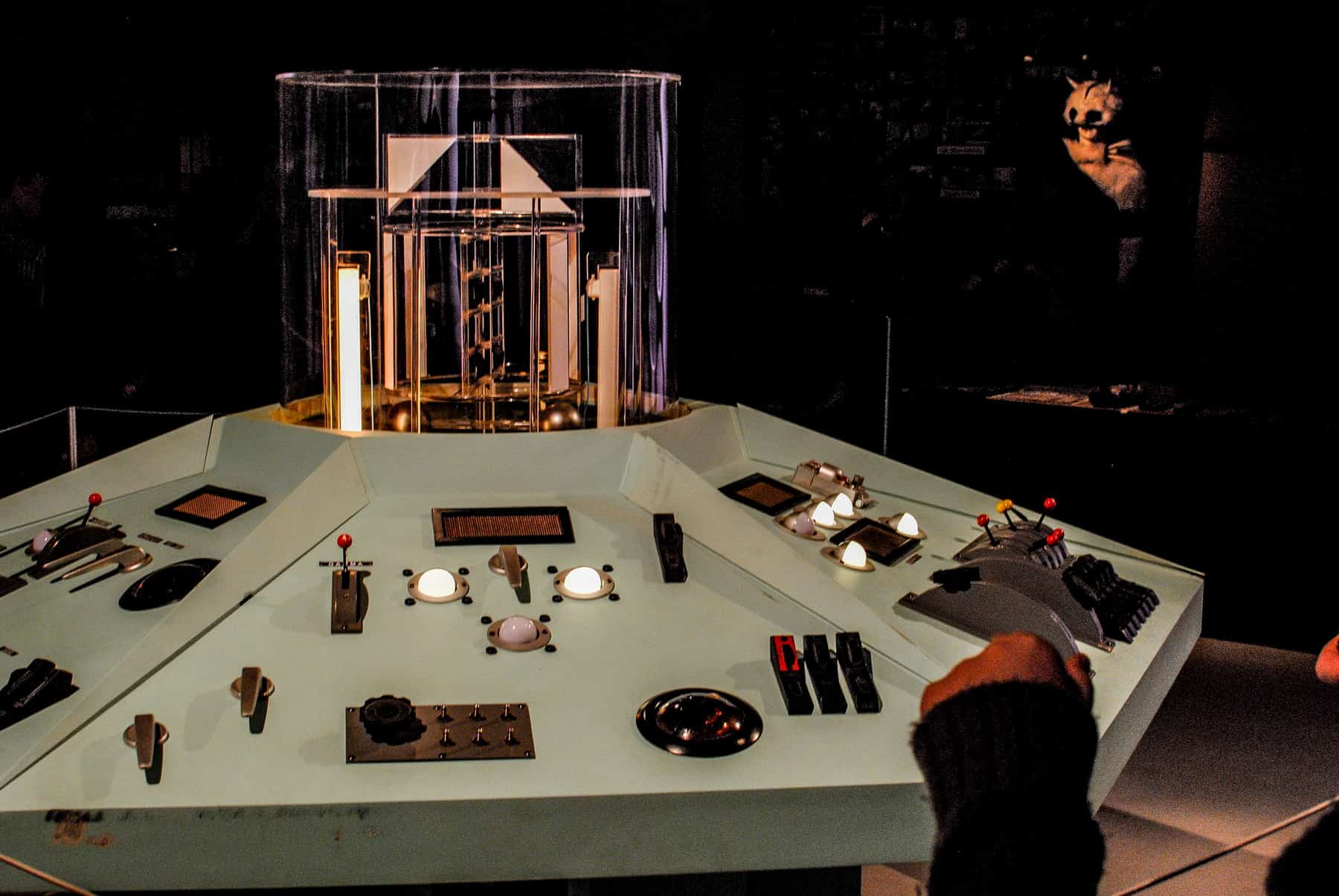 My little man is too sweet on his mommy; he demanded on buying a rubber bracelet; it was blue and rubbery so he had to have it. It was only a few pounds sterling so I didn't mind. I pay for it, take off the tag and hand it back to him; he gives it back and says it was for me the whole time. He melts my heart.
I can hear you know; What's with all the past-tense, Christine? It's not like the exhibit is gone! Sadly, it is. The Doctor Who Experience had a 5-year lease on the building and it expired in 2017. They are in talks of where to open a new location, if they are planning a new location, and what will happen to the retired sets and costumes in the meantime. If you want to learn more about that, check out this article about the history of Doctor Who Experience and what is in its future.
Roald Dahl Plass
The Roald Dahl Plass is the square that holds the Welsh Assembly Building and the Wales Millennium Centre.
Nerd alert – This is also where you will find Torchwood Tower and the Rift.
Mermaid Quay is just off the square but the rain was getting pretty cold so we headed back to center town. We went to the mall (Royal Arcade) and local Christmas market. We took this time to run around looking for a reliable SIM card for our cell phones.
If your cell plan does not include roaming, I would strongly suggest you purchase a prepaid SIM card from a local store. Google Maps, emergency phone calls and text messages back home can happen anytime during the day (Facebook and Instagram updates being used on the free Hotel Wifi of course). We purchased O2 for him and had GiffGaff mail us a SIM card to the hotel (they only ship to UK addresses). With unlocked phones, this was the perfect short term solution to our roaming problems. Fast forward 6 months and our new mobile contracts in Germany include roaming within the European Union.
Cardiff Castle
Cardiff Castle was amazing. Munchkin loves visiting castles so he was pretty excited to be going to this one. He ran around the grounds, chasing daddy while I bought tickets and figured out where we could park the stroller for the exhibits without access. Since he was getting sleepy (little bugger got up nice and early just to have an early morning nap), we did the no-stroller access exhibits first.
The Keep was very high, the stairs were steep and now they were mucky from more rain so munchkin held on to daddy for dear life and I held the railing like my life depended on it. The Royal Apartments were next, we managed to race through this section rather fast since munchkin wanted to touch everything and walk faster than we could read the information plaques.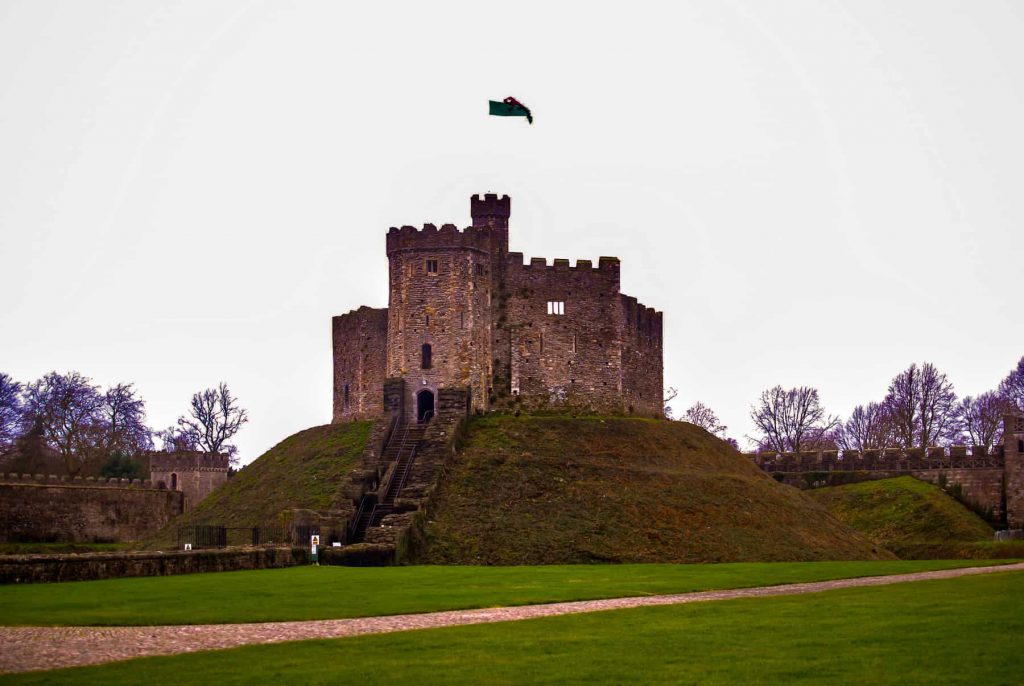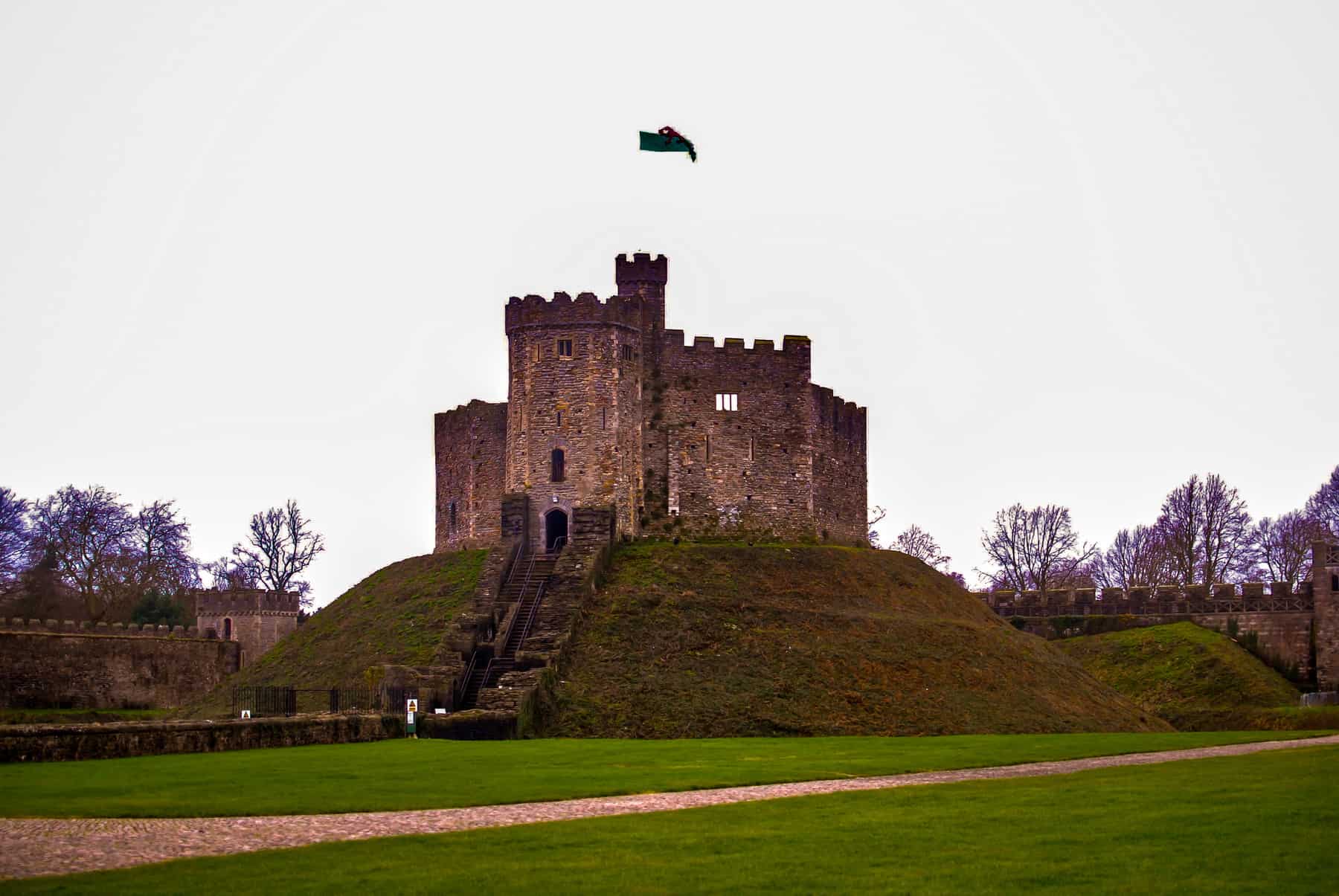 Just as expected, Munchkin fell asleep as soon as he was placed back into the stroller and we were able to visit the bomb-shelter in peace. At the end of the self-guided tour, there is a nice Cafe/souvenir shop. This was the perfect place to relax and warm up.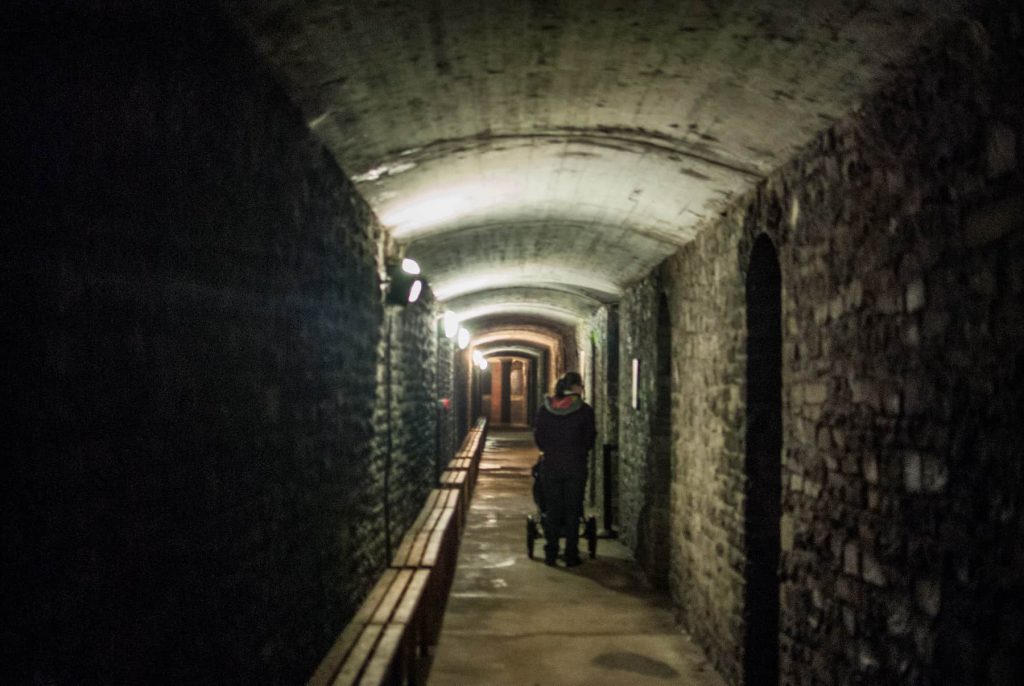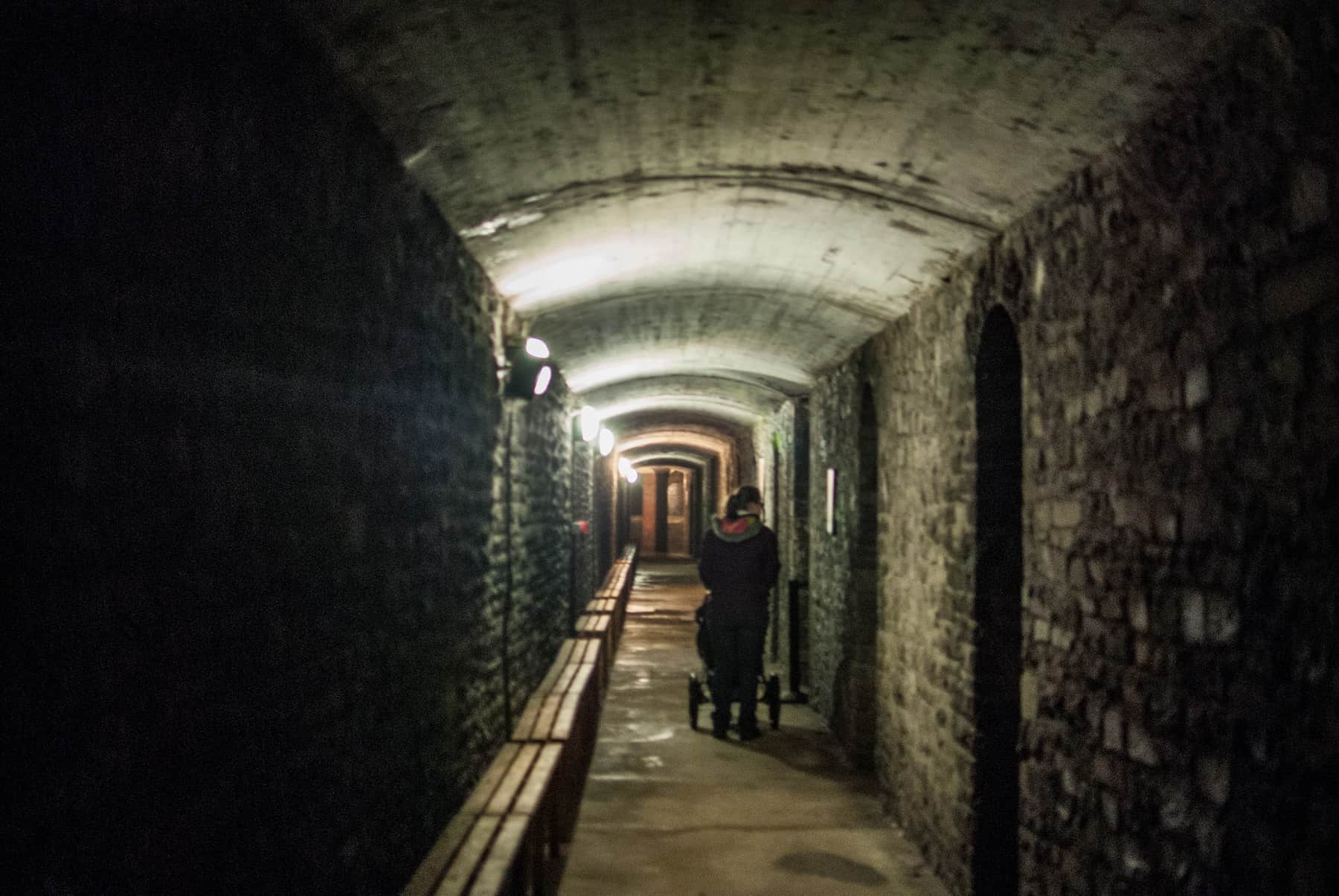 Christmas Markets in Cardiff
Evidently, the National Museum is closed on Monday's, so we didn't get to visit inside. This did have the happy accident of leaving us more time to explore the wonderful "Winter Wonderland" Christmas market. Surprisingly, it reminded us of traditional German markets; then again, most Christmas traditions did come to England via the King and his Germany ancestry.
The rides were not cheap but they were fun and got munchkin nice and worn out for bedtime. At this age, any nap longer than 1 hour can have a horrible effect on the ability to fall asleep at a decent hour in the evening. We made it our mission to go to sleep at the same time as him, in fear of waking at 5 am. This turned out to be a wonderful idea because the next three mornings began at 6 am.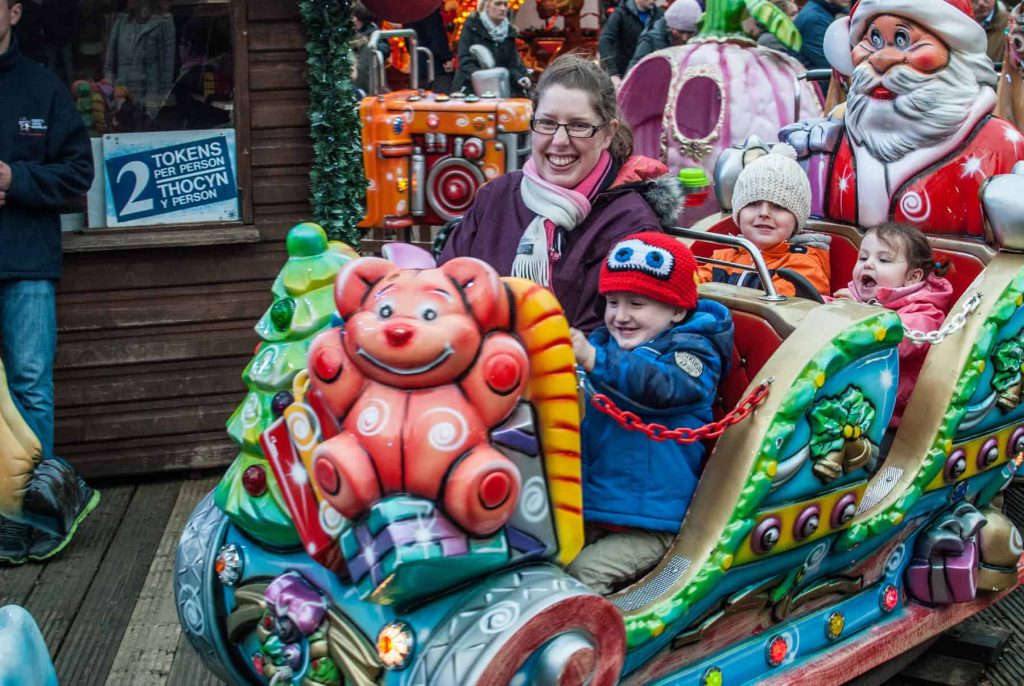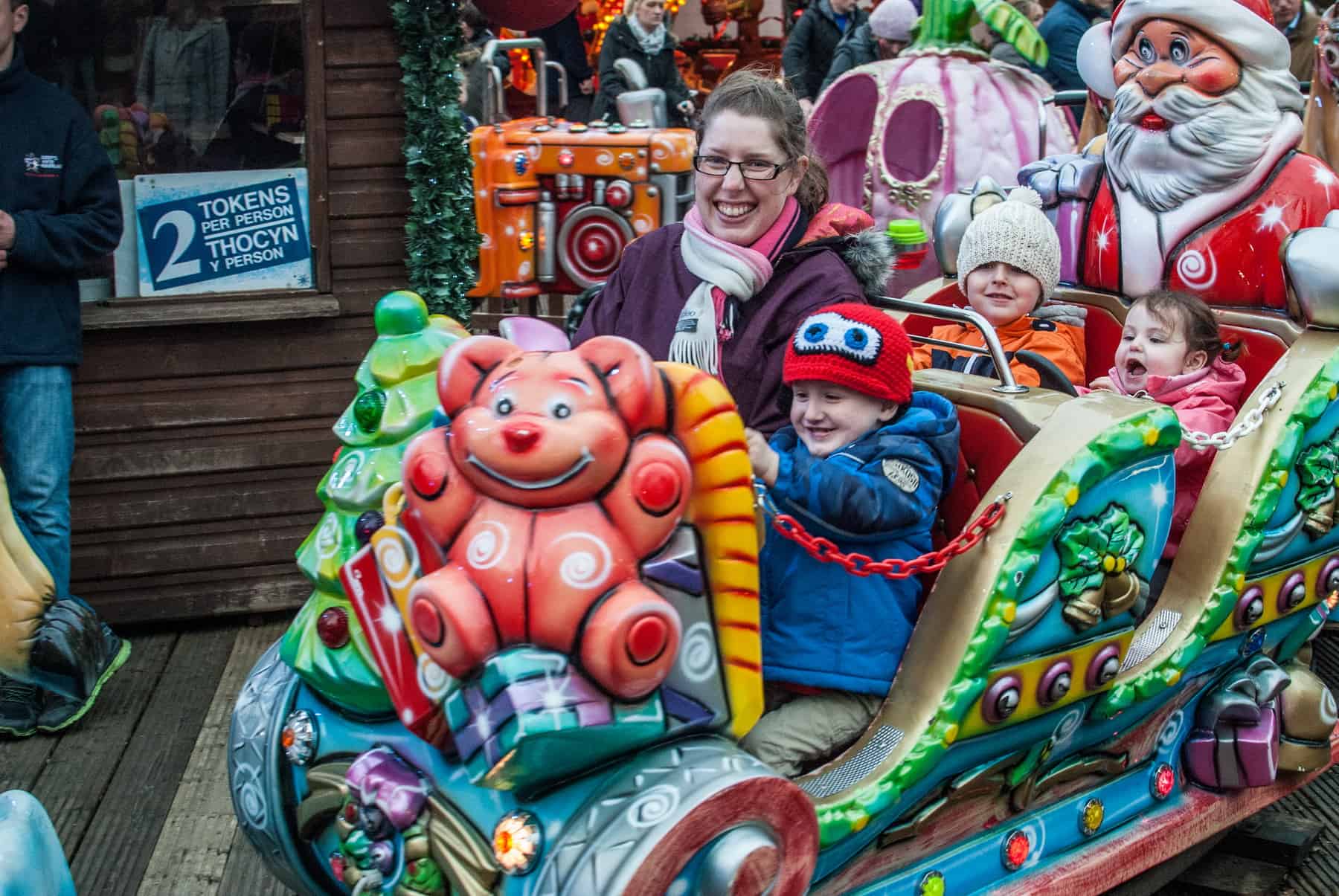 London bound
In case you were wondering about the luggage situation, after much research and little insight from the travel agent or the supplier that recommended the hotel in the first place, we found the visitors centre would rent us a closet for 50 pounds sterling, and the cost to upgrade our train tickets for before 11 am was the same price.
We decided that we didn't want to arrive in London after dark and deal with a crusty monster on the 2.5-hour train ride, therefore we would forgo the Museum of Cardiff and just leave town early. Monster slept the whole way and even transferred into his stroller like a champ. Our new hotel allowed us to leave our luggage behind while the room was being prepared and we went on our way to exploring London a half day early.
Check out – London for Christmas
Top things to do in Cardiff with kids
When looking for fun things in Cardiff for kids, there are many indoor activities for kids in Cardiff as well as outdoor.
While we decided to visit during Christmas Eve, which meant many things were closed early or just closed for the week, Tin Box Traveller and her family were able to explore quite a bit last summer and they have a healthy list of fun things to do in Cardiff with the kids. I will scan through them, but for more information, head over there for a spell.
Techniquest – full of hands-on science for little ones to learn and explore
Red Dragon Centre – a cinema, bowling alley, restaurant all in one centre of leisure and entertainment.
The Cardiff Story – housed in the beautiful Old Library building, The Cardiff Story is the Cardiff City History Museum, depicting how Cardiff as we know it came to be.
National Museum Cardiff – Wait what? Did I just suggest an art gallery for kids? Yes, I did. These guys have Dinosaur babies, and if the promise of that doesn't keep the little ones quiet long enough for you to enjoy a little art, I don't know what will. I'm kidding, my 5-year-old just asked me if we could go to an Art Gallery because he drew a painting in school and wanted to see where other paintings are displayed…it's all about how you frame the conversation (pun not intended #sorrynotsorry)
Cardiff Castle – As mentioned above, Cardiff Castle is a great way to spend a few hours with the kids, burning off some energy and learning some history at the same time. This castle is over 2000 years old and has been modified and rebuilt during the war.
Best Hotels in Cardiff
Cardiff Marriott Hotel
Located some 500 m from the city centre, 350 m from the train station and a quick 30 minute cab ride from the Airport. The rooms are nice and large, the restaurant is spacious and the breakfast spread was amazing. We loved being able to walk out of the hotel and see the markets from the entrance.
Travelodge Cardiff
Right next door to the Marriott, Travelodge Cardiff is highly recommended and gives the same central location and is optimal for Cardiff sightseeing as our own hotel.
"Our guests love coming to this hotel because of its very close proximity to Cardiff's thriving nightlife."
Click here for prices and availability
Your Thoughts...
Please share your thoughts in the comments or reach out on social media...We would love to hear from you.
You May Also Like…
Proper Gear to wear in a European Winter.