Accommodations in Ypres, Belgium
After finding out that we had been approved for tickets to the Vimy Ridge Battlefield 100th Anniversary Memorial in April, I scurried to find accommodations and weekend plans for the family. Vimy is 400 km from us so it wasn't exactly a day trip. Needing to be at the shuttle pick up for 10 am meant we couldn't be far from it that morning, and after spending all day in the sun with the kids, we didn't want to spend the night too far away either. Keeping on the historical WW1 trend, we decided to visit Ypres the next morning, and considering we would be arriving so late in the evening and didn't want to stay too far away from the historic center. I didn't have too many options in terms of budget-friendly hotels but I did manage to find one; this adorable little B&B called Fields of Gold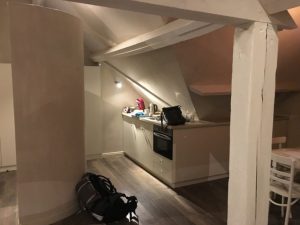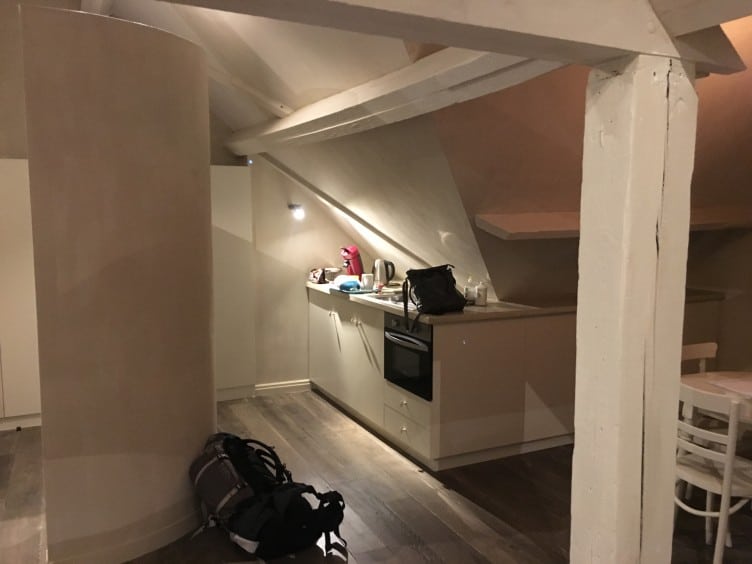 B&B Fields of Gold
The beautiful Fields of Gold apartment is a B&B and health shop. When first entering the building, the shop is on the left and the apartments are through these amazing doors straight ahead. There isn't a lift so I was glad that we had only brought the bare minimum. We had rucksacks so we only needed the one trip up the 3 flights of stairs in order to reach our room. This included the wonderful Natalie, the owner, helping us carry the Travel Cot, while we lugged the little ones upstairs.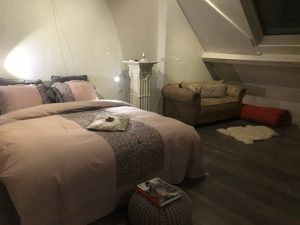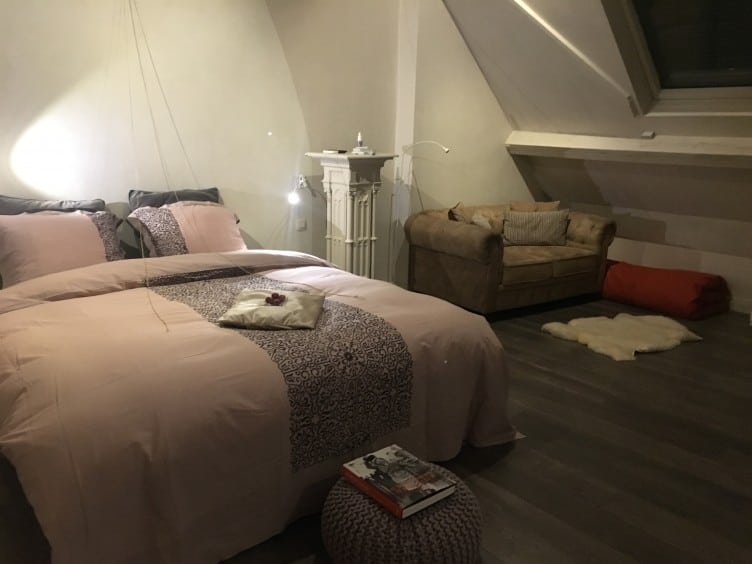 This is what we saw when we first opened the door… I was floored. This room is AMAZING! It smelled great too. Natalie had used the essential oils from her shop around the whole apartment, in strategic places. I am not an essential oils person, as I am not a fan of scents in any shape or form, but this was great. We were dead tired from our long day at the Vimy Ridge Battlefield 100th Anniversary Memorial and it was around 9 pm by this point so the oils, the lighting, the beautiful looking bed, just helped me relax.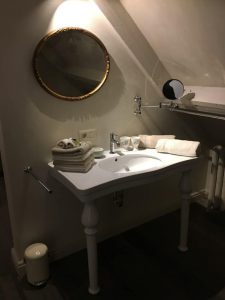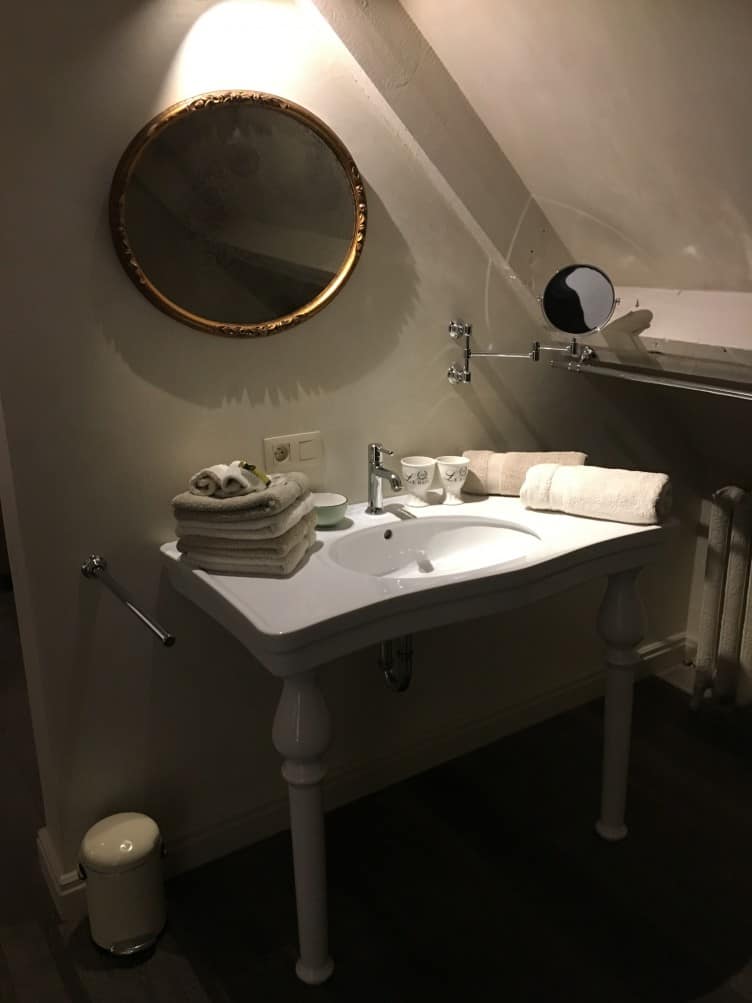 As you can see, the room has everything. It isn't exactly made for kids, in that the giant walk in shower doesn't have a door, or the claw-foot tub is smack in the middle of the room, but we have little one's so we haven't known privacy in years. I felt like this is the same general situation as a hotel room (the toilet has a door, don't worry), but a much nicer, larger space. I would definitely recommend this room for other travelers with small children.
[fusion_button link="https://www.booking.com/hotel/be/fields-of-gold-ieper.en-us.html?aid=1165205″ title="" target="_blank" link_attributes="" alignment="center" modal="" hide_on_mobile="small-visibility,medium-visibility,large-visibility" class="" id="" color="default" button_gradient_top_color="" button_gradient_bottom_color="" button_gradient_top_color_hover="" button_gradient_bottom_color_hover="" accent_color="" accent_hover_color="" type="" bevel_color="" border_width="" size="" stretch="default" shape="" icon="" icon_position="left" icon_divider="no" animation_type="" animation_direction="left" animation_speed="0.3″ animation_offset=""]For latest prices and booking at Fields of Gold click here![/fusion_button]
On the plus side, since there are 3 other rooms available at the B&B, two of which are on the second floor, larger families or families with older kids are welcome to purchase two rooms across the hall from each other – or mom and dad get this amazing suite, aptly named "Queen of Heaven", while the kiddos get the room downstairs. Ah, privacy.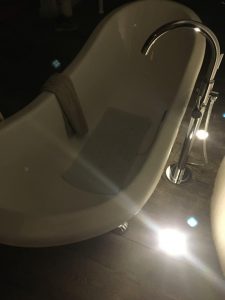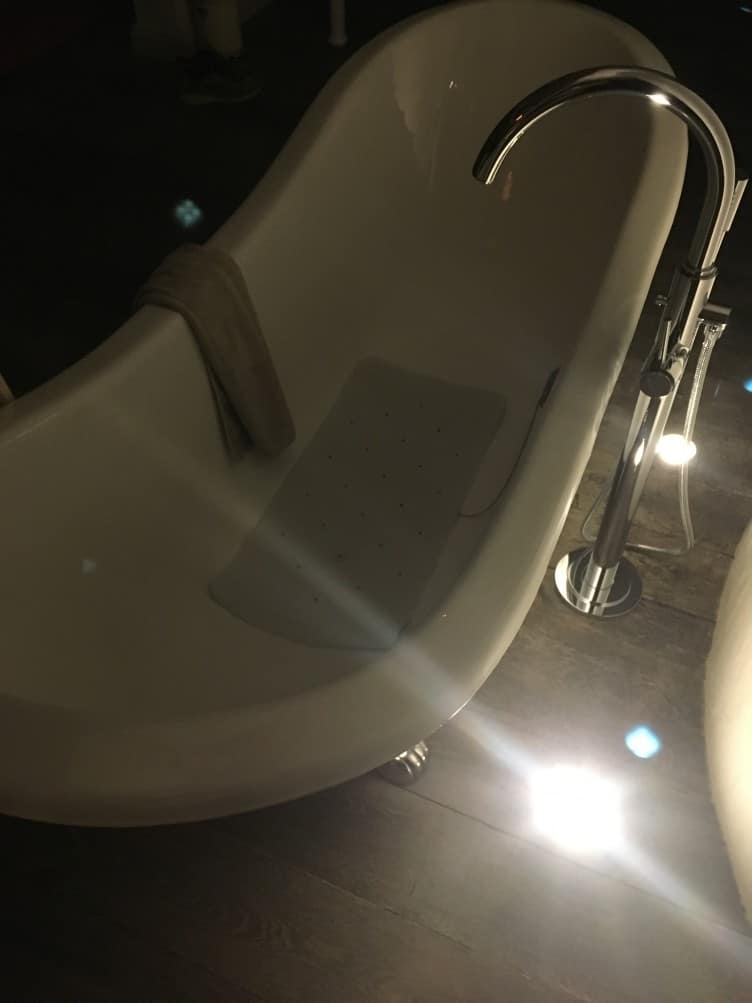 The room does not have a baby bed option, unfortunately.  There was a spare mattress available for the Munchkin but we had already brought up his cot. The baby ended up co-sleeping; the bed is King-size so there was more than enough room for her. Like I said, not exactly made for little ones, but we adapted and the location was amazing.
Last little thing I want to mention; the room has a built-in sound system. It was crazy. We played a little something to calm the kids down for bed and there are so many channels to choose from. Although on the negative side, I'm pretty sure hubby wants to buy one now so, there is that.
Bottom line
If you ever find yourself in or near Ypres, I strongly suggest you give B&B Fields of Gold a ring. They do not serve breakfast on Mondays or Tuesdays, but that is so they can have breakfast as a family – how sweet is that?! At a cool 300 meters from the Flanders Field Museum, it is in the perfect location for privacy, and historic touring.
* This is a sponsored post and contains affiliate links
~ Featured items ~
~ Click the images for more information ~
An excellent resource for planning all of Germany can we found with the Lonely Planet Belgium Guide. 
Plan Your Trip – Stay and see everything
[wp_ad_camp_1]
Accommodations
Booking.com 1,136,997 properties worldwide. Including 581,306 holiday rentals in 105,263 destinations in 225 countries and territories
Flights
Skyscanner.com compares millions of flights to find you the cheapest deal, fast. Fly for less with Skyscanner!
Car Hire
Blacklane.com Take your time and relax. Airport pickups include 60 minutes of free wait time, and all other pickups include a free 15 minutes. Limousine Service!
Do you have any Tapped Out Tips?
Questions or Comments? Join the conversation below.
---