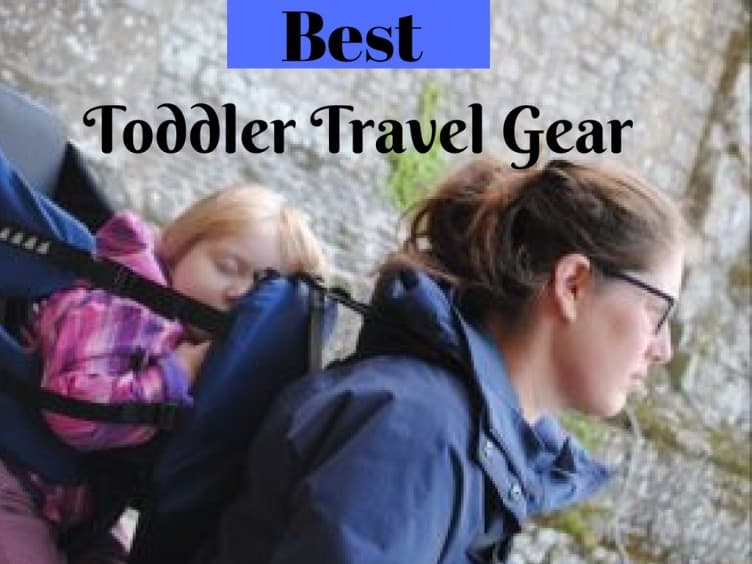 Toddler Travel Gear In order to be considered the Best Toddler Travel Gear, it needs to satisfy a few categories; small, lightweight, etc.
10 Best Toddler Travel Gear
In order to be considered the Best Toddler Travel Gear, it needs to satisfy a few categories; small, lightweight, long-lasting, and can either be passed on to future children or have a decent resale value.
This post may contain affiliate links.
To which I earn a small commission, at zero cost to you!
Find more info in our
Privacy Policy
.
Each and every one of these products has been tried and tested by our in-house Toddler staff and have passed the test with flying colors.
1- Kidz Gear Headphones
Kidz Gear offers headphones both wired and wireless (Bluetooth). At first, it was hard to understand by Bluetooth was necessary for children's headphones, until the 2-year-old starts ripping the headphones off the 5-year-old. Ah, Strangulation! As parents, we can't always have an eye on the kids, at all times. Knowing that there was no risk of cords wrapping around little body parts, on purpose or by accident, made the choice to leave them with headphones in the backseat of the car that much easier.
Kidz Gear Headphones are also adjustable. This means they will last as long as the kids need them to last. They are flexible and durable; even the strongest of willed 2-year-olds have yet to break it. And the padded earpiece means they won't have sore, red ears by the end of screen time.
2- Snack Container
Taking snacks outside of the house is always a chore; plastic bags or original packaging? Container or bag? But which container do I not mind losing at least once a month? The price point on this container is perfect for those toddlers that insist on throwing things outside of the stroller, and the busy mom that doesn't notice its absence until 2 miles later.
The flexible rubber lid lends itself great to little hands helping themselves to the snacks. It can be a little firm at first, great for keeping the snacks where they belong, but it can be frustrating for little ones. This container is best for slightly older toddlers, as the packaging mentions 12 months plus, or younger if they are using an older container with a well-loved lid from an older sibling. The main benefit of the Twist 'N Click snacker is it's easy to handle and twist on lid. Not even the most skilled of toddlers will be able to fully release the contents without a parent noticing.
Other containers have too wide of an opening, to keep the little hands comfortable. This always ends up meaning that food can get out with just a little tapping of the container by said little hands. The lid doesn't easily come off just by throwing the cup around so the snacks are safe inside, and not all over the floor.
3- Kids' Backpack
There aren't many vacations that we undertake without these backpacks. The kids hold their own entertainment, change of clothes for the plane, and diaper needs for the little one. It may sound heavy but the weight is evenly distributed across their shoulders and the chest and waist straps distribute it even further around their back and hips. This also means the kids aren't likely to overpack, as they are in charge of carrying everything. They are now able to think critically about what they want, what they can leave behind, and how much to really want that extra coloring set in their backpack.
The front pocket is a great hiding spot for band-aids, Polysporin, and other mini-first aid requirements. Daddy always carries the real kit but they feel better knowing that their favorite character bandaids are waiting for them in this little pocket. Two side pockets are also great for holding onto water bottles or other items not suitable for inside the backpack. We never leave home without these backpacks.
4- Travel Potty Seat
Potty breaks happen and even the biggest of toddlers get scared when sitting on the big-kid potty. And can you blame them? That toilet boil is waiting for their little bums to just fall in and soak their adorable behinds in less-than-hygienic waters. The Jerrybox Foldable Travel Potty Seat even comes with its own travel bag so the actual seat doesn't need to come into contact with the other contents of the diaper bag. Its unique folding action means it will compress to actually fit in the diaper bag, then fit perfectly on the toilet for the little bums in the house.
Potty training no longer needs to be a battle, as they will feel safe and comfortable using the toilet in any public restroom. Parents have the added advantage of knowing their little bums aren't actually touching the toilet seat – if only we were all so lucky.
Other toilet seats don't fold as well, or stay put when a wiggly child is sitting against their will. Portability means you aren't limited to hotel restrooms or the children's toilet at the mall.
5- CARES Harness
The CARES Child Aviation Restraint System is the world's first passenger restraint system for children approved by Transport Canada and the FAA for use on all registered aircraft.
Designed for children old enough to be in their own airplane seats aged one year old and over weighing between 22 and 44 lbs (10 and 20 kg), CARES is engineered to the highest aviation safety standards.
It takes only a minute to install using the existing, standard airplane seat belt and can adjust to fit virtually every size airplane seat.
Send the bulky car seat with checked luggage and carry CARES on board.
6- MiFold
According to MiFold: During one in five journeys, children do not have a car seat: in carpools, with grandparents or other relatives, in taxis, on vacations, in rental cars, with three-in-a-row, and so on. And this does not include bigger kids on the border of the regulatory limits, who do not want to appear babyish to friends, and who have already outgrown child restraints.
With MiFold, there is no longer any excuse. With a compact and portable device, a child can easily carry one with them. It's possible to have a spare without cluttering up the car and losing precious seating or luggage space. The unique size and shape of the MiFold lend itself to discretion, space-saving, portability, and convenience, without sacrificing safety. This means a child will always have a car seat with them, no matter where they are or how last-minute the arrangements are.
Alternatively, when booking a vacation, as this is one of the "Best Toddler Travel Gear" items, parents no longer need to pay up to $15 per day to rent a shady car seat from the dealership or attempt to haul their own onto the plane. This safe and tested kids folding mobile car seat is the answer to any traveling parenting dilemmas. Other systems have yet to pass rigorous testing or appear too flimsy. Others still have yet to come close to the space-saving technology that MiFold has created. If your looking for safety and compact design MiFold is the answer.
Our full review of the Mifold can be found here
7- Bob Revolution
Before investing in a stroller, you need one that is going to last for the lifetime of your stroller needs, be it one child or multiple children. BOB Gears' line of jogging strollers fits the bill.
Not only are parents able to push with one hand (coffee break or hand-holding), but the benefit of shocks provides your child with a smooth ride, especially during nap time.
The addition of a swivel front wheel allows you to turn on a dime. The solid frame allows for jogging with the stroller and "off-roading" anywhere you might travel with kids.
Find our full review of the Bob stroller and other travel strollers here.
8- GO-GO BABYZ TRAVELMATE
Ever seen a stroller on wheels? This is how they do it. Just secure the stage 2 car seat to the GO-GO BABYZ TRAVELMATE, then secure the child into the car seat.
Voila! Parents are now free to hull around the little ones in their car seats, which need to get to the check-in, without carrying the car seat around and chasing after running toddlers in a busy airport. This will also double as your much-needed, pre-check-in stroller.
Most international airports have complimentary strollers available passed security and do not allow gate-checked strollers. Now all one has to do is survive the security line and all is good.
9- Mommy Hook
There really is no greater feeling than walking down the street, hands-free, because everything you have just purchased is attached to your stroller.
The mommy hook by Attmu allows you to hang just about anything off of the stroller handlebar, using your own child as a counterweight (don't forget to remove the item before the child, or the stroller can tip over). The weight and size of the package are only limited by your stroller's capacity to carry it.
Don't forget to remove them when leaving the stroller at gate check or stroller parking; they are universally a huge hit and sticky fingers happen everywhere.
10- Travel Cot
Instead of fighting over who gets to sleep with mom and watching dad sleep on the pull-out couch, bring along a bed your toddler can call there's.
The Regalo My Cot Portable Bed is small enough to allow your toddler to carry it up to the hotel room, set it up and make the bed. At only 7 inches off the ground, there is no worry about your little "mover" rolling off the cot, unlike on a sofa bed or traditional hotel bed. This is also a great sleep-over alternative to a sleeping bag. Great for your child's first camping trip. No need to worry about them accidentally popping the air mattress with their impossibly sharp fingernails either.
Check out our full review of the Best Toddler Travel Beds
Your Thoughts...
Please share your thoughts in the comments or reach out on social media...We would love to hear from you.
You May Also Like…
Lose the Fear: Travel Happily with Your Kids
Queen Mary 2 Guide Transatlantic Crossing with Cunard
Travel with a Stroller | Should You Travel with a Stroller?
How To Find Cheap Accommodations For Families