Did you know Kingston was Canada's first capital?  Or that locals call their city the Limestone City?  If you've never visited Kingston Ontario you're missing out on a beautiful waterfront city with a small town feel.
I've lived in Kingston all my adult life and I'm still discovering its charms. Now that I have 2 daughters who love exploring with me, we get out and about as often as possible!
Here are a few of the things we love doing and seeing in Kingston. (This is not an exhaustive list – there are tons of things to see and do in and around our town!)
Bellevue House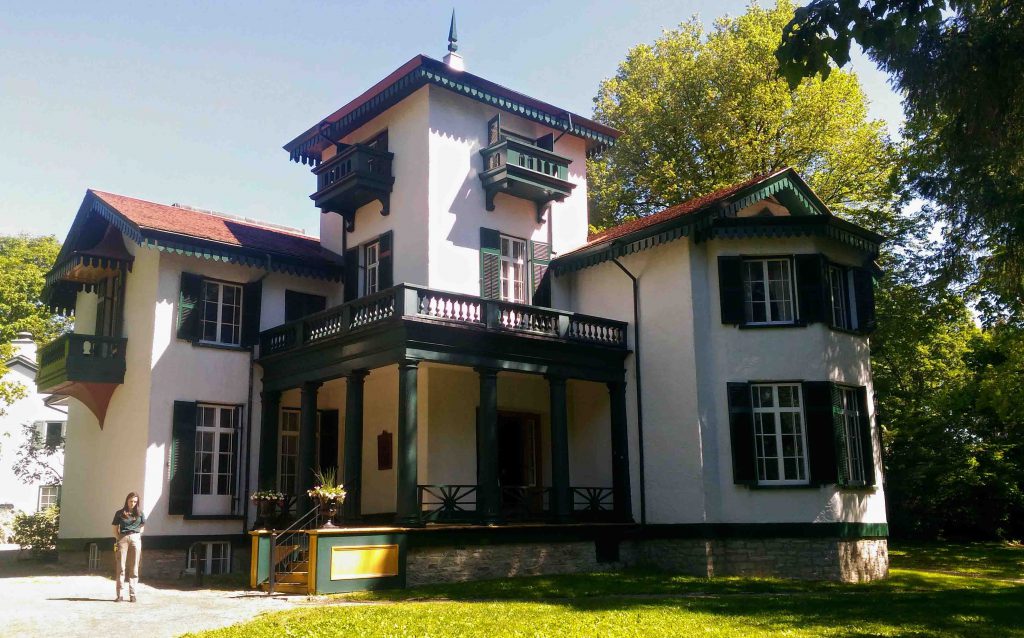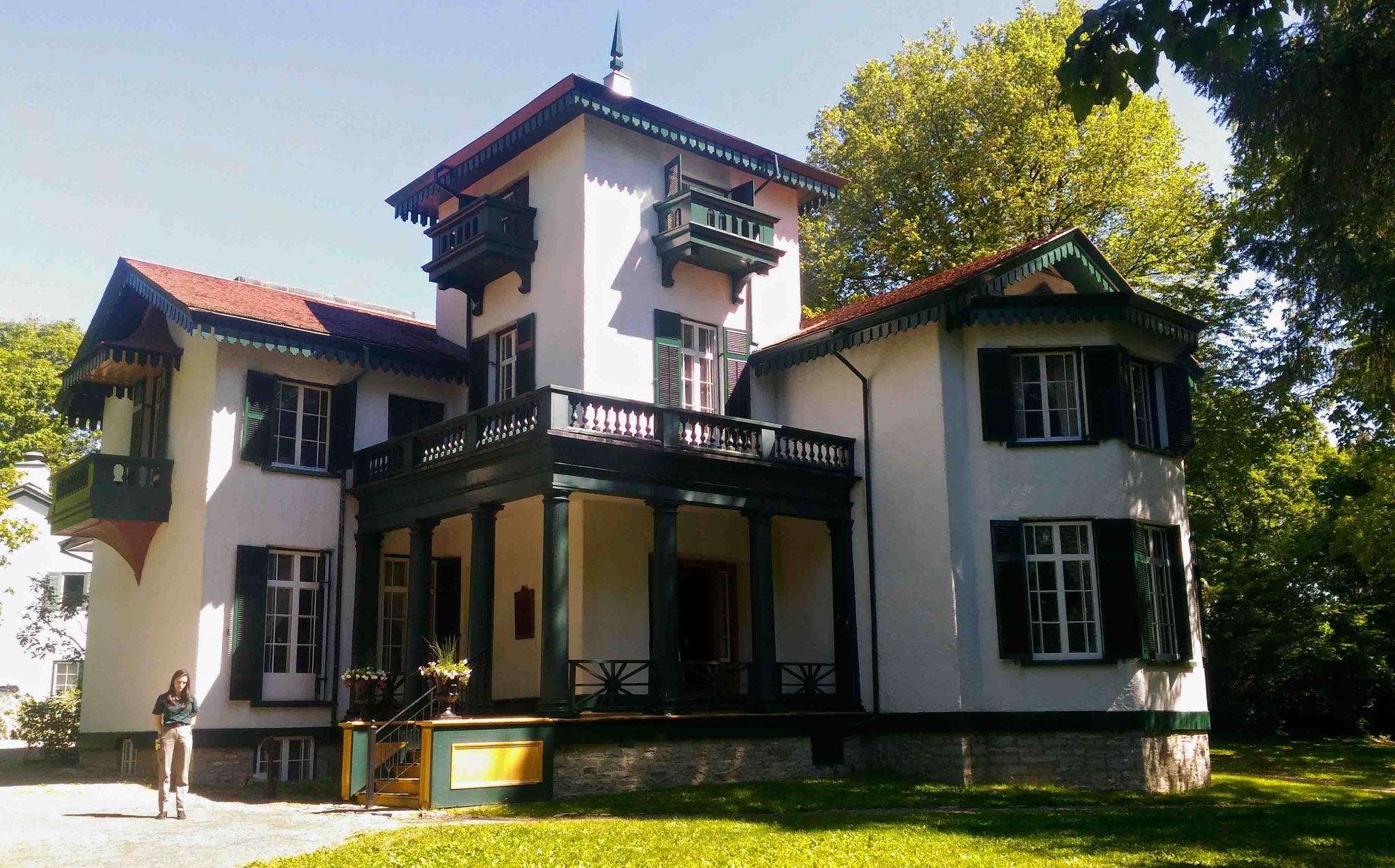 First Prime Minister Sir John A MacDonald and his young family lived here in the late 1840s. At the time Bellevue House was a waterfront estate, and you can visit every room in the house thanks to Parks Canada and their management of this historic home.
My girls love visiting Bellevue House because you can try on some turn of the century clothing and then take your tour as a Lady of the House. There is also a beautiful kitchen garden that the maids are often tending to. All the plants are heirloom and grown just as they would have been when the MacDonald's lived there.
Bellevue House is run by Parks Canada, and if you have a discovery pass your admission is free.
Visit Queen's Campus
If you or your kids are interested in older buildings, interesting architecture, or halls of higher learning, a walk through Queen's Campus is highly recommended.
I went to Queen's University so I'm a little biased, but the campus is absolutely beautiful. Many buildings still have their original limestone walls, and some of the newer areas have beautiful architecture. If you look closely, you can just make out the greenhouse on top of the Biosciences Complex between Arch and Barrie St!
The Rideau Canal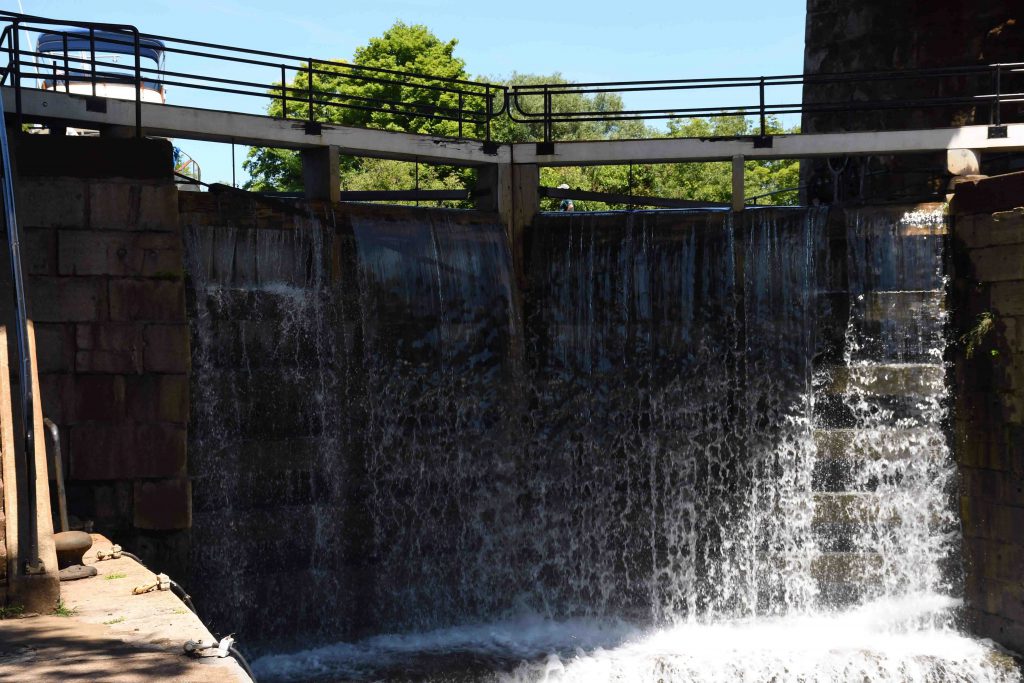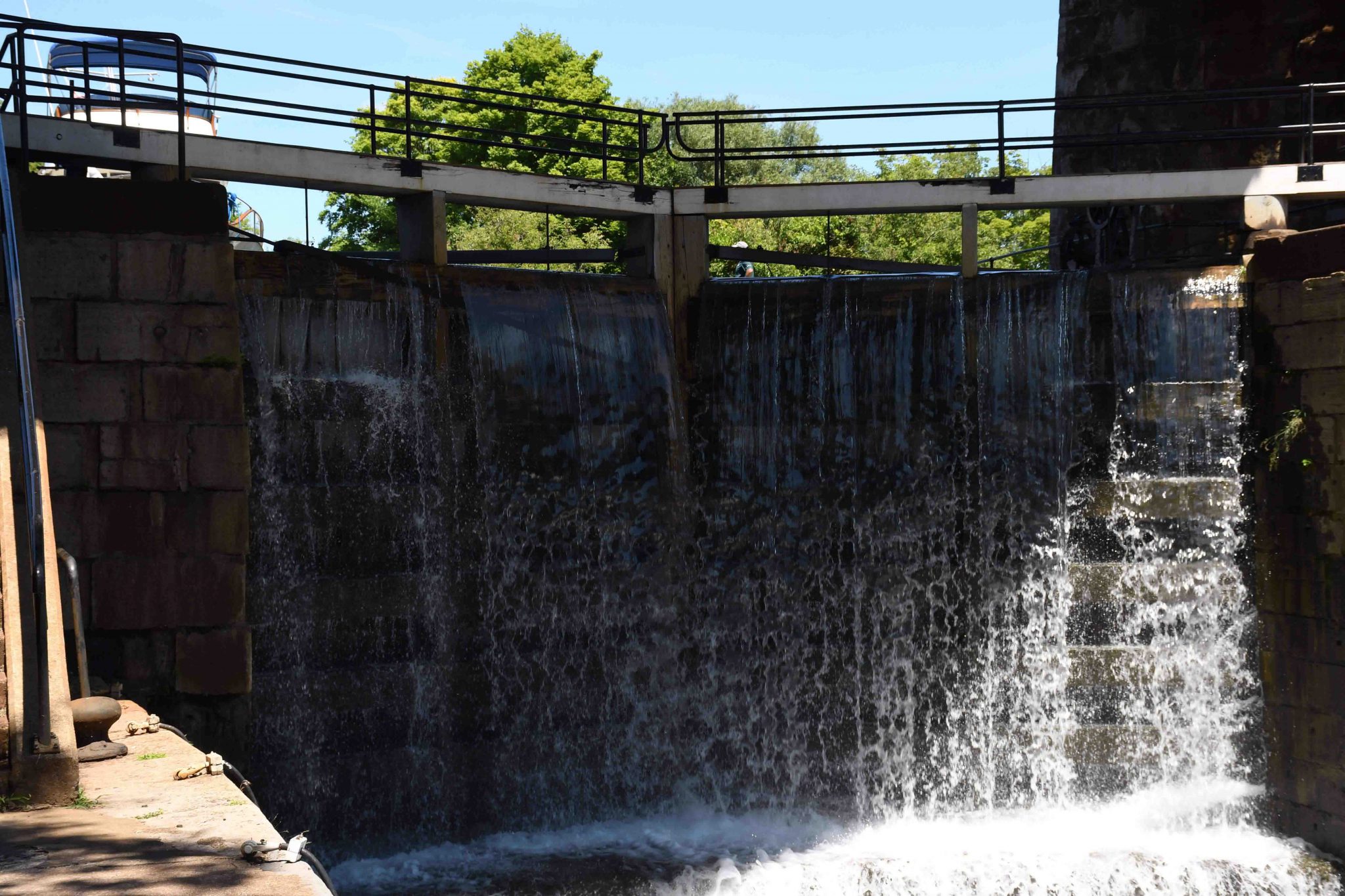 Kingston is the southern mouth of the Rideau Canal. The Canal connects Kingston to Ottawa through a manmade canal and locking system. The canal is a marvel of engineering considering it was constructed in the 1830s.
Kingston Mills Locks is the first access to the canal from the Lake Ontario/St Lawrence River end. It's a beautiful location for a picnic or a walk. You can access the locks by foot every season, but the boating season runs from May until October.
My husband takes the girls fishing there sometimes, and I love it as a place to practice my photography!
Tour Trolley
If you're looking for a tour to show you many of the attractions and historical places in the city, consider taking a ride on the tour trolley. Kingston Trolley Tours offers a hop-on, hop-off option to actually go explore some attractions around downtown Kingston. If you're shorter on time, just take the 75-minute tour and see some beautiful locations.
Waterfront Trail
Kingston has 8km of waterfront trail – just a short piece of the 900km Waterfront Trust Trail that runs from Niagara to Quebec. The trail passes by many attractions and sights in Kingston including Portsmouth Olympic Harbour (site of some of the events in the 1976 Olympic games), the J.K. Tett center (previously a brewery, now a vibrant arts hub), and the Kingston Penitentiary and Museum.
Breakwater Park/Gord Edgar Downie Pier
In late summer 2018, the City of Kingston completed renovations to the popular Breakwater Park along King St, near Queen's campus. They added a sandy beach, cleaned up the pier for swimmers, and added a wading area to encourage families to swim in Lake Ontario. I think it's been beautifully redone, and it's already a popular swimming hole when the weather is nice!
Springer Market Square
Downtown Kingston has an open-air market space located just behind city hall. Tuesdays, Thursdays, and Saturdays it hosts the oldest Public Market in Ontario. Vendors come from outside the city to sell their fresh grown products – there are also bakeries, meat and egg vendors, handmade items and more. On Sundays, the square hosts an Antiques market.
During the year many events occur in Springer Market Square. Free concerts, and movies on an inflatable big screen; community gatherings; free skating in the winter; and many other activities. On days when the square is not being used for a function, there are tables and chairs, that you may enjoy taking a seat and watching Kingston go by! (I often will take my lunch to the square and sit and people watch.)

PumpHouse Museum
Located in downtown Kingston is the Pump House Museum. This museum is the original Water Works for the City of Kingston. The steam-powered pumps provided running water for the residents from 1851. The building was opened as a museum in 1973, 21 years after it had ceased operations as a Water Works.
Besides viewing the original pumps and engines used in the 1800s, the museum is an amazing place to take your kids. There are always events running, and they are very hands-on for young children. There are a lot of train aspects to this museum as well – including a train table for the little ones!
Fort Henry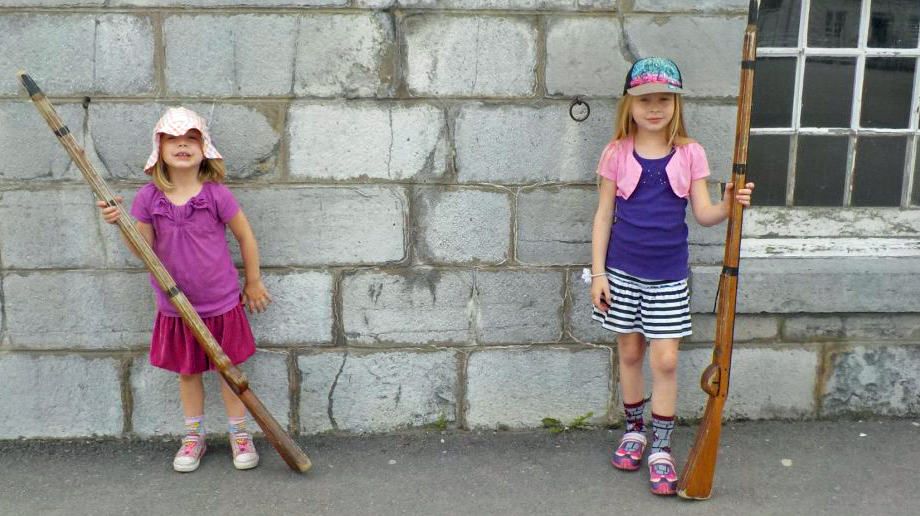 When I was a child, Old Fort Henry was a fun historic place to visit. The original fort (which has since been rebuilt) was created during the war of 1812, to defend the British territory, later Canada, from American forces.
Today it's known only as Fort Henry, and it's a museum, historical reenactment center, and a very fun place to explore. You can tour the fort itself – on your own, or with a guide – and there are many events that take place within the fort's walls throughout the season.
While the fort does close for the winter season (Nov until May, I believe) there are other events that take place at Fort Henry.
Throughout the month of October, you can scare yourself by taking a trip through Fort Fright! It's a great Halloween season event and it's different every year. I haven't taken my girls yet (though I've been), but lots of my friends have. I'd suggest 10 and up, but of course, you know your child best!
In the winter they host Lumina Borealis – an amazing light show and immersive experience around the walls of the fort. There are rave reviews about this event every year – and they often extend the season well into February. (It's normally an end of November to early January experience.)
Haunted Walks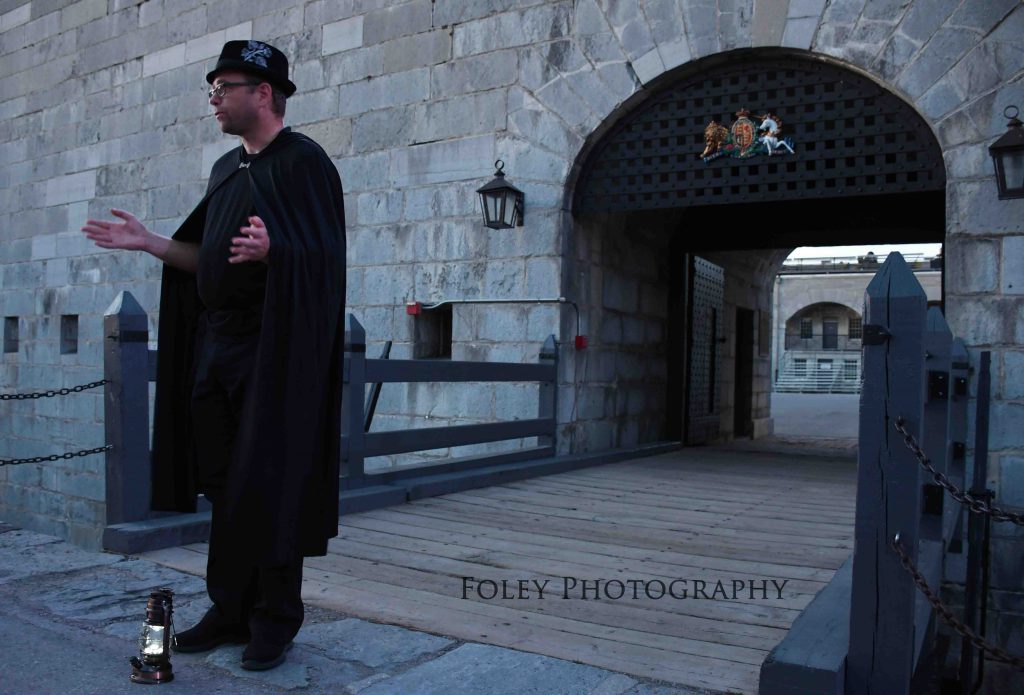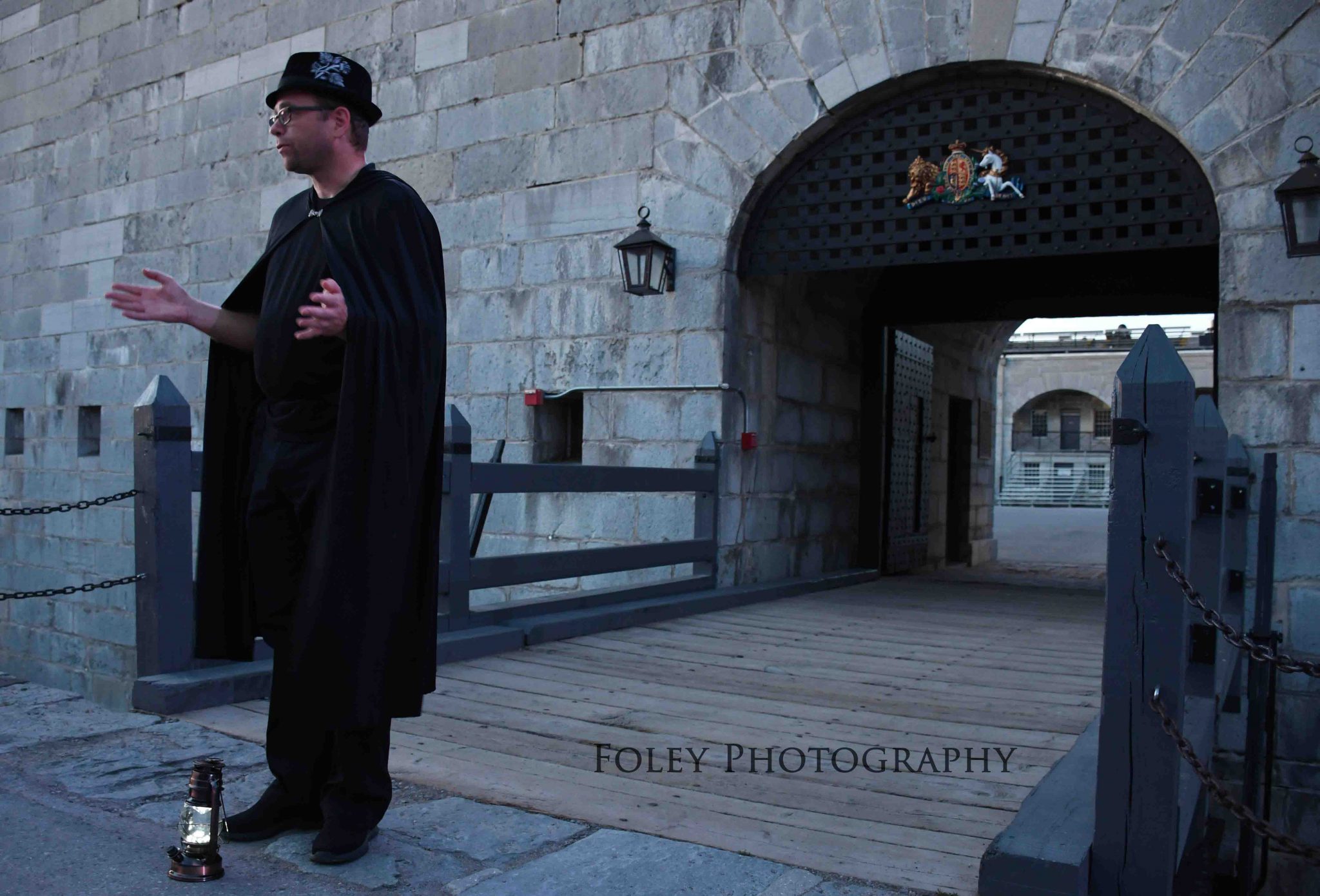 This is one of my all-time favorite things to do in Kingston. The Haunted Walk of Kingston is a tour company that shares ghost stories of historic Kingston on a 90-minute walking tour. The Kingston tours were so popular they have expanded this business to Ottawa and Toronto.
Emma and I took the original Haunted Walk a few summers ago. You can read about our adventure on my blog. We have also taken their Time Travel Trail Tour, and Patrick (my husband) and I toured the above mentioned Fort Henry on a Ghosts of the Fort tour. During the Halloween season, they also offer tours during Fort Fright. I have yet to take on this tour, but it's on my bucket list for sure!
Have you spent time in Kingston, Ontario? Do you have a favorite attraction or place to visit that I didn't mention? Share it with us so we can be sure to check out all the amazing things to do in Kingston!
---
Author Bio: Jessica lives and works in Kingston, ON and is very passionate about her city. She and her 2 daughters spend a lot of time downtown soaking in the culture and history of this vibrant city. Jessica also runs her own blog, A Modern Mom's Life, where she shares her life as a busy working mom.
Your Thoughts...
Please share your thoughts in the comments or reach out on social media...We would love to hear from you.
You May Also Like
Canada Science and Technology Museum
Unlikely things to miss about Canada
Top 10 Things To Do In Quebec City
How To Keep Kids Safe on Vacation