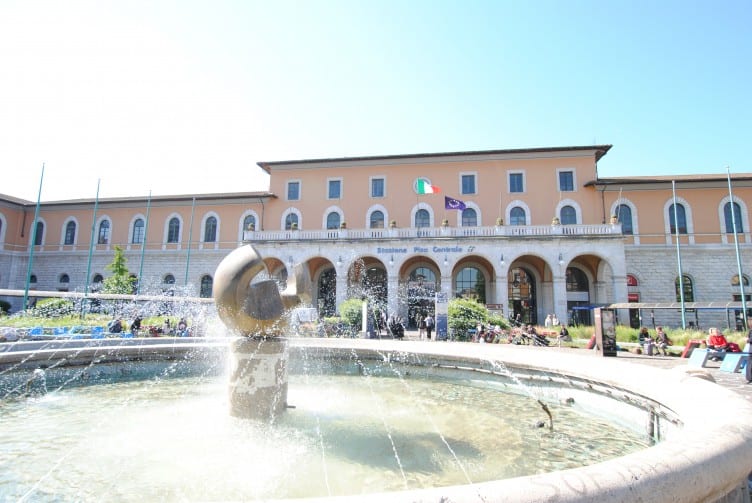 The Leaning Tower of Pisa with kids has been the topic of discussion for a few weeks now, ever since we made the active choice to visit Italy in the spring.
With a few missteps here and picture-perfect planning there, we managed to take the kids to the Leaning Tower of Pisa as a day trip from Florence.
This post may contain affiliate links.
To which I earn a small commission, at zero cost to you!
Find more info in our
Privacy Policy
.
Leaning Tower of Pisa Tickets
Either online or at the ticket office, tickets can be purchased to enter the 4 buildings within the piazza. There are a handful of packages should your group not want to climb the tower or want a guided tour.
The Tower of Pisa does have a marked return time, so it is best to arrive early so you are not waiting too long before entering the queue. They will not let you into the tower until your return time.
Day trip to Pisa from Florence | Getting to Pisa
From the Florence central station, pick any ticket machine and plug in your destination. The options are for a local train, that will make a few stops along the way but it is a direct train. At 9 euro per person, it's a pretty great deal; tickets can be found through Trentitalia or ItaliaRail.
Once the tickets are printed from the machine, wait patiently in the station for the platform to be announced. Typically, they announce it as the train is pulling into the station.
Just before getting onto the platform, find a validation box on the pole and validate your ticket. This cannot be done on the train and you will be fined if they catch you without completed validation.
Much like the German RE trains, or Ontario GO Rail, the train cars are two levels, and a "lobby" at the entrance. Many passengers were carrying their luggage with them and left it in this area. This means there is less room for anyone without a seat, to stand comfortably. The very first car is the handicapped car, which when tickets were being checked, I was asked to move there.
But they would not wait for me; I would need to get out of the near end of the train and run to the front before they leave without me. Not today, my friend. My stroller is safe here, I am moving out of the way, if passengers don't like it – they are welcome to make the run or just continue inside the train to another car.
How to get around Pisa
We decided we only needed a half-day to see the piazza itself but we didn't have any plans for the rest of the day, so it was relaxed and calming. After arriving at the station and finding our bus across the street, Linea 21 towards Nievo, it was a quick ride to the actual piazza.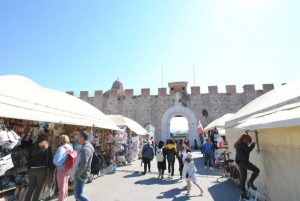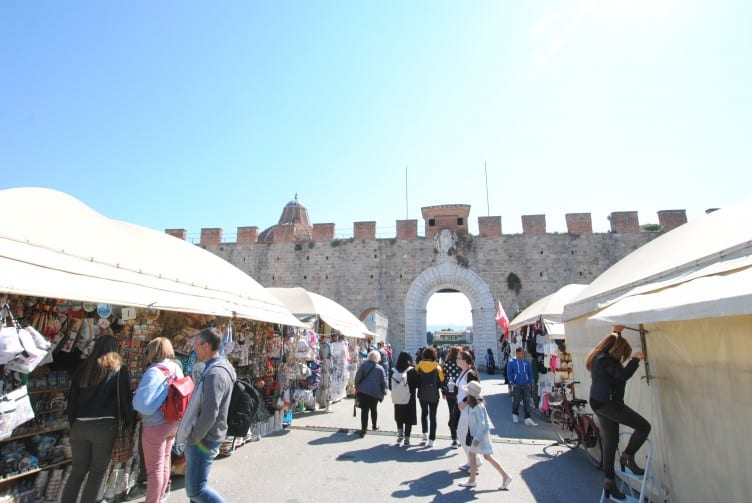 Of course, as soon as we walked through the arch, everyone was taking a selfie or a group photo of themselves holding up the tower. This isn't bad, per se, just a little cliche for me. There also wasn't enough space to get a good view of the tower in the background while one of us attempted to hold it up, without hundreds of others in the frame ruining the shot – considering it was Easter week and the piazza was getting pretty full. And it wasn't even 10 am yet.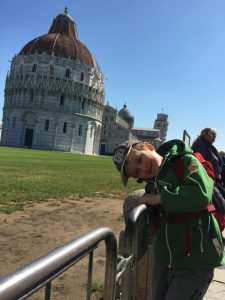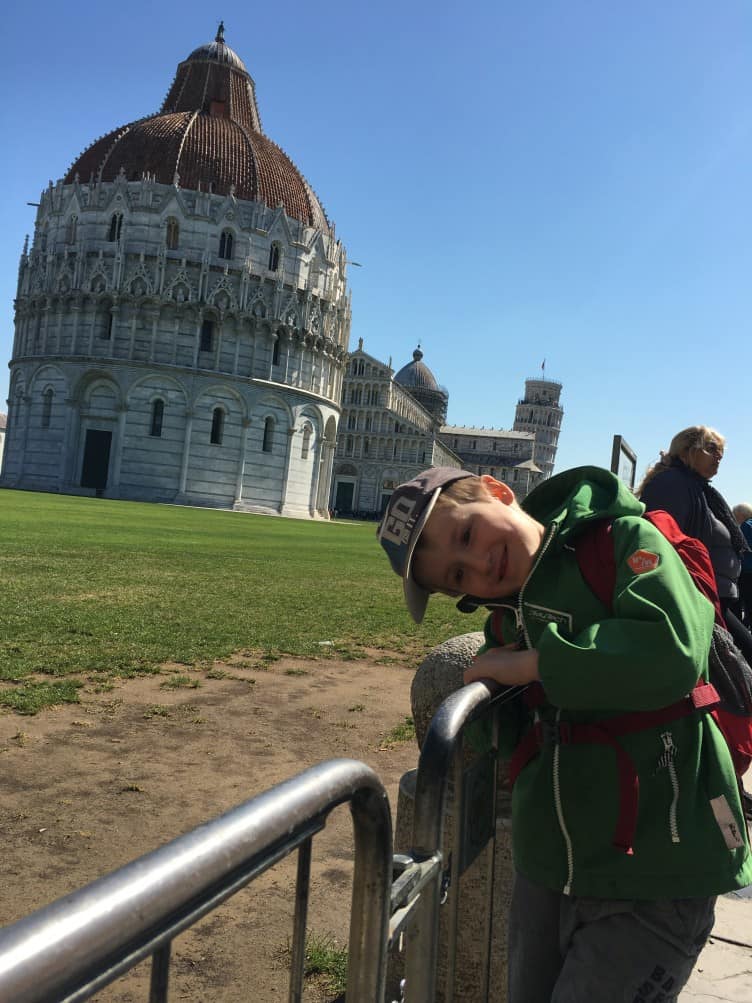 What to see in Pisa in one day
1. The Leaning Tower itself was a bit of a disappointment. After months of telling the kids we are going to Pisa, we find out that kids need to be 8 years old to climb. Regardless of height or capability, someone has placed a blanket statement over all children that only 8+ is mature enough to climb the tower. My son was heartbroken. We even caught the ticket-agents asking for proof of age for those that looked too young to climb. They claim it is the law, since the railings at the top are wide enough to fit a small person (so Baby Girl was definitely not welcome), and we would run into this law a few times in our time in Tuscany. This falls under Reason #1 not to visit Pisa with kids, I have to say.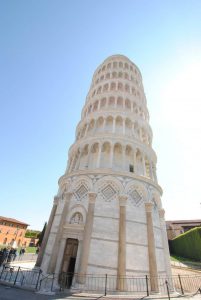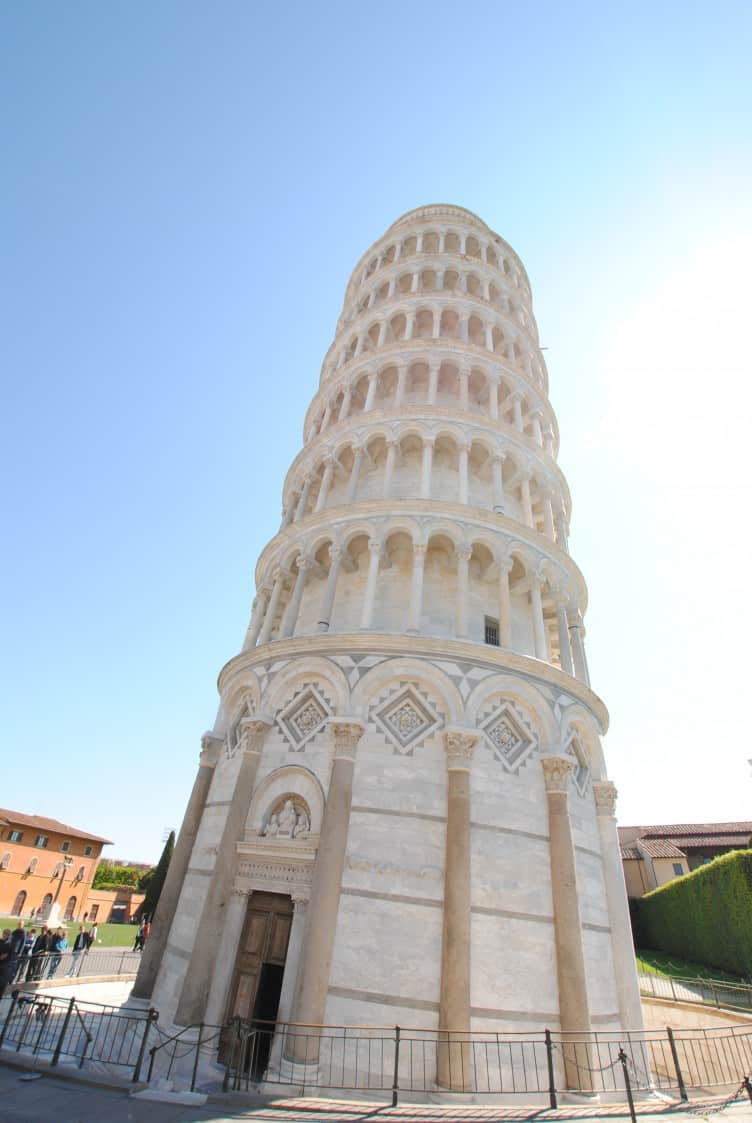 2. Going the long way around, we entered the Baptistery first. In Italy, it was customary to baptize the children when they were old enough to understand what they promising. It was their right of passage; the journey into adulthood and they had to choose to become a baptized Catholic. From here, they would cross the grass and enter the Cathedral for Mass.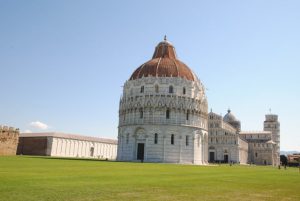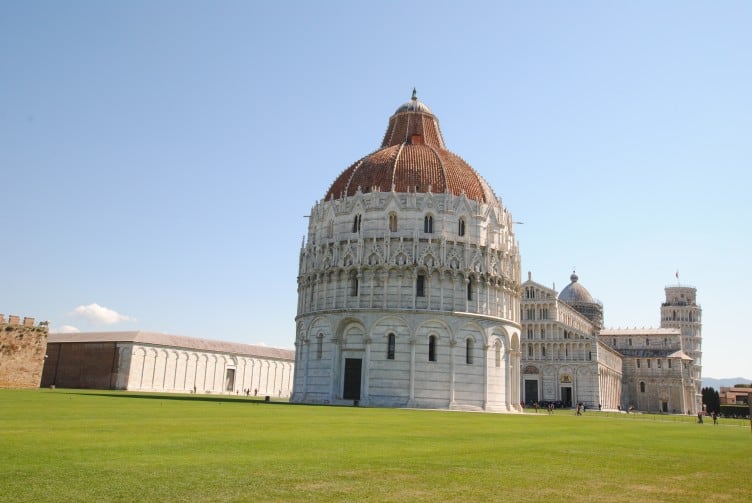 3. Built in 1063, the Cathedral was built using funds won while fighting the Muslims in Sicily, yet was created with Byzantine and Muslim style architecture.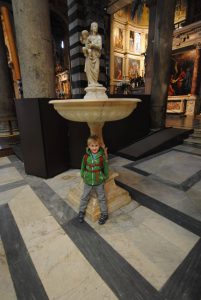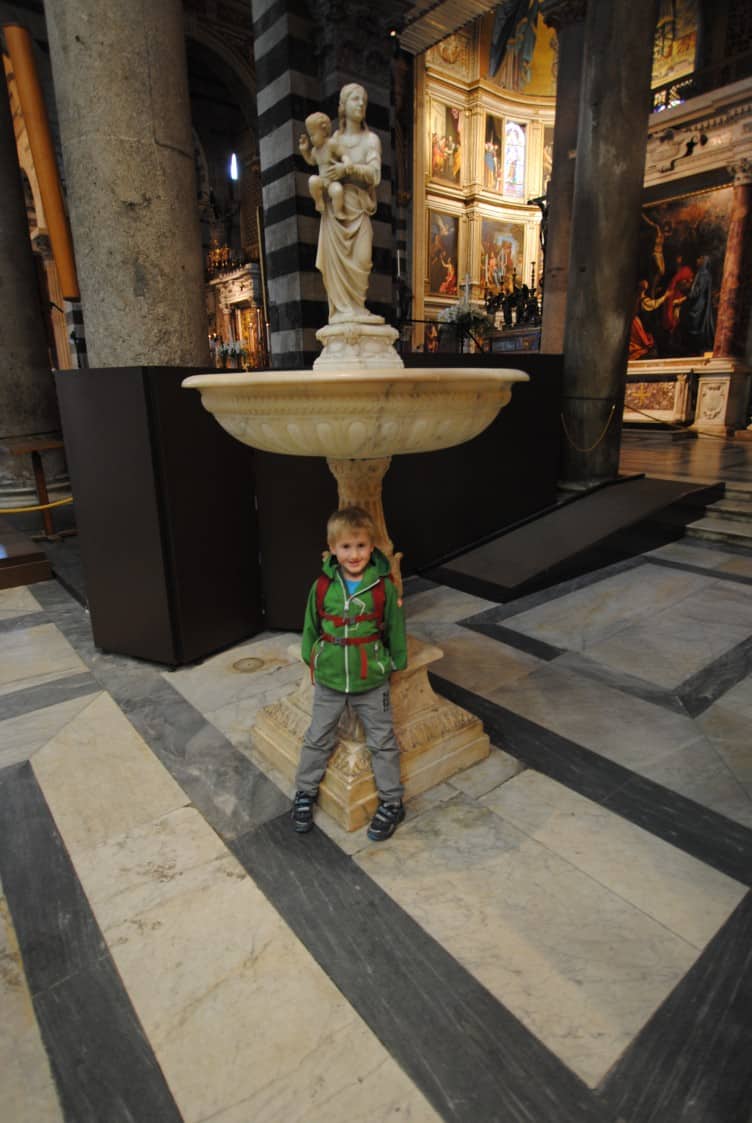 4. The Camposanto Monumentale is a beautiful, large cemetery on the edge of the square, built-in 1278. In 1944 an Allied bomb fragment caught fire and destroyed the majority of the cemetery. After the war, frescoes were removed for restoration and the roof was replaced. We were still able to see many of the damaged sections, as well as workers on scaffolding, working on the frescoes, while we were there.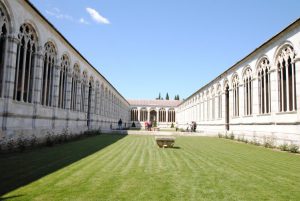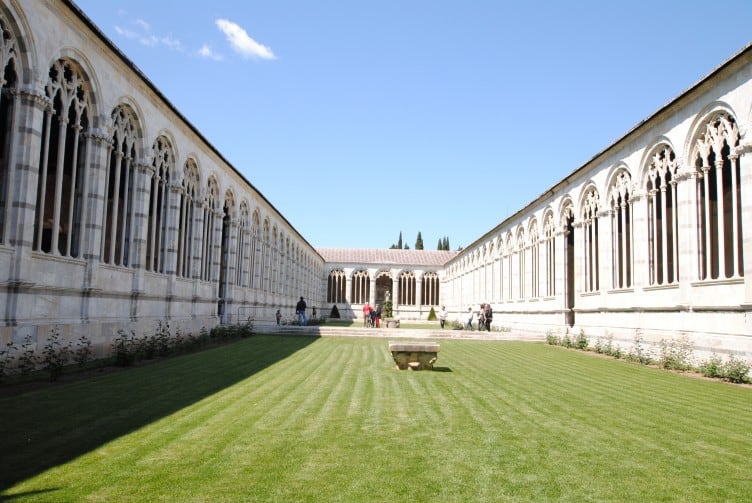 5. After touring 3 buildings, and being disappointed with the Tower, we took a little rest. The toilets are back at the ticket office, next to the small souvenir shop.
6. Just like everyone else, we decided to have a little snack picnic before looking around some more. The kids were able to run about, chase the pigeons and generally let out some energy.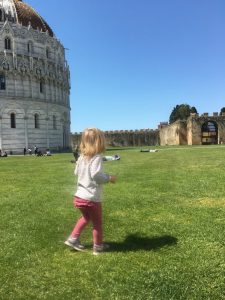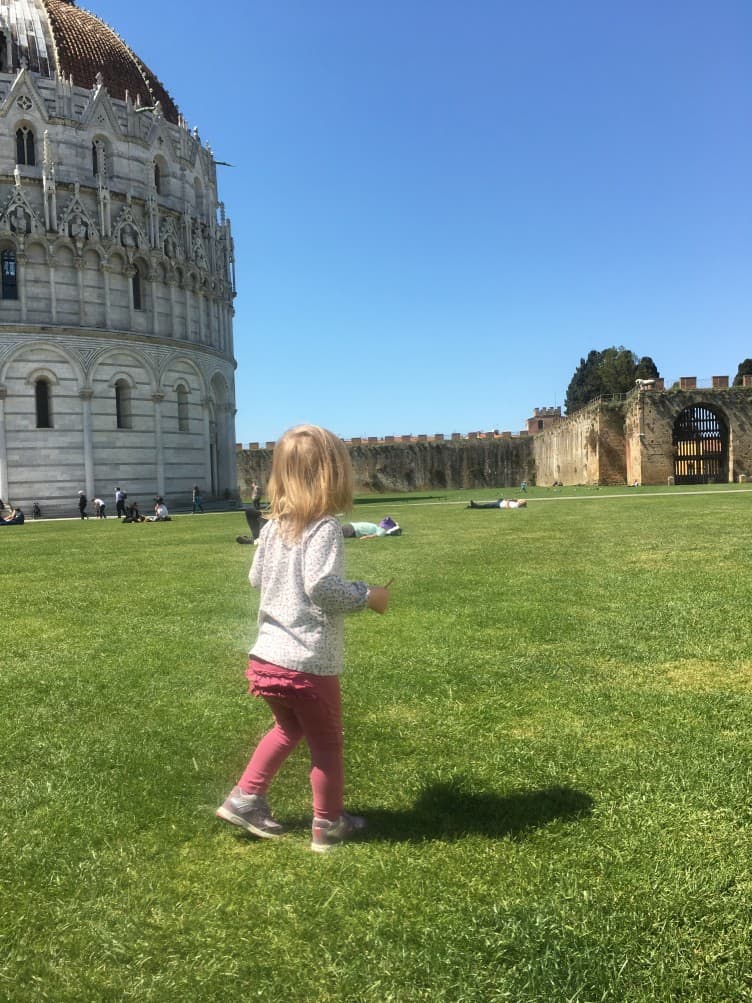 7. There wasn't anything to eat in the square itself, understandably. Just outside the walls, we saw a few "fancy" restaurants with outdoor seating. It was getting warm, the sun was up and we had spent all morning outside so we wanted something, quick, no fuss for the kids, inexpensive and air-conditioned. We saw the Subway man guiding us to a Subway restaurant – which was great. Just need to pass the row of merchant tents and scalpers.
Be aware, scalpers and vendors are also not allowed in the square so they will pounce on you the moment you make eye contact. Heck, you don't even need to make eye contact – you just need to be breathing. One guy seriously tried to sell my kid something when we, the parents, blew him off.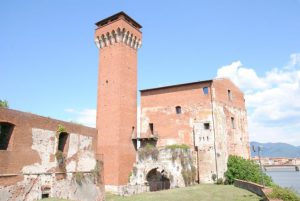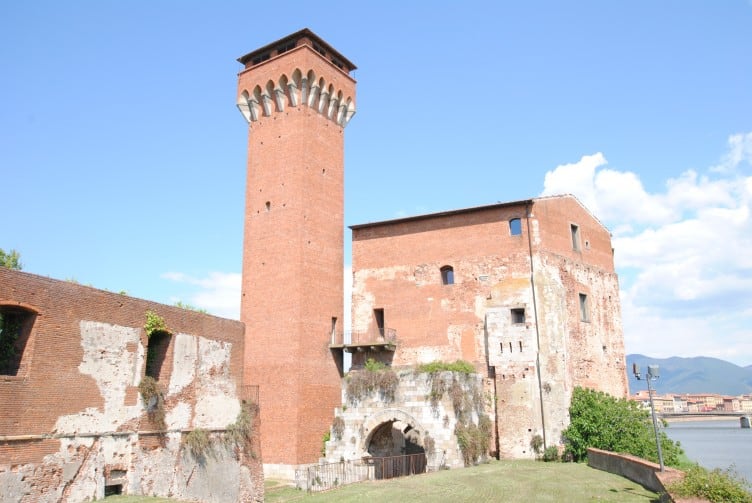 8. Shortly after leaving Subway, we decided that Munchkin needed to sit and Baby Girl could be worn. No sooner did he sit down, that he fell asleep. Instead of loading them into a hot, overstuffed bus, we decided to walk 2 km back to the train station. It isn't like we had somewhere to be.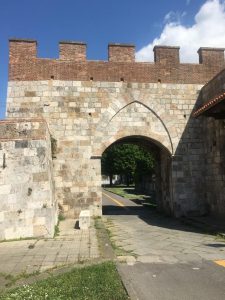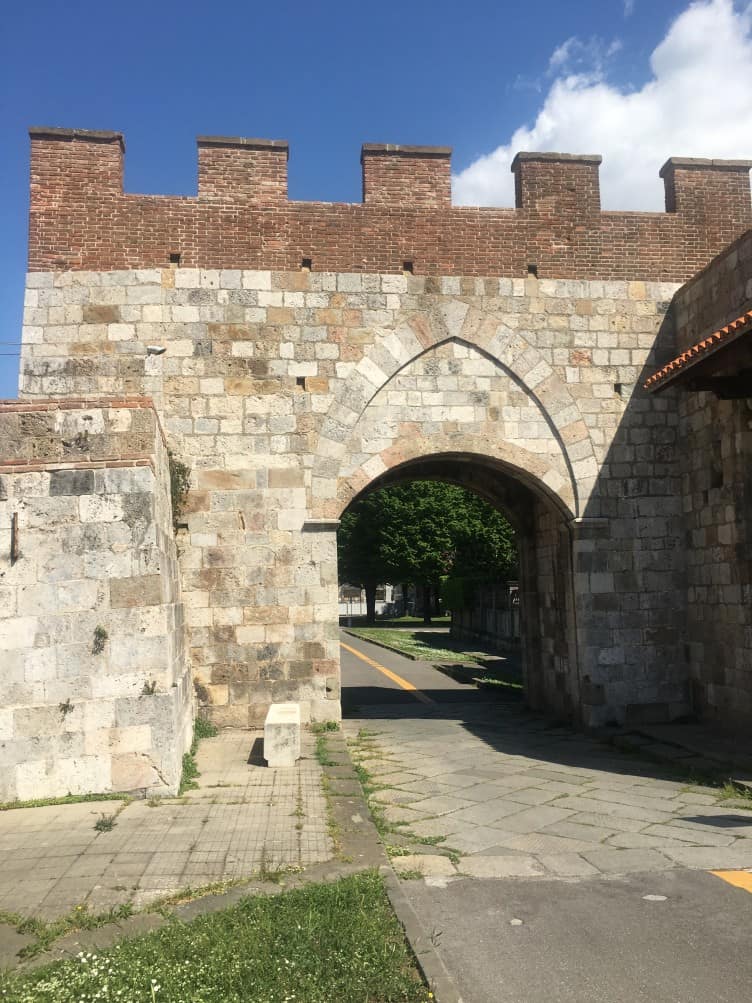 The buildings that we passed on the way were incredible. There was very little foot traffic where we walked, the view was great and it wasn't that far. We ended up taking our time and I think Baby Girl had a little nap on the way since it was so pleasant, just hanging on my back like that.
Once back at the station, we quickly bought a few bottles of water and grabbed the next train (since it was leaving in 5 minutes and we still needed to buy the ticket). We made sure, however, to run to the front of the train for more room. We jumped on, counted to 10, I swear, then the doors closed and left. Lucky for us, there wasn't a line at the validation box.
Where to eat in Pisa
As mentioned before, there were a fair number of restaurants just outside the piazza walls. They seemed busy at times, but also to be of good quality.
They are, but not limited to; L`Europeo, Pizzeria Trattoria La Buca, Trattoria Toscana, Ristorante Pizzeria Duomo, Pizzeria la Torre, Caffe' Duomo, Ristorante Enoteca Il Toscano, Ristorante il Turista
Where to stay in Pisa
Next to the Cathedral Square
Free WiFi and facilities for disabled guests, children stay free when sharing a bed with parents. Only 100 m from the nearest bus stop, it is easy to get to the airport or train station when needed.
Casa San Tommaso is a small guest house set in a traffic-free zone of central Pisa, just 300 m from the Leaning Tower. The rooms offer air conditioning, wood-beam ceilings, and free Wi-Fi. A Triple Room has a double bed and a single, making it a great Family option.
The hotel has its own terrace with an amazing view of the leaning tower, where you can spend your day soaking up the sun or reading a book. Family rooms and rooms for disabled guests are available.
Next to the train station
Centrally located in Pisa centre, Hotel Touring is a 2-minute walk from Pisa Centrale Station. It is set in a modern building with free Wi-Fi, less than 2 km from the Piazza del Duomo square.
Offering a terrace and views of the city, Tower View Guesthouse is situated in Pisa. Shared bathrooms are standard and are best suited for adults or older children.
Airport Hotels
Piazza dei Miracoli is 2.4 km from B&B Francesco, while Pisa Cathedral is 2.5 km from the property. Pisa International Airport is a few steps away. Family rooms are available and can fit up to 6 persons.
Located in Pisa, 2.3 km from Piazza Dei Miracoli, Luigino B&B boasts air-conditioned rooms with free WiFi. Free private parking is available on site. Airport shuttle is available, but rooms only contain one bed.
Pisa Airport
Pisa does have an International Airport, known as the Galileo Galilei Airport. It is the main airport for Tuscany and 10th largest in Italy in terms of passengers and is the main source for Ryan Air flights. The Pisa Mover opened on March 18, 2017, to take guests to and from the Pisa Central Station, replacing the rail lines closed in 2013.
Your Thoughts...
Please share your thoughts in the comments or reach out on social media...We would love to hear from you.
You May Also Like…
4 Days in Florence; Things to do in Florence with kids
Our Guide to the Best Travel Strollers of 2018
Munich Night Train to Rome with Kids