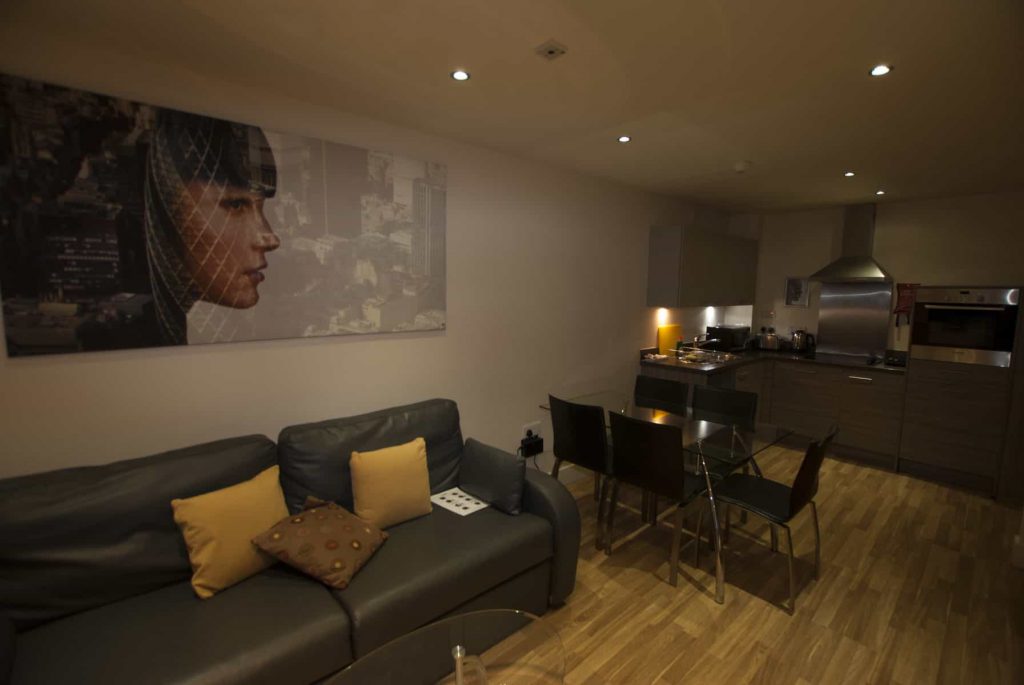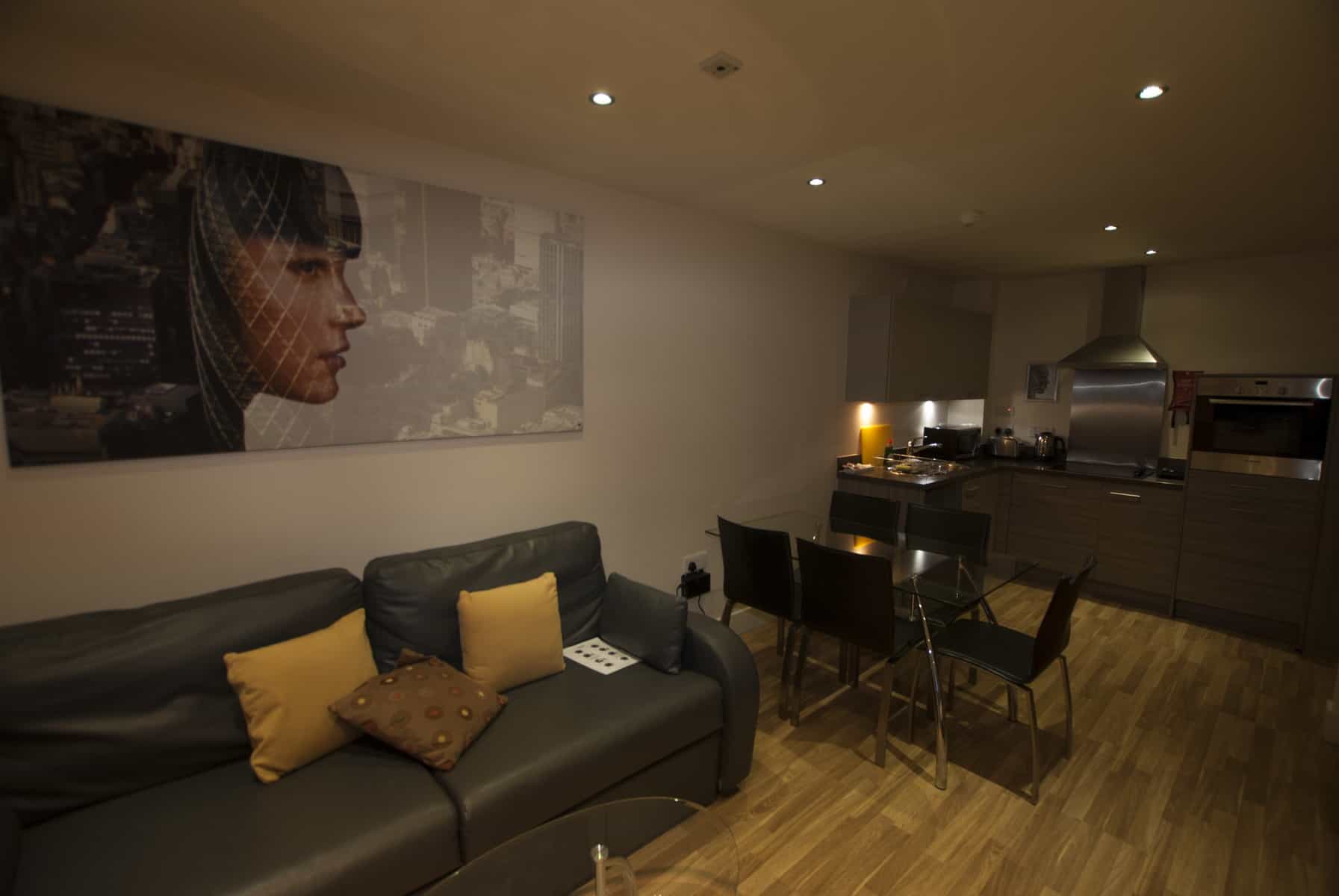 To say that Edinburgh is expensive is an understatement. As the capital city of Scotland, it has every right to be, but my wallet would disagree. Finding something that is close to the center of town, near public transit to take day trips, family-friendly and affordable is a tough sell.
We did manage to find one great hotel that turned out to be an apartment. We even cancelled our plans out of town and stayed here for the whole week. Booking.com also made it easy to continue our stay at a cheaper rate than the hotel we cancelled in Glasgow.
If you're looking for the others posts in the Ultimate Travel Guide to Edinburgh Series, we'll link to them as they are available!
Part 1: Best Places to Eat in Edinburgh
Part 2: Popular tours from Edinburgh with kids
Part 3: Edinburgh Castle
This post may contain affiliate links.
To which I earn a small commission, at zero cost to you!
Find more info in our
Privacy Policy
.
Location
Across the street is a Tesco grocery store. It isn't huge and can get fairly busy in the evening when everyone else is stocking up on goods after a successful day of touring, but they had enough for us to be comfortable for 7 days and it didn't cost us a fortune.
Technically, we could have walked everywhere. The Royal Mile is only 2 km from the hotel and The Hard Rock Cafe (the second furthermost place we visited), is 2.1 km from the hotel. The Royal Botanical Gardens is technically 3.5 km from the hotel so I would suggest taking transit to visit here, especially in winter, with the kids.
To put this into perspective, I generally walk 1.9km to drop my kid off at school when I don't get lazy and take the bus. The walk in downtown Edinburgh is much nicer, though has more twists and turns, than my daily walk to and from school.
Transit
The location was perfect! Staycity Aparthotels West End is just down the street, 750m, from Haymarket Station, a small intercity train station that took us to Burntisland and Glasgow (the other station is Waverly, more downtown). The local tram stop, 270m, and bus stop, 160m, are even closer and super easy to use.
The Edinburgh city card does not cover the bus or trams, so we didn't bother with it. You are able to buy a family ticket for the day, which essentially makes the third time you ride free. There is also a mTicket option available in the Apple and Google app store to purchase a weekly pass or us Applepay on the bus.
With the United Kingdom driving on the opposite side of the road than we are used to, it was hard to remember which side of the road our transit would pick us up. We almost took the bus heading in the wrong direction on more than one occasion.
Facilities
Staycity Aparthotels West End reminded me of a giant apartment block. Outside of our apartment, there wasn't much in the way of amenities; no gym, no pool, no lobby. Nothing much, but we didn't need anything. A pool would have been nice but I say that every time we head out for vacation and rarely use the provided pool – of course, I want one now that it isn't an option!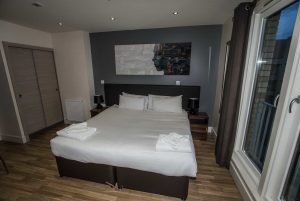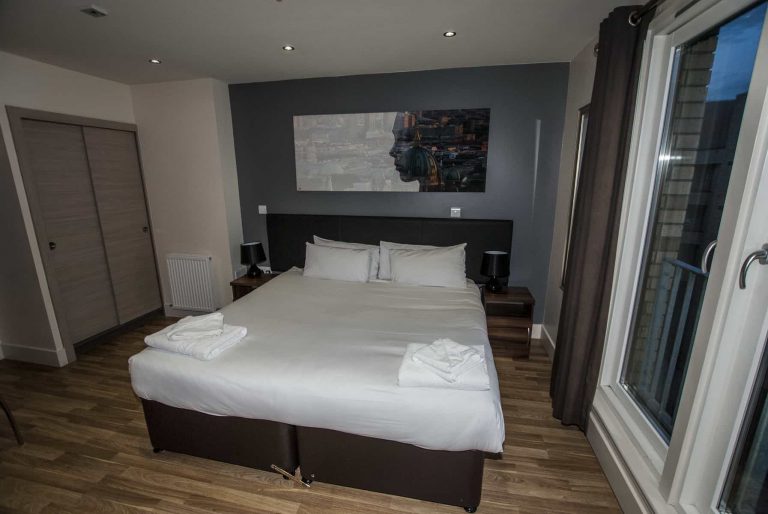 Rooms
The rooms are huge! Our booking had a single bedroom at the end, with two twin beds put together (they aren't locked and the beds have wheels so they tended to separate throughout the night).
Next to it is a Wet Room – that is a giant handicapped bathroom, shower and sink all in one. The shower had no walls and so the entire room became the shower; making clean up very difficult when you don't know what to expect.
The second bedroom also has two twin beds put together, but this one has a sliding wall that opens into the living room/dining room/kitchen area. The kitchen has a separate door from the hallway – we had a hallway! It was great. A place to store the stroller and shoes that weren't in the way all the time.
Breakfast
Because it is a fully stocked apartment, there wasn't a breakfast option available. We did, however, run to the Tesco on landing day and stock up on fruits, milk, and cereals. A toaster is available, and the stove comes with pots and pans if I was really feeling like cooking a big breakfast.
We managed to stop at a few cafes and binged on scones and tea cakes so a big breakfast wasn't needed. We were happily fed during our trip.
In theory, I would have saved money and cooked dinner each night but we were more interested in trying a few local restaurants instead. Hubby went out to dinner with his cousin one night and I went home with the kids, lunch didn't sit well with me and I was still getting over the flu from the week before, so I bought a frozen pizza from the Tesco. FYI I should have ordered take out, that pizza was not good.
Bottom Line
This was an incredible find. The train station, tram stop and bus stop all offer routes directly to the airport, and spots around the city. It was incredibly easy to find and the amount of space was incredible. There is a designated quiet time (10 pm – 7 am) that was more-or-less respected; we did hear a few guests arrive near midnight but they were not nearly loud enough to wake the kids, or myself – I just happened to still be awake (working on my blog, and all that fun stuff).
The reception staff was incredibly knowledgeable about the local area and were able to give us a few pointers on things to do with the kids, where to eat and how to catch the transit. While I know they are supposed to know these things, they didn't have to be so nice about it and they even tolerated my 6-year-olds million questions – He's 6 now guys, can you believe it! Had his birthday at the beginning of the month.
You May Also Like…
Beast from the East; The greatest photos to come out of Europe during Emmageddon
How to pack for Scotland in the winter
Cheap Accommodations with a family
The Ugly Side of Travelling with Kids